It's time for Our 2020 Holiday Gift Guides for Him and Her. We hope this helps you with shopping for the loved ones in your lives. A lot of the things on this list are already items that we have that are our tried and true favorites of ours so we highly recommend giving them as gifts, and some of the things are new items that are on our wants list. First of, I'm sharing all of Mike Miller's faves that you will see listed above.
1- TOPS/BOTTOMS |2 | 3 | 4 | 5 | 6 | 7 | 8 | 9 | 10 | 11 | 12 | 13 | 14 | 15 | 16 | 17 | 18
SCROLL + TAP TO SHOP HOLIDAY GIFTS FOR HIM

SCROLL THROUGH the photos below to see some items of notable mention this Holiday Season that make great gifts for him! The Millerton Jacket from North Face is a lightweight weather resistant jacket that is a best seller three years in a row. Mike Miller LOVES this jacket and wears it more than any other jacket. If you scroll right on the gallery below you will see Mike Miller's favorite new toy, his DRONE! He's obsessed with it and uses it on trips and job sites and well, just everywhere! It is also one of the most asked about items that he wears and makes a great gift! He also loves is Cole Haan Grand Prix tennis shoes (these can be dressed up or down), Under Armor Recovery Sleepwear (aka Tom Brady pajamas) – Easton AND MM are obsessed with these and they are a best seller, the ABC joggers from Lululemon are incredible, and of course, the 2020 Adidas Ultra Boosts!
A few more items to mention that we get a lot of questions about are Mike's cowboy boots and boot cut jeans. His ostrich skin boots and Seven Brett Bootcut jeans pairs perfectly together and make a great gift for the guy in your life! I'm really eyeing that Patagonia all weather pull over for him this year and the black Nixon watch (such a cool, manly watch) so hopefully he doesn't read this blog post – hahaha! I think it he would wear it on the job site all the time. It looks warm and is weather resistant but is a pullover which is cool! I'm also posting the Eddie Bauer quilted 1/2 zip sweater which he has been wearing a lot and we have gotten lots of DM's about. It's on sale for under $50 and comes in two colors so it makes a great, affordable gift! Of course the Yeti and Ugg Slippers always make for great gifts too as do the whiskey rocks and chargers and anything else on the list above!
Next up on our 2020 Holiday Gift Guides for Him and Her lets talk about the ladies on your gift list! Here are my top picks, some of them because I already have them and love them (like my Golden Goose tennis shoes and crockpot) and some because I'm really hoping I've been a good girl and Santa gets them for me (the Hammitt Bag, Sorel Wedges, Ugg Poncho, and faux fur bomber jacket are at the top of my list). I also included some of my favorite little affordable gifts that are amazing for favorite things parties, stocking stuffers, teachers gifts, or gifts for under $30 (like the Anthropologie roller and mugs, Aerie sweater, Colleen Rothschild hair mask, leopard cross slippers, Yeti mug, and the Kendra Scott earrings)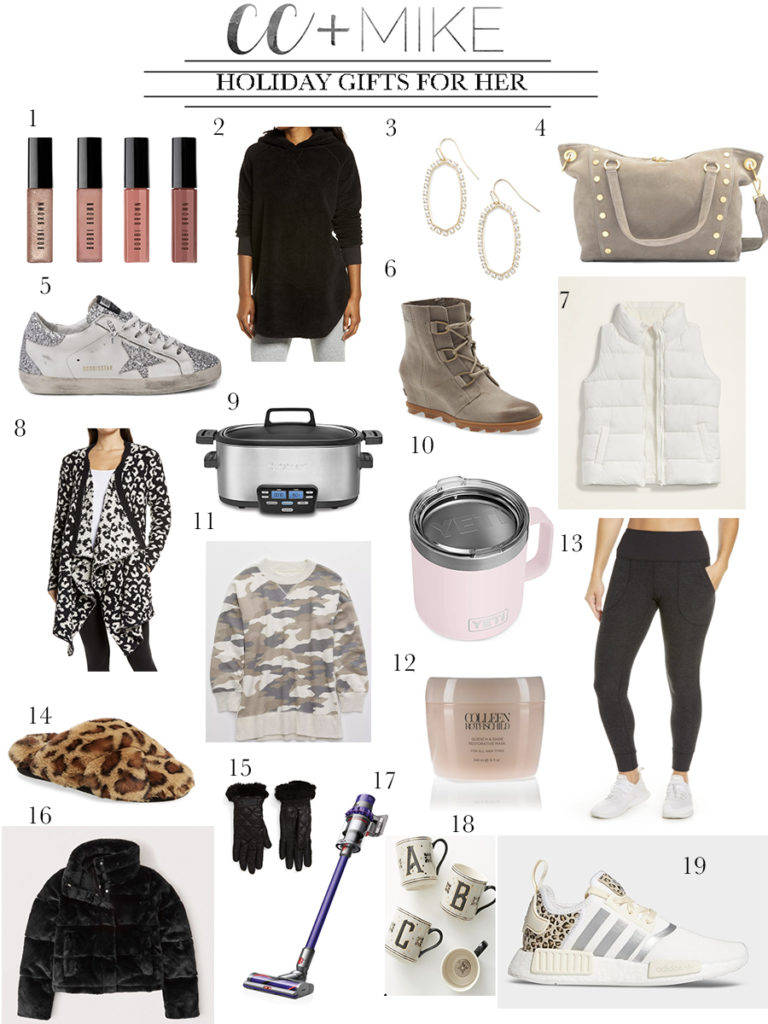 1 | 2 | 3 | 4 | 5 | 6 | 7 | 8 | 9 | 10 | 11 | 12 | 13 | 14 | 15 | 16 | 17 | 18 | 19 |
SCROLL AND TAP TO SHOP HOLIDAY GIFTS FOR HER

If you're looking for some affordable gifts to grab for the sisters, friends, favorite things parties, or for your kid's teachers, here are some of my top picks for under $30! The Colleen Rothschild Hair Mask, Yeti Rambler 14 oz mug, Anthro roll on perfume, Anthro tile mugs, Anthro agate coasters, Puffer vest, and the Bobbi Brown gloss set
If you're looking for a little more of a splurge gift, then I recommend the Ugg Sweater, Golden Goose Tennis Shoes, Crockpot, Hammitt Bag, or Leopard Adidas Tennis Shoes!

Hope this 2020 Holiday Gift Guides for Him and Her helps you find something for your loved ones! Our teen gift guides will be coming up soon and then I will follow those by some Amazon gift guides and Gift Guides for under $25 and Stocking Stuffers!