Listen, we get the total exhaustion that sets in during the Holiday Season which is why we are sharing 5 Easy Christmas Ideas for Your Master Bedroom. I am usually so exhuasted with decorating and cooking and Christmas shopping that I don't spend but 5 minutes adding Christmas touches to our bedroom, which is why I thought it might be fun to share some super easy Christmas Ideas for Your Bedroom. Even if you haven't done any decorating in the bedroom, it might be easy to do one of these ideas and incorporate just a little bit of Christmas into the bedroom before Santa comes to visit. If you'd like to see our full Modern Elcetic Christmas home tour you can do that here. Hope you enjoy this post and find some Easy Christmas Ideas for your Bedroom!
1. Hang some wreaths over the bed or nightstands – this is an easy Christmas ideas for the bedroom that I did both last year and this year. I actually used old, artificial wreaths that weren't being used anywhere else and even hung them on preexisting nails. It is simple; it takes two minutes tops; and I love the little touch of Christmas it adds to your bedroom. Here are some of my favorite Christmas wreaths which will be going on sale as we near Christmas and definitely after Christmas,  so now is that time to pick some up for next year:

And you can shop our entire master bedroom look here: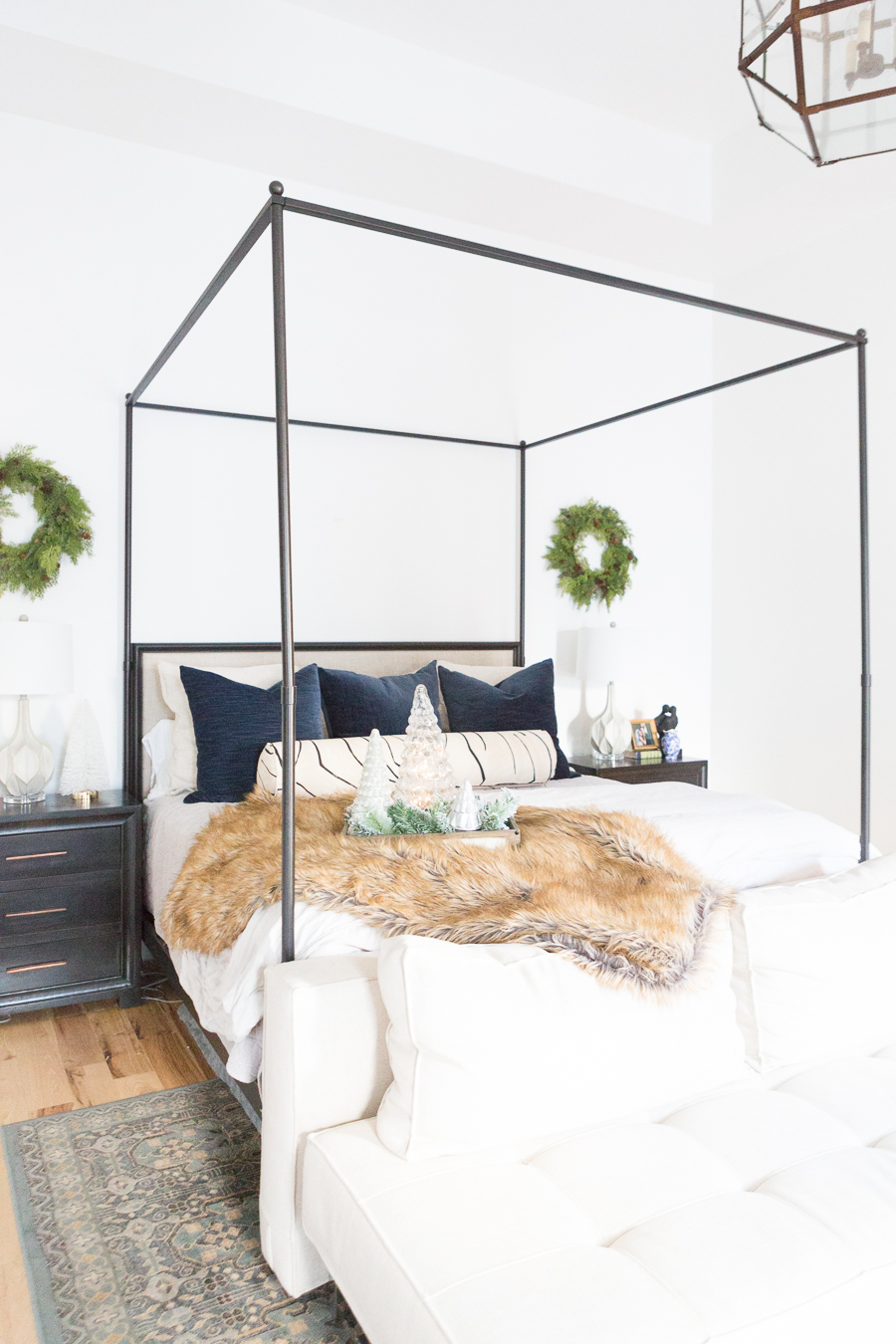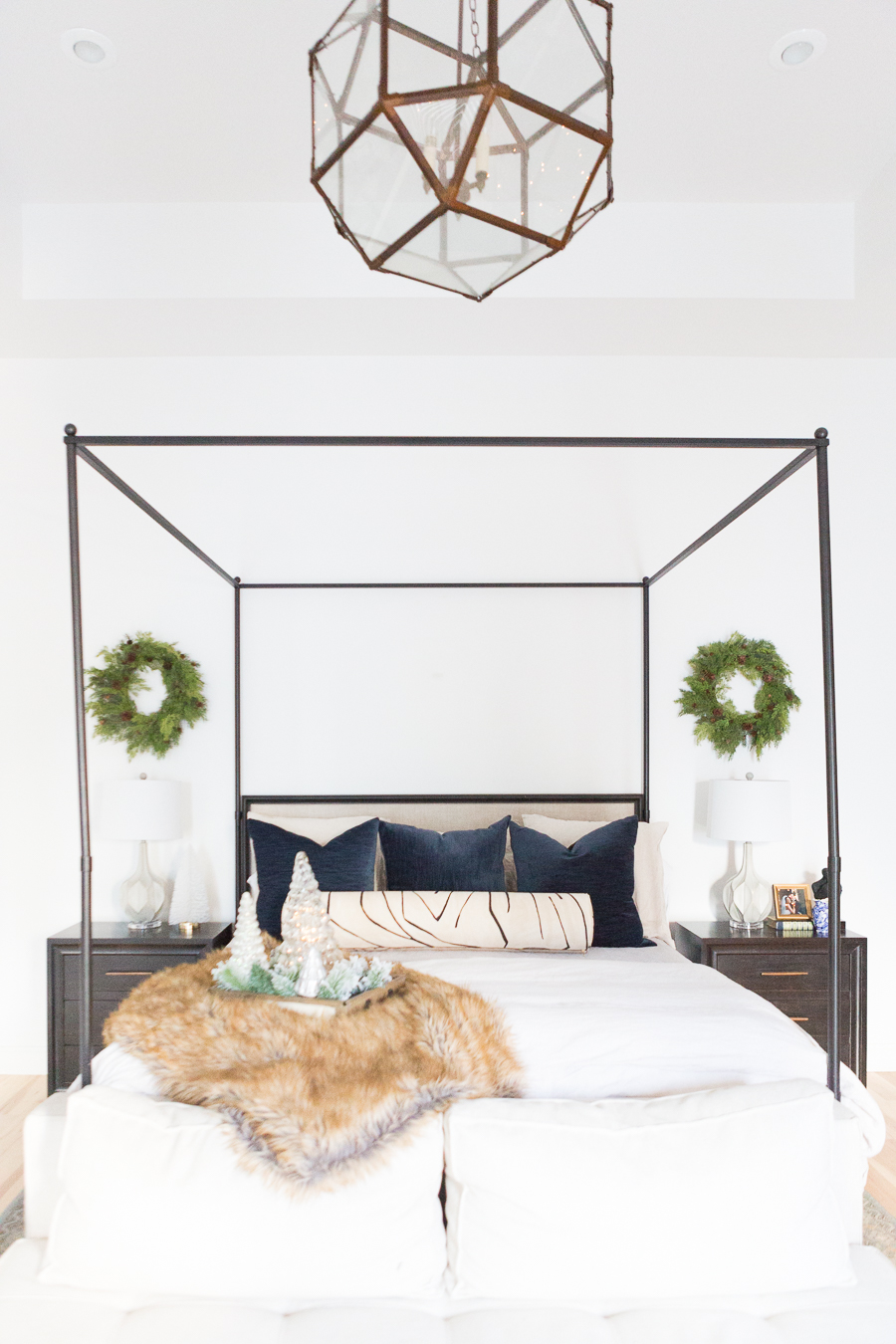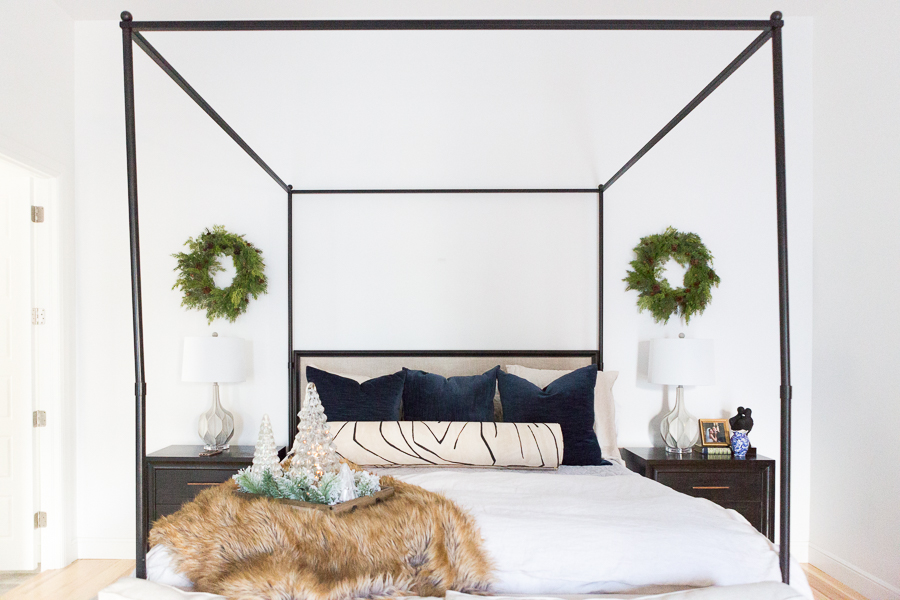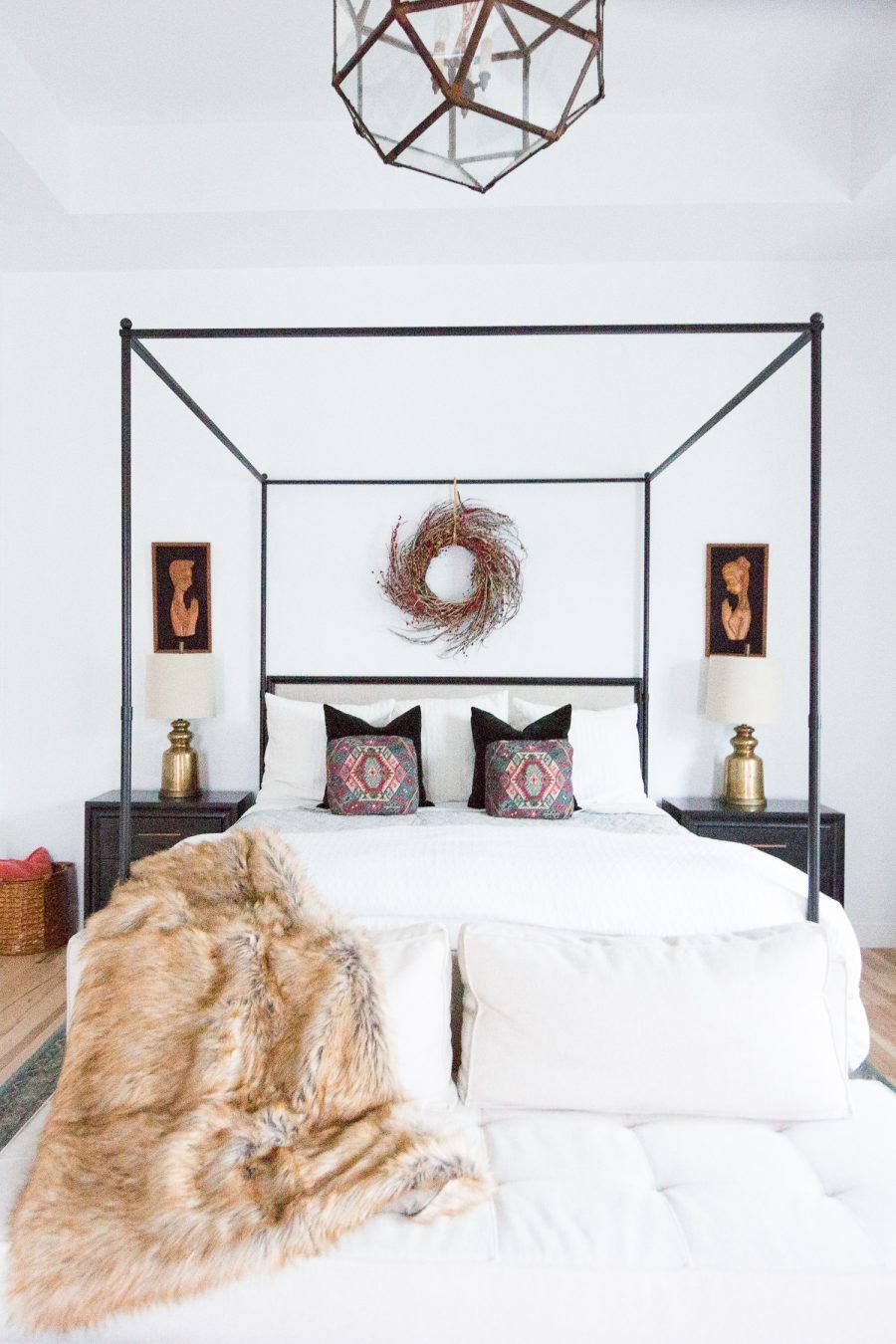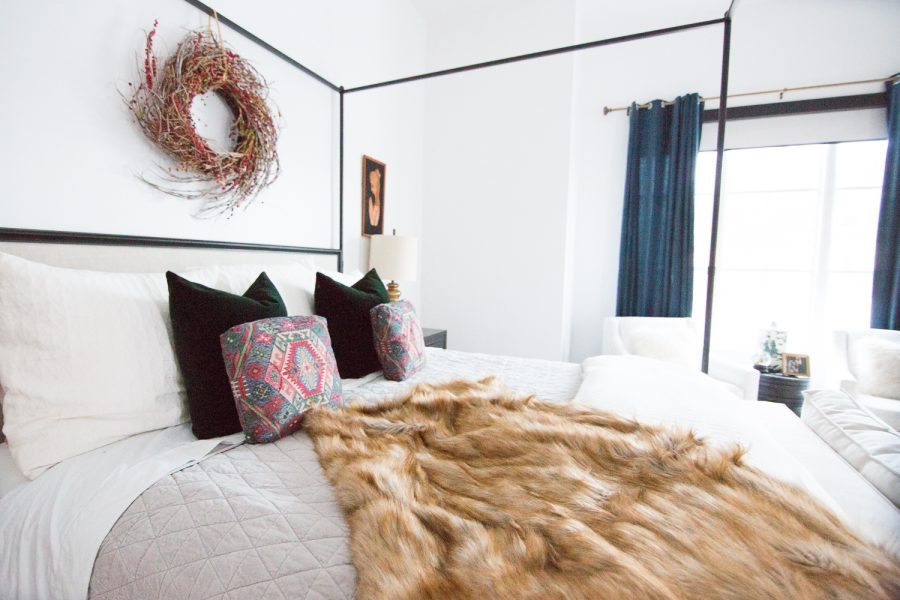 2. Use a Tray to Create a Bedside Centerpiece – I grabbed this tray that wasn't even being used, threw some extra garland that also  wasn't being used in it, and threw some glass Christmas trees on the tray amongst the garland. The result is a beautiful bedside Christmas centerpiece that took me less than two minutes. Here are some of my favorite wood trays, glass and mercury Christmas trees as well as bottlebrush trees from Pottery Barn, CB2, Target, West Elm, and more.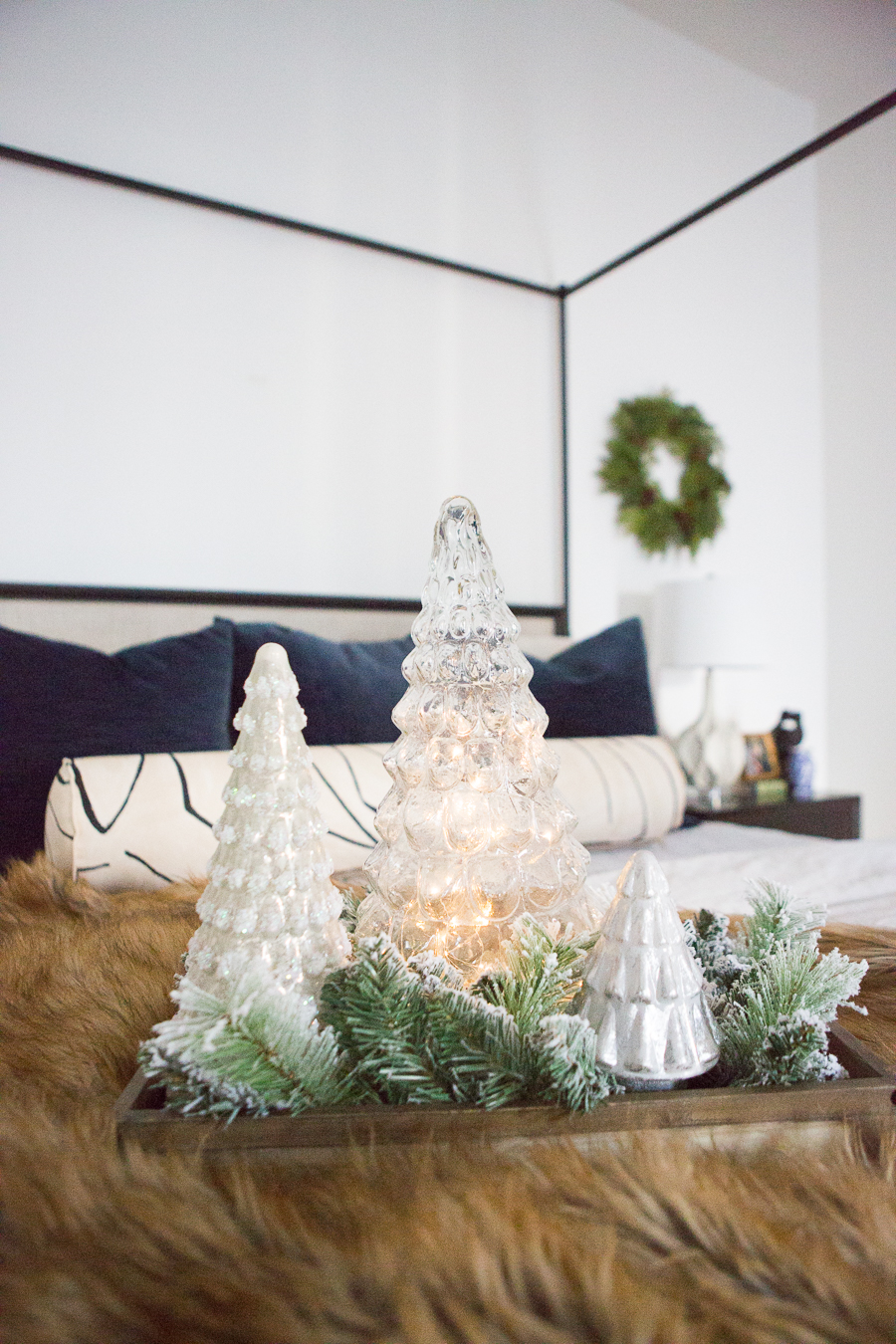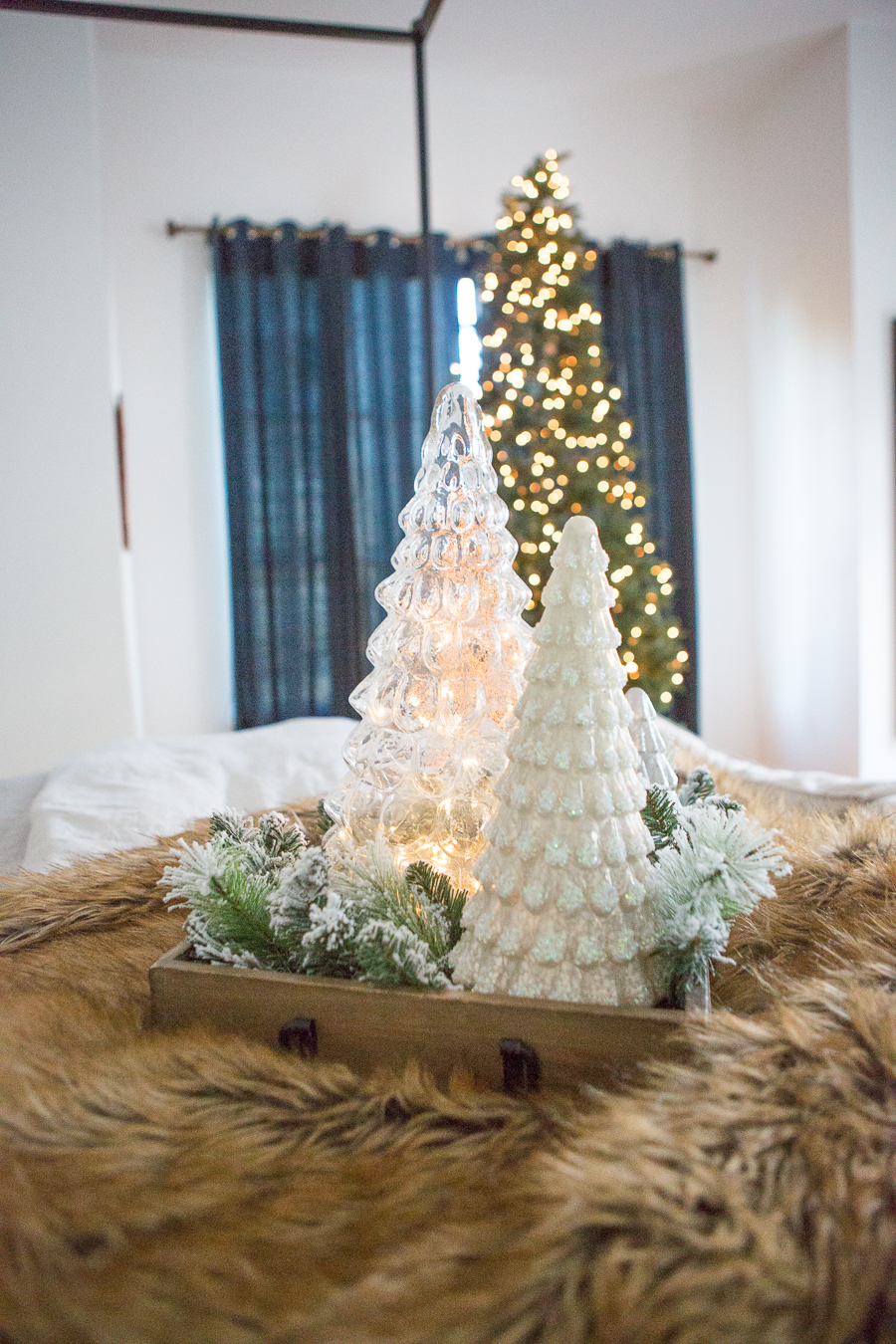 3. Add A Simple Christmas Tree – OK this is only if you have an extra, old Christmas tree laying around. Maybe you bought a new tree. Maybe you found one at a thrift store (like I recommended in my post on Tips for Budget Christmas Decor ; maybe your mom got a new tree and gave you an old one (like in little momma's room). Don't even feel pressured to decorate it. Look Closely. There isn't a single decoration on my tree. We literally set it up and left it natural. And you know what, I LOVE IT. Here are some of my favorite Christmas trees as well as the Christmas tree collar you see in my bedroom: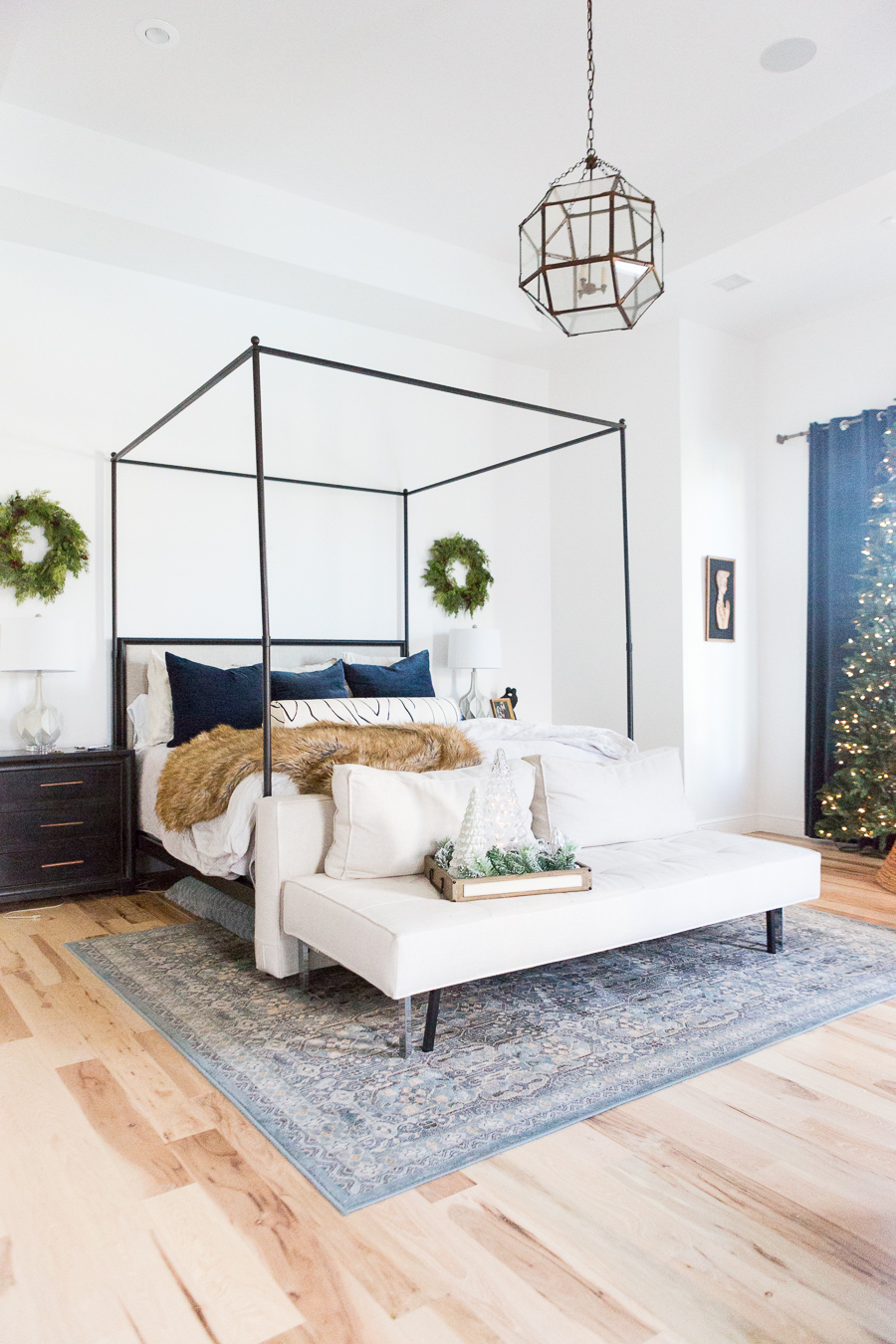 4. USE FUR – You will notice that I use fur in my living room, my bedroom, little momma's bedroom, my gameroom, and pretty much anywhere and everywhere I can. Adding fur is an instant way to add a touch of holiday to a bedroom. Here are some of my favorite fur items including my favorite fur throw from hayneedle that you see in all the pictures of my bedroom and little momma's bedroom:

And you can shop little momma's bedroom look here: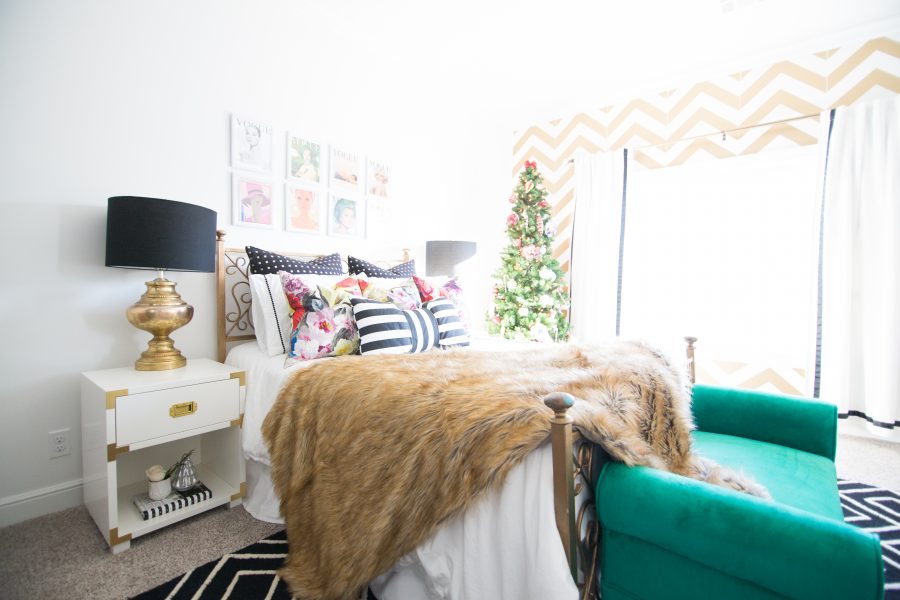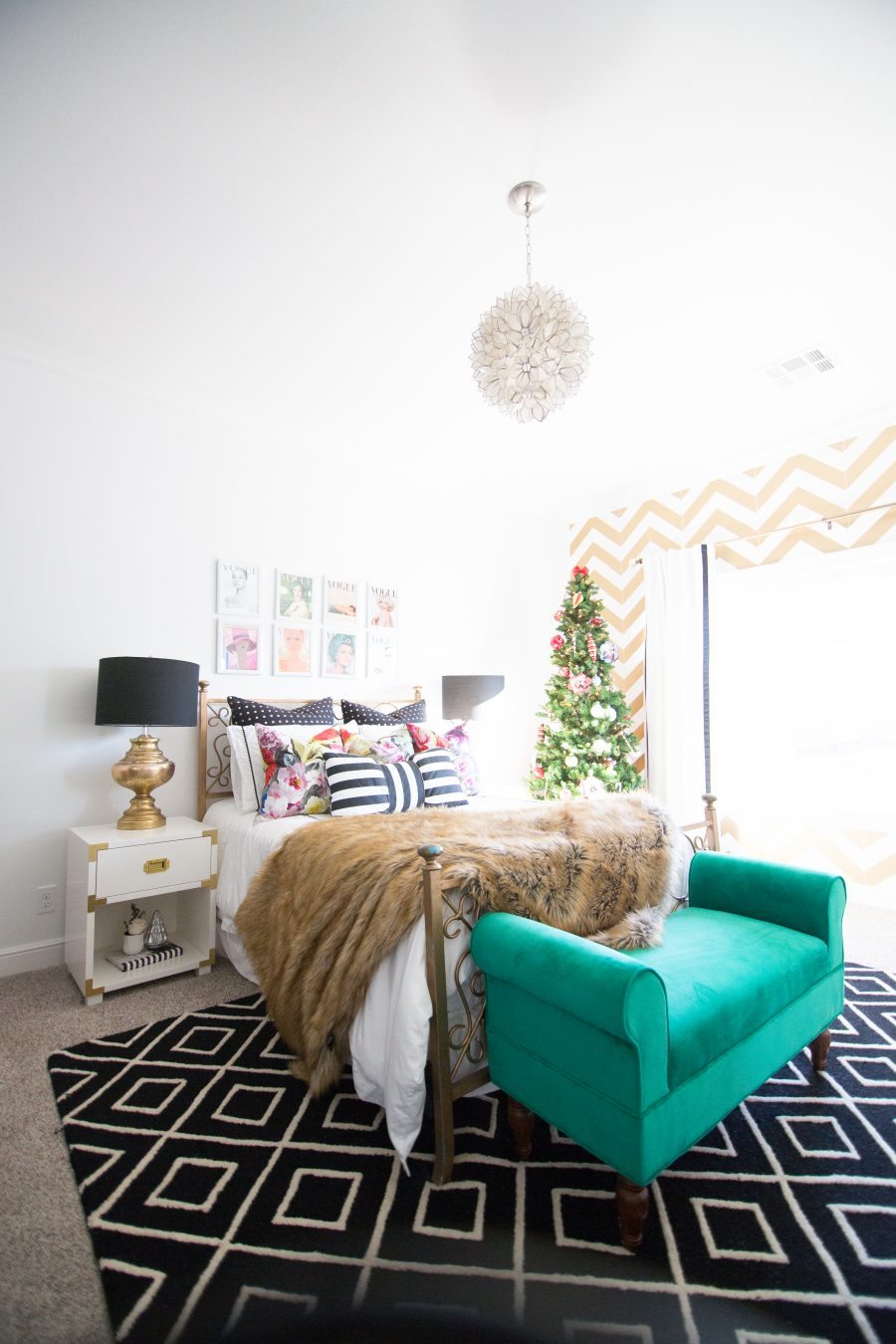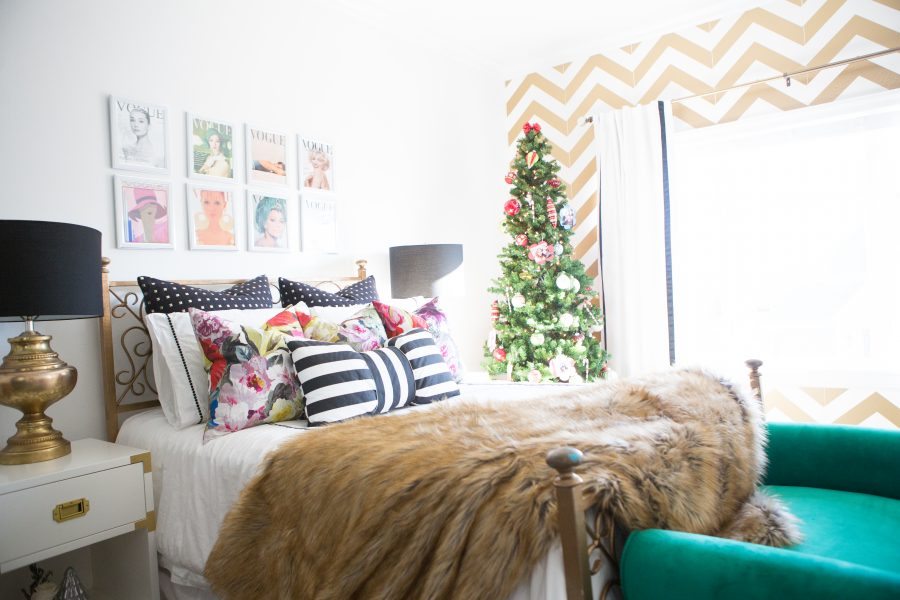 Add Christmas Art to Gallery Walls – Here is another quick and Easy Idea for adding Christmas to your Bedroom. I printed off a meaningful picture of when we went to the Rockettes in New York City and slid it in a frame for Emmy's gallery wall. Just like that, her gallery wall had a little touch of Christmas. I also love printing off pictures, framing Christmas cards, and even framing kid's art as a quick, easy, and inexpensive way to add Christmas to your bedroom and entire house.
You can shop Emmy's sitting room here: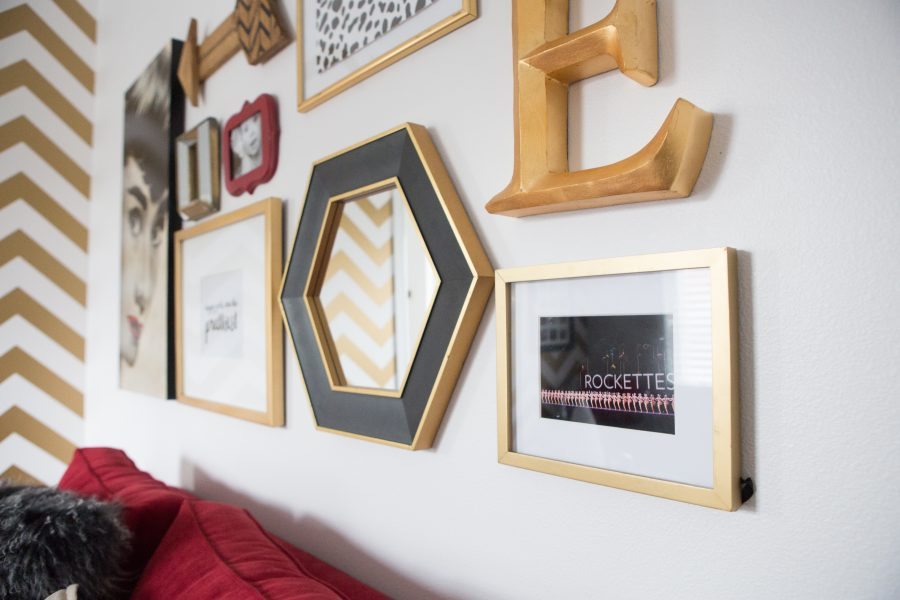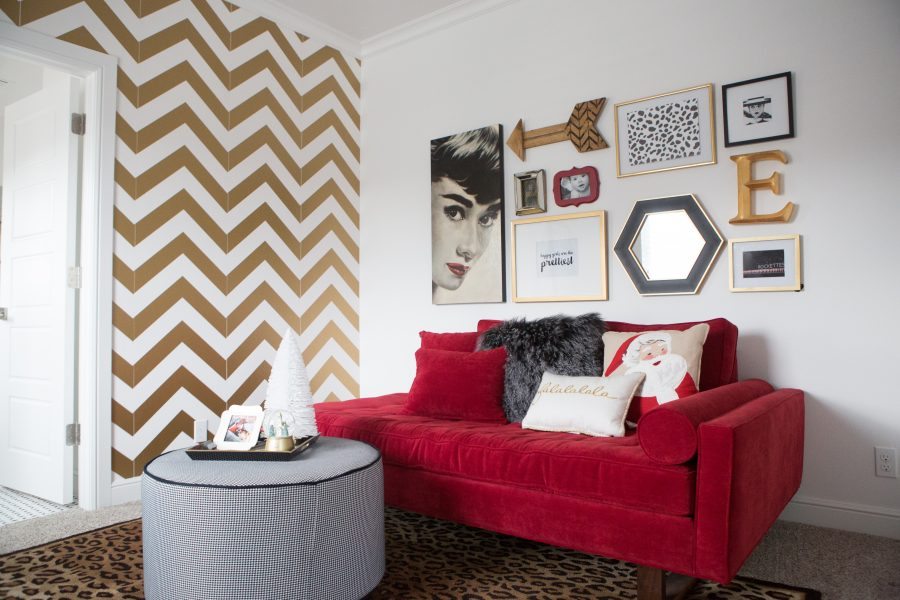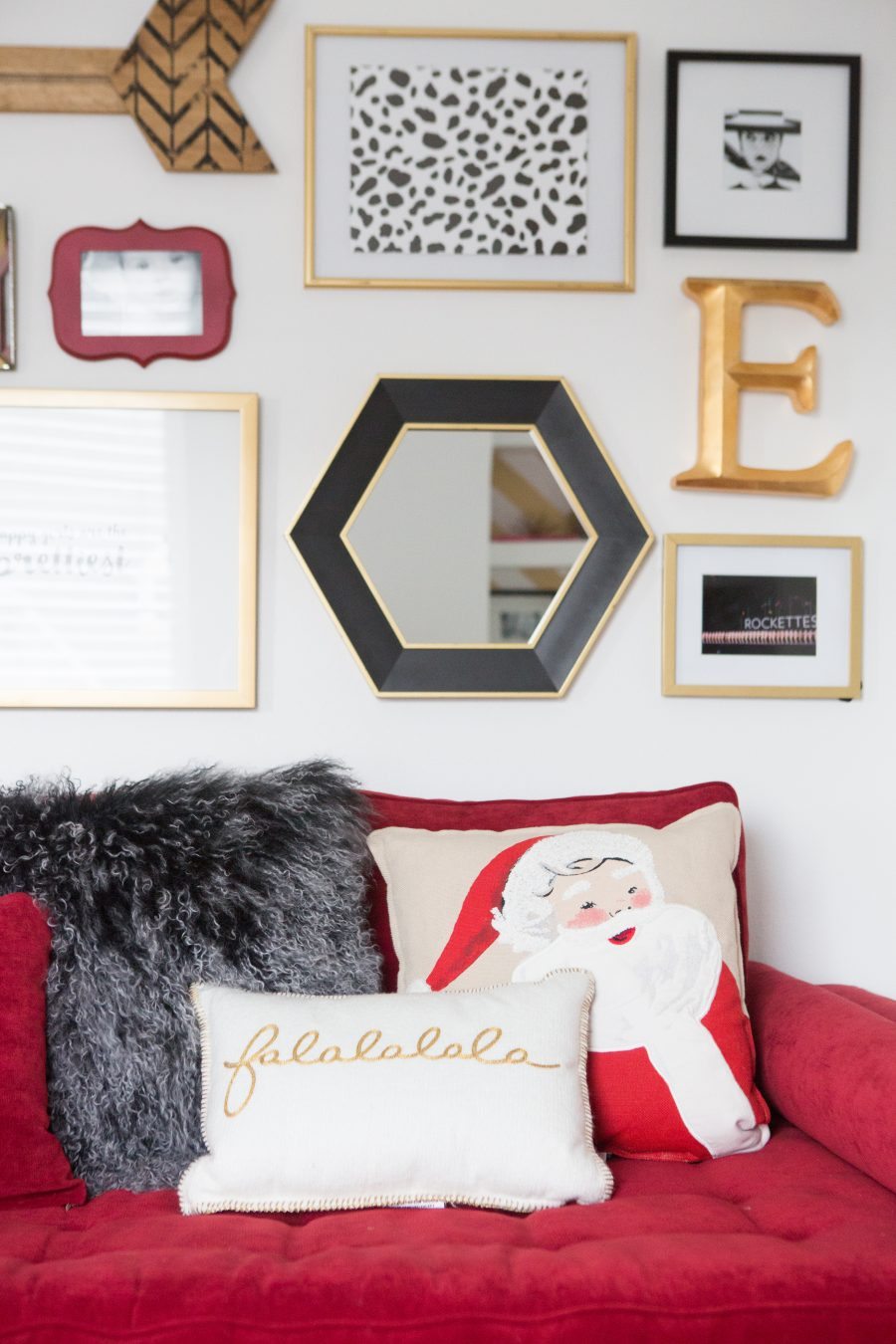 Thank you for stopping by! Please feel free to check out some of our Holiday Posts like our Family Favorite Things 2017 , 10 Tips for Budget Christmas Decor, and our favorite recipe – Peppermint Oreo Cake Balls. You can also subscribe to our blog to make sure you never miss a post!
Happy Holiday to you and yours from the Miller Family!