Summer is in full swing and it has been long past time for us to clean up our backyard and patio area so that we can enjoy it! With a white brick house, the brick can get so dirty as well as the patio furniture, cement, and hardscaping.
Backyard Clean Up & DIY's
Thanks to Walmart, we were able to get our backyard clean up and DIY projects done easily and we are going to share how we did it so you guys can as well. Walmart has everything you need from furniture to porch swings, to backyard organization products, to power washers and pillows and accessories. Get your backyard whipped into shape so you can enjoy it these coming summer months!
Before we go much further, we have to get you our #1 recommendation for what you need in order to get your backyard clean up done – THIS ELECTRIC POWER WASHER FROM WALMART! We were needing a power washer to clean up our brick, hardscaping, patio furniture and backyard area so we read the reviews and decided on the SunJoe Electric pressure washer. It has amazing reviews and we definitely know why! It's so easy to use that my kids can use it. All you do is plug it in, hook it up to your water house, and it's on wheels which makes it easy to roll around and use! My kids were actually arguing over who got to use it!
SCROLL AND TAP TO SHOP OUR FAVORITE WALMART PRODUCTS: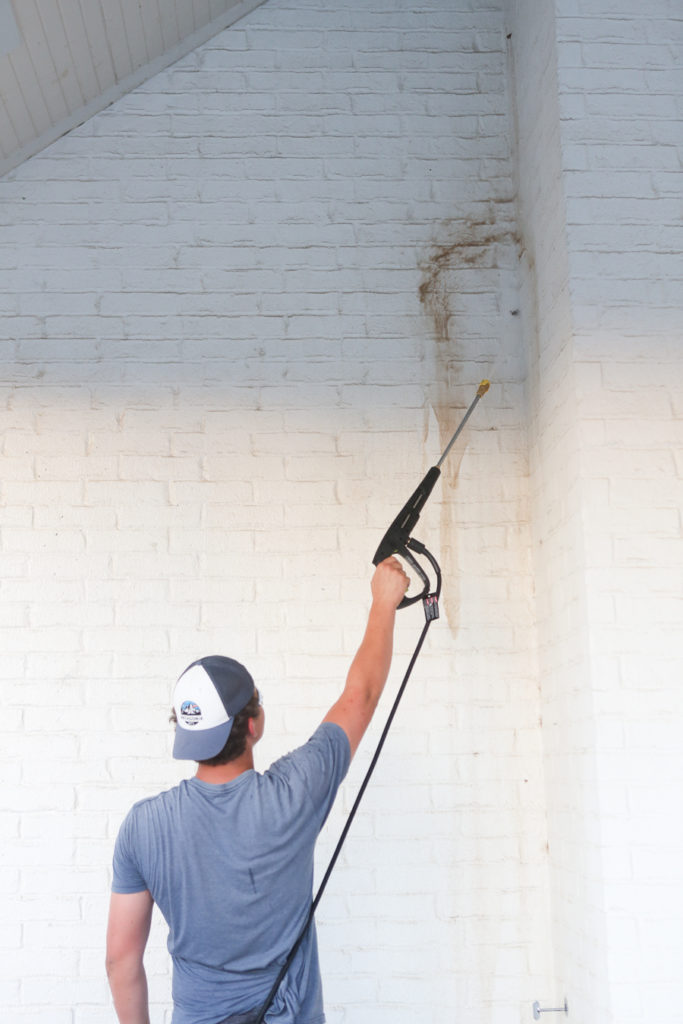 Check out our oldest, Easton, cleaning off our dirty brick with the Sun Joe Pressure washer! It was amazing how easy to use it was and how it cleaned up our brick and made it look like brand new!
Patio Furniture Picks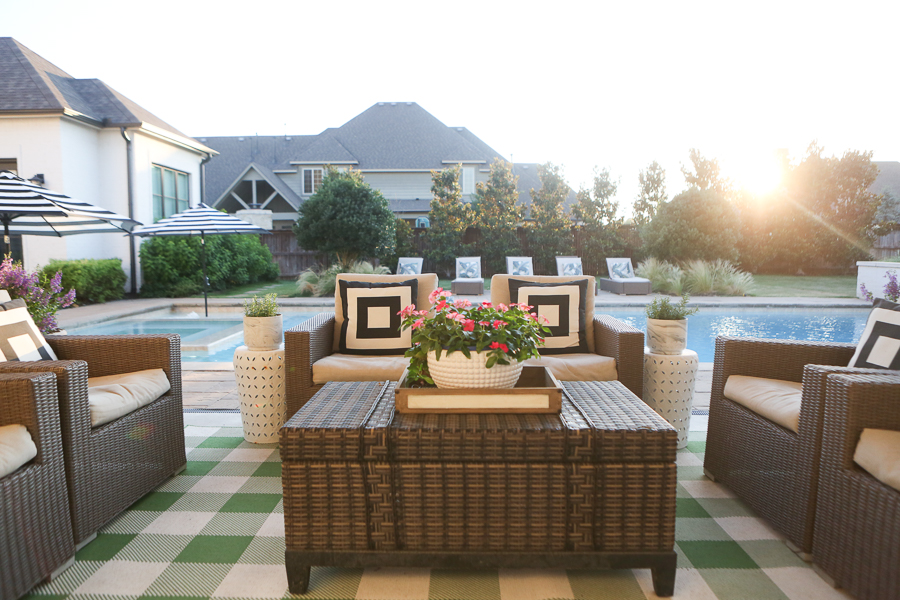 Next up we need to talk about patio furniture! Our set is several years old and is no longer available but Walmart has so many incredible patio furniture options to get the same look that we have on our patio and all of them are, of course, affordable! I'm going to link up to several of my favorites for you guys!
SCROLL AND TAP TO SHOP OUR FAVORITE WALMART PATIO FURNITURE: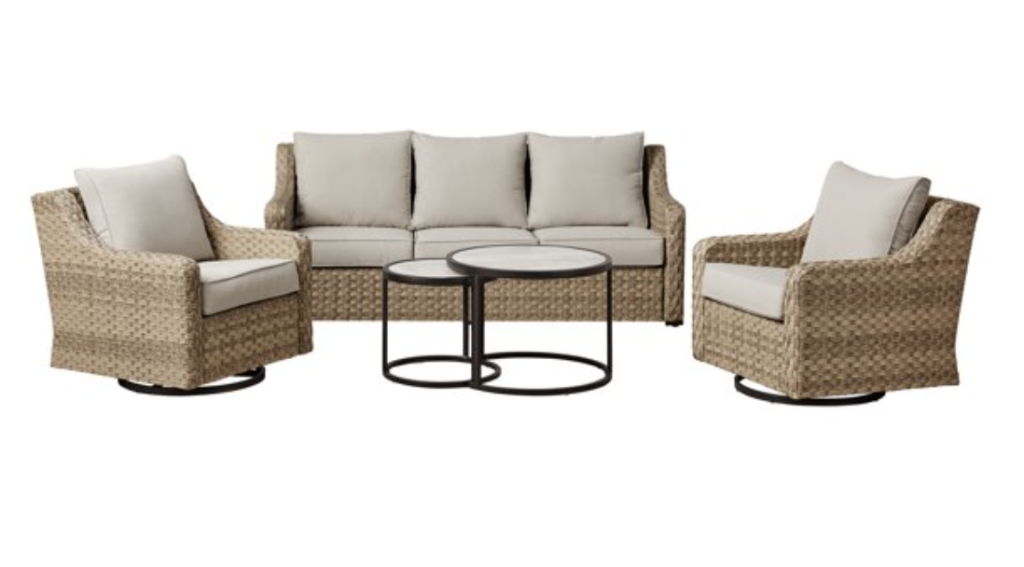 If you aren't familiar with the BETTER HOMES AND GARDENS line at Walmart, let me introduce you because it's a favorite of mine! I absolutely love their home decor and have many of their items in my house. They now have a patio furniture line as well and I am loving it! The set pictured above is affordable and I absolutely love the look!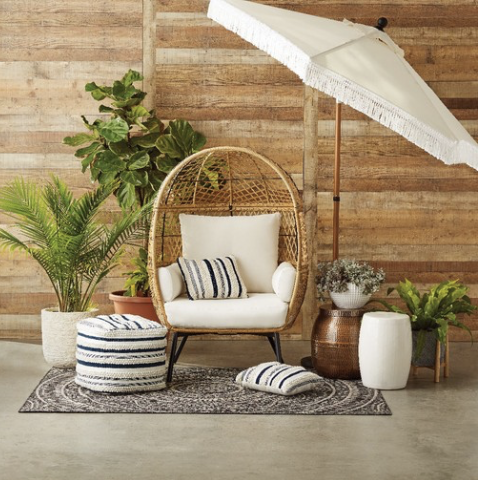 Another crowd pleaser from the Better Homes and Gardens patio furniture line is this Egg Chair! These beauties have been being used not only on patios but in interiors as well and I am LOVING THEM!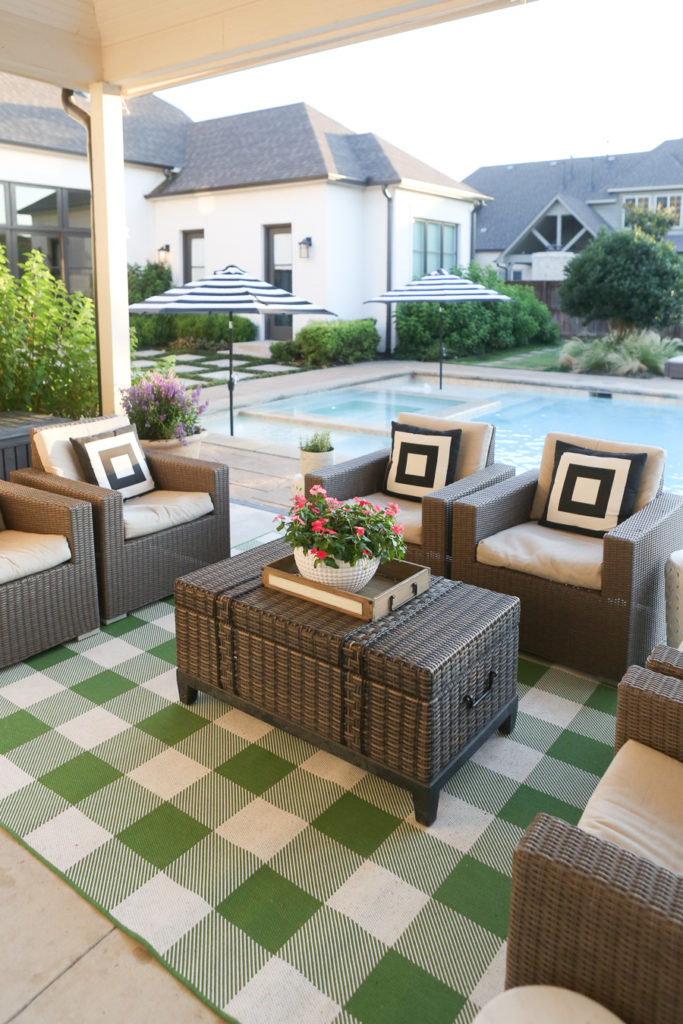 Another one of my absolute favorite items from Walmart is our black and white beach umbrellas. They are a best seller and it's not hard to see why! They are affordable and instantly transform any backyard into a little outdoor oasis. I love the pattern; I love the look; I love the price! I can't recommend these enough!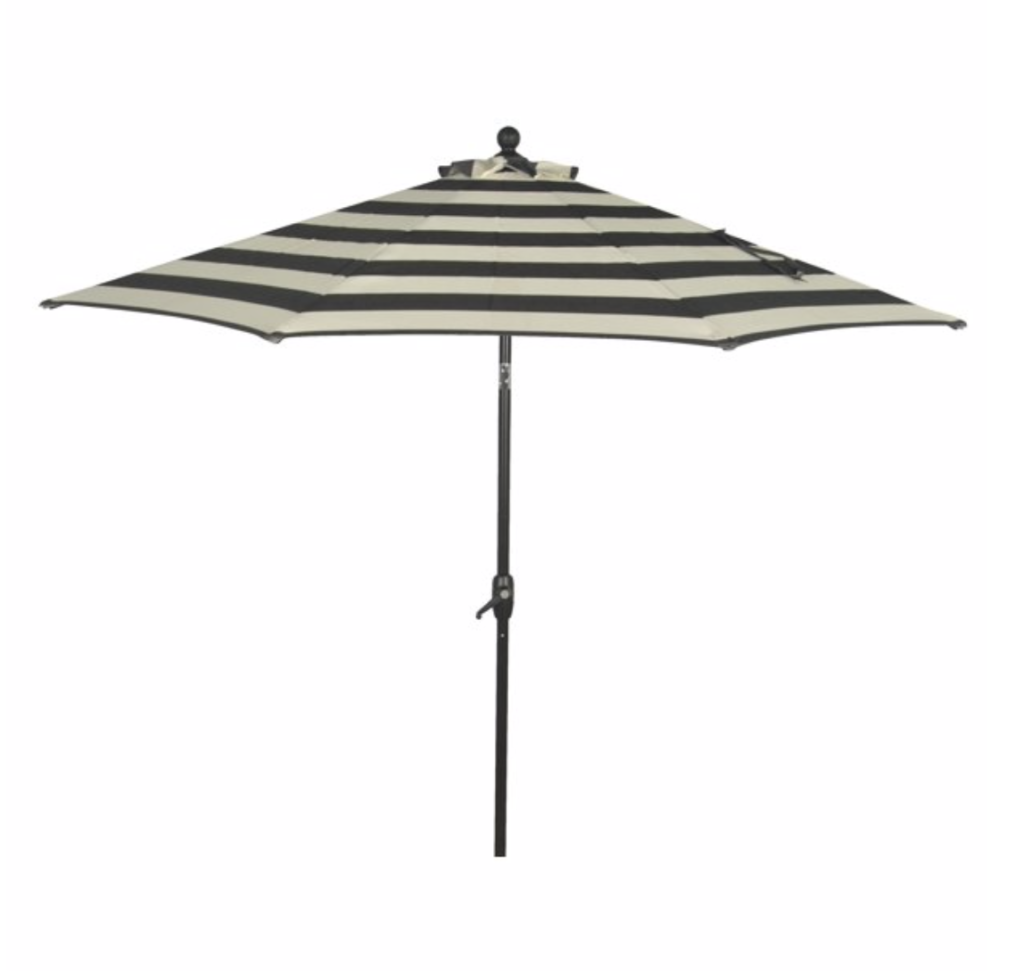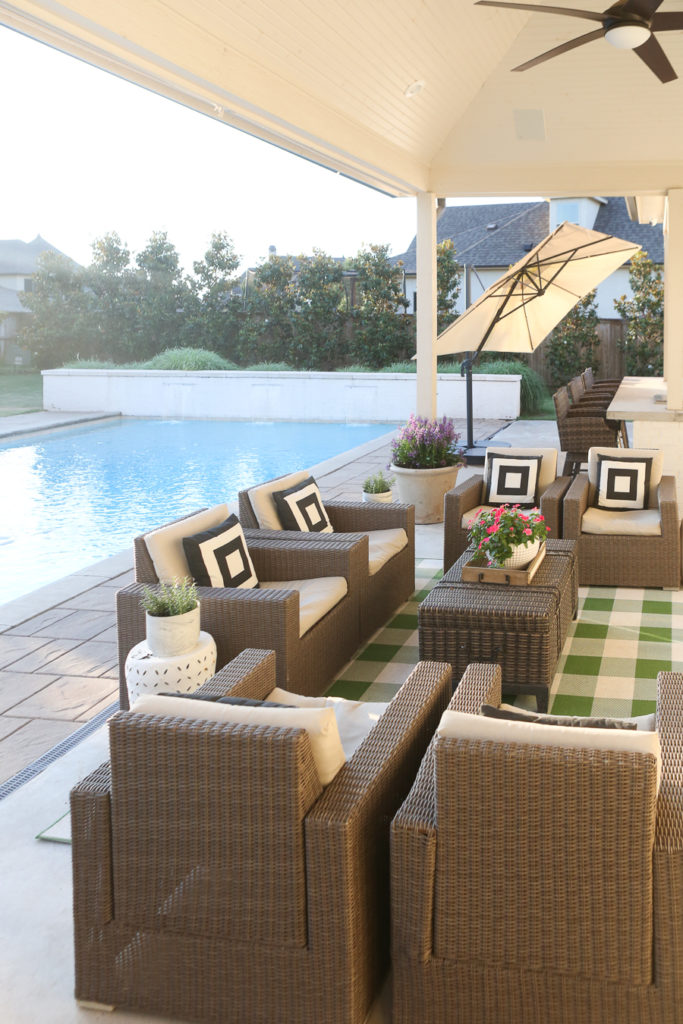 Another item we bought that we are loving is the $36 air pump. It's amazing for our kids to blow up all of their inflatables — so easy to use, easy to store, and it works so well!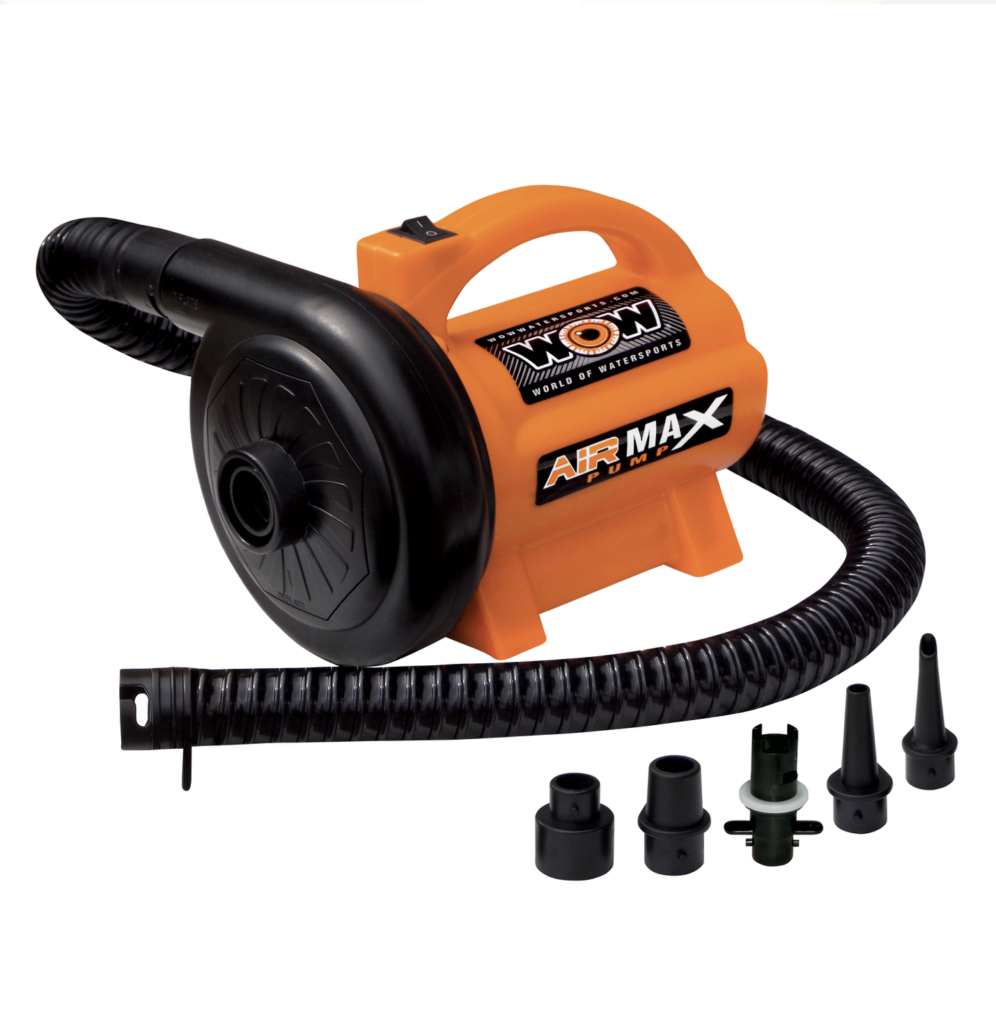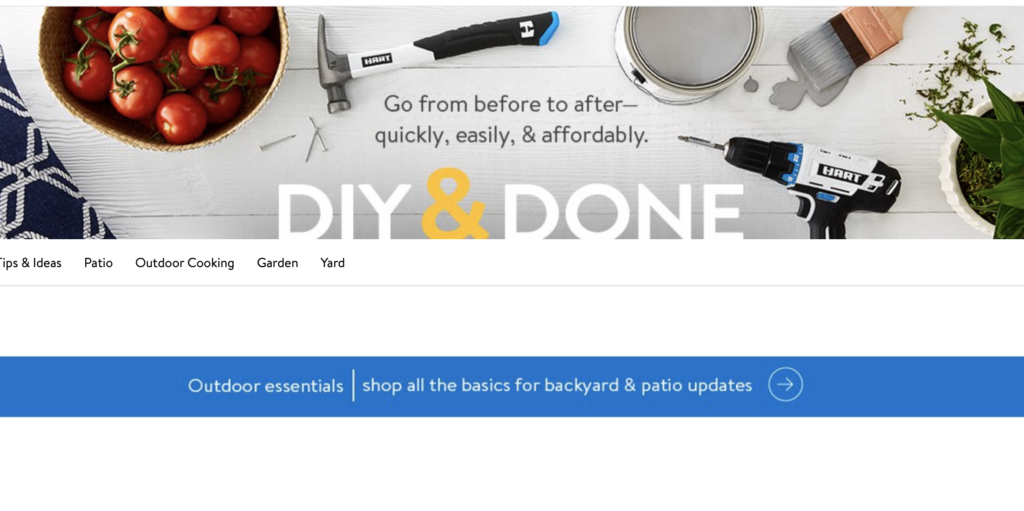 HOPE YOU FIND SOME INSPIRATION FOR SOME DIY/BACKYARD CLEAN UP FOR YOUR OWN HOME ON THIS POST! ENJOY SHOPPING OUR WALMART DIY FAVES HERE. JUST CLICK ON THE PHOTO TO SHOP.