I'm so excited to finally share the CC and MIKE Frisco I Project Reveal with you guys.  This one has been highly anticipated and I'm so sorry to have kept you guys waiting so long!
OUR SERVICES
First of all, let me give you some background on this house. This beauty is actually across the street from our very own home and our good friends built this home. We were so excited when they asked us to be a part of Making their Dream Home Happen! What an honor!  One of the most asked questions we receive is about the different SERVICES we offer. Being a husband and wife team, there is quite a variety of ways that we can help you build your dream home, from Custom Building the house for you to helping you with the Design Finishes and Selections of your new home, to fully furnishing your home and doing the interiors, should you so choose.
THE BACKSTORY
This couple hired us for the New Construction Design Finishes and Selection Package that we offer, which means they already had the plans for their home and just needed me to help select all the finishes (flooring, paint, tile, kitchen design, lighting, wallpaper, trim and cabinetry, etc…). In addition, they also had me help with some of the interior finishes of this house.  And because I know someone is going to ask — YES! — we can offer this package to people outside of the Tulsa area and throughout the nation.
DESIGN PROCESS
As I walk you through this house and share all of the selections and even give you an inside look into the design process by sharing some of the Vision Boards I presented the clients.  Most of the products from furniture to lighting to interiors that we used in the FRISCO I project are from CC and Mike THE SHOP.  If you haven't heard, we started an online shop JUST FOR YOU!  We were getting so many questions about how and where to buy the products that we use in our projects that we thought – WHAT THE HECK! – why not just start an online shop and bring all the rugs, lighting, furniture, prints, pillows, and more, directly to our friends and followers.  So that is what we've done.  We will show you exactly how to buy the products that we used in the FRISCO I Project so that you can bring these looks into your own home!
MAKING DREAMS HAPPEN
And let me just pause and say one more thing…Gosh, we feel SO blessed that we get to work with the most incredible clients and friends ever.  Working with this family was a dream and every time I drive by their house (which is multiple times a day in this situation – ha!) it just brings me so much happiness to know that we played a role in making their dream home happen!  We have so many exciting projects coming up in 2020 from New Construction/Custom Builds to Remodels to Full-Service Design to E-design and we can't wait to share all of them with you!  Thank you for allowing us, CC and Mike, to MAKE YOUR DREAM HOMES HAPPEN!
So without further ado, I give you the REAL reason we are all here today…DRUMROLL PLEASE…..THE CC AND MIKE FRISCO I PROJECT REVEAL…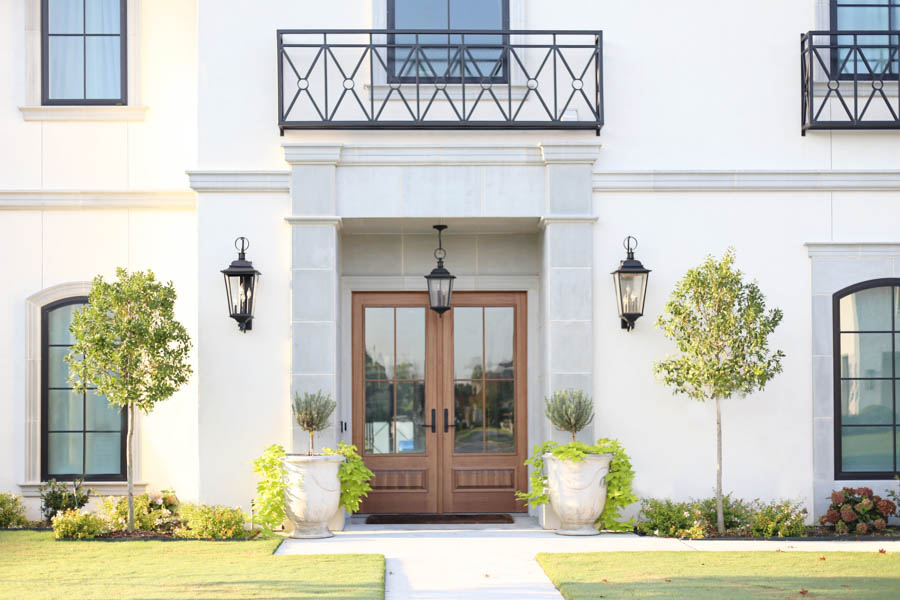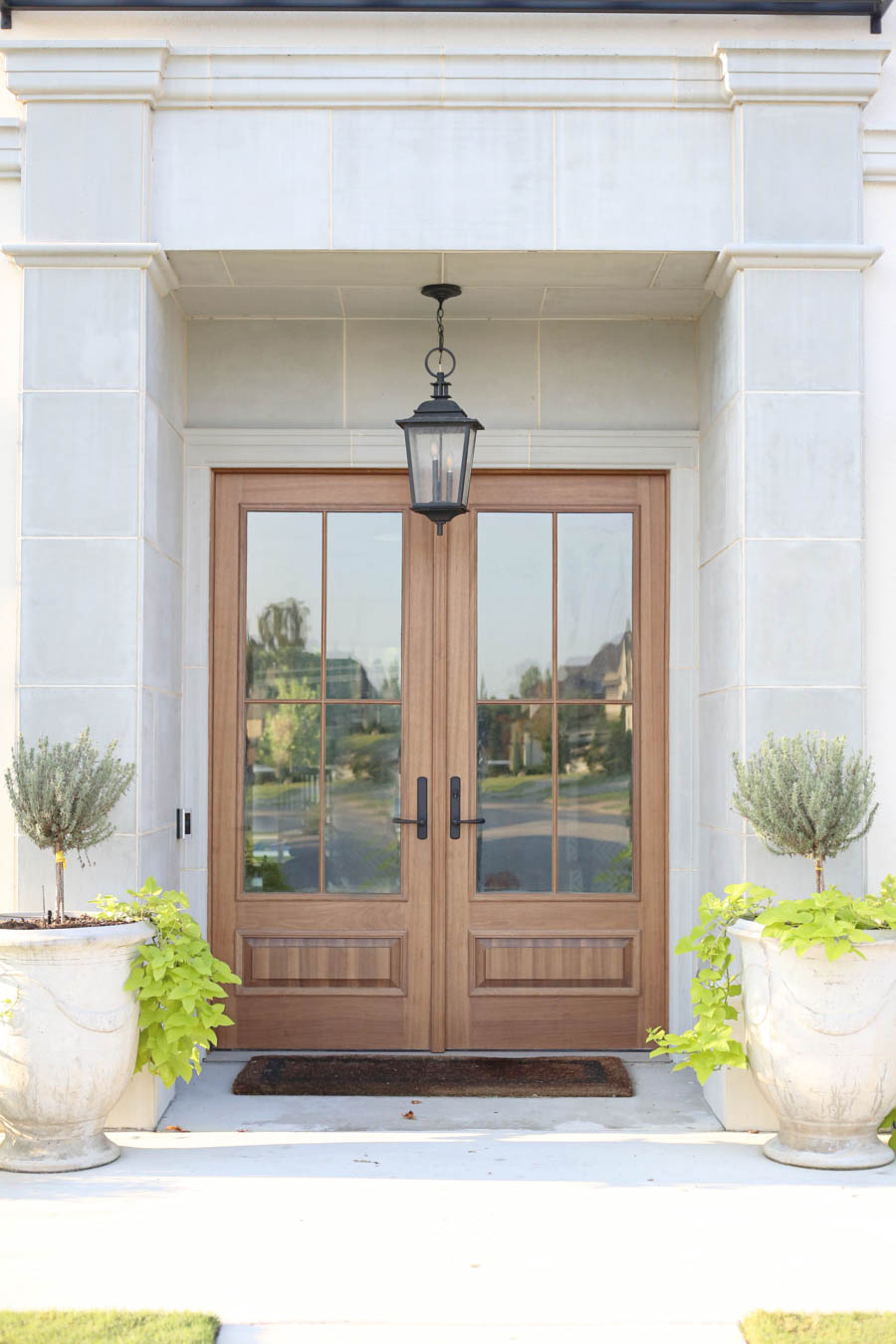 THE EXTERIOR:
I love the subtle European vibes of the exterior of this house!
STUCCO: The color is Alabaster
PLANTERS: These planters are from the Skiatook Statuary in Oklahoma but if you love this look, you can replicate it perfectly with these White Belly XXL Oversized Planters from CB2 or the Azina Planters from Pottery Barn.
LIGHTING: Quorom Pavilion Lights and Quorom Drop Pendant Light
SCROLL AND TAP TO SHOP THE CC AND MIKE FRISCO PROJECT OUTDOOR PRODUCTS: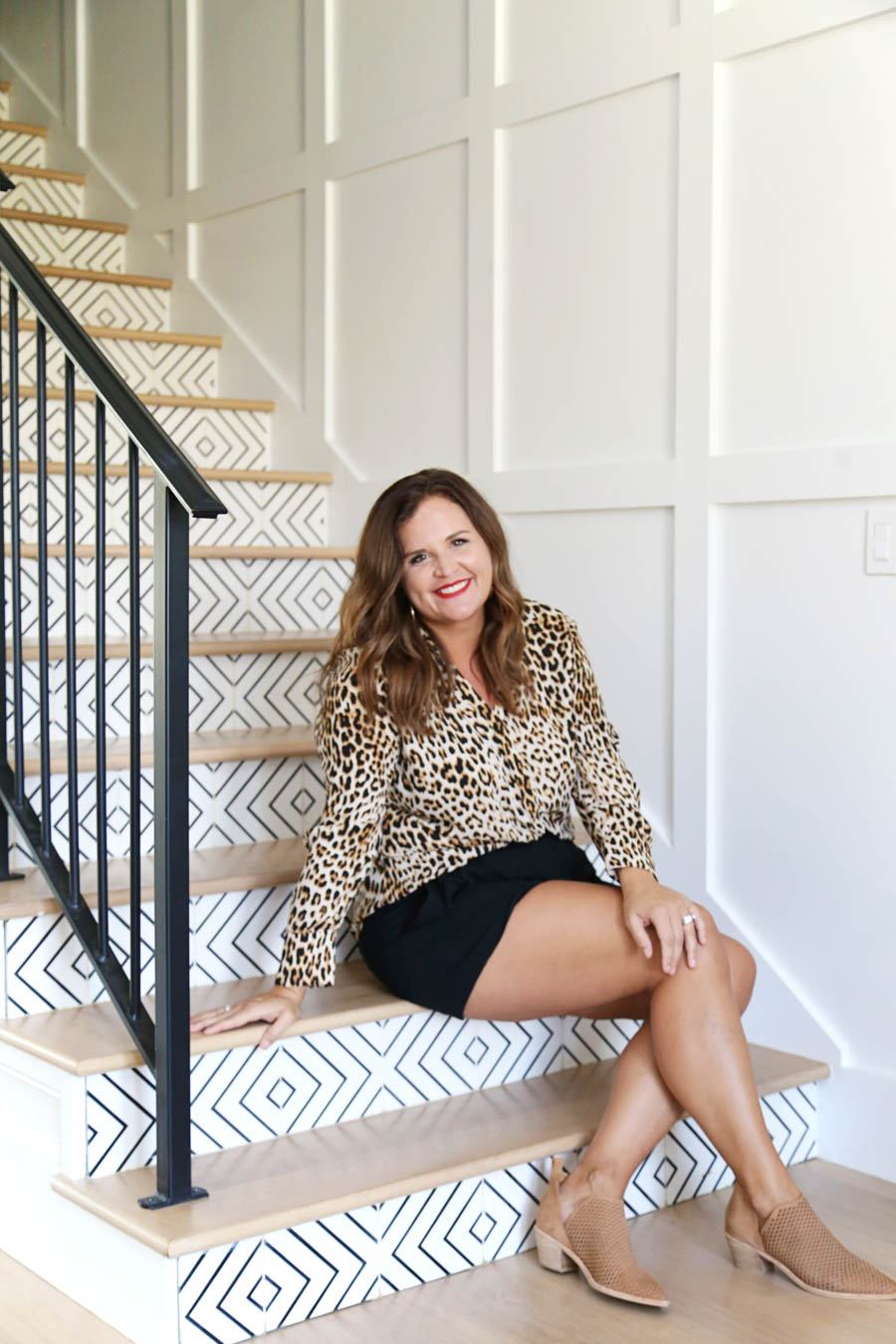 STEP OUTSIDE OF YOUR COMFORT ZONE!
Oh hey there!  I love this staircase so darn much that I had to take a photo on it – ha! There is a reason why though. TRUE STORY: In EVERY home that I design, I try to encourage my clients to take a chance on a design idea that I have that might be a little outside of the box and even pushing the limits of their comfort zone.  This staircase was that idea in the Frisco I project.  I remember being so nervous when I presented it and I also remember how elated I felt when the clients said – LET'S GO FOR IT!  You can see for yourself the end result!
FACTS:  If you go to the trouble to hire a designer, trust them!  Let them push you just slightly outside of your comfort zone and you just might find that you are really happy with the results!
SHOP THE LOOK:

THE STAIRCASE
Trim Work: Holloway Trim Company Tulsa, OK
Paint Color: Benjamin Moore Decorator's White
Flooring and Wood Stair Steps: White Oak wood floors STAIN MIX: 1/2 simply white mixed with 1/2 weathered oak
Tile:  Labyrinth Cement Tile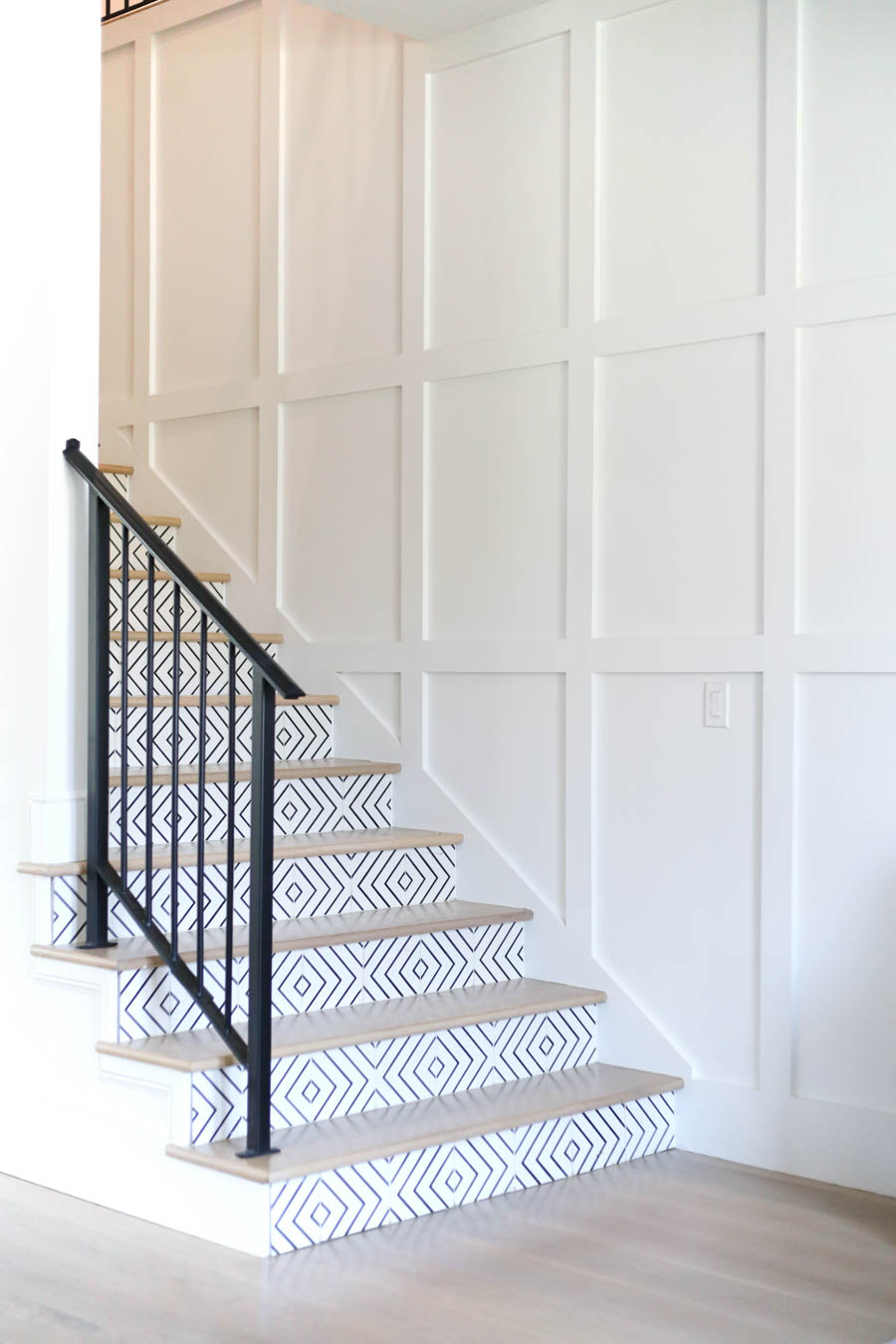 THE STUDY 
The first thing you see when you walk in the Frisco I project is the staircase (pictured above) and then to the left, this gorgeous study!  If you would like to recreate this look, here are the products you can buy:
CHANDELIER | LIBRARY LIGHTS | RUG | CHAIRS | FLOOR MIRROR | FAUX OLIVE TREE | THROW | SMALL ROUND TABLE | TUSCAN VASE | CANDLESTICKS | WOOD TRAY |  CURTAINS
SCROLL AND TAP TO SHOP THE FRISCO I PROJECT STUDY: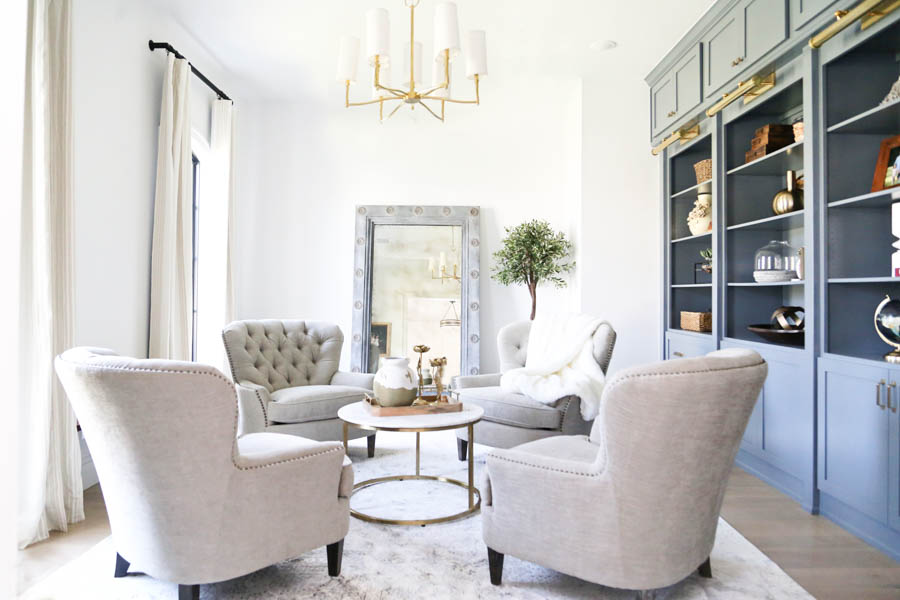 We absolutely love the Dillon light fixture from CC and Mike THE SHOP.  We used it here as a statement in the study of the Frisco Project but trust me when I say that this beauty looks amazing in Dining Rooms, Kitchens, and Bedrooms as well!  The Dillon comes in 4 different finish options as well!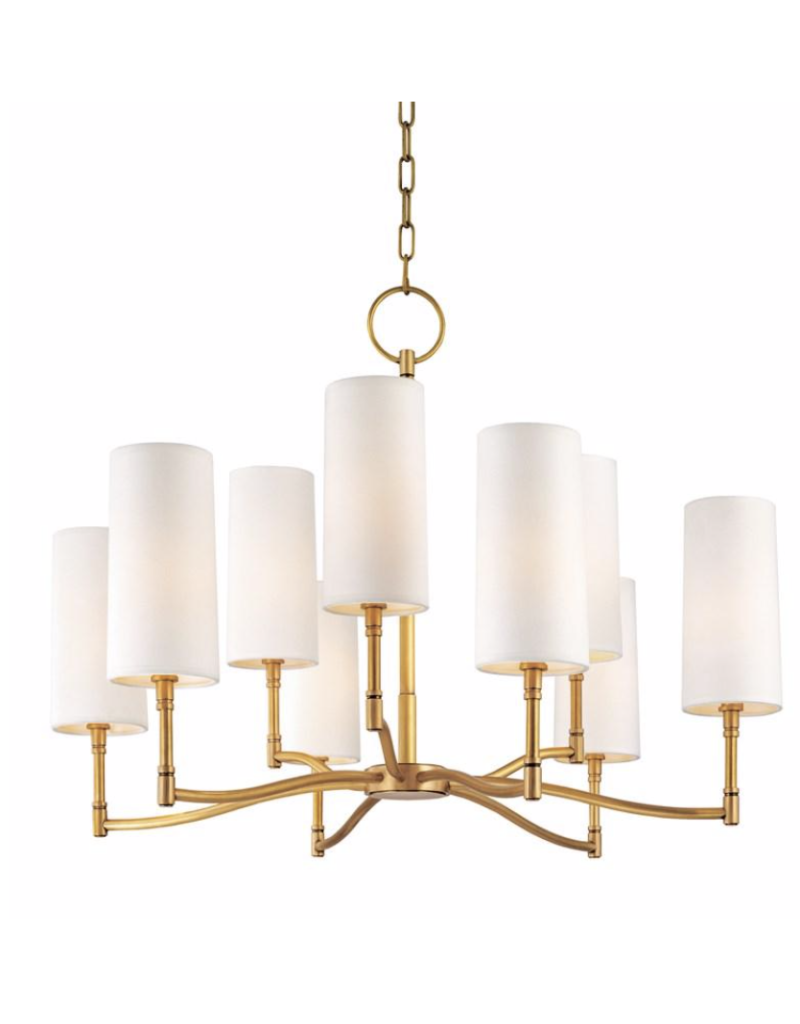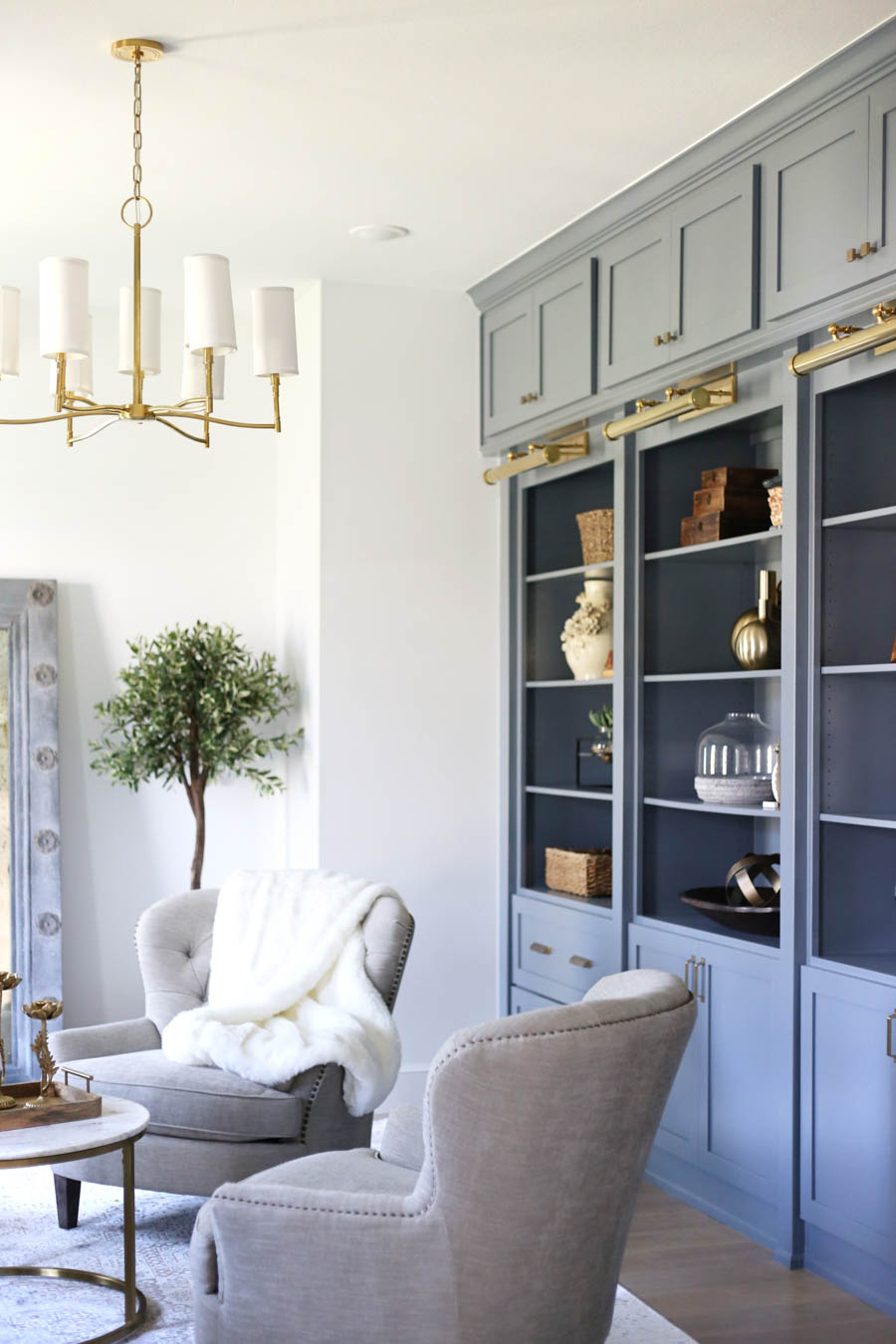 We used the PLATINUM CAMBRIDGE AREA RUG from CC and Mike THE SHOP in the Frisco I study.  This has been one of my favorite rugs since I first saw it at Market.  If you are looking for an XL (it comes in up to size 12×15) neutral area rug that will go perfectly in any room, this is the rug for you!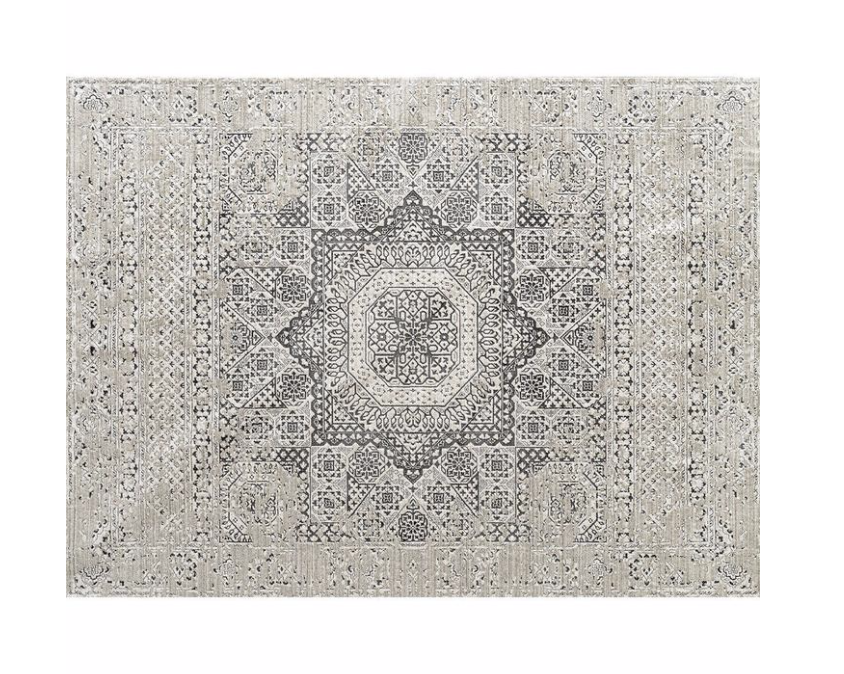 THE KITCHEN
Next up we need to talk about the kitchen, which is without a doubt always my favorite room fo the entire house to design.  I always start with the kitchen in every house and I truly believe that the kitchen is the heart of the home.  The homeowners were interested in gray kitchen cabinets so I recommended the color WOLF GRAY by Benjamin Moore.  I love the gray color that leans toward blue undertones.  It pairs so beautiful with gold lights and marble backsplash which we did as well. Paired with the huge kitchen window, that natural light pouring in, and the open shelving, this kitchen is stunning, timeless, and classy in my opinion.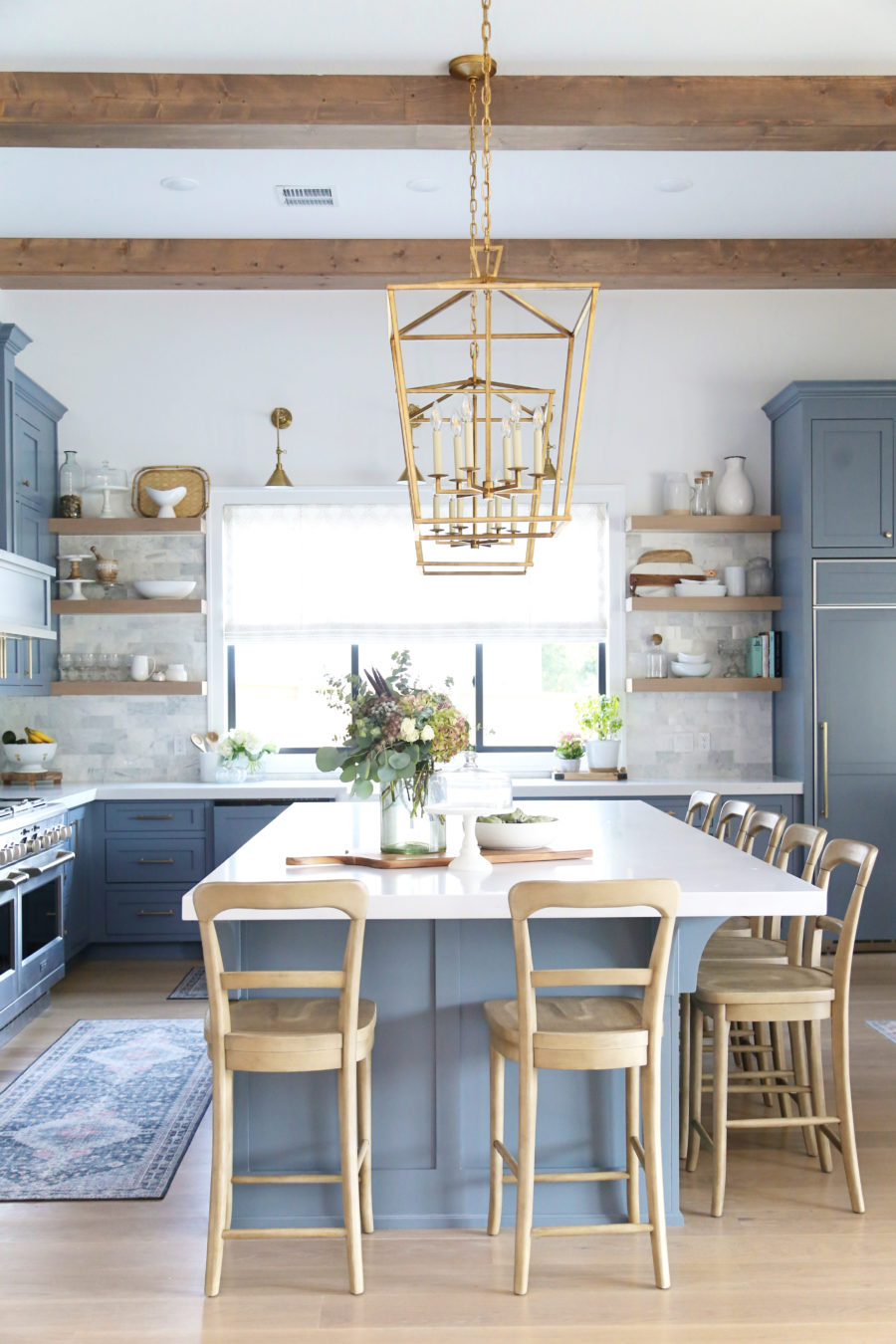 KITCHEN PRODUCTS:
RUNNERS | BAR STOOLS | GARDEN CITY SCONCES | DARLANA LANTERNS | FAUCET | BACKSPLASH | APRON FRONT SINK
SHOP OTHER KITCHEN STYLING PRODUCTS:

CABINET PAINT COLOR – WOLF GRAY BY BENJAMIN MOORE
QUARTZ COUNTERTOPS: Aurea Lincoln
OPEN SHELVES: Custom Made by Holloway Trim; material – white oak (stain mix – clear coat/lacquer with 5% white paint mixed into the clear coat)
CUSTOM WINDOW TREATMENTS: DRAPERY NATION
If you're looking for the perfect kitchen runner, we highly recommend our SKY rug line that we used in the Frisco Project.  This is the Charcoal/Multi Skye Rug but we love ALL the SKYE rugs as runners!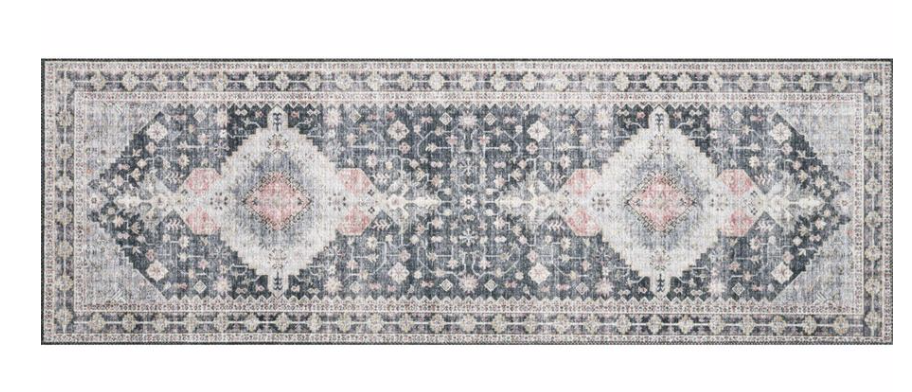 SCROLL AND TAP TO SHOP OUR SKYE RUG LINE:

I know we will get a lot of questions about the bar stools in the Frisco Project so here you go!  We used the Cline Counter Stools from Pottery Barn for this kitchen!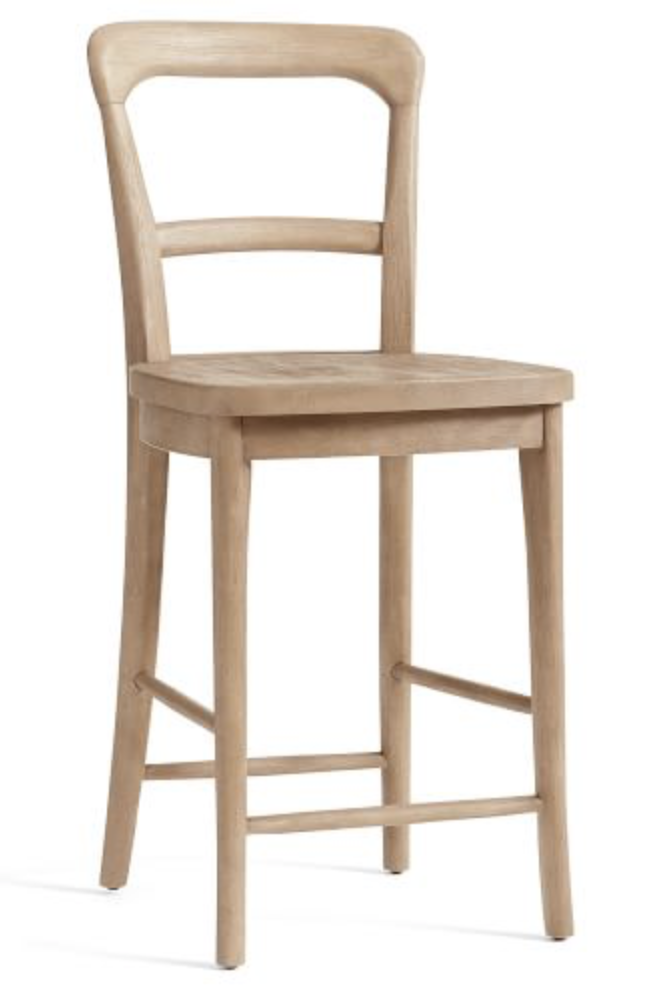 THE HIDDEN PANTRY
Make sure you pay close attention because you so you don't miss that their is a hidden pantry in this kitchen design, which is oh so amazing.  We will be doing a full blog post on this pantry and talking all about why it's an incredible idea to incorporate into your kitchen design but for now we are just giving a little Sneak Peek!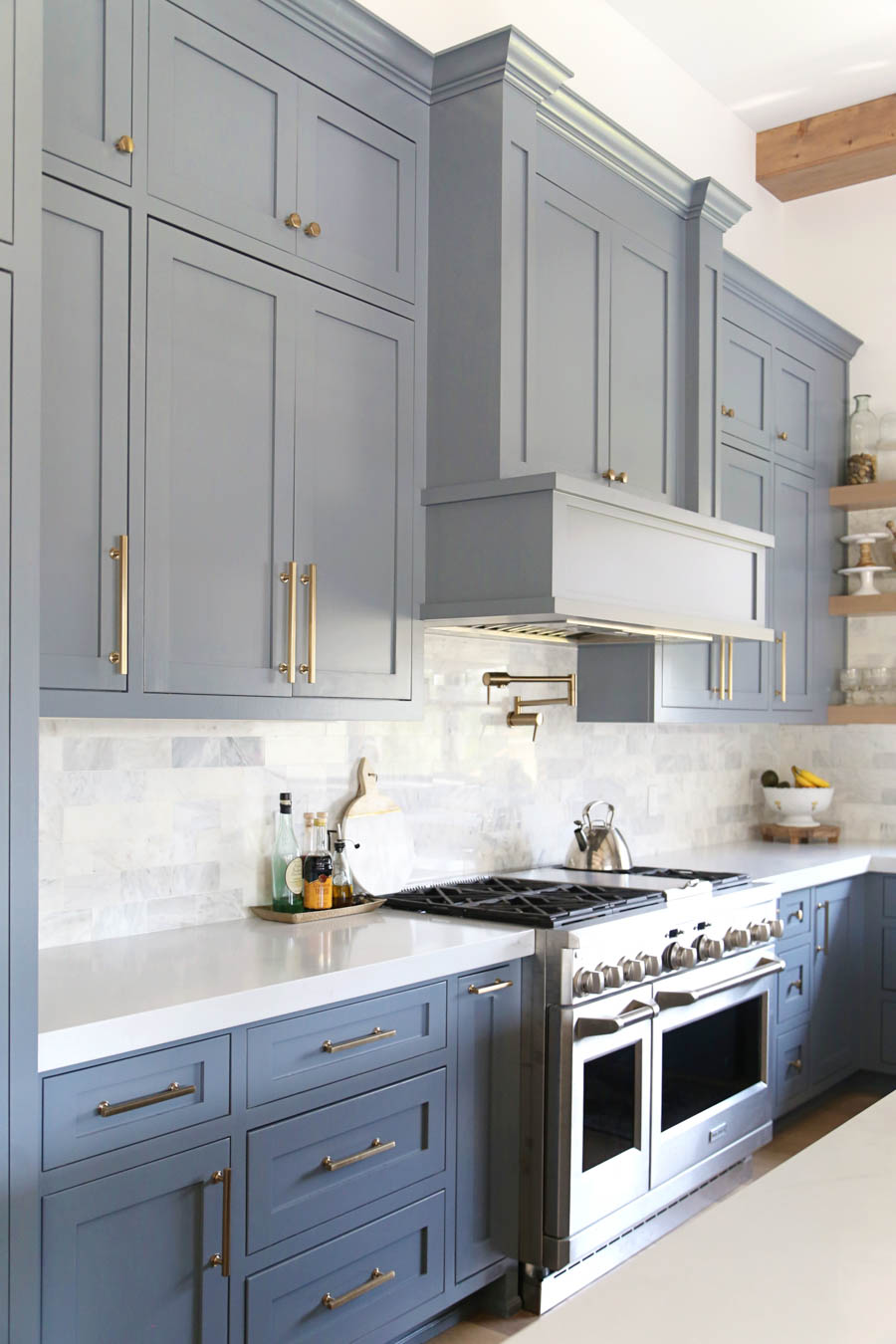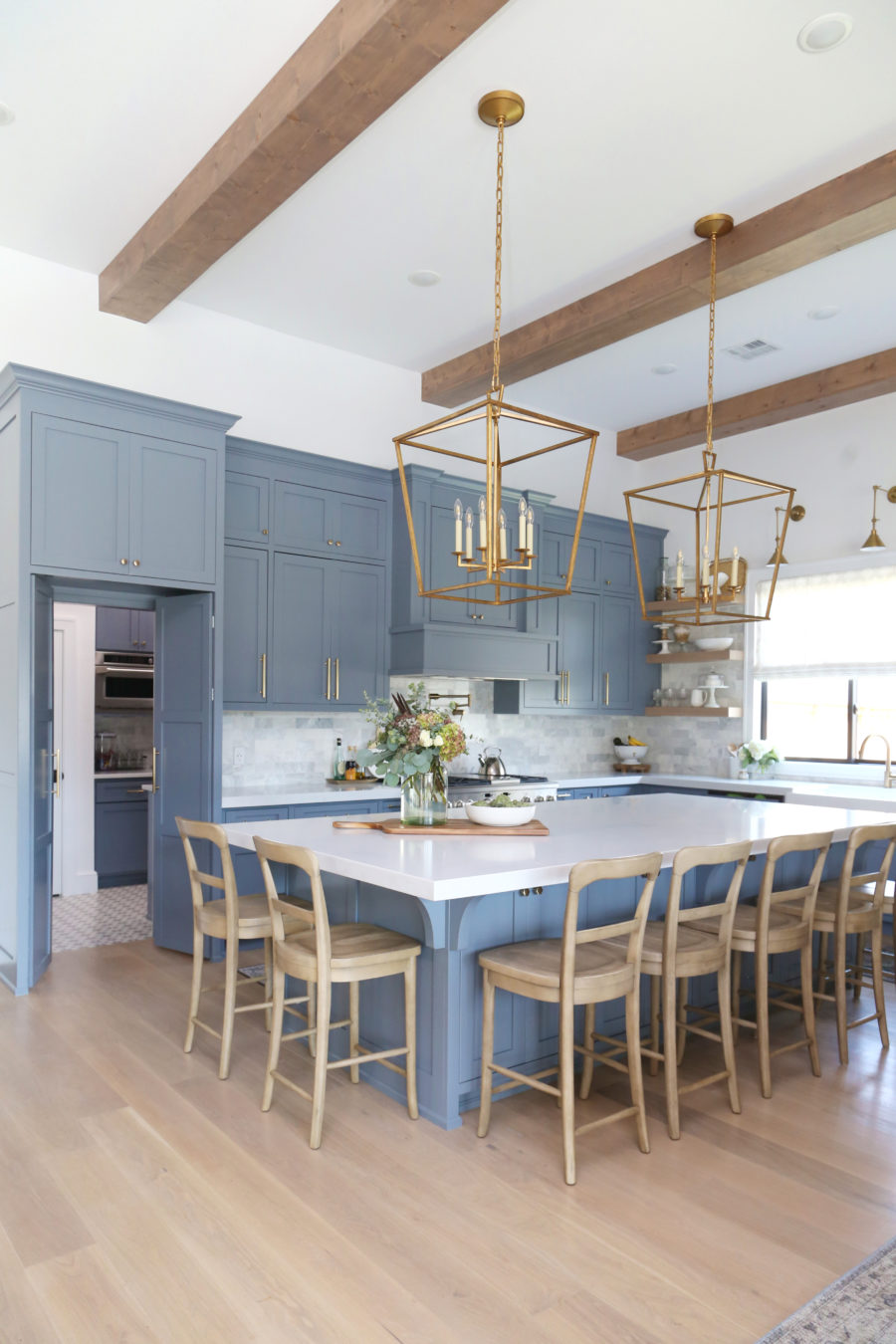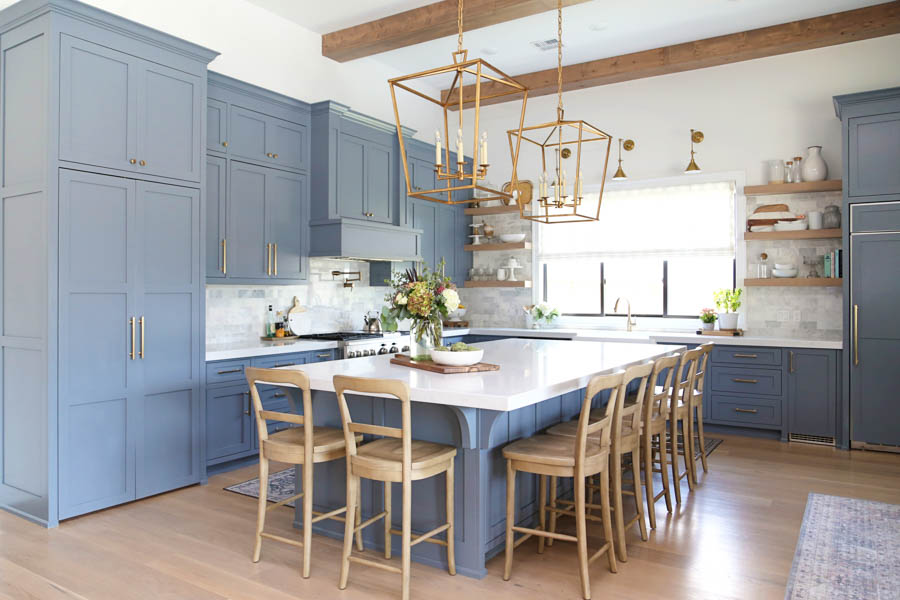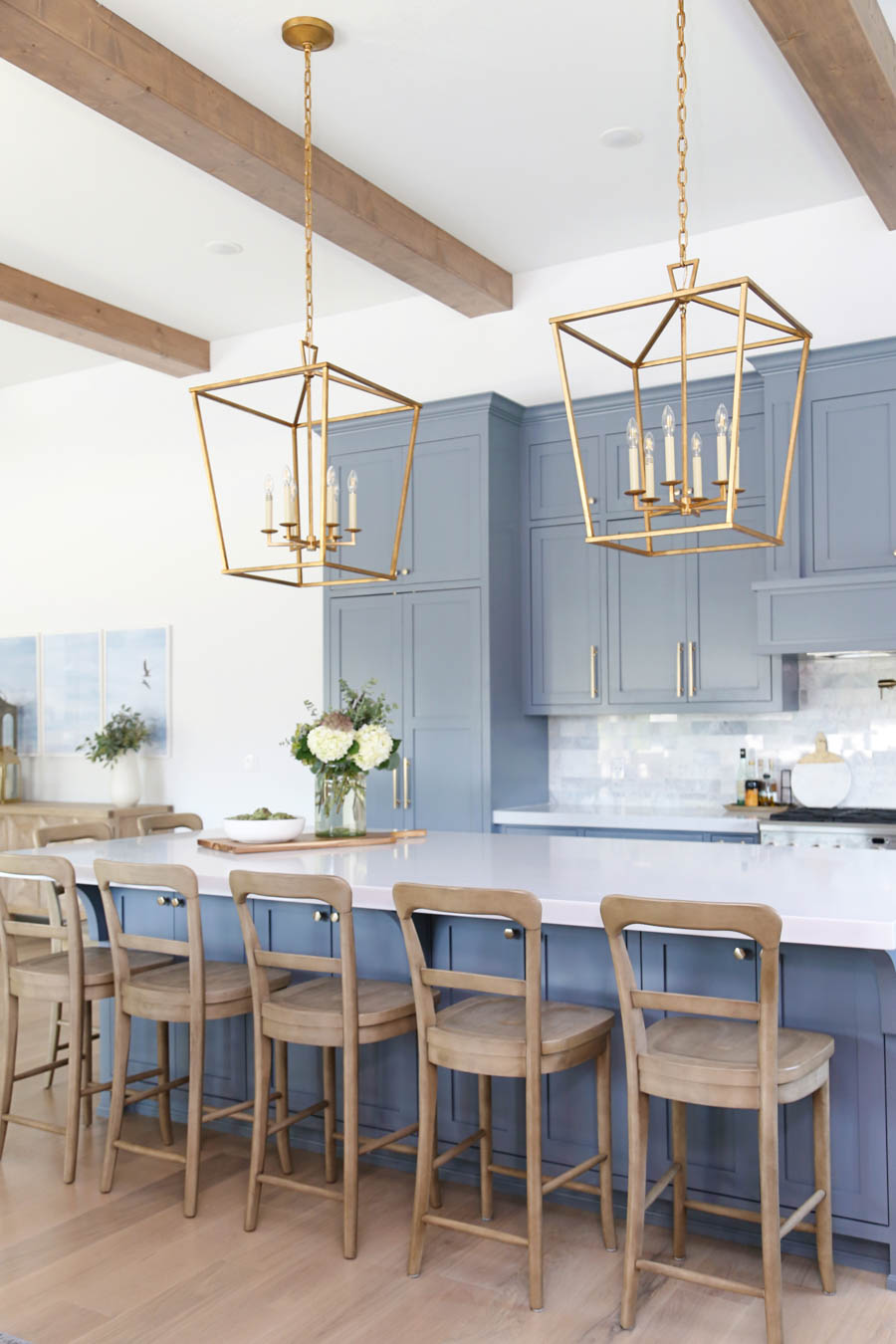 Gold kitchen lanterns are always such a gorgeous statement in any kitchen.  CC and Mike THE SHOP has a selection of our favorite gold, silver, and iron lanterns available for your next kitchen project!  We especially love the Cape Lantern.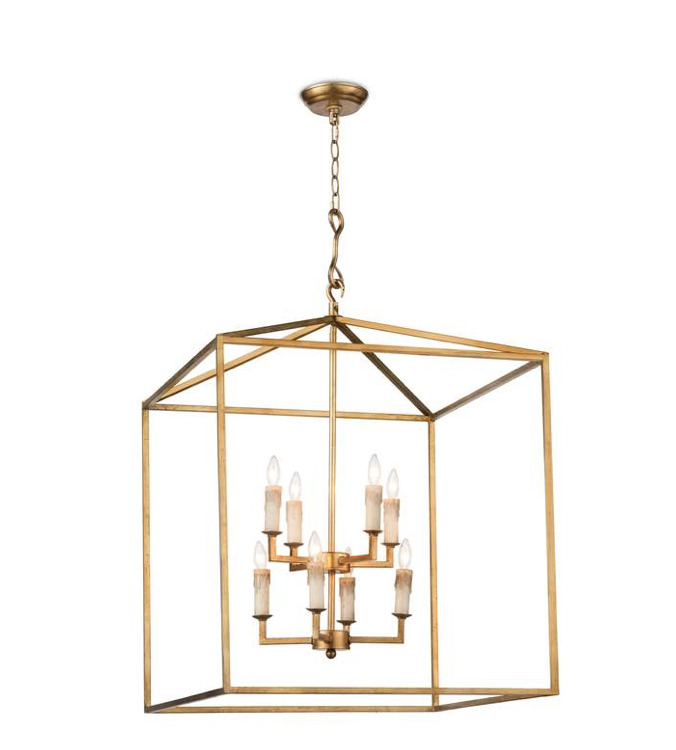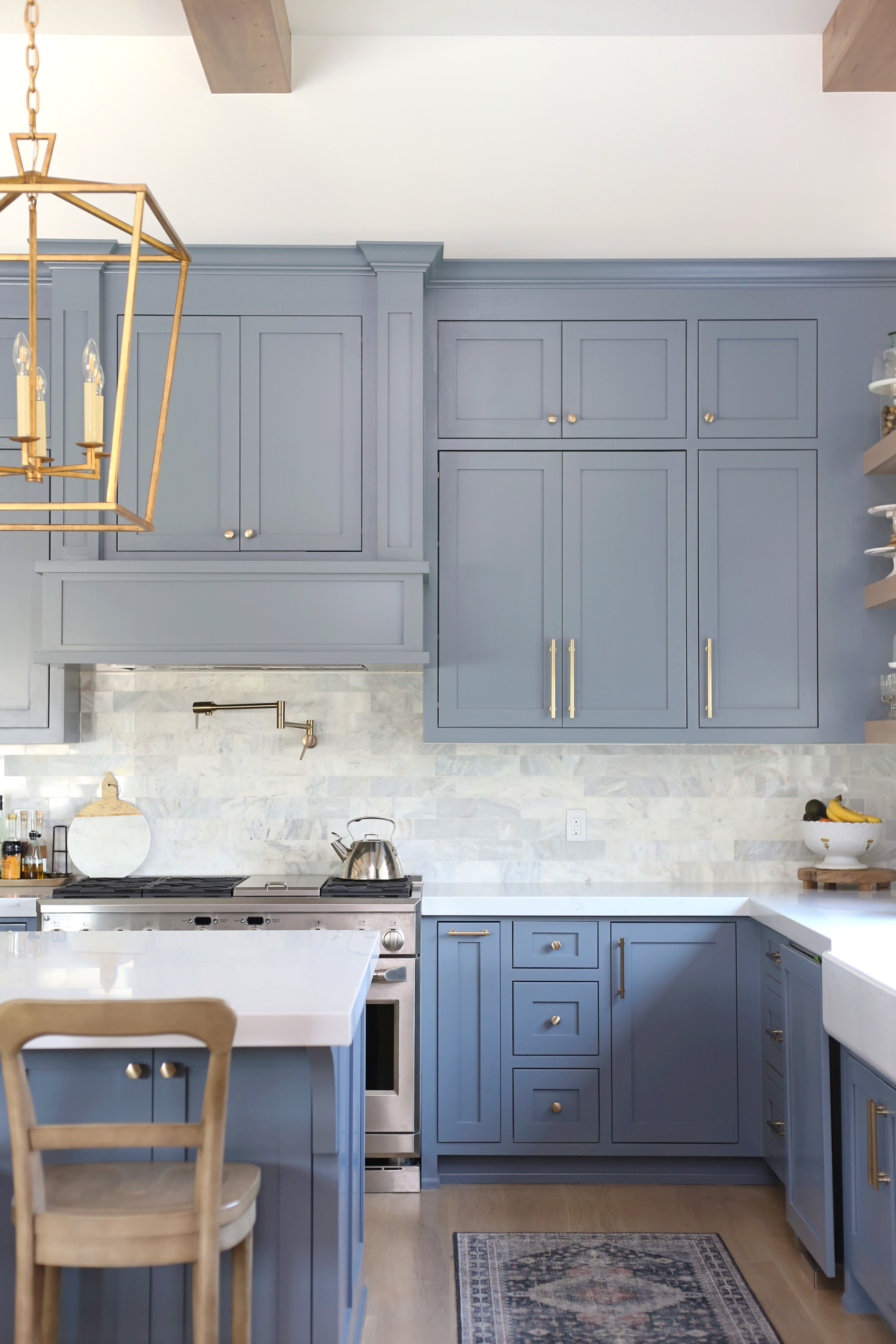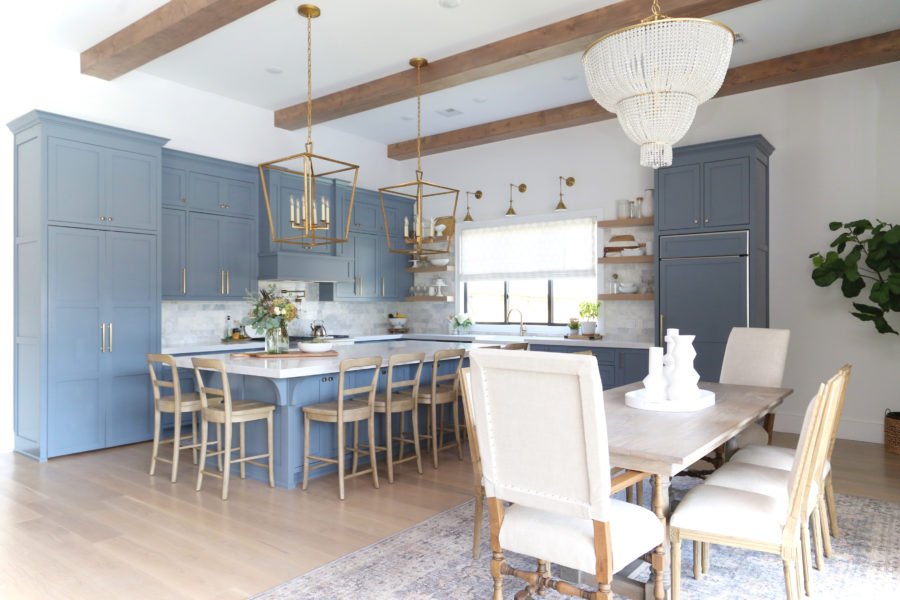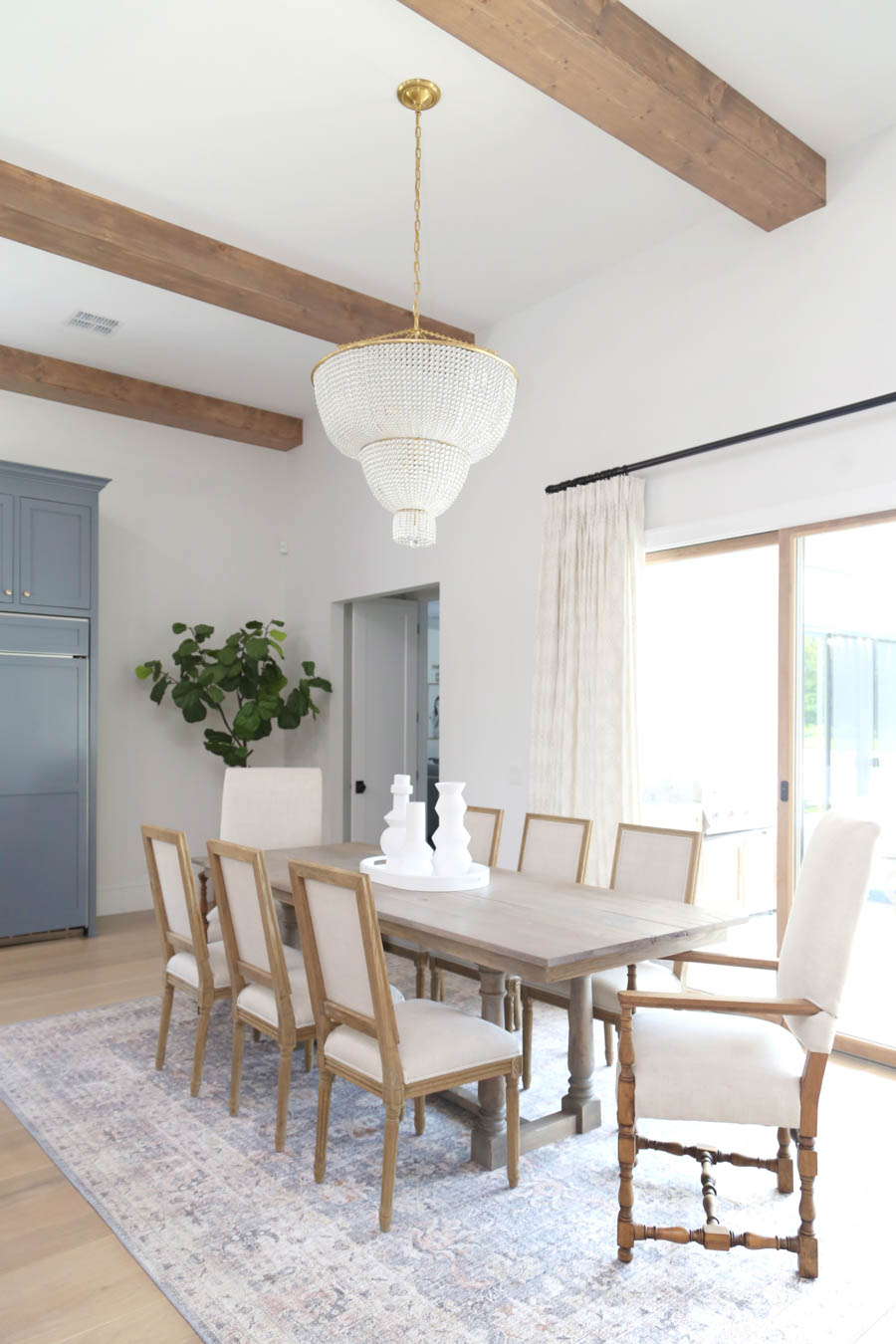 THE DINING ROOM:
RUG | CHANDELIER | DINING TABLE | DINING CHAIRS | VASES | FIDDLE LEAF FIG TREE  |
CUSTOM WINDOW TREATMENTS: DRAPERY NATION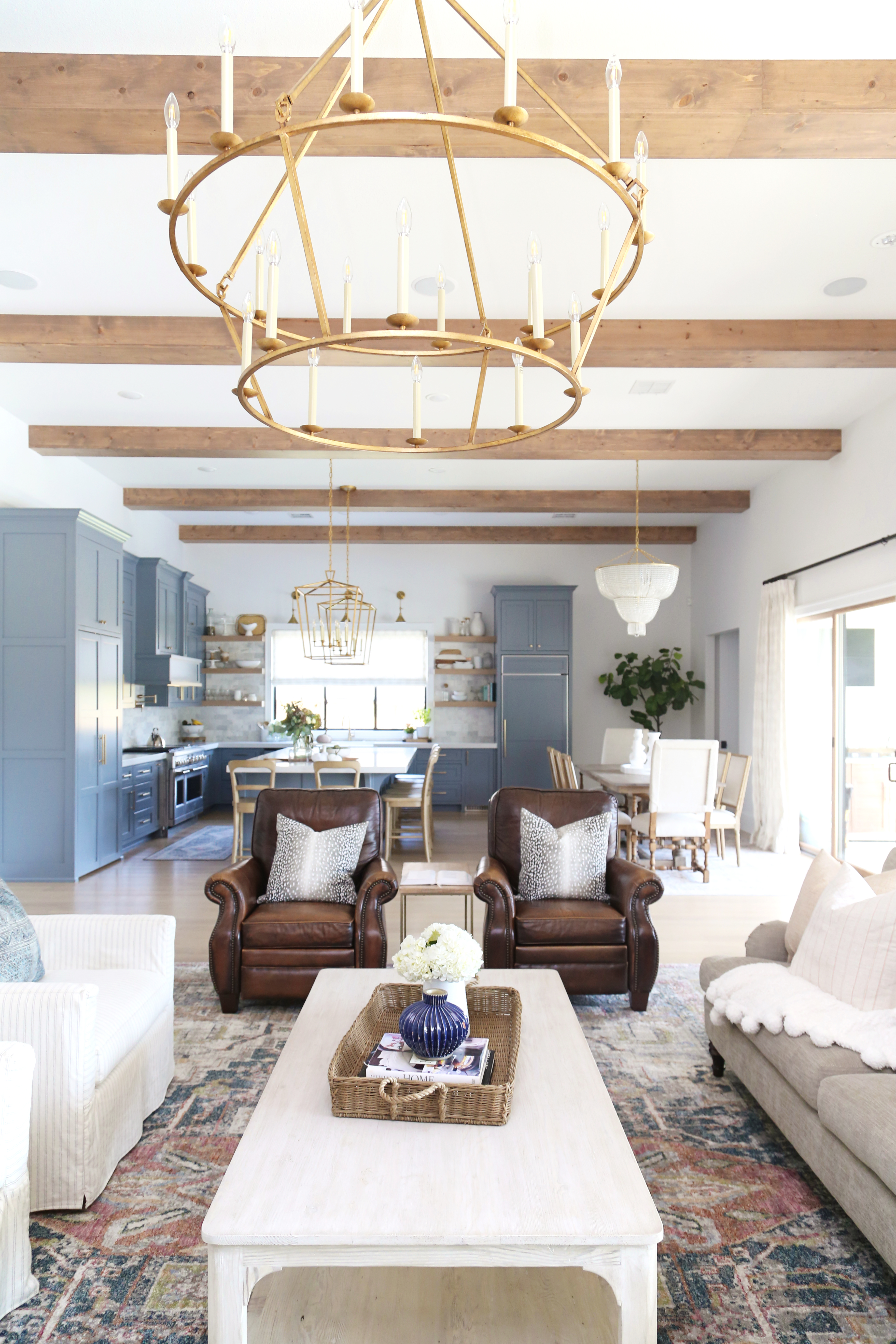 THE LIVING ROOM
RUG | ANTELOPE PILLOWS | ANTELOPE OTTOMANS | METALLIC ROSE GOLD PILLOWS  | SAMSUNG FRAME TV|  COFFEE TABLE | CHAIRS – Slipcovered Chairs can be custom ordered from CC and Mike THE SHOP | CARLISLE SOFA | LEATHER CHAIRS | LIGHT FIXTURE | POM POM THROW |
We used the ANASTASIA AREA RUG in the Frisco I Project.  It comes in XL sizes and is a durable, affordable area rug with beautiful colors such as blush, navy, gray, green, light orange, burgundy, and more running through the pattern.  It is an extremely versatile rug that looks beautiful in any room!  It is one of our top 3 sellers in CC and Mike THE SHOP. We love it paired with the CHARCOAL ANTELOPE pillows and CHARCOAL ANTELOPE skirted ottoman.
SHOP THE FRISCO I PROJECT LIVING ROOM: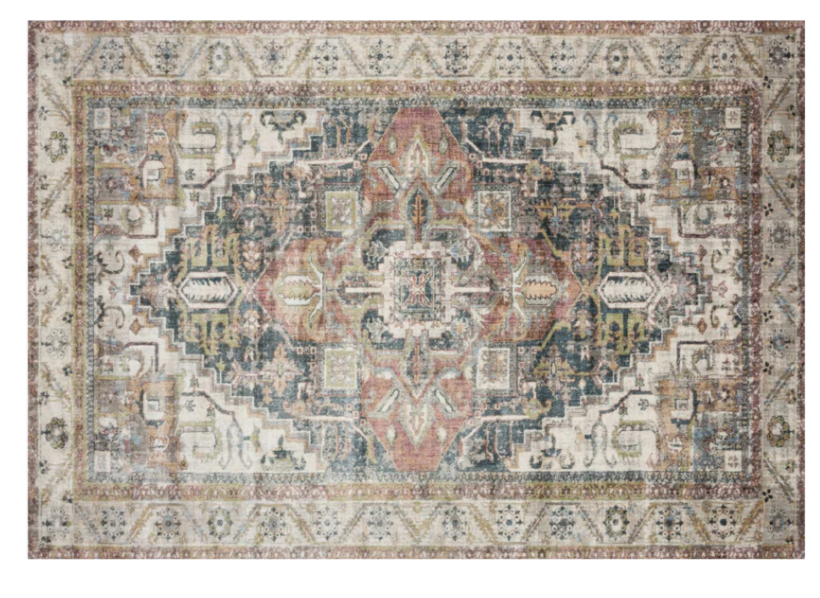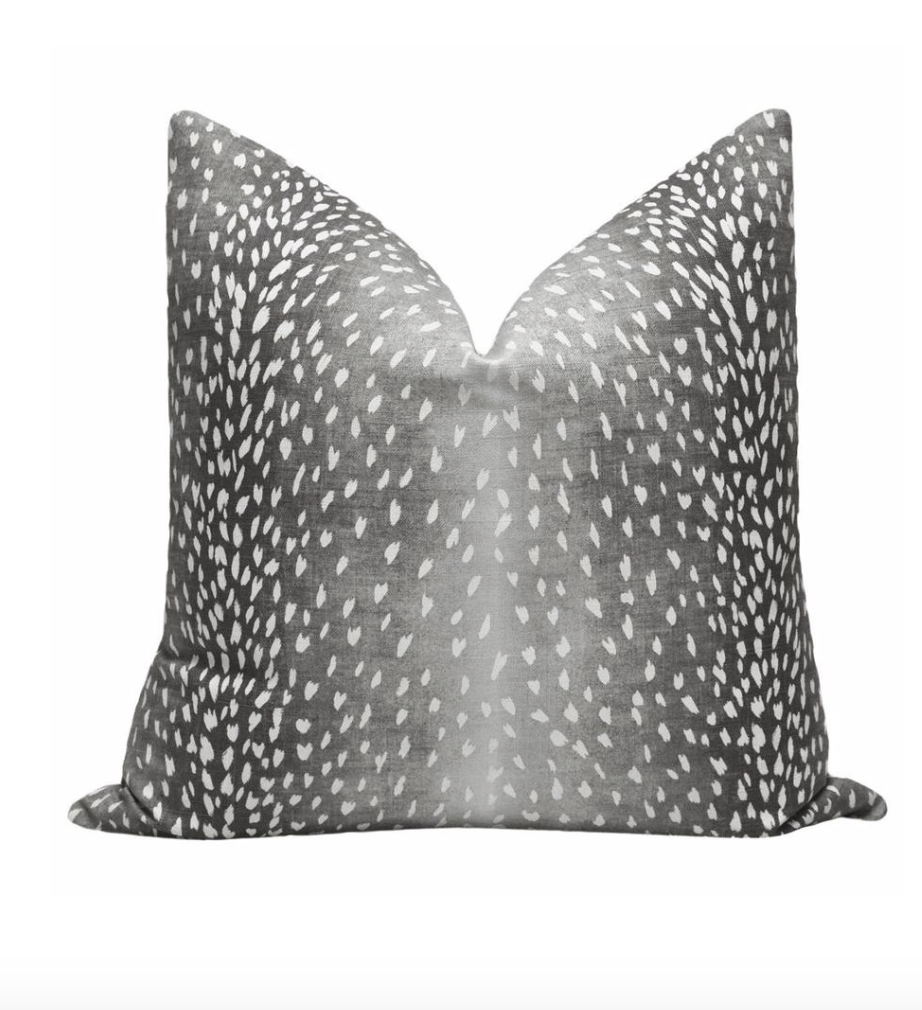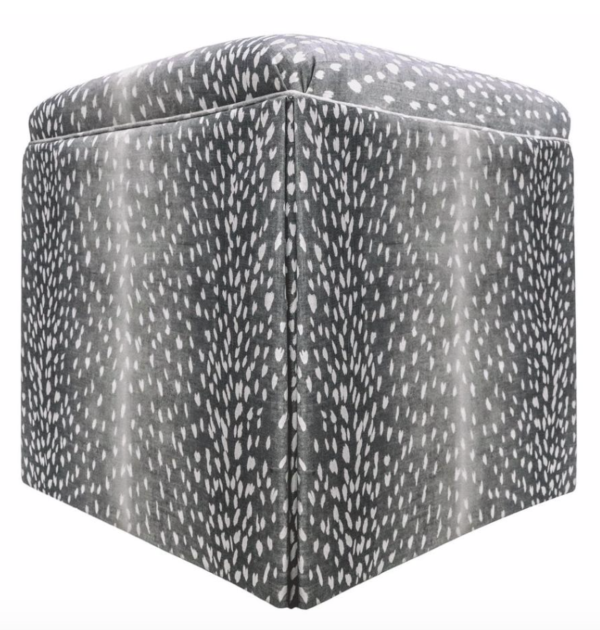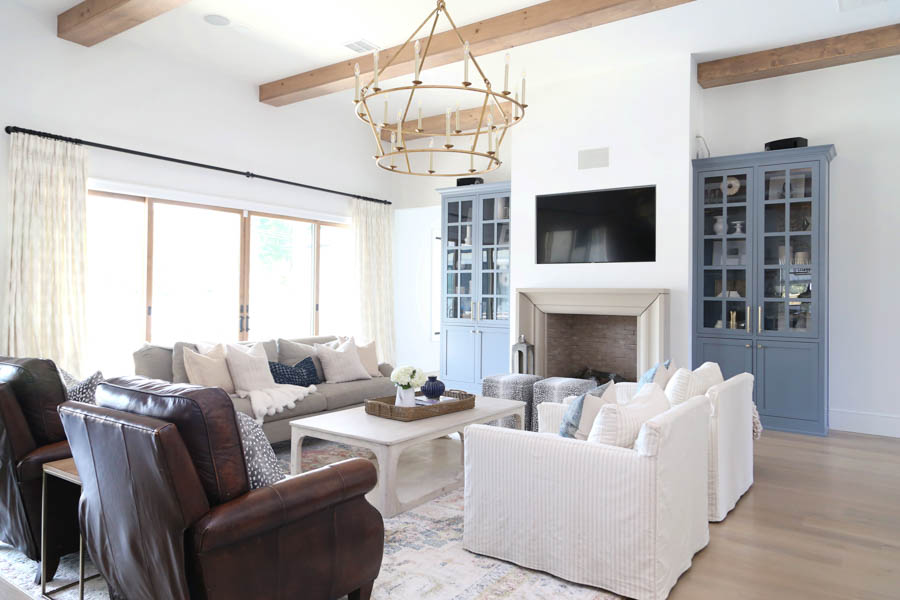 THE BEST MOST COMFORTABLE SLIPCOVERED ARMCHAIR EVER
Let met tell you guys about the swivel arm chairs we used in the Bilby project. They are custom, designer ordered in a beautiful striped fabric and come on a swivel base. They are oversized, slipcovered, and in my humble opinion, are the best arm chair ever.  I have them in my home, my best friend ordered them for her home, and we used them in the FRISCO I Project. We are so excited to be able to make them available to you as well, for your home, by custom ordering in CC and MIKE THE SHOP.  There is a 6 week lead time on these since they are custom ordered by me personally and made to order, BUT, I can promise you they are worth the wait!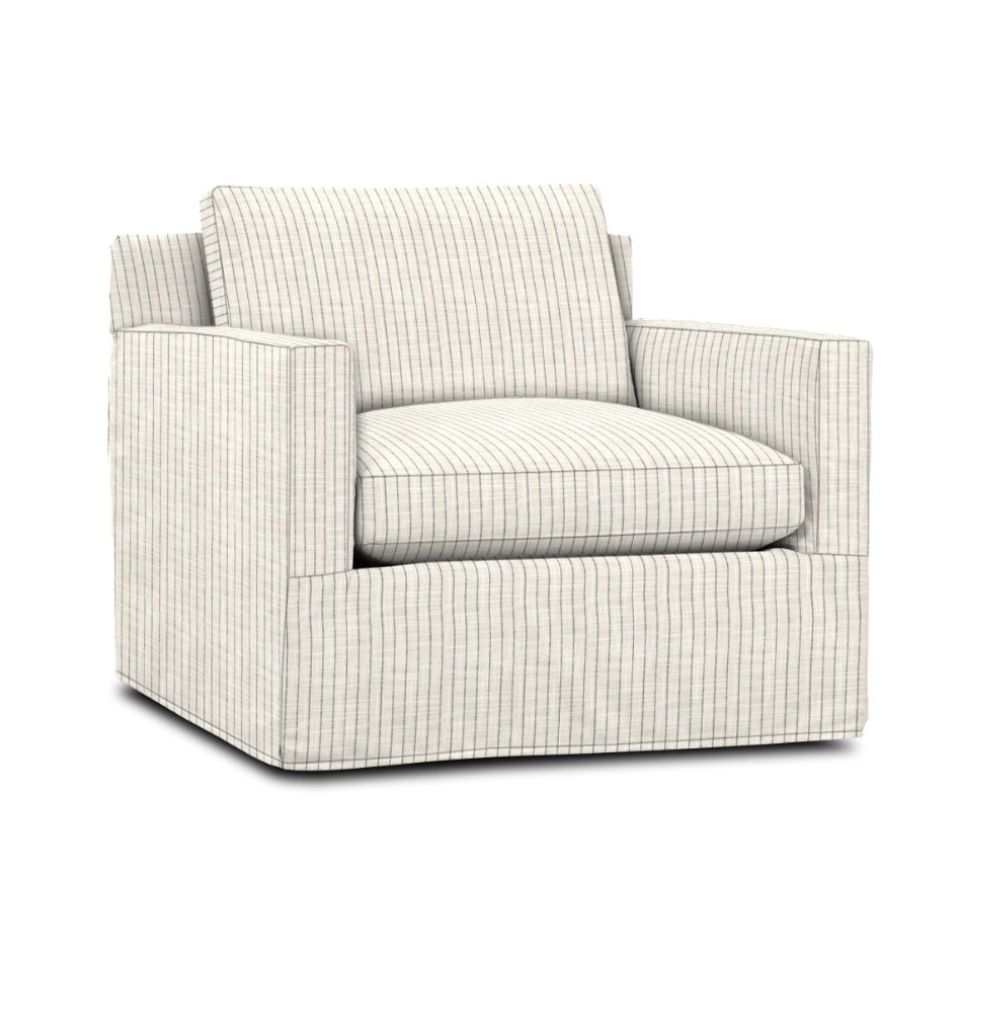 Another MUST MENTION of course is the dramatic statement llight fixture that we used in the living room at the Frisco I project.  We have also used this in dining rooms, sitting rooms, bedrooms and entryways.  It comes in multiple finishes and is such a beautiful statement in any room:  ALLENDALE BRASS CHANDELIER.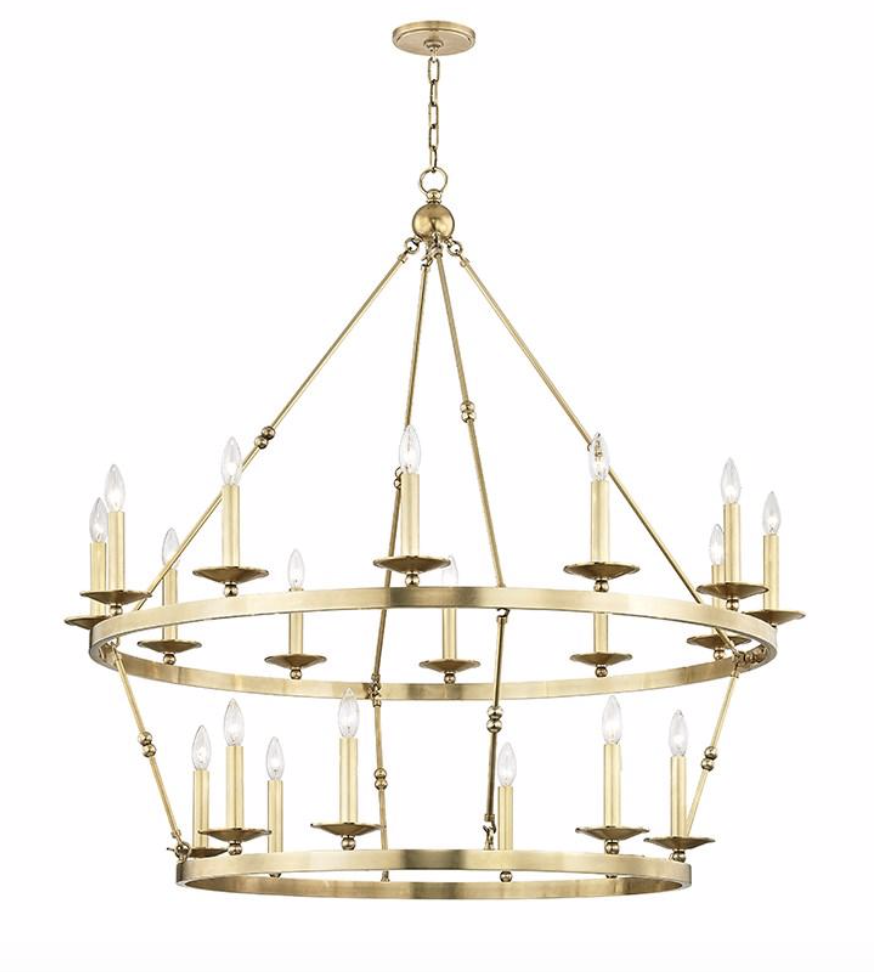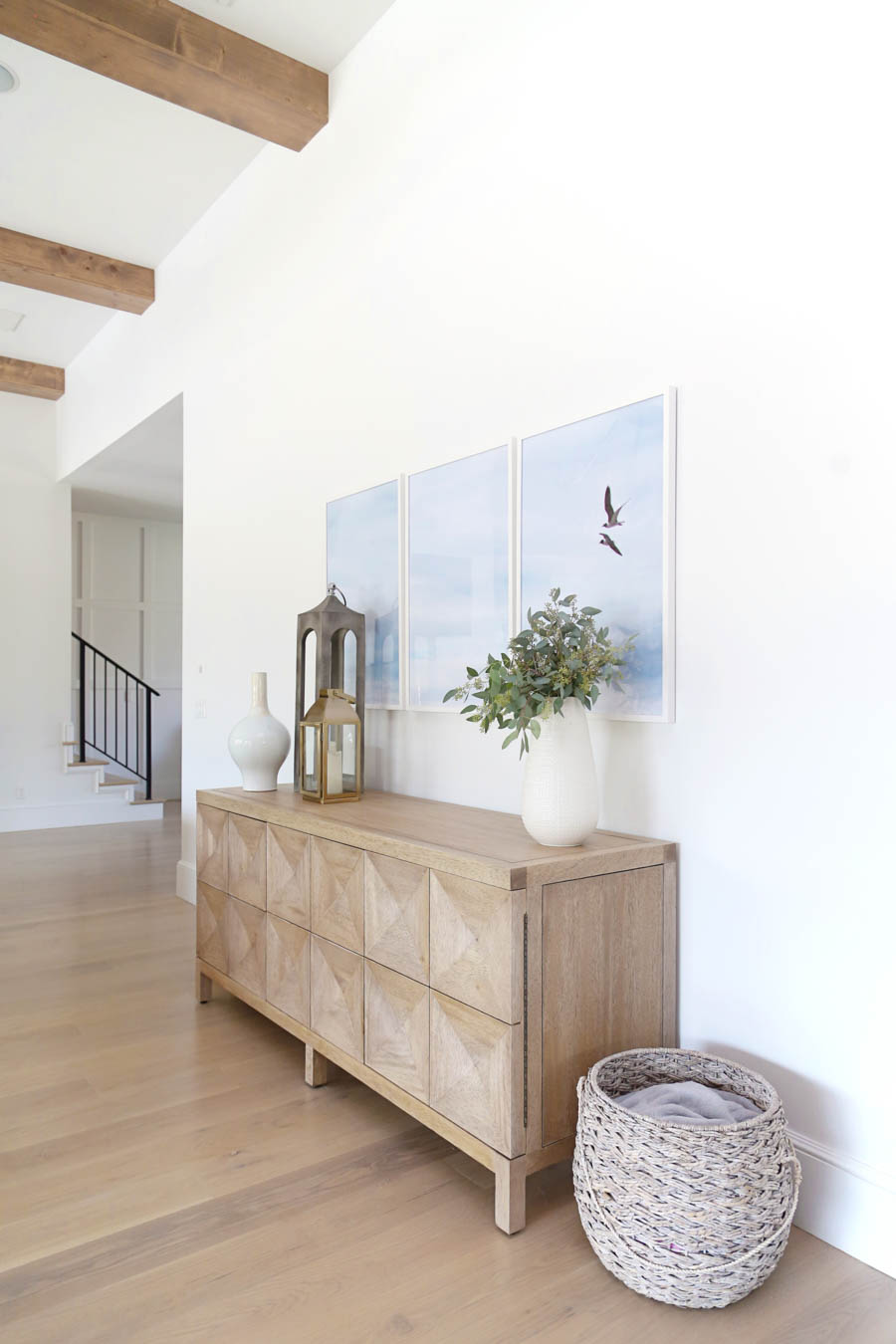 This FLY AWAY triptych art is from CC and Mike THE SHOP.  If you are looking to fill a large, blank wall, we definitely recommend triptych art! We love it paired with our washed walnut sideboard and accessorized with Pottery Barn lanterns.
SHOP THIS LOOK: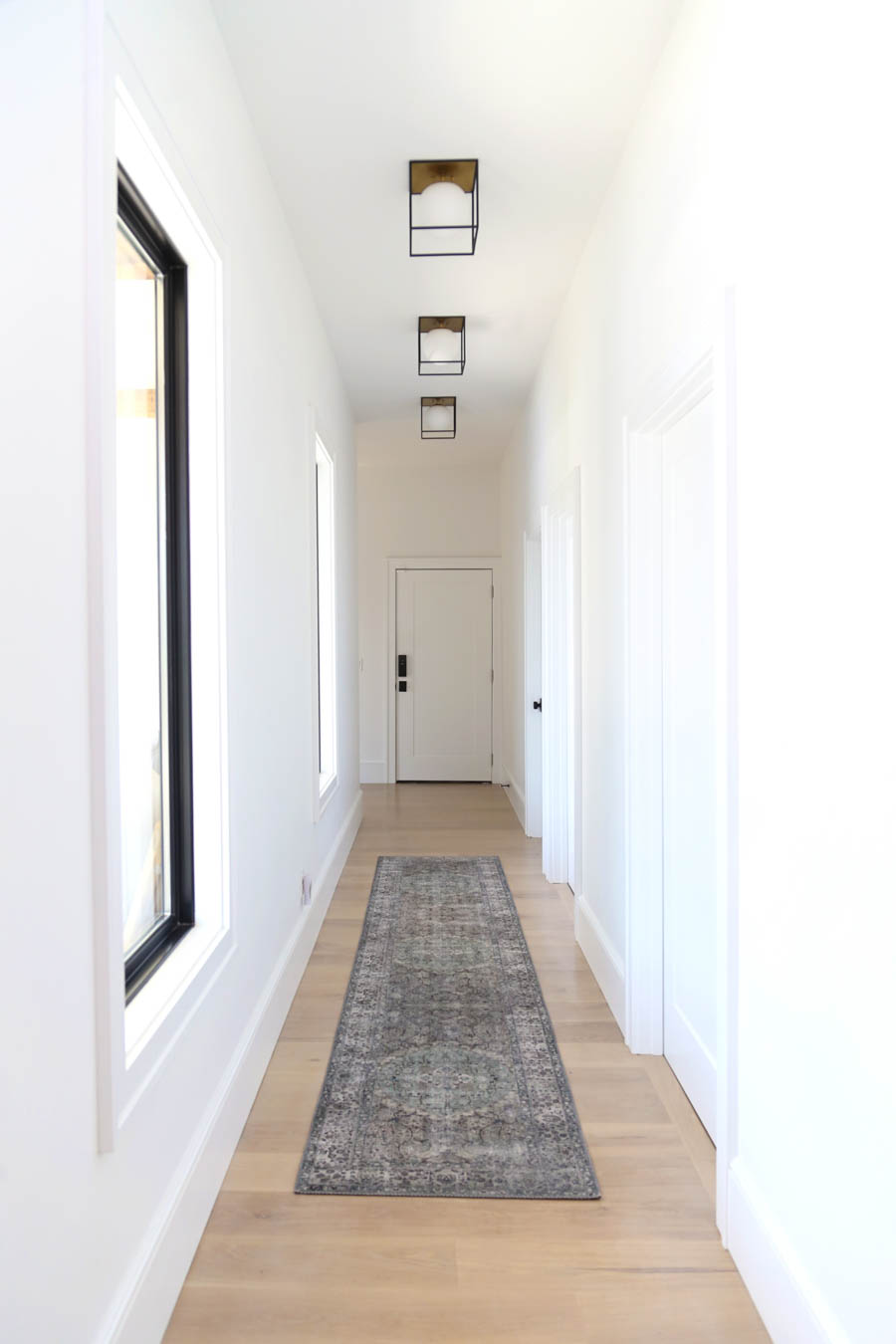 THE HALLWAY
Hallyways matter!  So why not give them a little dressing with a pretty runner, some gorgeous natural light, and some cute sconces!
Now we have to talk about one of my most favorite rooms in the entire FRISCO I PROJECT:  The half bath!  I might have mentioned this earlier, but magic happens when client's trust the designer they hired and that is what the .  I was all. "Hey what about navy shiplap and a natural wood vanity for the hall bath paired with funky black and white geometric tile floors."  My amazing clients went for it and here is the end result!  I thought it would be fun to take it from design to completion so you could see what happens when clients choose to hire us for our New Construction Design Finishes and Selection Package.  I design each and every space and take the guess work and stress out of the building process for you.  THIS IS THE DESIGN IDEA BOARD I PRESENTED THE CLIENT WITH: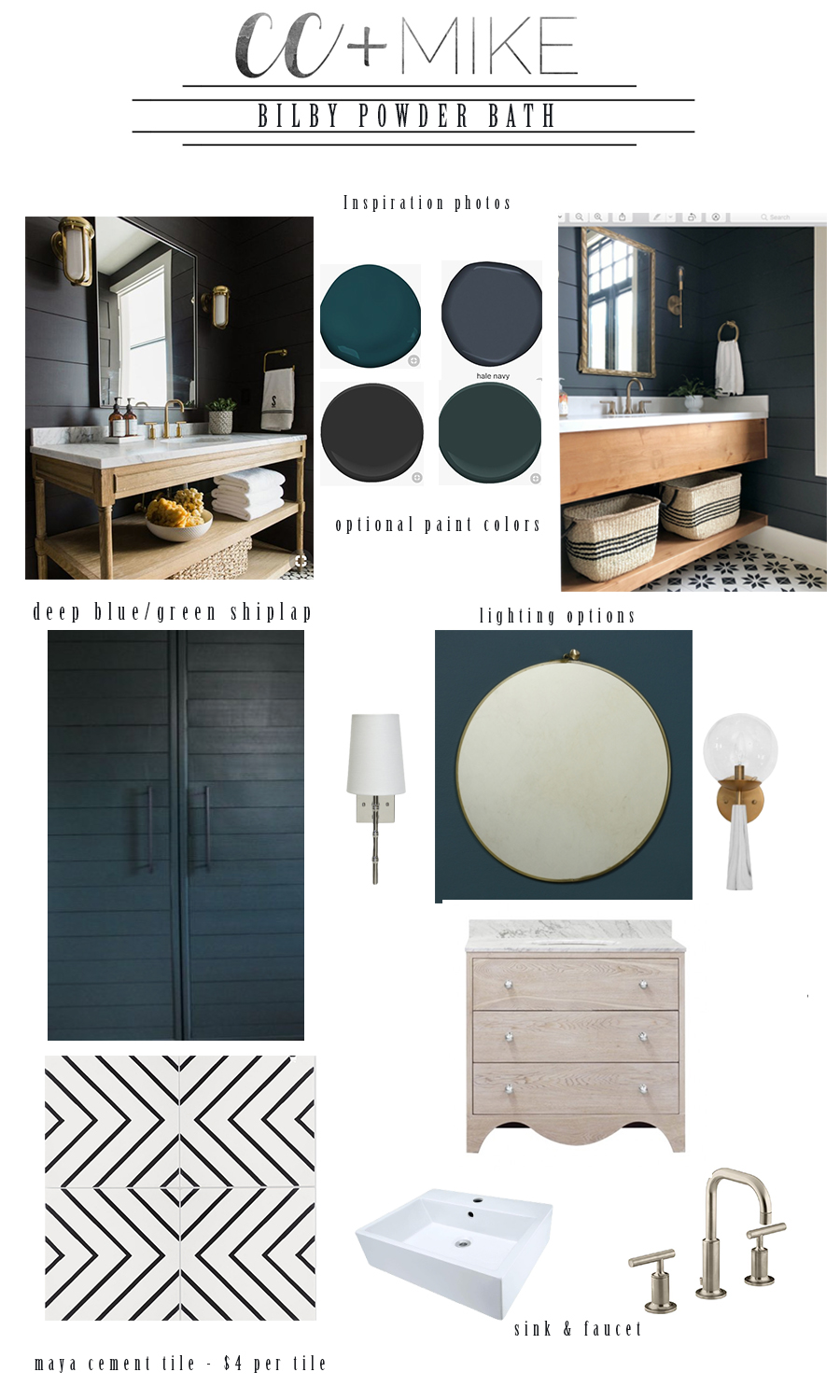 And once they approved the design, I went for it!  HERE IS THE FINAL RESULT: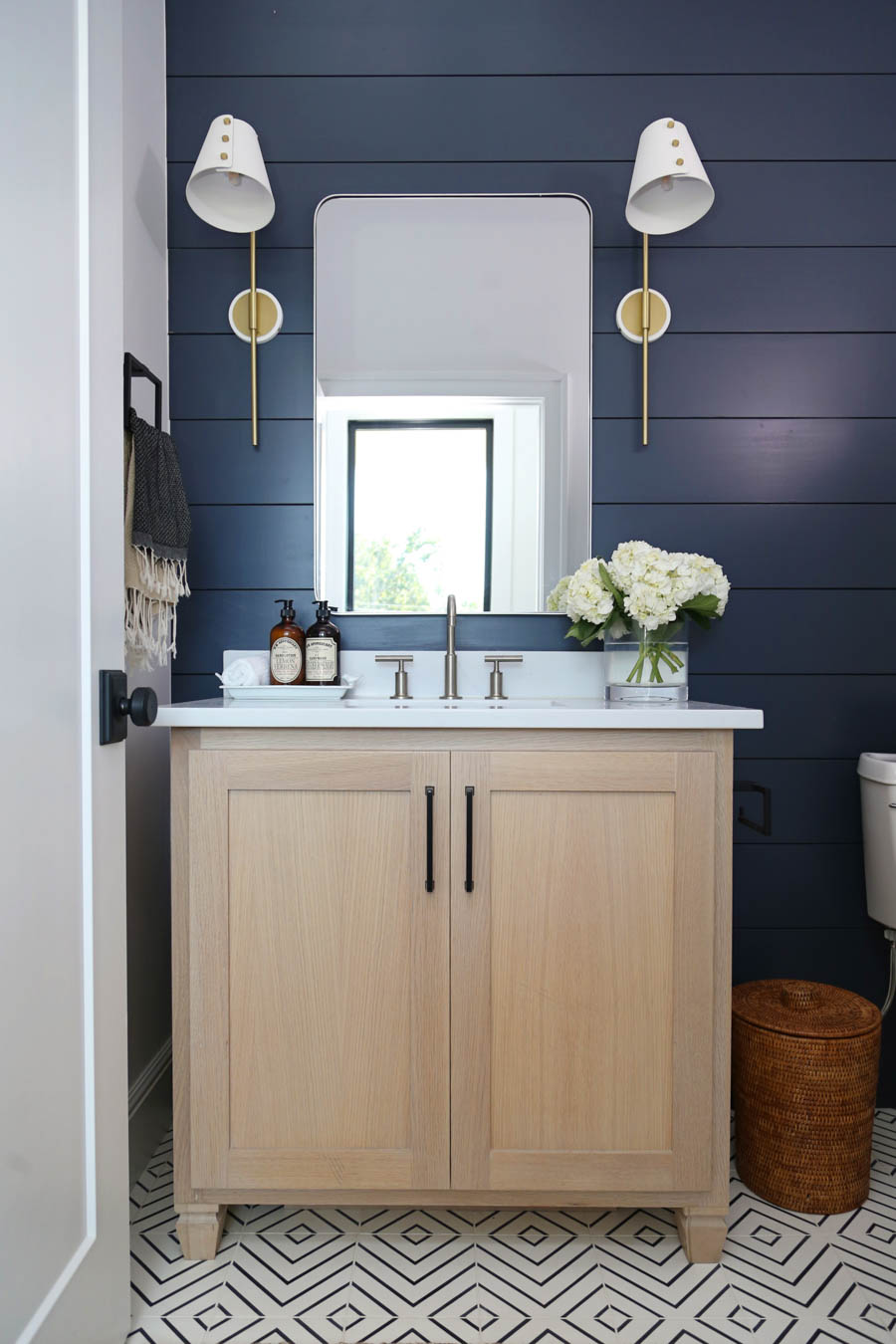 FRISCO I PROJECT HALF BATHROOM 
SCONCE | FAUCET | FLOORING – Black and White Tile | MIRROR | VASE | TOWEL HARDWARE | CABINET HARDWARE | LEMON VERBANA SOAP AND LOTION SET
PAINT – Shiplap is Hale Navy by Benjamin Moore and walls are Decorator's White in an eggshell finish.
ART:  QUE SERA SERA Framed Art from CC and Mike THE SHOP
SHOP THE LOOK:

CC and Mike Frisco I Project Reveal-2 modern European exterior stucco exterior with cast stone around the entryway wood door pendant drop lantern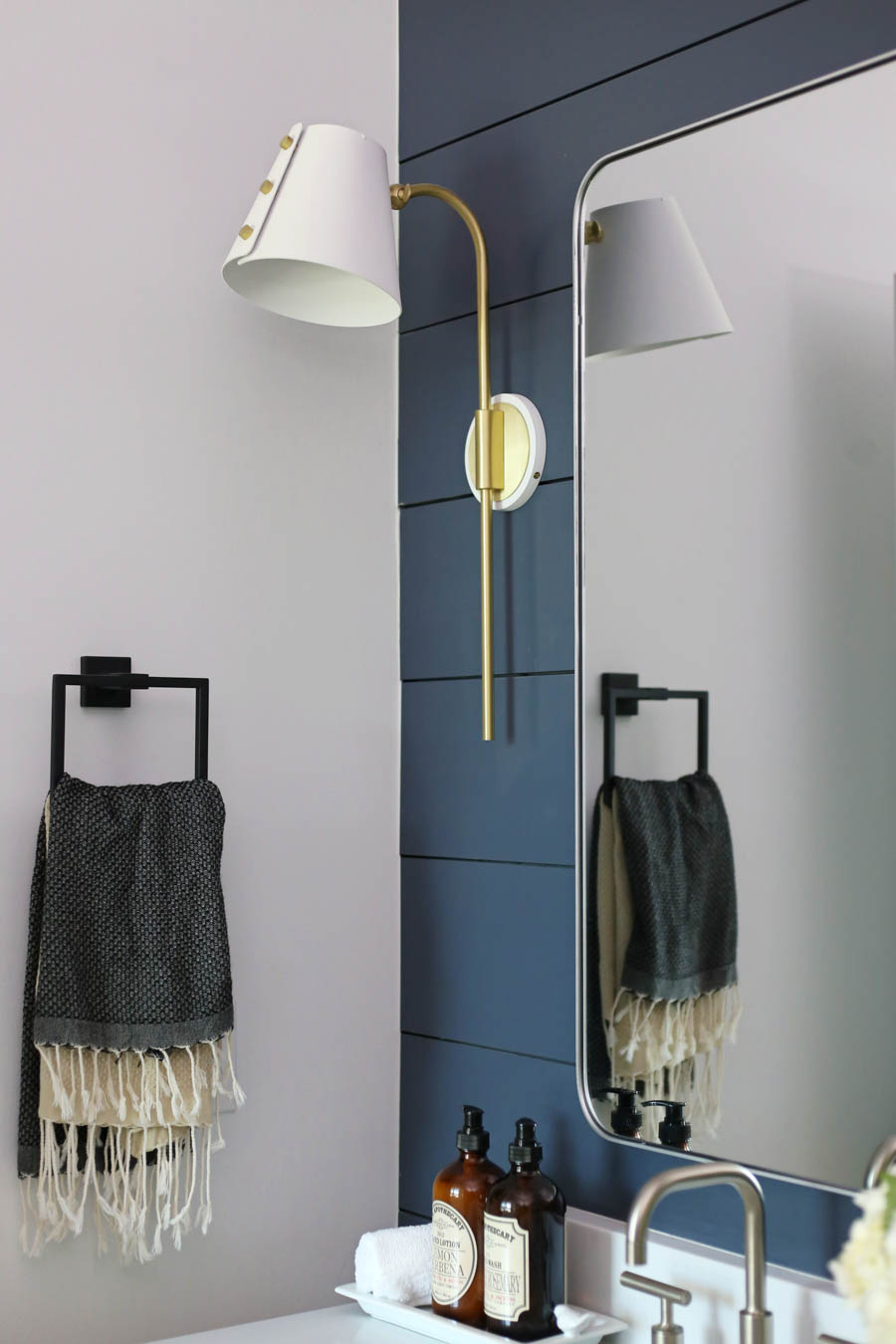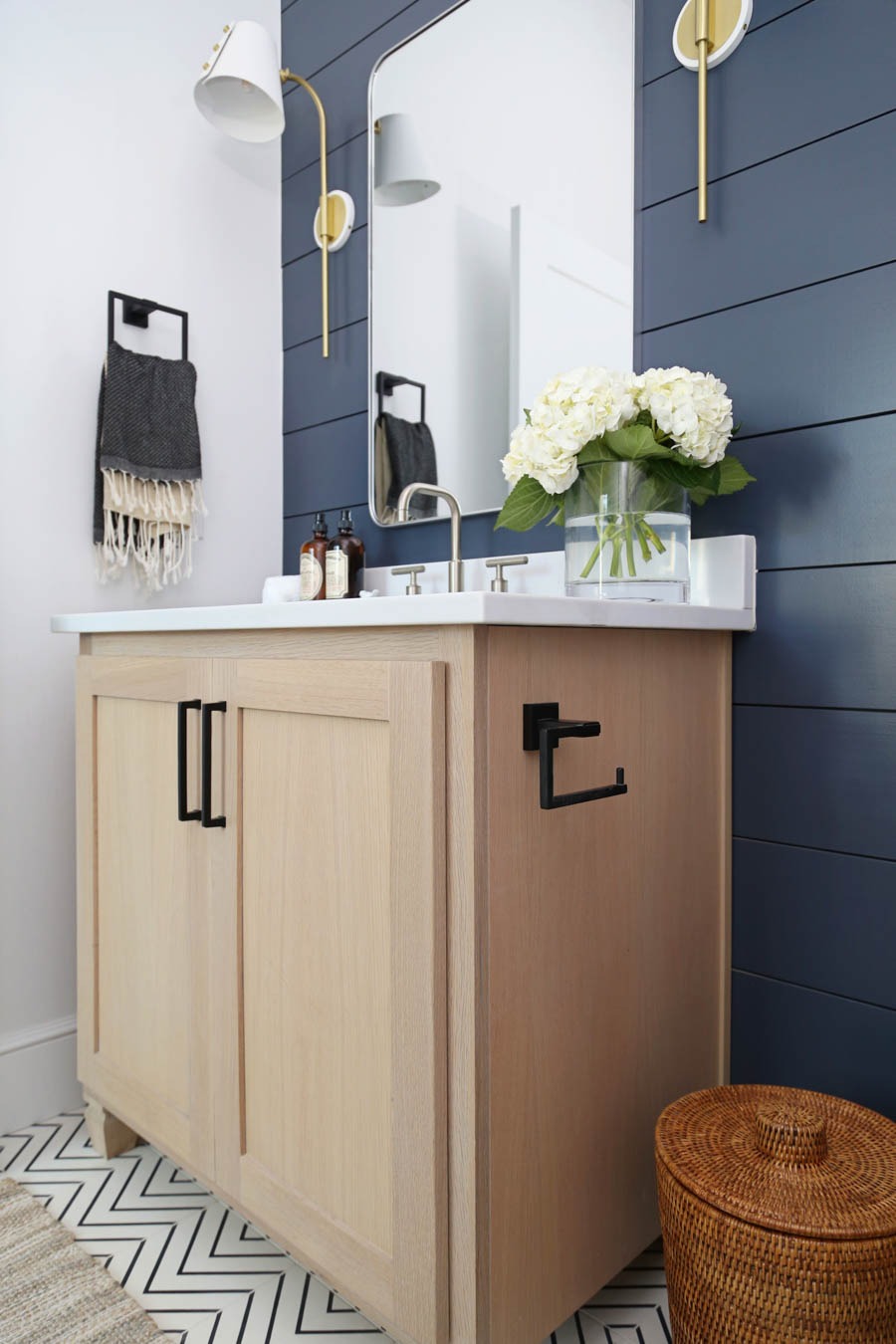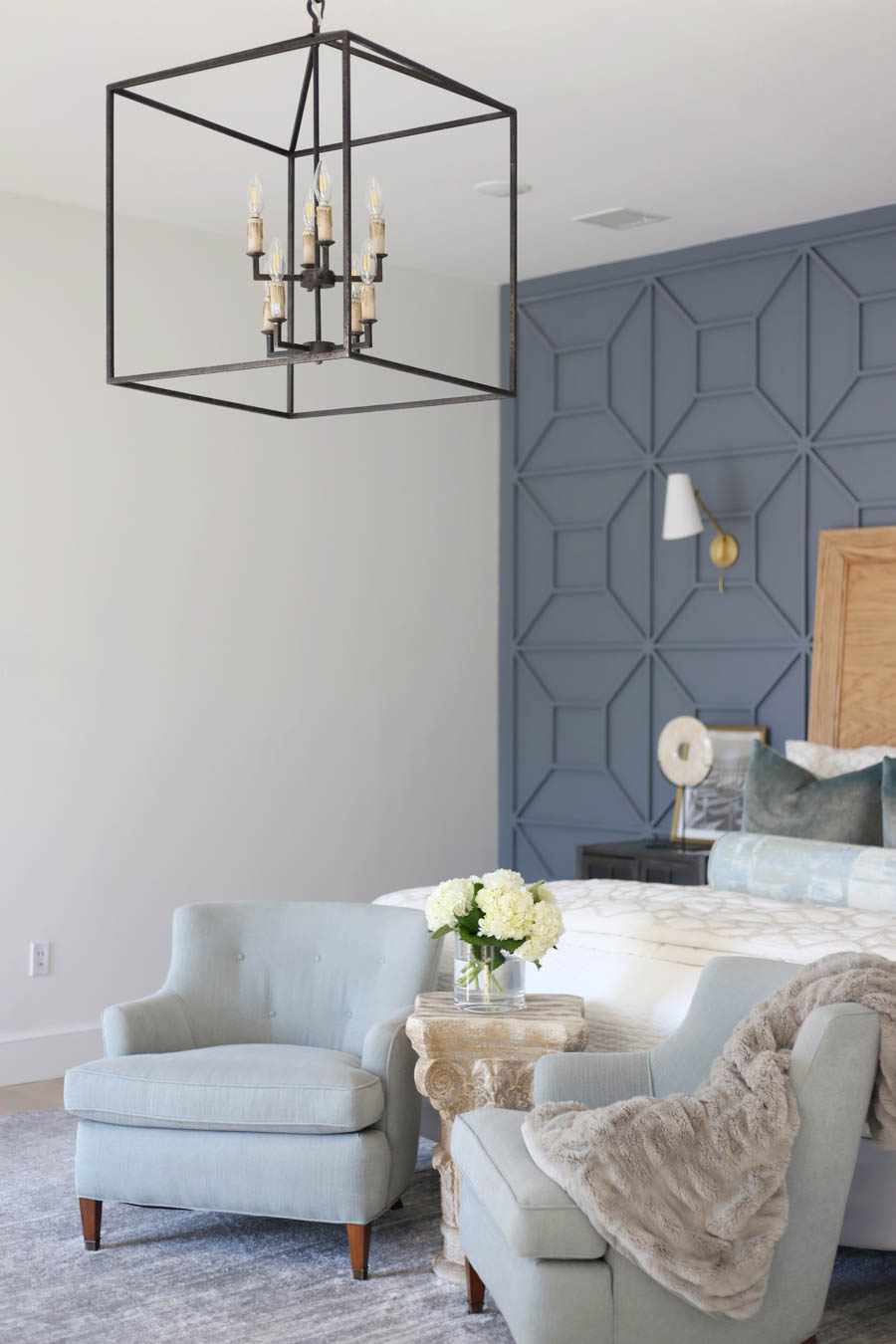 MASTER BEDROOM AND BATHROOM
CAPE LANTERN | BELLAMY RUG | BEDSIDE SCONCES | VELVET PILLOWS | BOLSTER PILLOWS | VASE | BEDSIDE MARBLE DISC ON STAND
PAINT COLOR: Wolf Gray by Benjamin Moore:  Wood Wall Treatment by Holloway Trim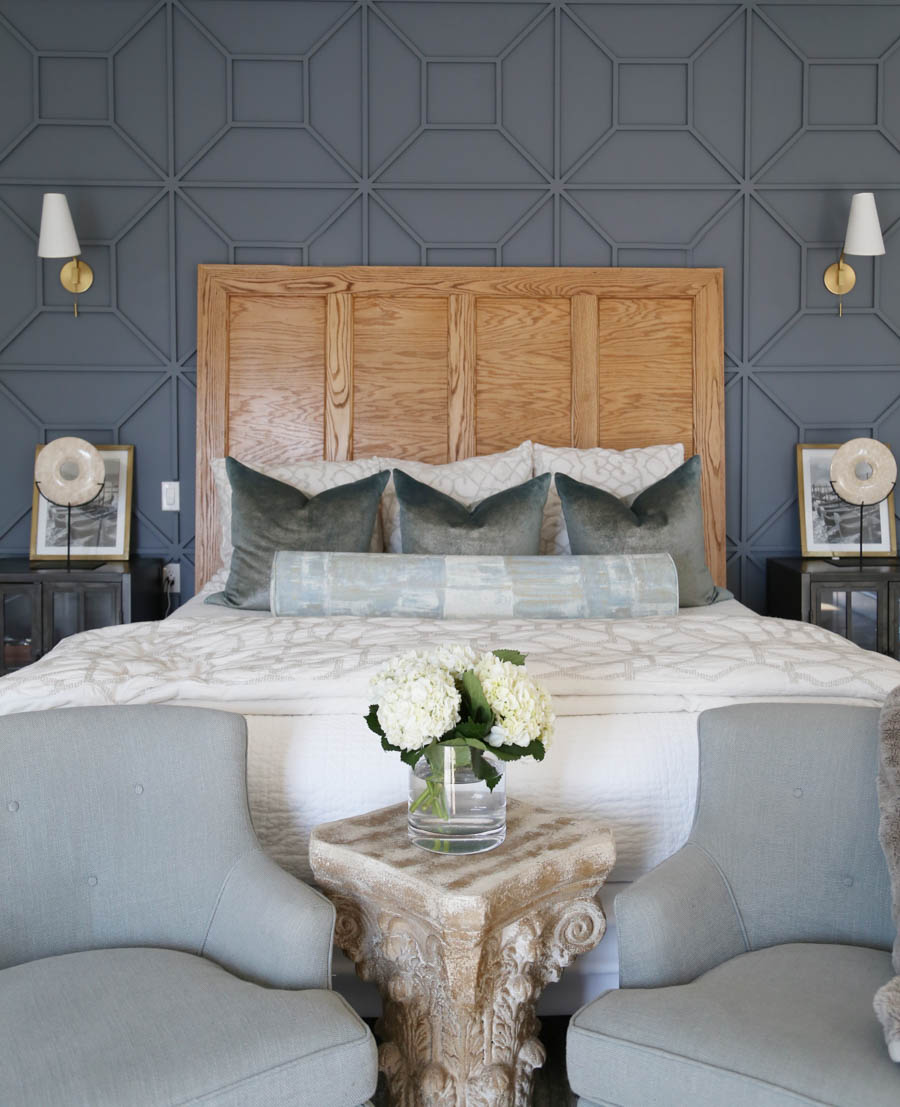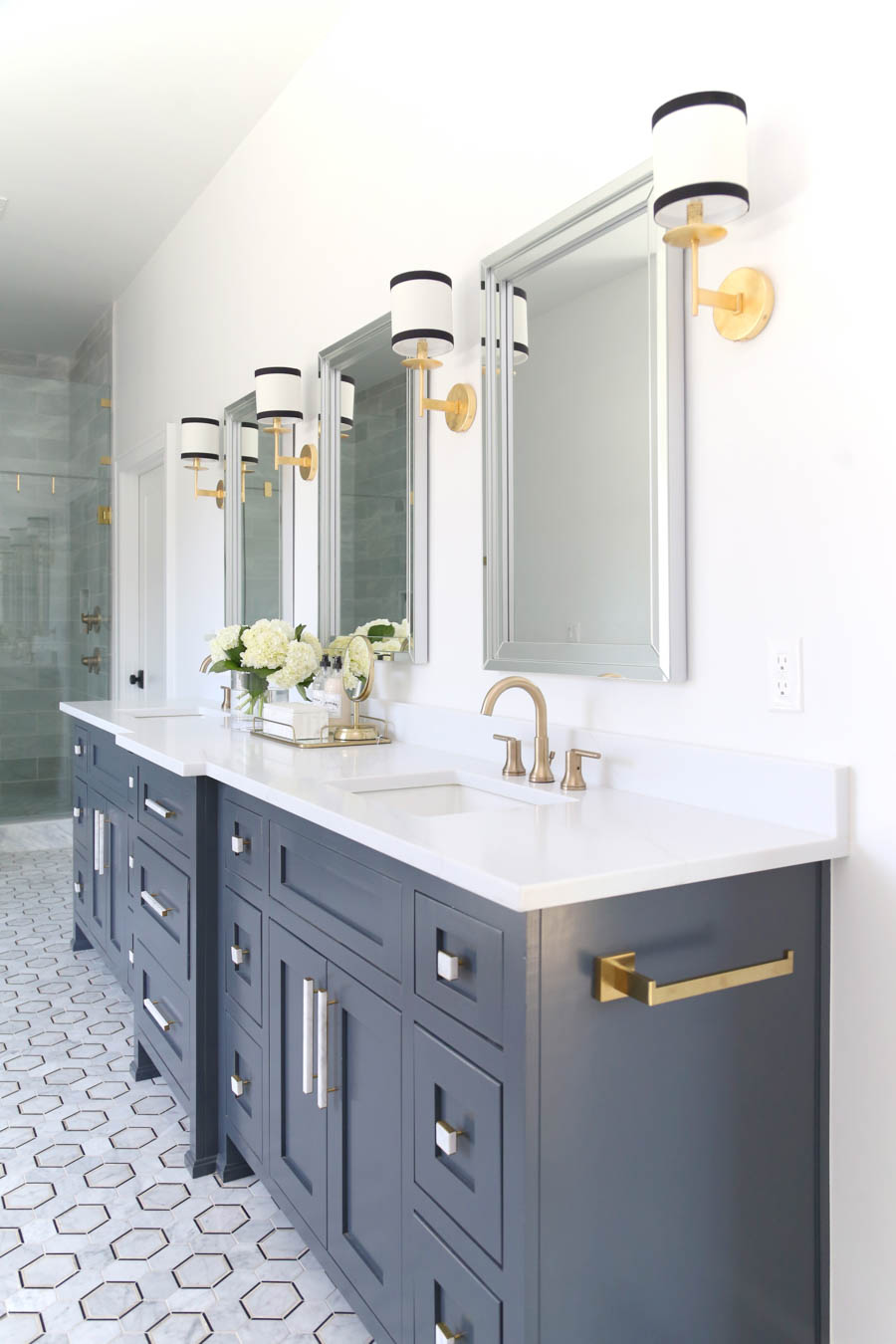 THE BATHROOM:
RUG | HONEYCOMB TILE FLOORS | SHOWER WALL TILE | FAUCET | MARBLE AND GOLD HARDWARE | KATE SPADE SCONCES | MIRROR | BATH TUB | GOLD BATH TUB FILLER |  BATH TUB SIDE TABLE | CURTAINS |  | GOLD SHOWER HARDWARE | SHOWER WALL TILE
OPTIONAL SIMILAR TILE FLOORS FROM Home Depot:  HONEYCOMB HEX TILE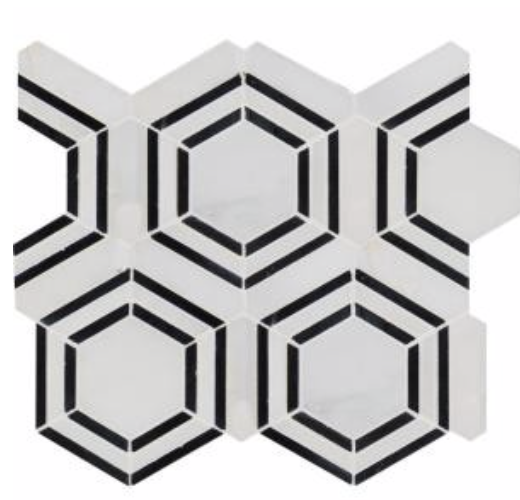 PAINT COLOR:  DECORATOR'S WHITE EGGSHELL
CABINET PAINT COLOR: GRAVEL GRAY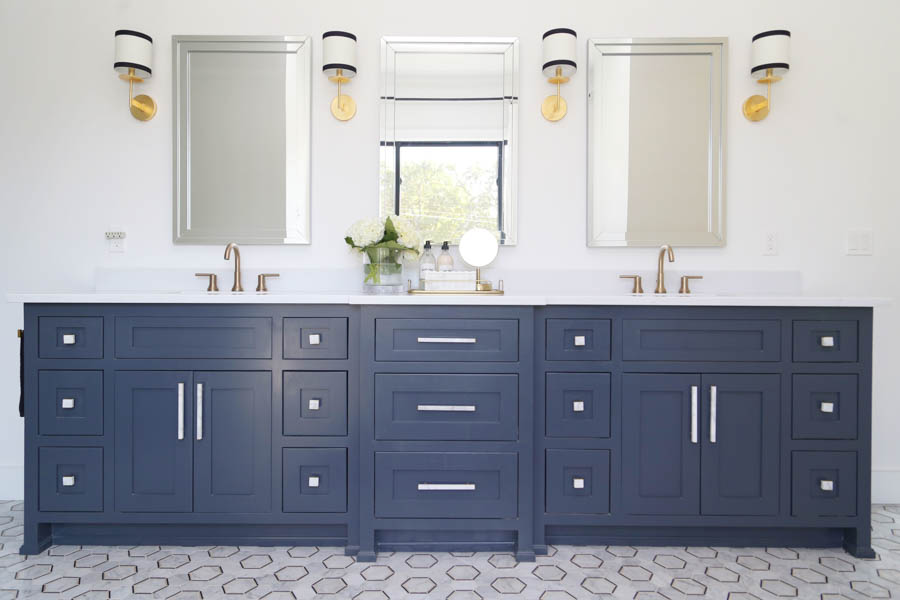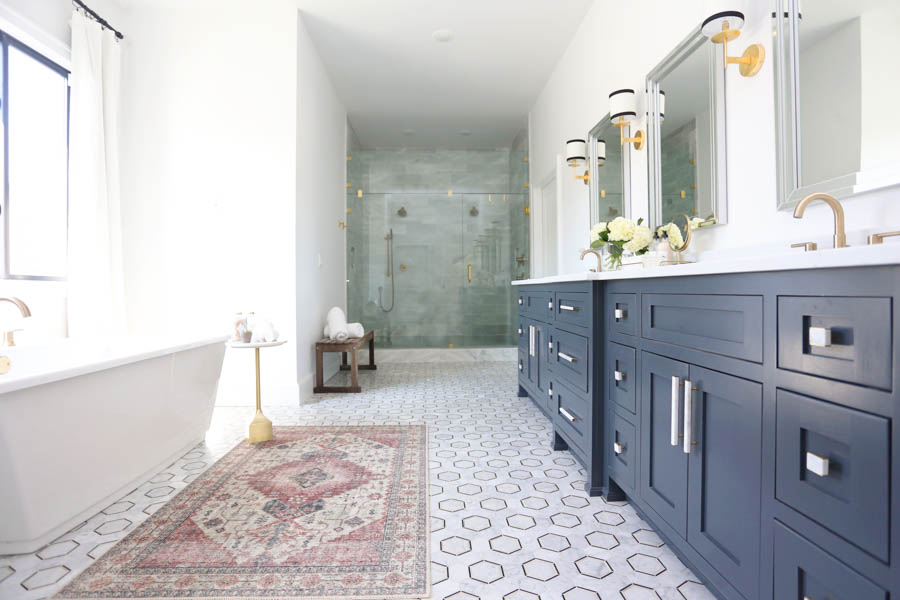 I LOVE how the Ivory Berry SKYE rug from CC and Mike THE SHOP is showing off in the Frisco I Project Master Bathroom.  This rug is incredible as a runner, bathroom rug, or large AREA RUG!  We recently used it in a teen girl's bedroom in the Beaver Lake Project and fell in love with it there as well!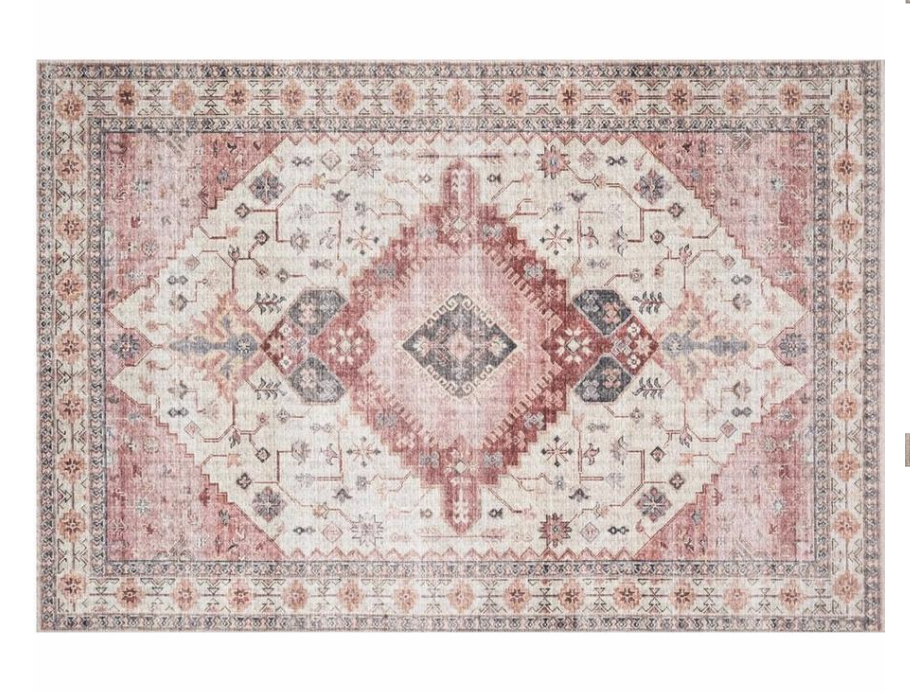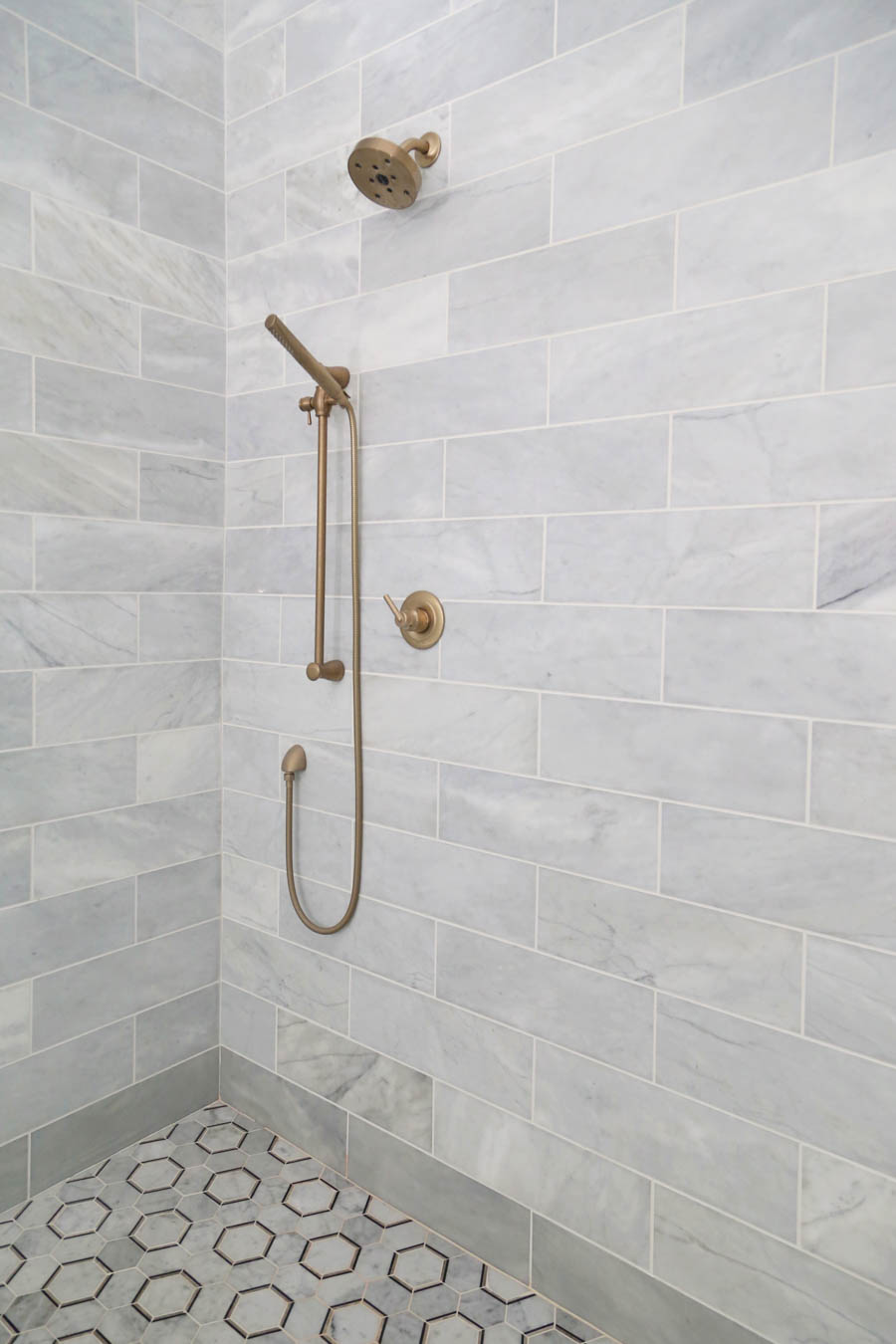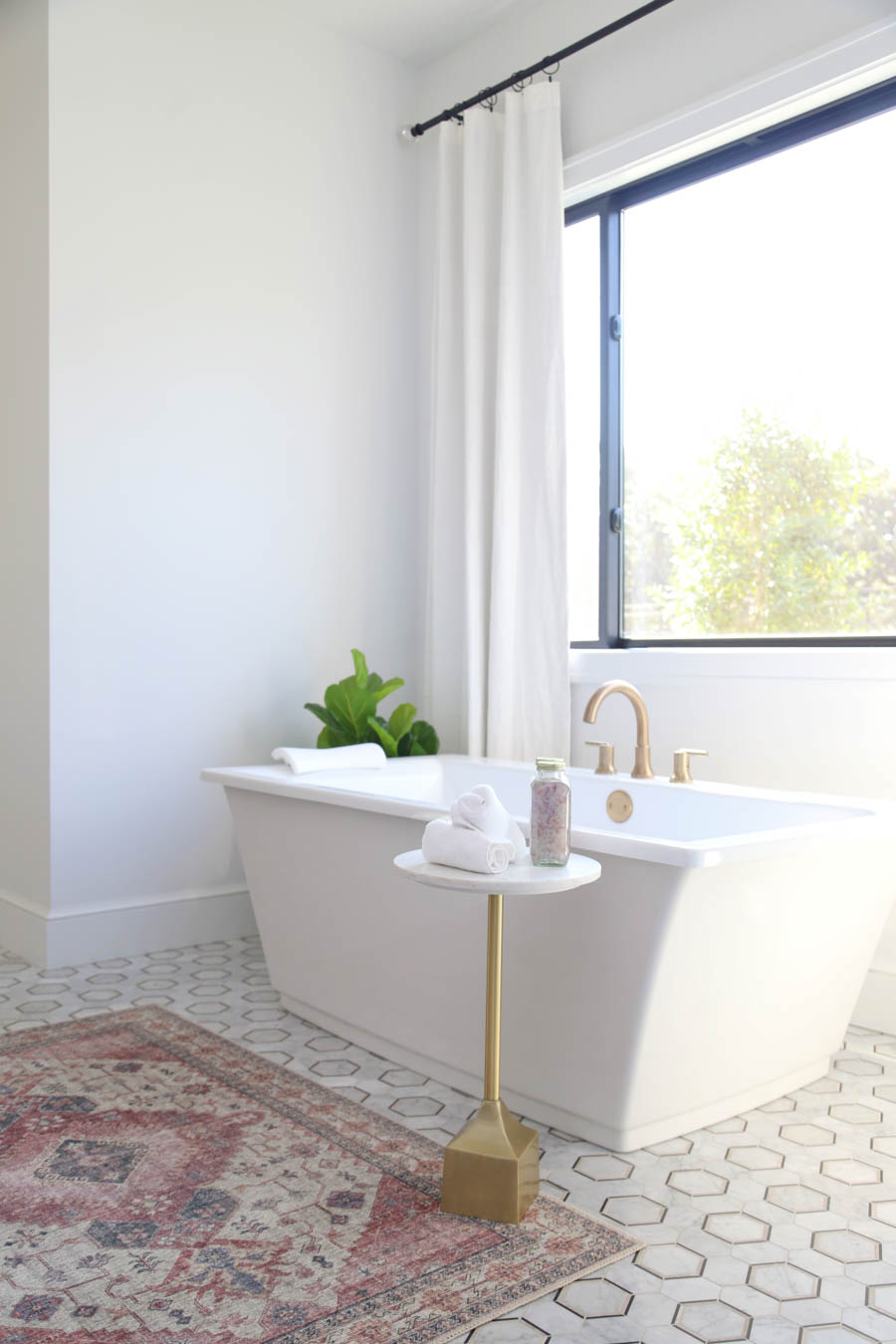 SHOP THIS BATHROOM LOOK: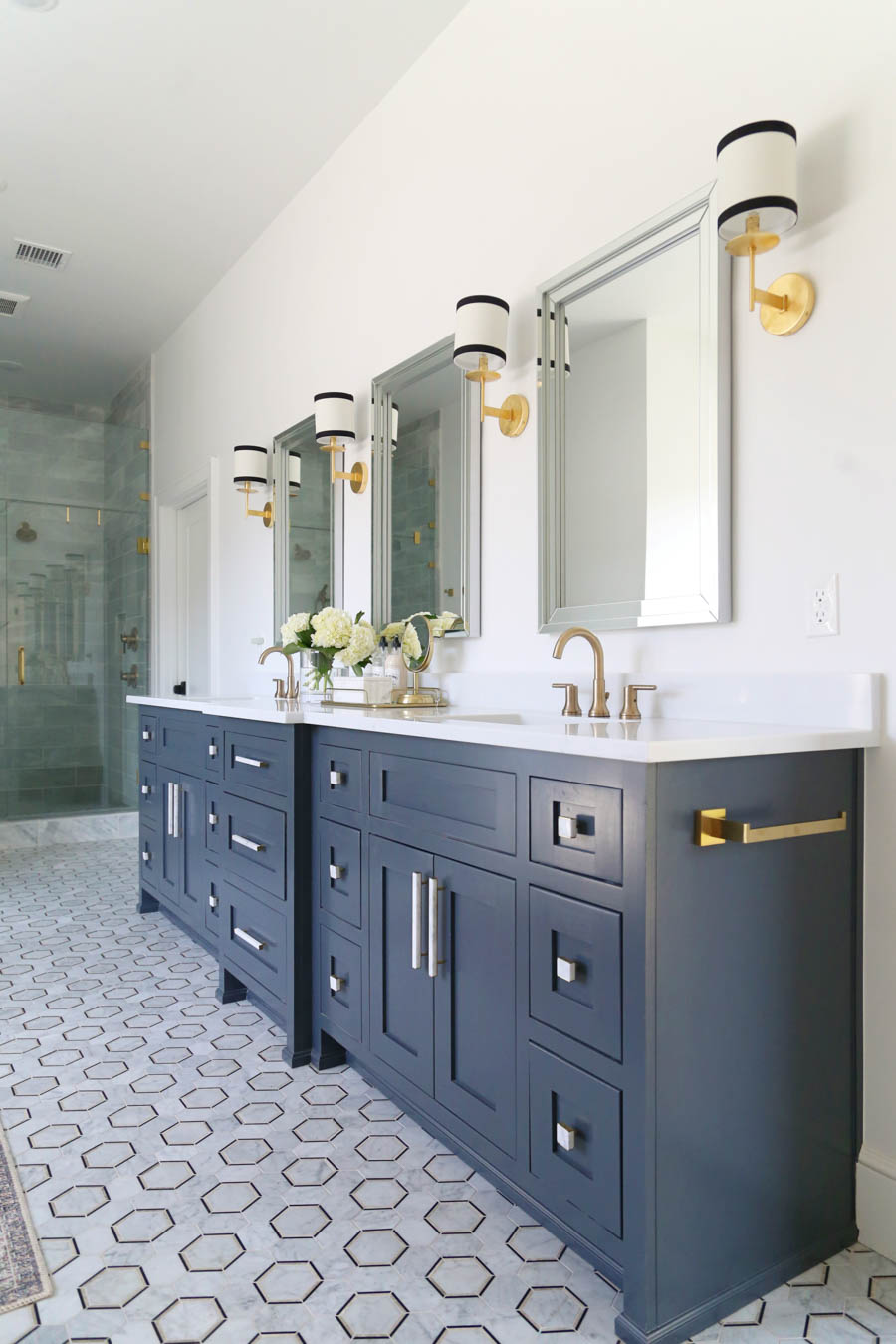 SCROLL AND TAP TO SHOP CC AND MIKE'S FAVORITE BATHROOM MIRRORS

Paula Mirror | Toulouse Mirror | Ryne Mirror | Franco Mirror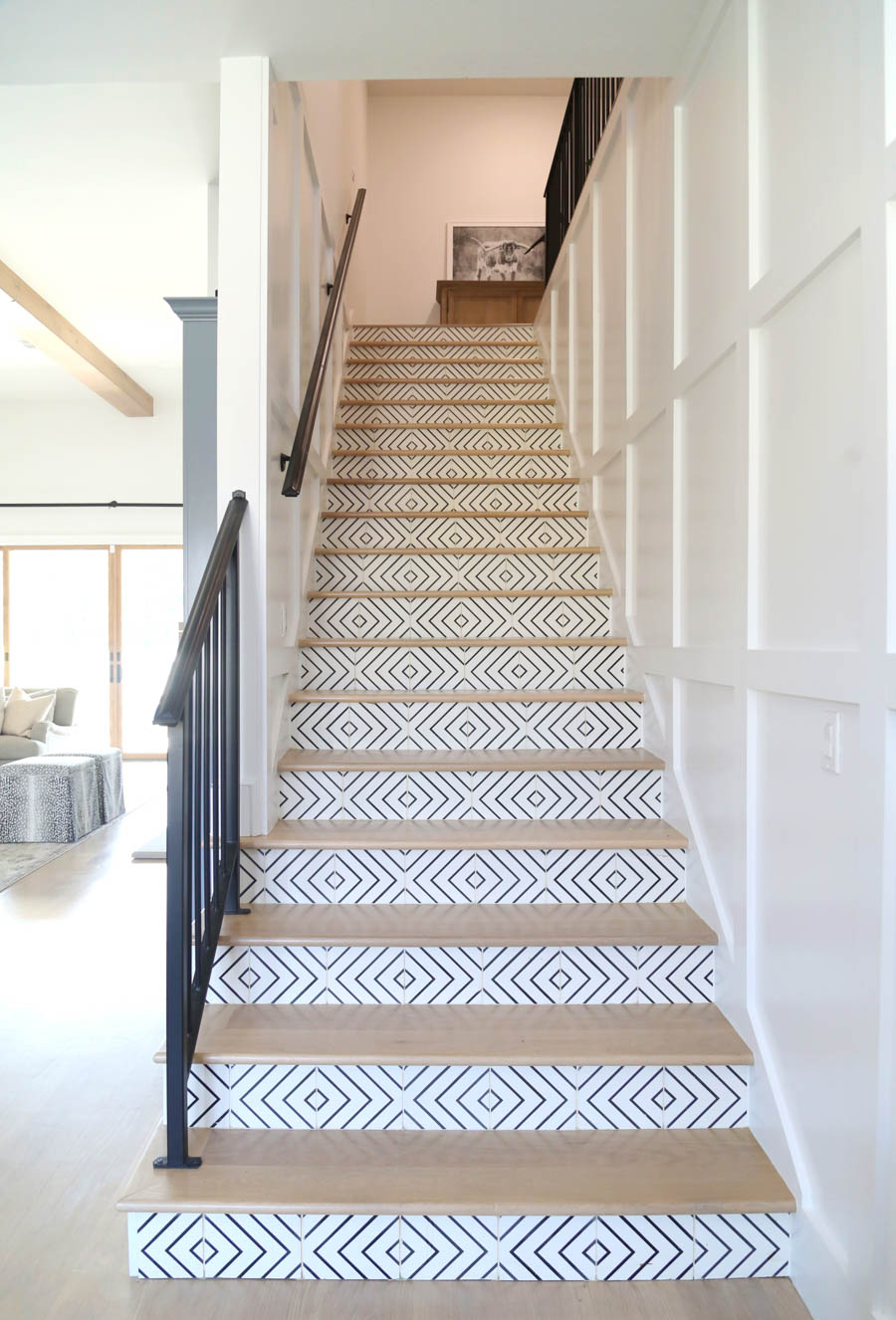 At the top of these beautiful stairs you will see our KING OF THE HILL PRINT– the best selling print of all time that we have in CC and Mike THE SHOP.  I know you can only see a snippet of him at the top of the staircase, but trust me, he packs a punch wherever he goes and is a great statement to any room!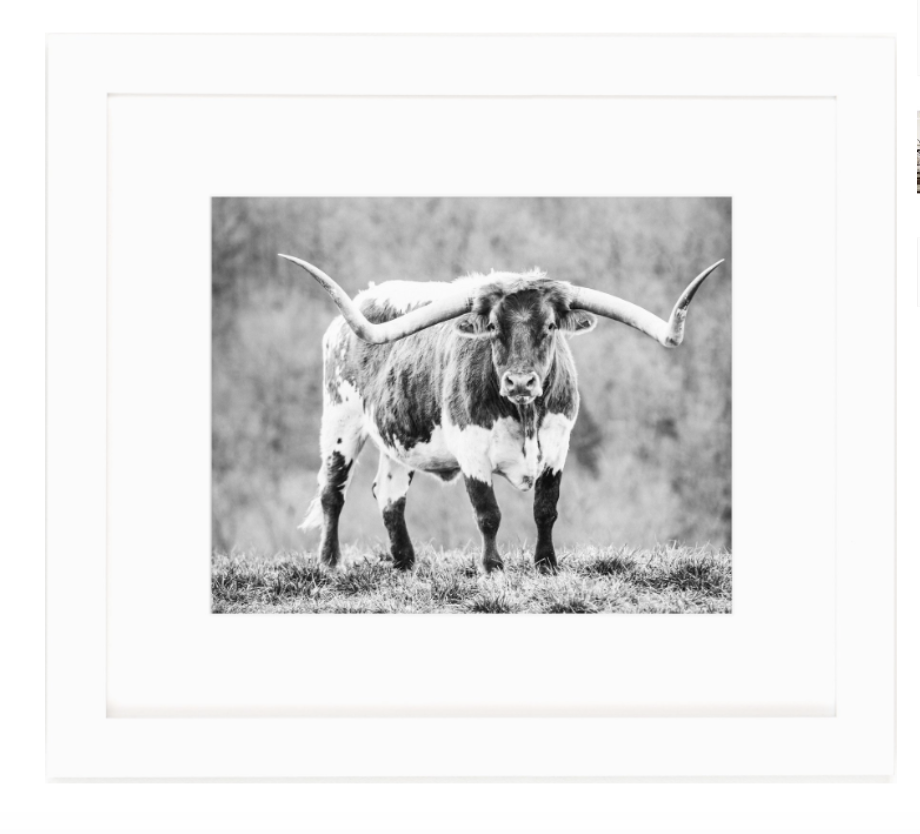 SCROLL AND TAP TO SHOP CC AND MIKE THE SHOP'S BEST SELLING PRINTS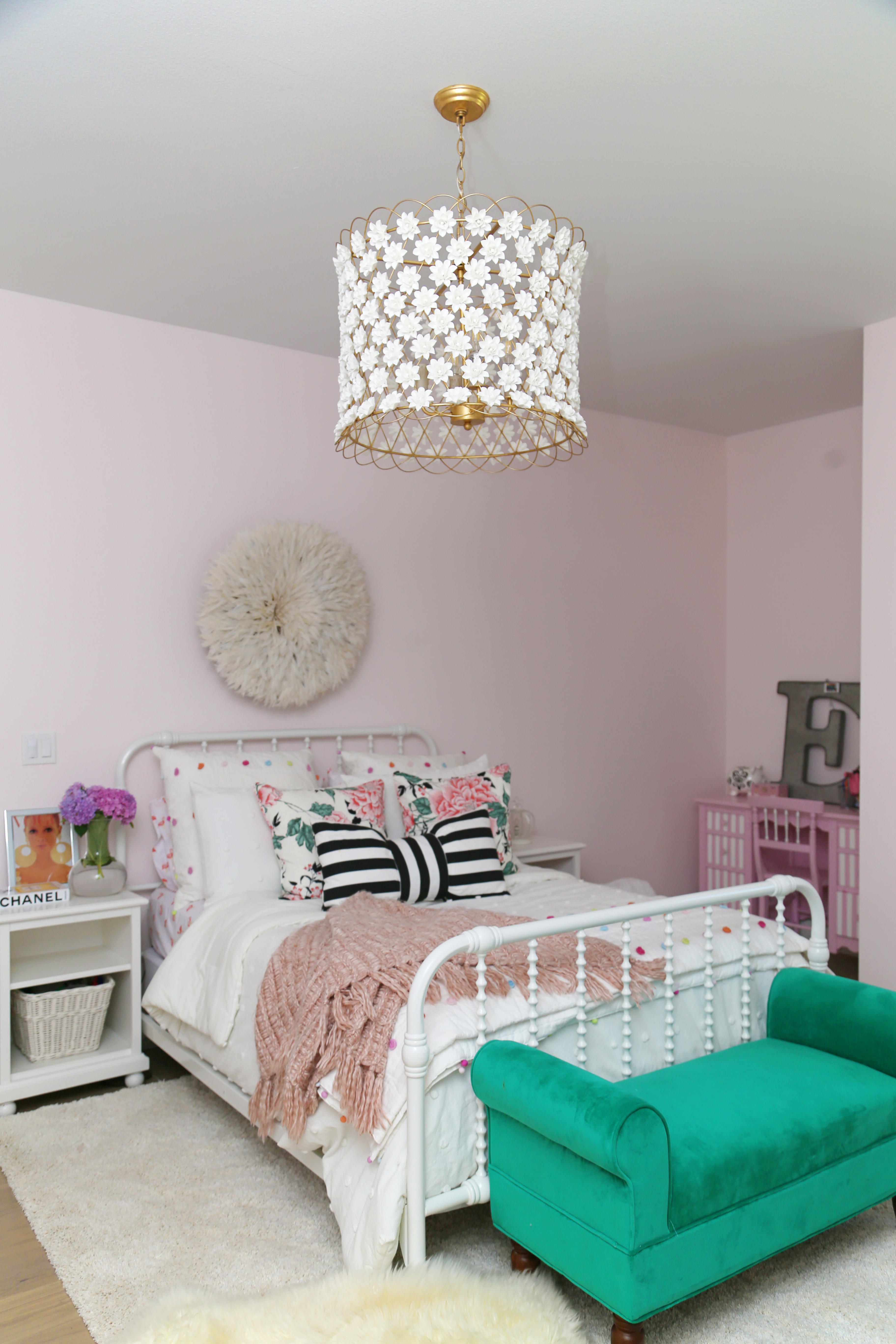 WHITE JENNY LIND BED | LIGHT |. DAYBED | POM POM BEDDING | THROW | FLORAL PILLOWS | BOW PILLOW | RUG | WHITE NIGHT STANDS | SHERPA RUG | JUJU Hat |
SCROLL AND TAP ON THE PHOTO TO SHOP THIS FRISCO I GIRLS BEDROOM:

We used the Alice Porcelain Flower Chandelier in they beautiful girl's bedroom and I can't recommend it enough. It's perfect for girl's bedroom, fancy master bedroom closets, dining rooms, entryways, and a woman's study.  This light is a BEAUTY you guys.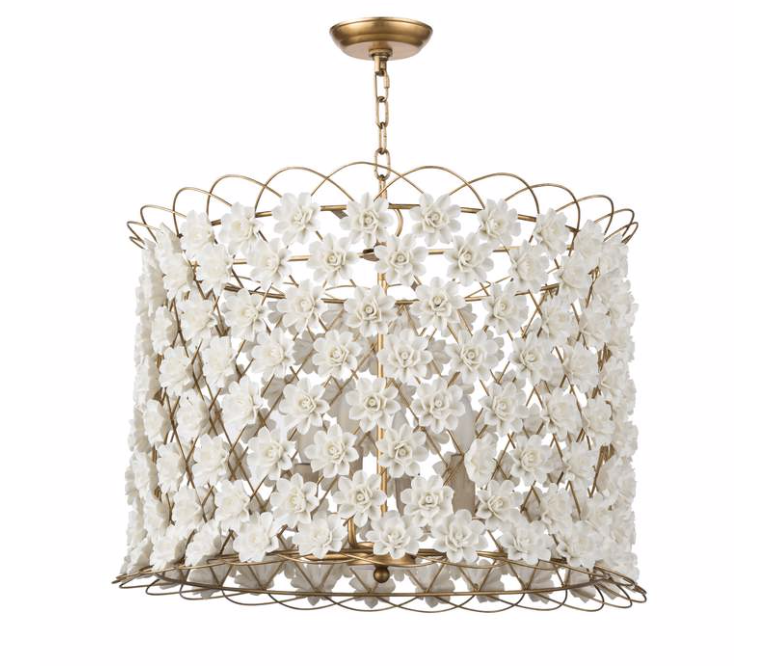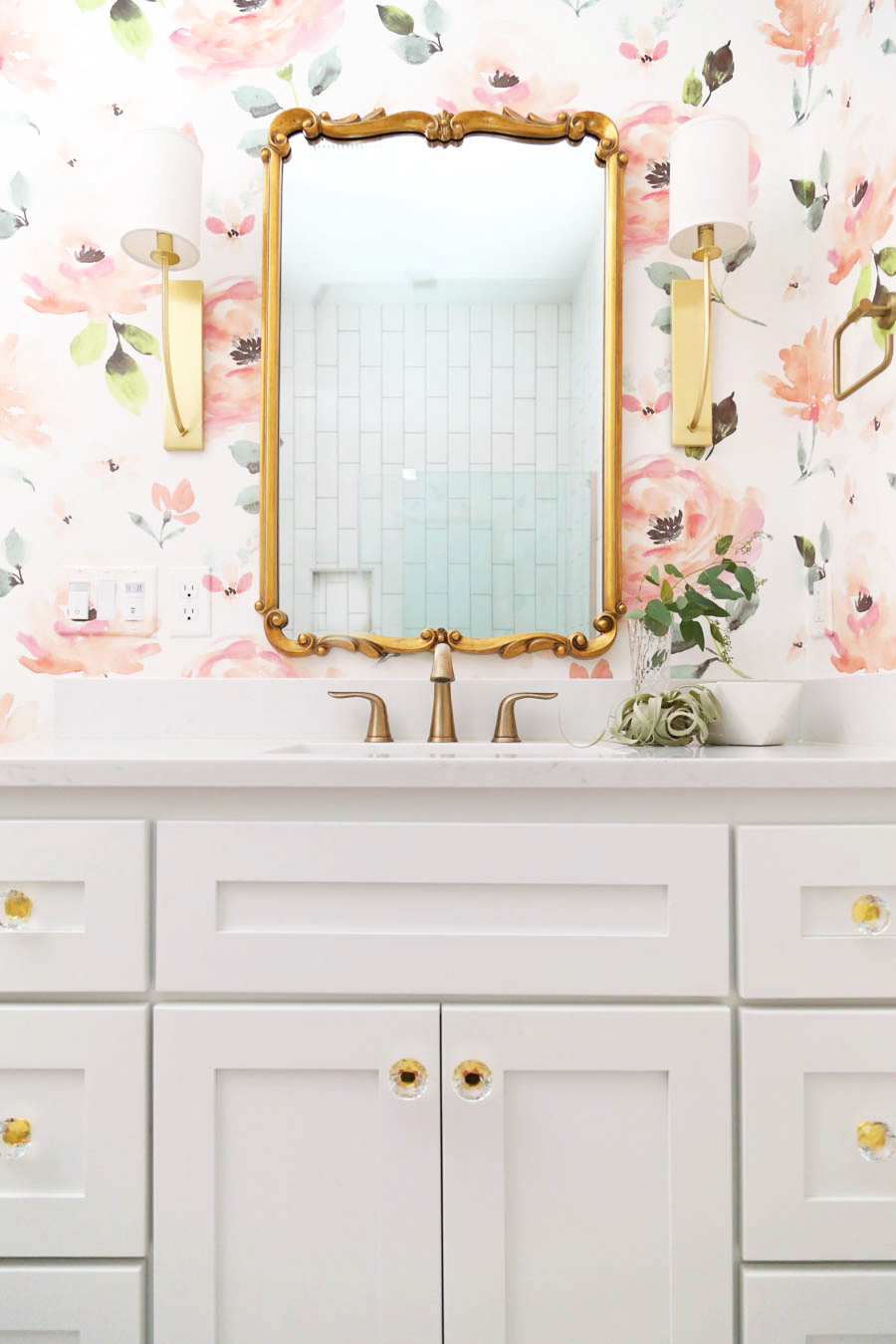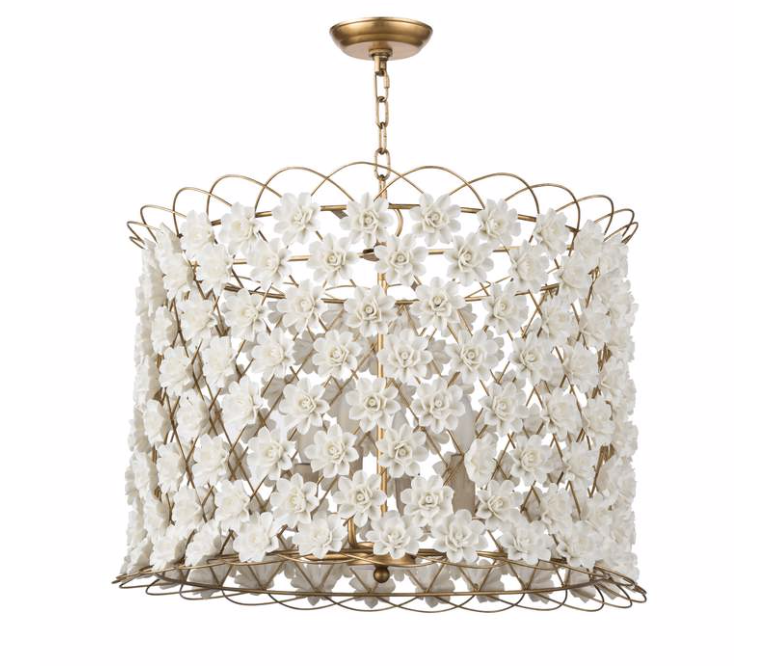 GIRL'S BATHROOM
COLTON BRASS SCONCE | TOULOUSE MIRROR | WALLPAPER | FAUCET | SHOWER WALL TILE | HARDWARE |
CABINET COLOR: DECORATOR'S WHITE Benjamin Moore
Guys let me just pause and say if you are looking for the perfect MIRROR for a girls bathroom, we love the TOULOUSE MIRROR and also the SOMERSET MIRROR from CC and Mike THE SHOP for bathrooms!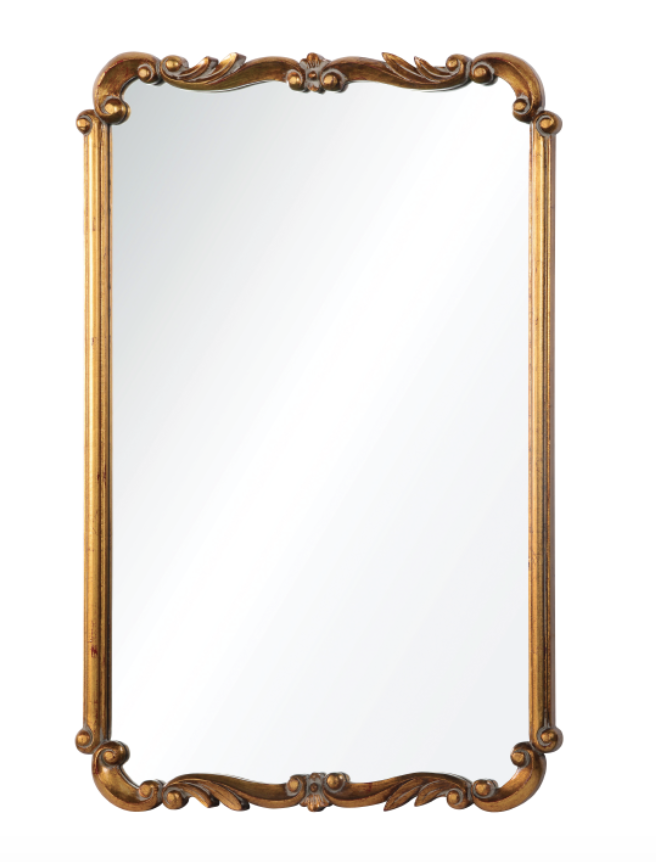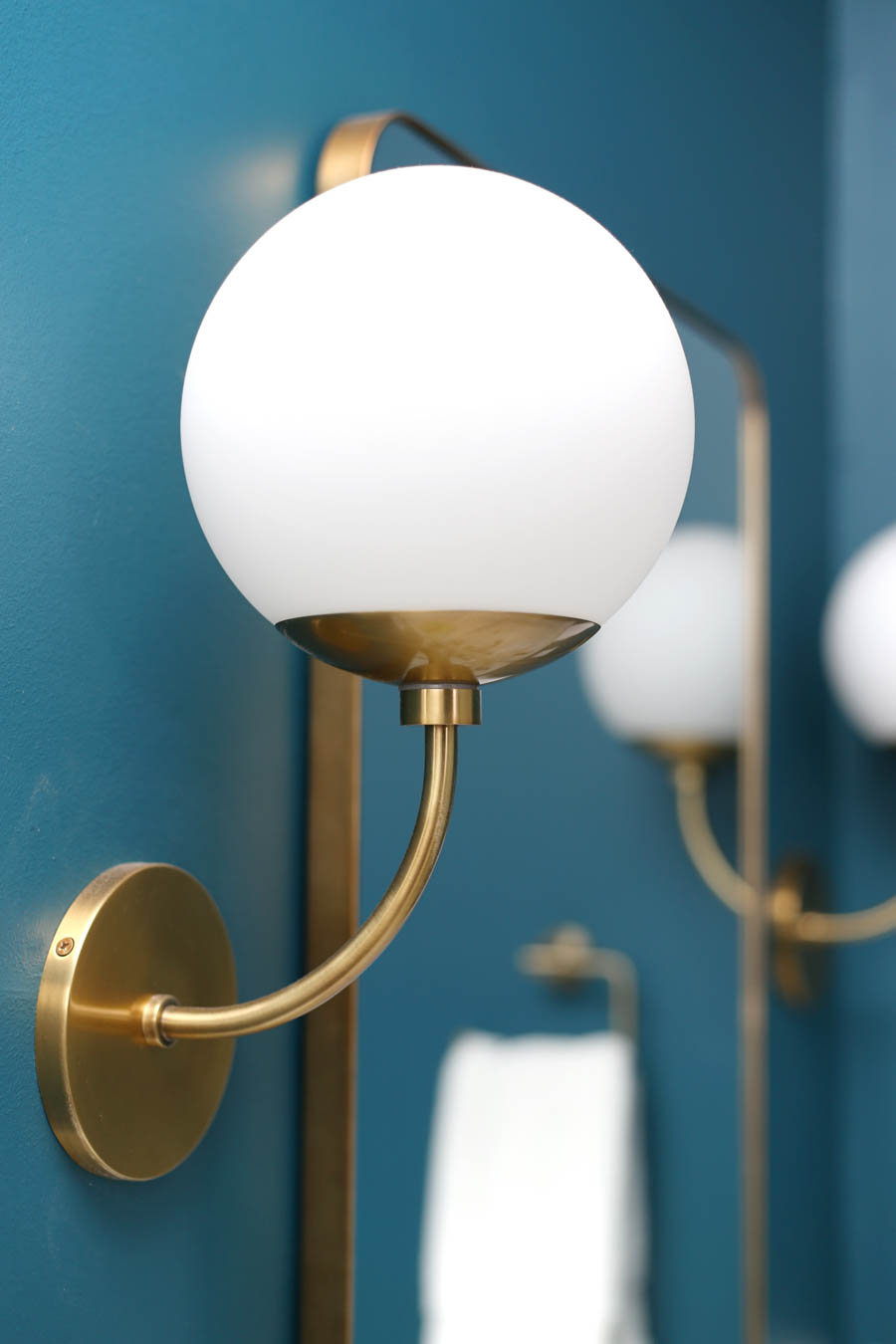 Here is another beauty of a sconce that we used in the other FRISCO I Project girl's bathroom!  This is the AGED BRASS CARRIED LIGHT and it comes in 3 different finishes.  It is such a great bathroom sconce.
SCROLL AND TAP TO SHOP CC AND MIKE'S FAVORITE BATHROOM SCONCES HERE: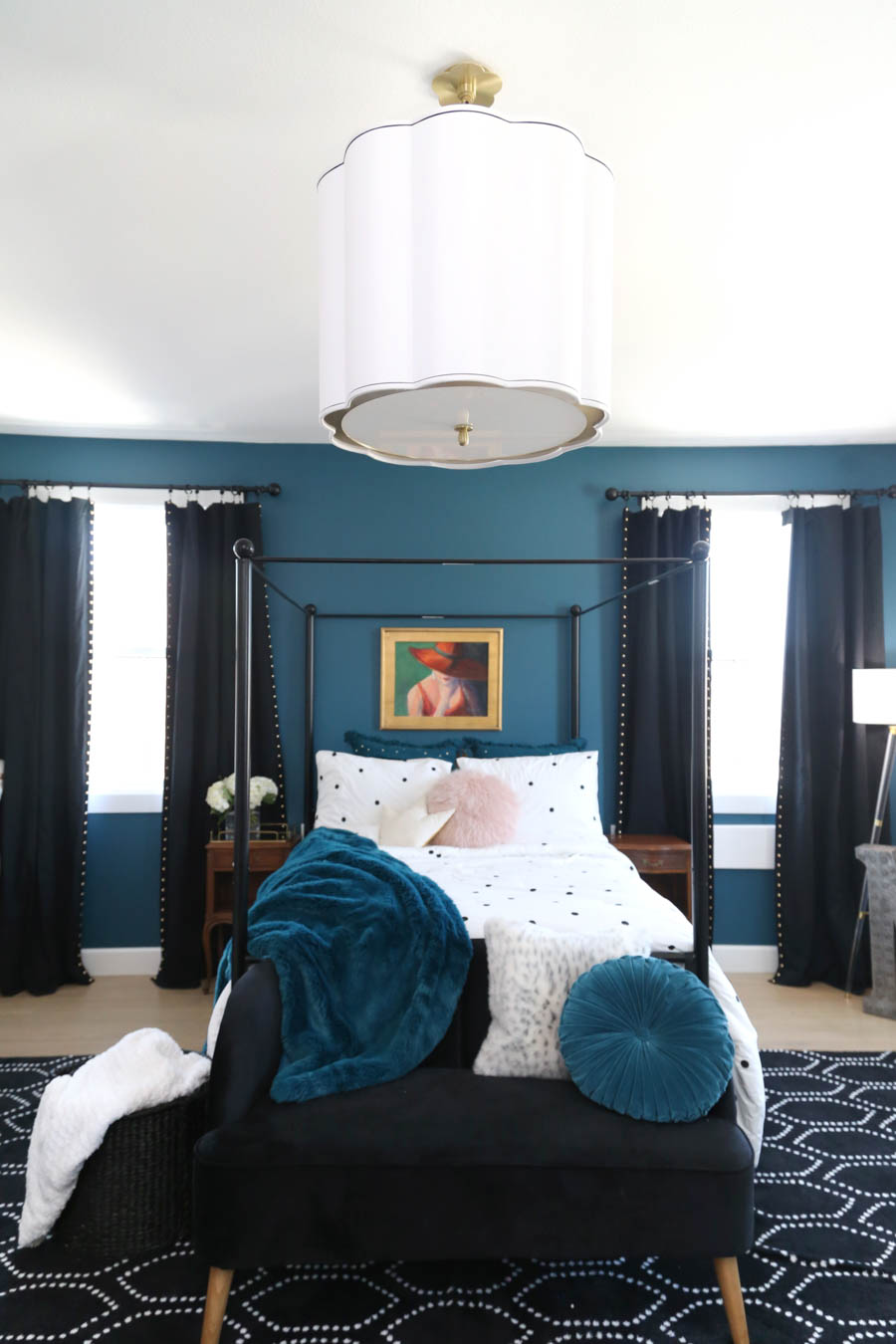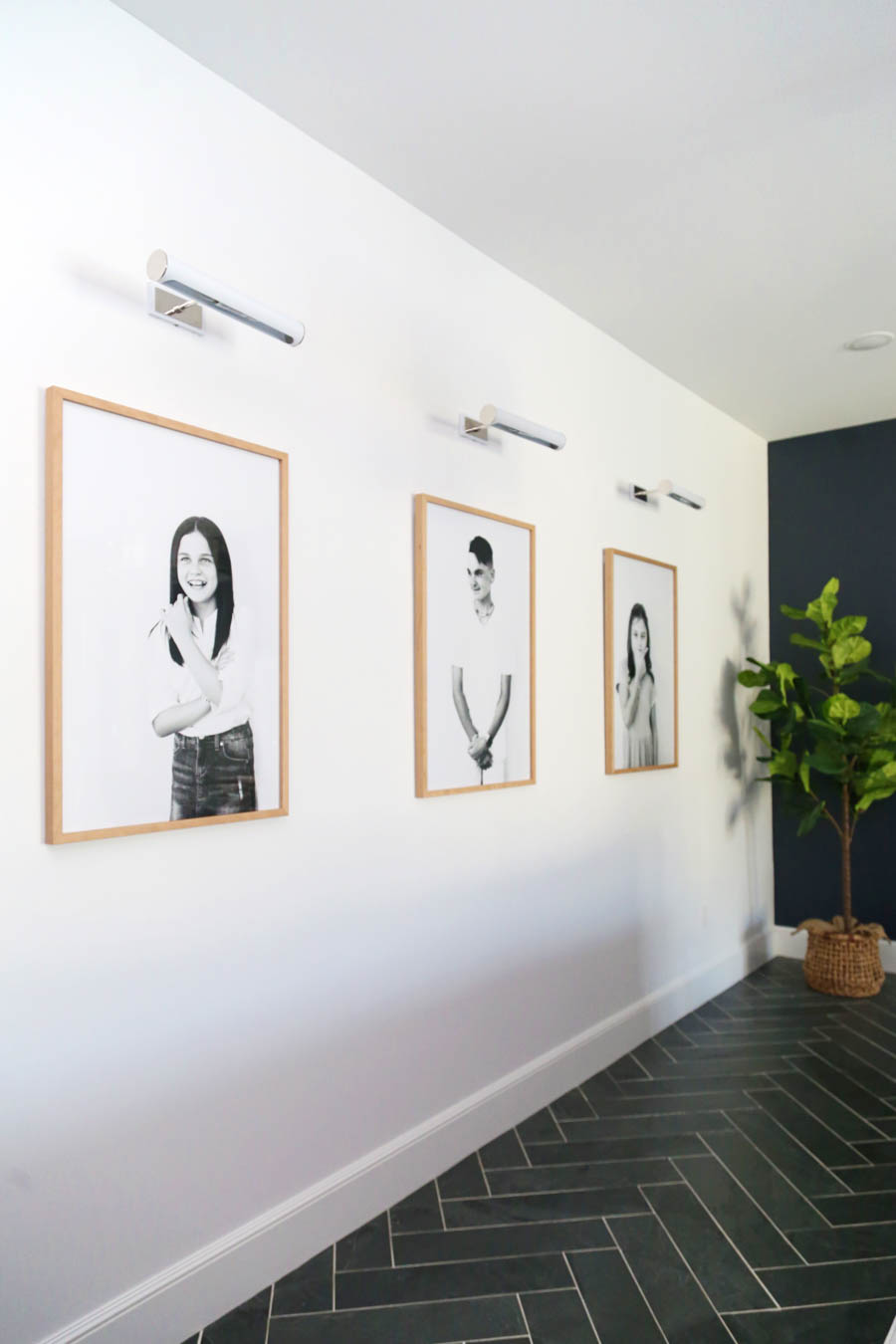 One of my favorite things we used in the Frisco I project was the BLACK SLATE FLOORING installed in a herringbone pattern in the game room, laundry room, and several bathrooms.  It is such a great, durable flooring option and I love the look!  I also love these affordable AGED BRASS/WHITE HOLLY SCONCES from CC and Mike the SHOP that are above the framed kids art.  Oh!  SPEAKING OF THE FRAMED KIDS ART…I took these photos!  Did you know that my background before design was photography?  Yep, it sure was!  I was a family and wedding photographer for 5 years before CC and Mike turned into, well, CC AND MIKE – HA!  So, I've decided to incorporate a little of my past into my present and offer to do pictures for all of my design clients.  I think all homes should have some large scale framed family photos and I love providing this for my clients!
SHOP THE LOOK: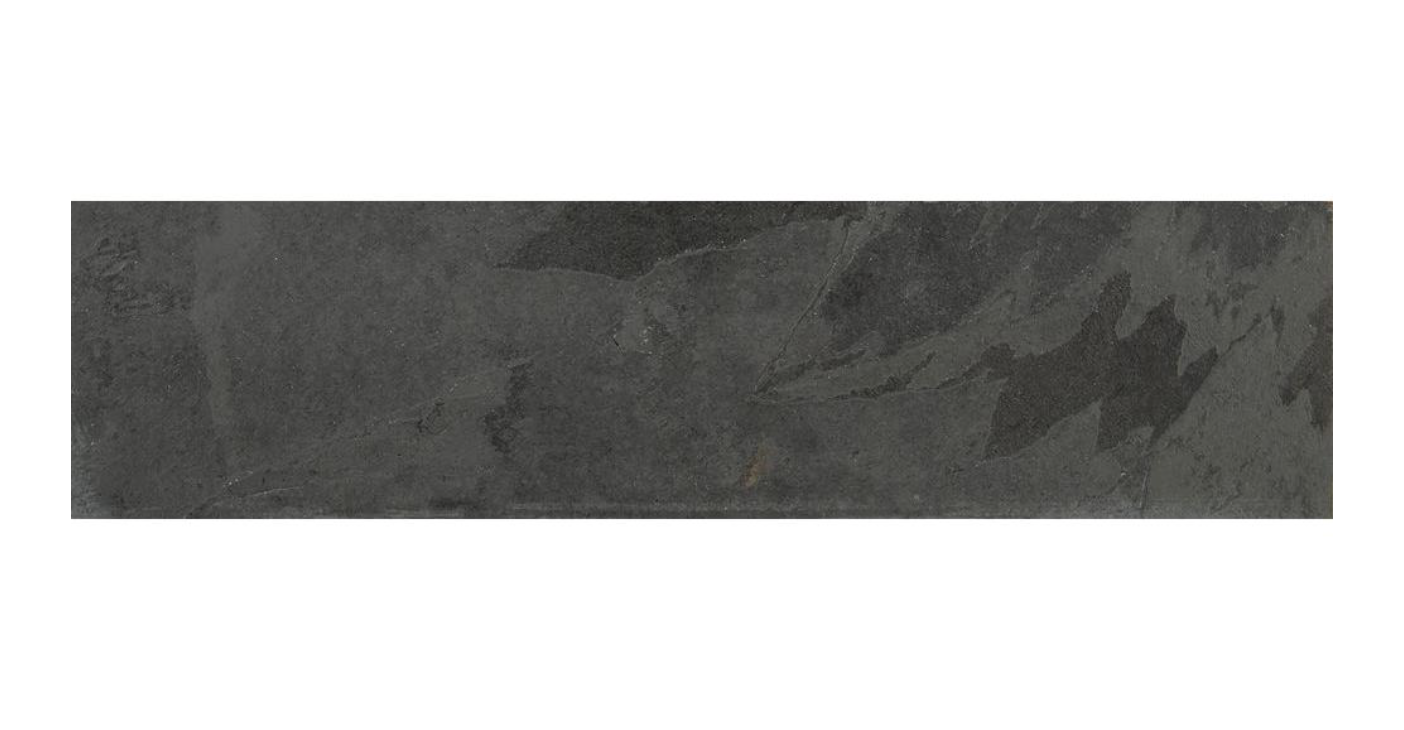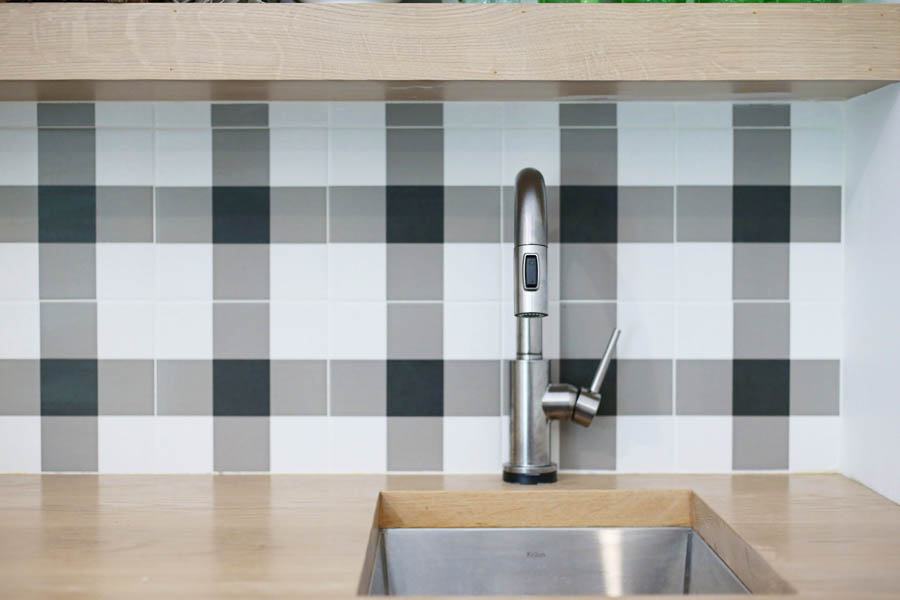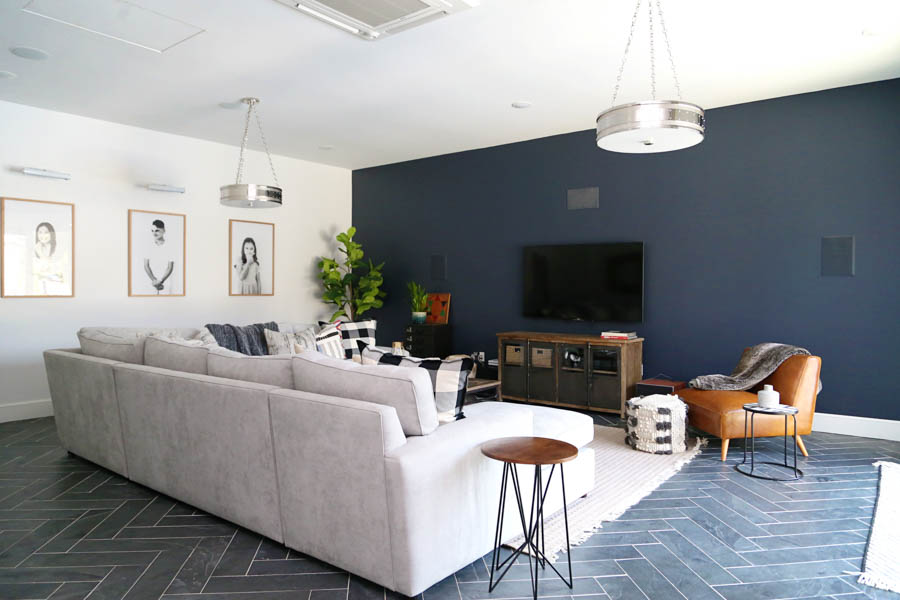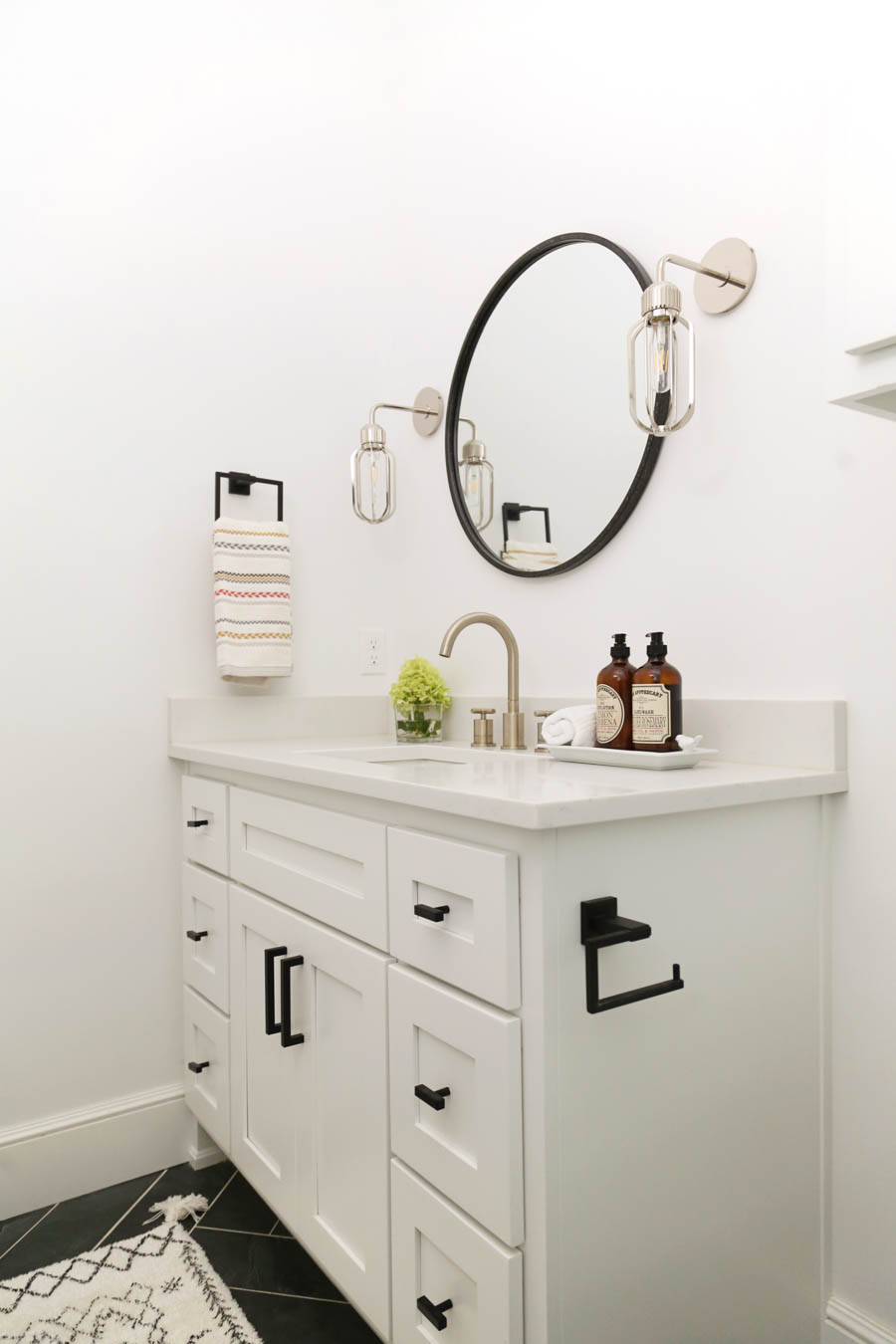 THE GAME ROOM BATHROM: 
BLACK SLATE FLOORING | FRANCO MIRROR | HARDWARE | FAUCET | RUPERT SCONCE |  FAUCET
SCROLL AND TAP ON THE PICTURE TO SHOP THIS BATHROOM: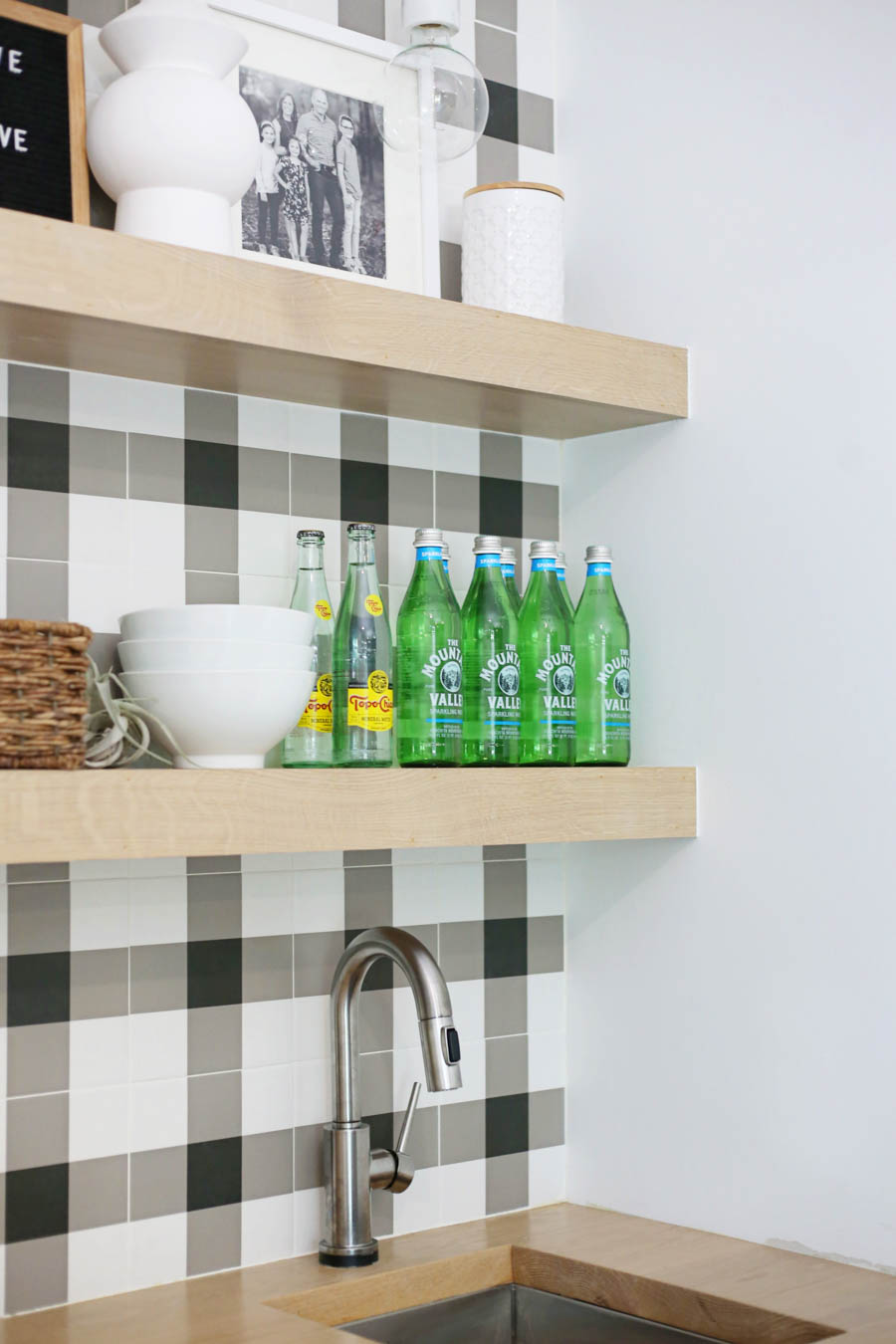 In the game room we did a fun buffalo check tile backsplash, wood countertops, and a cute SCONCE called the RUPERT SCONCE from CC and Mike the SHOP.  I love how this look for a game room bar area!
SHOP THE LOOK: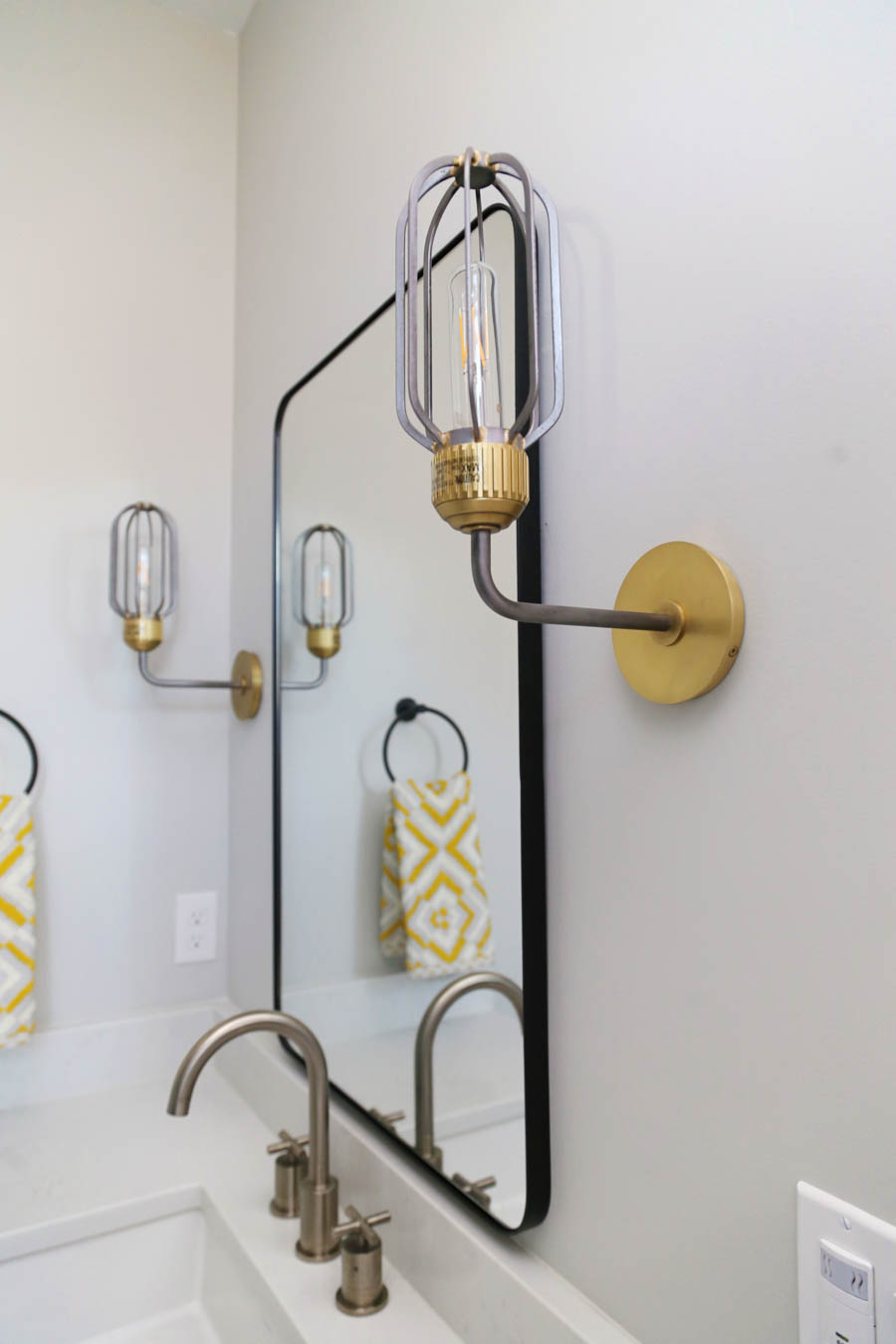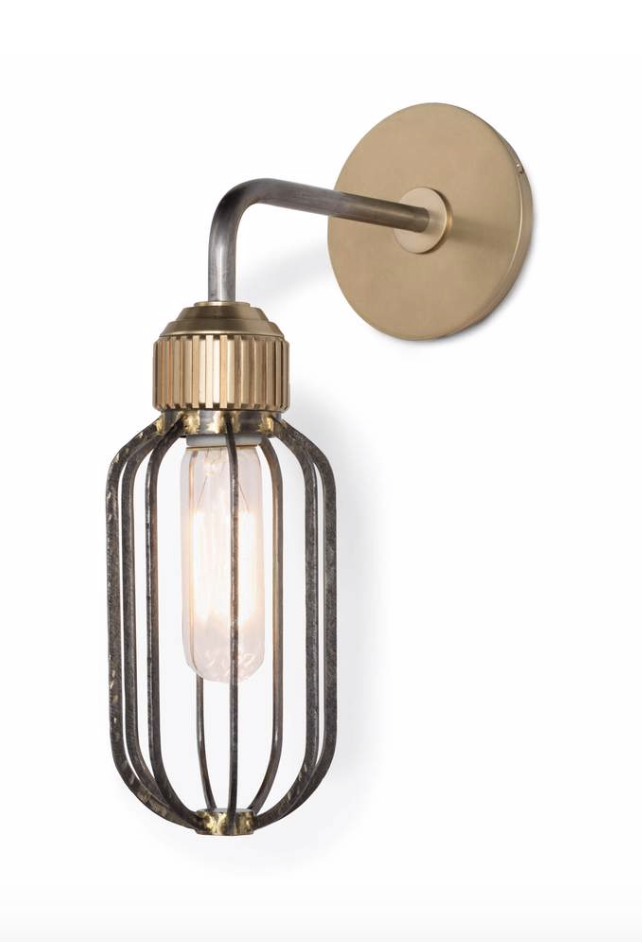 This sconces is a beauty and is one of my favorite sconces to use in bathrooms.  It is called the RUPERT SCONCE and it comes in multiple different finishes.  It pairs beautifully with the FRANCO MIRROR which is my favorite bathroom mirror to use and it is also available in multiple different finishes in CC and Mike THE SHOP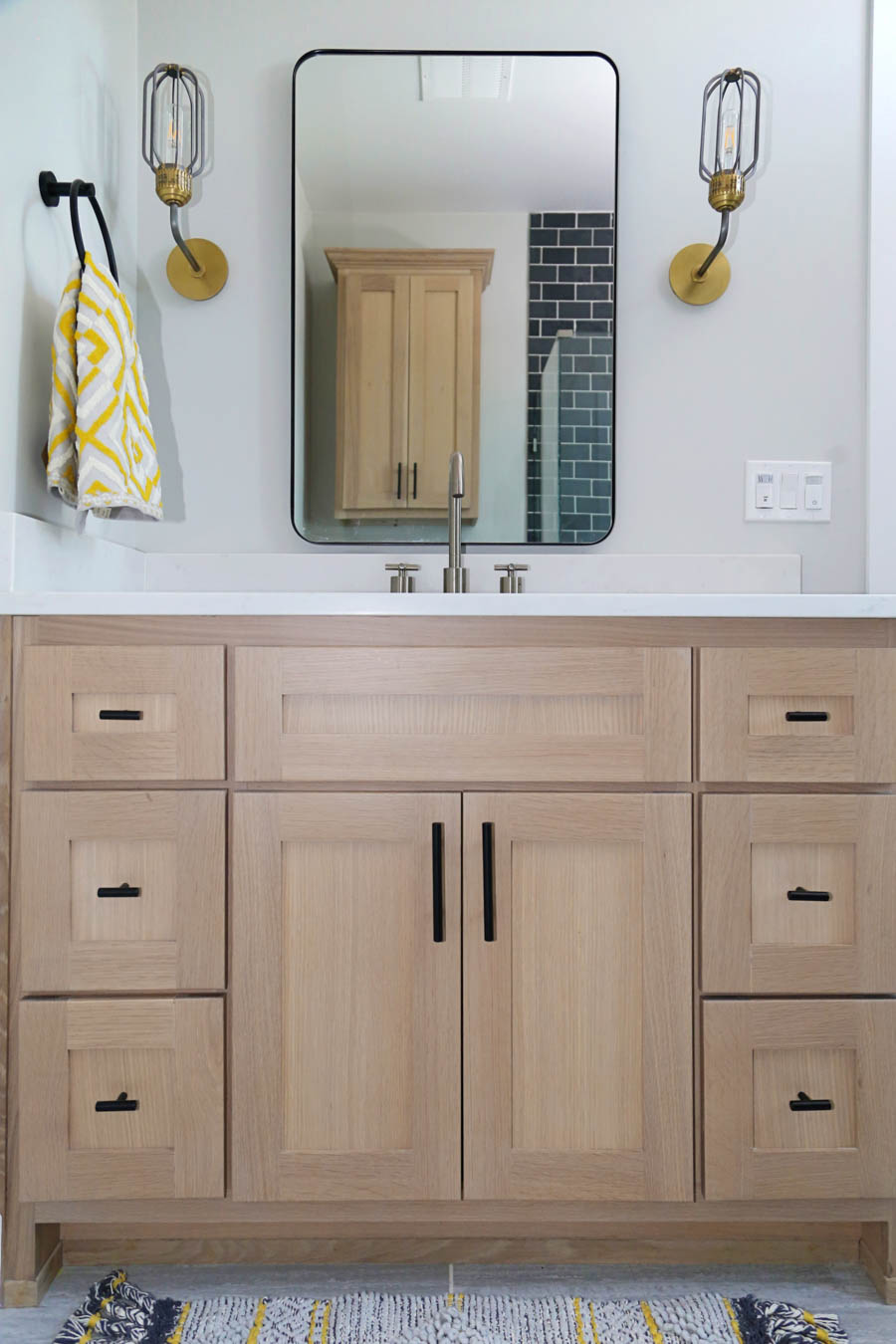 SCROLL AND TAP ON THE PICTURE TO SHOP THIS BATHROOM:

CABINETS: White oak cabinets – Clear lacquer finish with 5 percent white paint mixed in.
Thank you again for stopping by to check out the CC and MIKE Frisco I PROJECT REVEAL.  We would like to give a huge thanks to our clients for allowing us to be a part of this amazing project with them.  We absolutely love MAKING DREAM HOMES HAPPEN and are so honored that this incredible family chose us  and trusted us with their home!  If you would like to hire CC and MIKE for your next project, can contact us here and tell us more about your project.  We work not only in the Tulsa area but can help
You can connect with us further here where we are sharing daily updates here:
INSTAGRAM | YOUTUBE |  PINTEREST | FACEBOOK |