I am so excited to finally be able to share our CC and Mike Tulsa Remodel Reveal – The Good Project!
Once upon a time, one of my besties (and college roomie) called me and said — "Um, CC…I have this house I want you to come look at." I drove out to South Tulsa and met her at the house they were interested in. When I walked in, I saw purple carpet, mauve bathroom sinks and purple walls, but you know what else I saw — clean lines and natural light and amazing architecture and major potential.  So naturally I said – "Well if you don't buy it, I'm going to."  Fast forward three months later and my friend and her family just moved into this gorgeous home and they are loving their neighborhood and community and most importantly, that killer kitchen island (just wait until you see it)! CC and Mike are so honored that we got to be a part of this project.
Before I take you guys on the tour I have to say a HUGE thanks to our clients, the Goods. Not only where the amazing to work with, but they believed in our vision.  As you will see from the before pictures, I had a pretty dramatic design idea for how to update the kitchen. The second I saw the kitchen I envisioned this massive island with built-in seating all around it, a butcher block isalnd, and a massive Restoration Hardware candelbra to top it all off. The Goods bought into my idea and my vision 100 percent and seriously you guys, it means the world to me that they believed in me and trusted me. You can see for yourself what the results are….I'm pretty dang excited about it and I think the Goods are sure enjoying their kitchen as well!
Without further ado, I'd like to welcome you to Part 1 of CC and Mike's Tulsa Remodel Reveal – the Good Project!  Design Sources will be shared throughout this post with each room reveal and also there will be a recap of sources with shoppable links at the end of the post.
Oh and if you are looking for your dream home, we hope you will consider letting CC and Mike welcome you home! ENJOY THE TOUR!!
Here's what the dining room looked like when the Good's bought the house—all purple carpet and mirrors on the walls and some dated wall coverings. Check out what it looks like now!  The beaded Amelia chandelier  from Pottery Barn was the focal point for the room and I love the statement it makes!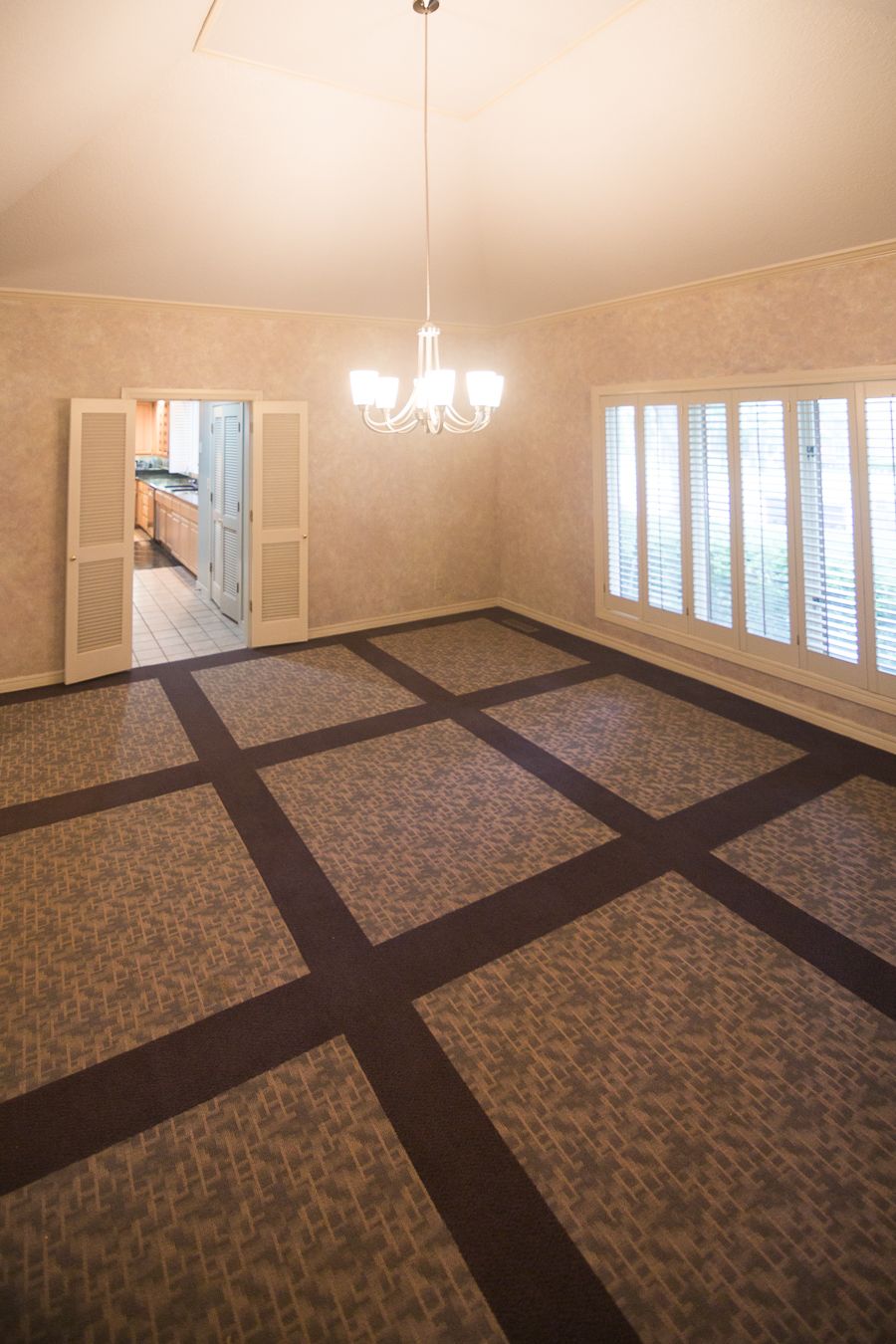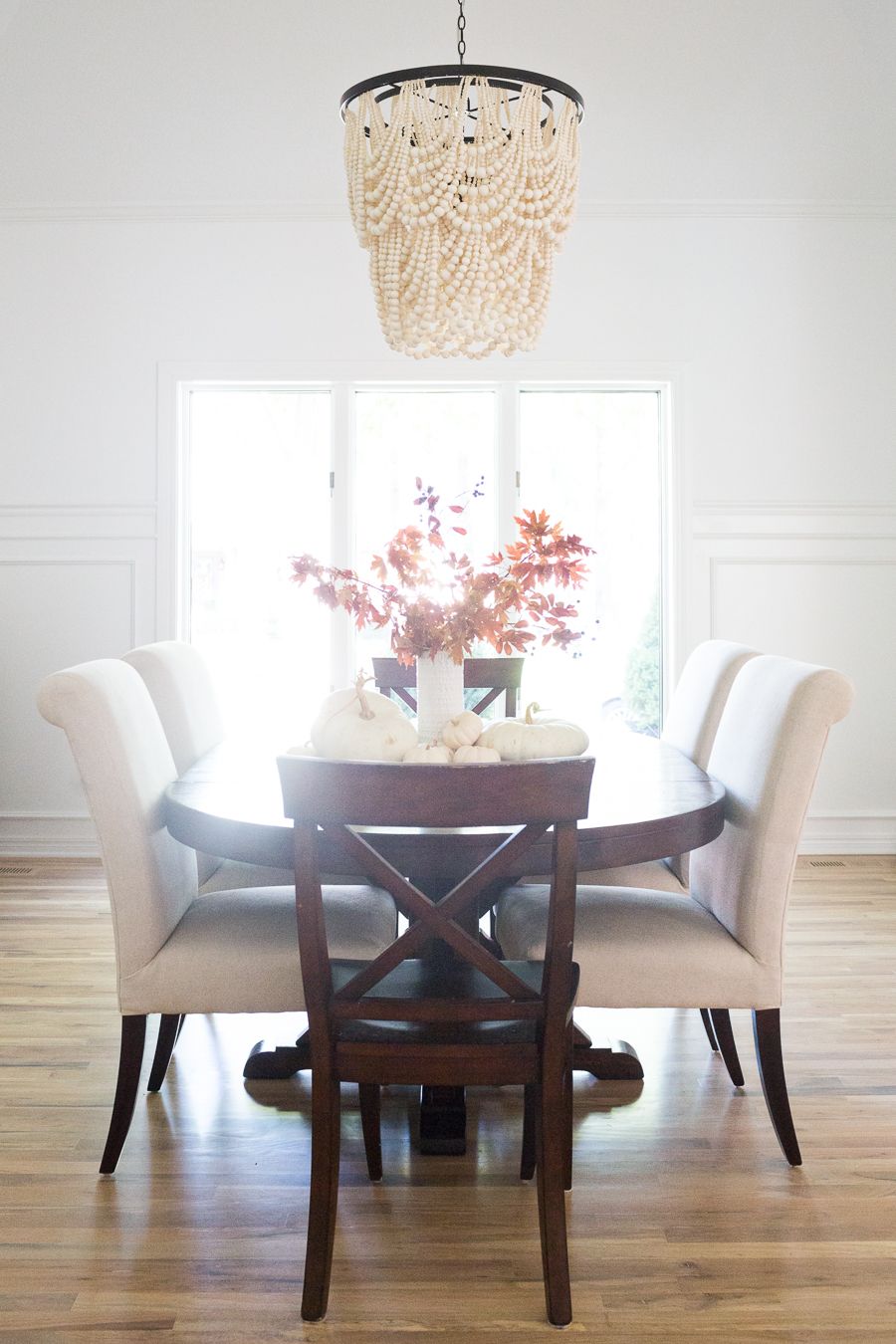 You can shop the Good Remodel Dining Room here: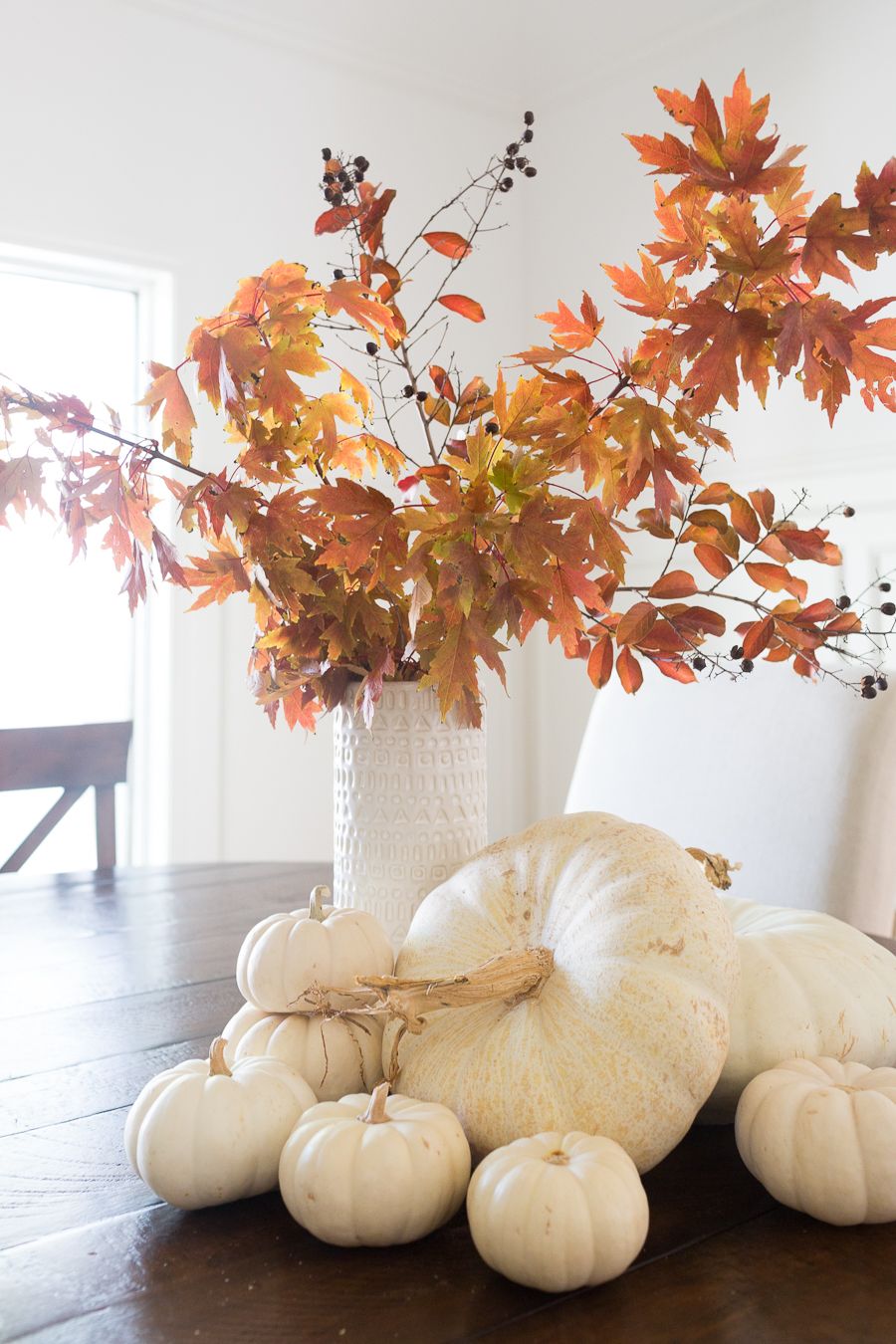 Next up onPart 1 of the Good remodel tour is the kitchen!  Check out these before and afters! I mean talk about DRAMATIC!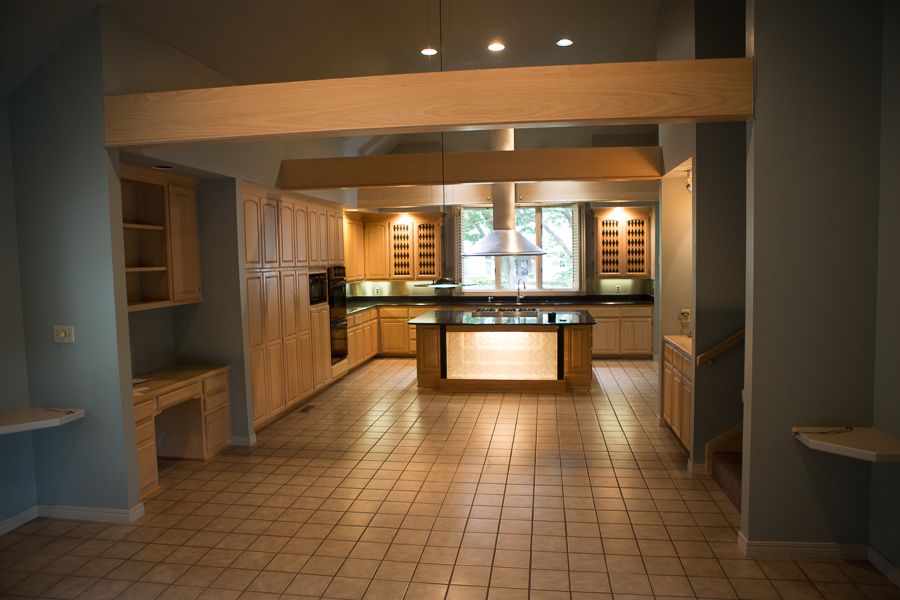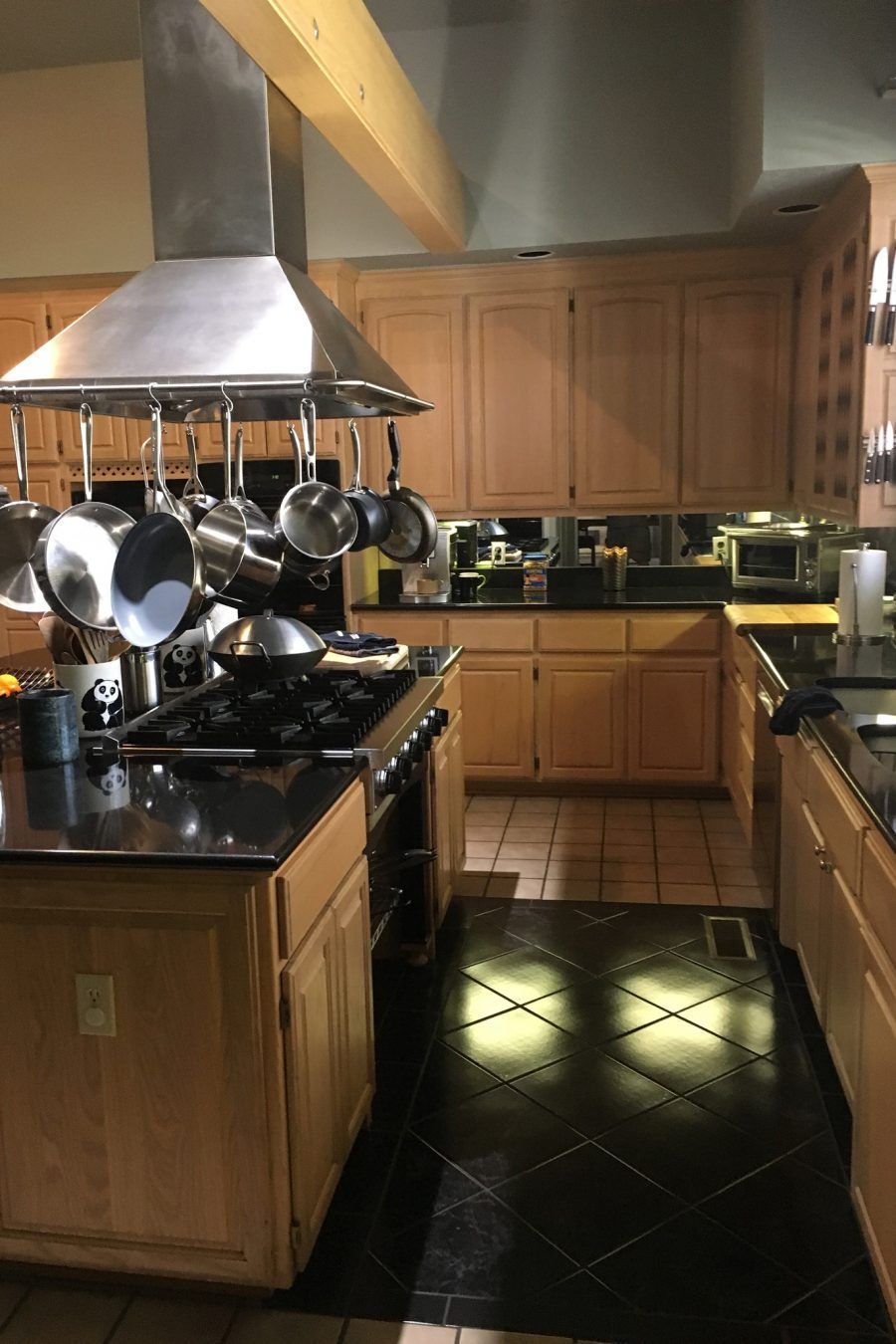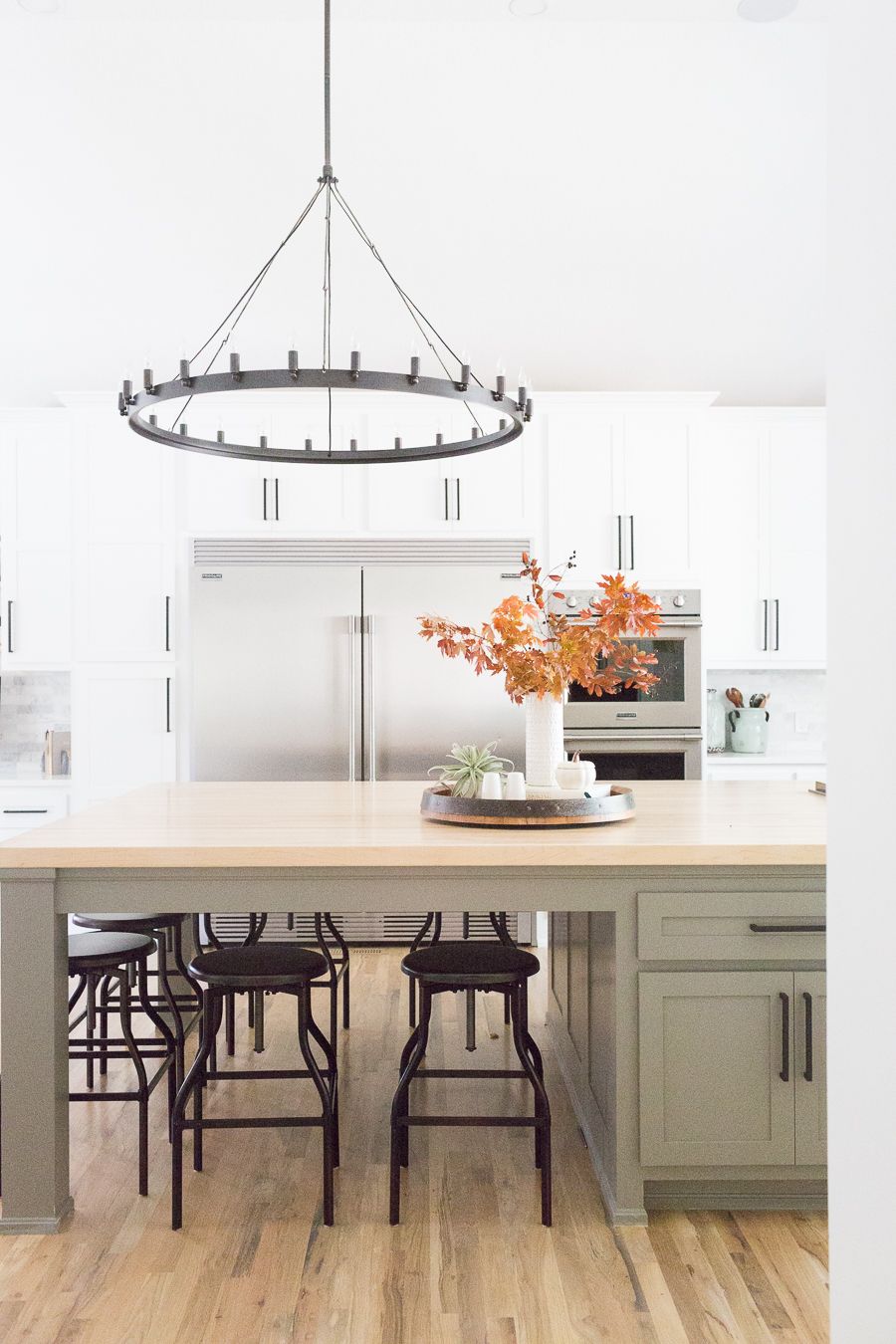 SHOP THE GOOD REMODEL KITCHEN AREA HERE:

GOOD REMODEL KITCHEN SOURCES
Paint Colors: Benjamin Moore Decorator's White and Benjamin Moore Chelsea Grey
Candelabra: Restoration Hardware Camino Vintage Candelabra. I have also sourced another more affordable option — the Shayla 12 light Chandelier from Wayfair
Hardware: 10 inch black cabinet pulls, 7 inch black cabinet pulls, 6 inch black cabinet pulls
Shelf accessories: West Elm (see links above and at the bottom of this post)
Bar Stools – Copper Dilton Adjustable Stool (FYI – these have a copper circle on the top that weren't shown in the picture. If you prefer them to be all black it can easily be rubbed off with steel wool which is what we did for these stools)
Marble Backsplash – Calcatta Honed Marble Backsplash
Sink – Kohler from www.efaucet.com
Over the sink light – Pottery Barn Class Pendant – Tapered Metal
Butcher block countertop: Red River Designs
Quartz – Viatera Quartz Muse
Floors – Renaissance Wood Floors in Jenks. Material is hickory #2 wood floors with a clear coat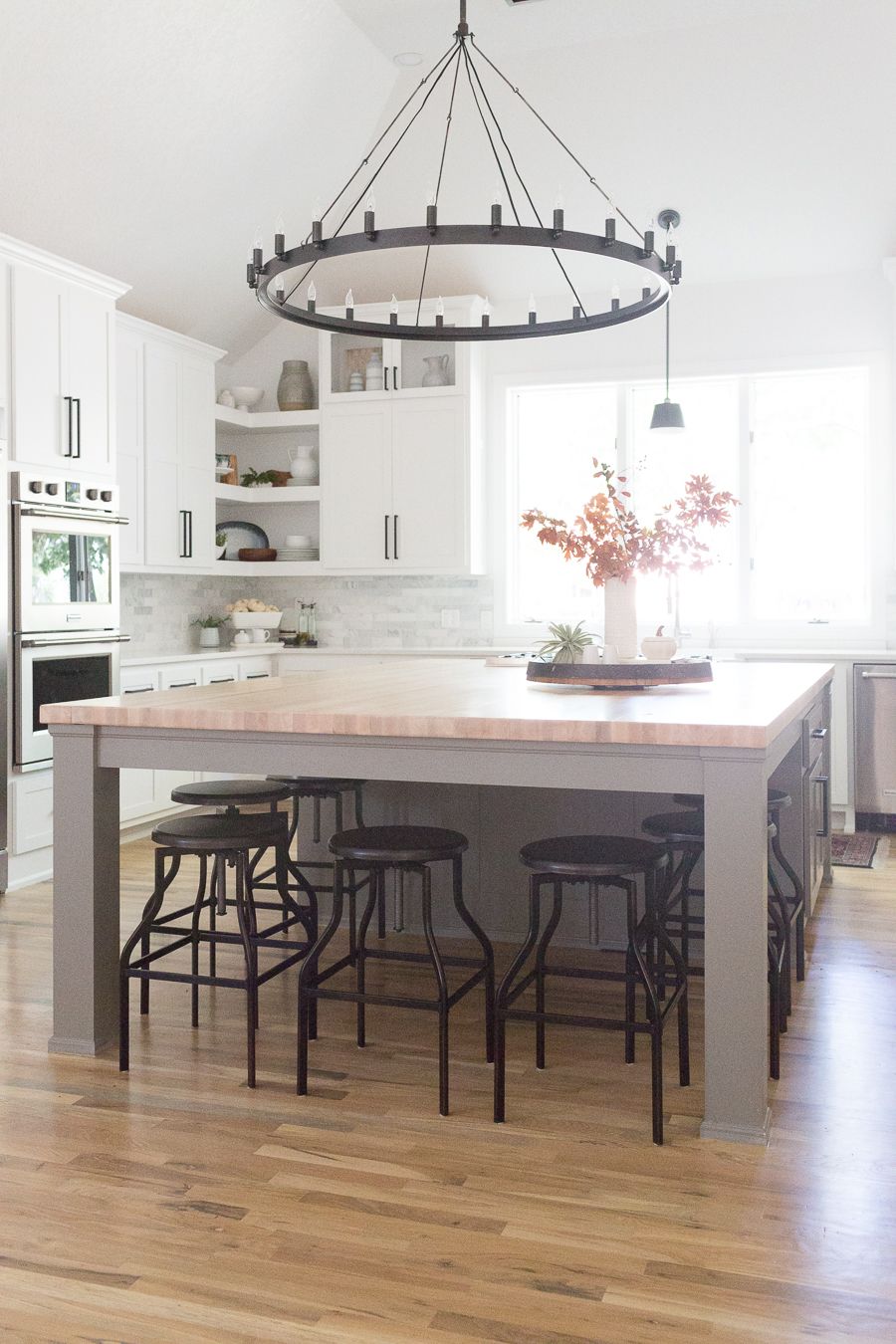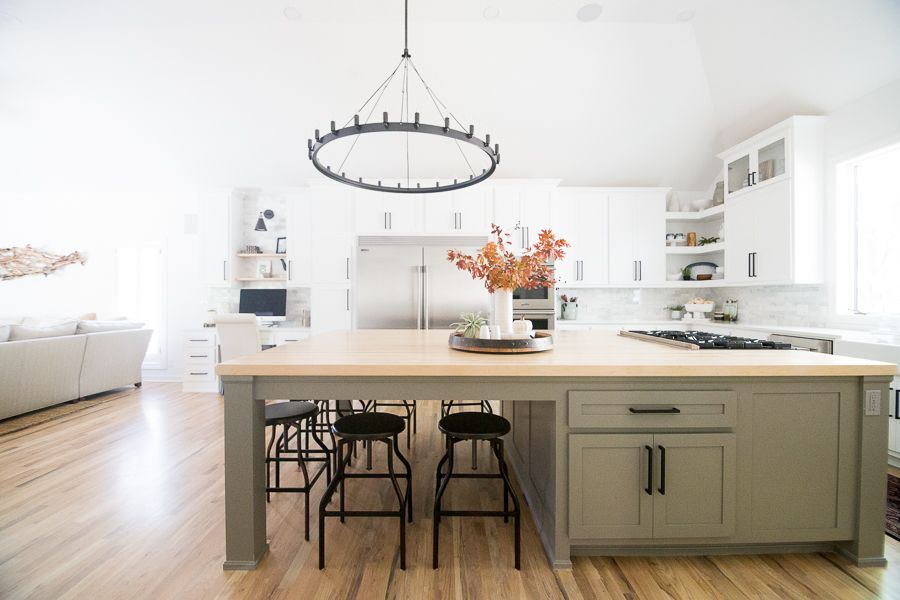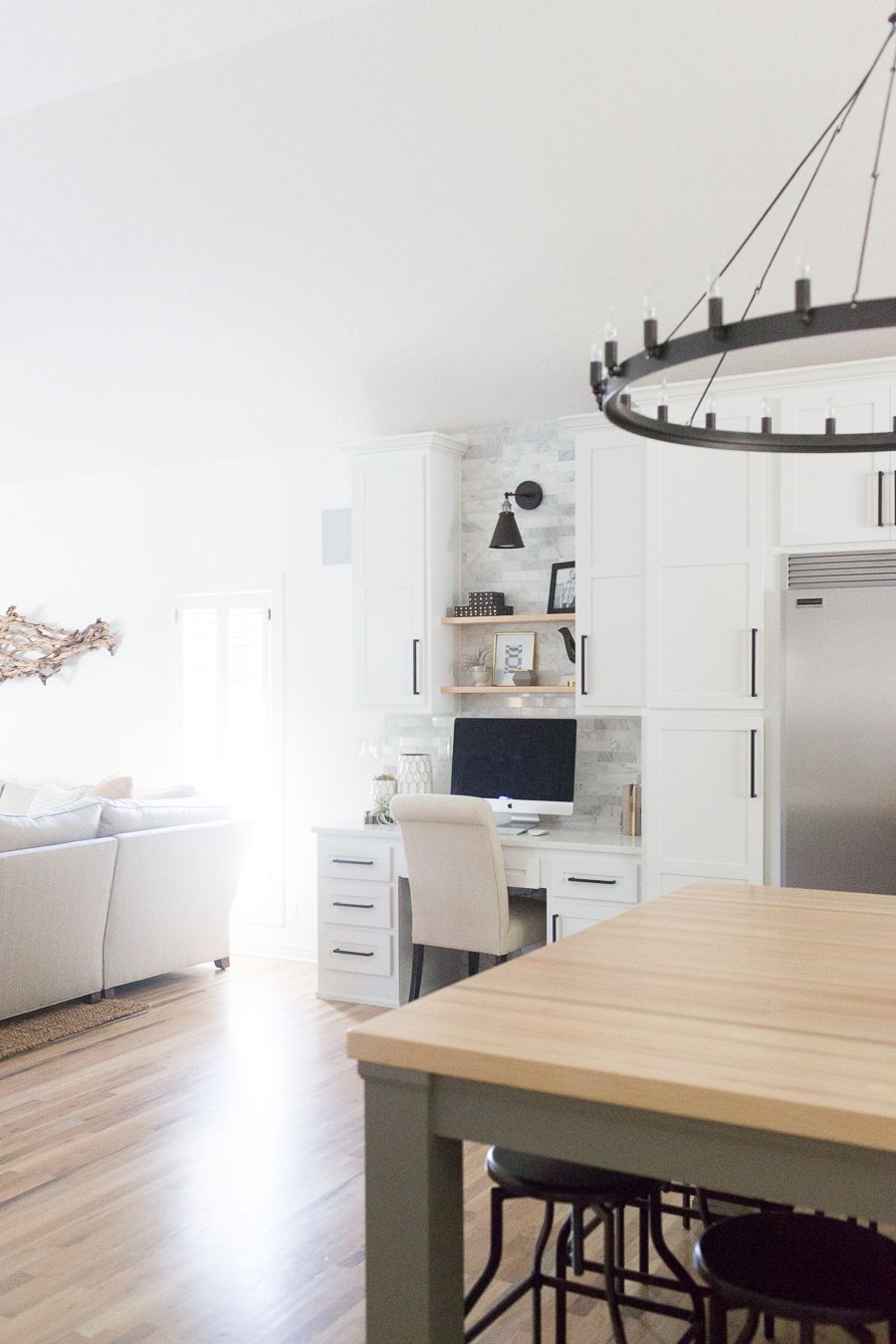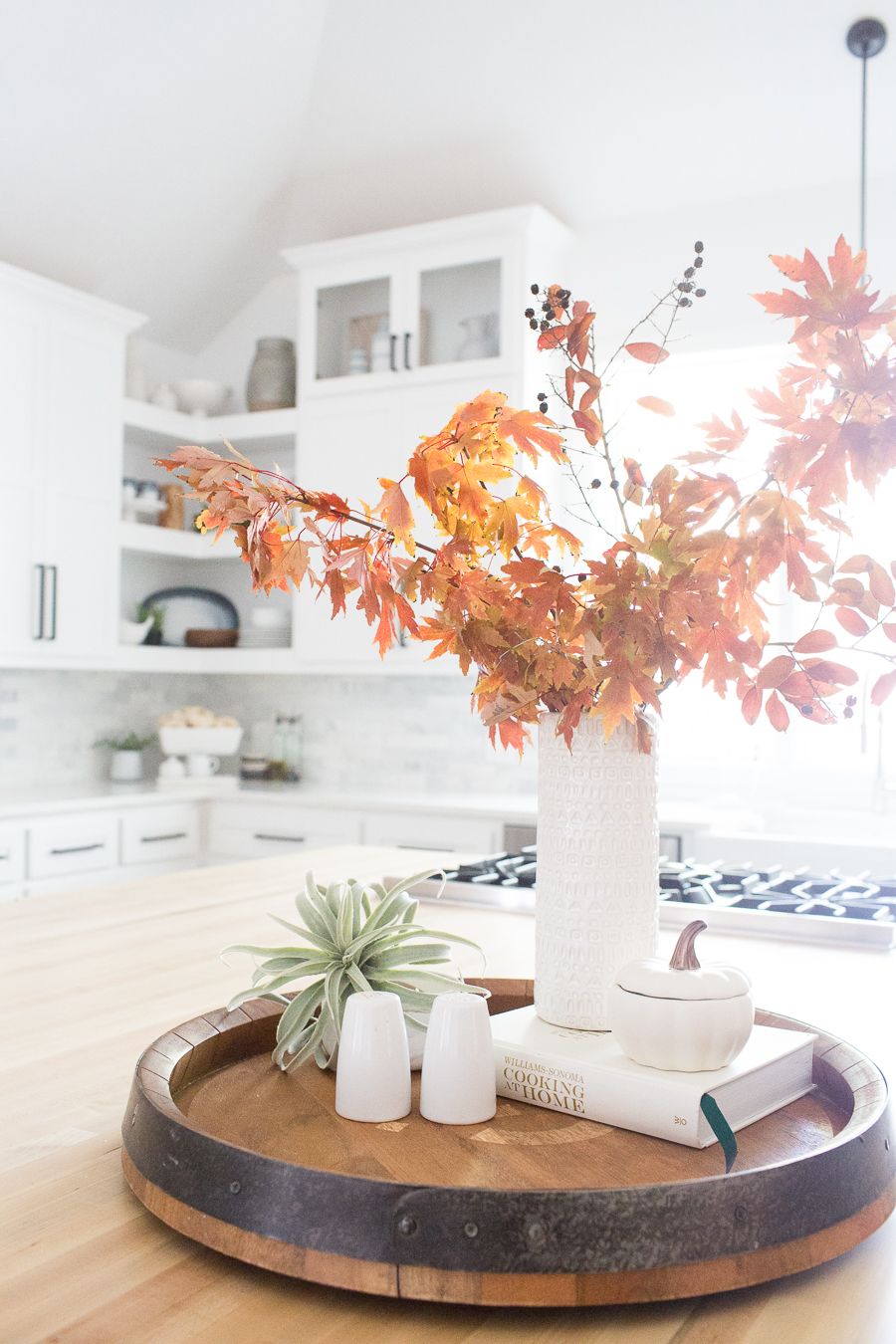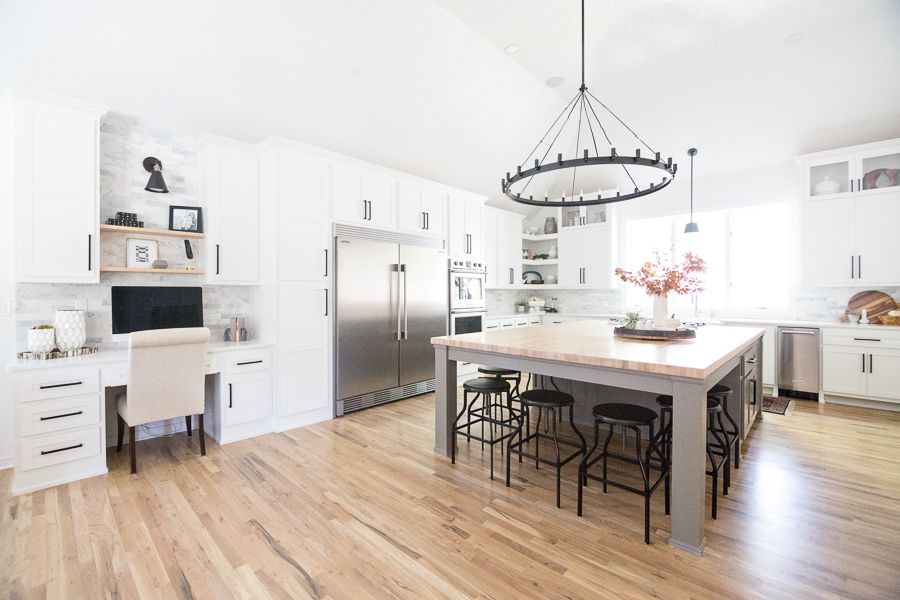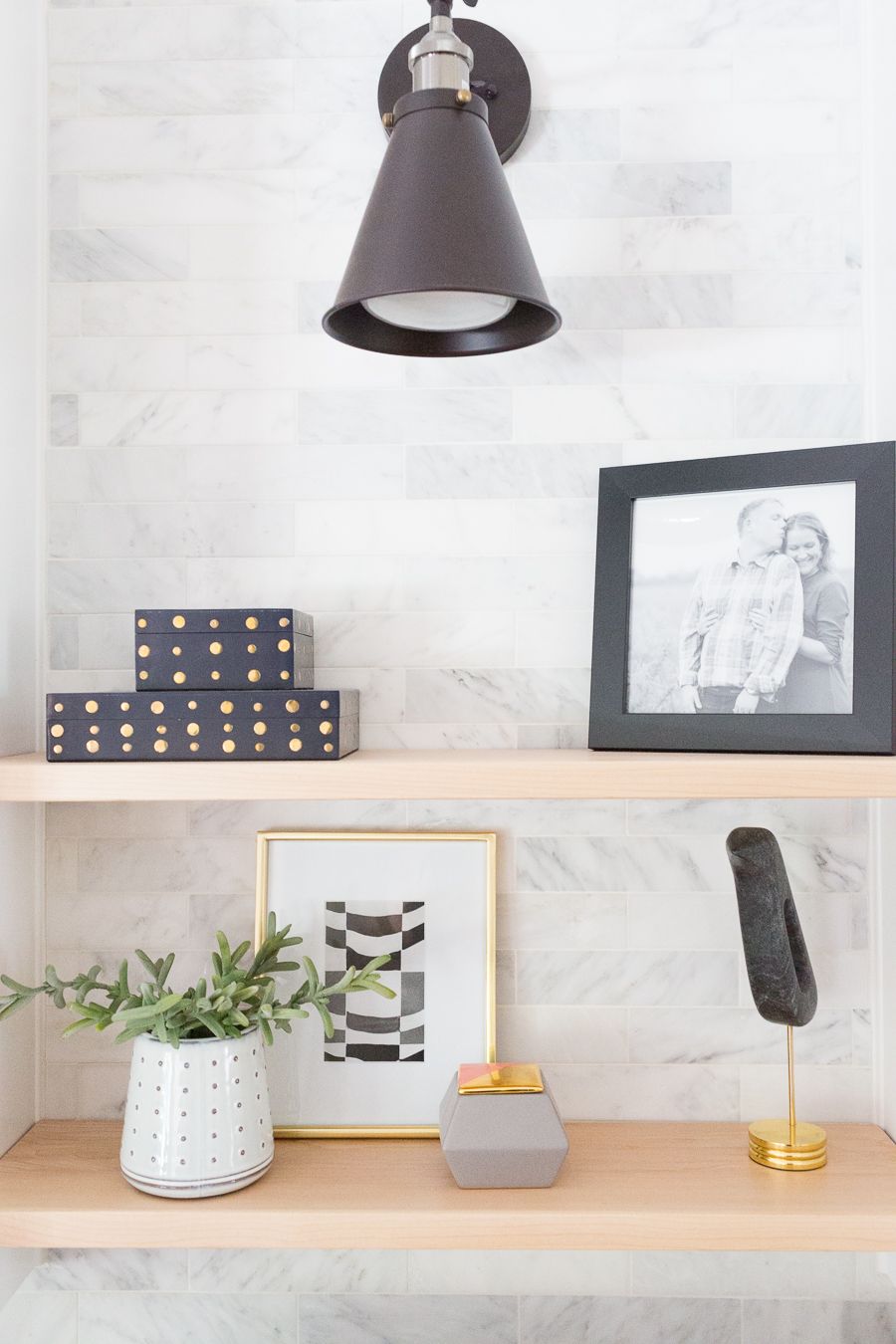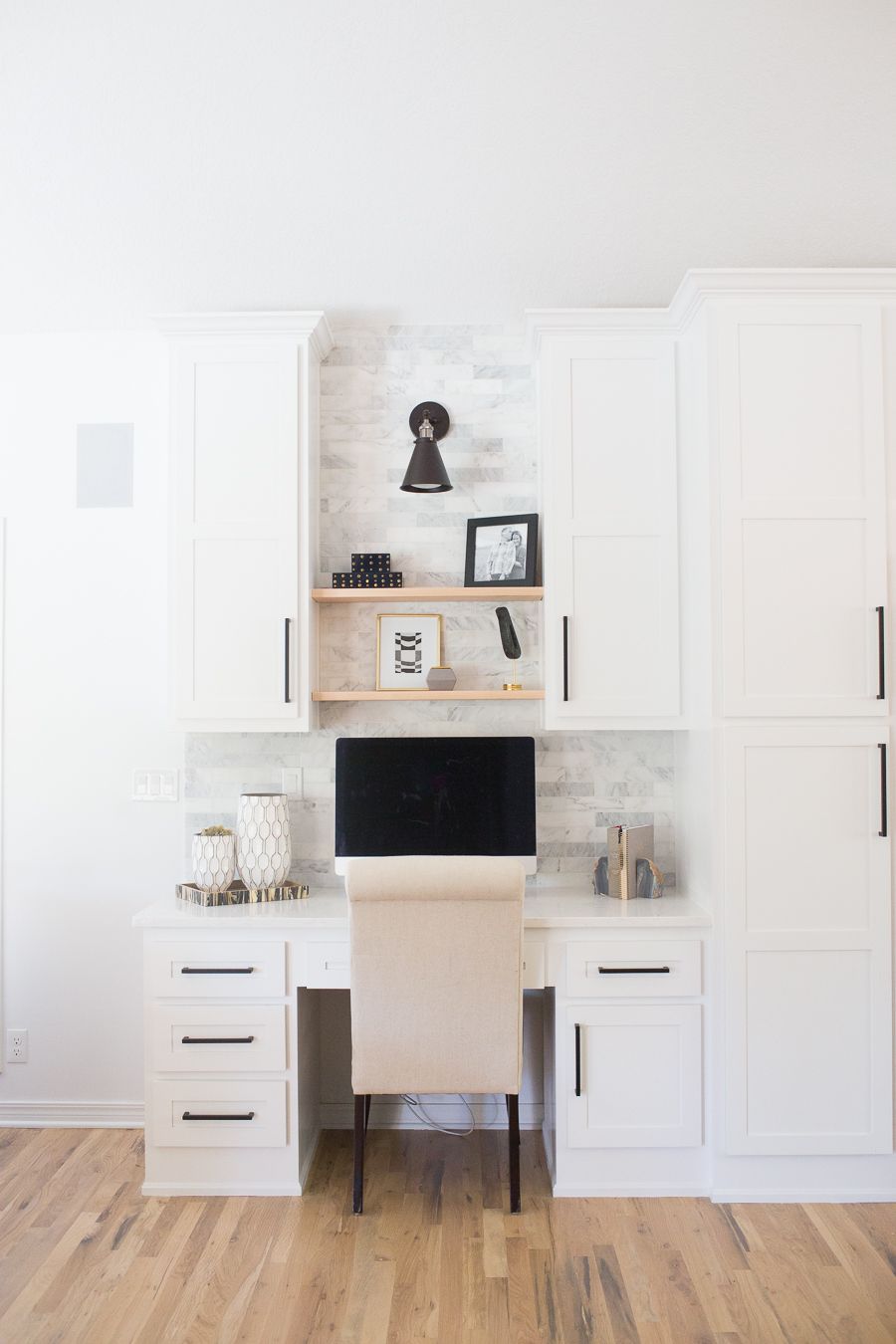 SHOP THE GOOD KITCHEN DESK AREA HERE: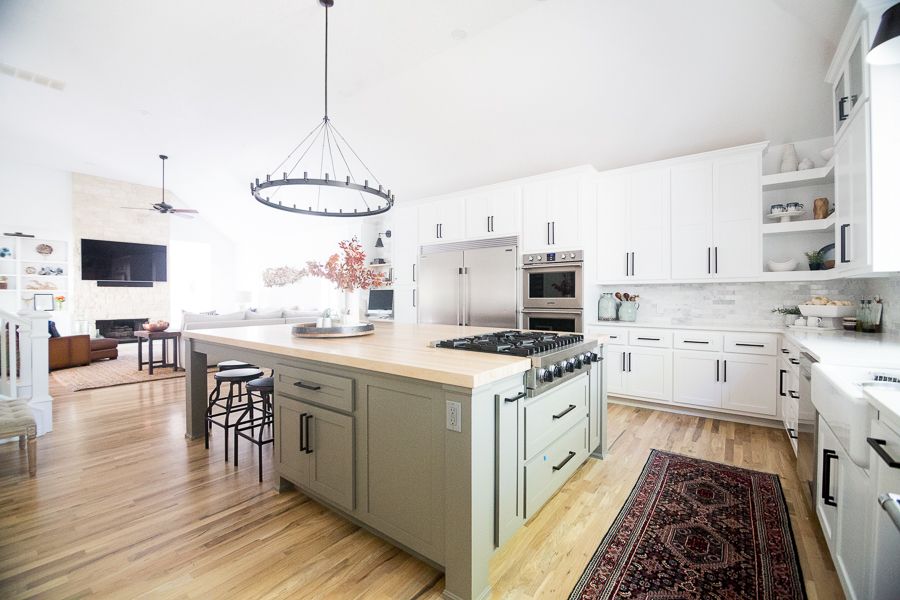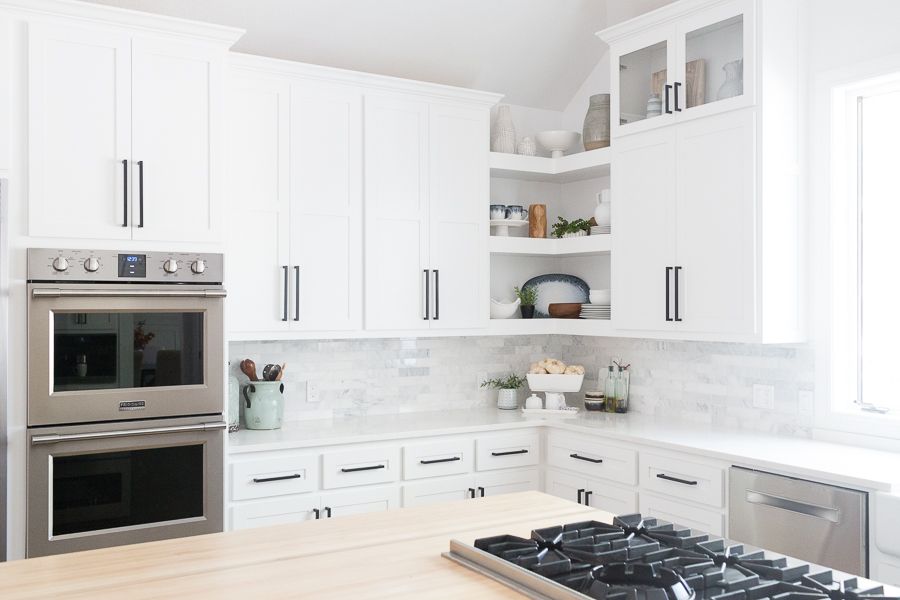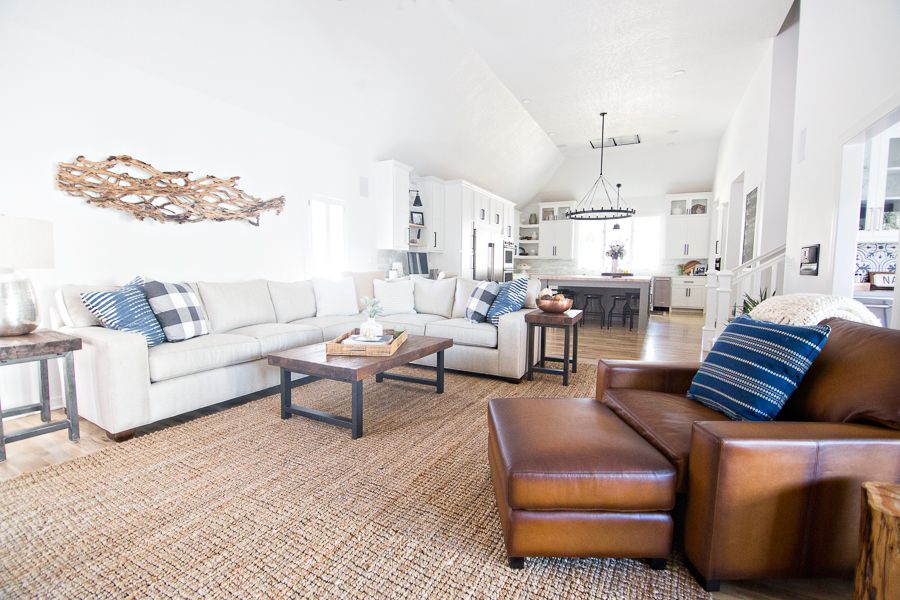 Shop the Good Remodel living room here:

Century Custom Sectional, Turner Pottery Barn Leather Chair, Pottery Barn coffee table and end tables, Safavieh Natural Fiber Rug, Studio McGee Pillows, West Elm Throw and West Elm wood side table, marble book ends (in bookshelves), Petrified Wood on Stand (bookshelves), Fossilized Minted Print (bookshelves), Gold Hexagon and West Elm Sphere (bookshelves), CC and Mike Lone Tree Print (bookshelves), Circa Library Light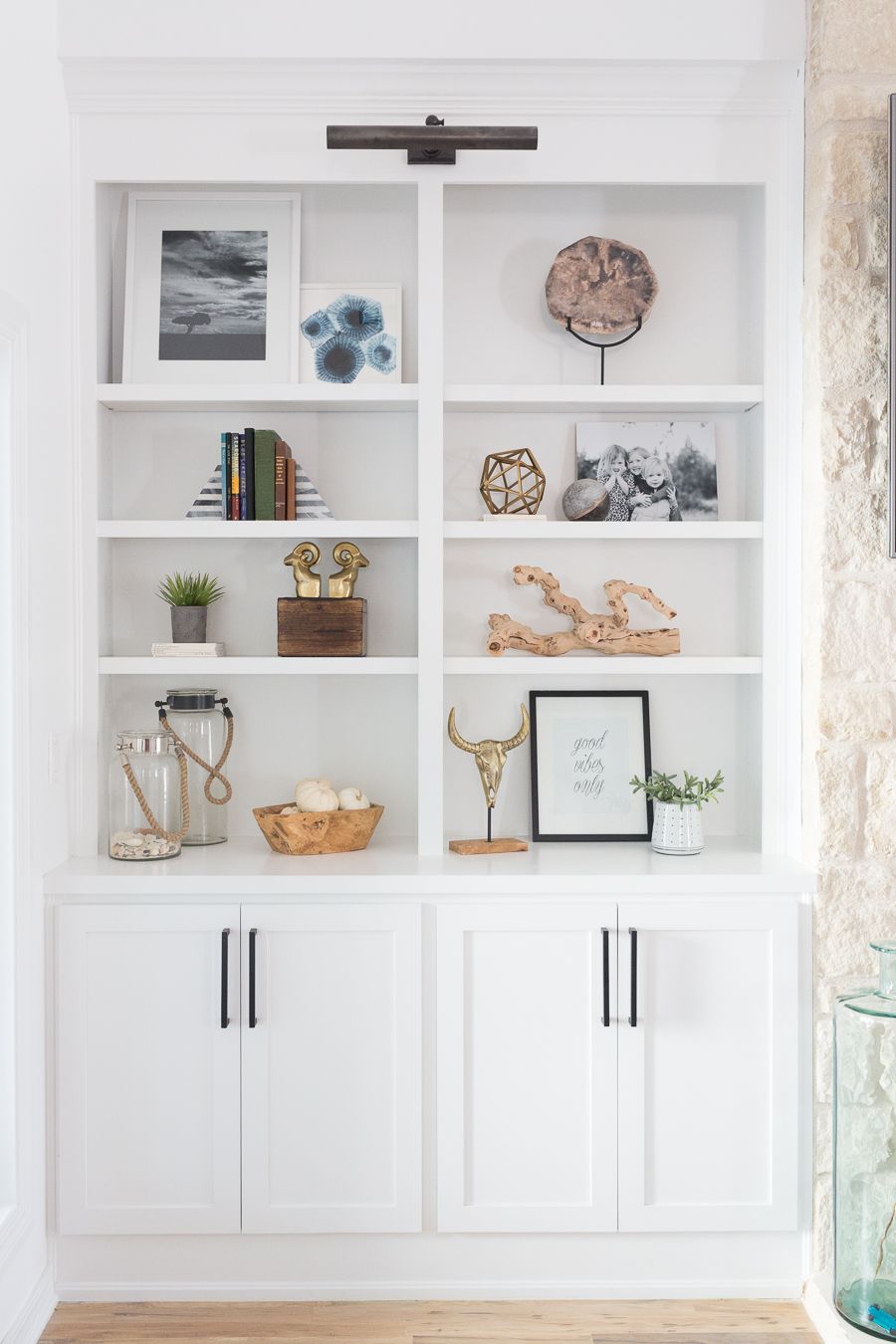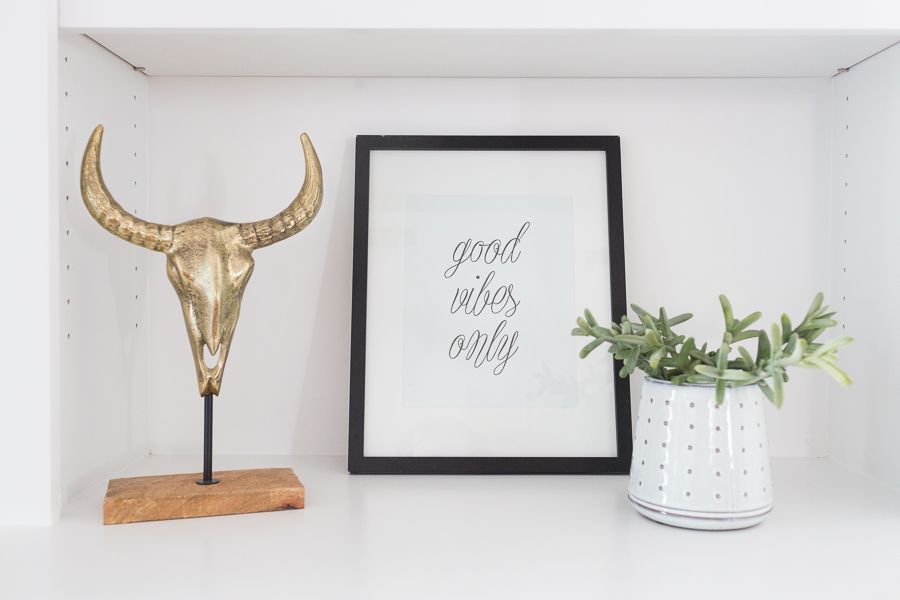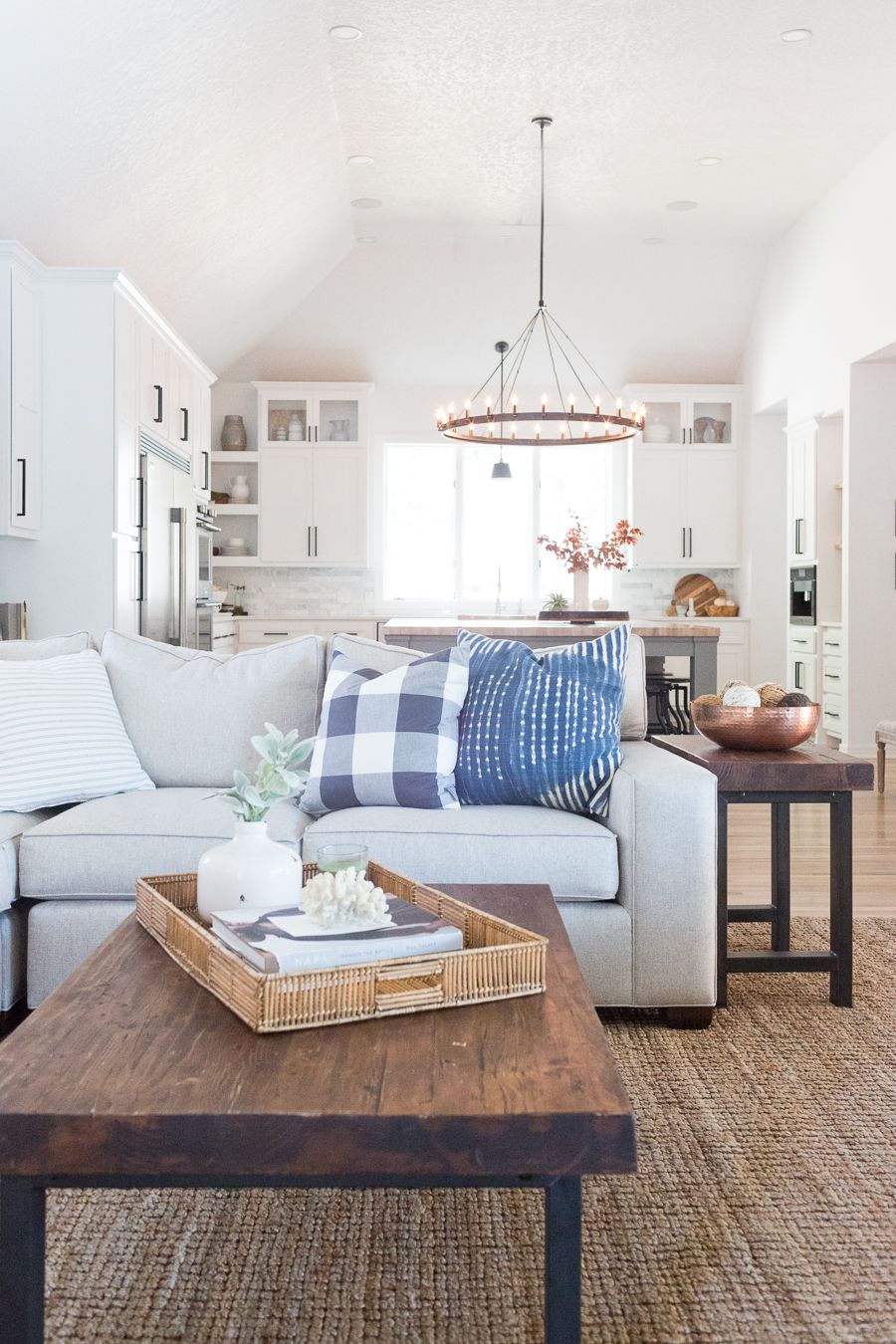 A few more before pictures so you can see what the living room and fireplace USED to look like!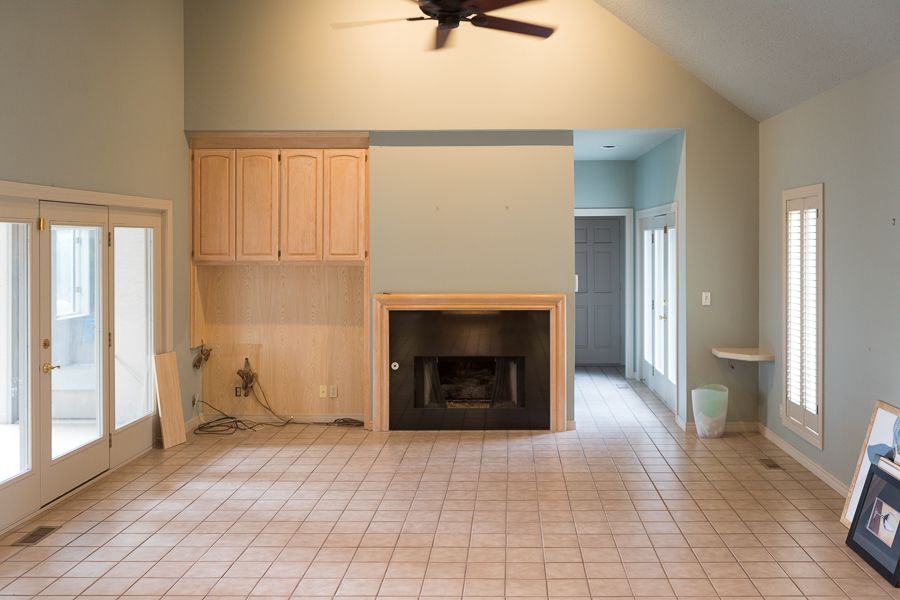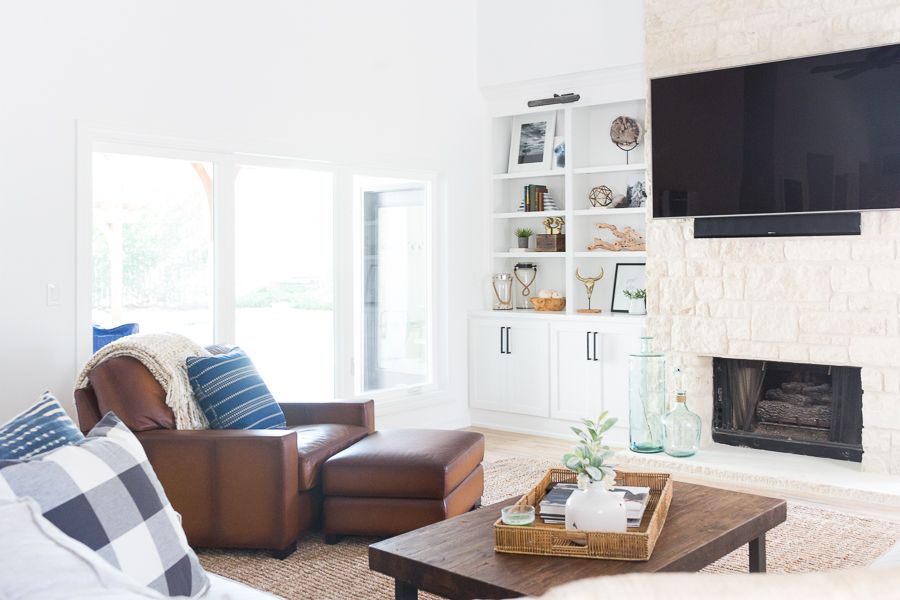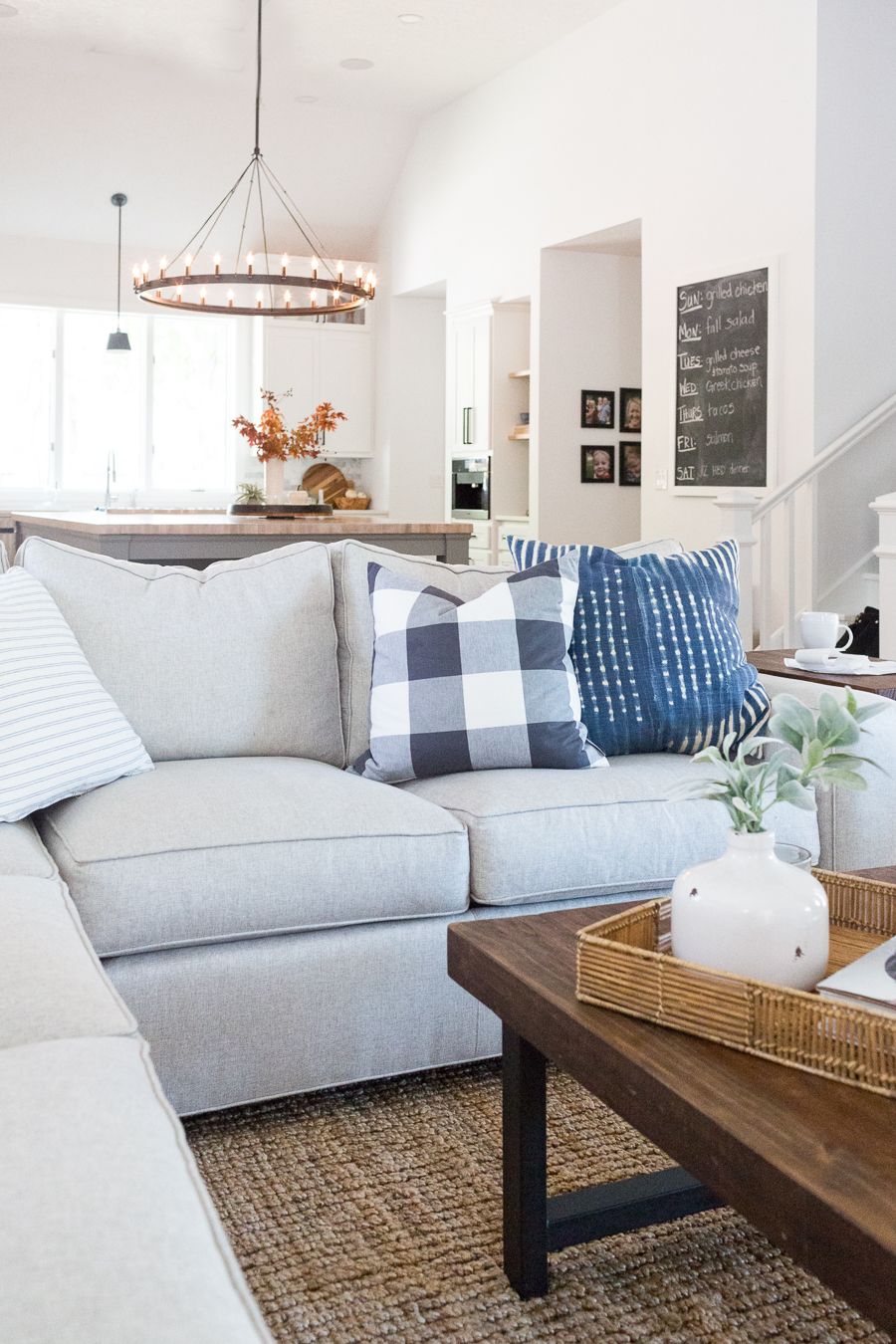 And finally here is what the exterior used to look like. We painted the exterior, changed out the front door to modernize the exterior, and got some new Bevolo Gas Lanterns to really pack a punch. Landscaping by Joe Courtney from J and J landscaping.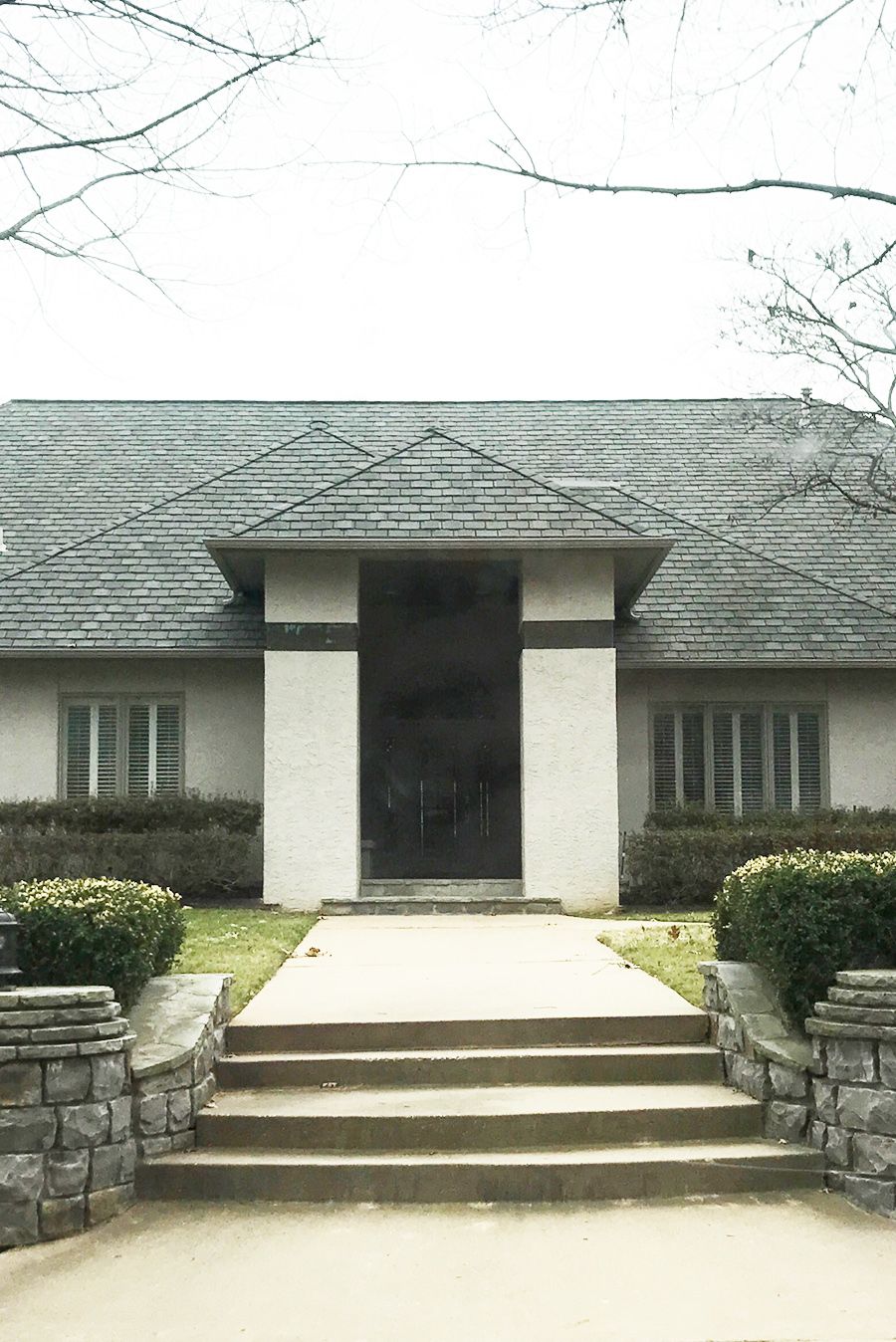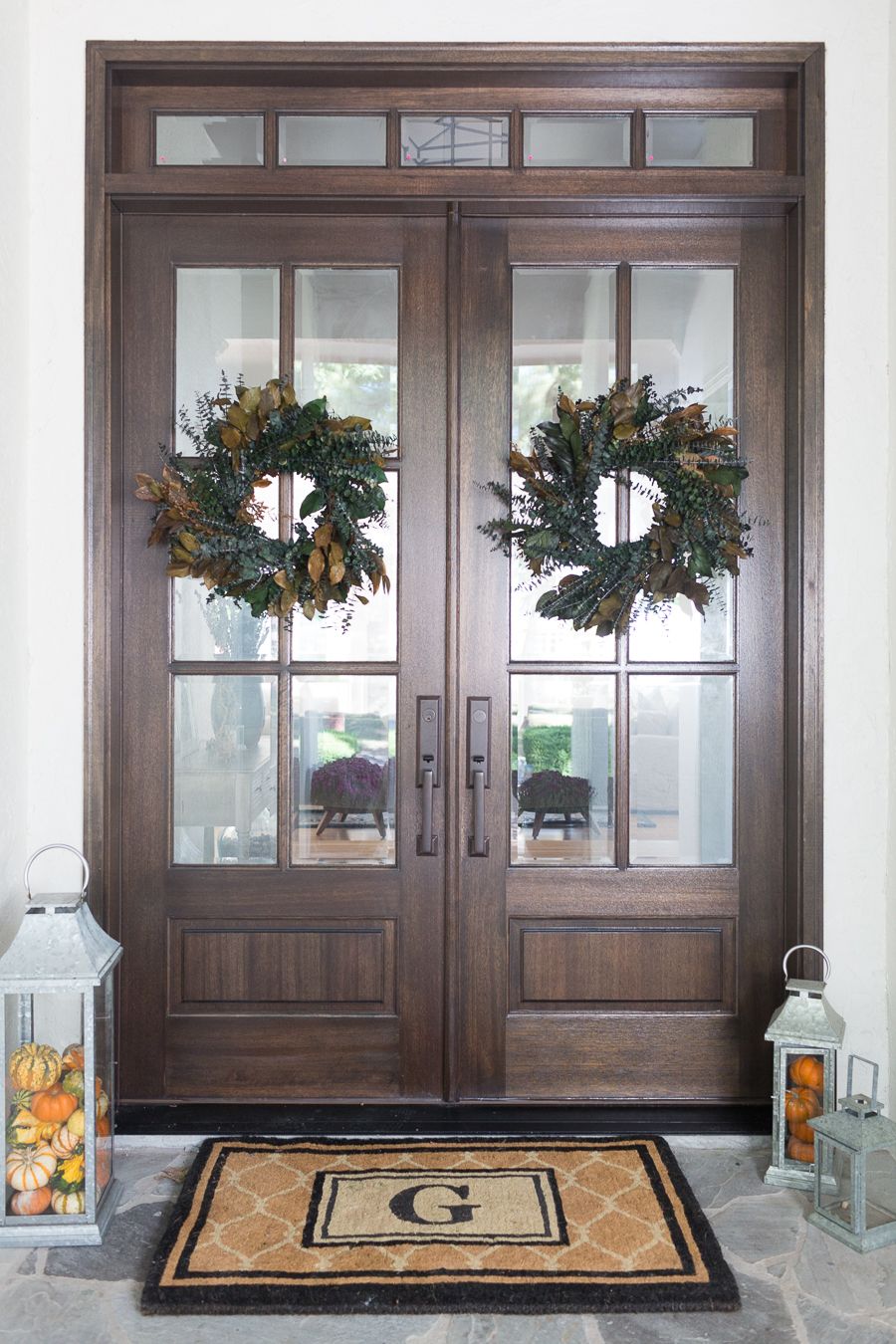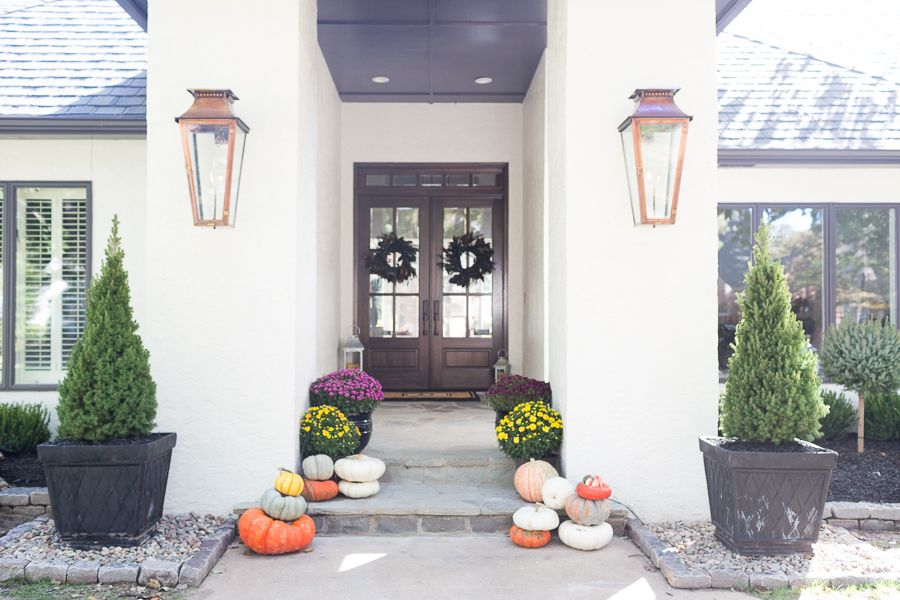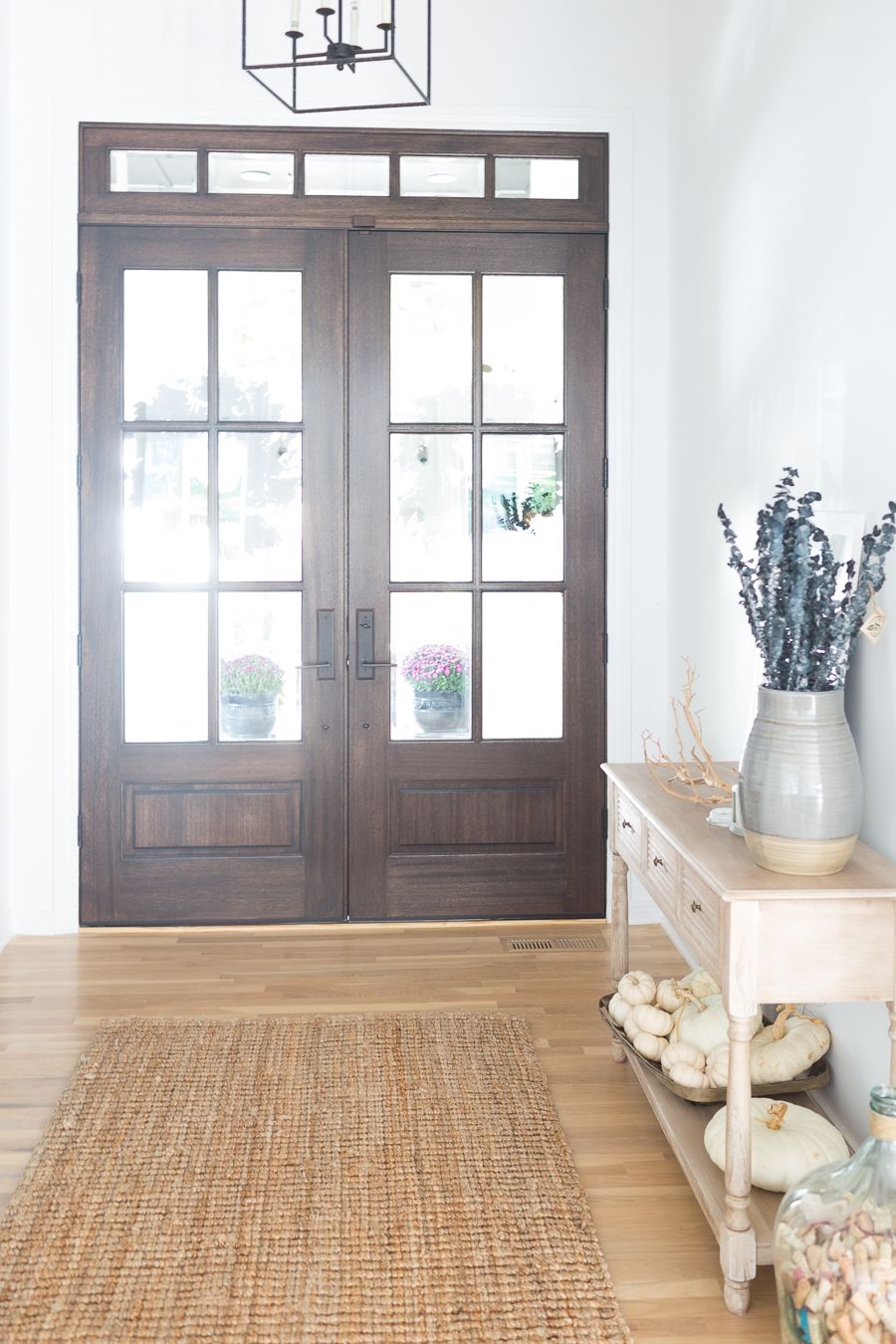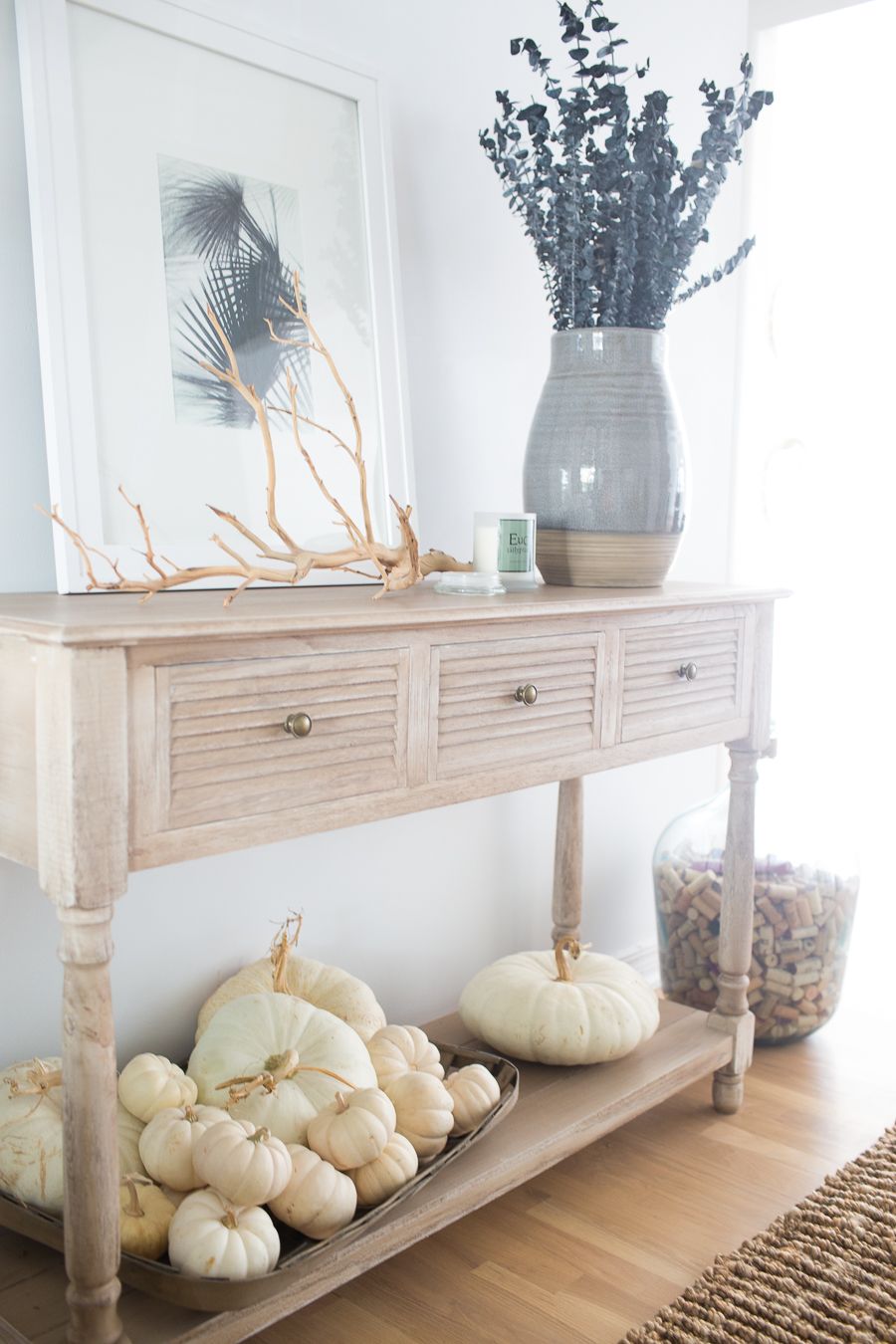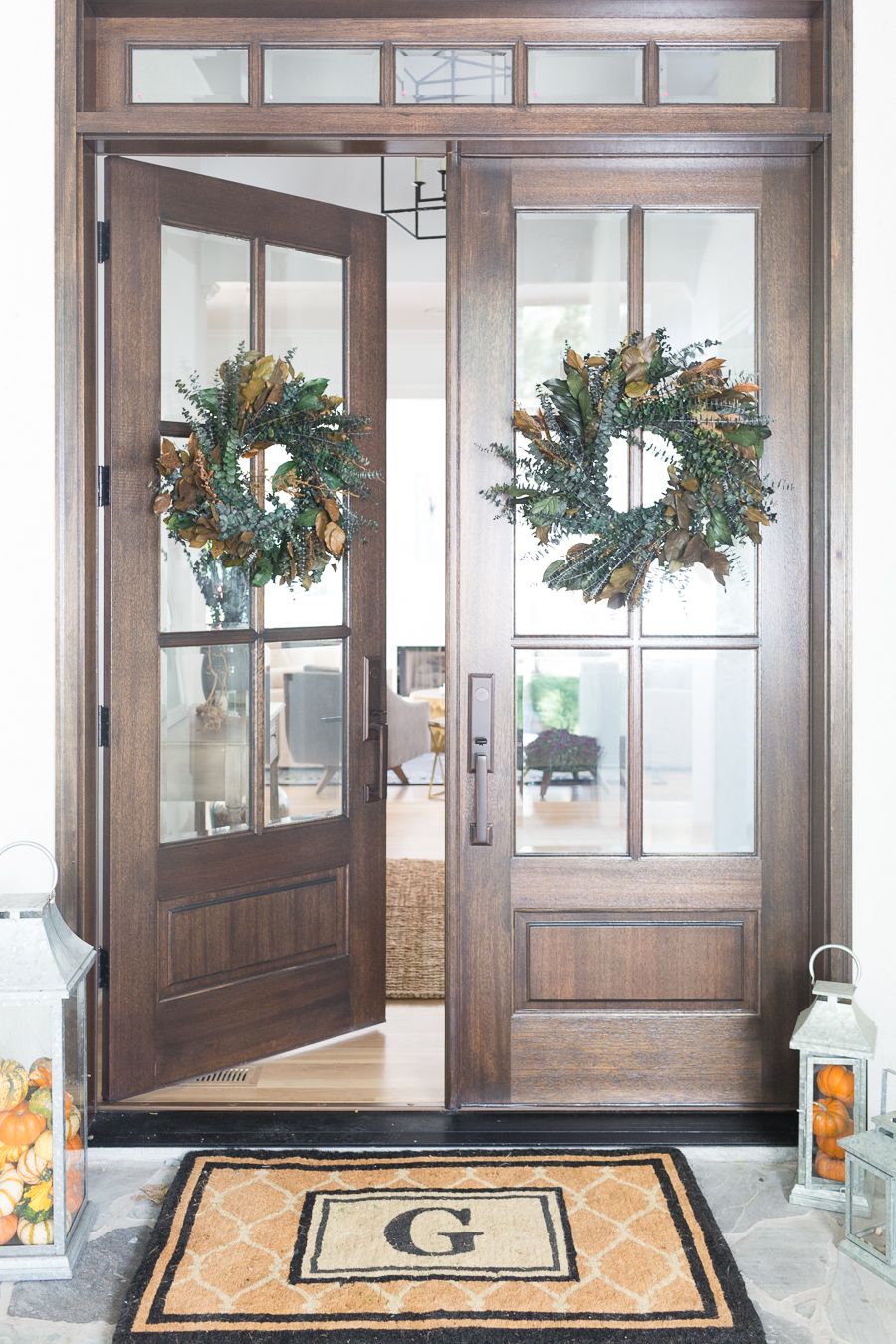 Thank you so much for taking the tour of the Good Remodel Project Part 1. Check back soon to see the second part of the tour where I will be sharing the bathroom remodels, laundry room, and formal living. And if you never want to miss a post from CC and Mike, you can subscribe to our website.
DESIGN SOURCES
LIVING ROOM:
Century Custom Sectional, Turner Pottery Barn Leather Chair, Pottery Barn coffee table and end tables, Safavieh Natural Fiber Rug, Studio McGee Pillows, West Elm Throw and West Elm wood side table, marble book ends (in bookshelves), Petrified Wood on Stand (bookshelves), Fossilized Minted Print (bookshelves), Gold Hexagon and West Elm Sphere (bookshelves), CC and Mike Lone Tree Print (bookshelves), Circa Library Light
KITCHEN:
Paint Colors: Benjamin Moore Decorator's White and Benjamin Moore Chelsea Grey
Candelabra: Restoration Hardware Camino Vintage Candelabra. I have also sourced another more affordable option — the Shayla 12 light Chandelier from Wayfair
Hardware: 10 inch black cabinet pulls, 7 inch black cabinet pulls, 6 inch black cabinet pulls
Shelf accessories: West Elm (see links above)
Bar Stools – Copper Dilton Adjustable Stool (FYI – these have a copper circle on the top that weren't shown in the picture. If you prefer them to be all black it can easily be rubbed off with steel wool which is what we did for these stools)
Marble Backsplash – Calcatta Honed Marble Backsplash
Sink – Kohler from www.efaucet.com
Over the sink light – Pottery Barn Class Pendant – Tapered Metal
Butcher block countertop: Red River Designs
Quartz – Viatera Quartz Muse
Floors – Renaissance Wood Floors in Jenks. Material is hickory #2 wood floors with a clear coat
KITCHEN DESK AREA: Marble Backsplash, Brass Dot Box, Gold Frame, Claxy Eco Power Black Sconce, Marble Bird
DINING ROOM: Benchwright Pedestal Table, Upholstered Chairs, Amelia Beaded Chandelier