Let's be honest, we can all use as many quick and easy recipes for the Crock-pot as we can find, especially if they are healthy like this White Chicken Chili recipe! My friend gave me her tried and true White Chicken Chili recipe and I have since made some of my own additions to come up with this easy recipe that I use on the regular.  My kids love this recipe and eat it up every time I make it.  It truly is healthy, unless you add a huge amount of cheese, sour cream and tortilla chips like I do.  I just can't help myself you guys.  Anyway, hope you enjoy and I hope this is one you can add to your arsenal because seriously, easy, Crock-pot and healthy = total mom win recipe. I wish I had one like this for every night of the week. If you're looking for other healthy quick and easy recipe ideas you might want to check out my Healthy Baked Oatmeal Recipe and my Crock-pot Pork Carnitas Recipe.
OK so here is what you will need for the White Chicken Chili.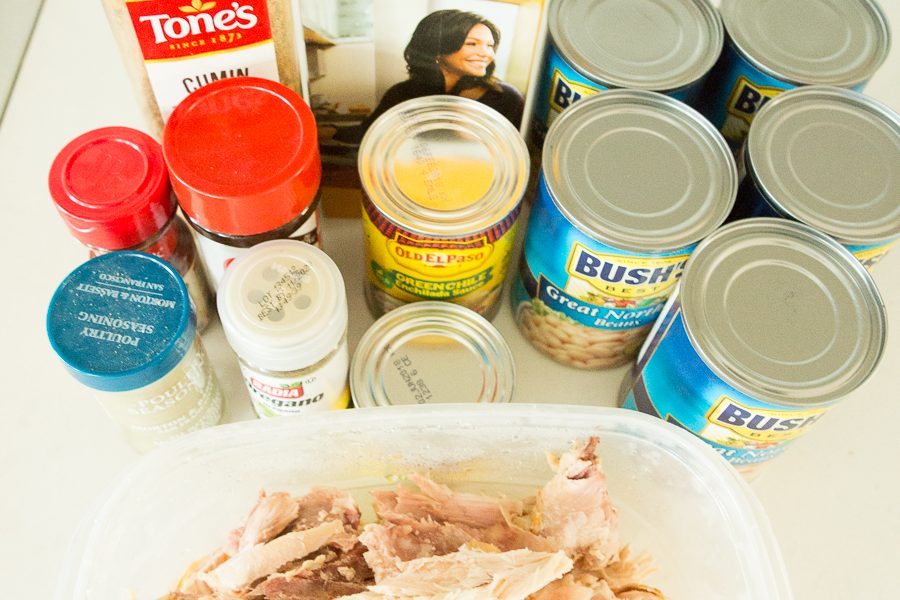 5 cans Great Northern Beans
Rotisserie chicken, shredded
1 can Rotel
1 can green enchilada sauce
1 can chopped green chiles
1 tsp cumin
1 tsp chili powder
1/4 tsp garlic salt
1/2 tsp oregano
1/2 tsp poultry seasoning (optional)
8 oz shredded Monterey Jack cheese
Sour cream and tortilla chips (optional but highly recommended – ha!)
Chicken broth (optional, if you like it to be thinner.  I like mine thick so I don't usually use this)
This is the part I love.  Dump everything in the crockpot in this order – chicken, spices, beans, rotel, green enchilada sauce, green chiles.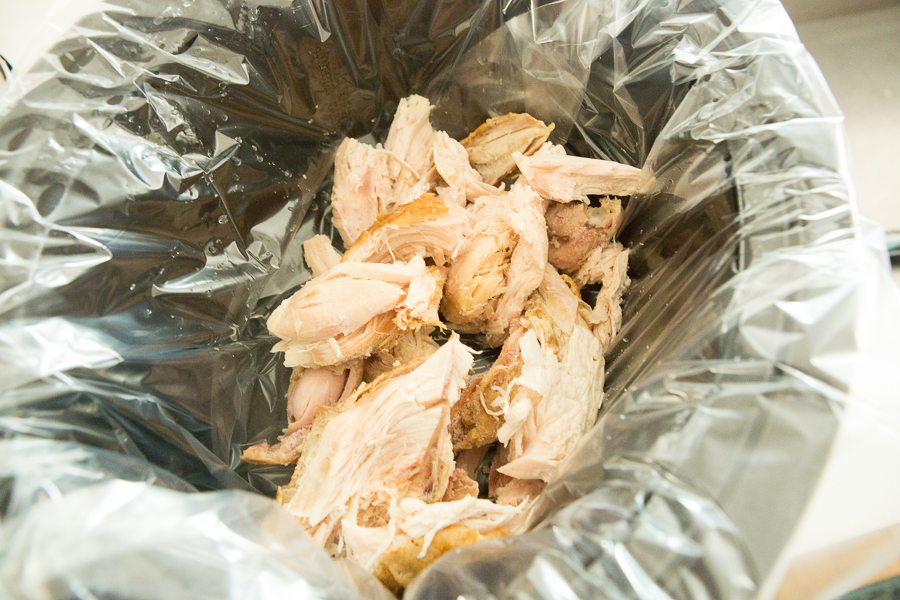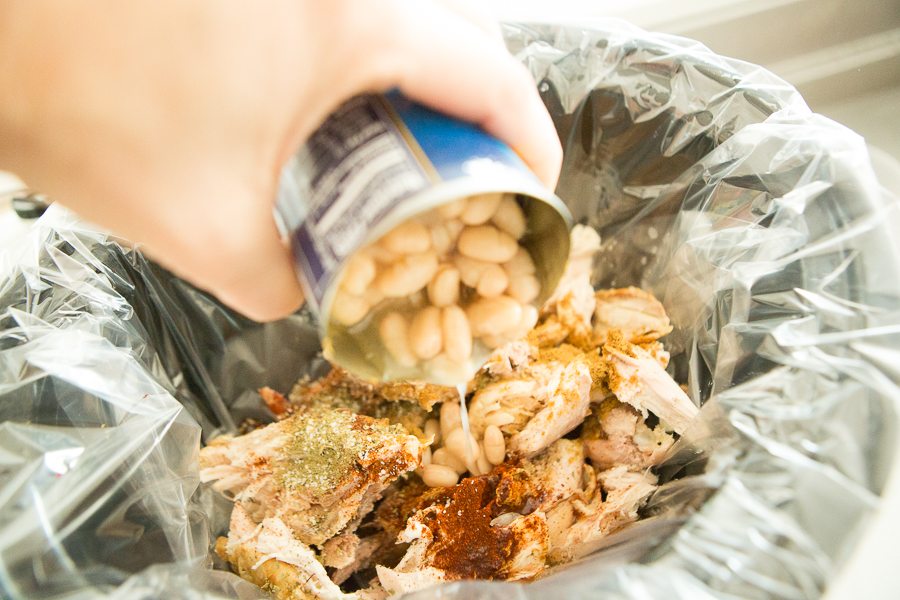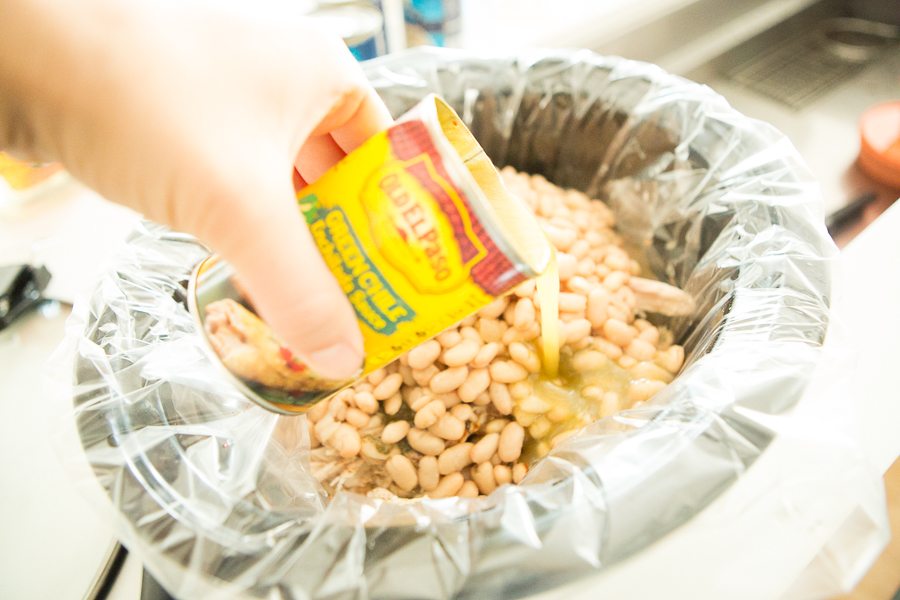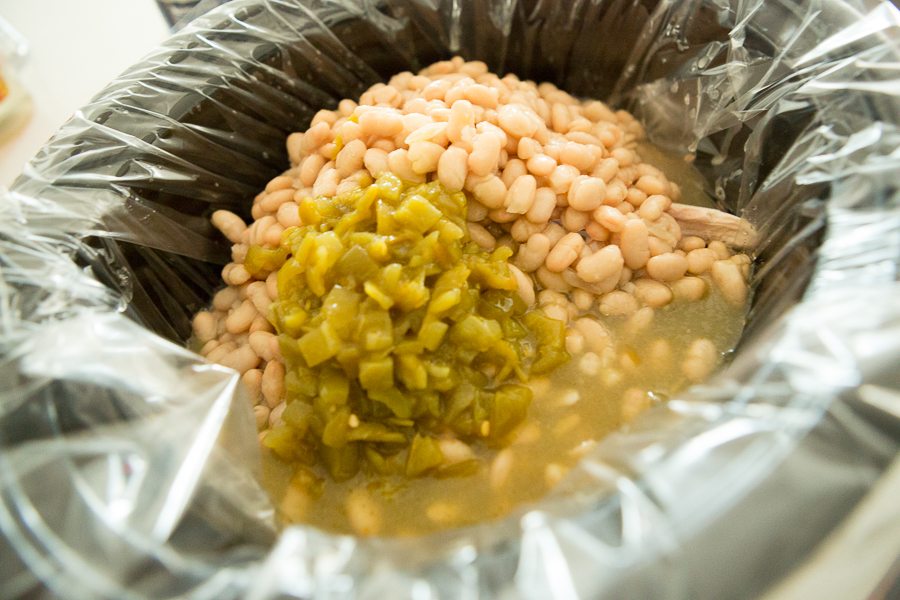 Cook on low all day or on high for 3 hours.  30 minutes to an hour before serving, add the shredded cheese and stir well. You can also add 1/2 cup sour cream to it and stir, or just put a dollop ( I love that word even though I don't know if that's how you spell it) – ok so add a dollop of sour cream to the top, shredded cheese, green onions if you want, and tortilla chips.  Then serve.
If you want the white chicken chili to be thinner, add a can of chicken broth.
You can shop my kitchen look and some of my favorite kitchen products here.