We get so many questions about our backyard area so I figured it's about time that I share all our tips for how to design a beautiful pool and outdoor living area!
When you walk in my front door, this is the first thing that you see —the view into the living room that then looks out onto a straight-on view of our pool.  When we designed and built this house (Mike Miller is my builder in case you didn't know that little fact), the pool was literally the first thing that we put down on paper. I knew exactly what I wanted and the pool was going to be the centerpiece of our home design with a U-shaped white house that wrapped around it.  Since this was our first time to ever build a pool, we had a lot to learn. There was definitely a learning curve from coping to pool equipment to pavers to landscaping. I'm going to put all that info down here for you today so that you know how to design a beautiful pool and outdoor living area for your own backyard!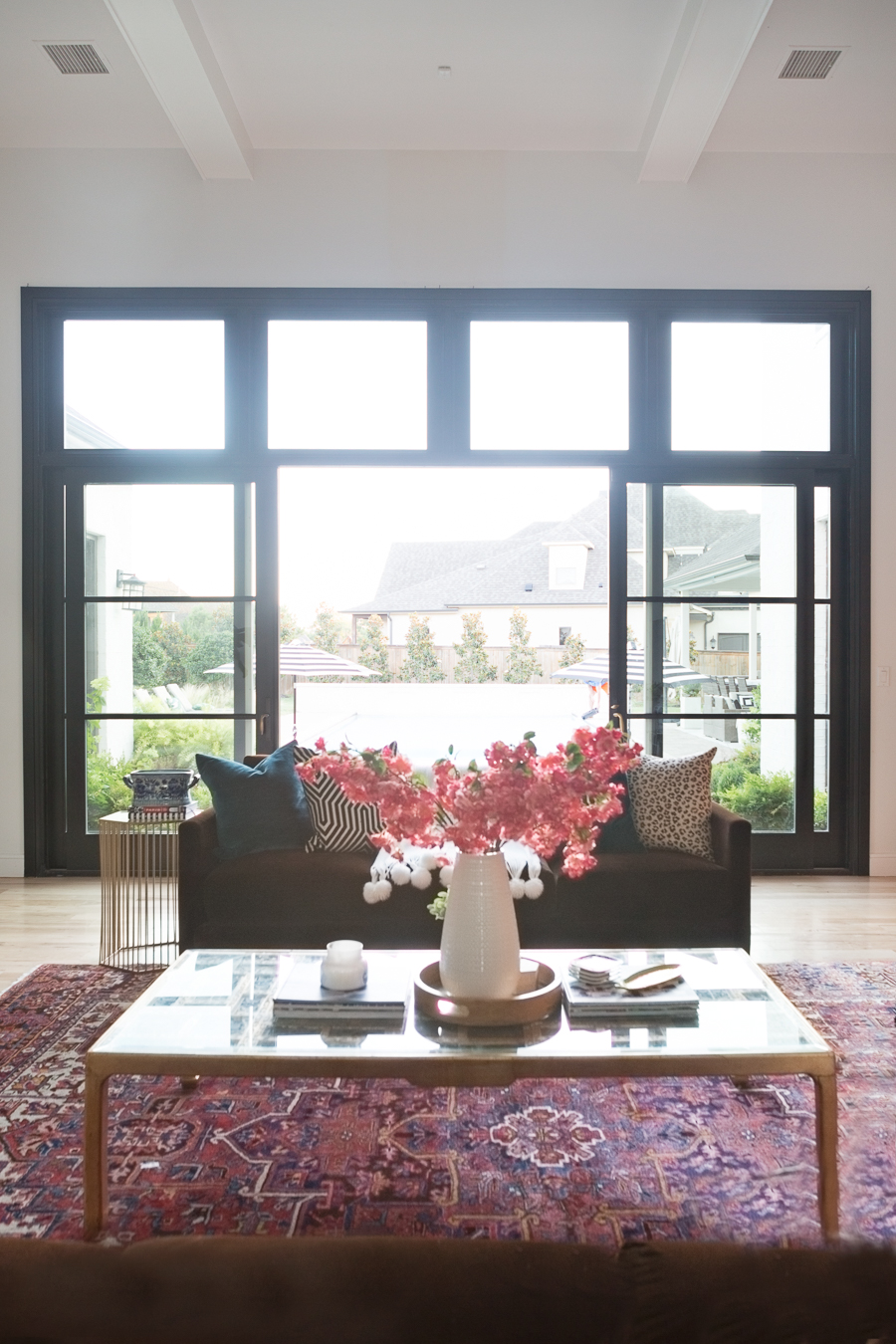 You can shop our living room design here. My favorite Fur Pom Pom Throw just recently came back into stock at Nordstrom and it's a must-have if I do say so myself. Our whole family seriously fights over who gets it because it's so darn comfy and soft, which probably means I need to pick up another one too before they sell out again!

OK so back to the purpose of this blog post which is How to Design a Beautiful Pool and Outdoor Living Area. This post has been a long time coming because, well, as you will see from the final picture in this post, there is rarely a time that you can find our pool without a ton of kiddos and inflatables and toys in it. And that makes my heart oh so happy. But it does make taking photographs of it for design, pretty difficult if not nearly impossible.  This is our third summer in our house and I'm just now getting around to photographing our backyard but better late than never right?! I also recently gave our back patio a little refresh using affordable outdoor living products from World Market and Target, so I will be sharing my favorite outdoor products with you in this post as well!
So without further ado, I give you all my recommendations and everything we have learned about How to Design a Beautiful Pool and Outdoor Living Area:
1. Consider a Symmetrical Pool — I'll go ahead and say it. I'm pretty much obsessed with rectangular pools. They are classy. They are beautiful. But most of all, they stand the test of time. You can look at pictures of estates that have pools that have been around for 100 years and what do you always see?  Rectangle pools. I'm telling you, I will love my rectangle pool in twenty years just as much as I do today which is why I chose an asymmetrical, rectangle pool. In fact, our entire home design started around the concept of a rectangle pool smack dab in the middle of the backyard with a U-shaped house wrapping around it.  So, if you are looking to plan a beautiful pool and outdoor living area, we highly recommend considering a rectangle pool. Here is another beauty by Matthew Murray Design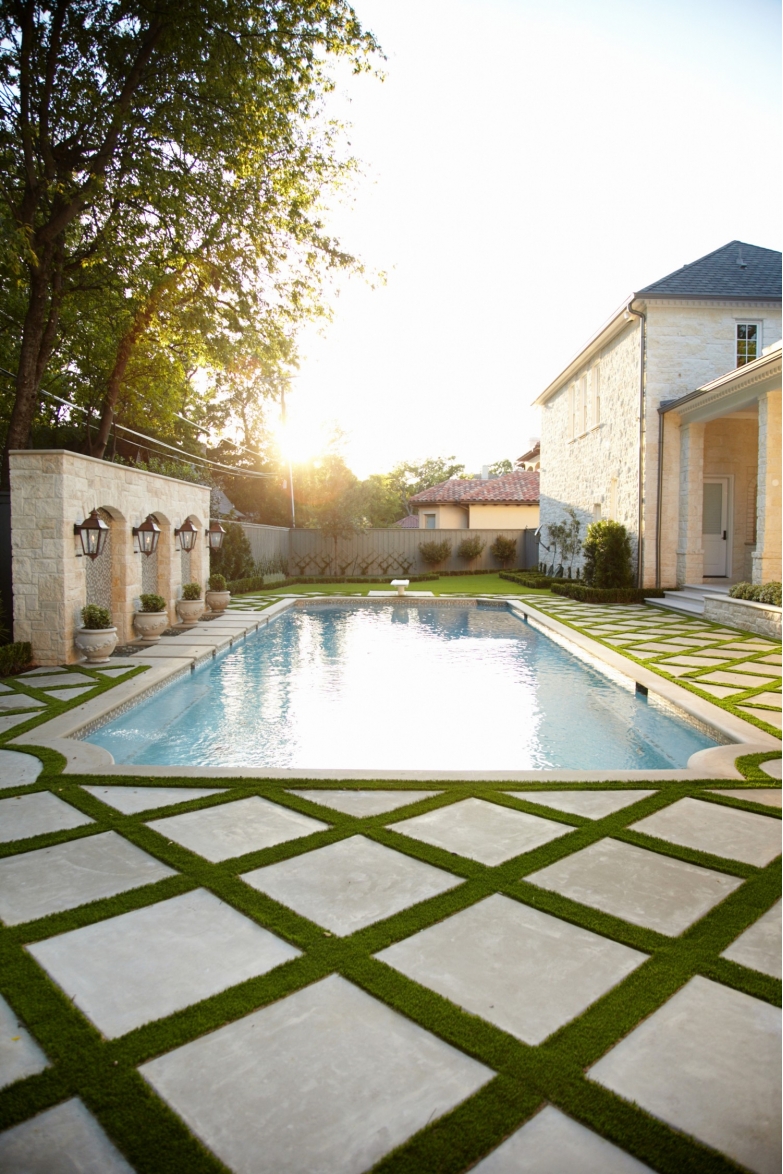 2. Consider Concrete Pavers and Grass or Turf Around the Pool — Again, this is a classy, timeless look that I absolutely love.  The beautiful pool design above highlights how concrete pavers with grass growing between them can even be used as the decking for your pool. Our concrete pavers were poured at Stone Mill Manufacturing in Bixby, OK. using a vibrating table to get them as smooth as possible. They also poured out outdoor concrete countertops with the same process. We used a sand base (not dirt), to level the ground, then laid the concrete pavers on the sand once it was level.  After that, we planted mondo grass in between the pavers. Another option is to use turf in between the pavers and we chose the dwarf mondo grass for two reasons — it's more affordable than turf (which is around $12 per square foot) and I always prefer real plants over fake if at all possible. We have friends who have done turf though and it looks amazing as well if it's in your budget.  To answer a few questions we get frequently, the trees that line our fence our baby gem magnolias and the trees on either side of our loungers are holly trees. The hydrangeas that you see almost in bloom edging our house are Limelight hydrangeas. They are gorgeous and get about 6 feet tall and have bloomed out the wazoo. Yes, I just said out the wazoo because that's the only way I know how to explain how out of control gorgeous the blooms are.
I actually also found an online source for concrete patio pavers that you could just buy and then lay them and plant the mondo grass in between them yourselves!  I was so excited to find these so that those of you who don't live in Tulsa but are wanting to try to replicate this look, you can give this a try!  If you try these pavers please leave me a comment or message me or email me and let me know how they work so I can share with our readers!
QDI surfaces Block Bianco 24″ Pavers

3. Hire a Landscape Architect – This one is pretty simple. If you are wanting to plan a beautiful pool and outdoor living area, a landscape architect will help you take your backyard design to the next level. Not to mention, I have no clue what I'm doing with plants so it would be disastrous if I tried to come up with a plan. We used our friend Jason Dickinson jason_dickinson@alabackdesign.com) for the initial landscape design that you will see below, and I think seeing this plan will help you realize how hiring a landscape architect can really help take your backyard design to the next level. It also provides a comprehensive plan for everyone (landscapers, pool company, etc…) to use as you work toward the end goal of designing a beautiful pool and outdoor living area. I just love all my landscaping outside, especially our limelight hydrangeas that have grown to be almost 6 feet tall and literally have blooms all over. Let's be honest, I kill absolutely anything that I plant and this backyard would look nothing like it does if I would have been in charge of planting!!!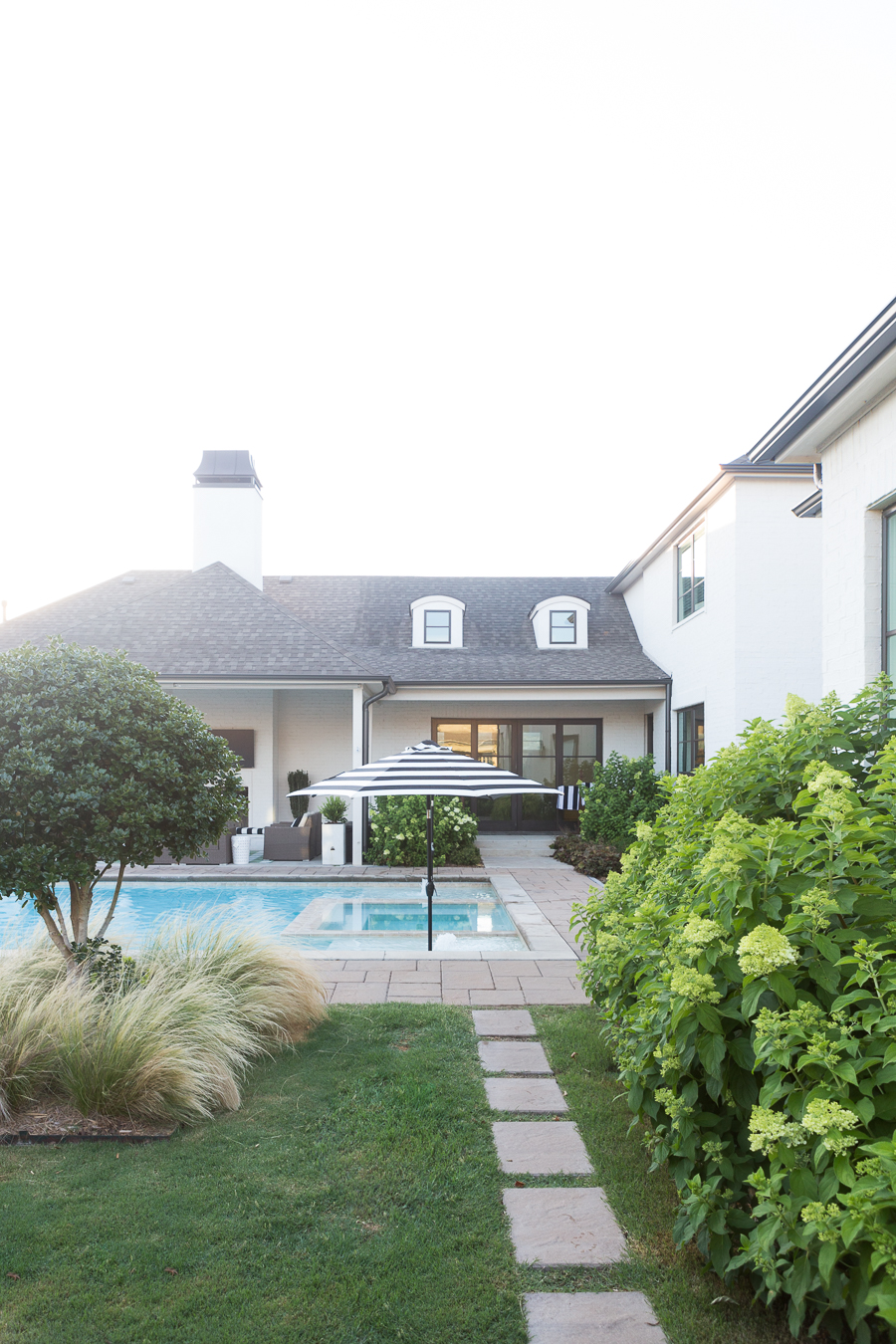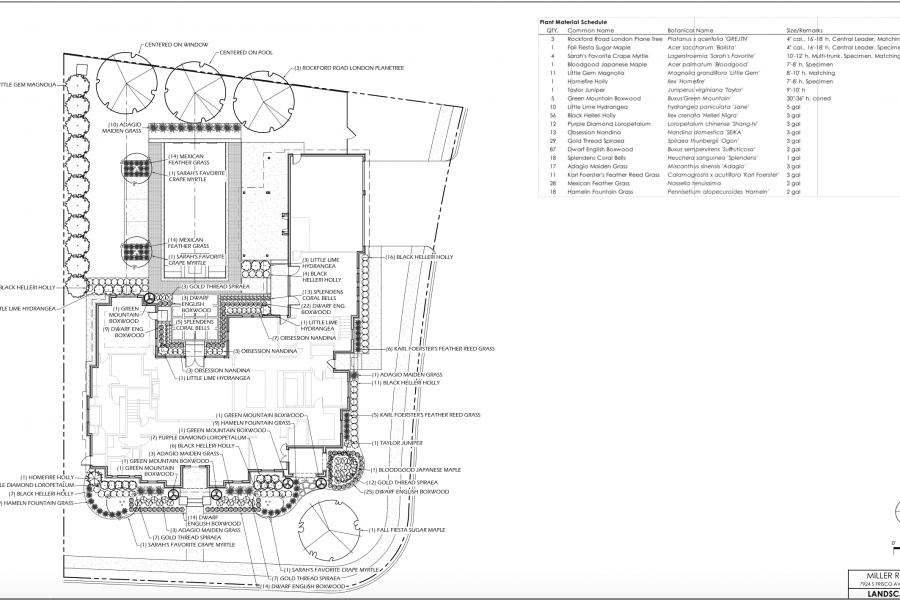 4. Find the Right Outdoor Furniture —  Sure, I would love to have gone to Restoration Hardware and just load up on their entire outdoor collection, but it's not in Mike Miller's budget you guys. Not even close.  So instead, I found the look for less by buying the Heatherstone Wicker Patio collection from Target. Our loungers are also from the Heatherstone collection. It's important to buy them in early spring if you want to get the cushion color that we have because they sell out quickly. If you missed it, you can always buy the loungers with one of the other cushion colors and order your cushions separately from Amazon.  I like these Montlake Chaise lounger cushions. One other option is to click on the "notify me when it's back in stock" option on Target's website (See below) and they will email you when the loungers are back in stock and available to ship.
Shop all our favorite patio products here (scroll and click on the bottom of the picture to shop)

Also, our black and white patio umbrellas are from Walmart and I highly recommend them!  Walmart has a great assortment of patio furniture that we love, especially their Better Homes and Gardens line!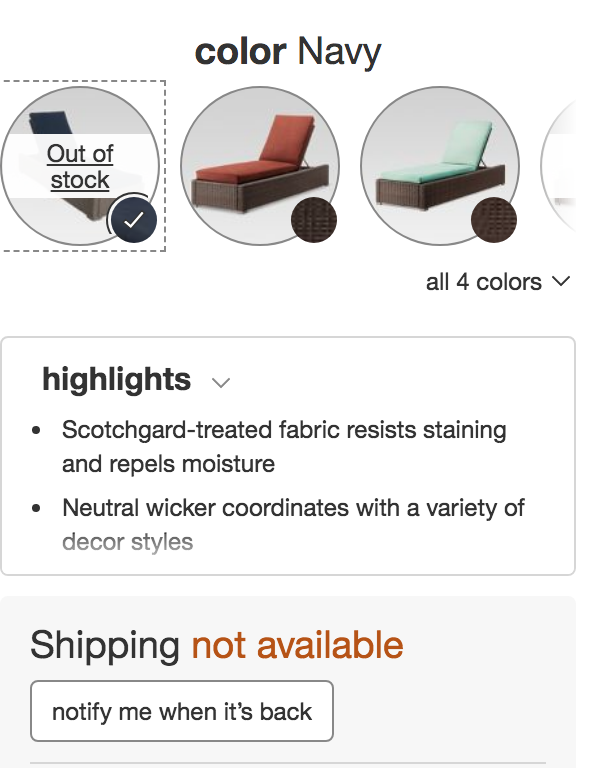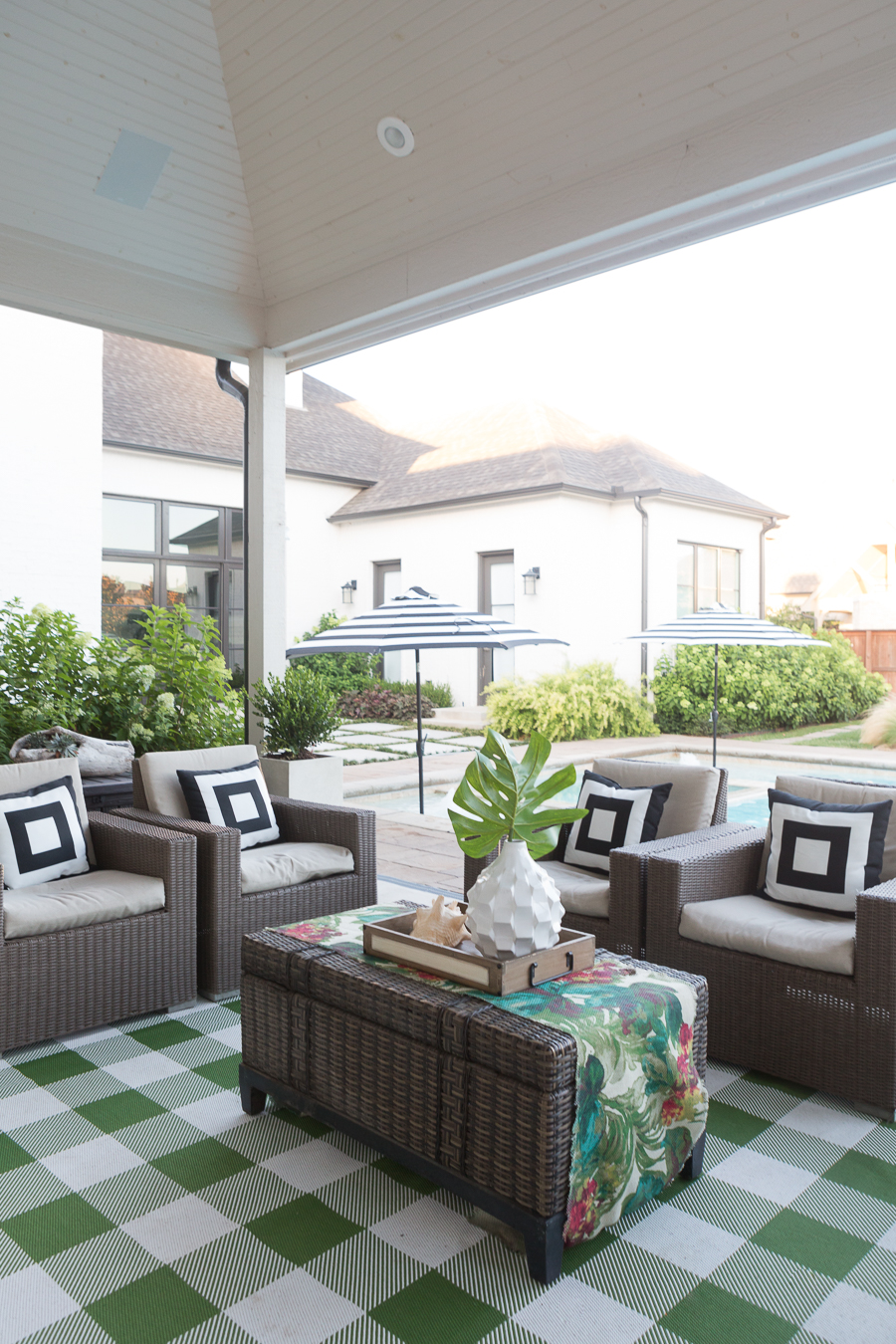 ***Other Pool and Outdoor Living Considerations that will help you with How to Design a Beautiful Pool and Outdoor Living Area:
5. How to Choose DECKING – We chose Belgard Pavers for our Decking. That is the material that you see below that surrounds our pool and is a gray/light brown color.  The pavers come in various sizes and are laid in a variegated Pattern.  The main surfaces that are used for pool decking are concrete (least expensive but not as aesthetically pleasing, Belgard pavers (what we used), Travertine and Slate Pavers (more expensive), and also some wood Patio Pavers.) I'm sourcing several options for you below.
SCROLL AND TAP ON THE BOTTOM OF THE PICTURE TO SHOP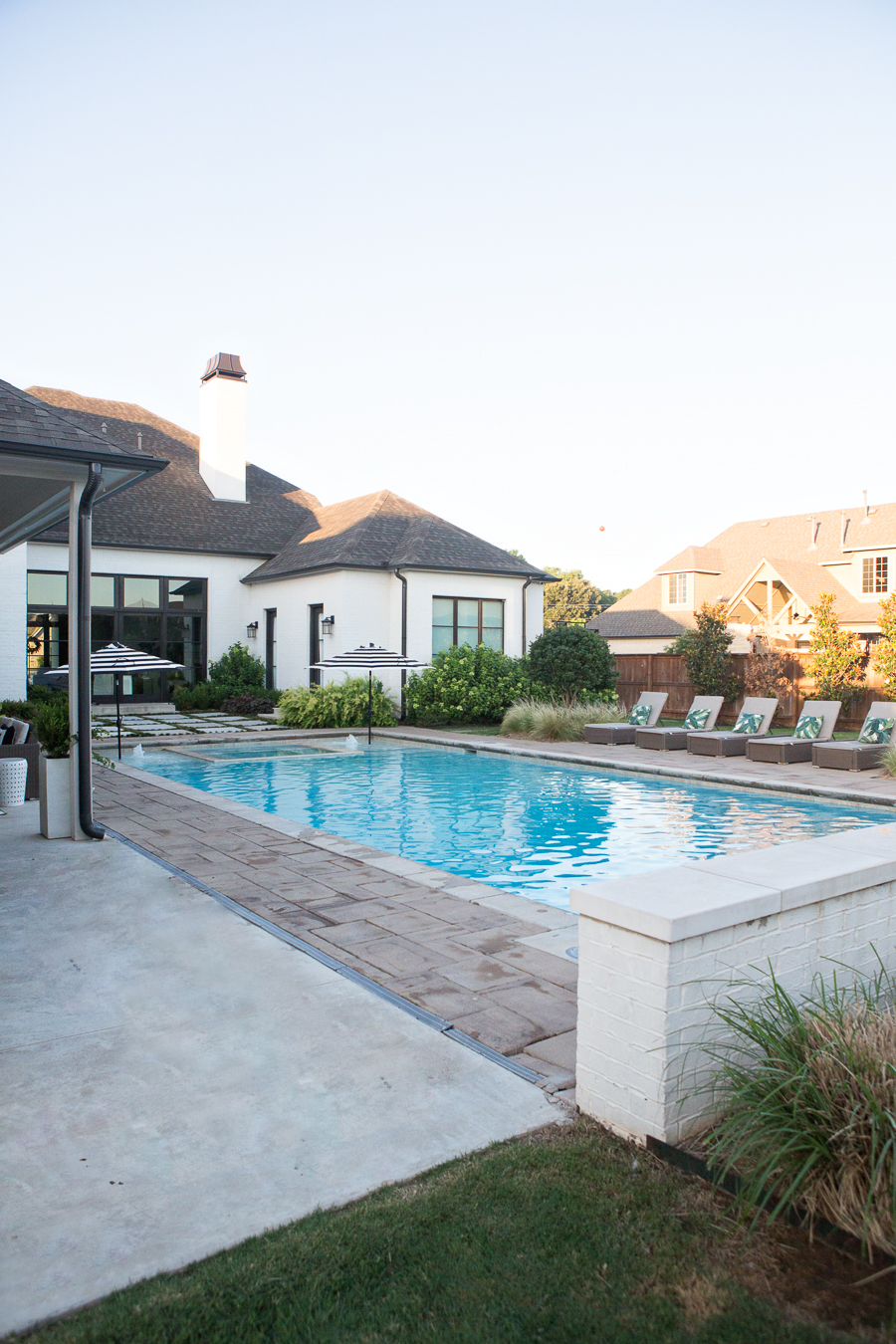 Here are a few Belgard Tumbled Patio Paver Alternatives I found as well that can help you with How to Design a Beautiful Pool and Outdoor Living Area.  I think this tumbled patio paver from Wayfair looks gorgeous. It doesn't have any reviews yet but I would definitely give it a try in our next project and if any of you guys give it a try, please let me know. I think it looks like a gorgeous alternative to Belgard Pavers.  I love the gray tumbled pavers and how they look laid in this herringbone pattern (photo: Wayfair)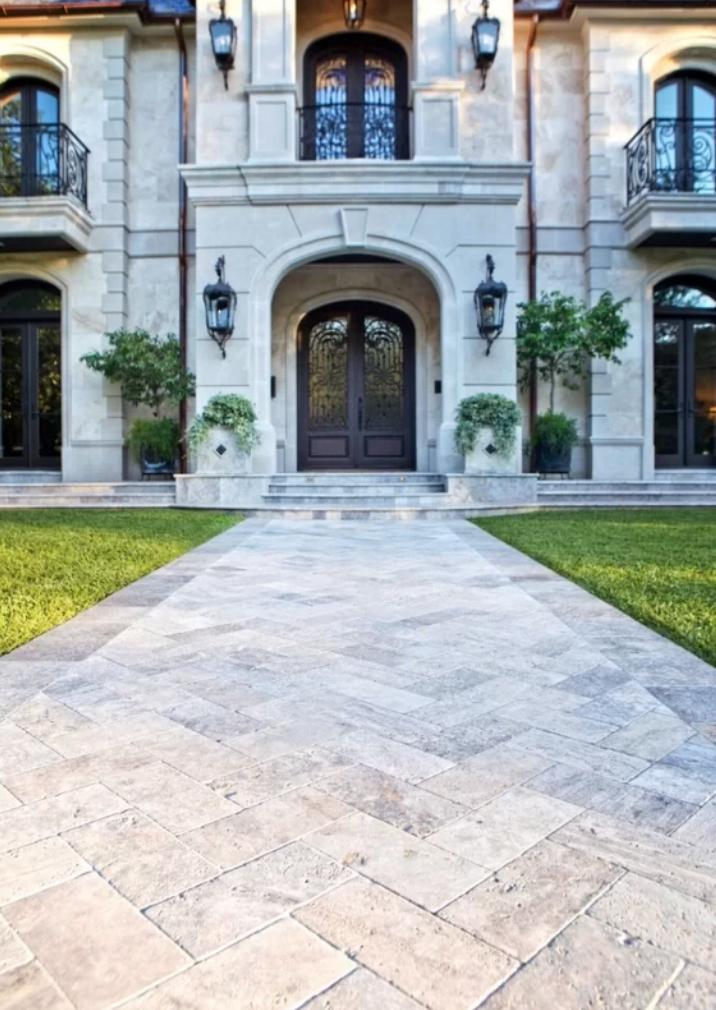 6. How to Choose Coping – UM, Pretty sure I had never even heard this word before until we built a pool. Apparently, it's the edging of the pool (see the picture below where I have everything labeled). We just did a simple concrete coping which is the most cost-effective (apparently you can do stone, cast stone, and many other high-end options). We don't like that we did a bullnose coping and wish we would have done a more clean-lined squared-off edge. So that's just our two cents on concrete coping. Ours really isn't quite up to Mike Miller's approval (just being honest) and we do have some regrets on the finish we chose. If you're building a pool, I would recommend talking to the pool company extensively about what the coping options are and asking to see the different options in person. If you are doing concrete, make sure it is a SMOOTH finish and at least educate yourself on the different edges. Like I said, we chose a bullnose and do wish we would have chosen an edge that matches the clean lines of our house a bit more.
7.  CHOOSING TILE – OK, so again I'm just going to be real with you guys that I really regret my tile choice on my pool (which you can see on the top of our sunken hot tub). Let's just say I played it safe and I'm not really a play it safe kind of gal. I went with a very tan/neutral tile and I wish I would have gone with something bluer or even patterned. My sister put a deep blue tile on her pool and gosh, it's gorgeous!  I need to take some pictures of hers next time I'm there and show you guys! She really knocked it out of the park with her tile. My purpose in writing this post is that you can learn from what we learned and that even means the mistakes!  So I'm just being honest that I wish I would have steered clear of the tan tile and done something with more contrast like this Mediterranean Patterned Tile or this Aqua Blue Mosaic Tile (pictured below).  I also found that Aqua Blue Mosaics has a ton of beautiful pool tile choices so they are definitely worth checking out. Hopefully, even learning from my mistakes will help you with How to Design a Beautiful Pool and Outdoor Living Area!

So all that to say, don't be afraid to go bold!  Go blue, go blue/green, do a mosaic, or go to the Mediterranean!  I wish I would have! Oh and send me your pictures if you do because I want to see them and I love love love it when people can learn from my mistakes. Gosh, you would think at this point in my life that I would know that I really suck at playing it safe!
Oh and check out this beauty by Brown Design Inc. They knew what was up and when bold with that tile and boy does it ever look amazing!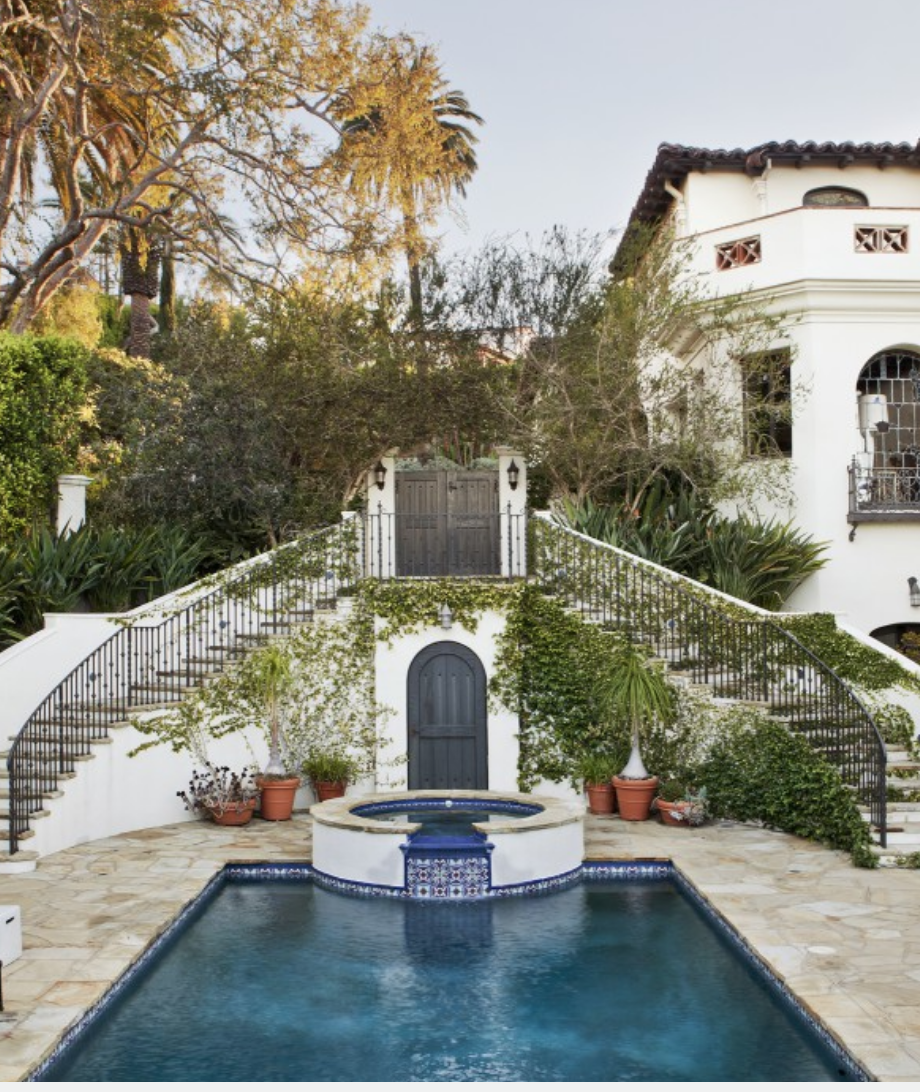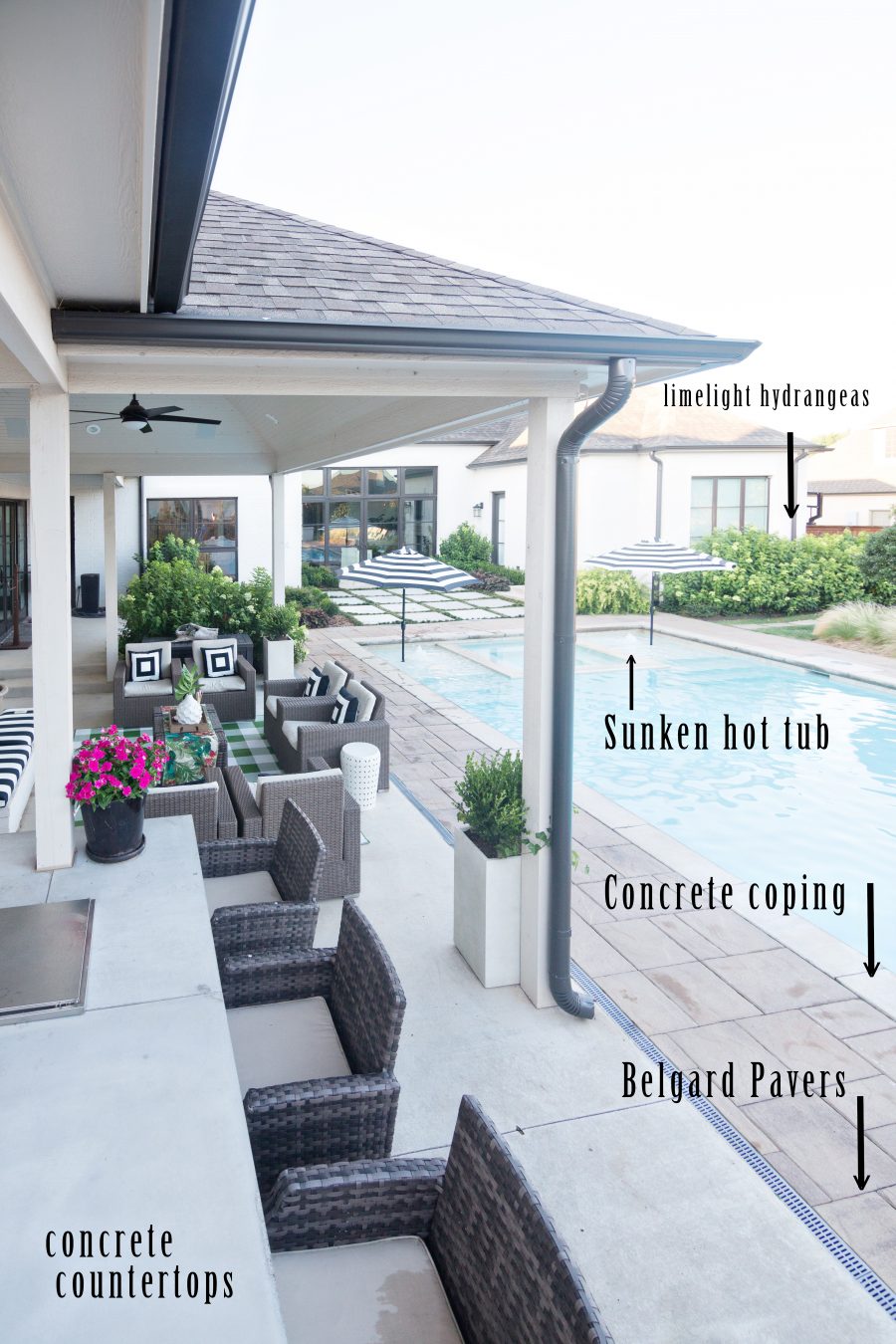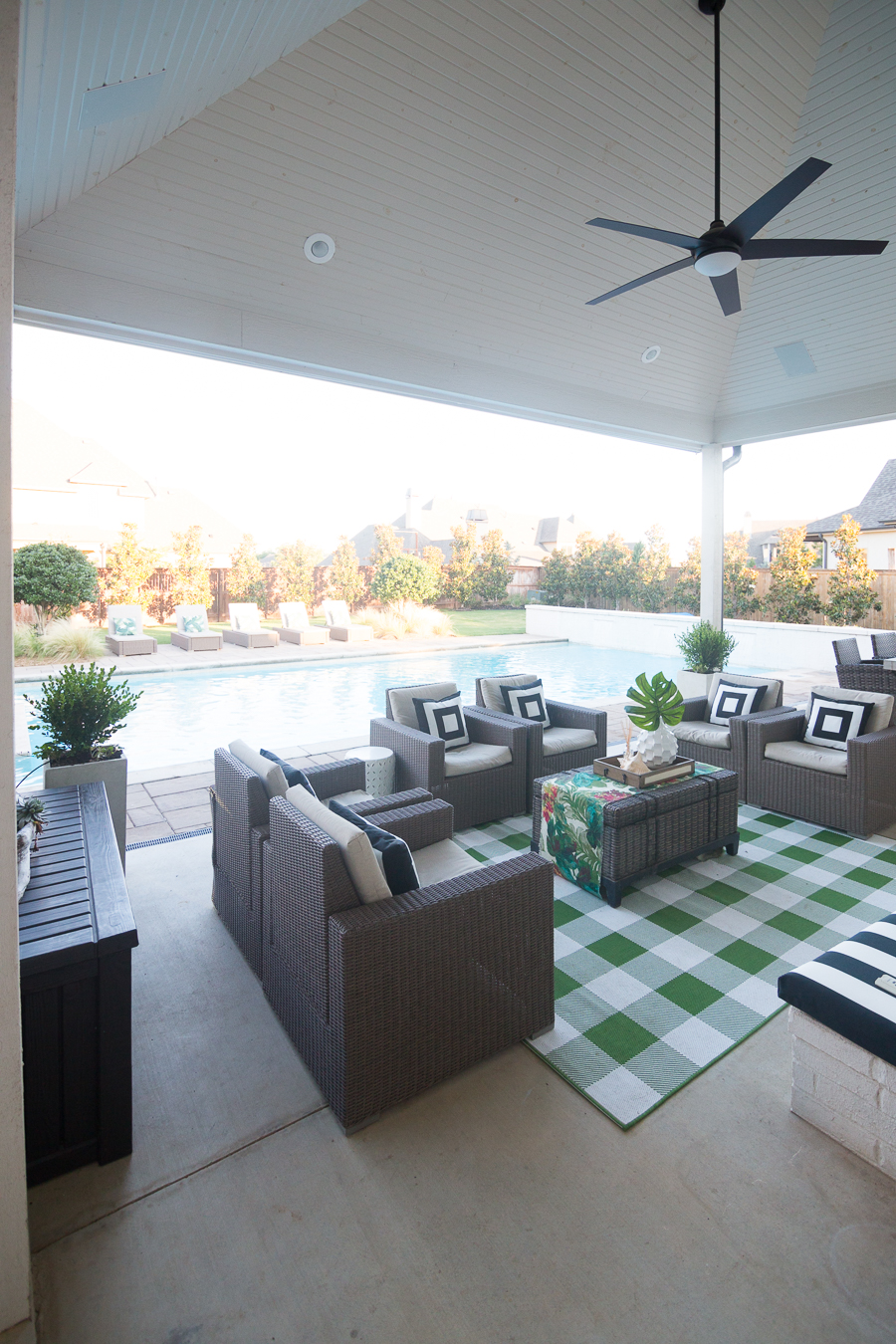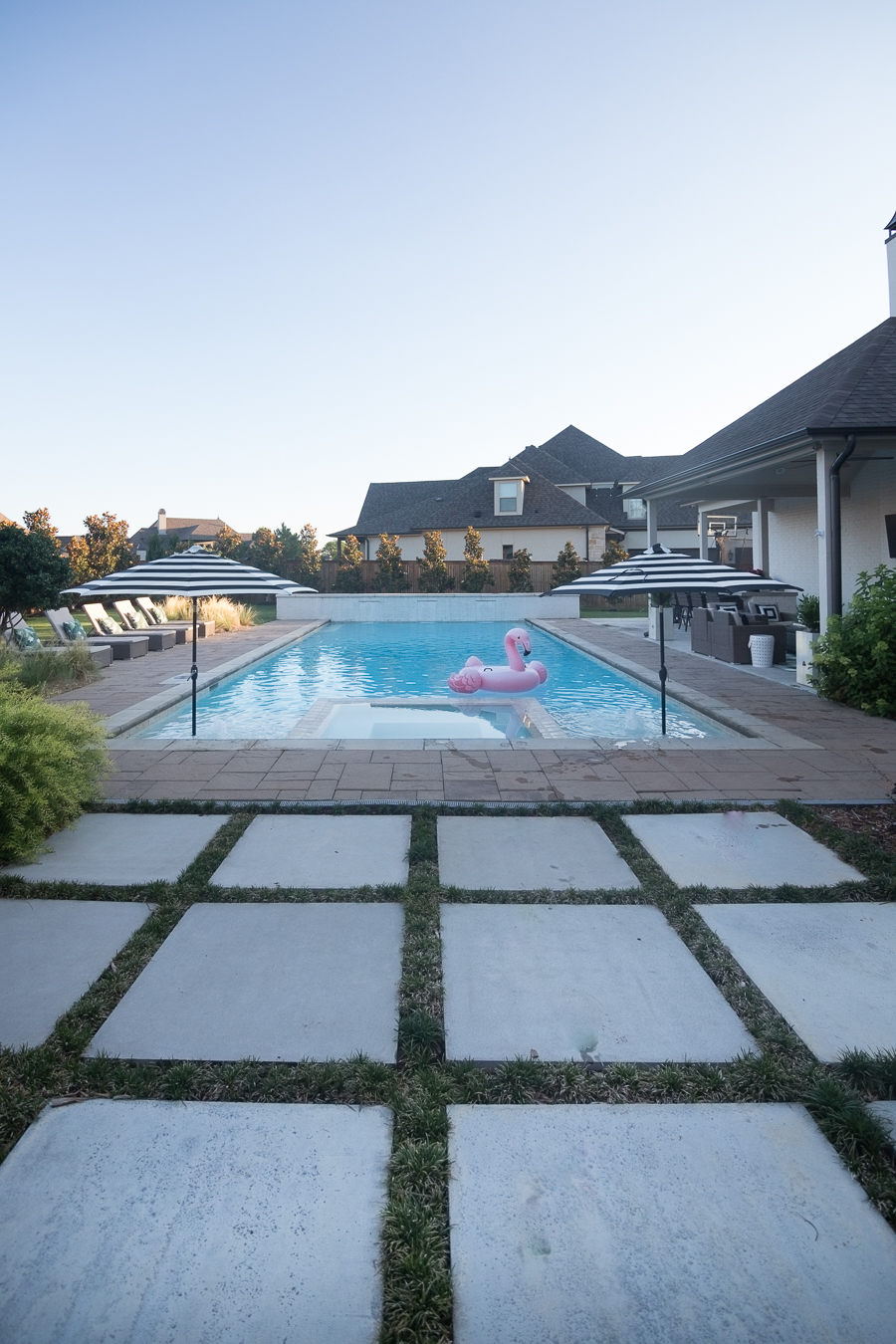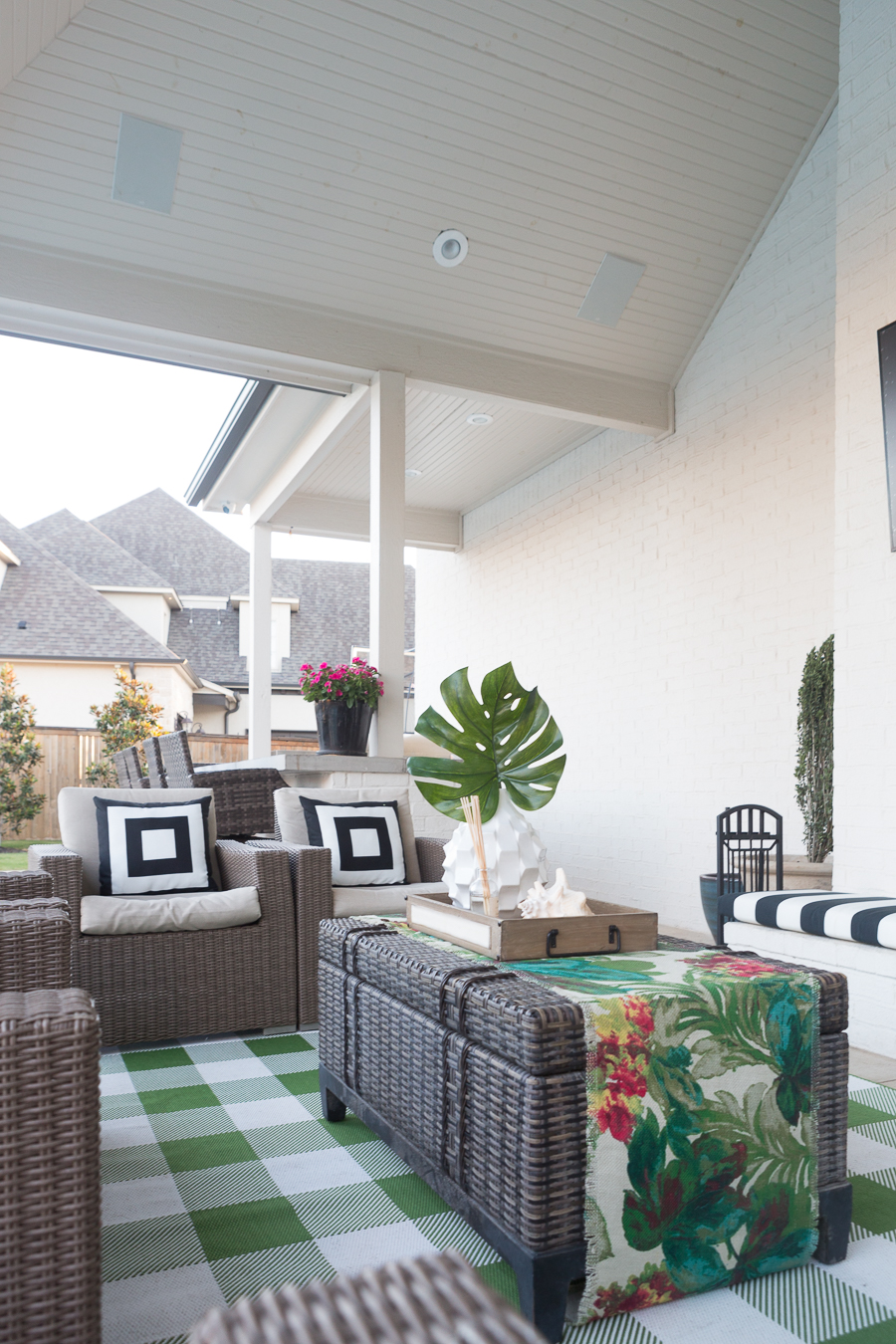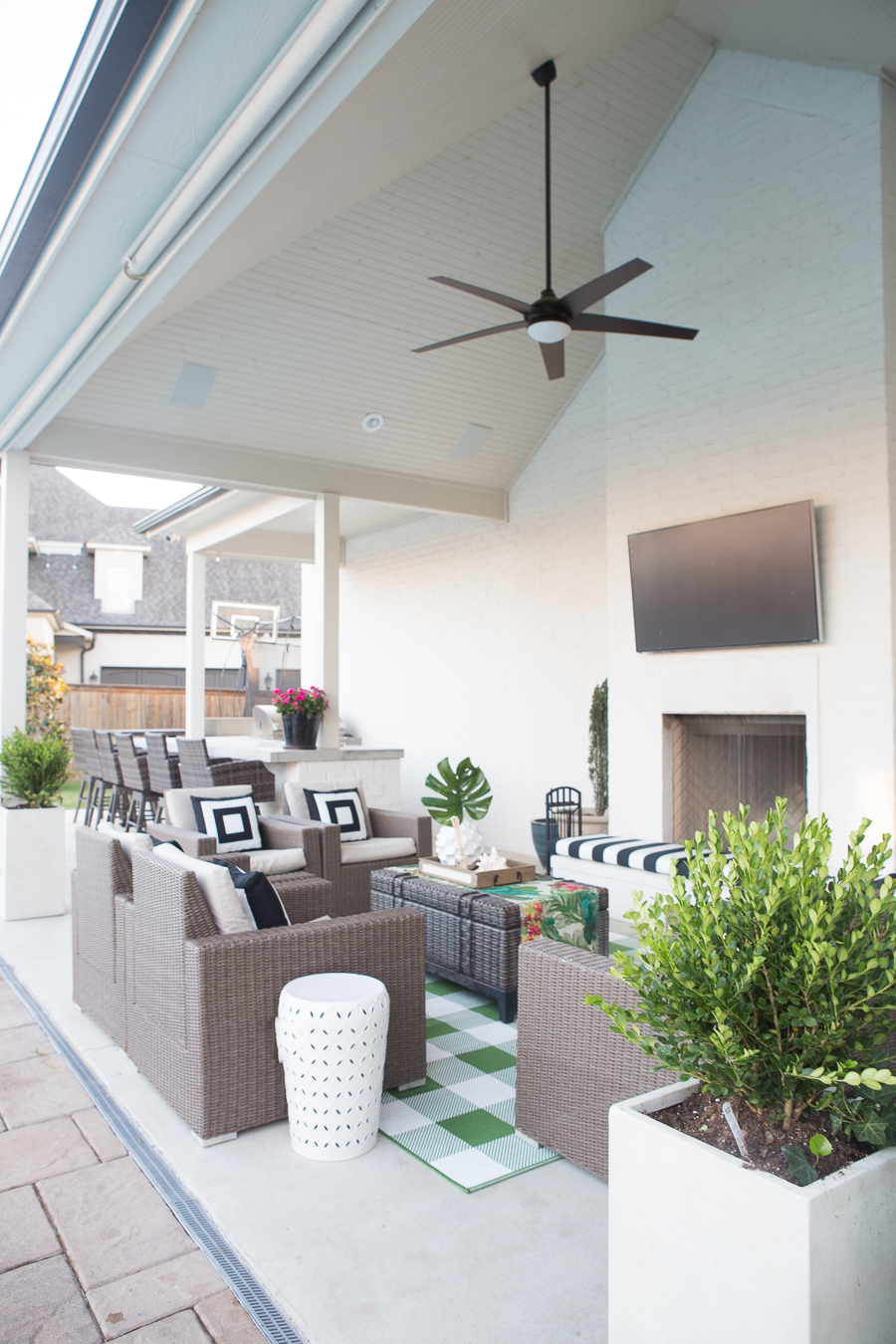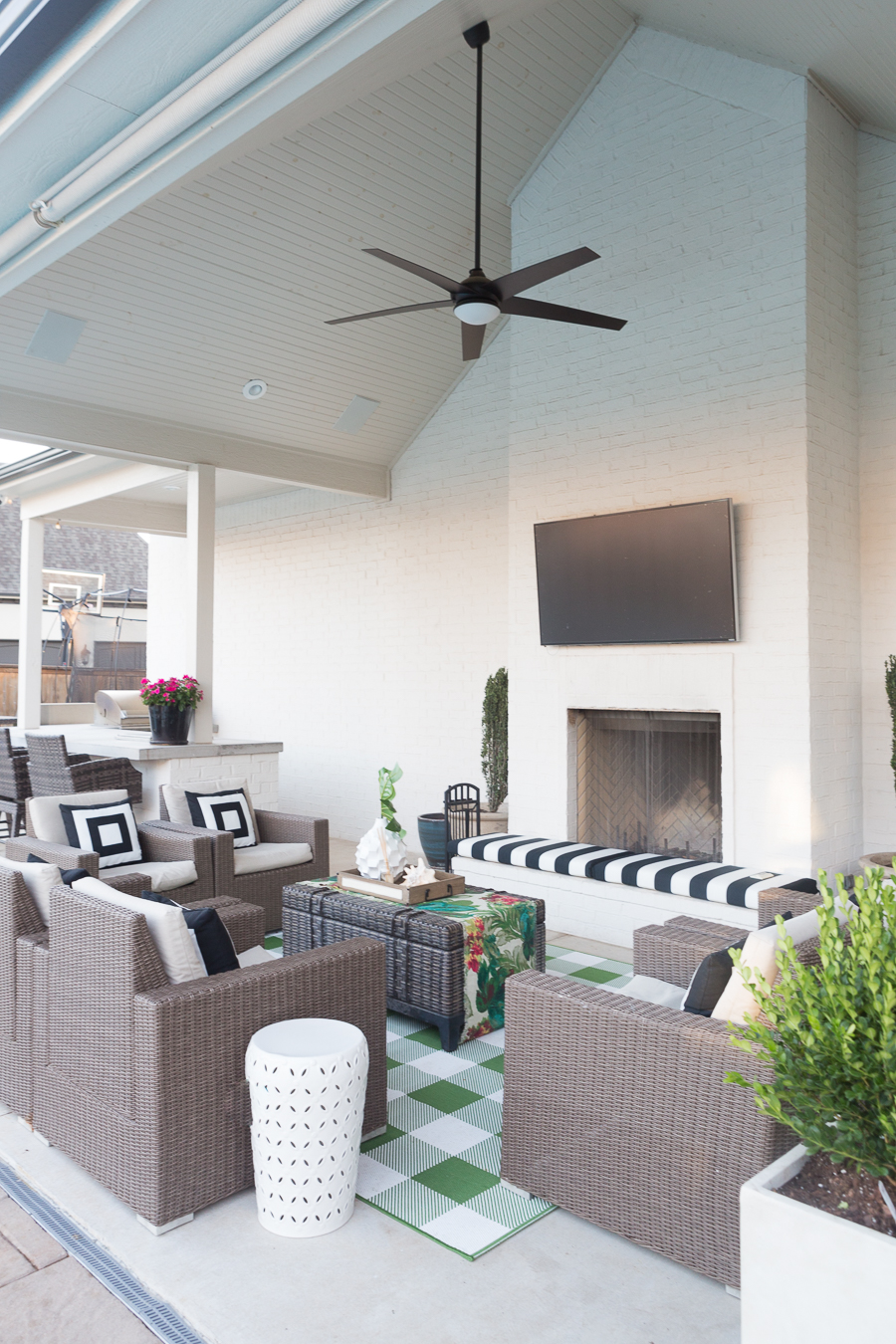 8.  HIDE YOUR POOL EQUIPMENT! This is totally Mike Miller's area and I have to give him all the credit!  Our pool equipment is hidden around the side of our house where noone can see it. You also want to consider the noise of your equipment.  It can be pretty noisy so be careful about putting it right next to a bedroom!!!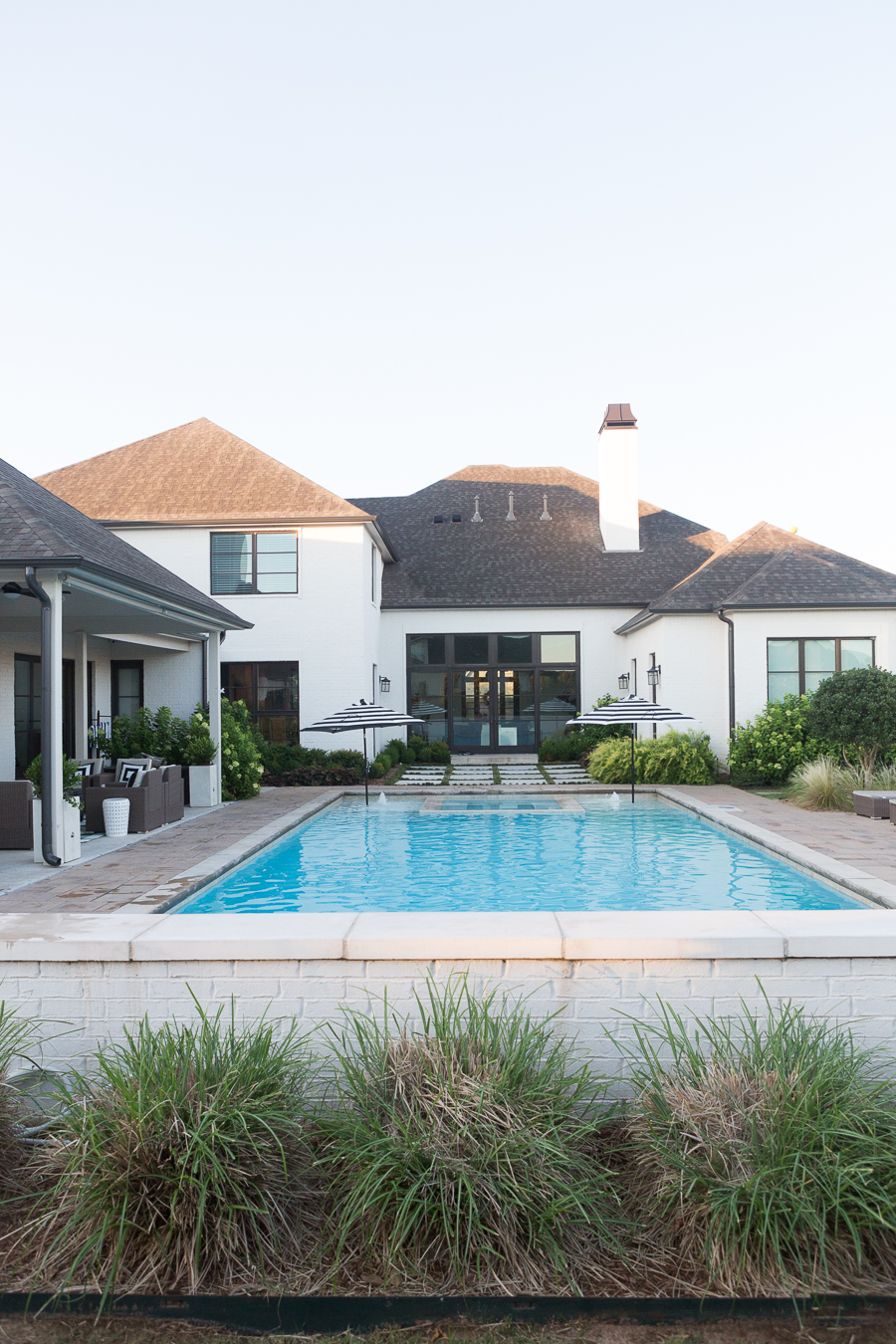 9.  Don't forget to accessorize!  I mean where is the fun in a beautiful outdoor area if you don't accessorize!  Our favorites are, of course, black and white umbrellas, black and white pillows, palm print pillows, and our black and white striped bench cushions that we put on our fireplace for extra seating!  You can shop all our favorite outdoor accessories here!  Don't forget our jute botanical table runner and buffalo check rug! They pair together to create such a fun and vibrant outdoor space!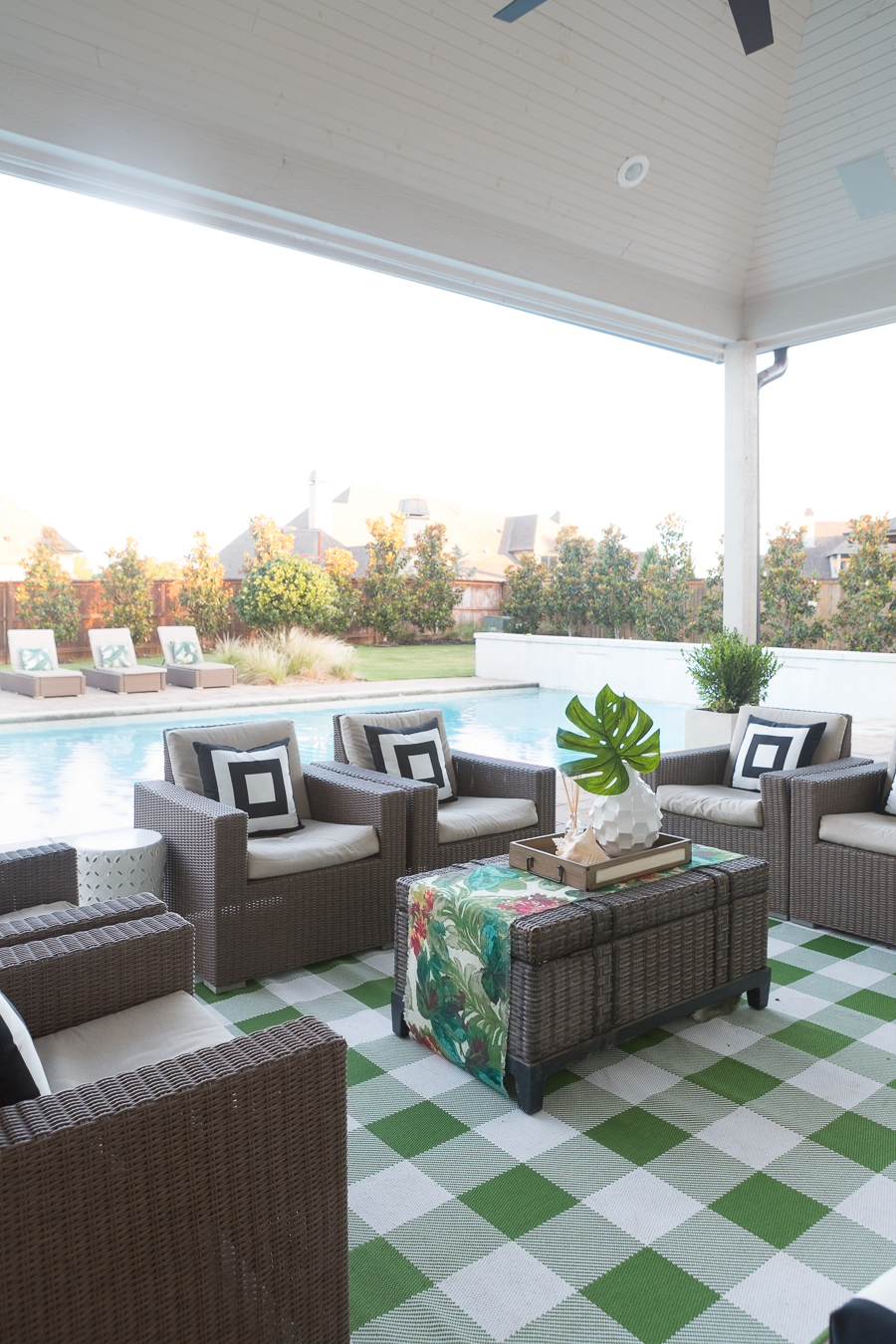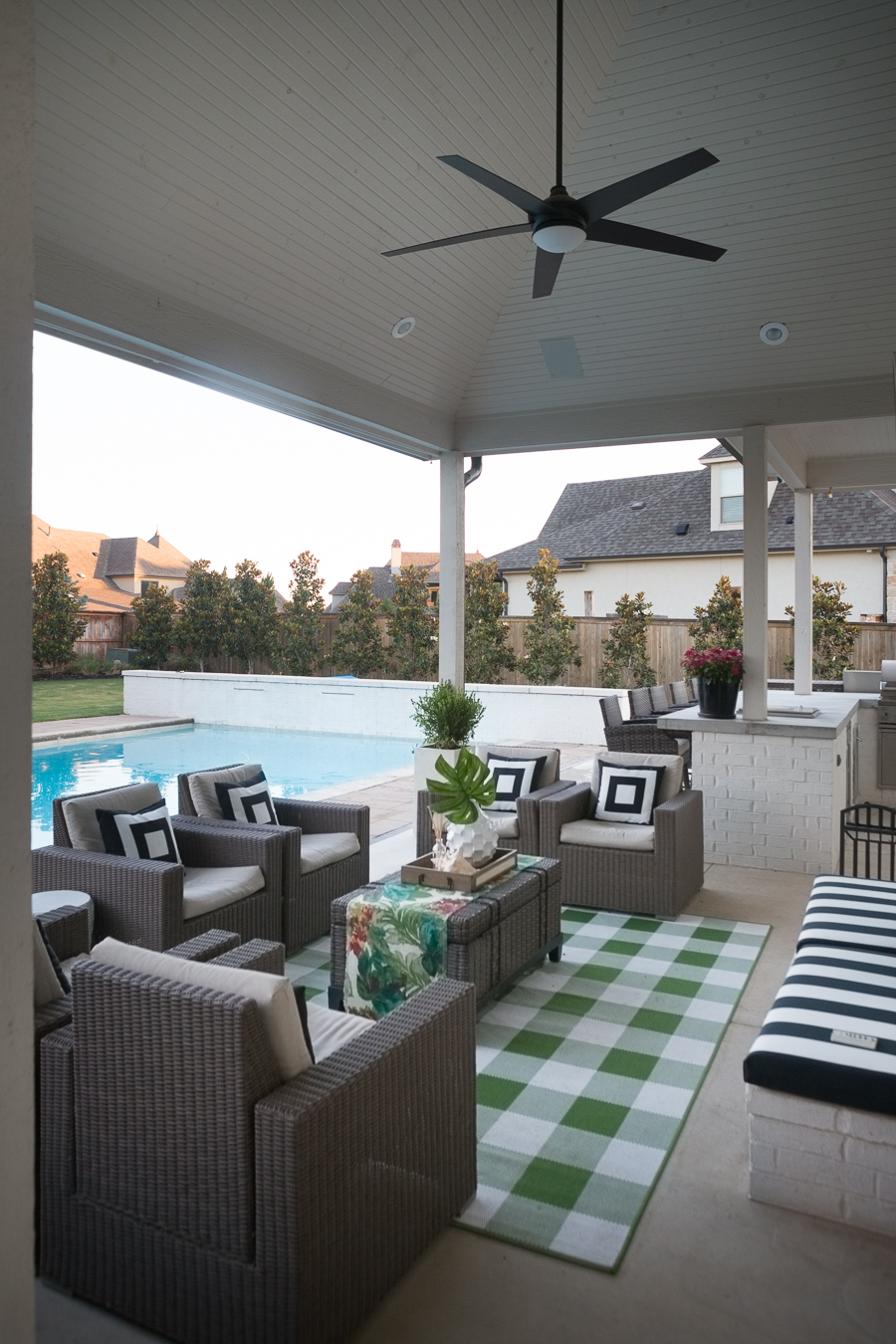 10. Don't forget Inflatables and Toys! Of course the most important part is enjoying your pool and outdoor living space and to do that you're gonna need some TOYS!  Our favorites are our water mat, basketball goal, and all of our favorite inflatables which you can buy here!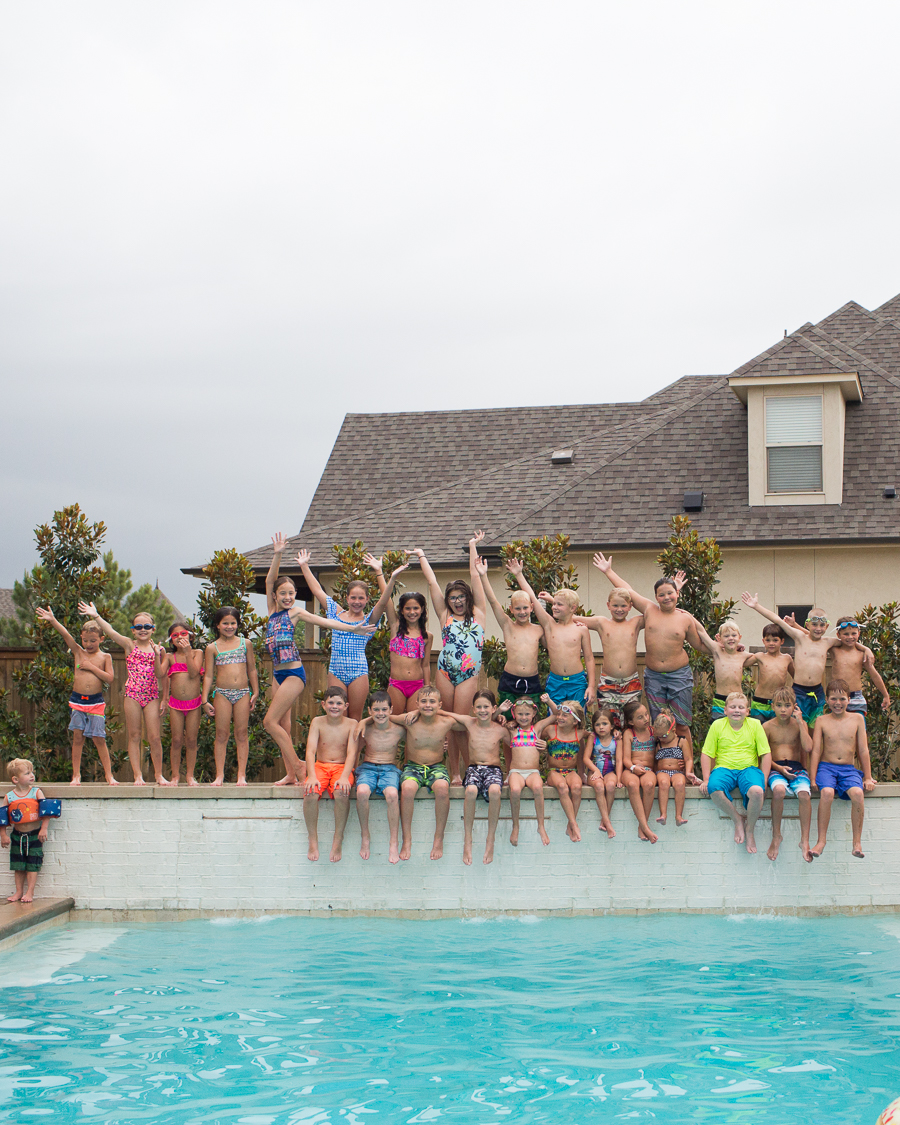 I hope you enjoyed this post on How to Design a Beautiful Pool and Outdoor Living Area and I hope it helps answer any questions you might have about our backyard area!  If you enjoyed this post you might also enjoy seeing our Pool Bath and Also some of our favorite summer recipes like Feta Bean Dip and Fruit Pizza!!
We also have a recent post that highlights how we keep our backyard clean with the Sun Joe electric pressure washer From Walmart if you would like to read that as well!
Thanks so much for stopping by CC and Mike's and checking out our post on How to Design a Beautiful Pool and Outdoor Living Area!  If you aren't already we would love for you to follow along with us on Instagram where we share videos, stories, and so much more!