I'm so excited to share some Easy Spring Front Porch Makeover Ideas with you guys today mainly because, well, I'm excited that I found a plant that I can't kill for my front porch.  If you've been following us for a while, then you know my family has nicknamed me the plant slayer.  As in, I kill plants like it's nobody's business.  If it's green, I will kill it.  Even plants that are supposed to be hardy and you practically can't kill them — like succulents and cactus plants — yep, I kill them.  Last year, my family affectionally — or perhaps it was not so affectionately — nicknamed me THE PLANT SLAYER.  After spending hundreds of dollars on plants that I just kill, I decided it was finally time to invest in something faux.
 Consider Trying Faux Plants: Now, let's talk faux plants for a second.  Here's the deal…I have a dream that I can have beautiful bougainvillea plants growing all over my backyard and pretty flowers and lush green plants surrounding our pool in planters overflowing to the brim with gorgeous flowers and lush green plants…but you know what, with a nickname like "The Plant Slayer" I've realized that it's just not going to happen for me.  So, yes, I would prefer real flowers everywhere but for the sake of my marriage and my own sanity, I've decided to invest in some faux plants.  Luckily, Target has some beauties right now and I recently found some faux 60″ olive trees that are so fabulous and look so real, that I decided to put them on my front porch this year.  I paired them with white rectangular planters.  You can buy these cb2 white lookalike planters to get the same look. (make sure you get the 15″ wide ones if you want to put the olive trees inside of the planters)
SCROLL AND TAP TO SHOP OUR FRONT PORCH:

SCROLL AND TAP TO SHOP  OUR STYLE HERE:

2. Give Rug Layering a Try: Rug Layering is all the rage. I have my rug layered with a geometric black triangle rug from Target.  HOWEVER, what I have on order for not only our front porch and side porch but our back patio area as well, is this fabulous black and white in and out rug from CC and Mike THE SHOP.  I absolutely love this rug and think it is classy and timeless but with just enough fun.  It's perfect for rug layering and it's perfect to buy in a large 8×10 size for your back patio.
Tips for sizing:
If the doormat is 2′ x 3′ or 2′ x 1.5′ then the bottom layer should be at least 3′ x 5′.
Here are some fun combinations of rug layering for front door mats that you can try for Spring, all available in CC and Mike THE SHOP.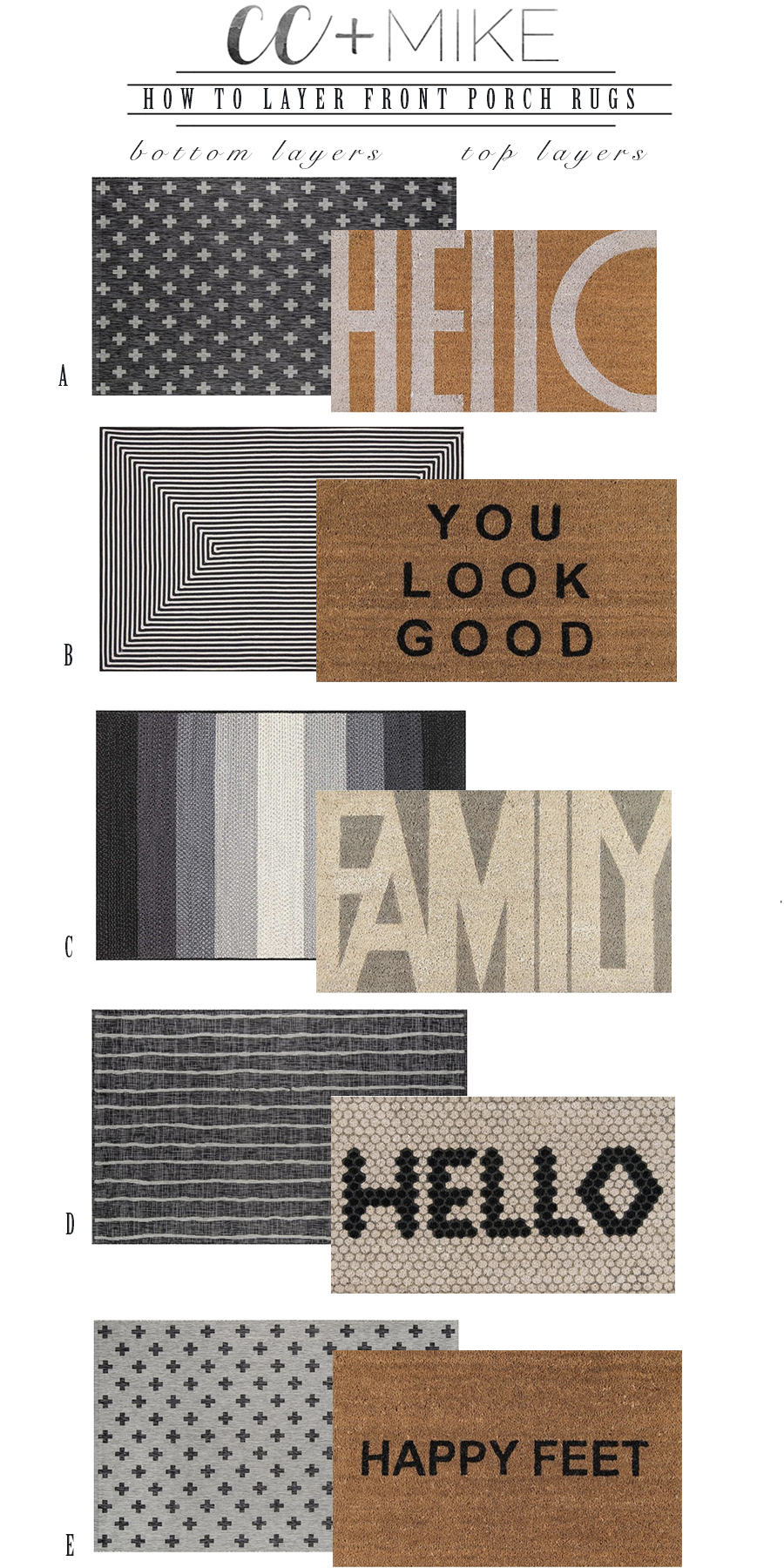 Bottom Layer Rugs:
C. Black and Ivory Garrett Rug
Top Layer Rugs:
Rug layering is a fun way to update your patio for spring and just to show you what it can add to your front porch, I'm going to show you a picture of our front porch from two years ago before I started rug layering.  I mean, it was pretty and all but it was just lacking.  So moral of the story is, if you're looking for Easy Spring Front Porch Makeover Ideas…give rug layering a try!
Here is our back patio from last year but like I said, I plan to spruce it up with the new in and out rug and some new pillows for this year
SCROLL AND TAP TO SHOP OUR FAVORITE OUTDOOR PRODUCTS
Don't forget to order your black and white In and Out Rug, or you can get it in navy too!  I've got mine on order and will be sure to update you with our new patio look once I get it all styled.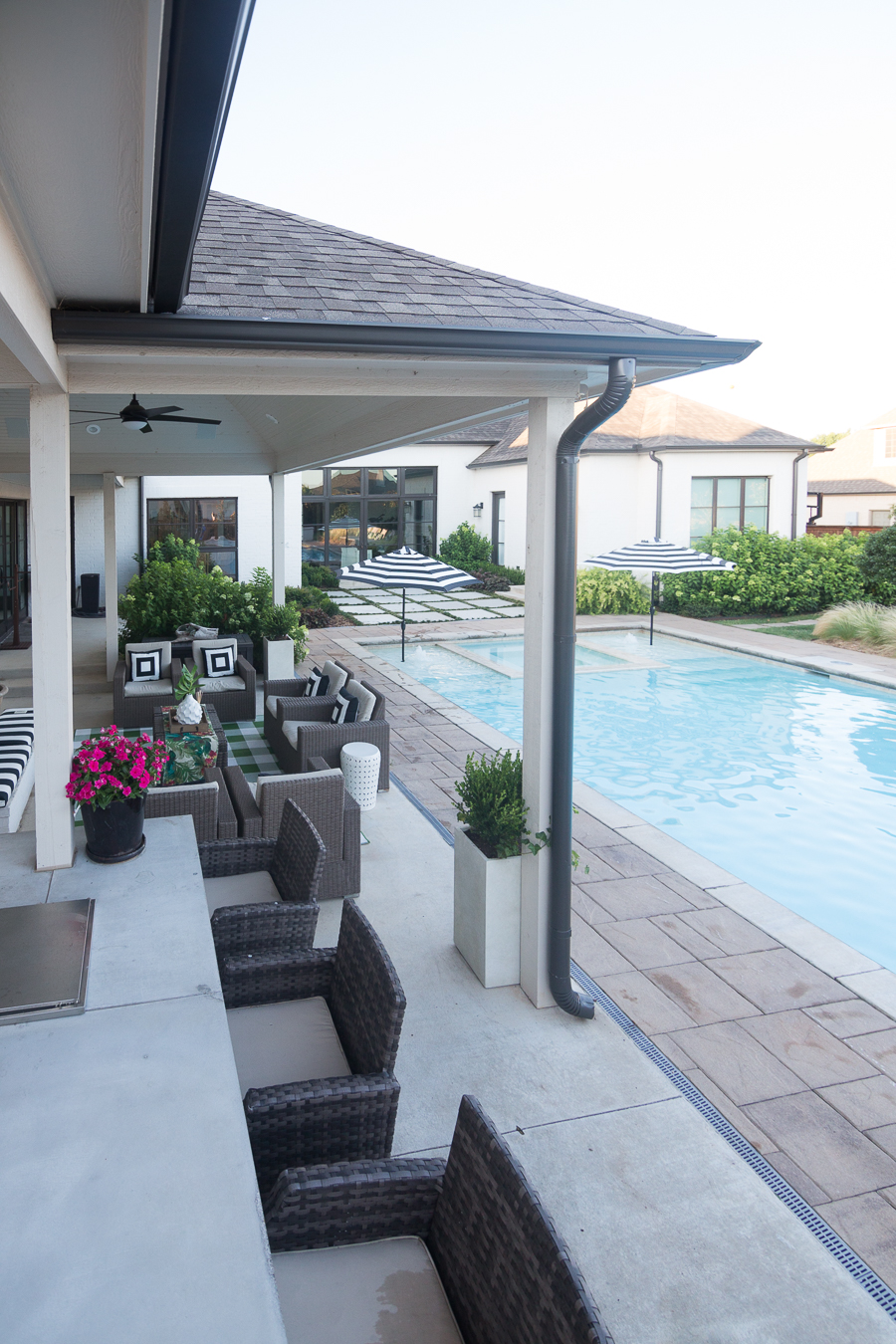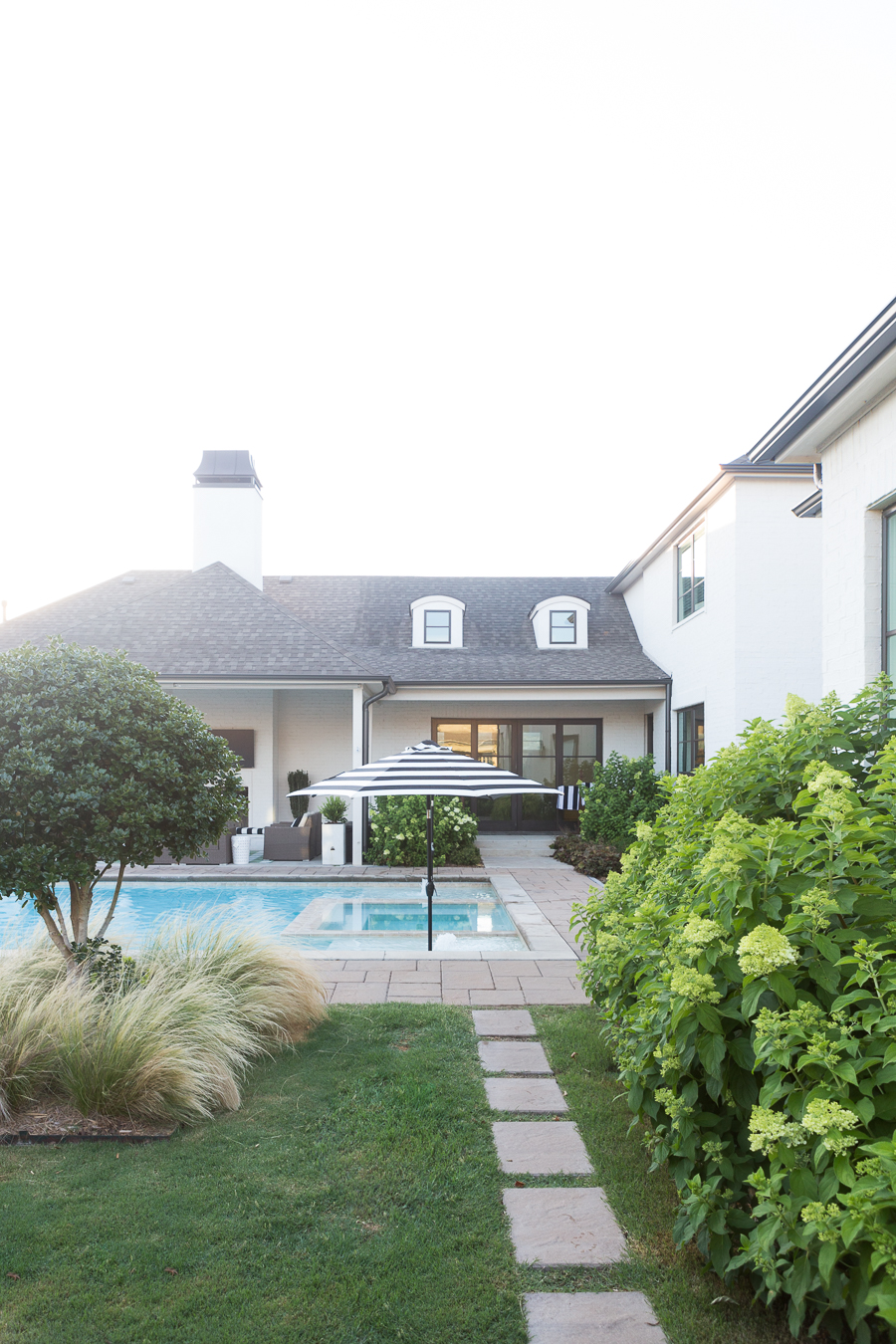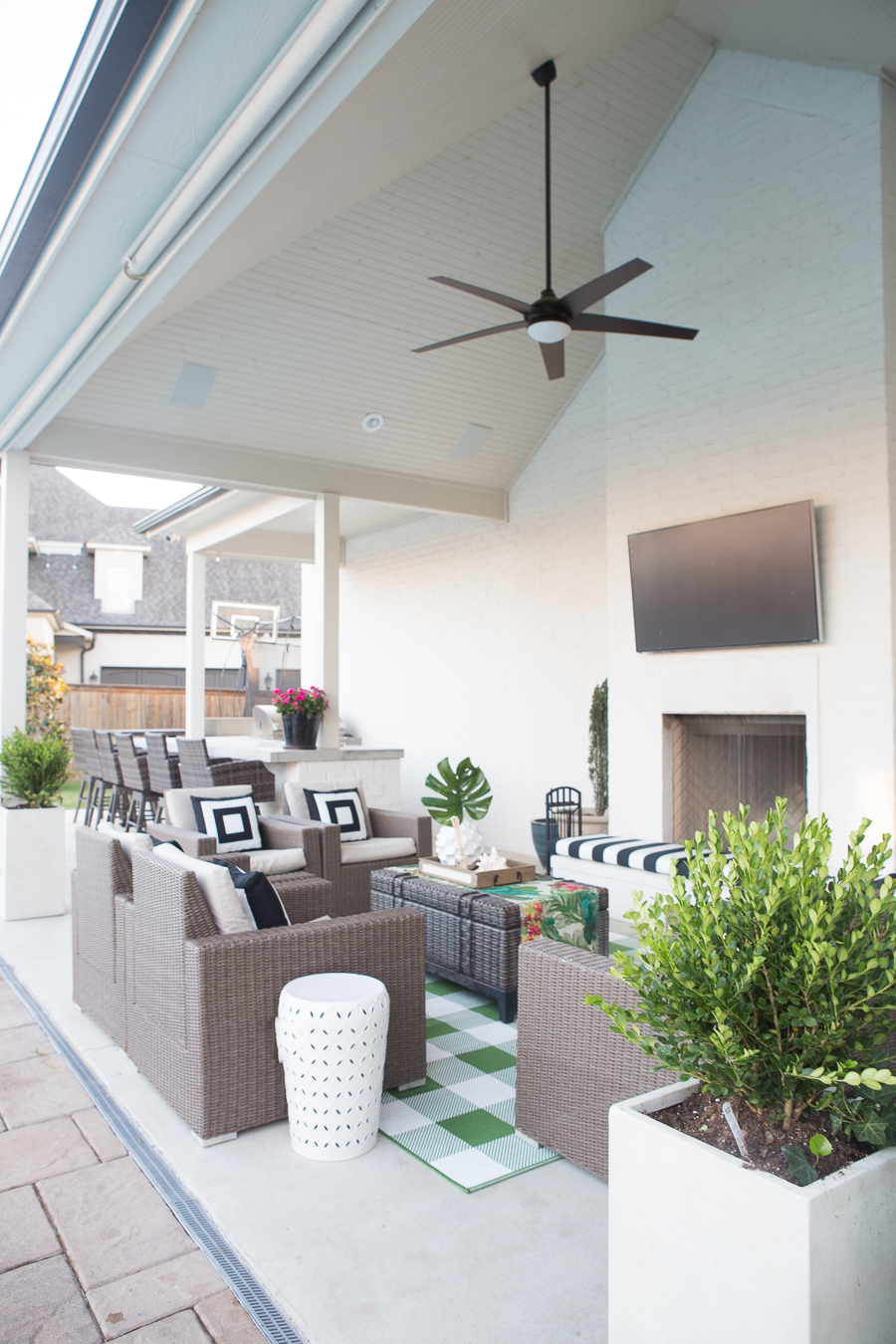 My final tip for Easy Spring Front Porch Makeover Ideas is to buy a simple, affordable, and pretty wreath for your front door.  I prefer simple, green boxwood or eucalyptus wreaths and I have linked some of my favorites for you here!
SCROLL AND TAP TO SHOP OUR FAVORITE SPRING WREATHS:

Hope you've enjoyed this post on Easy Spring Home Easy Spring Front Porch Makeover Ideas and whether you are a plant slayer (like me) or not, I hope this helps you get your front porch ready for Spring!