So if you follow along with us on Insta, then you know I don't have my Christmas tree out yet AND Mike Miller is adamant about not getting Christmas out before Thanksgiving. Marriage is all about compromise y'all and last year I pushed him WAY out of his comfort zone by getting it out on November 1st, so I decided I would hold off this year.
Truth be told, we've had a lot going on this year with Cohen breaking his leg in two places in a football game and lots of sick kiddos. I haven't really had the energy to drag down all my Christmas decor yet either, BUT, tabletop and kitchen countertop styling is something so easy and simple that can bring the holidays into your home without having to make a big huge production of it.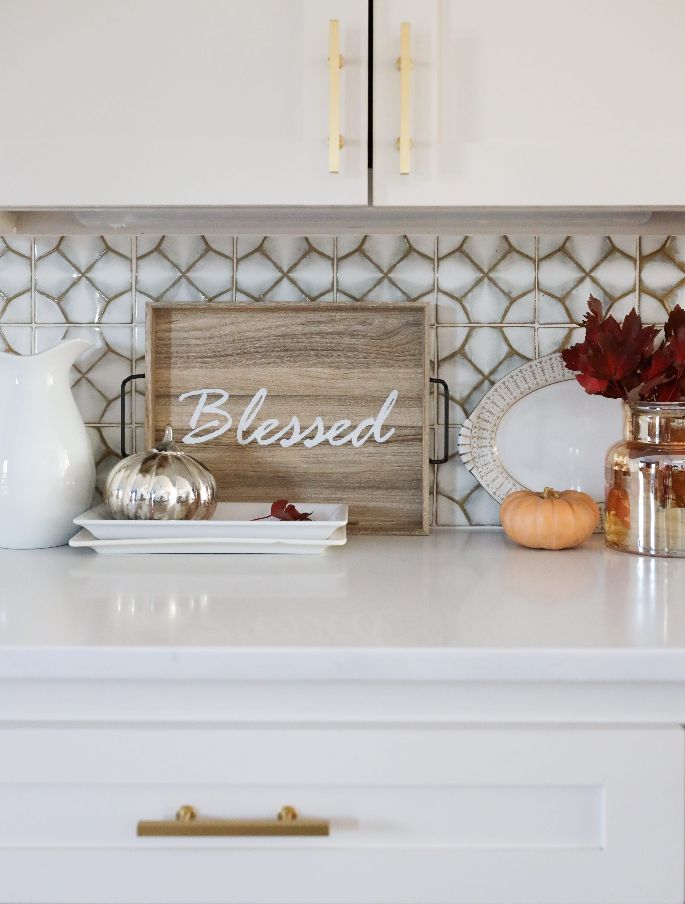 So, today I'm sharing easy Thanksgiving and Christmas tabletop decor ideas with you guys. I'm going to show you ONE tabletop styling idea that can be styled TWO ways – either for Christmas or Thanksgiving. All you have to do is switch out your pumpkins for Christmas trees and make a few small changes and this easy tabletop decor can transition from Thanksgiving to Christmas!
As usual, I went for simple elegance when designing this centerpiece. Here's what you'll need:
A large wooden tray or this lovely BLESSED tray (which I loved using for Thanksgiving)
Flowers/foliage of your choice (I used fresh fall trimmings from a tree for fall and Magnolia trimmings for when I transitions to Christmas)
Small decorative pumpkins (I like to use a mixture of glass and mercury glass and also real pumpkins)
Small decorative Christmas trees (for when you transition to Christmas)
Go Tell It On The Mountain Framed Canvas Print (you can use this once you transition to Christmas as well) – Guys I'm obsessed with this and it's my favorite Holiday Item I've bought this year. I love the colors, the frame, and just that it's different, Go Tell it On the Mountain. I remember singing that at the holidays when I was growing up and I'm just loving this framed print and the price is great!
Oh yes and Don't forget to grab these Pioneer Woman Adeline Goblets in Plum. They are only $3.94 per glass and come in multiple colors. Personally I'm absolutely loving g this plum color and think it just makes the table for either a Thanksgiving or Christmas Tablescape or holiday tabletop decor!
So below you will see our kitchen island all dressed up for fall with the blessed tray, candle sticks, pioneer woman cake stand, serving dishes, flowers, and Plum Goblets. I used pumpkins and a fall candle in this styling with the Blessed tray and fresh fall branch clippings. BUT, if you Just swap out the Thanksgiving pumpkins for Christmas trees and then you swap out the BLESSED tray for the Go Tell it On the Mountain art or any other Christmas art, you get DOUBLE the use out of this beautiful easy tabletop decor!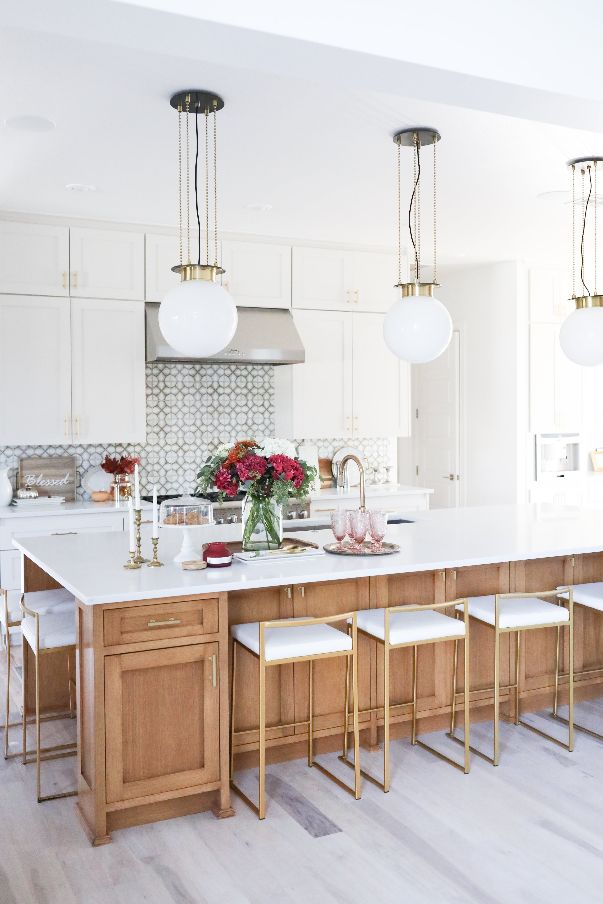 SCROLL AND TAP TO SHOP OUR KITCHEN

One of my favorite pieces in this display is the Pioneer Woman cake stand. Not only does it provide storage for holiday treats but it looks beautiful while doing it! But it doesn't just have to store food. For our Christmas spread, I used it to display some of our beautiful leftover ornaments. Below you can see how I swapped out this simple styling to make it work for Christmas now (pumpkins changed to bottlebrush Christmas trees and I placed ornaments on the cake stand). Oh yes! And I also put magnolia sprigs in the floral arrangement to give it a Christmas vibe.
Now you can see how I used the Go Tell It On the Mountain art for the back countertop styling as well instead of the Blessed Tray in order to give this kitchen countertop styling a Christmas look instead of Thanksgiving. Just a few small, affordable changes takes this entire look from Thanksgiving to Christmas with no hassle!
SCROLL AND TAP TO SHOP OUR FAVORITE HOLIDAY TABLETOP DECOR ITEMS

What I love about this is that it is customizable. You can decide what colors to feature to suit your style! For example, I chose red and white accents that play off our cozy and festive living room decor. I also spiced it up with gold pieces that match our kitchen fixtures and the fabulous gold island chairs featured in CC+Mike: The Shop.
My favorite places to shop for holiday decor, or get holiday inspiration are Target, Walmart, West Elm, and Pottery Barn. They offer such a wide variety of items and price points that I always find something. It's the perfect way to put these easy Thanksgiving and Christmas tabletop decor ideas into motion.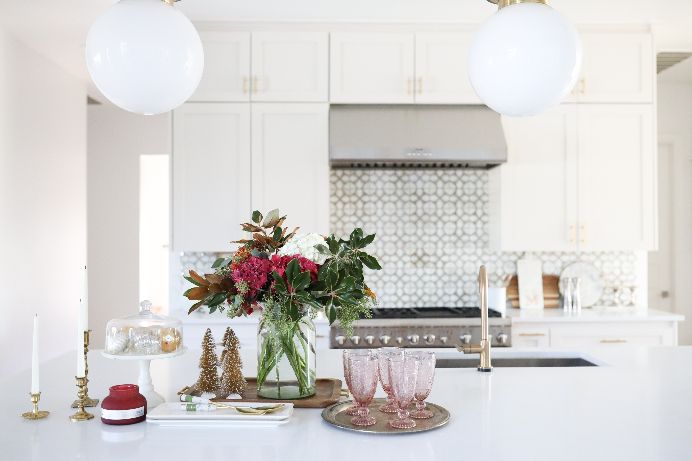 Here are some affordable holiday table ideas for you as well that I think will work for Thanksgiving OR Christmas simply by changing out your pumpkins for Christmas trees. All of these items are from Walmart and you could do this holiday tablescape in no time at all for such an affordable price. And the best part is you could just keep everything the same and change out just a few small items to take this look from Thanksgiving straight into Christmas! I love this color scheme for both holidays. For Christmas just add silver and gold ornaments in the foliage in the center as well as affordable sprays. For Thasnkgiving add in some more autumn colored berries and put white pumpkins on each of the plates (see bottom left photo). Hope this helps you with some simple, affordable, and most of all transitional holiday ideas!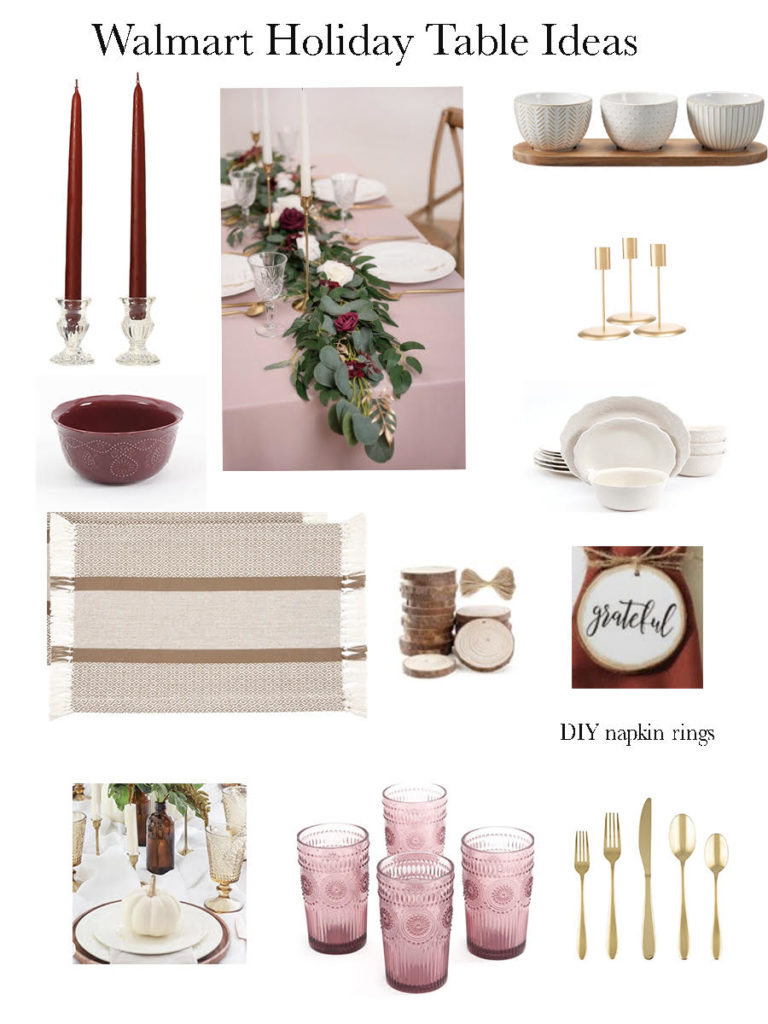 Also don't forget that Black Friday is right around the corner. Here is a little roundup I did this week of some black Friday sales from Walmart as well if you are interested. I will be doing more Black Friday coverage soon and we will also be having a Black Friday Sale in CC and Mike THE SHOP