When we built our previous home in 2015, the home that started this entire journey we are on, I designed Emmy's room. Truth be told, it was one of my favorite rooms in the house to design and I did a VOGUE, glam-themed girls bedroom. She was only 7 years old at that time and we both absolutely loved this room…..Here is what it looked like when we first moved in.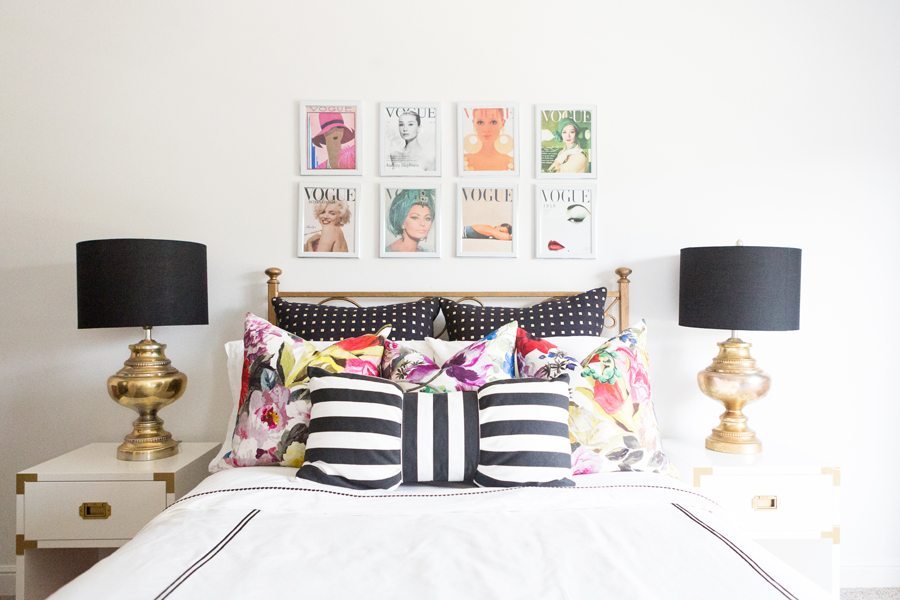 As we lived in the house Emmy grew up, of course, and developed her own style and her own ideas about what she wanted her room to look like. The little girl glam room that her mom designed for her was no longer speaking her language. She came to me one day with a plan — Mom, I want a New York Gossip Girl Themed bedroom. She had just finished watching the hit CW series based in New York City, of course, featuring Blair Waldorf and Serena Van Der Woodsen. To say she was smitten was an understatement. She was so smitten, in fact, that she decided she wanted her room to reflect her current passion – Gossip Girl. I was skeptical to say the least, especially about the New York City Themed wall mural she wanted to do on her wall, but I told her if she designed the room and presented me with a plan, we could discuss it.
Here is the design plans my daughter presented me with by the next day. Yes, she designed this all on her own when she was only 14 years old, using our design software that we use. Pretty impressive. I mean, how could I say no to this!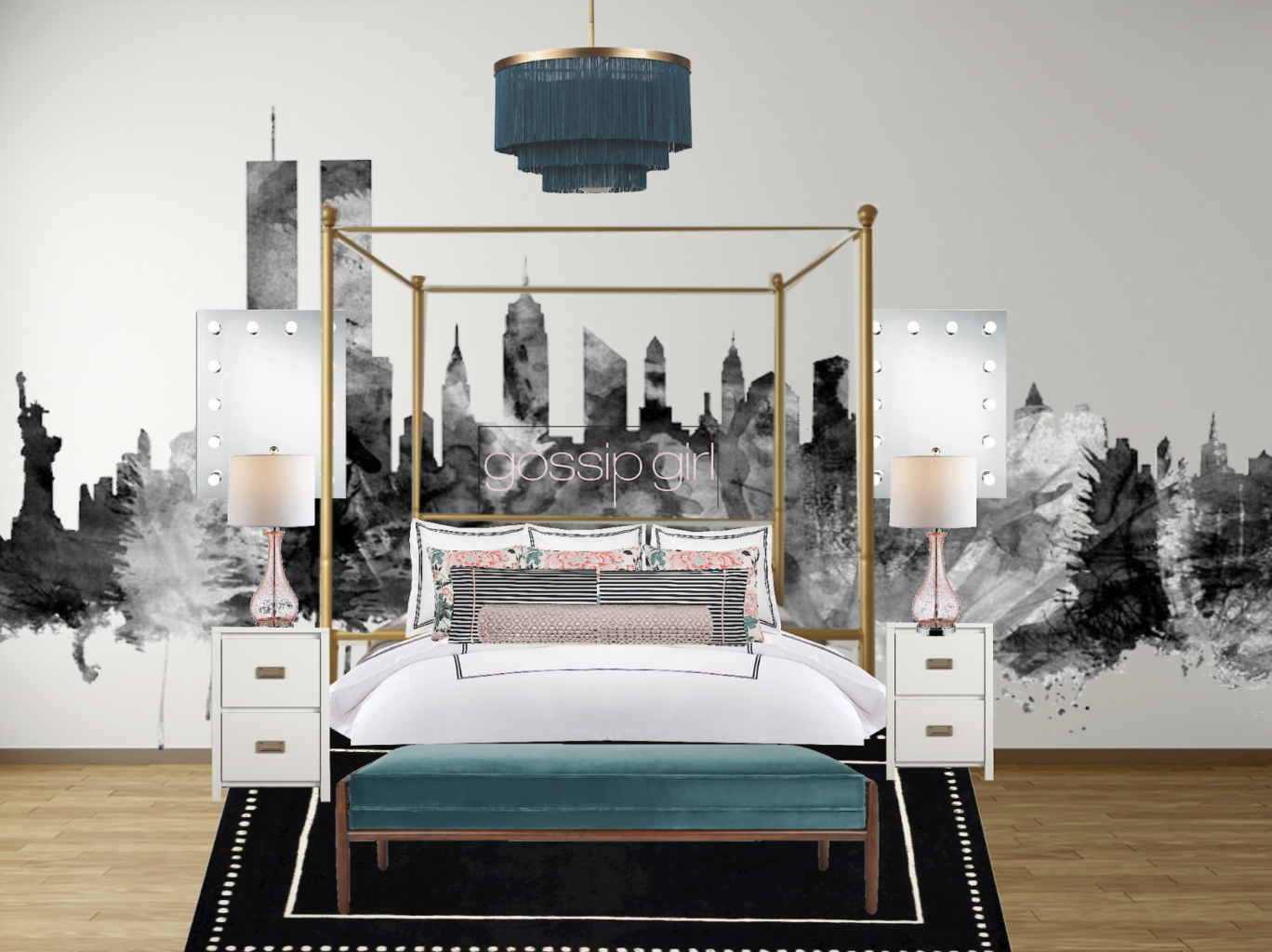 So obviously, the most dramatic statement in this room was the wall mural. Emmy designed the entire room around the New York City skyline wall mural which we got from Photo Wall Sweden. They were great to work with and have so many awesome murals you can choose from! They also offer a service where you can upload a photo and create your own wallpaper or mural which is so cool.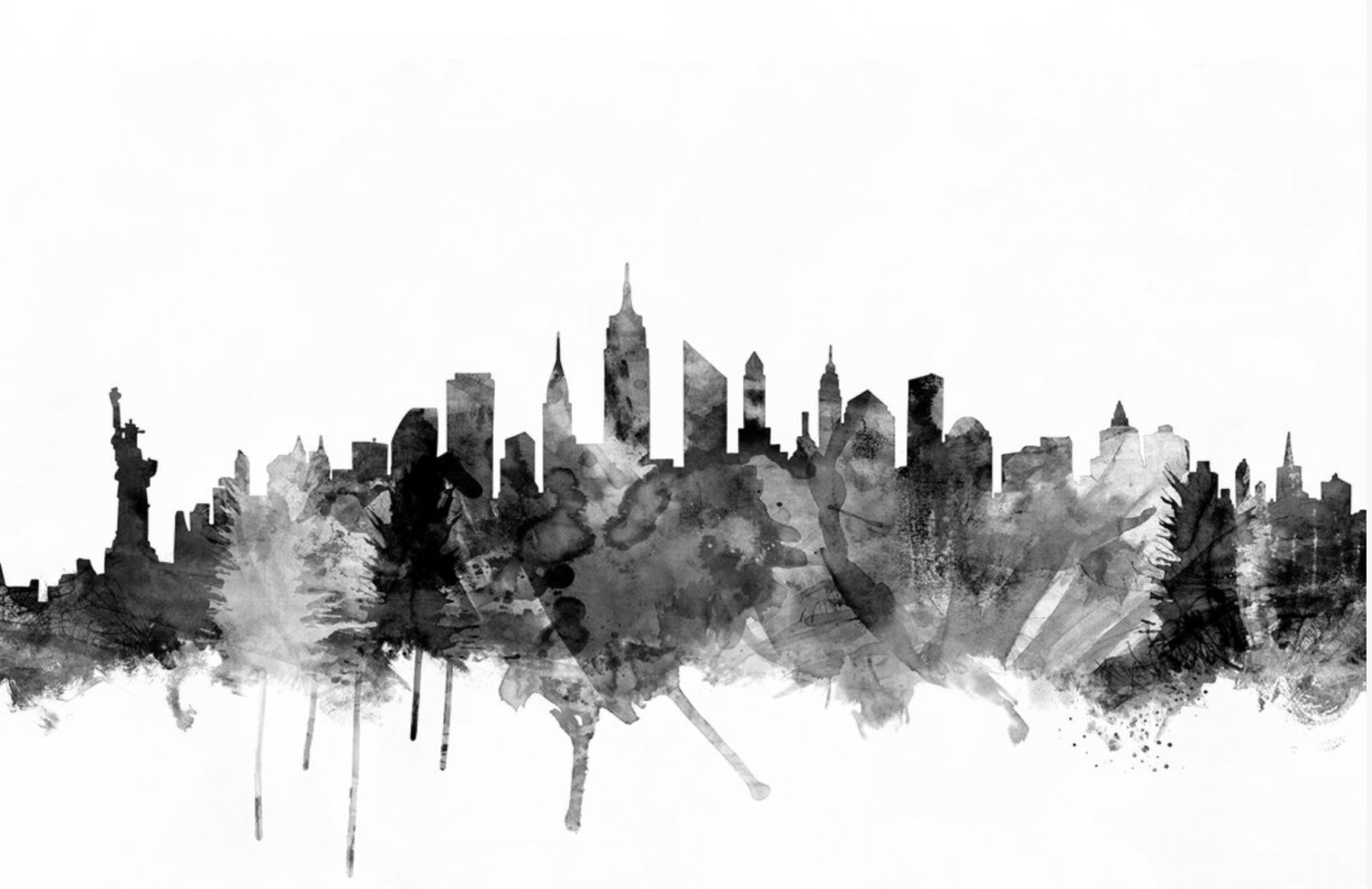 After Emmy selected the wall mural, it was time for the bed. She very specifically wanted a gold canopy bed. I was worried we weren't going to be able to find one that didn't break the bank but boy was I ever wrong. We started looking at Walmart and realized they had an amazing selection of gold canopy beds for under $350! Here is the bed we ended up selecting:
If you'd like to shop some other gold canopy bed options from Walmart, we've also rounded up some of the other options that we looked at while planning Emmy's bedroom. There are so many incredible options for under $300!
SCROLL AND TAP TO SHOP GOLD CANOPY BEDS FROM WALMART:

I also have to mention this Jenny Lind canopy bed I recently found while sourcing beds for another project. Just because, holy cow you guys, this is an absolute beauty and I'm dying to use it in a design. This is an incredible find at only $340 for a queen. It is also the DHP brand which is the same brand as Emmy's bed. They have some really cute furniture options that is for sure!
This bed also comes in a white version! I think it's amazing for all ages – kids, teens, and even adult master bedrooms!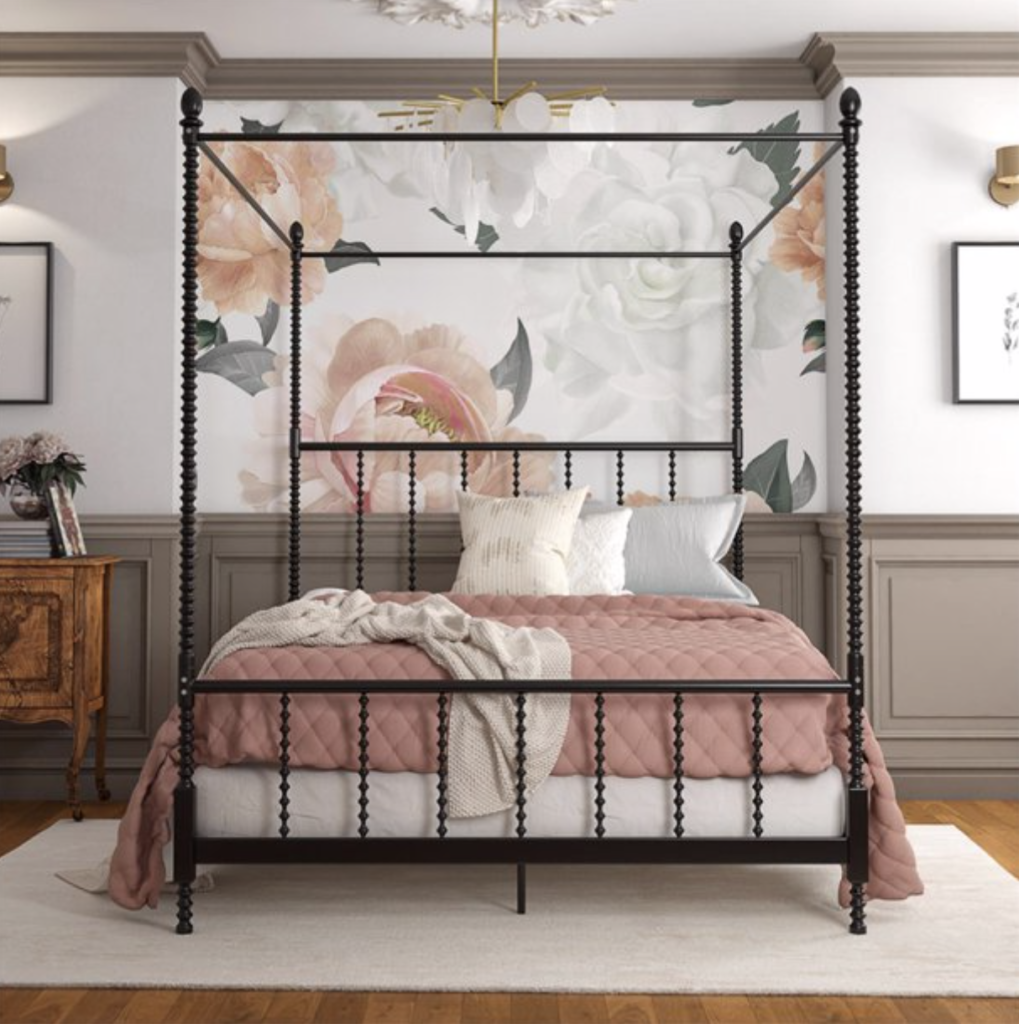 After choosing the photo mural and bed, Emmy chose the rug which will be available in November in CC and Mike the SHOP, accent furniture, and of course, pillows and accessories! I wasn't sure how it would all come together to be honest, but of course she completely amazed me. Oh, and did I mention that she designed, styled, AND photographed this herself? Yep. Turns out I had my photographer scheduled to take photos of her room the week before we moved out but then I got COVID and had to go into quarantine. We had to cancel the photo shoot and I was heartbroken that we weren't going to be able to reveal Emmy's beautiful room and all her hard work. Well, Emmy just stepped right up and got the entire room styled and ready to photogrpah herself, AND took the pictures.
Look out world. This girl has big dreams, a heck of a lot of God given talent, and a mom who is in her corner all the way. I can't wait to see where she's going to go!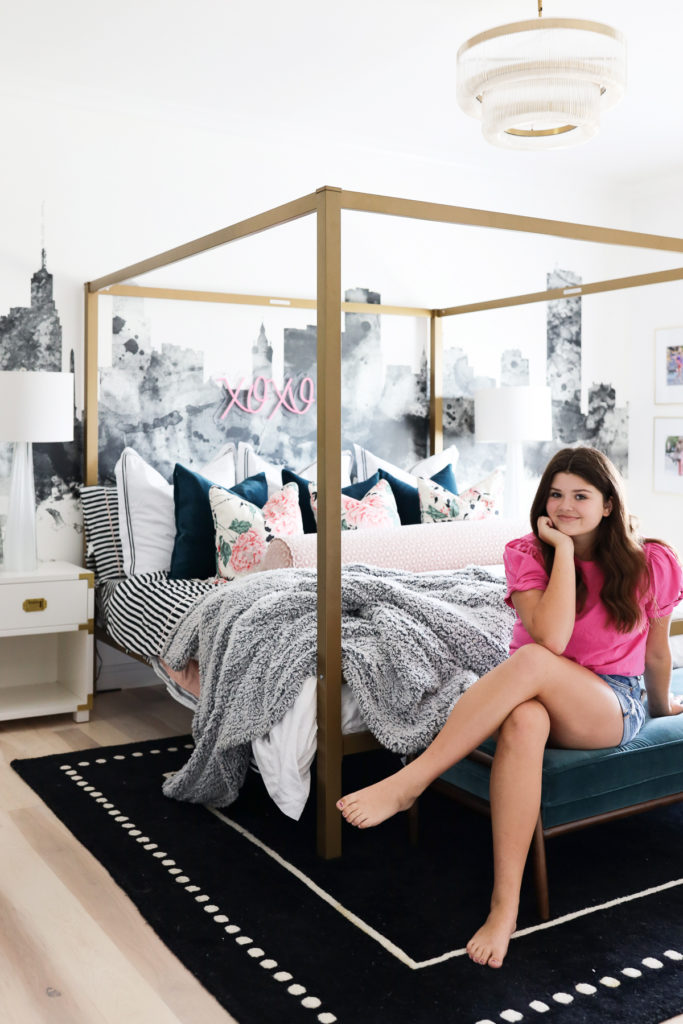 THE DETAILS:
The black and white sheets from Pottery Barn pair perfectly with the Hotel Duvet bedding for this glam look. The hotel bedding set is something that I use in nearly all my projects. I love the black border lines on the euro shams and duvet. I also have to mention that throw blanket because it is so cozy and it's something that we use quite frequently and also I like to give it as gifts when I put together gift baskets for for people as well.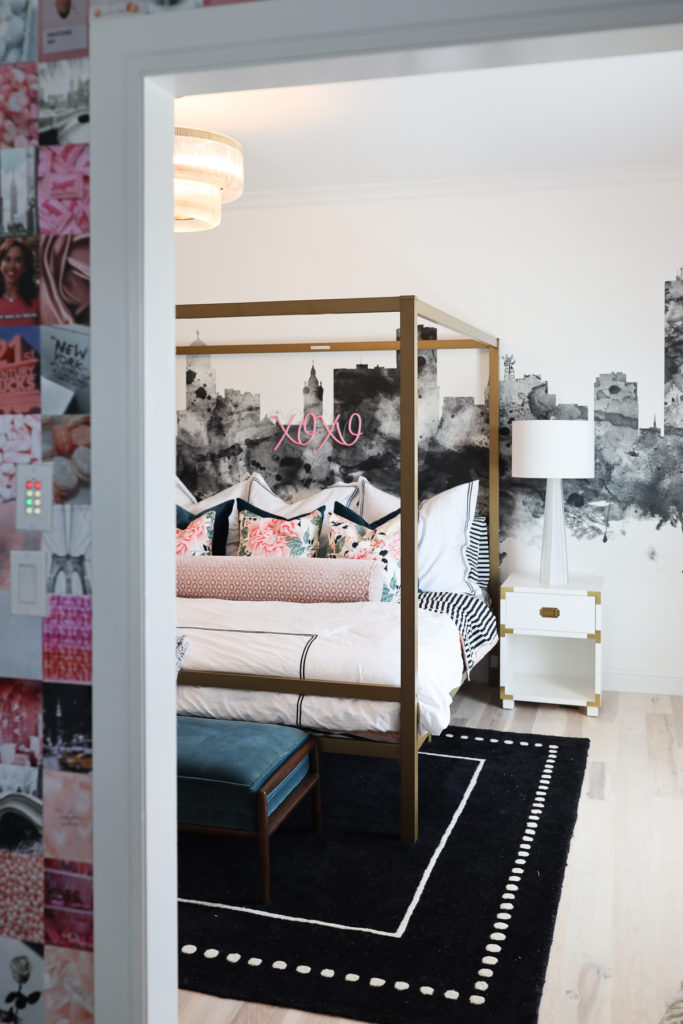 Some of the other products that definitely have to be mentioned are the campaign night stands, glass star table lamps, and XOXO sign. The campaign night stands were from Pottery Barn 6 years ago and they no longer have them but I've found an almost identical option for you that are only $109! And there is a matching desk that comes with the line. I don't know if you've heard of the Little Seeds line but it is so affordable and SO CUTE. That is what brand the $109 night stand option is!
TAP ON THE PRODUCT TO SHOP: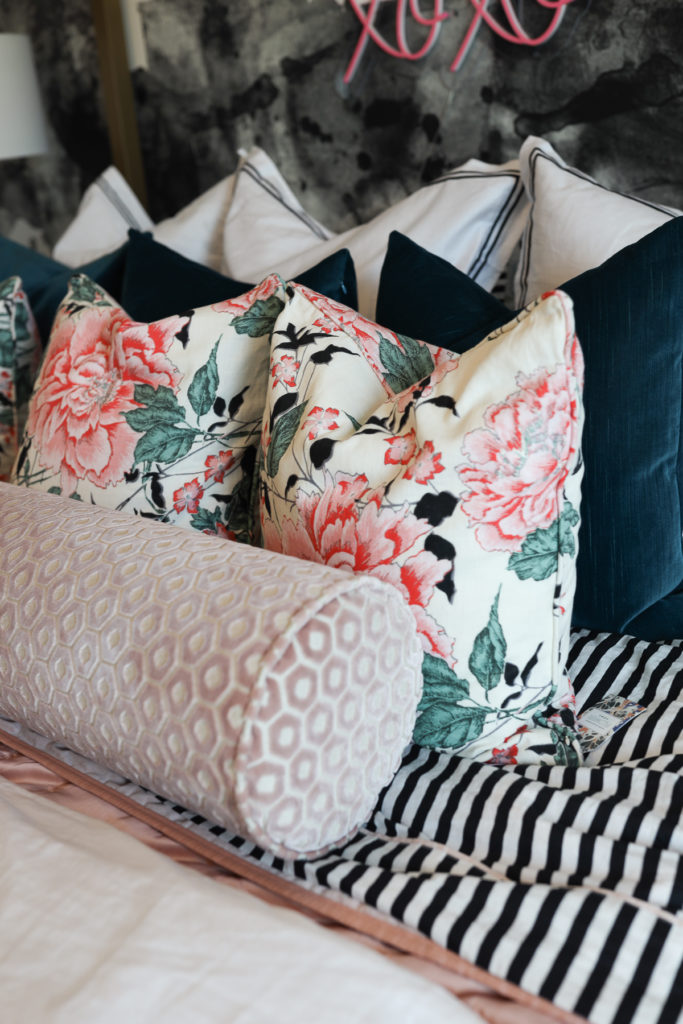 Off Emmy's bedroom in our previous home was a sitting room. When we redid her bedroom we decided to put in a daybed so that when she had friends over, it would provide more sleeping! She also had the idea of doing a photo wall and she printed off all these photos and made the wall herself.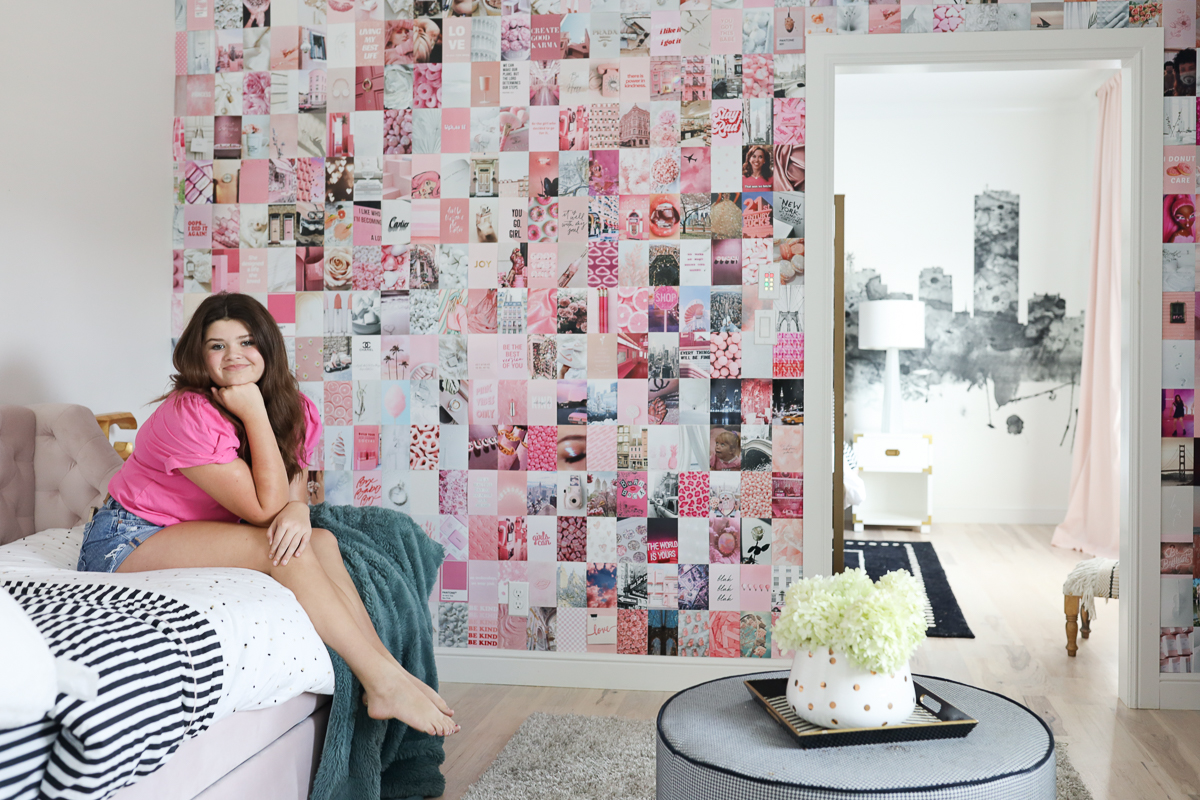 SCROLL AND TAP TO SHOP ALL OF EMMY'S ROOM AND SITTING ROOM PRODUCTS

As I mentioned before, we put a velvet daybed in Emmy's sitting room. Daybeds are such a great option for smaller spaces because they can be used as a little sofa but can also turn into a space for extra sleeping! Here is the daybed we selected. It comes in multiple colors and is a great price.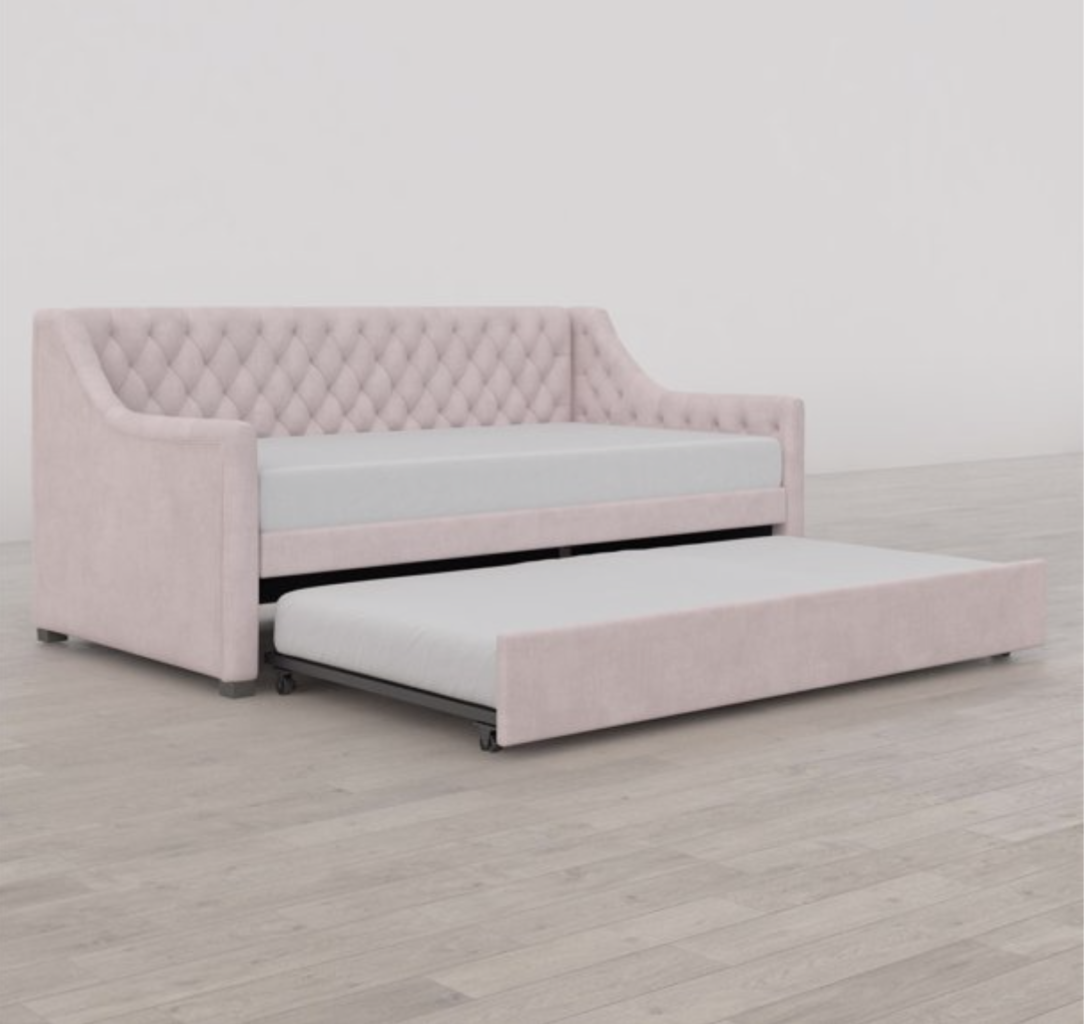 Here is a look at Emmy's sitting room. It was a fun little space in between her bedroom and bathroom. She styled it and decorated it all herself!
I also have to mention this fun sherpa chair in Emmy's sitting room! Her and I found it on one of our mother daughter shopping days but I was able to find an almost identical option for you guys with acrylic legs. This chair really is perfect for a teen girls bedroom!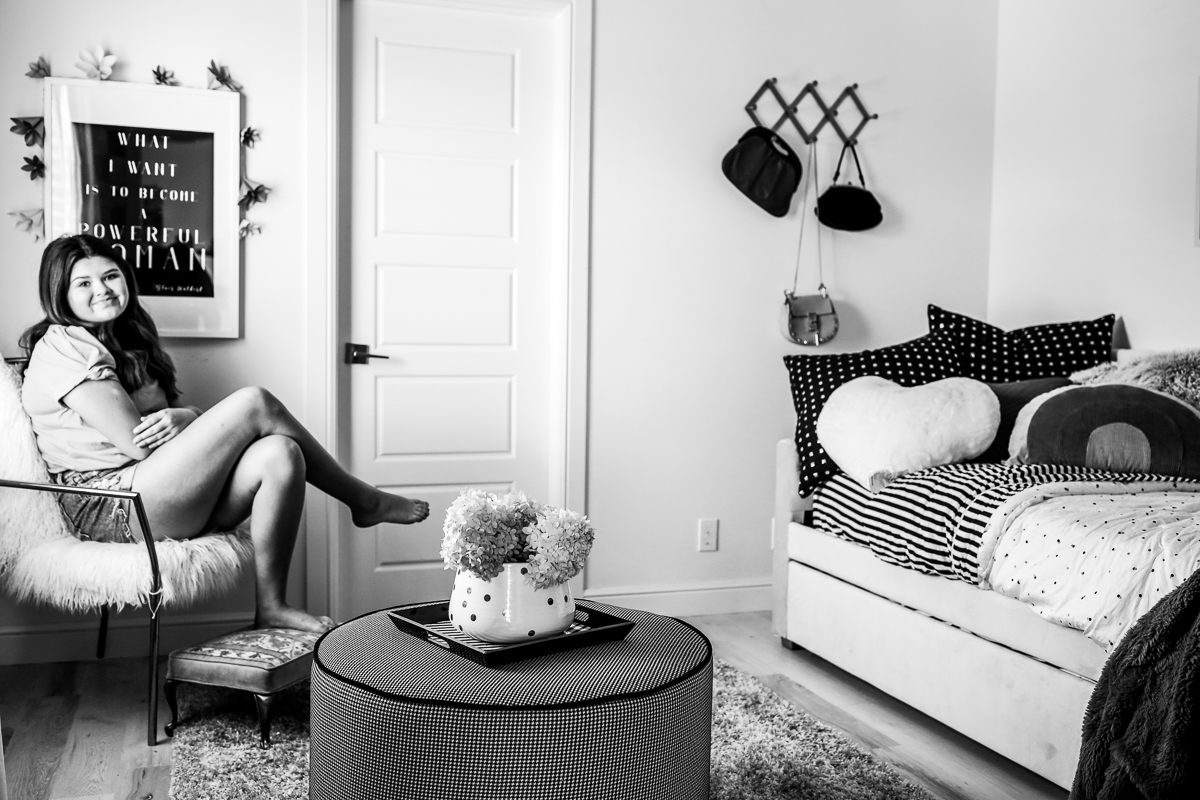 Sherpa chair options – so fun for girl and teen bedrooms and teen spaces! I've found a chair option and a foldable lounge chair option as well for you guys!
The last thing I will mention is the XOXO LED sign and also some other GOSSIP GIRL themed art. We framed pictures of Serena, Blair, and Chuck in gold frames from Target! If you've watched GOSSIP GIRL, then you know that the narrator always says XOXO, Gossip Girl at the end of the show. So Emmy wanted an XOXO LED sign above her bed and we were able to get that on Etsy. Here are some other art options if you want to create this look for your daughter!
SCROLL AND TAP TO SHOP GOSSIP GIRL ART/DECOR: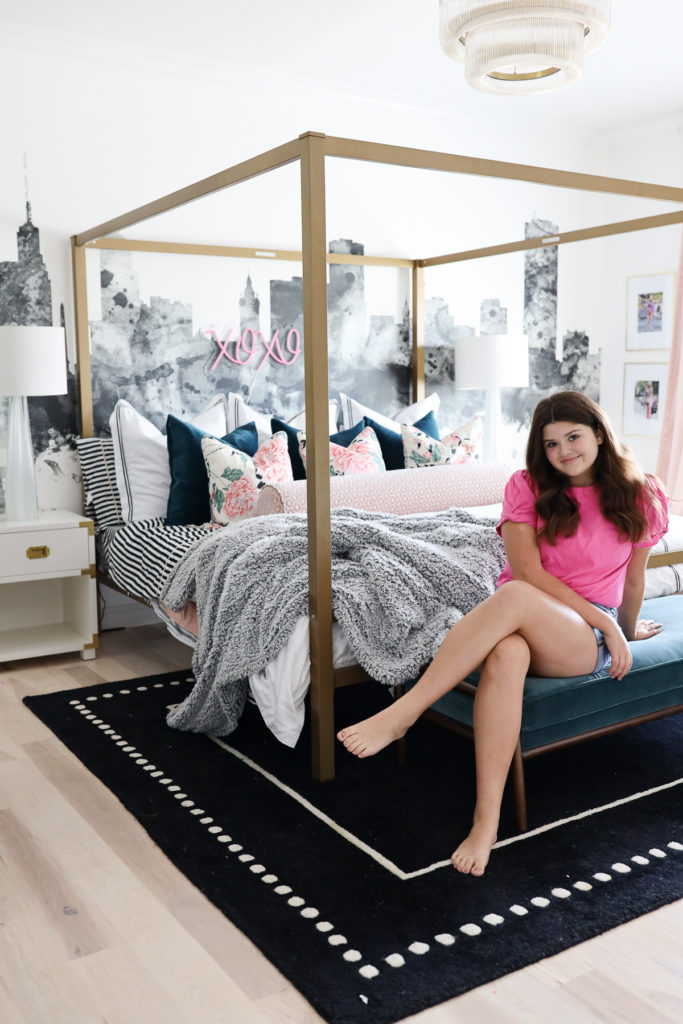 So before I go, I will leave you with some thoughts on teen parenting. I am no expert by any means, but there are a few things I have definitely learned the last few years. One of those main lessons is this: You gotta know when to get in the backseat and let them drive.
Here is a little something I wrote on instagram in that regard:
THIS GIRL. @emmymillerr. She's growing up on me. She asked to take the reins and design her own bedroom and sitting room and I gave them to her. There were things I questioned (that full wall NYC mural – just wait til you see how amazing it is) and several other things I didn't understand. But you know what… it was HER VISION, not mine. People ask me sometimes for my teen parenting advice and I'm like hold up WHAT?? 🙅🏻‍♀️. I'm just figuring this out as I go and you don't want advice from me 😂😂. But I will say this… one thing I've realizeD is that, you guys, It's THEIR journey not ours. We have to know when to get in the back seat and let THEM drive. And it was definitely time to let Emmy drive (not really just figuratively y'all.) But here's the point… we have to know when they are ready. Sure, it's scary as heck. I mean SCARY to give them the wheel. But you can't be a backseat driver who constantly is reaching over the seat trying to grab the wheel. You have to let go, get in the backseat, give them the wheel, then trust and pray to God they don't crash. And maybe cover your eyes a little bit. Here's all I know… how will they ever go anywhere in life if we don't let them drive? #dontbeabackseatdriver
Emmy, you can drive your own car. I'll get in the passenger seat. But if you ever need me I'll always be here to support you, guide you, give you gas money, help you navigate, but you know what….you don't need me to drive anymore baby girl. You got this.