I am so excited to share with you guys not only my Holiday Decor Favorites from The Home Depot but also my furniture, rug, and home decor favorites fromThe Home Depot as well! The Home Depot helped me decorate my front porch for Christmas this year and I am also so impressed with their online selection of decor options, furniture, and home decor for the holiday season. I particularly loved the Martha Stewart Living Holiday line and am going to be sharing quite a few of my favorites from that line as well as other great home decor items that are available online atThe Home Depot.
A few weeks ago, I started the hunt for what I needed to finish our exterior and front porch for Christmas.  After a week or more of looking, I was frustrated and still hadn't found what I wanted.  Then I stopped intoThe Home Depot one day and found exactly what I was looking for – prelit outdoor wreaths, Christmas trees in all sizes, and even topiaries.  I bought the 3-foot pre-lit winslow fir and it looks absolutely perfect on our front porch.  Pair it with matching 9-foot pre-lit garland and Martha Stewart 36 inch pre-lit wreath and you have almost everything you need for a beautiful Christmas exterior and the best part is, it's all on a budget because these items are all affordable!
Also of notable mention are the other outdoor Christmas potted and pre-lit plants such as the 3 tiered topiary and 6 foot pre-lit pine.  If you have a larger front porch area that you are trying to decorate, you might want to consider one of those sizes rather than the 3 foot size that I went with.
SHOP MARTHA STEWART LIVING CHRISTMAS AT HOME DEPOT:

Before I share more of my exterior and front porch with you, as well as my picks fromThe Home Depot's Home Decorator's Collection furniture line… let me share some FAQ's about shopping withThe Home Depot(both in stores AND online) that makeThe Home Depot an amazing destination for all your home decor and furniture needs not only during the holidays but all year long.
Shopping atThe Home Depot:
Free shipping on orders over $45
Flexible Delievery Options: Free in-store pick up, or 2-day shipping to home
Free returns at +2,200 stores
Easy Online Shopping Tools like "My List", "Shop The Room", and Product Recommendations
100% satisfation guaranteed.
Every day low prices to get the best prices year-round on home decor.
Oh and by the way! The Home Depot even has real Christmas trees and garland AND I found these gorgeous premade pot fillers there.  I just dropped them right into my pots and had a gorgeous fresh display for my Christmas exterior!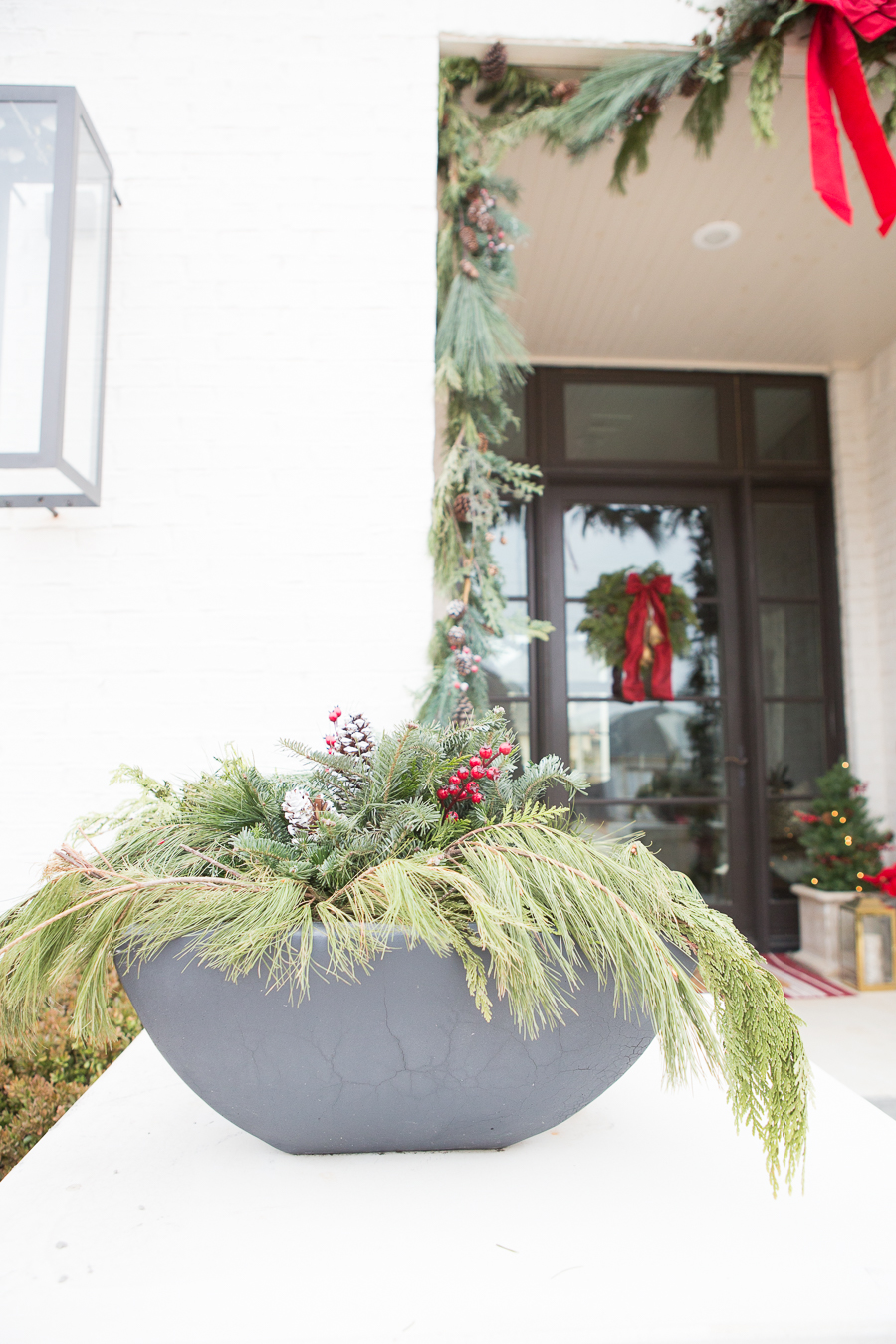 Not only did The Home Depot help me get my front porch and exterior ready for the holidays, but they have some incredible deals on their furniture and Home Decor as well.  They have 40 percent off so many incredible furniture pieces and I'm particularly loving their Home Decorator's collection.   I have picked out several of my favorite furniture pieces from Home Depot just to highlight the amazing furniture and rug selection they have.  I know we are in Christmas mode right now but pretty soon we will be taking all the holiday down and it will be time to think about upcoming home projects.  From bar stools to rugs to sectionals to canopy beds to that gorgeous linen side chair (pictured below) that I so want in my house,The Home Depot has everything you need to get your house not only Holiday ready, but also tackle those home projects you've had on your to-do list!
SCROLL AND TAP TO SHOP HOME DEPOT FURNITURE AND DECOR: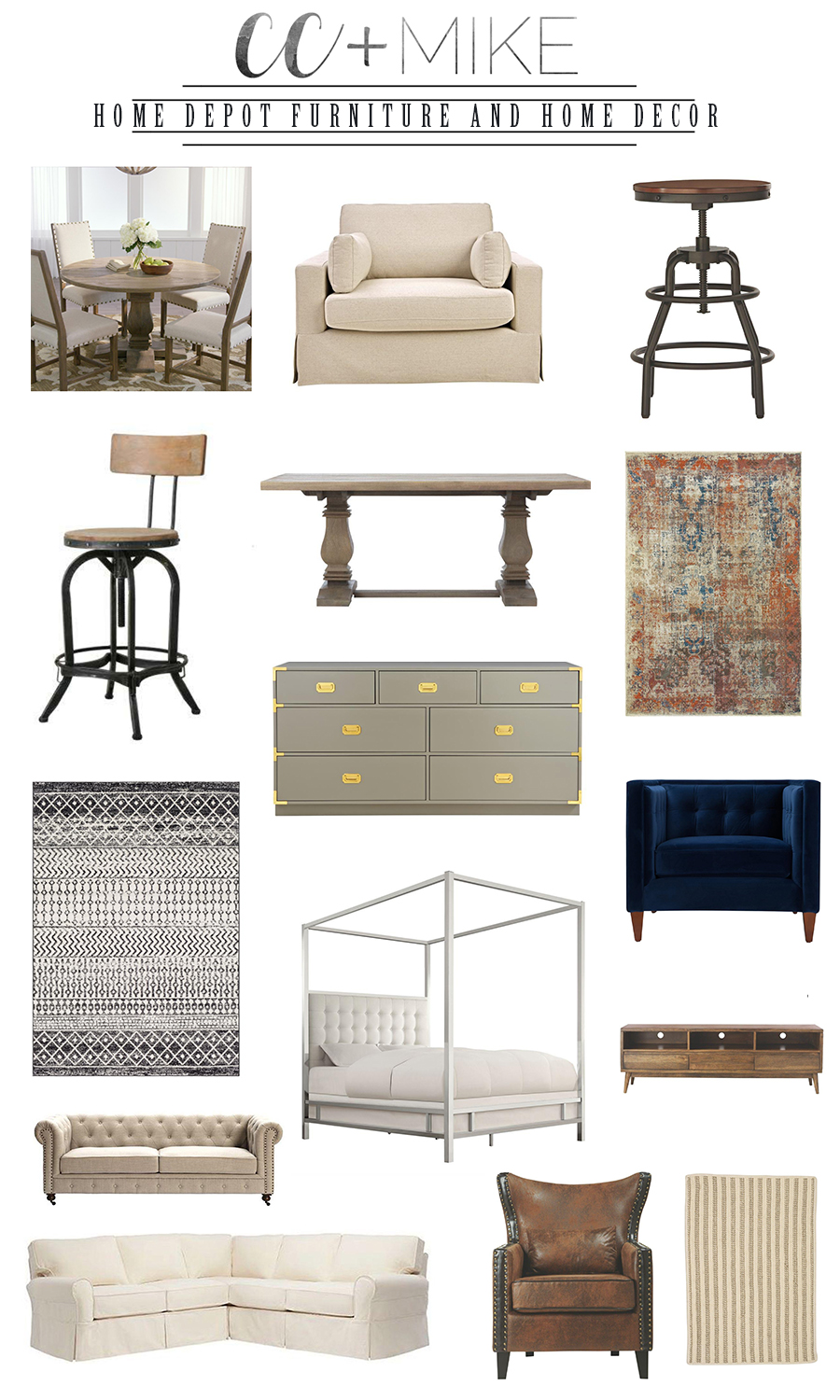 Addilyn Jute Arm Chair | Antique Gray Round Table | Adjustable Bar Stool | Aldridge Rectangle Table | Canopy Bed | Campaign Dresser | Linen Chesterfield Sofa | Tv Stand | Cane Back Chair | Meloni Leather Chair  | Adjustable Bar Stool with Back |  Mayfield Sectional | Henley leather bench/ottoman | Navy Velvet Club Chair | Braided Area Rug | Conrad Area Rug | Tribal Area Rug | Laurine Rug |
Another item I had been on the hunt for was faux poinsettias.  Everywhere I looked, I was just unhappy with how "fake" they looked.  I wanted the look of poinsettias on my front porch but obviously, in the Oklahoma weather, I couldn't put real poinsettias on my porch.  Home Depot by far had the best silk poinsettias I found.  They come in two sizes and the price is incredible.  I bought the 21 in silk poinsettias and paired them with the Leonardo copper planter. They fit perfectly together and the cost can't be beat —$16 fpr both the poinsettia and the pot!  If you want to duplicate this look, buy the 21 inch poinsettia.  I am also linking to the larger poinsettia as well, though in case you need a bigger sized plant for another area.
SHOP SILK POINSETTIAS AND POTS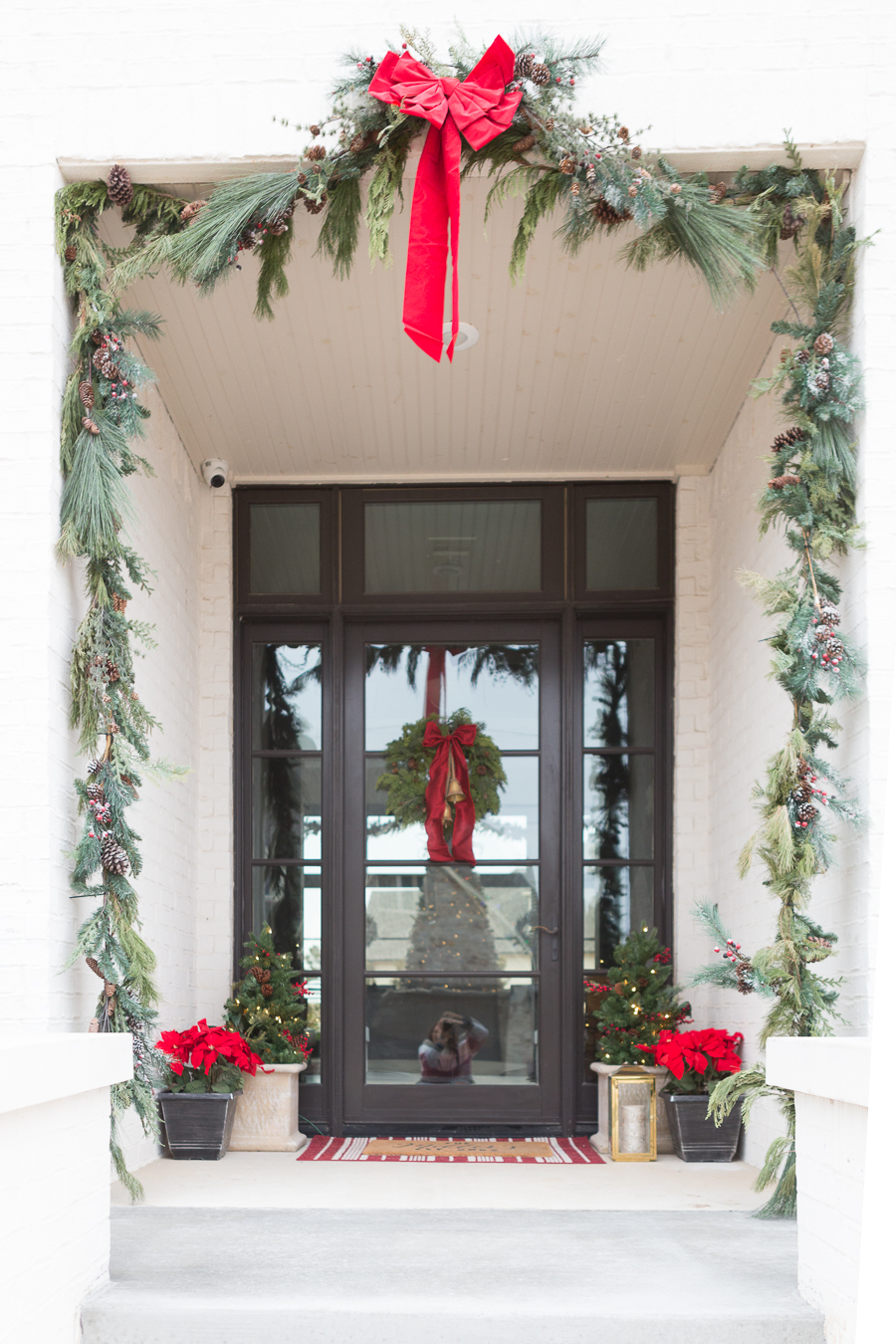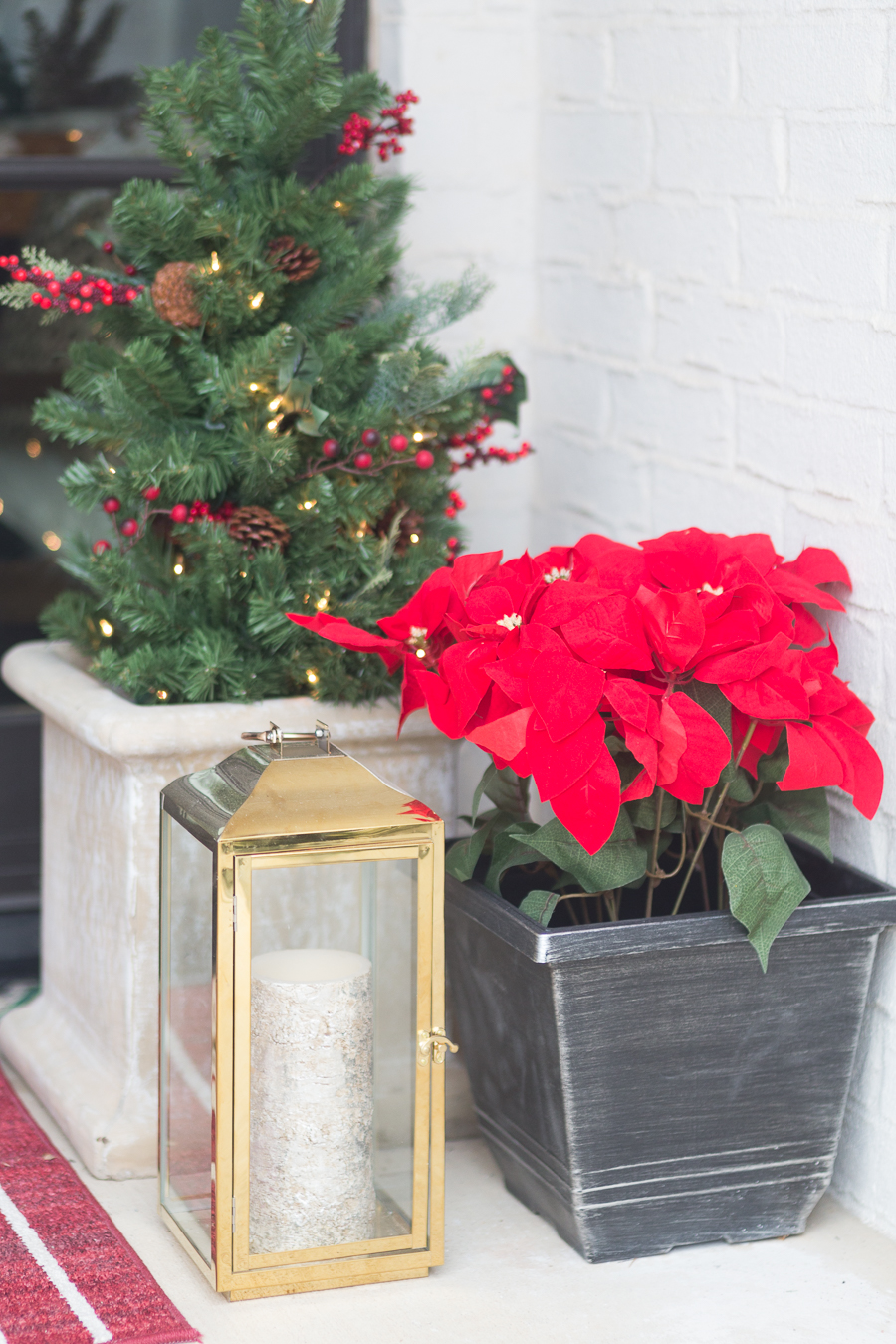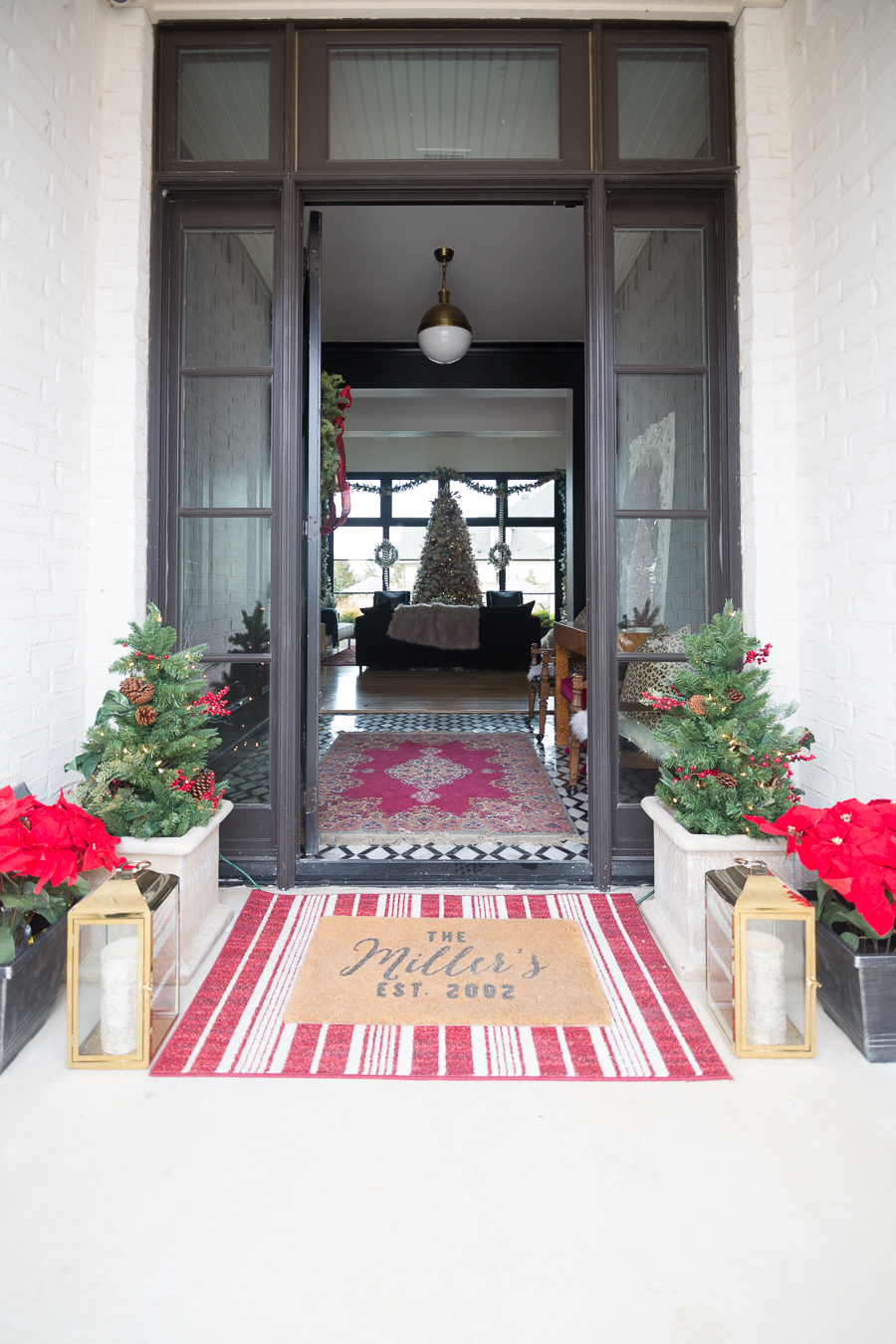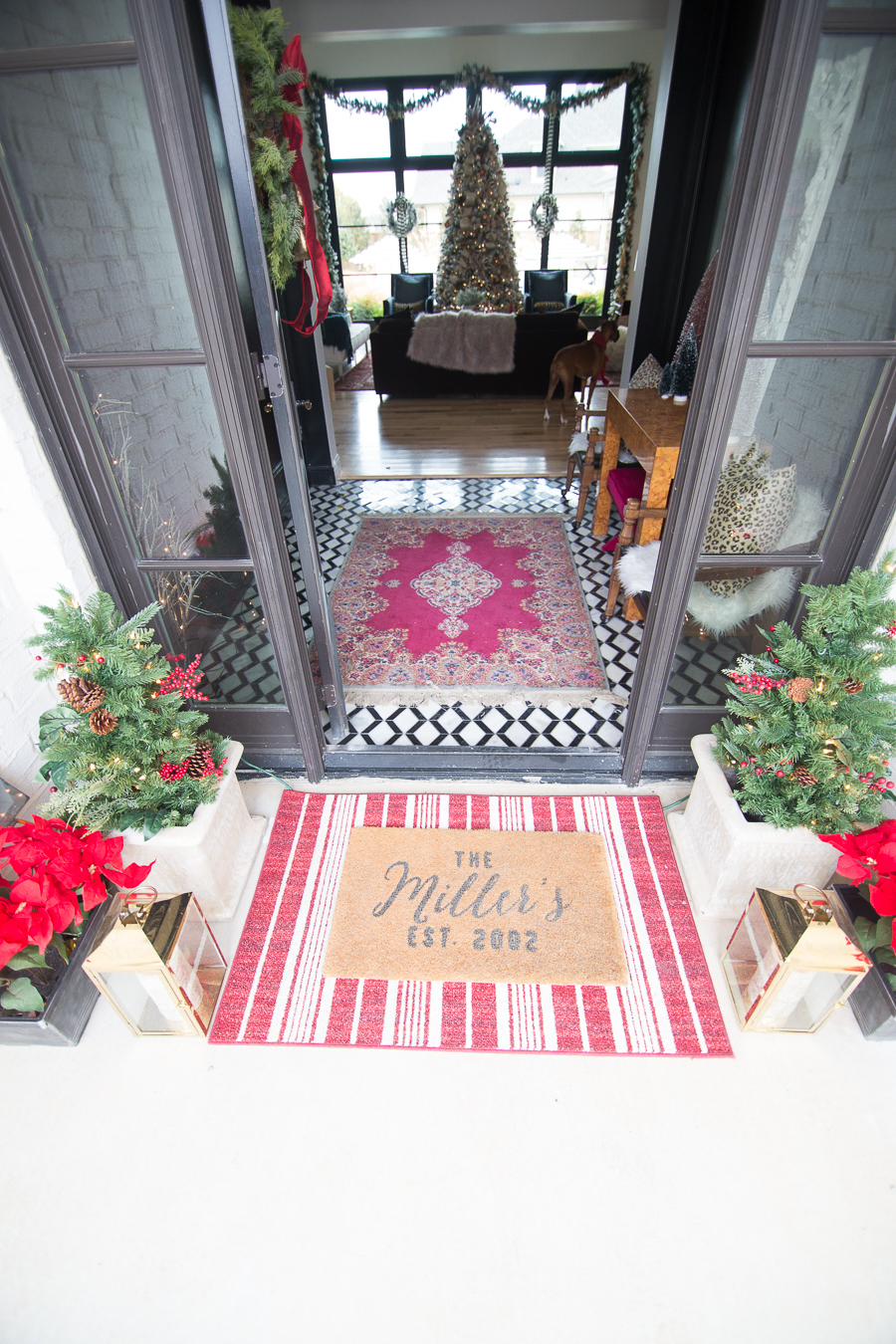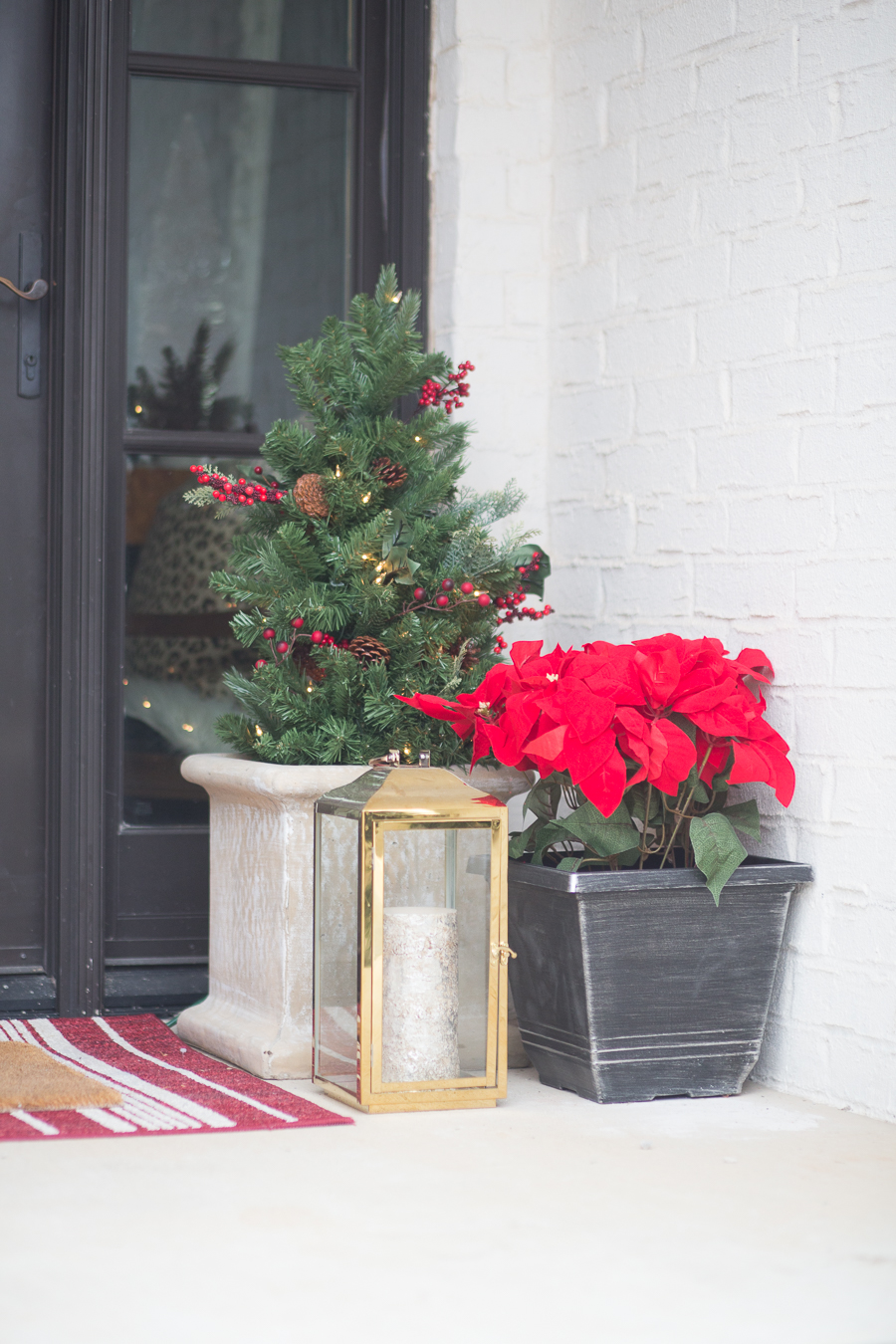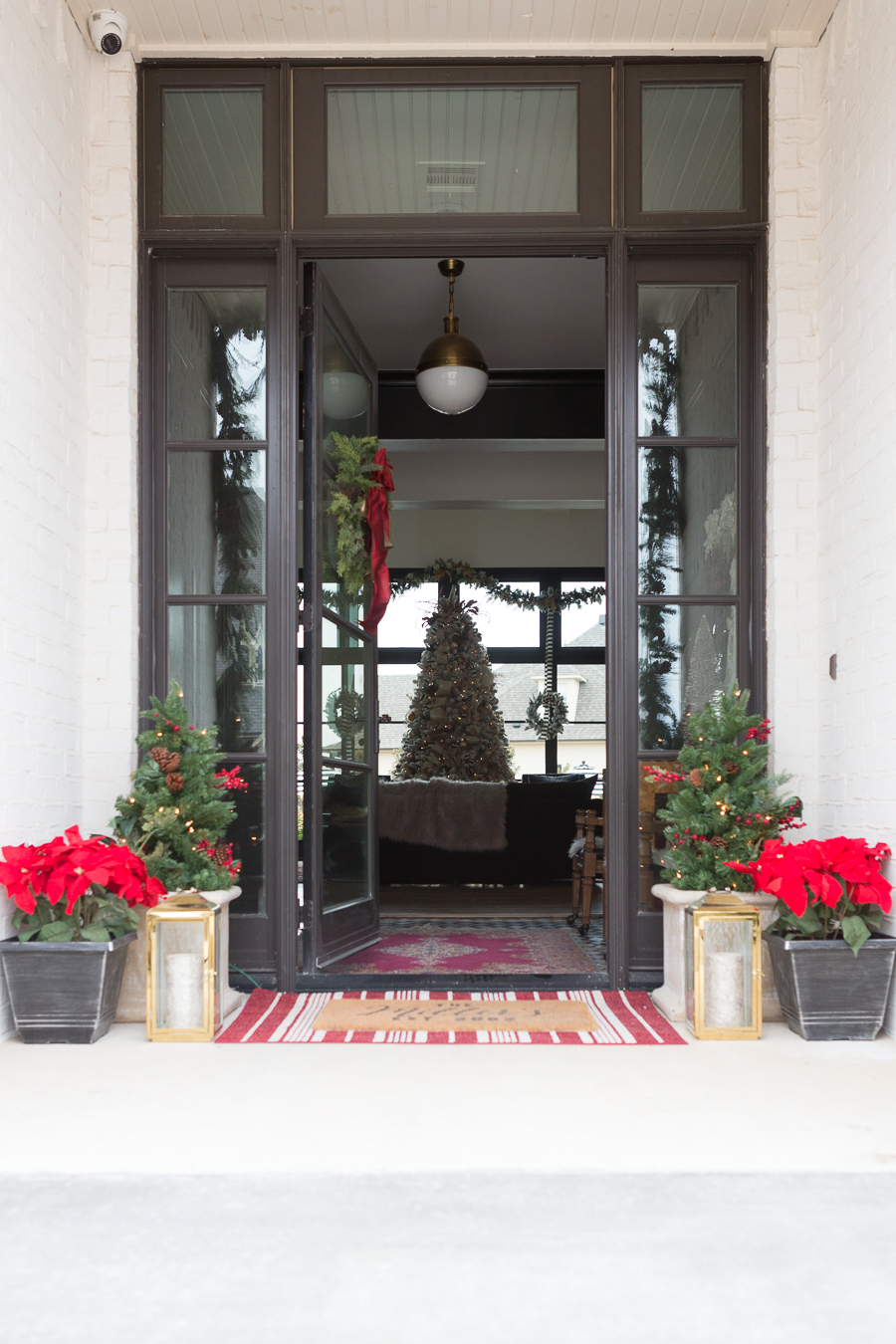 Another amazing item that The Home Depot has is these noble fir wreaths with the red bow already attached for only $7.98!  So, if you are wanting to do wreaths all over your exterior windows and you don't want to break the budget,The Home Depot is the place!!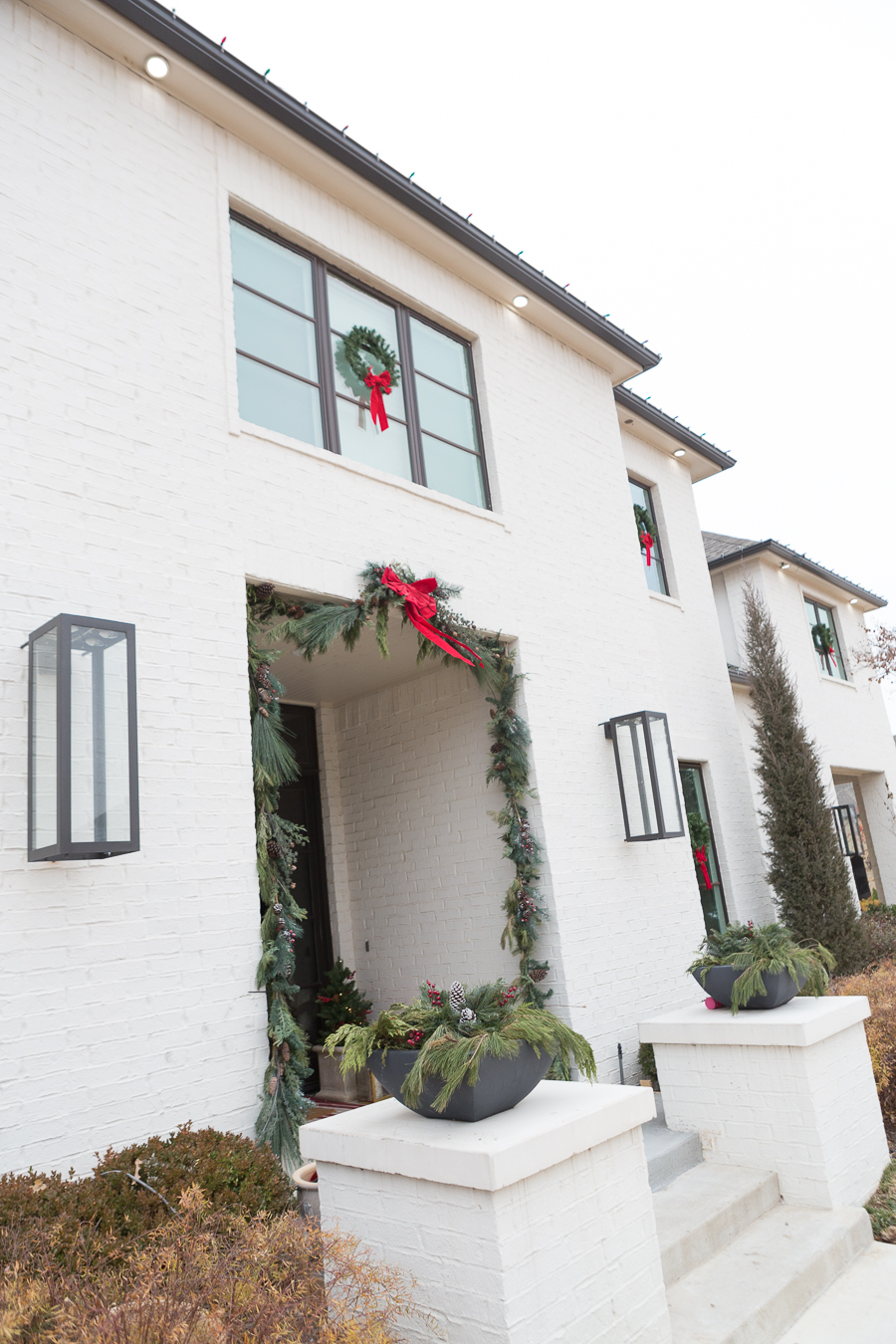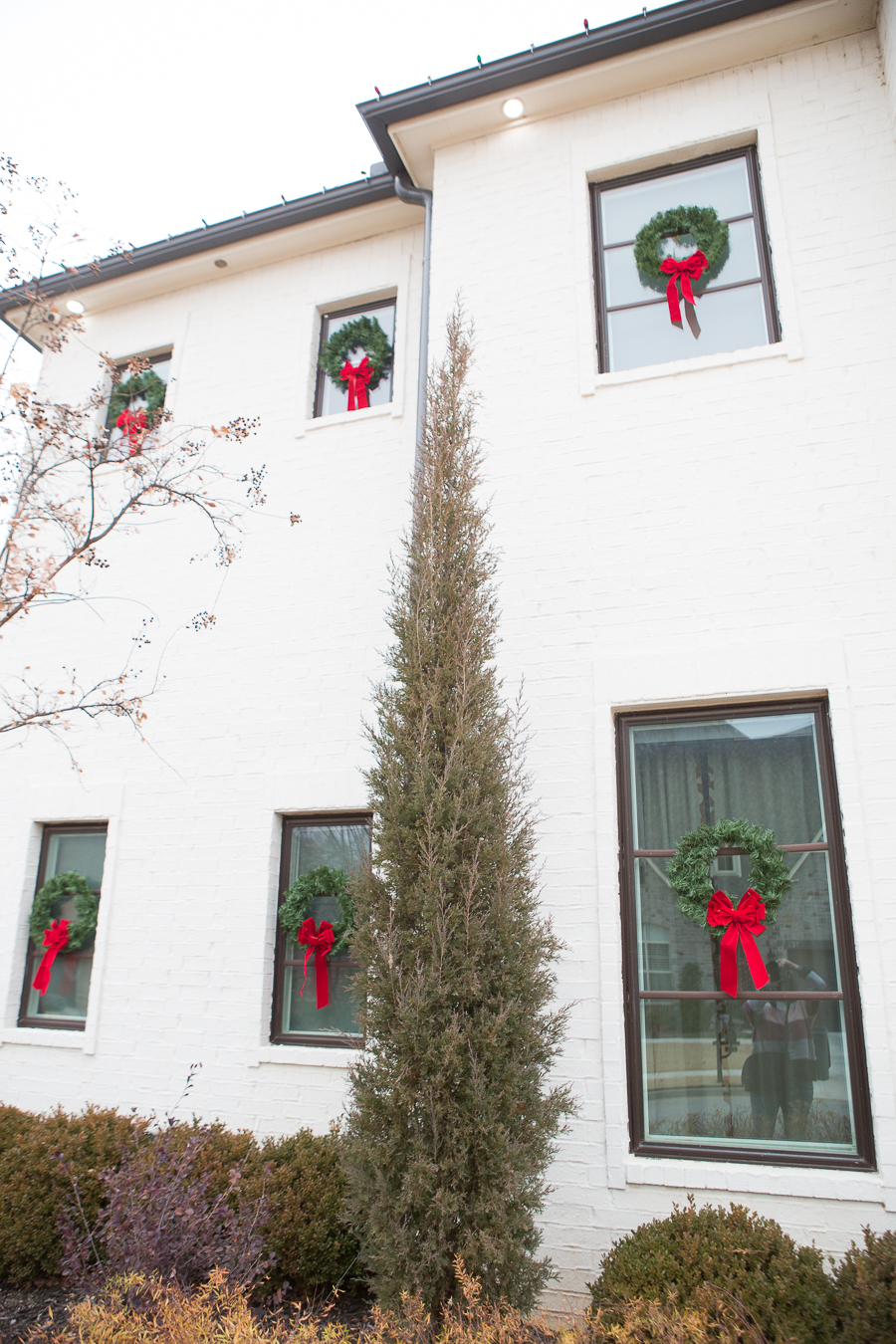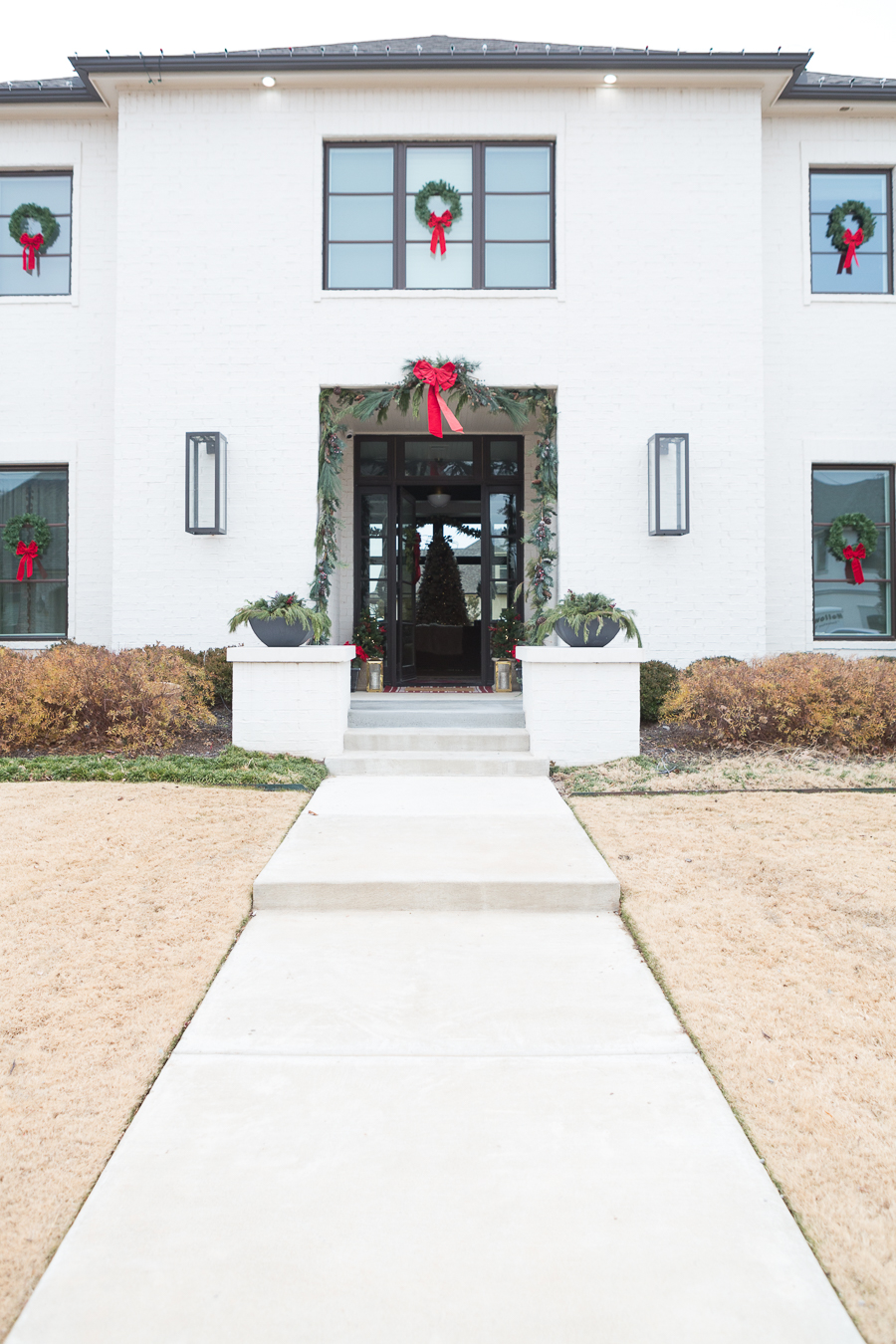 Thank you for stopping by and checking out our Holiday Decor Favorites fromThe Home Depot!  Hope you find some items fromThe Home Depot that will help you get Holiday Ready in your home!!
If you want to see more from CC and Mike, follow us on Insta | Facebook | Pinterest | Subscribe to our Blog 
SHOP ALL OUR FAVORITES FROM THIS POST: