Today I'm sharing How to Get Your Guest Bedroom Holiday Ready with Serena and Lily!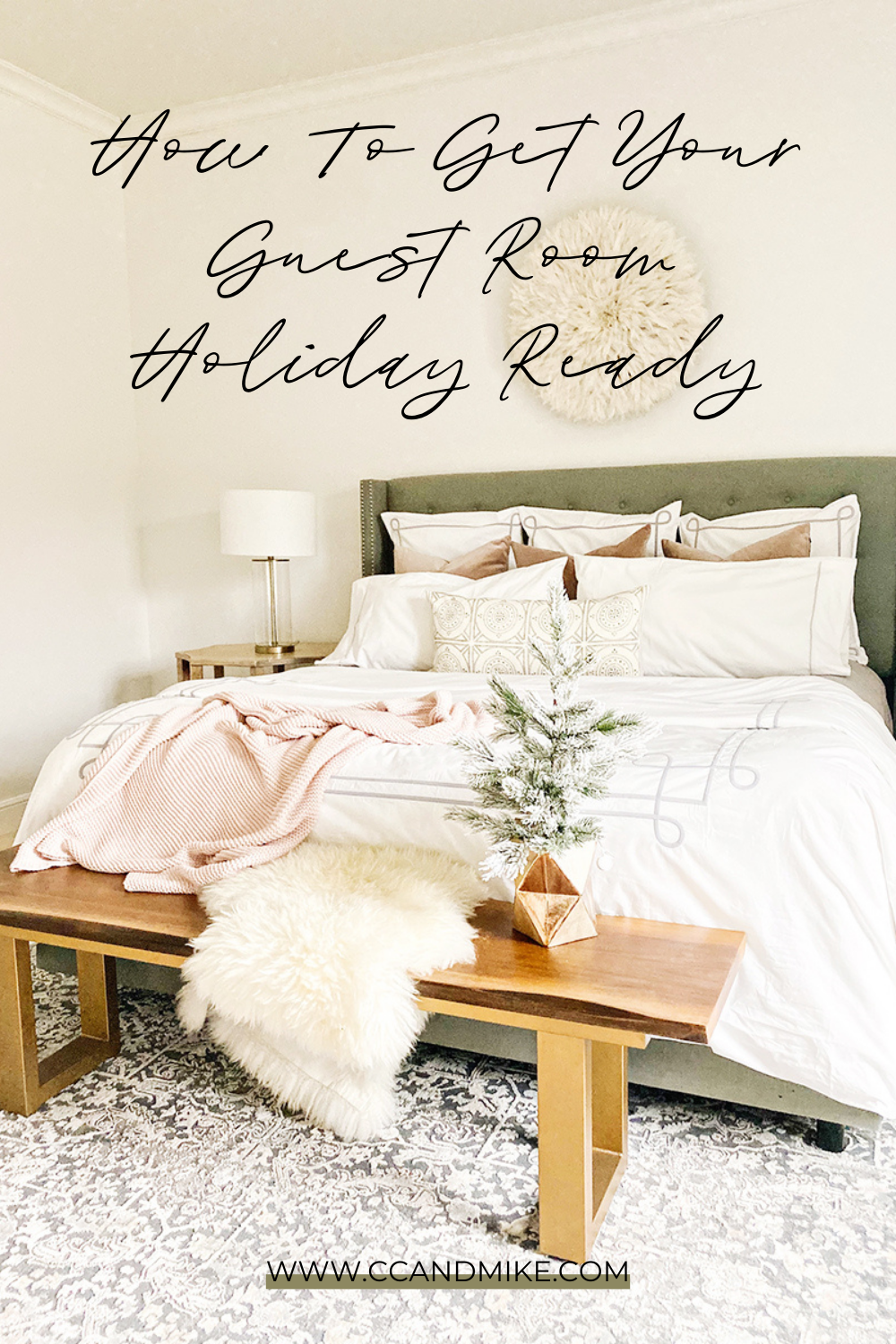 Promise not to be mad at me that it's still October and there are a few little Christmas trees sneaking into this post.  I know, I know..it is WAY too early to be thinking Christmas trees but it is NOT too early to be thinking about preparing your house for holiday guests.  It is always so nice when you go to stay at someone's home and you can tell they've put a lot of thought and effort into preparing the guest room for you.  Doesn't it just make you feel so special when you go to stay somewhere and you can tell they've prepared the linens, made the bed, have a nice candle lit, and have soft, plush bath towels and washcloths ready to go for you?  I know it sure makes me feel special and it is always my goal for my guests to feel invited and welcomed into my home when they come and stay.  There is no better way to do that than to have a welcoming, comfortable guest room and Serena and Lily hands down have the most comfortable, luxurious, and beautiful bedding with which to welcome your guests.  We recently updated our guest bedroom with all new Serena and Lily bedding and to be honest, I want to sleep in there every night myself though.  Don't worry!  Mike Miller isn't in the dog house and he is invited to come as well – ha!  It's all because of this gorgeous Southport duvet set and shams that we now have in our guest bedroom.
Shop our Southport Duvet and Shams here: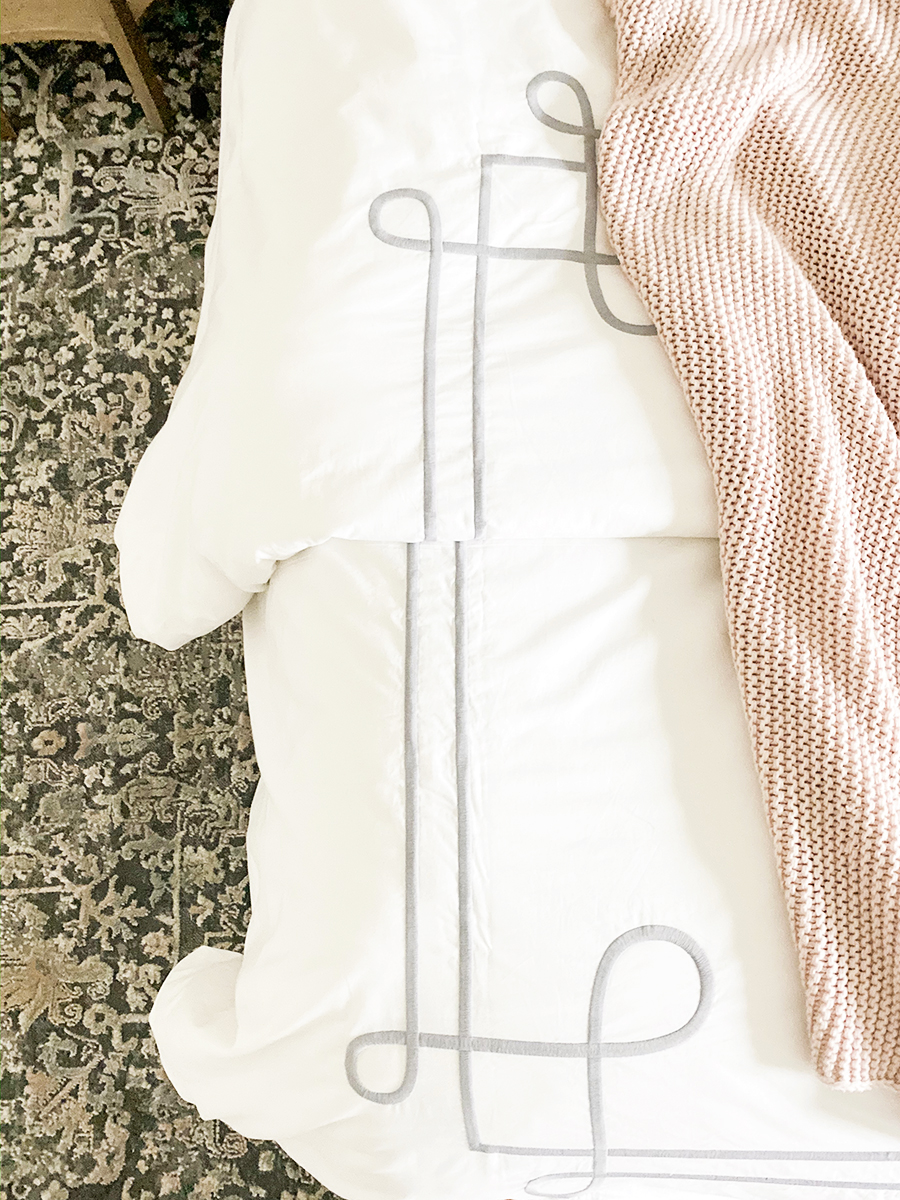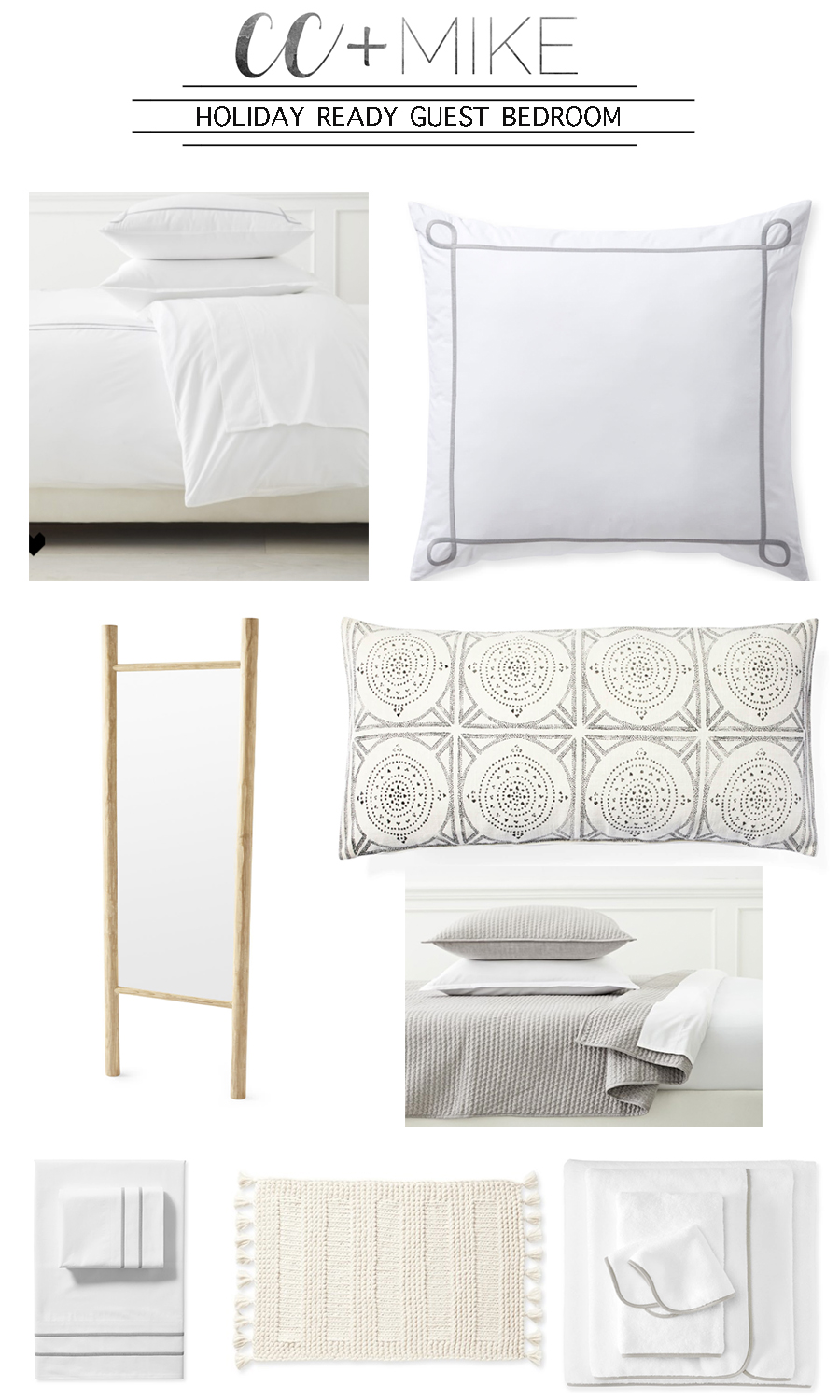 Southport Euro Shams | Euro Sham Insert |  Southport Duvet Cover | Duvet Insert | Southport Sheet Set | Mosaic Lumbar Pillow | Lumbar Pillow Insert | Westwood Quilt | Teak Ladder Mirror | Healdsburg Bath Rug | Bath Towel
Shop Our Favorite Southport Bedding Collection Here  (Scroll and Tap to Shop):

I absolutely love the gorgeous pattern on the Southport Duvet and Euro Shams.  It is so classy and just instantly elevates any space.  I selected the Southport Duvet cover and Euro Shams in the fog color but there are other color ways offered as well.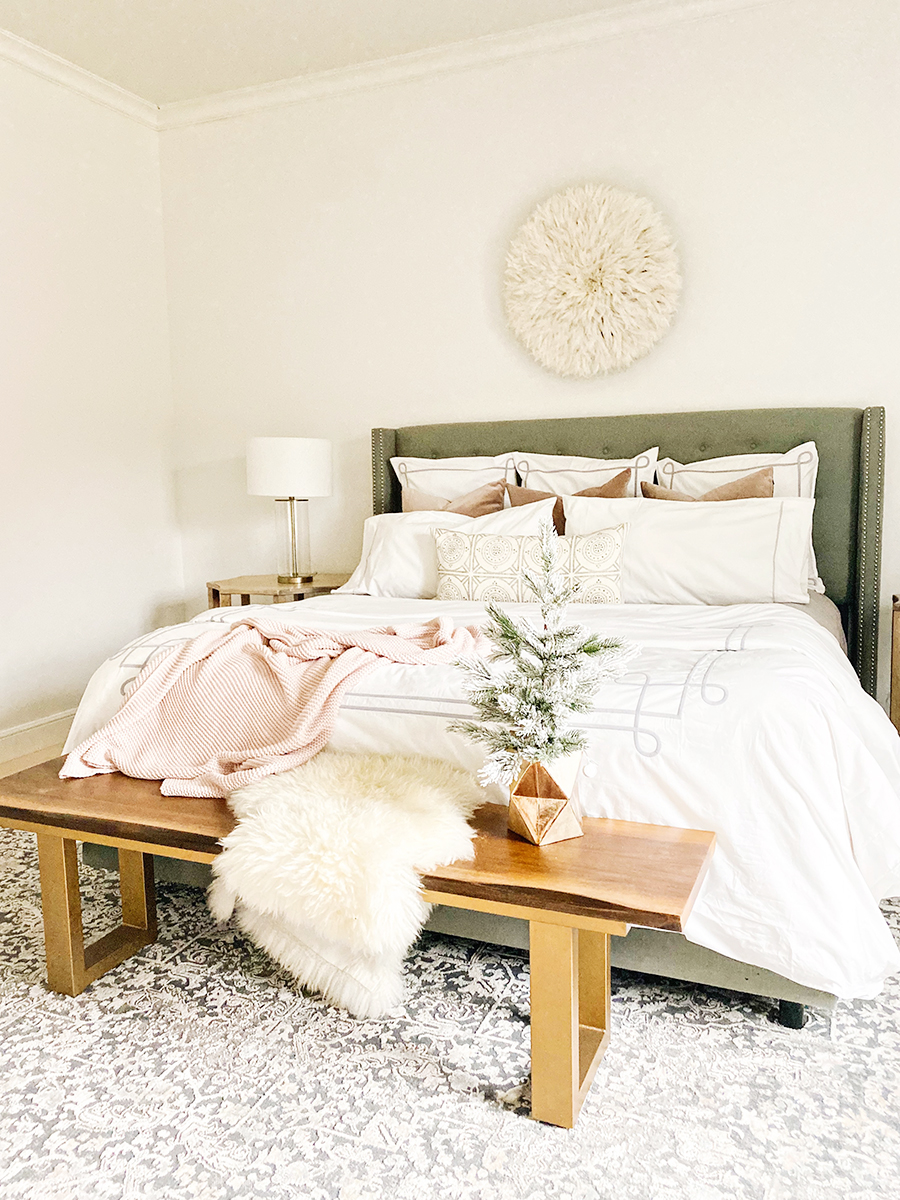 Serena and Lily also has a gorgeous selection of pillows.  I specifically fell in love with this mosaic lumbar pillow. It is also available in 3 other colors and comes in standard pillow sizes as well as the lumbar option.  I love how it pairs with the Southport Duvet and Euro Sham collection.
Scroll and Tap to Shop the Mosaic Lumbar Pillow:

I'm so in love this this beauty of a pillow.   The Mosaic lumbar pillow is so great for sofas as well as bedrooms.  I love all the color options and just can't recommend this pillow enough!  I love what it adds to our guest room and I also love how it looks on the leather sofa pictured below.  Don't forget to add an insert when you buy it.  The size on my guest bed is the 14×30 lumbar and I bought the insert that goes with it as well!
Scroll and tap to shop our mosaic lumbar pillow: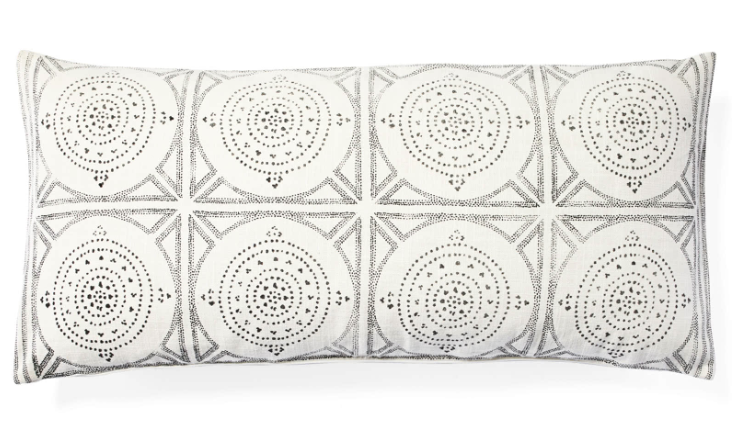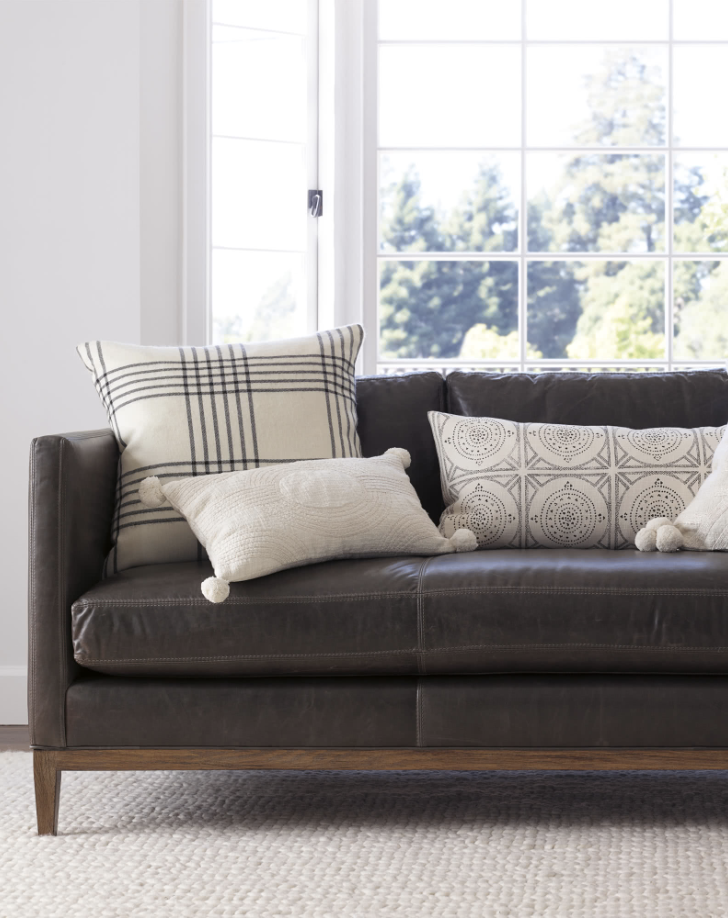 Here is a look at the entire guest bedroom.  I also love the teak ladder mirror that we put in the corner of the room.  It is available as a mirror and also as a ladder which is nice to add blankets and throws to for your guests: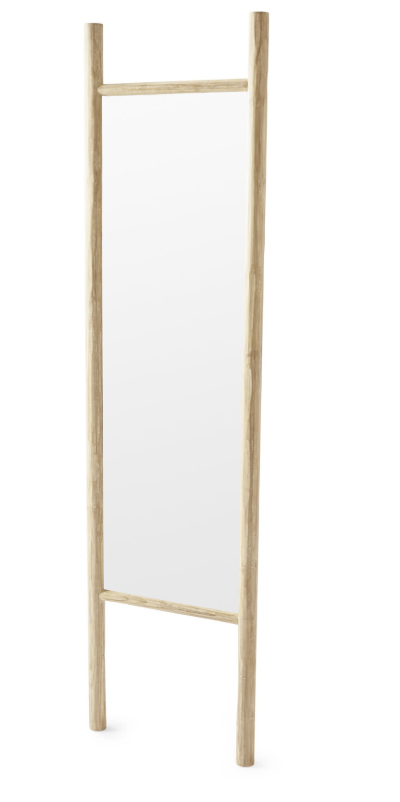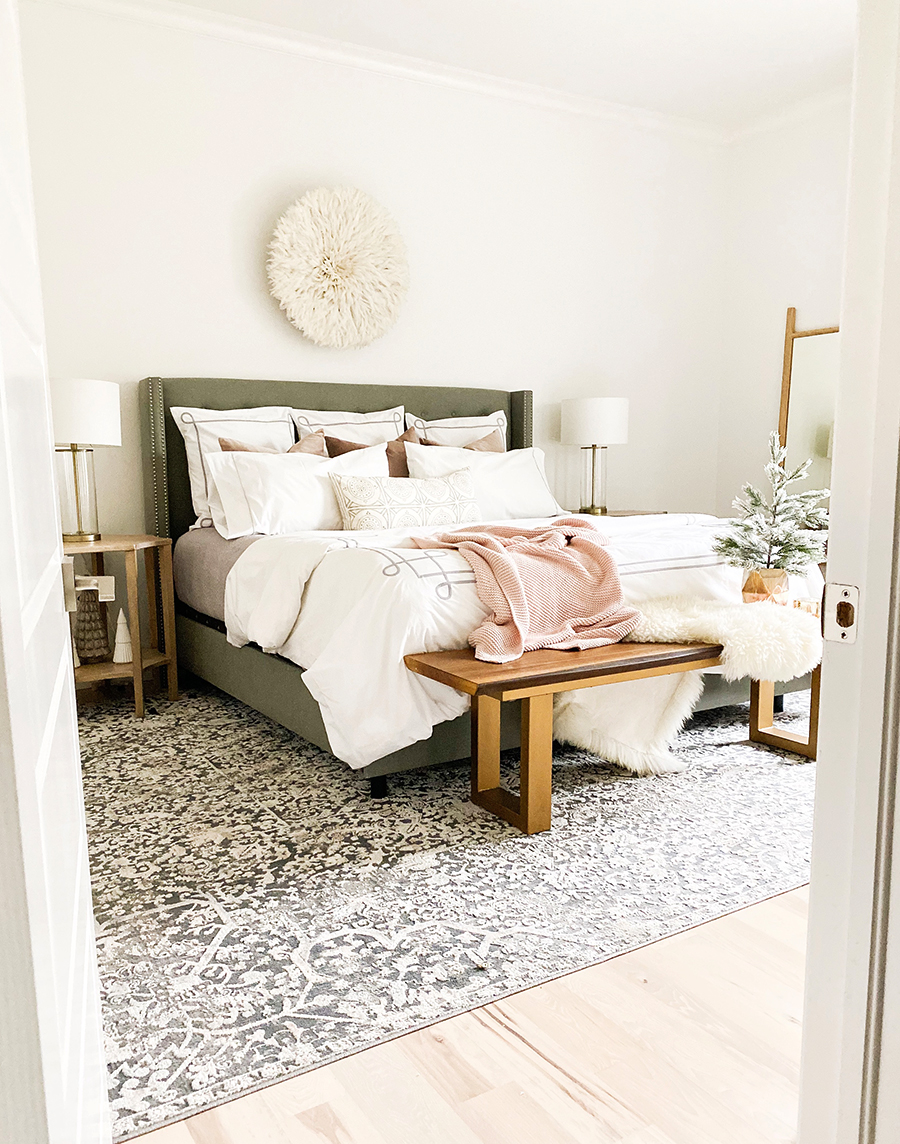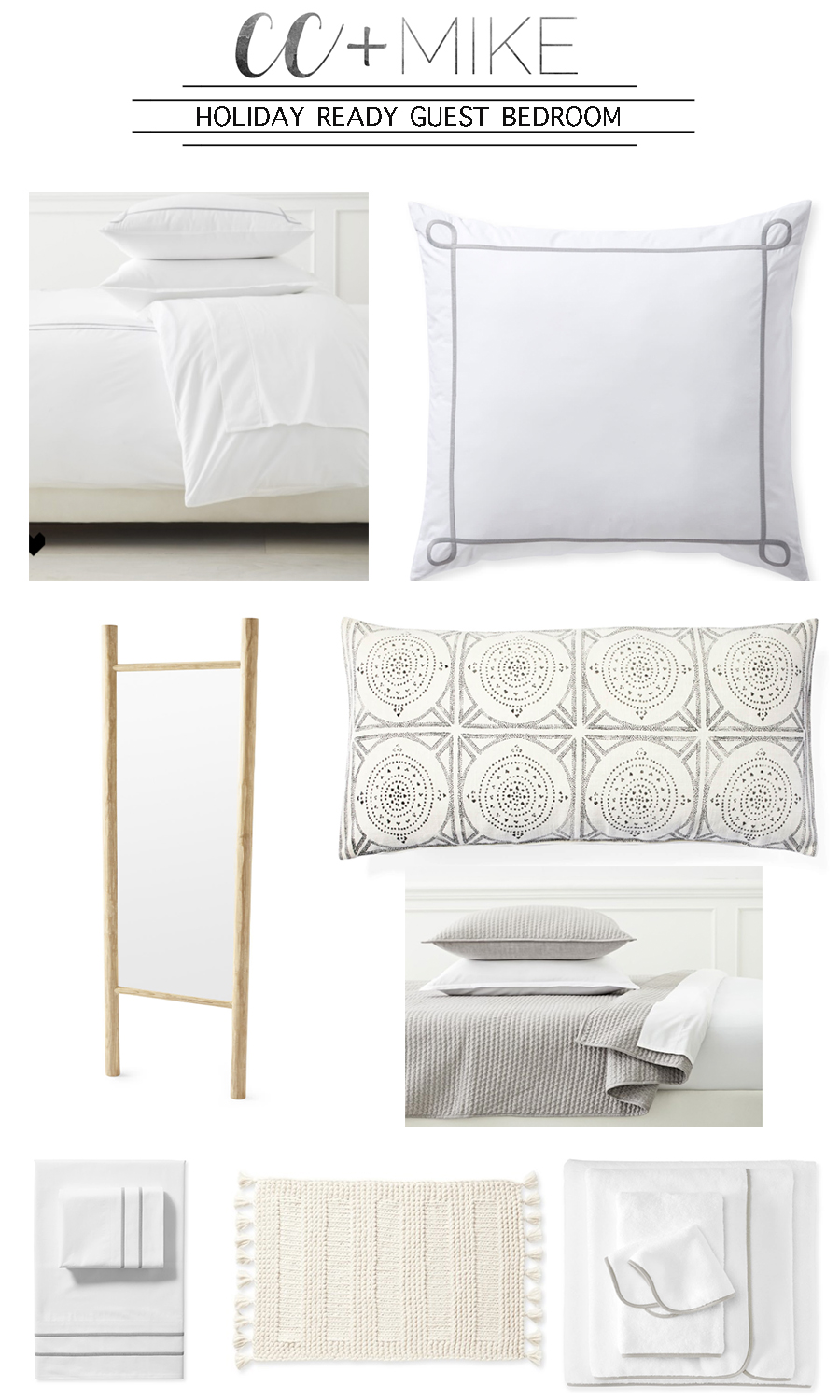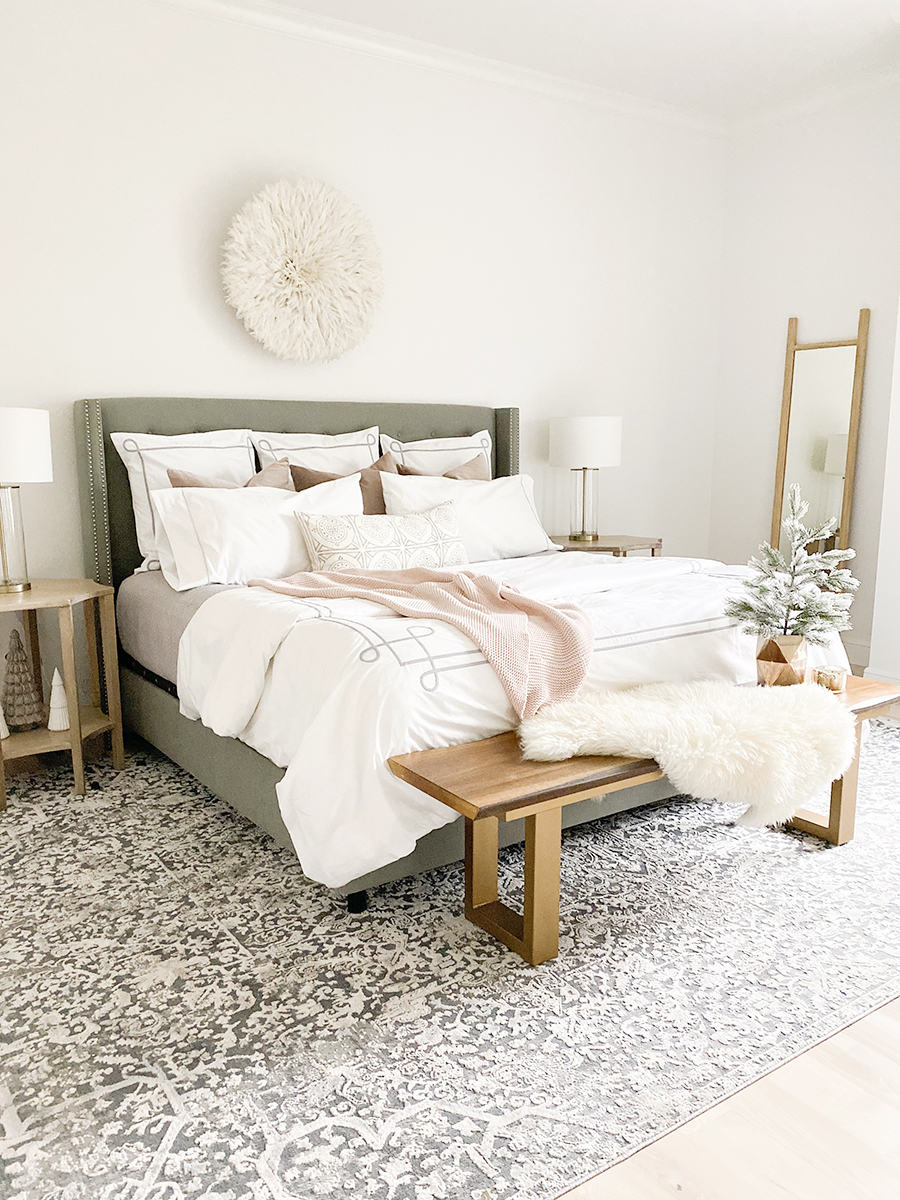 Here's another look at the detailing on the Southport Duvet.  Gosh I just absolutely love how classy this bedding is.  It is perfect for any guest bedroom or master bedroom!  It is definitely perfect if you are trying to get your guest bedroom holiday ready!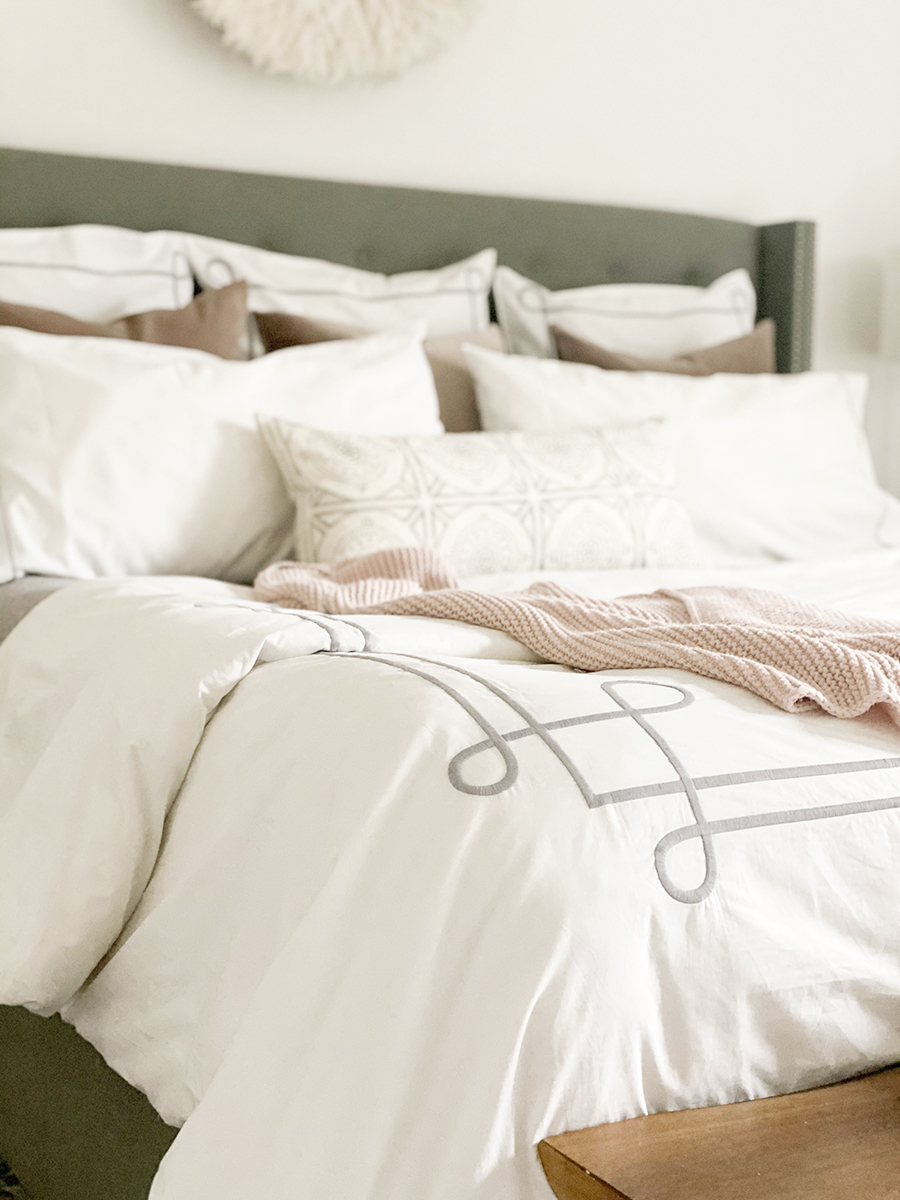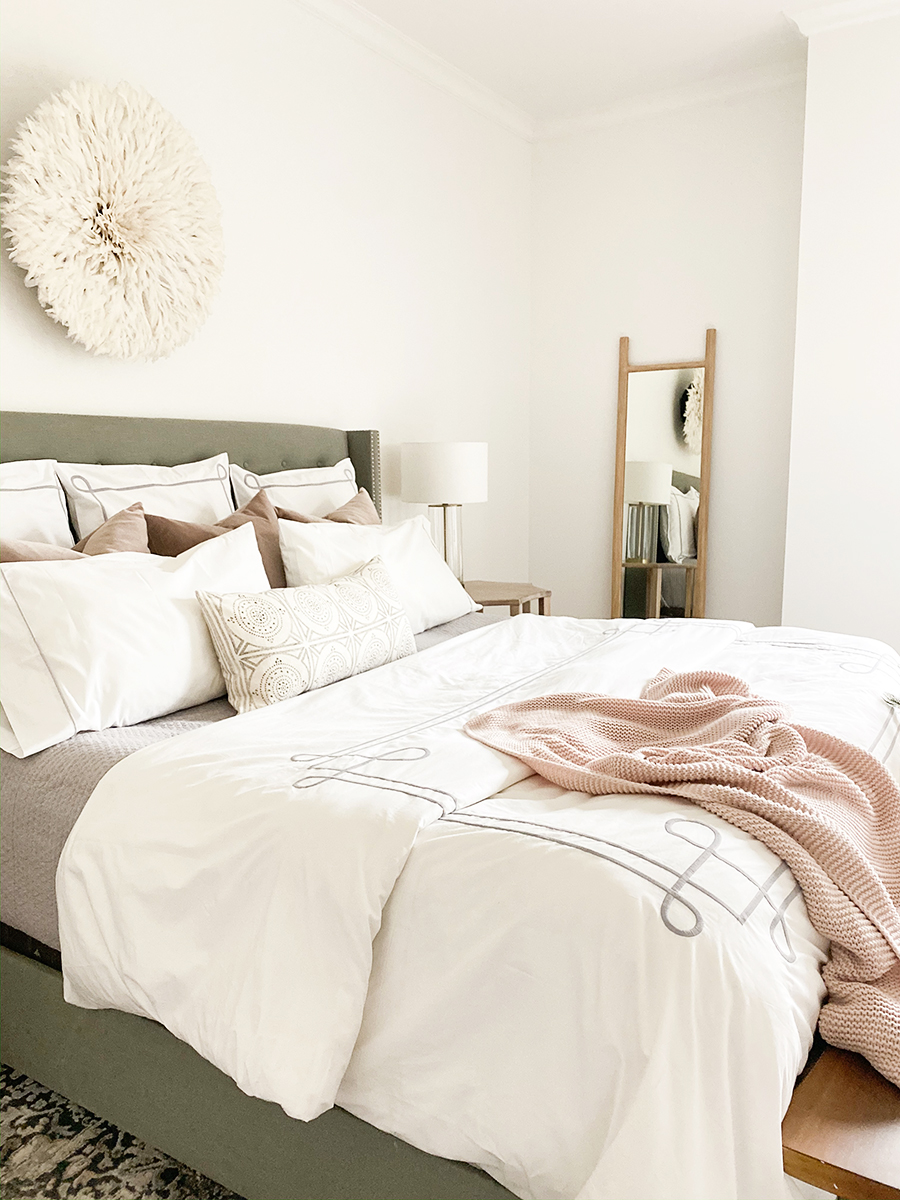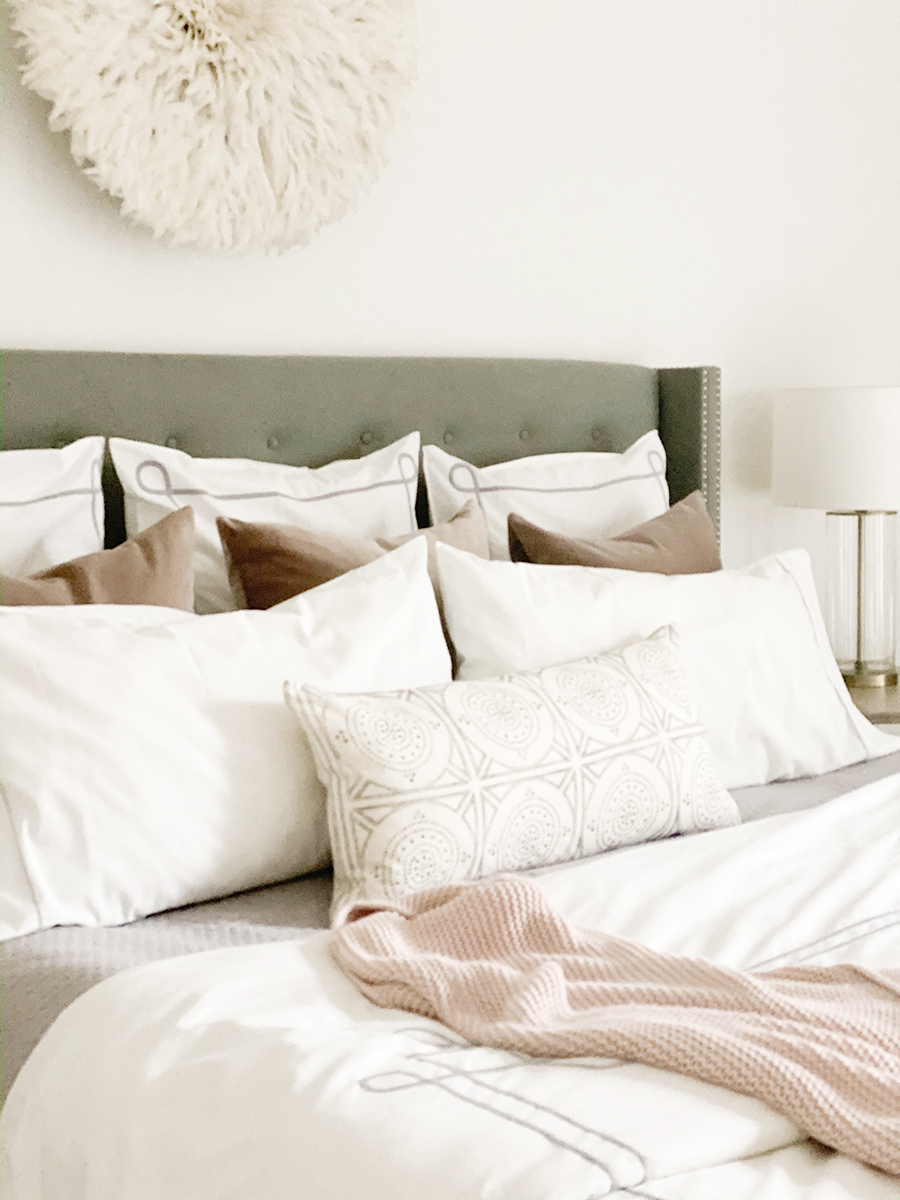 Last but not least, if you're wanting to get your guest bedroom ready for the holidays, don't forget to add some new bath towels and washcloths.  Here are some of our favorites from Serena and Lily.  I also snagged one of these gorgeous Healdsburg bath mats to go in our guest bathroom and some banded border bath towels as well:
Scroll and tap to shop our favorite Serena and Lily bath products: