I'm sharing with you guys How to Start and Anti Aging Skin Care Routine with Colleen Rothschild today!
*This is a paid partnership with Colleen Rothschild but all thoughts and opinions are, as always, my own.
Please tell me I'm not the only person who, like a typical teenager and young adult, ignored all skin care guidelines in their younger years and slathered on the baby oil and tan accelerator while at the pool, lake, and beach?  UGH.  WHAT WAS I THINKING? I have naturally tan skin and burning was never a problem for me, which meant I threw caution to the wind and never protected my skin while laying out in my younger years.  I am definitely paying for it now with sun spots, melasma, and most recently, hormonal breakouts around my lip line and chin that no matter what I used, would not go away.
Let's just say that I am now shouting from the rooftops to my daughter and all her friends that they need to protect their skin and I am trying to work backward from my years of not protecting my skin to reverse damage that has already been done.  Thank God for Colleen Rothschild.  I met the amazing woman who started this brand — Colleen Rothschild herself — at our Reward Style conference last year and to be honest, I was an insta fan.  Colleen personally helped me pick out products to start an anti-aging skin care regimen AND reverse the damage that I had done to my skin over the years.  She also introduced me to a hair mask that has literally transformed my hair.
But for this post, I wanted to share with you the skin care routine I have been using with Colleen Rothschild and show you how it has helped reverse some of my sun spots, melanoma, and the hormonal breakouts I was having.
SCROLL AND TAP TO SHOP MY COLLEEN ROTHSCHILD SKIN CARE ROUTINE: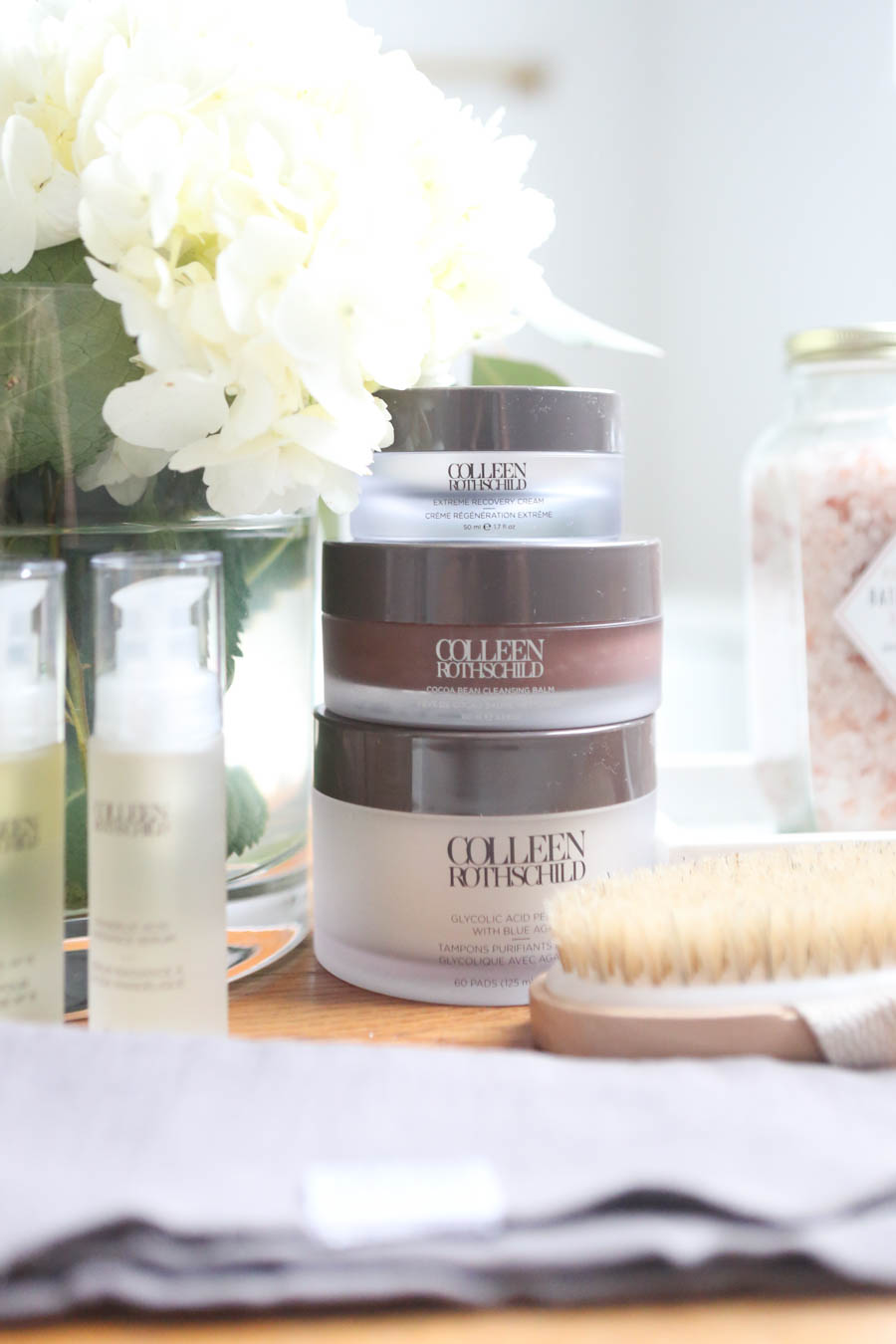 The past few years as I have approached the big F-O-R-T-Y have definitely brought about drastic changes in my skin and hair.  To be honest, my skin and hair were always some of my favorite features about myself and were things that, in looking back, I completely took for granted. I didn't take care of my skin or my hair in my youth and just assumed it would always be as it had once been.  Um, SO. NOT. THE. CASE.  It was really discouraging when I started experiencing hair loss and skin problems (breakouts, melasma, age and sun spots, etc..) and to be honest, I had no clue what to do about it.   THANK GOODNESS I met Colleen Rothschild at our Reward Style conference and she held my hand (like, quite literally) and helped me come up with a process to restore my hair and start reversing the damage I had done to my skin over the years.
First of all I want to show you the BEFORE and AFTER PICTURES of the breakouts I was having on my face that I could not contain before I started sing Colleen Rothschild skin care routine.  It's important for me to tell you that both the before AND after pictures are completely unedited and I am showing you the raw photos of my face with no makeup on whatsoever!  Also, this is after only two weeks of using the skin care protocol below.  When I started having these breakouts I contacted my friends at Colleen Rothschild and asked for advice on what to do about my new hormonal breakouts. They immediately recommended the Mandelic Acid Radiance Serum paired with the Extreme Recovery Cream and put some in the mail for me to use in conjunction with the Radiant Balm Cleanser, Face Oil No. 9, and Age Renewal Super Serum I was already using.  I'm writing this post only two weeks after adding the mandelic acid serum to my skin care regimen and I can already tell that there is some fading on the sun spots and melanoma and the breakouts around my chin that I could not get rid of are completely cleared up.  There is some slight scarring right now because the breakouts lasted for almost two months, but I have faith that this protocol is going to completely reverse the scarring as well!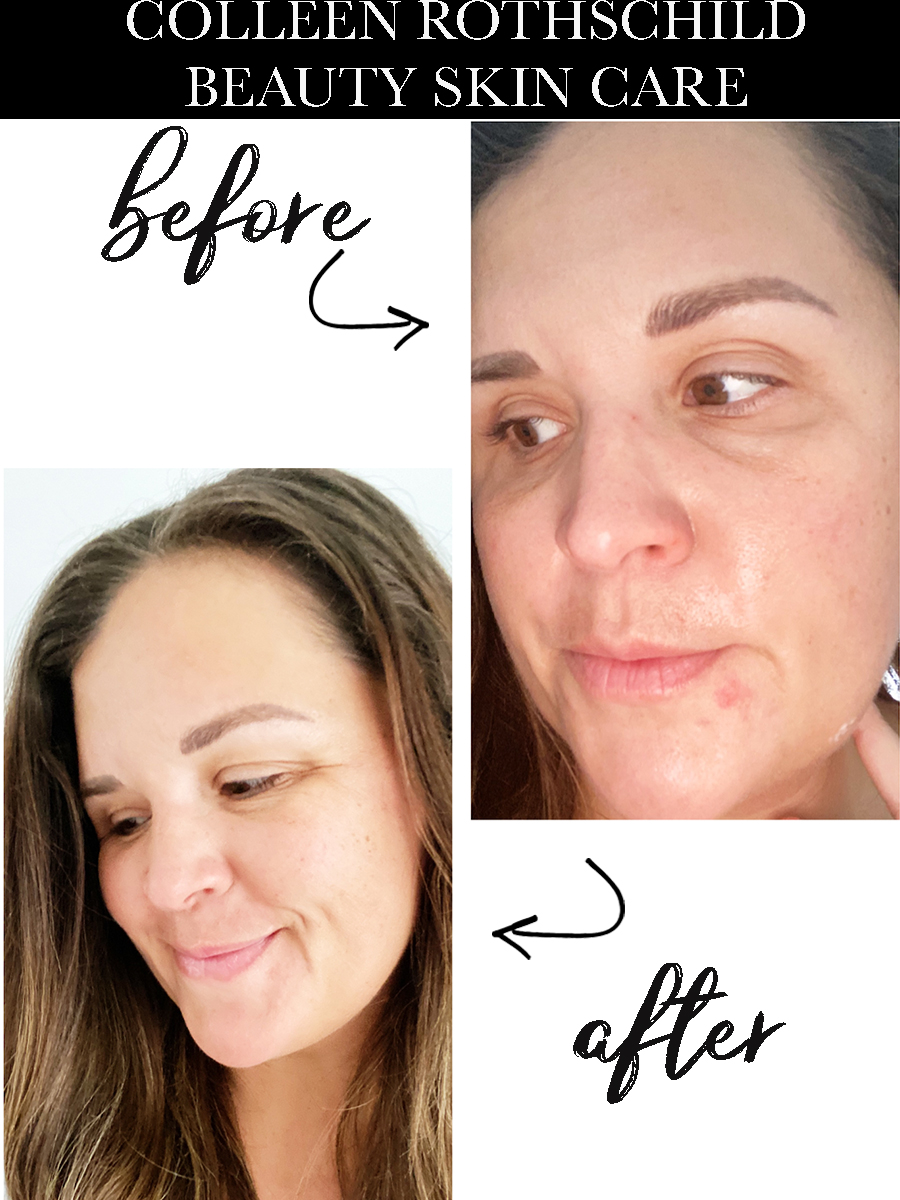 Alrighty I did my deed and showed you a BEFORE and AFTER picture with NO makeup so now let me share a picture of my skin with makeup on.  I have to tell you that even with makeup on I was unable to cover up the hormonal breakouts around my lips and chin.  They were showing through the multiple layers of cover up I was using to try to hide them.  My sun spots on the left side of my cheek were also showing through my make up and the melanoma on my upper lip was unable to be hidden as well. 🙁
Here is a look at my skin after two weeks of adding the Mandelic Acid Radiance Serum and Extreme Recovery Cream  to my skincare protocol: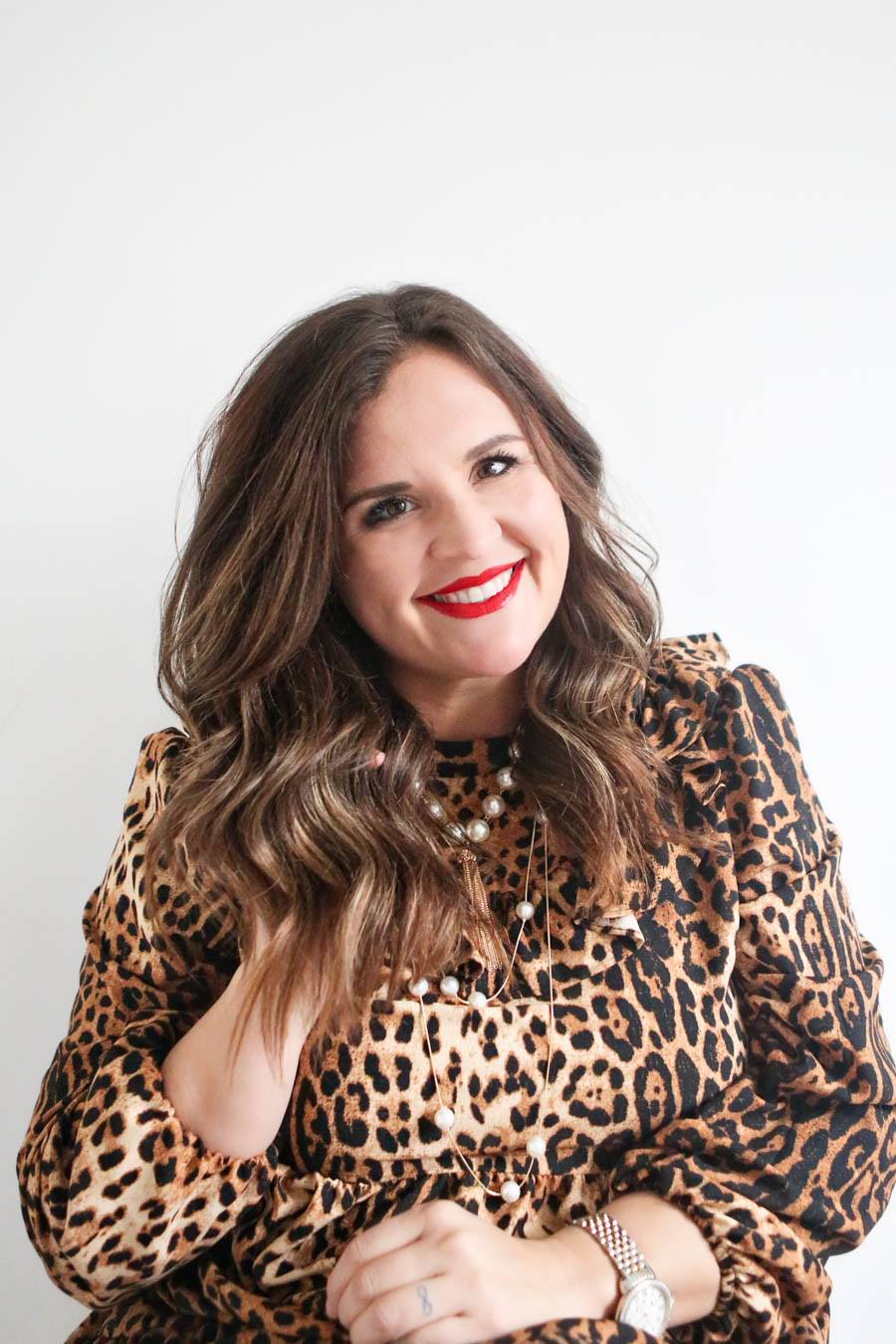 Here is the ANTI AGING SKIN CARE ROUTINE I have been following with Colleen Rothschild.  This is the exact order that I use the products in and below this collage you will see an explanation of each product and what it is used for.  I generally keep the Radiant Cleansing Balm in my shower and/or bath and use it to remove my makeup and cleanse my face when I am in the shower or bath.  After that, I do steps 2 through 6 in order before going to bed.  In the morning, I also repeat these steps 2 through 5 but I only use the eye serum and radiant cleansing balm at night (Steps 1 through 6).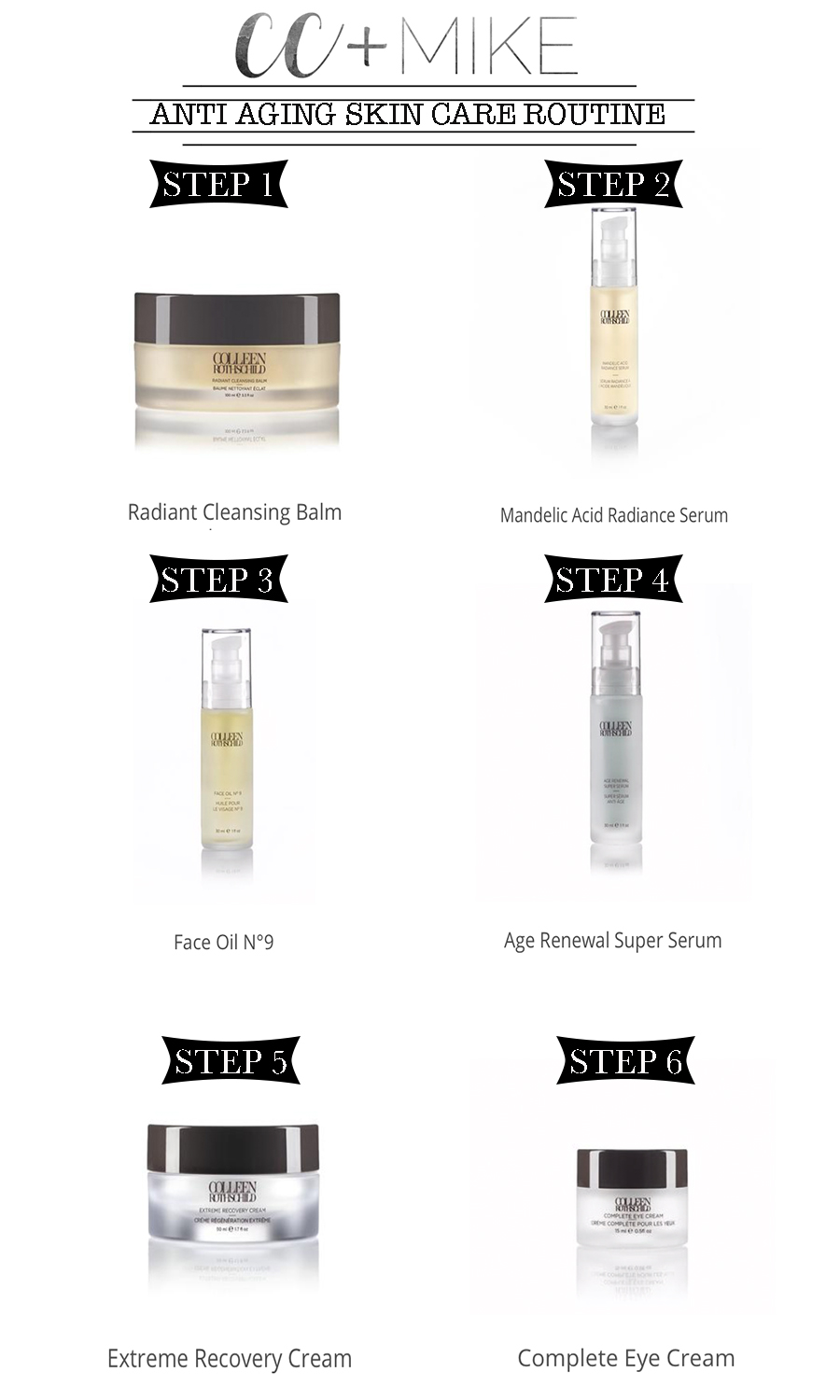 1.  RADIANT CLEANSING BALM: This is actually the very first original Colleen Rothschild product that I got at our conference last year. It is what sold me on her products! After using this product there was no going back for me.  I LOVE how it feels when you apply this and cleanse and remove your makeup. I have never – and I do mean never – used a makeup removal that removes my mascara as thoroughly as this product and I love how fresh and clean it leaves may face feeling.  Once I remove all my makeup, I then follow with the products below.  The comprehensive Radiant Cleansing Balm clears congested pores and removes impurities while dissolving all traces of makeup, leaving skin balanced, soft, and radiant.
2.  MANDELIC ACID RADIANCE SERUM – This is what has made the huge difference in my breakouts and reversing some of my sun and aging spots! The Mandelic Acid Radiance Serum is a daily treatment that promotes cellular turnover, which addresses photo-aging, fine lines, acne, dark spots and overall skin texture. Derived from the bitter almond, Mandelic acid is a gentle yet highly effective alpha hydroxy acid (AHA).
3.  FACE OIL NO 9 – Face Oil N°9 combines nine transformative oils that provide an intense moisture boost, deeply nourish thirsty skin, and leave your complexion radiant after the first application. The active combination of precious oils and vitamins offers protection from oxidative stress that results in the appearance of spots and wrinkles. This formula also improves the skin's moisture barrier for enhanced cellular function and hydration, leaving no greasy residue.
4 – AGE RENEWAL SUPER SERUM – Age Renewal Super Serum effectively fights the six signs of aging: texture, dehydration, elasticity, fine lines, radiance, and tone.
5. EXTREME RECOVERY CREAM – Extreme Recovery Cream delivers intensive care for delicate, dehydrated skin. It provides maximum levels of continuous moisture while strengthening the hydro-lipid barrier. Next-generation ingredients fight signs of fine lines and wrinkles while evening out skin tone and texture.
6.  COMPLETE EYE CREAM –  I actually have this on order and plan to add it to my nightly skin care routine. It comes HIGHLY recommended from multiple friends and bloggers I trust and after seeing some of the recent photos (up close – ha!) of my face that I did for this post, I realized I need to add an eye cream to my protocol.  I already know it will be amazing because all Colleen Rothschild products are! Complete Eye Cream addresses the most common enemies of eye aging: wrinkles, fine lines, under-eye circles, puffiness and loss of elasticity. The formula includes a series of clinically proven peptides combined with hydration-boosting botanicals that strengthen the collagen-elastin matrix. Dark circles and puffiness begin to diminish while fine lines and wrinkles are visibly reduced.
SCROLL AND TAP TO SHOP MY Colleen Rothschild SKIN CARE ROUTINE:

Worried about cost?  I know, I know.  I want to be honest with you and say that a huge reason I never started a skin care routine of my own until I was forty years old was cost.  Now I'm looking back and regretting it.  One thing I've realized is that, like most things in life, you get what you pay for. The other thing I didn't realize is that these products last so long!  Yes it's an invesment on the front end but I am seriously still using several of the products that I received in April of last year from our Reward Style Conference.  They last for a very long time so you aren't having to replace them every month or even every other month.  Right now there is a huge LEAP YEAR SALE going on for Colleen Rothschild which makes it an incredible time to buy these products and start your own skin care routine. Here are the details of the LEAP YEAR SALE.  If you were to buy all these products and start your own skin care routine you would receive 25 percent off your purchase with code LEAP25.  If you're reading this post after the LEAP YEAR sale has concluded, no worries…Colleen Rothschild is amazing about running regular sales so I'm sure you can watch their Instagram account and website and find their next upcoming sale!
25% Off $300+ Purchase with Code: LEAP25
20% Off $200+ Purchase with Code: LEAP20
15% Off $100+ Purchase with Code: LEAP15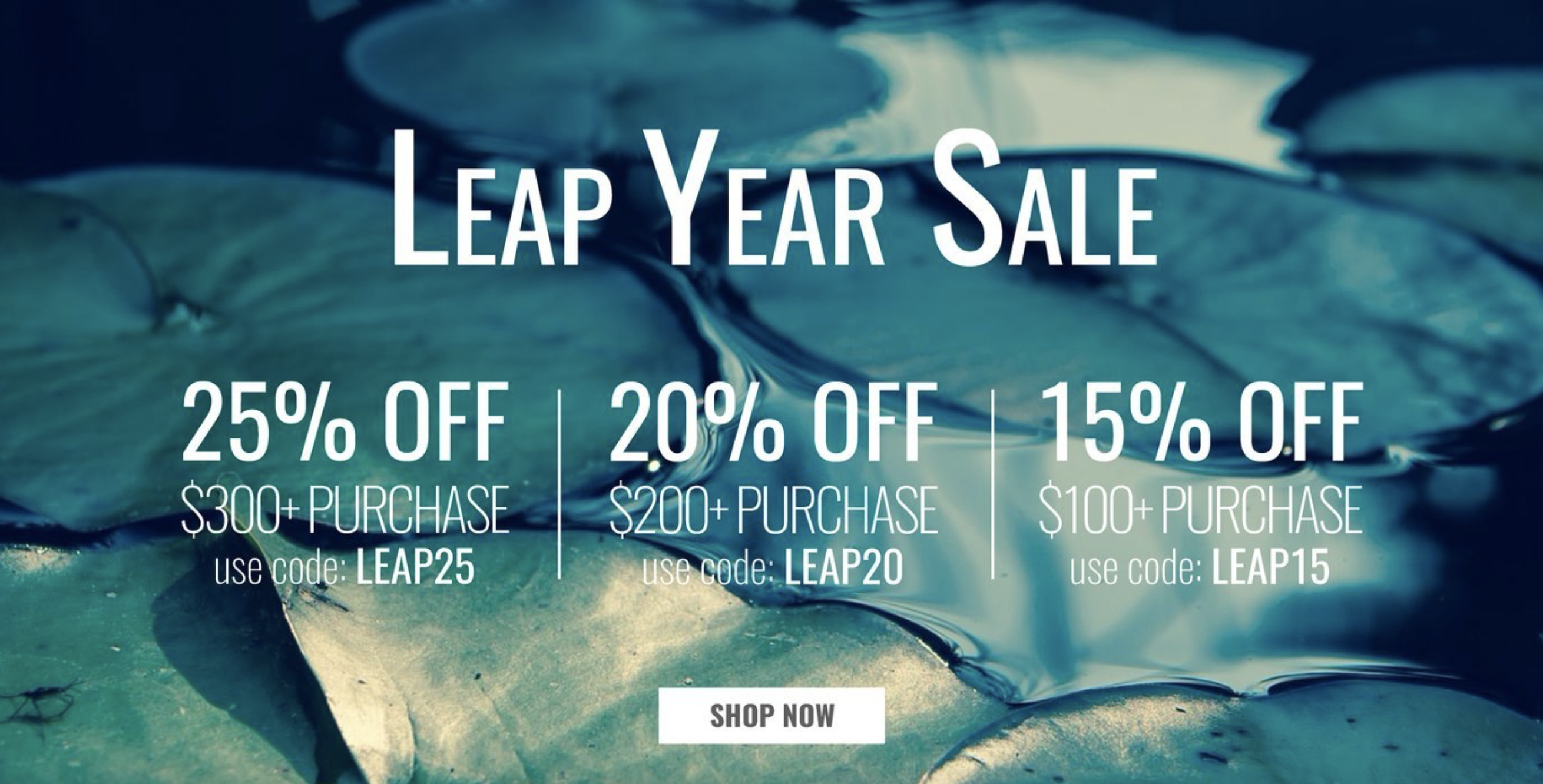 If you are looking for gift ideas, I also highly recommend gifting Colleen Rothschild.  Some of my favorite items to gift are the Tahitain Body Set (so amazing for all those bath lovers out there like me!), the cocoa cleans balm (this is like the radiant cleansing balm but made with cocoa beans and it's UH-MAZING!), the restorative hand cream, and the hair mask!
SCROLL AND TAP TO SHOP MY Colleen Rothschild GIFTING FAVORITES: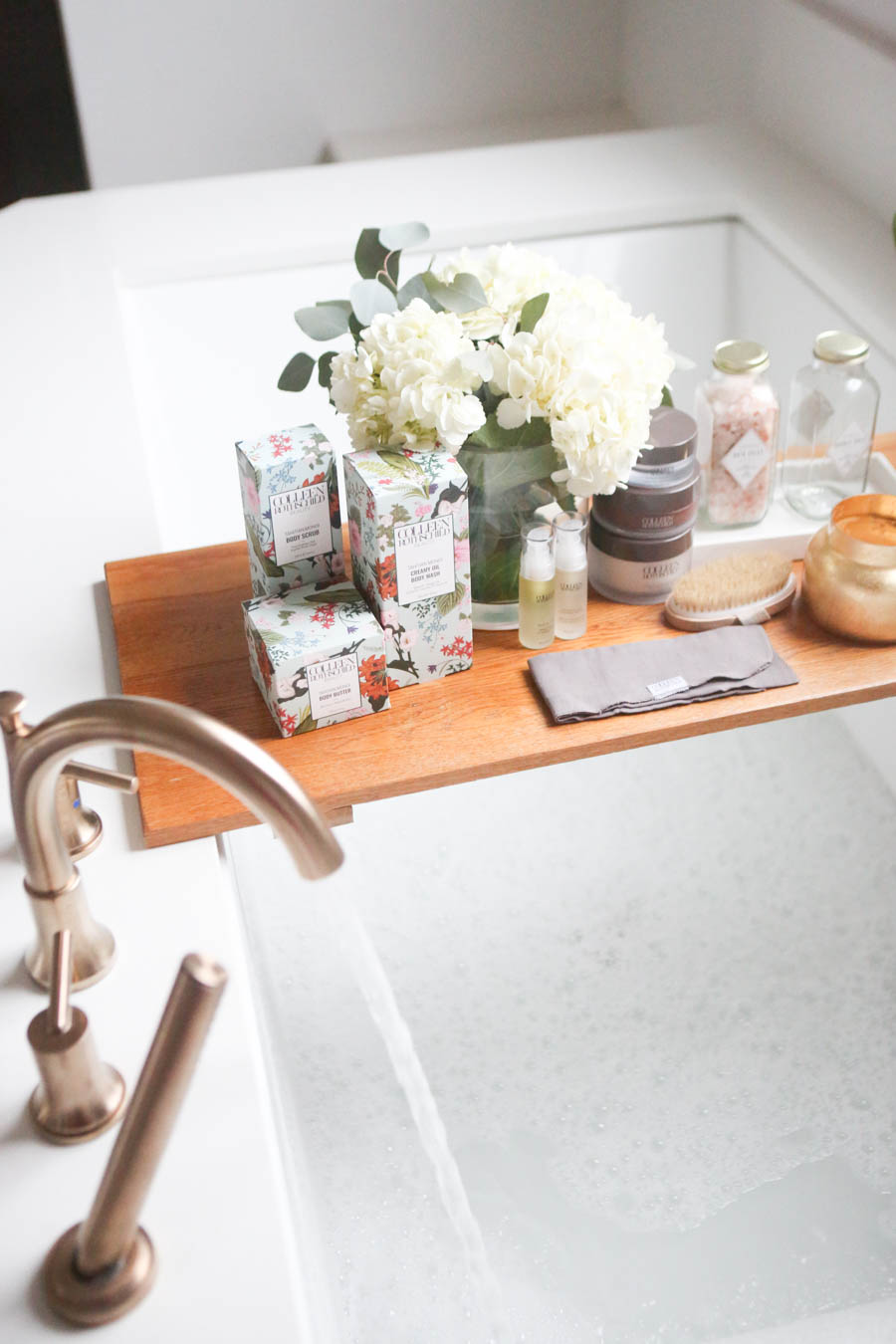 I keep this entire set right by my bathtub and love using the budy wash, body scrub, and body butter.  the packaging is also so cute which is one of the many reasons I love recommending them for gifting!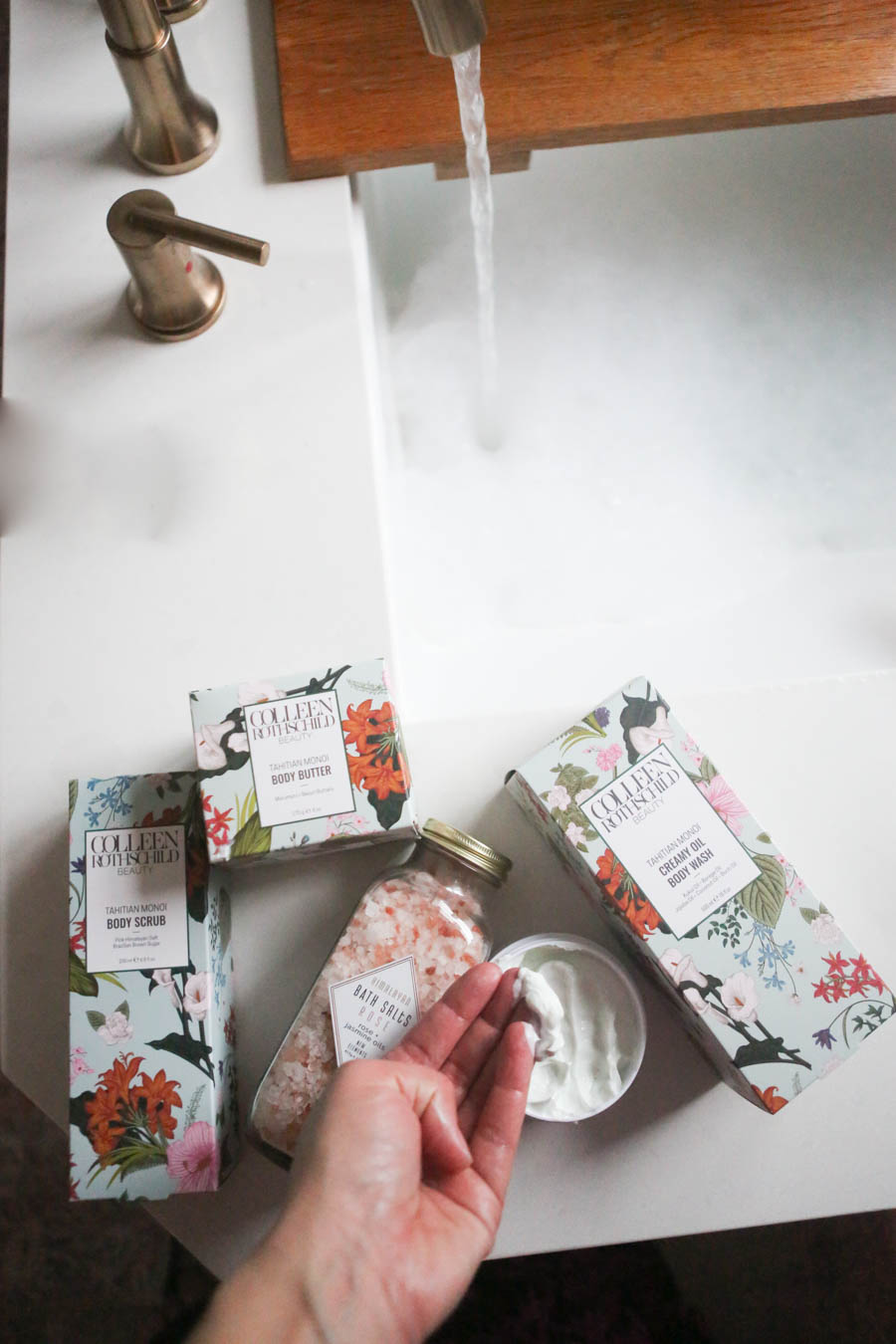 Hope you enjoy this post on How to Start and Anti Aging Skin Care Routine With Colleen Rothschild.  Whether you are a young teenager or adult looking to protect your skin (unlike I did in my younger years) or someone middle aged like me, I can't recommend Colleen Rothschild products enough to protect your skin and hair. They have been transformational for me and I hope they will be for you as well!