I'm so excited to Share this post with you guys on How to Style 20 Walmart Fashion Items 20 Different Ways.  From casual, every day clothes, to comfy jeans and sherpas, to sequins and faux fur for a night out on the town, Walmart has you covered for whatever your fashion needs are.  I specifically want to highlight Walmart's new Scoop Fashion line and Sofia Vergara jeans in this post and show you my 20 favorite fashion items from the lines and how to style them!
*I was paid for this post.  As always, thoughts and opinions are my own.
First off, this black and gold foil top is from the Scoop collection and it's a perfect example of the amazingness that you can get from this collection.  It's only $34 and has been a best seller!  I'm wearing it with the Rosa High Rise Curvy Dark Wash jeans from the Sofia Vergara Collection.  These jeans are amazing and I will show you five different pairs from the collection later in this post!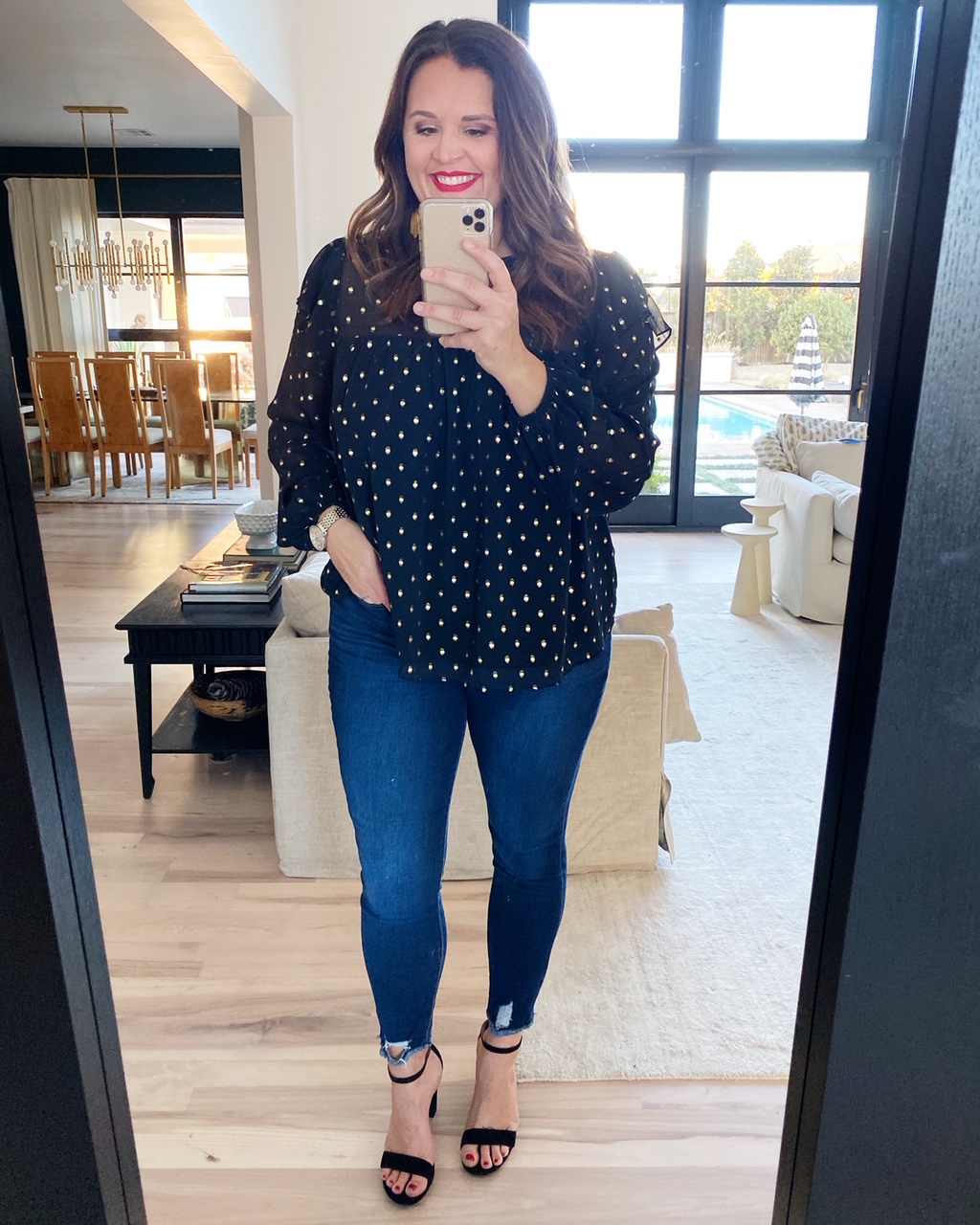 We are going to Vegas this month for the International Home Builders Conference and you can guarantee that the leopard sequin dress pictured below as well as this faux fur jacket and blush and gold foil dress will be packed in my bag!  These are ALL from the Scoop Collection.  If you are looking for an affordable special occasion dress, jacket, shoes, or more, I highly recommend checking out Scoop at Walmart. They have the cutest special occasion dresses, tops, and jackets but at a fraction of the cost you would normally pay!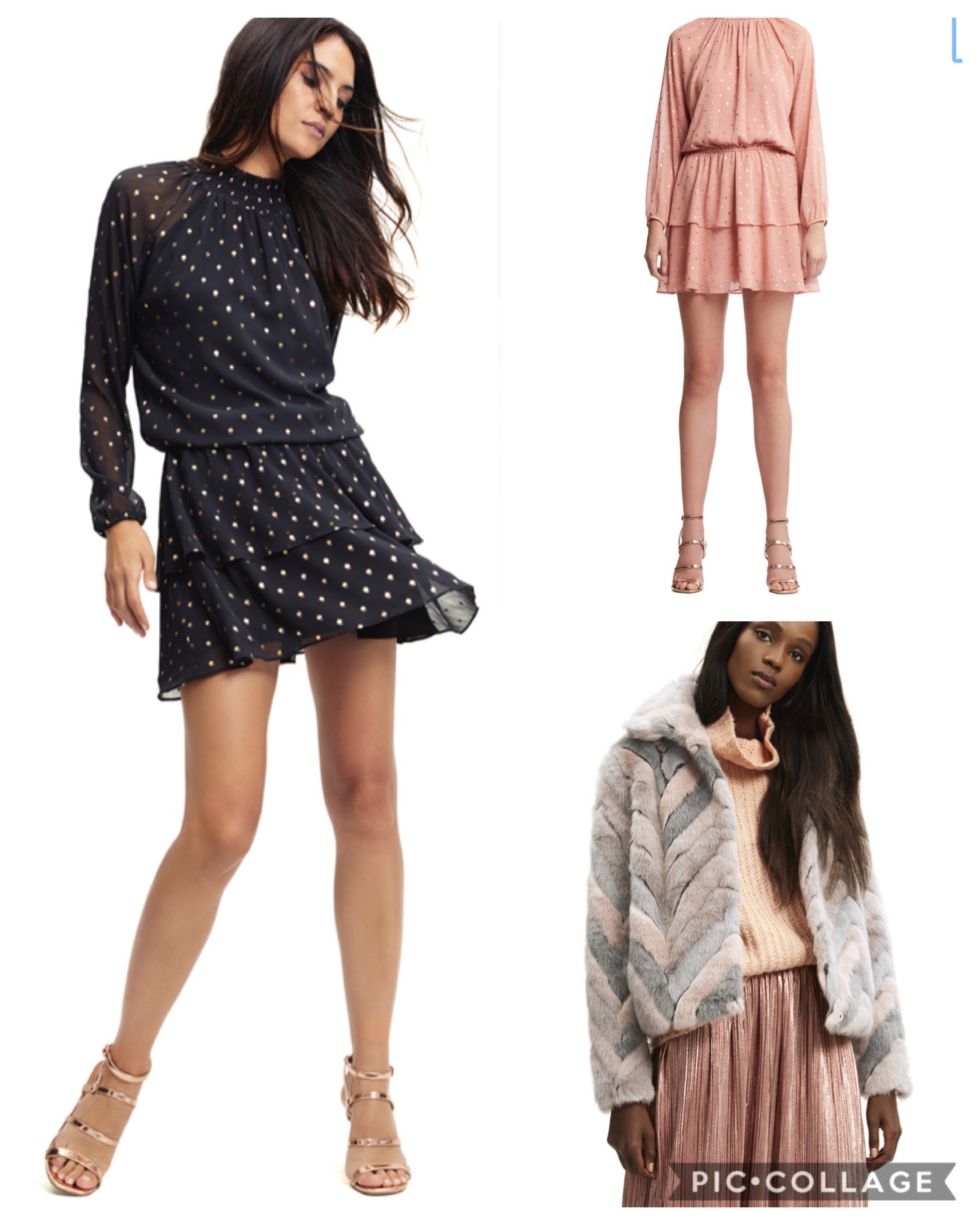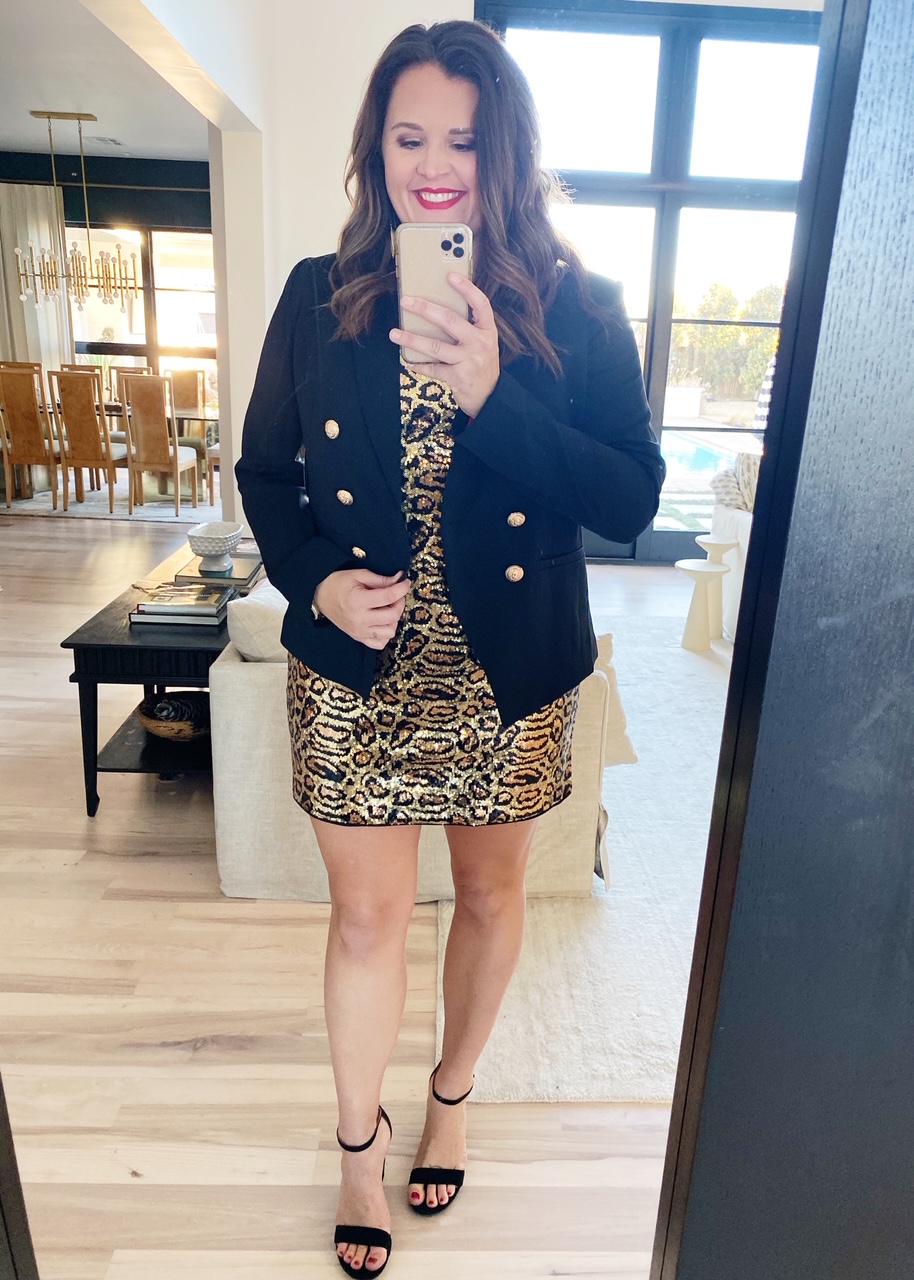 Oh wait I'm seeing a trend here and it's all leopard!  Leopard sequin dress (above), leopard sweater dress (below) paired with the Scoop shearling line tall boots, and leopard sherpa jacket.  If you're obsessed with leopard (like I am), Walmart's got you covered!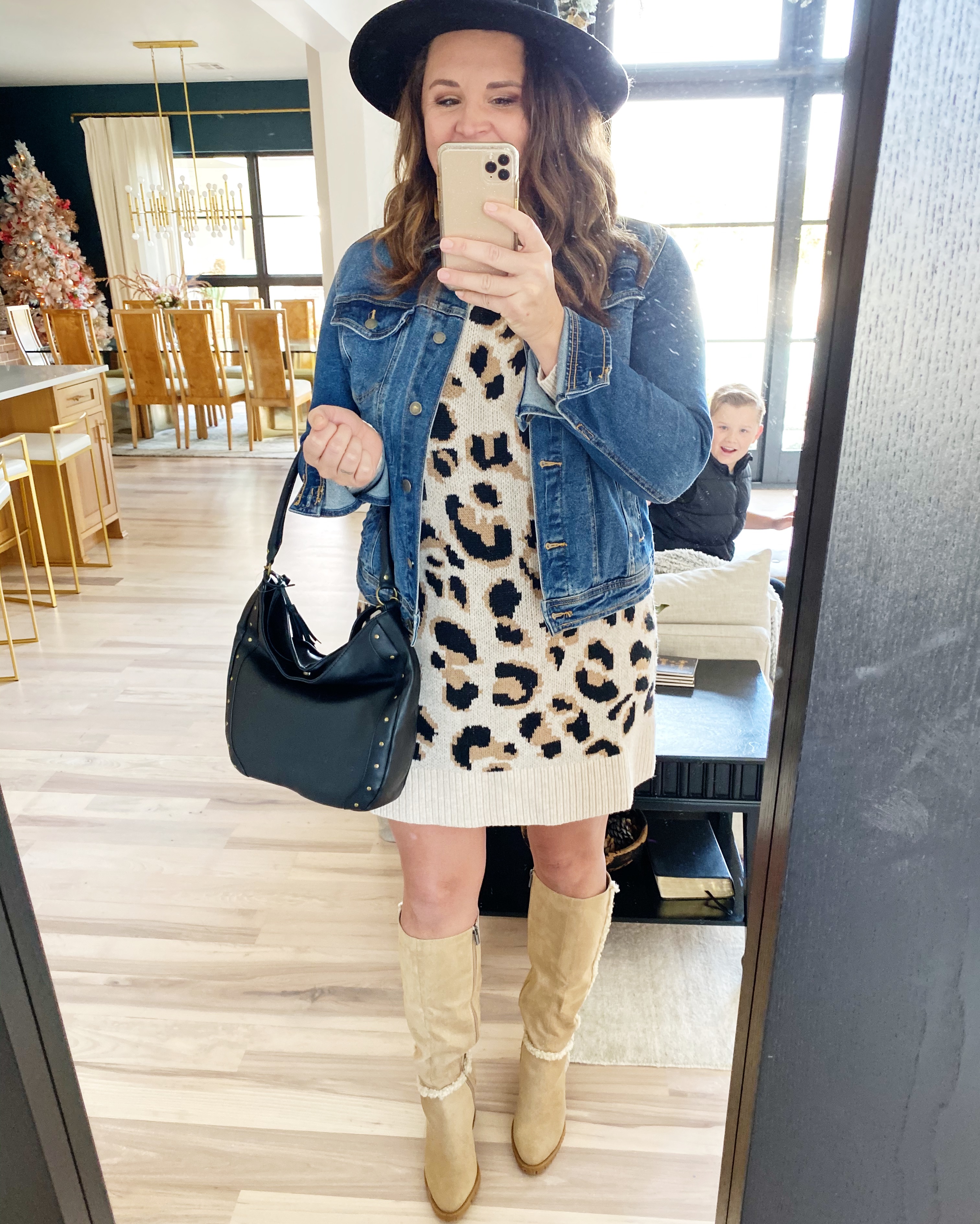 This leopard sherpa has been a best seller several weeks in a row.  I showed you how to style it a little more dressed up in the photo below but I often throw it on with a pair of joggers and just go with a total casual look with this sherpa as well!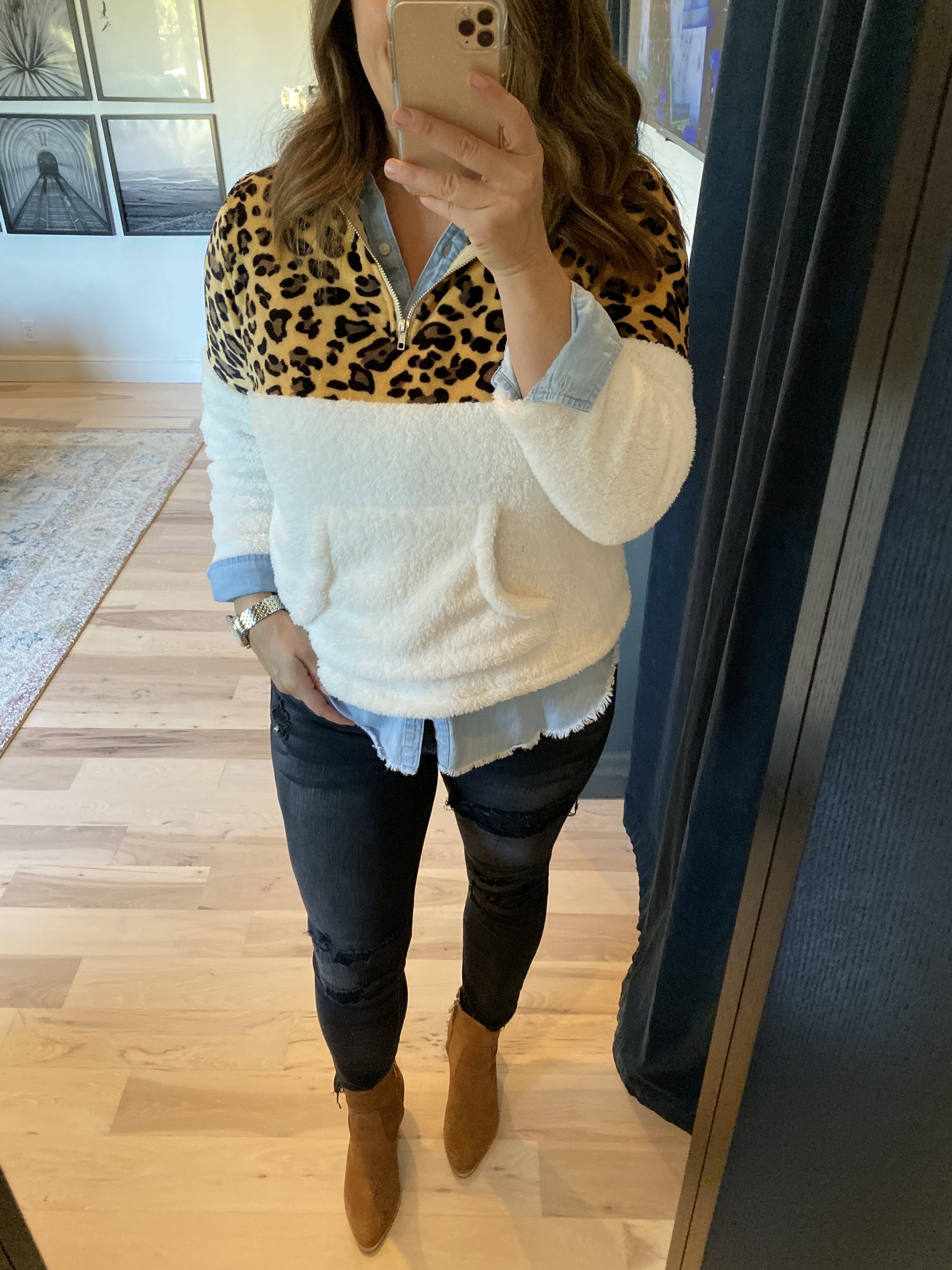 SCROLL AND TAP TO SHOP LEOPARD FAVORITES FROM WALMART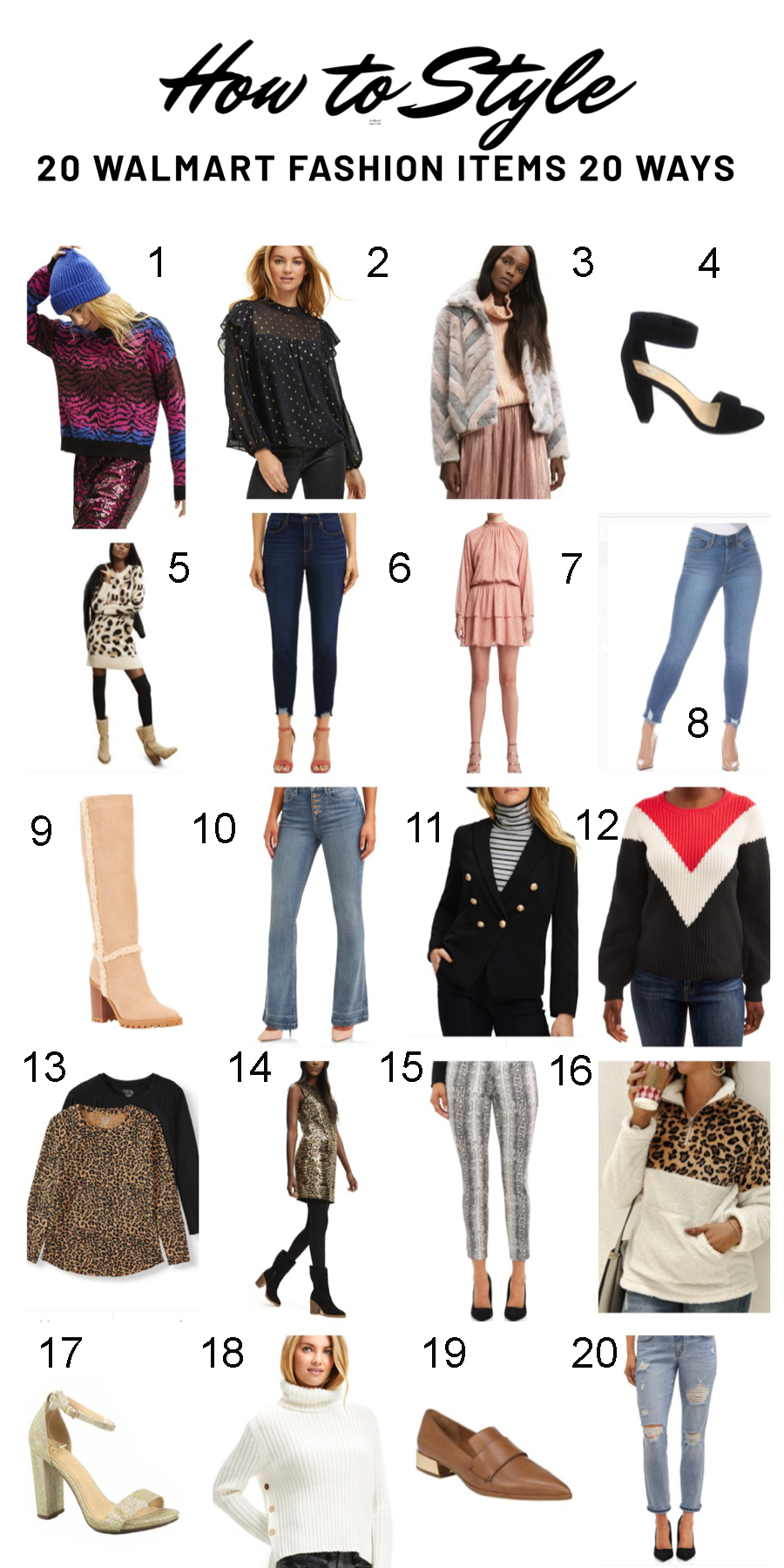 1 | 2 | 3 | 4 | 5 | 6 | 7 | 8 | 9 | 10 | 11 | 12 | 13 | 14 | 15 | 16 | 17 | 18 | 19 | 20
SCROLL AND TAP TO SHOP MY 20 WALMART FASHION FAVES:

These 20 items are a part of my closet for fall and transitioning to Spring!  I love them all and if you want to snag some ( or all – why not when the price is so incredible?) of these items, I'm going to be showing you different ways to style them.  I'm also wearing the Bagi Boyfriend fit Sofia Vergara jeans in the picture below and I love them so much paired with this gold foil top.  I've also paired them with the side snap white and black sweater and leopard sherpa for a more casual look.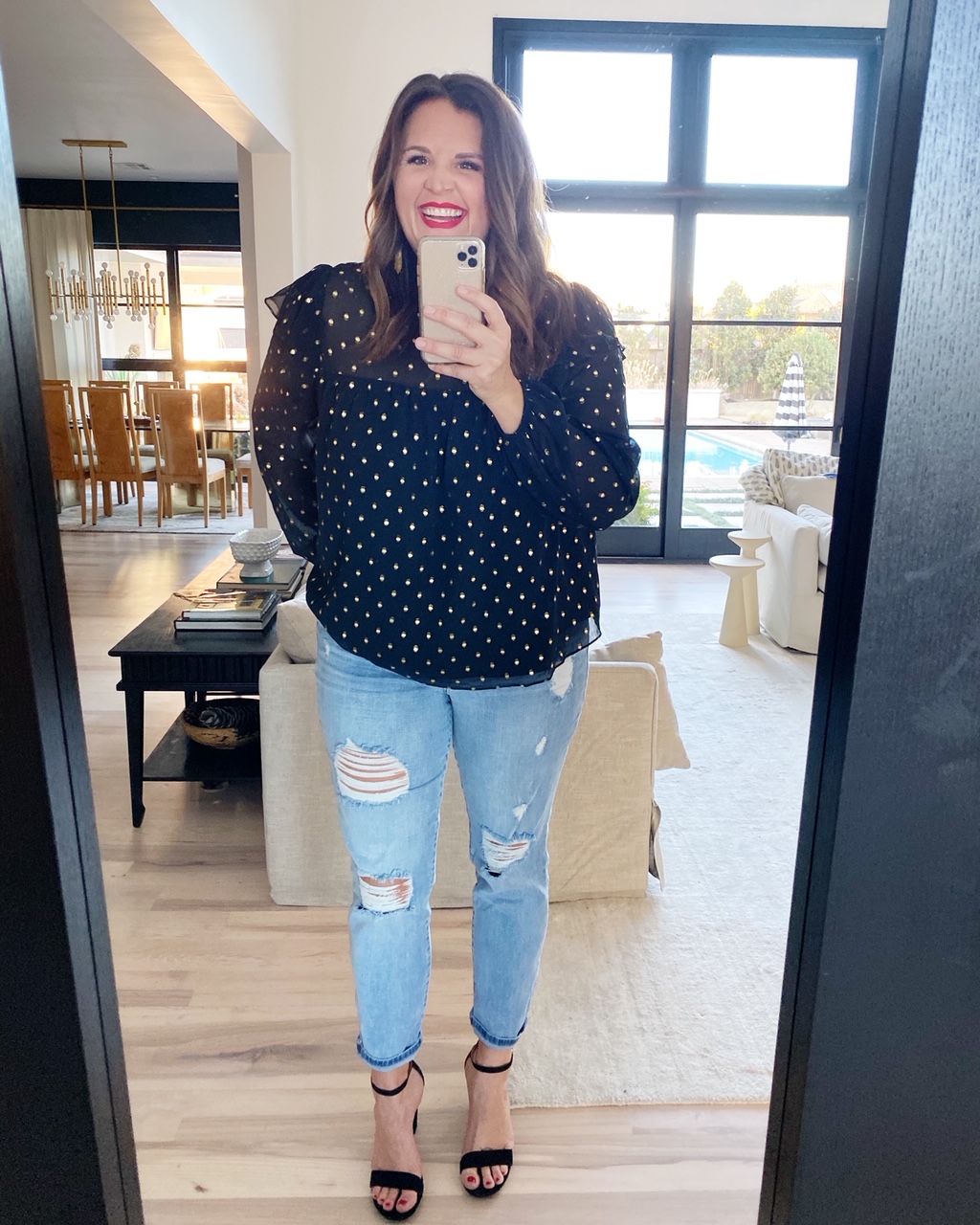 Obviously I'm super excited about the Sofia Vergara Jeans Collection that I've mentioned several times.  I can't wait to share these affordable, FLATTERING jeans with you guys!  I have tried on five different pair of jeans (pictured from top to bottom and have attached the stock photo with the actual photo of me wearing the jeans next to it so you can decide which fit you like best.  Or, just go ahead and buy a pair of each since they are only $25 each – that price point though.  You can't beat it!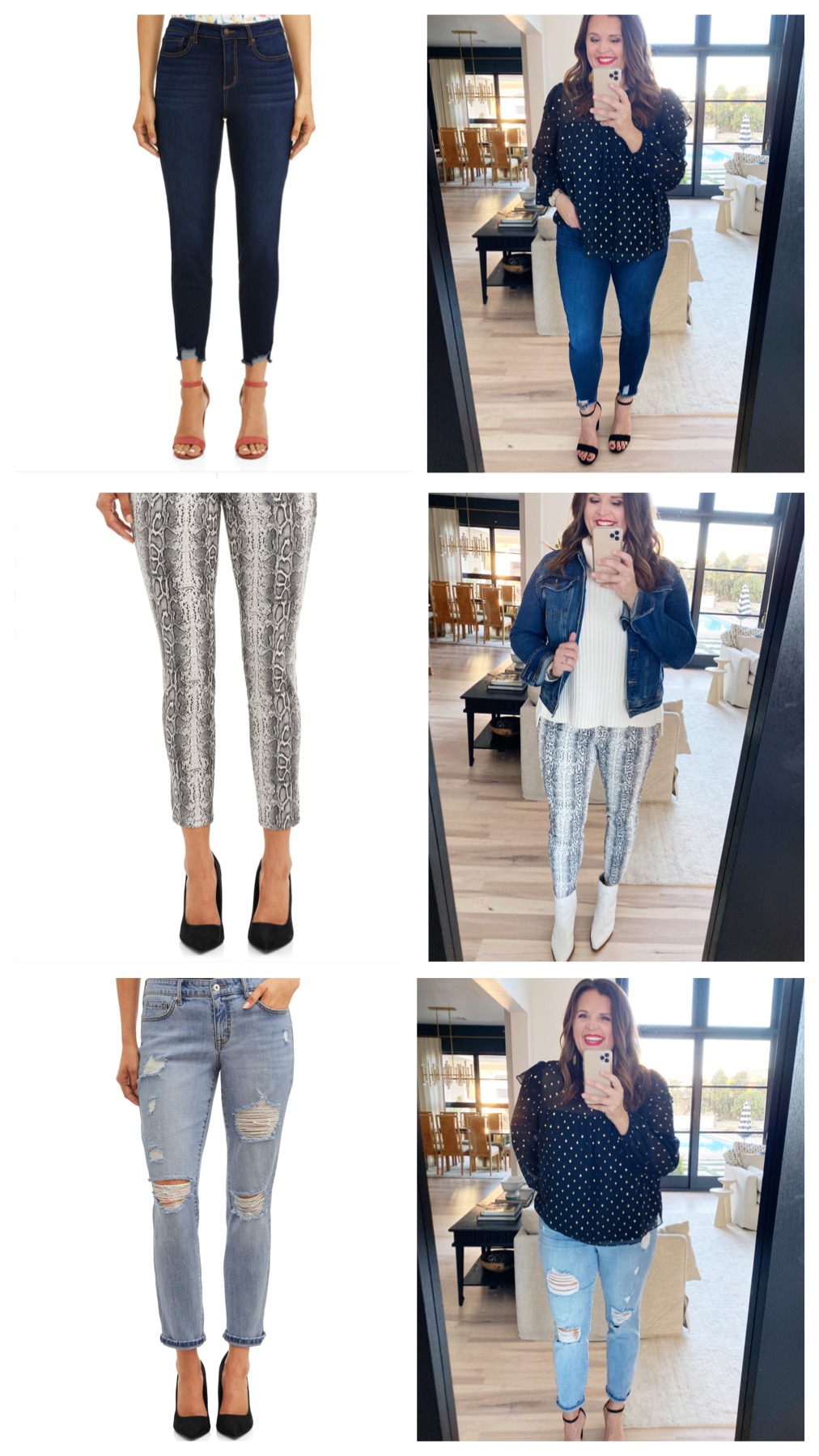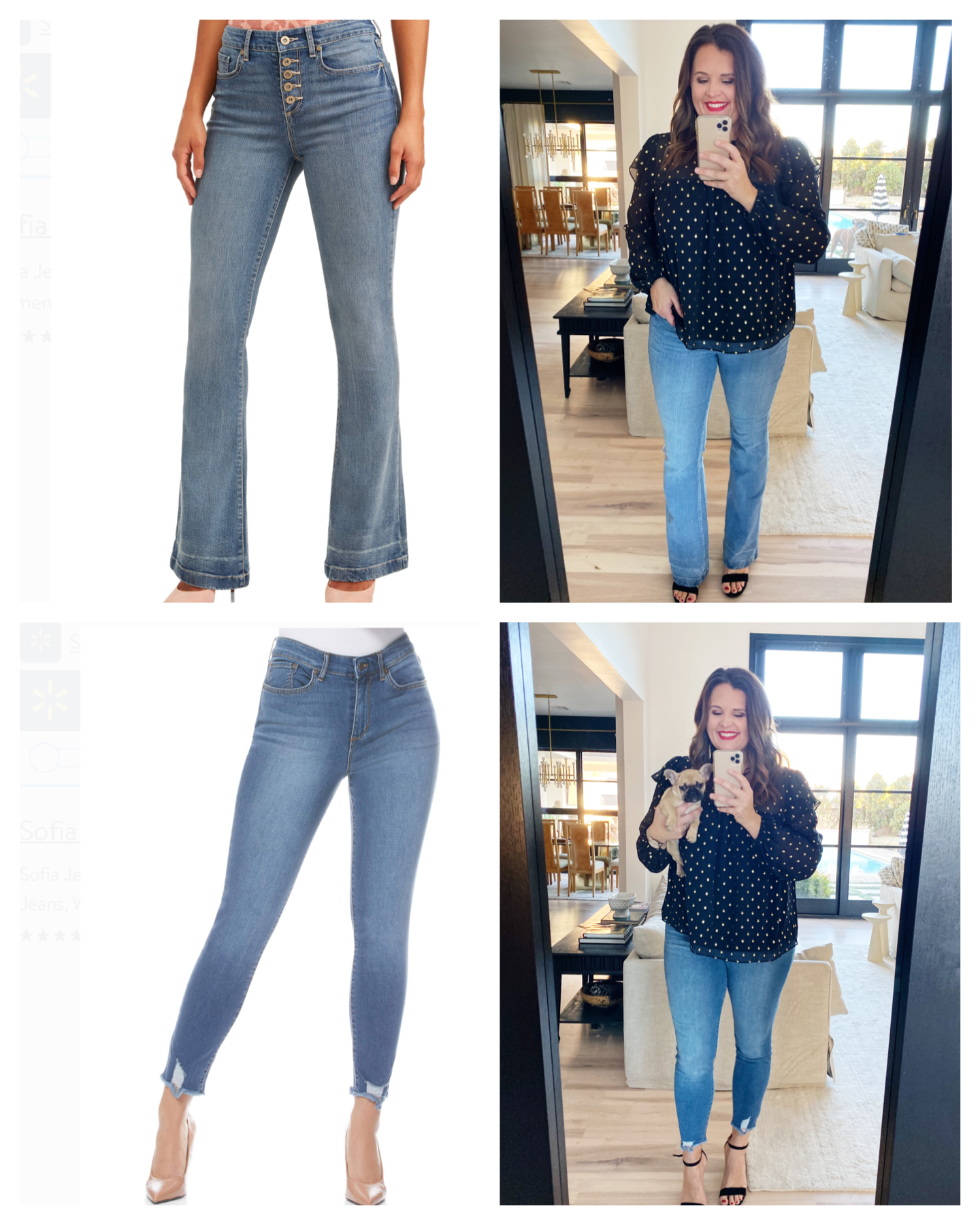 2. Python Print High Rise Curvy Jeans
4. Melissa High Rise Stretch Flare
SOME MORE FASHION FAVES FROM SCOOP FASHION AT WALMART!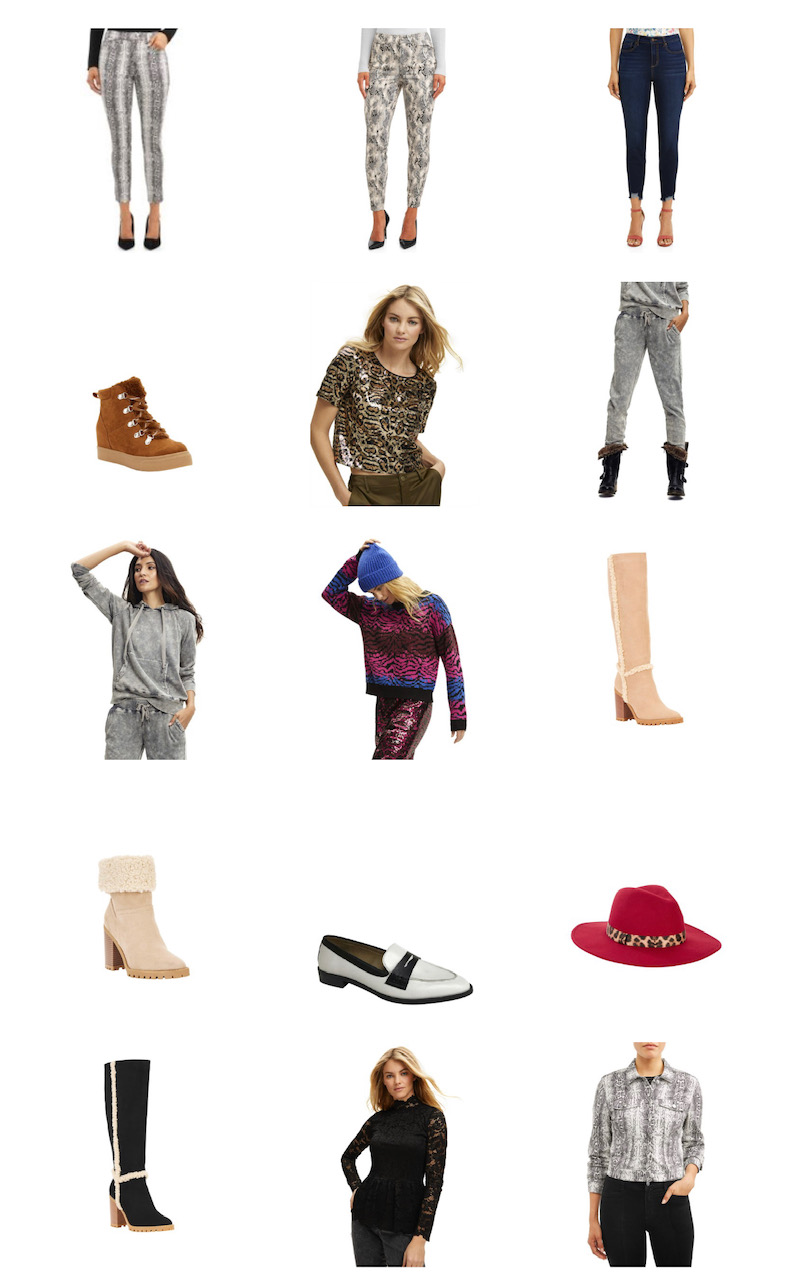 Walmart also just added Sam Edelman and Franco Sarto shoe lines and I am loving the pairs of shoes that I got!  Here are some of my favorite shoes and accessories from these two lines that I am wearing in some of these styles:
SCROLL AND TAP TO SHOP FRANCO SARTO AND SAM EDELMAN SHOES FROM WALMART:

SCROLL AND TAP TO SHOP SCOOP FASHION ITEMS FROM WALMART: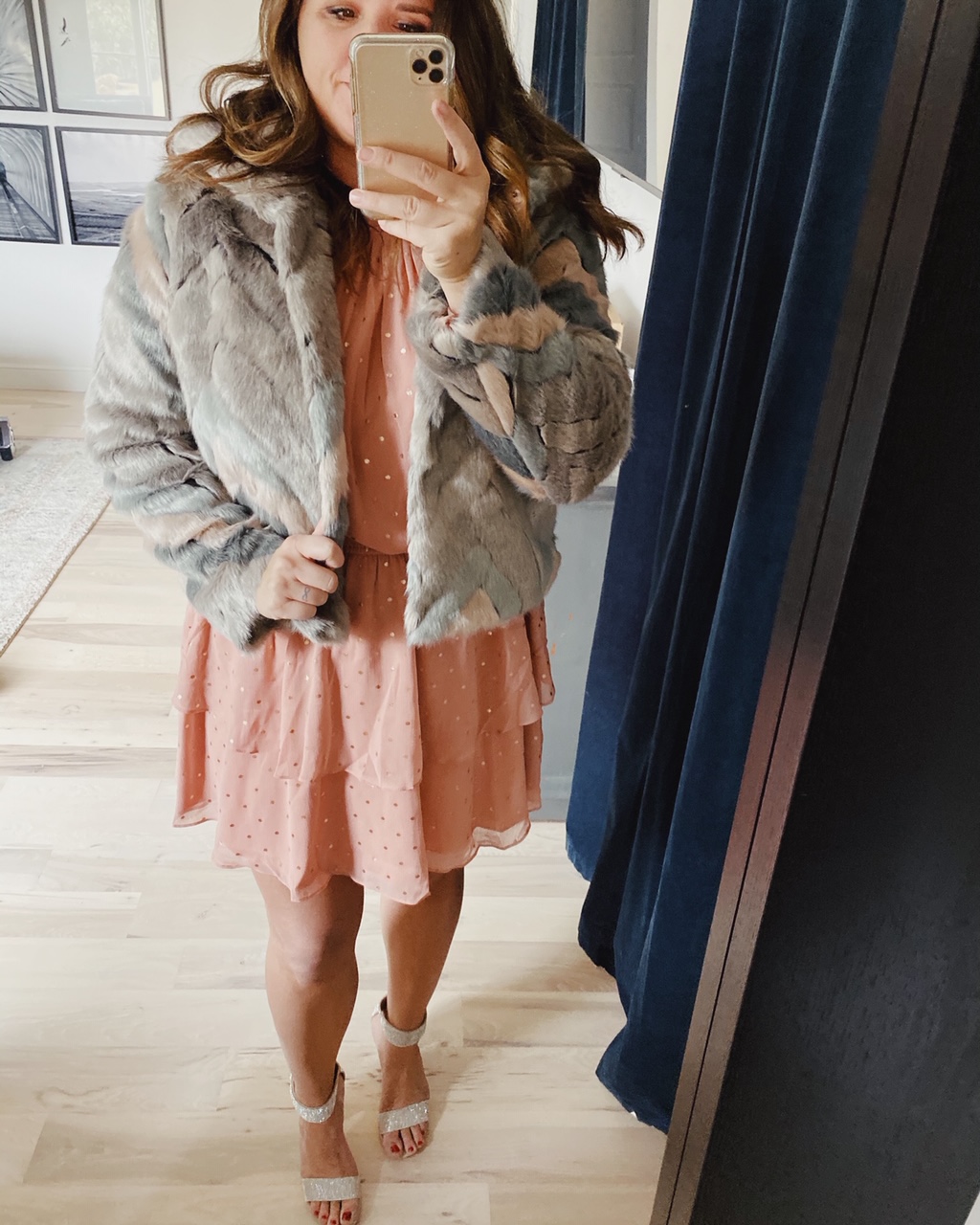 This chevron sweater comes in several color ways and is on sale for only $11!  I haves shown you three different ways to style it from casual to date night to special event!.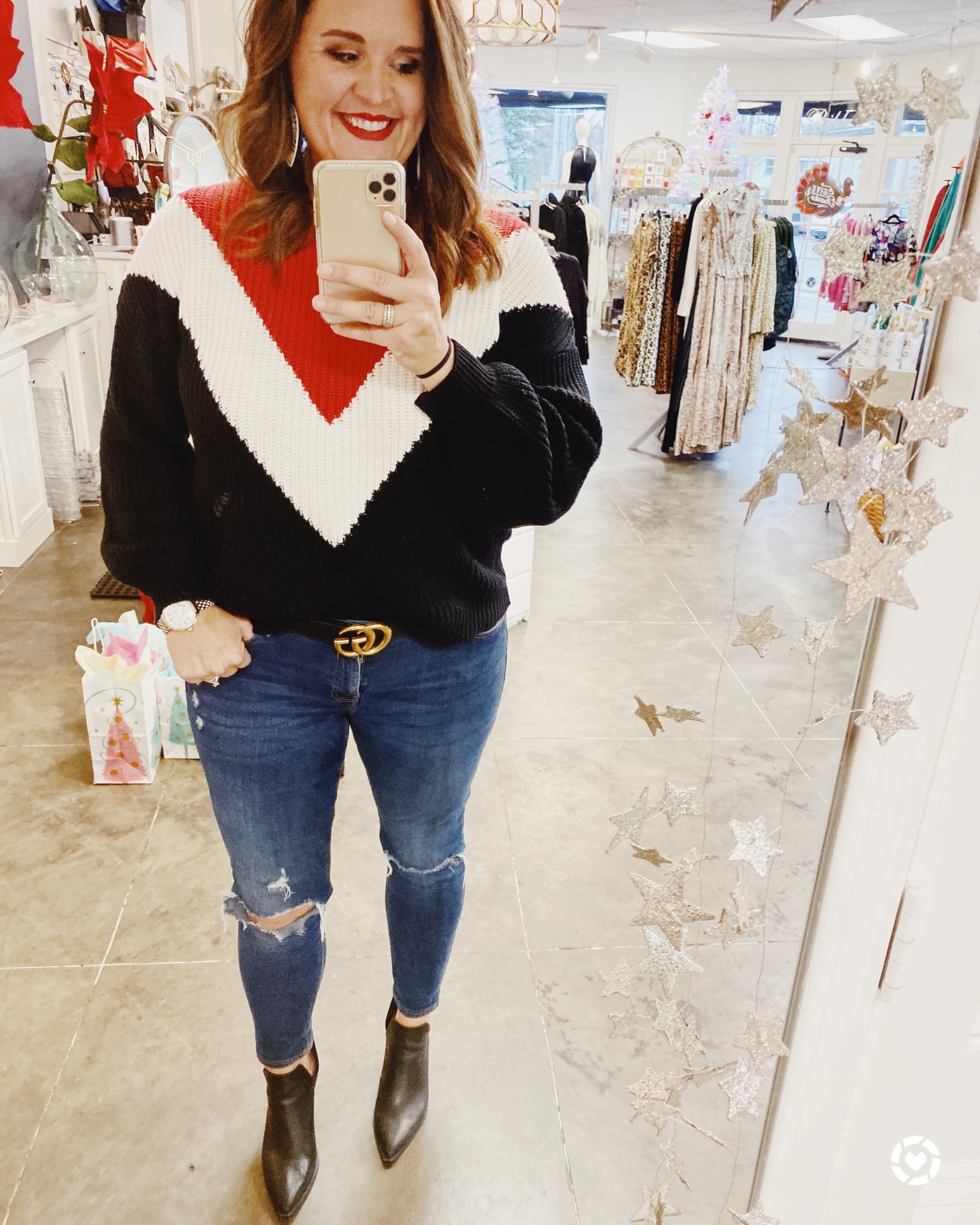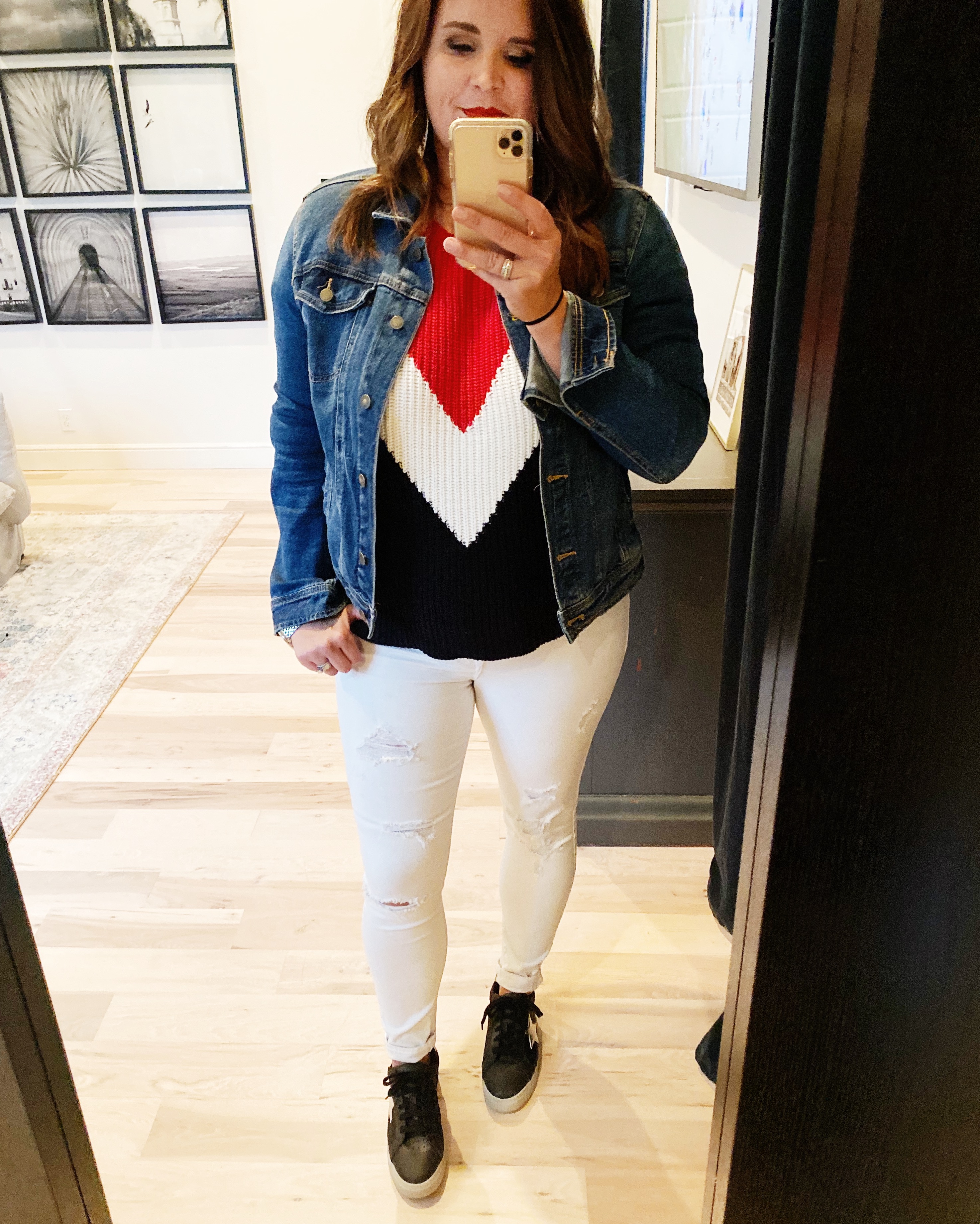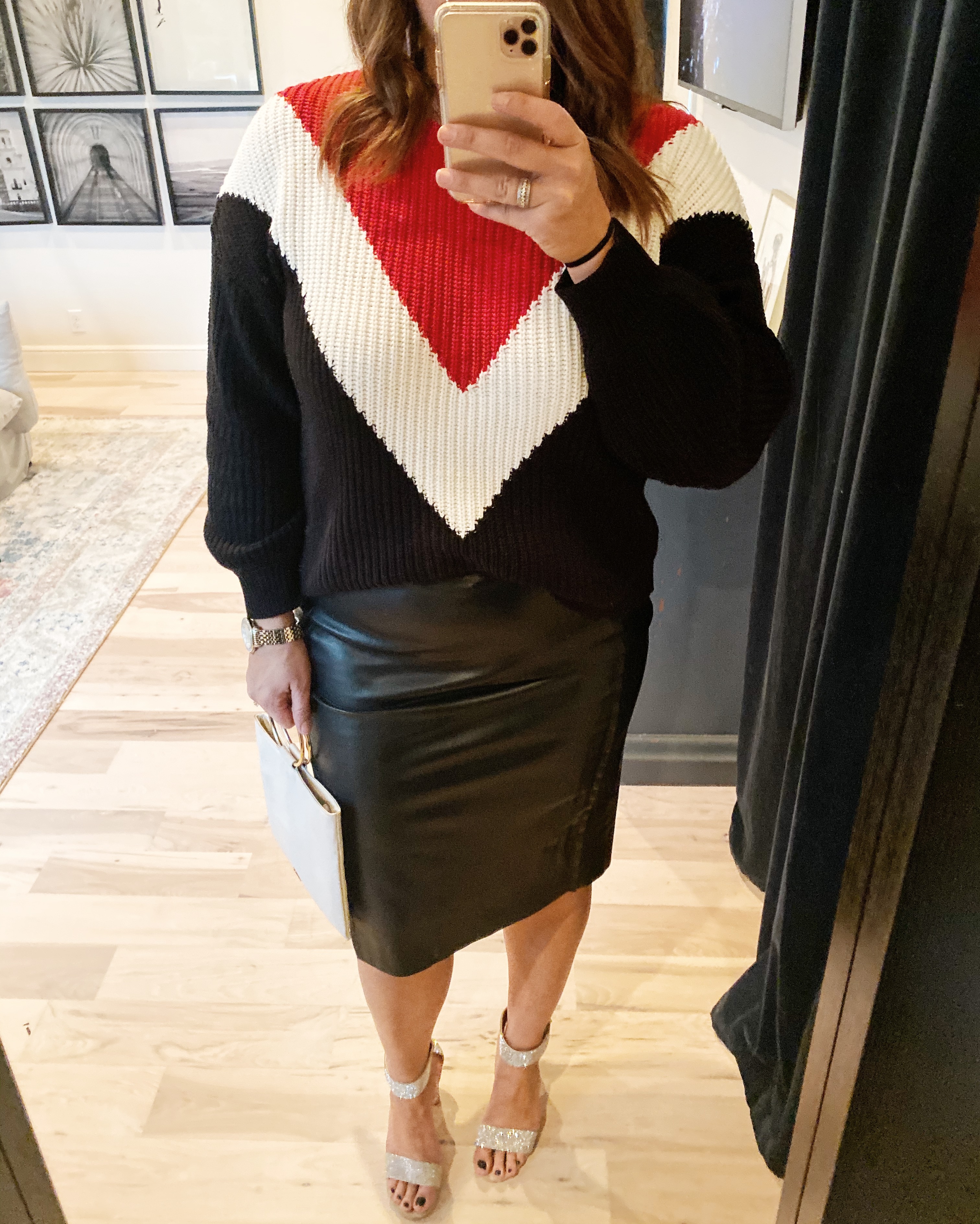 This leopard coat is a favorite and both Emmy and I have one.  The price point is great and it is perfect to style casually like I have below or you can throw it on with a dress and OTK boots for an event or night out!  Also obsessed with these new Franco Sarto shoes available at Walmart.  Seriously, how cute is that gold heel!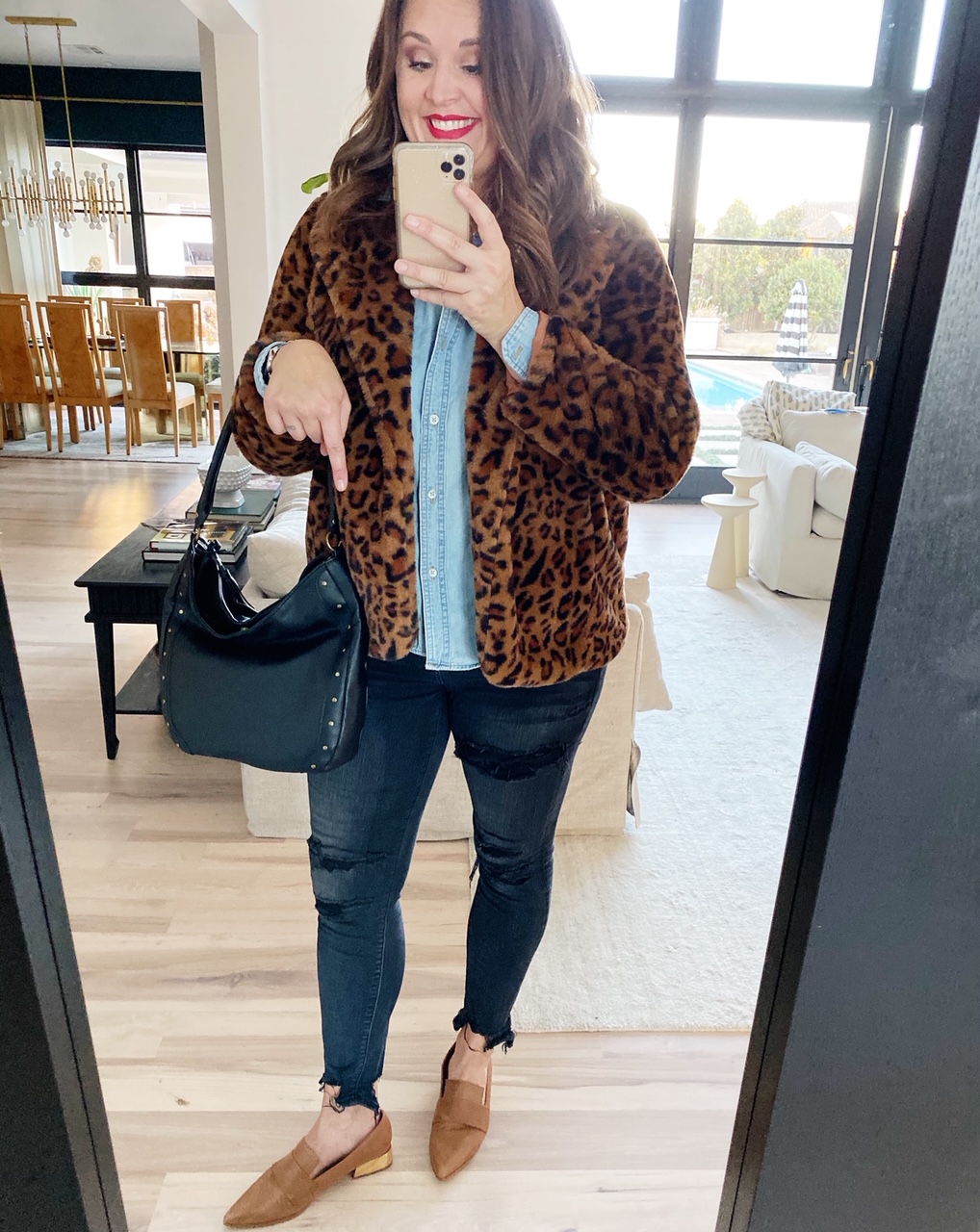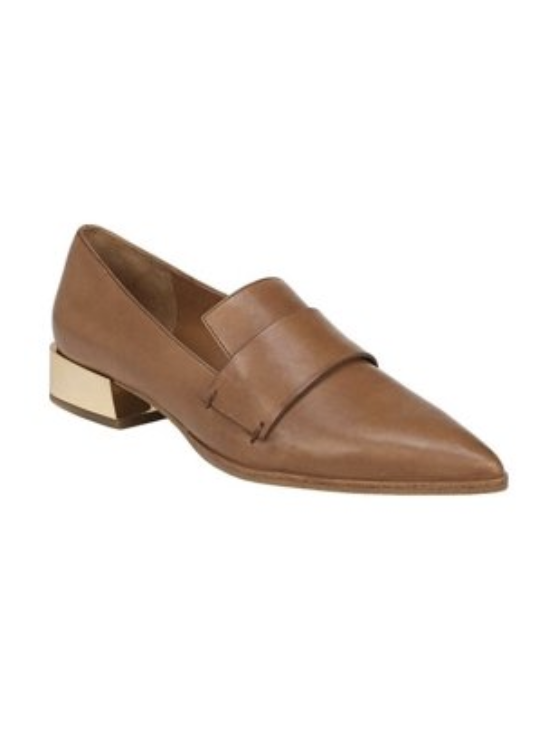 Franco Sarto flats with gold heel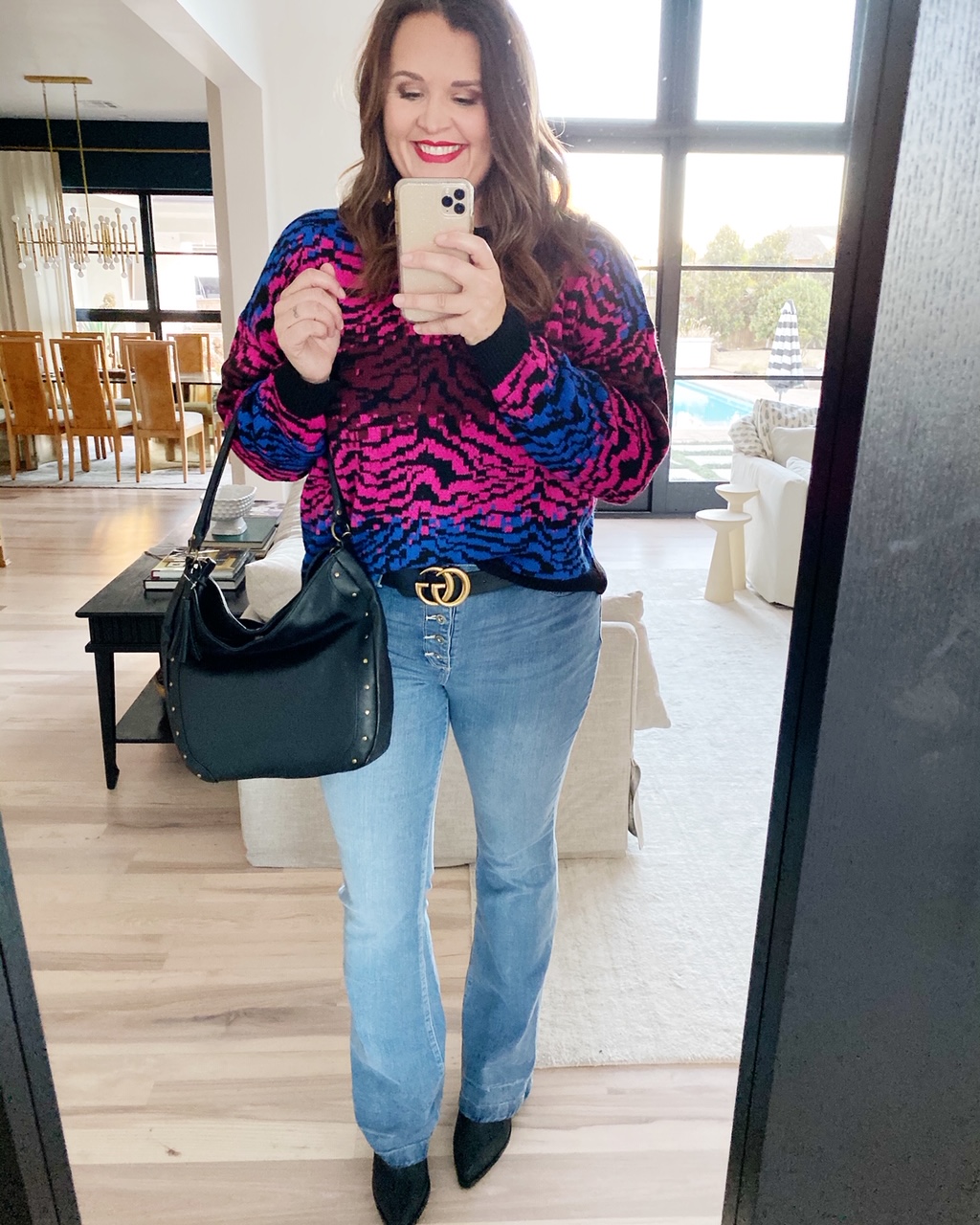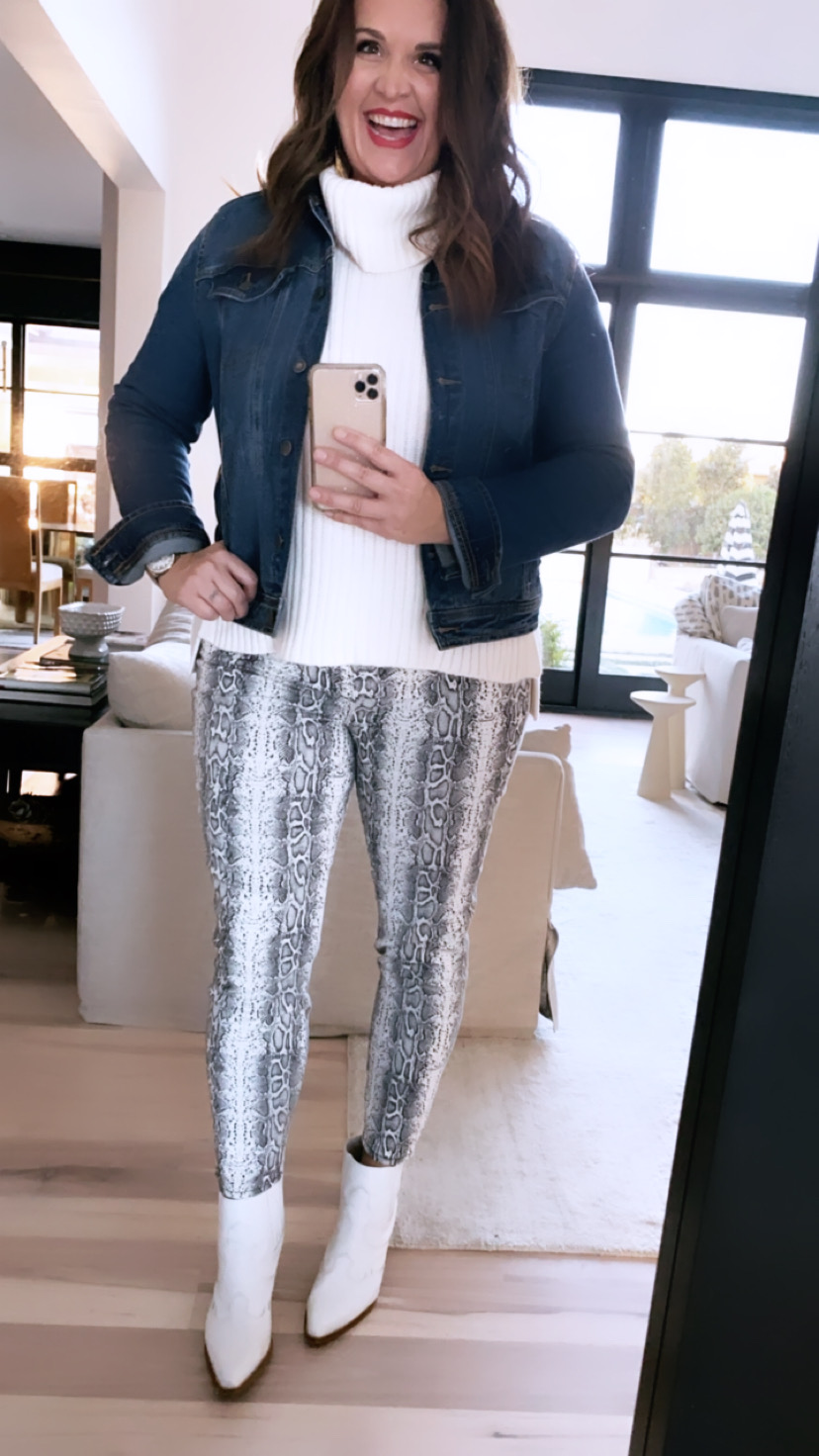 Love these SCOOP SWEATERS – I have the zebra and the side snap in white and black.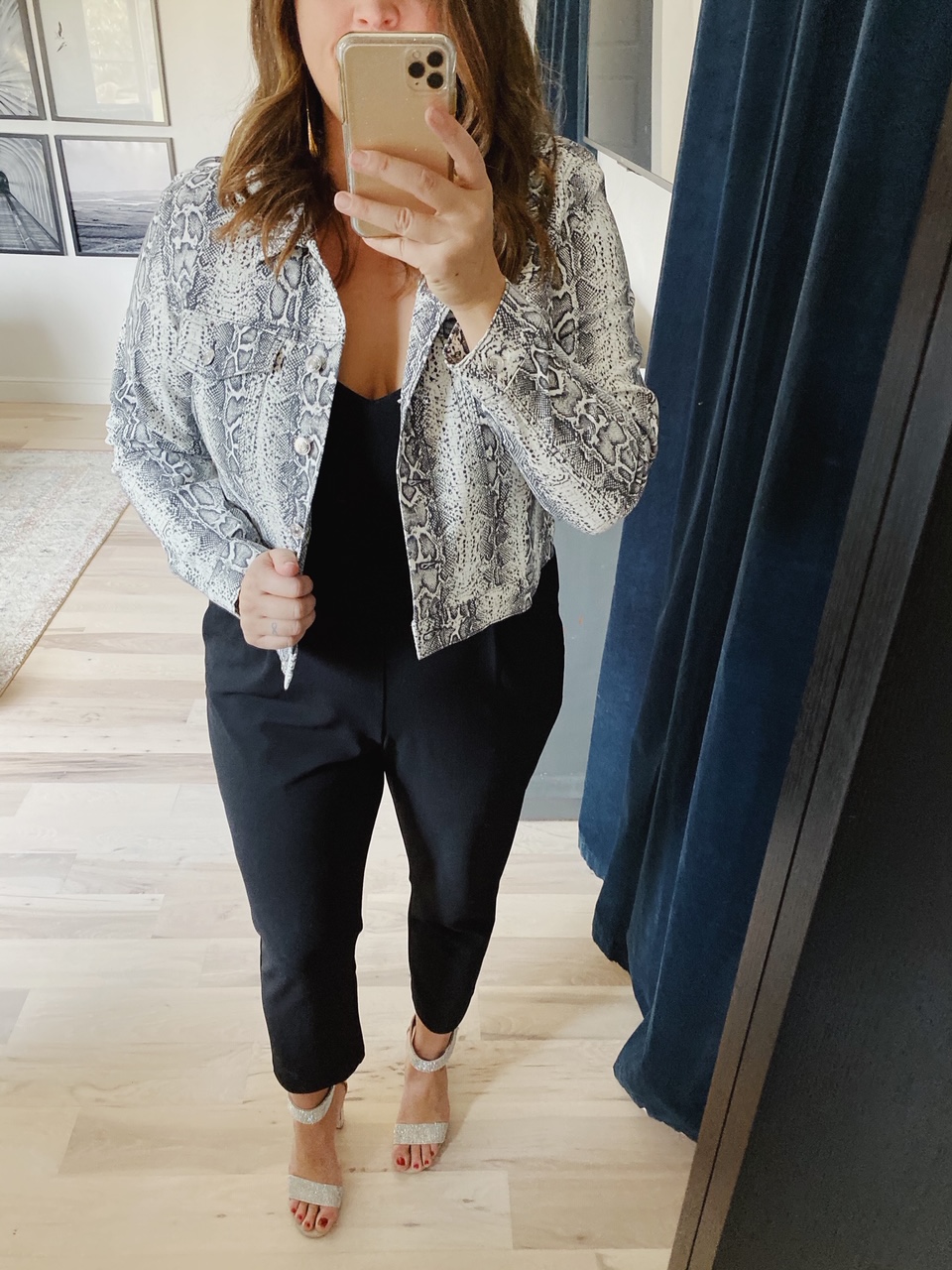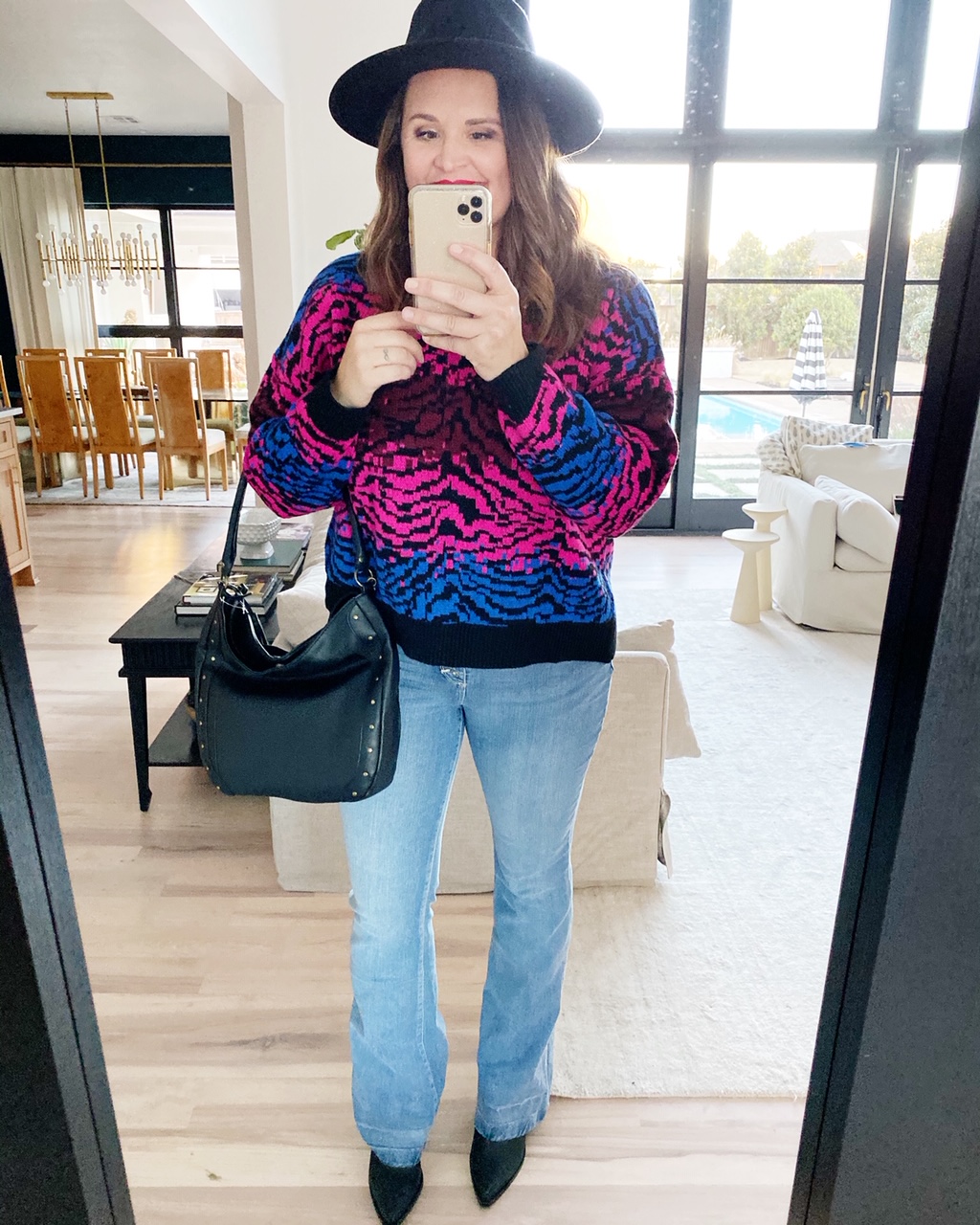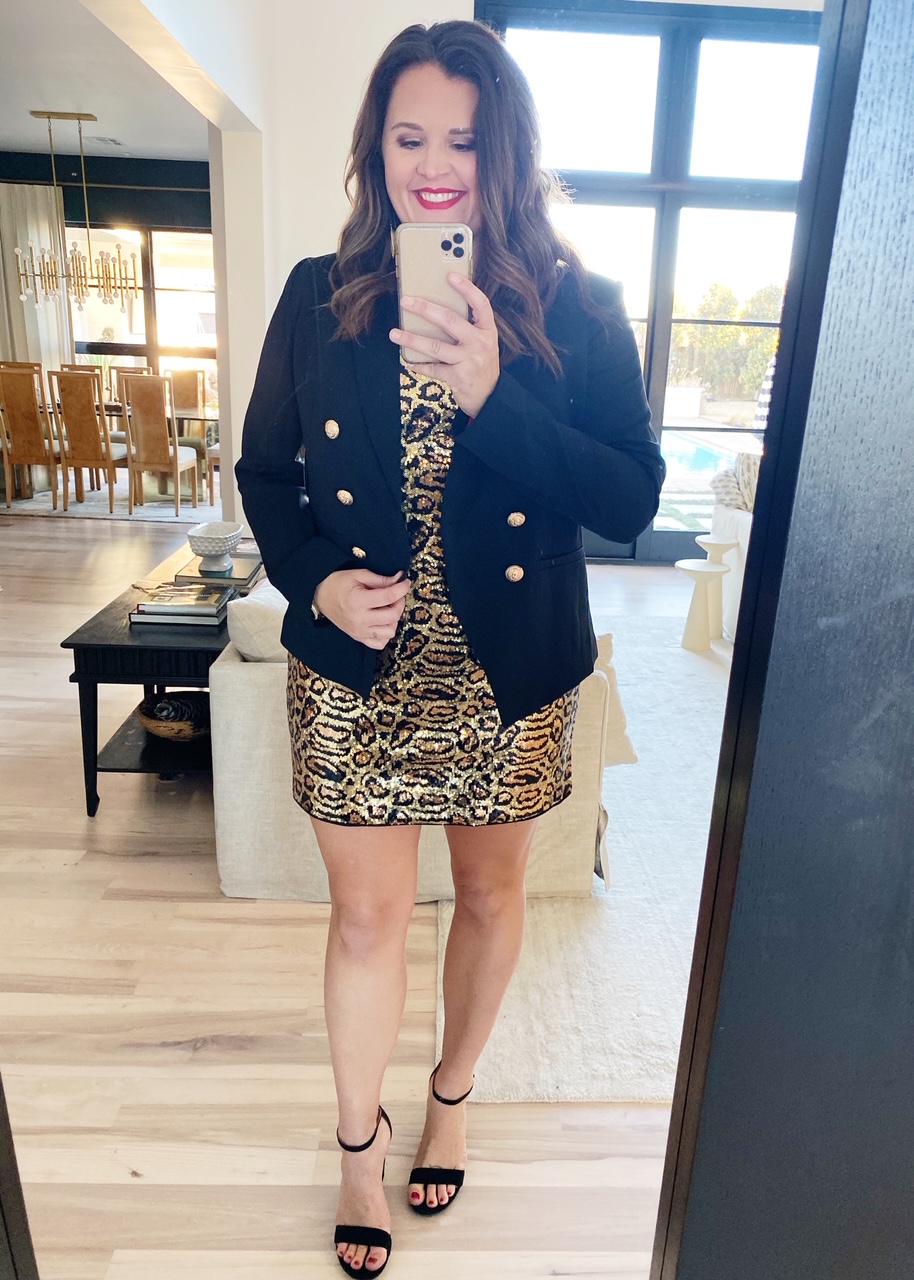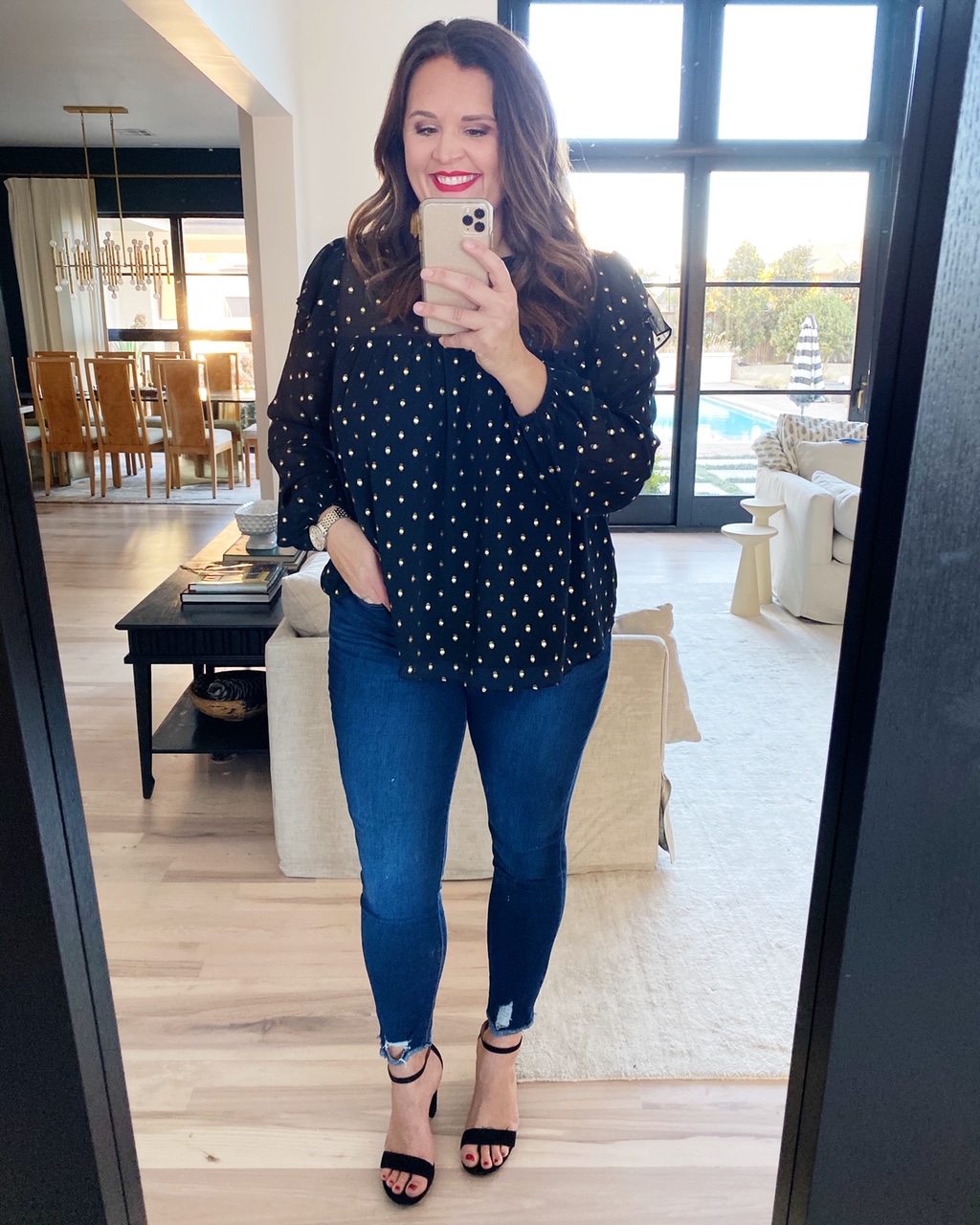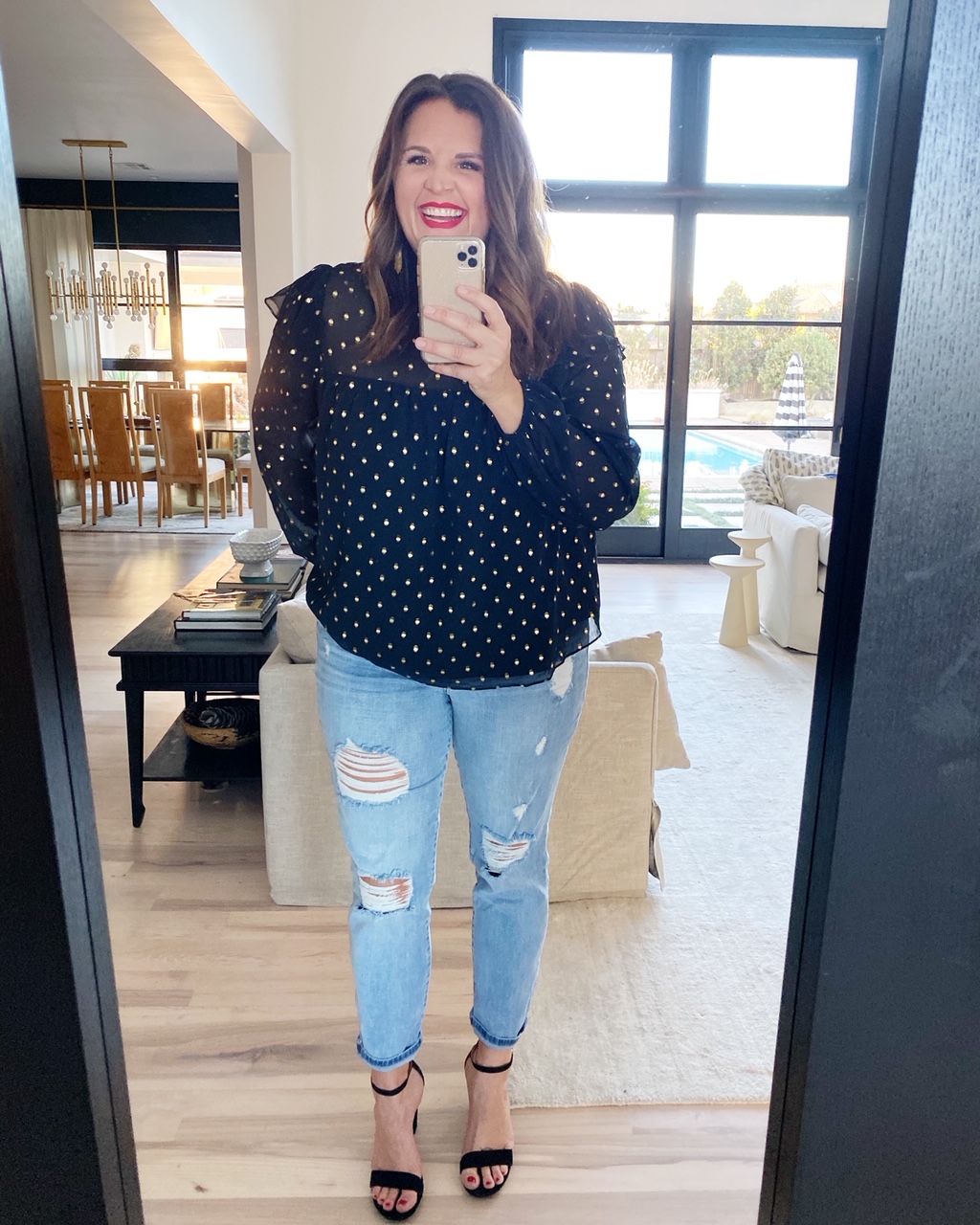 Hope you enjoyed this post on How to Style 20 Walmart Fashion Items 20 Different Ways.  Hope you find some affordable fashion faves like I did.  And I hope you will tag me if you buy some of these items and let me see how you styled them!
Love, CC!
(You can Follow us on Instagram – CCANDMIKECREATIVE | Pinterest – CC and Mike |  Facebook – CC and Mike |