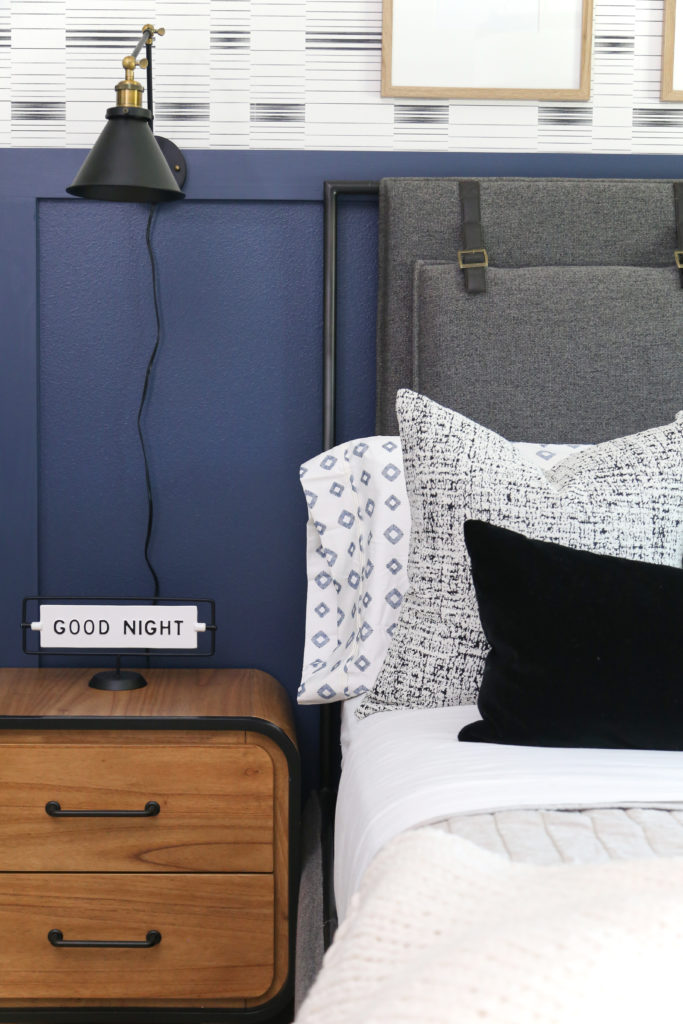 I feel like kids' bedrooms are those spaces in our homes that we want to look good for our little but we don't want to break the bank, am I right? That's why I'm so excited to share some KIDS BEDROOMS FURNITURE IDEAS WITH WALMART today. From Kids Storage, to pillows and accessories, to beds and large furniture, Walmart has everything you need to turn your kid spaces into artfully designed rooms that they will love and the best part is you can stay within you budget by using Walmart products!
SCROLL AND TAP TO SHOP OUR FAVORITE WALMART KIDS' FURNITURE

*This post is sponsored by Walmart. All my thoughts and opinions are my own.
We recently redid Cohen's bedroom and I chose several large furniture items for his room. Once they arrived and we installed them, I was completely blown away by the quality of the products for such an affordable price.
SCROLL AND TAP TO SHOP OUR FAVORITE WALMART PRODUCTS IN COHEN'S BEDROOM

One of our absolute favorites was his oak and black nightstands. They are only $140 and as you can see from the pictures, they are such an incredible quality for the value of the price. We paired the oak and black nigh stand with these incredible industrial sconces and I'm loving the mix! I don't have a link to his exact bed but this one is an amazing option from Walmart as well!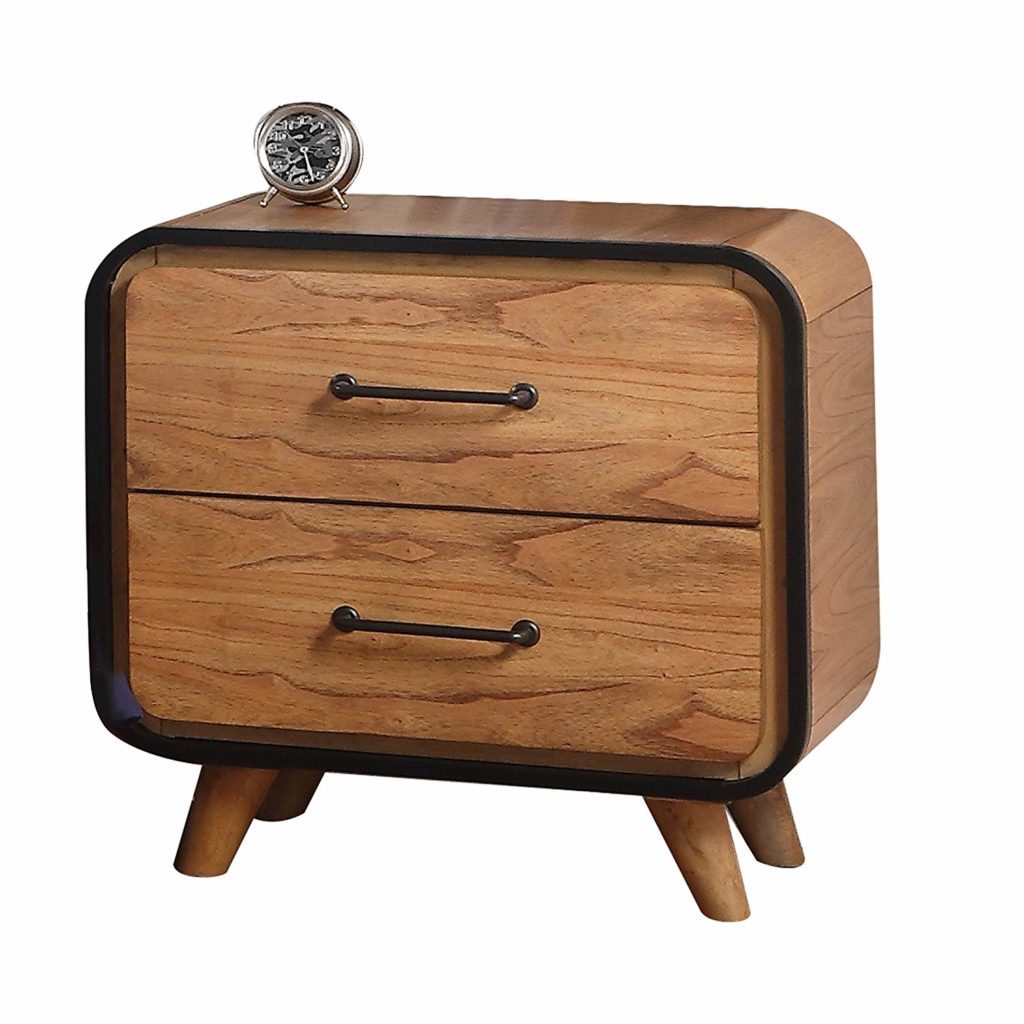 We recently added swinging chairs to our Teen Hangout Room. They were such a hit that we decided to add one to Cohen's room as well and we chose this black Gymax Hammock Chair. It adds some personality to the room and gives him another place to relax. It also gives his friends a place to sit and hang out. Another great option is the Your Zone Flip Chair. We used them for the teen hang out room and would make a great addition to a teen boy's room.
Another great piece that would work in multiple rooms is the Round Wood Mirror. I styled it above Cohen's dresser (above) but you could also use it any just about any space. A hazard of my profession is we are constantly rearranging and updating our homes. So a hard-working piece like this is a must-have.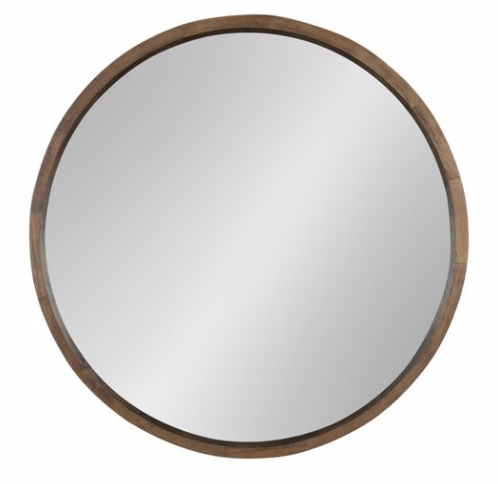 Last but not least, I want to talk about the amazing beds that are available at Walmart! When I started working on Cohen and Emmy's bedrooms, I was blown away at how many incredible bed options I found at Walmart and for such an affordable price. I've rounded up my favorites for you guys. We are using the DHP gold canopy bed for Emmy's room redo. It came last week and we put it together and you guys, let me just say that for only $290 this bed is an absolute steal of a deal. We will be revealing Emmy's whole room after the new year but for now just trust me on this, these Walmart beds are all under $500 and some of them are as affordable as $200. You just can't beat that look for less price!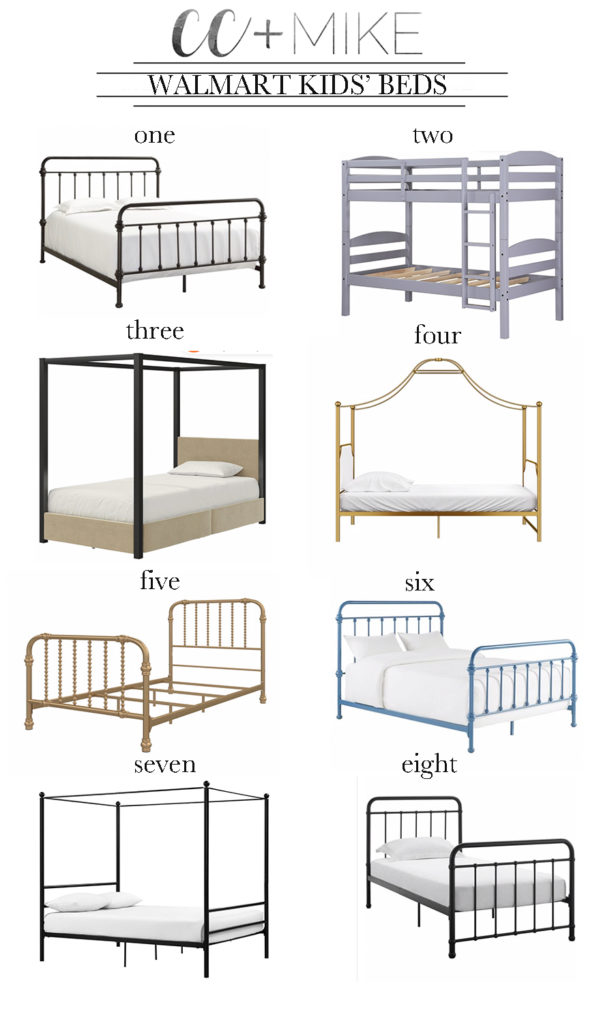 ONE | TWO | THREE | FOUR | FIVE | SIX | SEVEN | EIGHT
Hope you enjoyed our post on KIDS' BEDROOM FURNITURE IDEAS WITH WALMART! If you are looking for more posts like this to help inspire you on how to decorate your kid spaces in your own home, check out these other posts from CC and Mike + Walmart!
Finally, I will leave you with some more of these amazing beds styled in beautiful bedrooms so that you can see all the amazing possibilities!
Thanks for stopping by y'all!