One of our most pinned, most shared, and most liked projects of all time is our master bedroom's modern home decor design and I think it's because people are obsessed with our canopy bed.  I get so many questions about our bed so I thought it was time that I wrote a post about our master bedroom and about canopy beds in general.  Canopy beds are a gorgeous design element in my opinion.  Our canopy bed, without a doubt, anchors the room.  Start with a canopy bed, a cool light fixture, then add a few simple touches – art, pillows, lamps, and a gallery wall full of cc+mike print art – and the result is a gorgeous master bedroom design.  I'm linking up to my favorite canopy beds to help you out in case you are dreaming about getting this modern home decor look in your own home.  I have great options  sourced for you from places like West Elm, Pottery Barn, Overstock, World Market and Cb2.  The beds I've found start as low as $249 and go up in price from there, so there is a canopy bed on this list for any and all price ranges!
Enjoy because two years ago when we were building and designing our current house, I had the hardest time finding a canopy bed but now they are everywhere and there are so many great options!  Hope you find something that you like!
If you would like to tour more of our home, check out our shop our home section on the main page.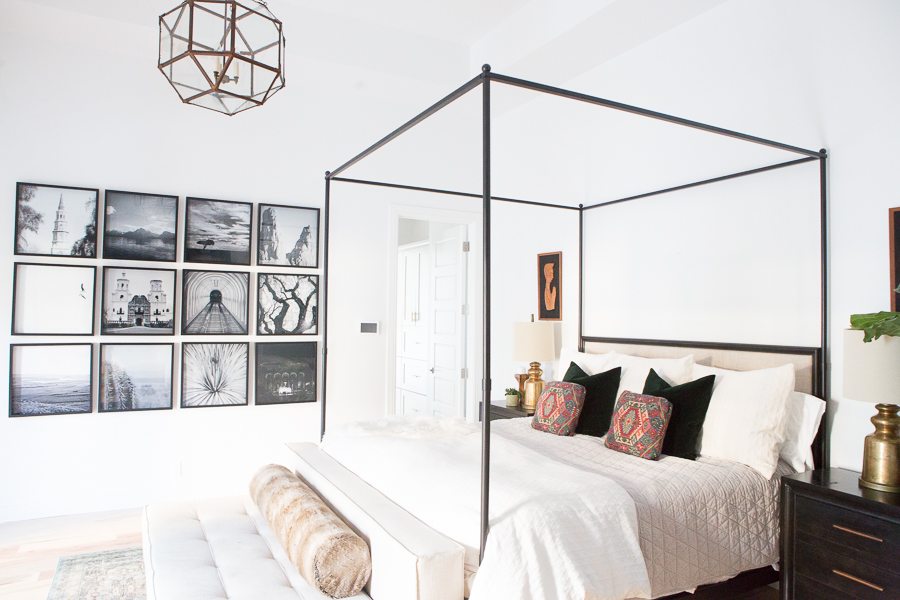 Shop my favorite canopy beds here.


You can also shop my master bedroom's modern home decor look here. Don't forget your art from cc+mike's print shop for your gallery wall or for a statement piece above your canopy bed.