The Meadowlark Project is the first project we will be revealing in 2021 and we can't wait to show you inside of this project.
Our clients for this project hired CC to design their home and help them pick all of their finishes (flooring, paint, backsplash, lighting, tile, countertops, cabinet design, etc…) for their new construction project. YES! This is a service our design team offers and we love taking all the stress out of your new construction project by making all of your selections for you! In our first meeting together, my clients expressed that they wanted to do a navy kitchen island and use satin nickel lighting finishes throughout the home which was exciting since it had been awhile since I had used satin nickel lighting in a project! We also decided on some black and white ceramic tile in the bathrooms and laundry room and gorgeous faux marble tile in the master bathroom mixed with navy cabinetry.
The exterior is something I'm especially thrilled with as well, as my clients took my advice and stepped outside of the box to do a technique called slurried brick. Mixed with cedar accents and black windows, the overall effect is absolutely stunning, I think you'll agree.
But enough talk…welcome inside the Meadowlark Project!
COLLABORATION: Epic Custom Homes
Tile and Flooring: Millcreek Carpet and Tile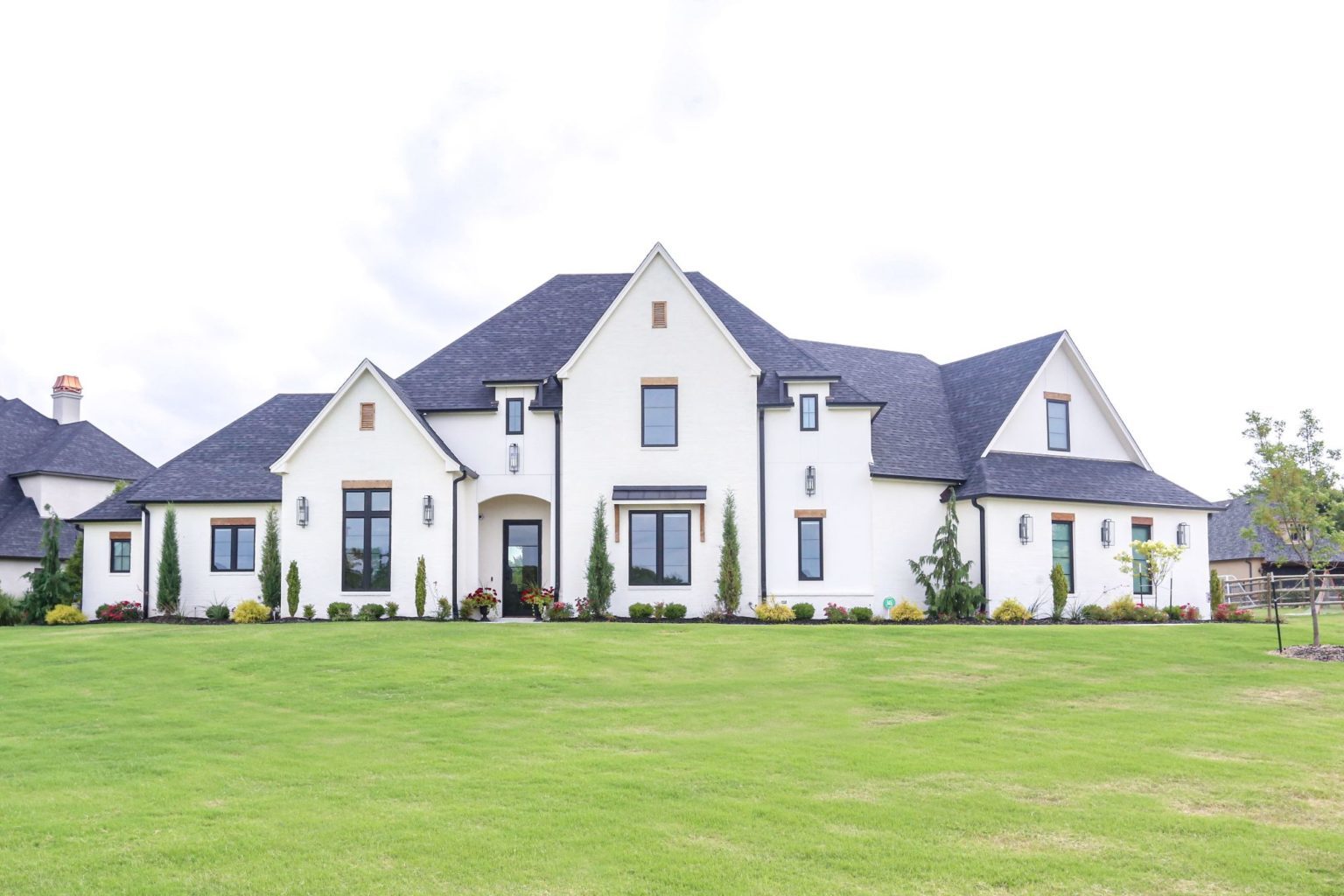 The first top will be the kitchen. I truly believe the kitchen is the heart of the home and it is always the first room I design in every home that we do, whether a new construction or a remodel. My design in the kitchen truly sets the tone for the entire home. WELCOME INSIDE THE MEADOWLARK KITCHEN.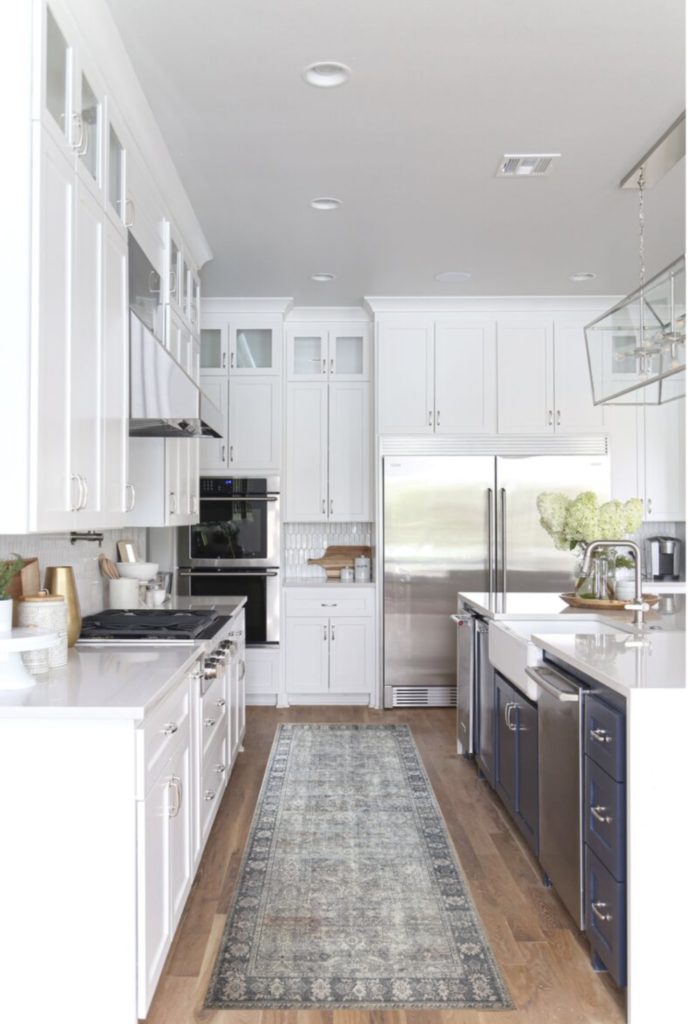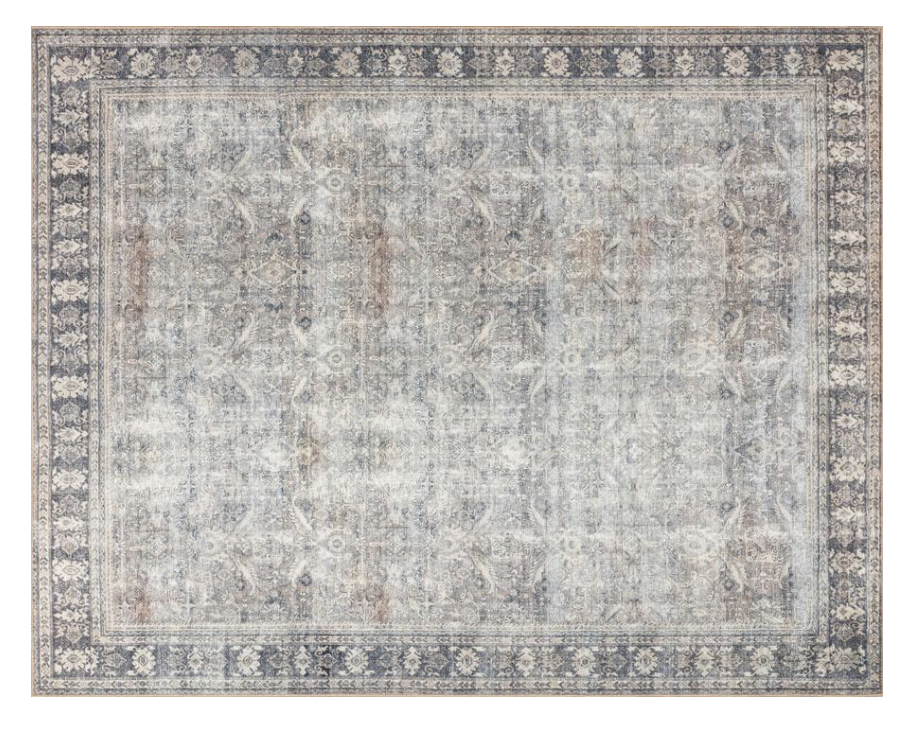 The Gorgeous Kitchen at the Meadowlark Project
For the Meadow Lark Reveal, it was important to combine function with modern elegance. I worked with the client to ensure every small detail matched this design aesthetic. First, we chose paint colors. The kitchen cabinets and trim are painted in Decorator White, and the walls are a slightly lightened shade of Gray Owl. Then, we installed these gorgeous ceramic waterfall countertops. Finally, we chose a white picket tile backsplash and the Wynter rug in Grey/Charcoal to complete the look.
In this kitchen, the island is such a unique feature. We knew we wanted it to stand out, so we painted the island cabinets in Navy Hale for a pop of color. Next, we picked out the perfect Oregon counter bar stools to tie it all together. For lighting, we selected the Camden Linear Lantern in Polished Nickel from the CC+Mike Shop.
When designing the kitchen for the Meadowlark Project, a navy kitchen island was at the top of the list for my client's. Having used Benjamin Moore's Hale Navy in my own personal home, I knew it would be the perfect navy to mix with the white cabinets and nickel light fixtures. If you're looking for a great navy paint color, you can't go wrong with Hale Navy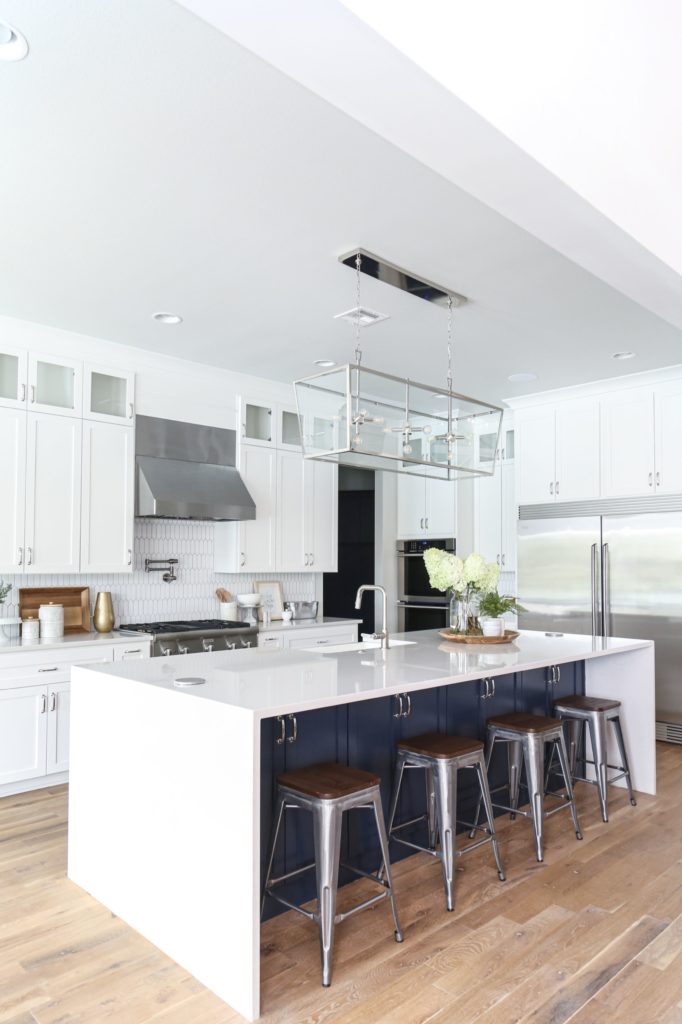 One of the most interesting design elects in the kitchen is the use of the Camden linear pendant over the large kitchen island with waterfall countertops. We wanted to do something dramatic and different for the homeowners so in the design plan I presented them with the option of doing your typical "three pendants hanging over the island" look, or doing something a bit more dramatic like one large linear pendant. They loved the idea and went for it and I'm so glad they did. The Camden linear pendant comes in brass and black finishes as well!
Another item that needs to be mentions it he BACKSPLASH IN THE KITCHEN. I fell in love with this white picket tile the second I saw it and was so glad that my clients decided to go for it when I presented it to them. In case you didn't know, picket tile is a big design trend in 2021 and I highly recommend it for bathrooms, showers, backsplashes, floors, and just about anywhere and everywhere!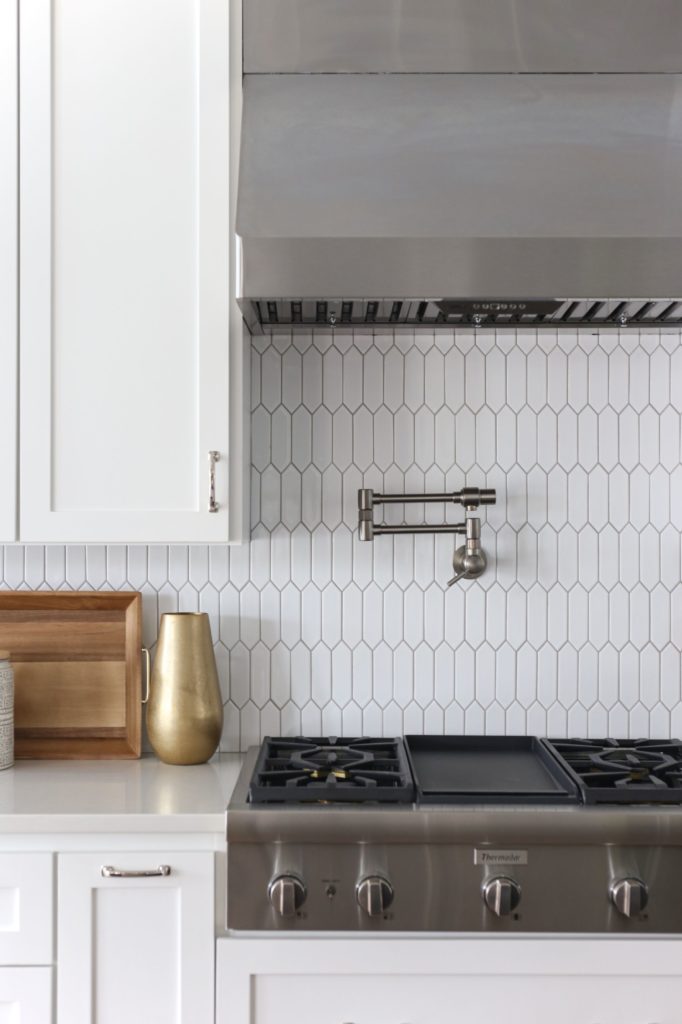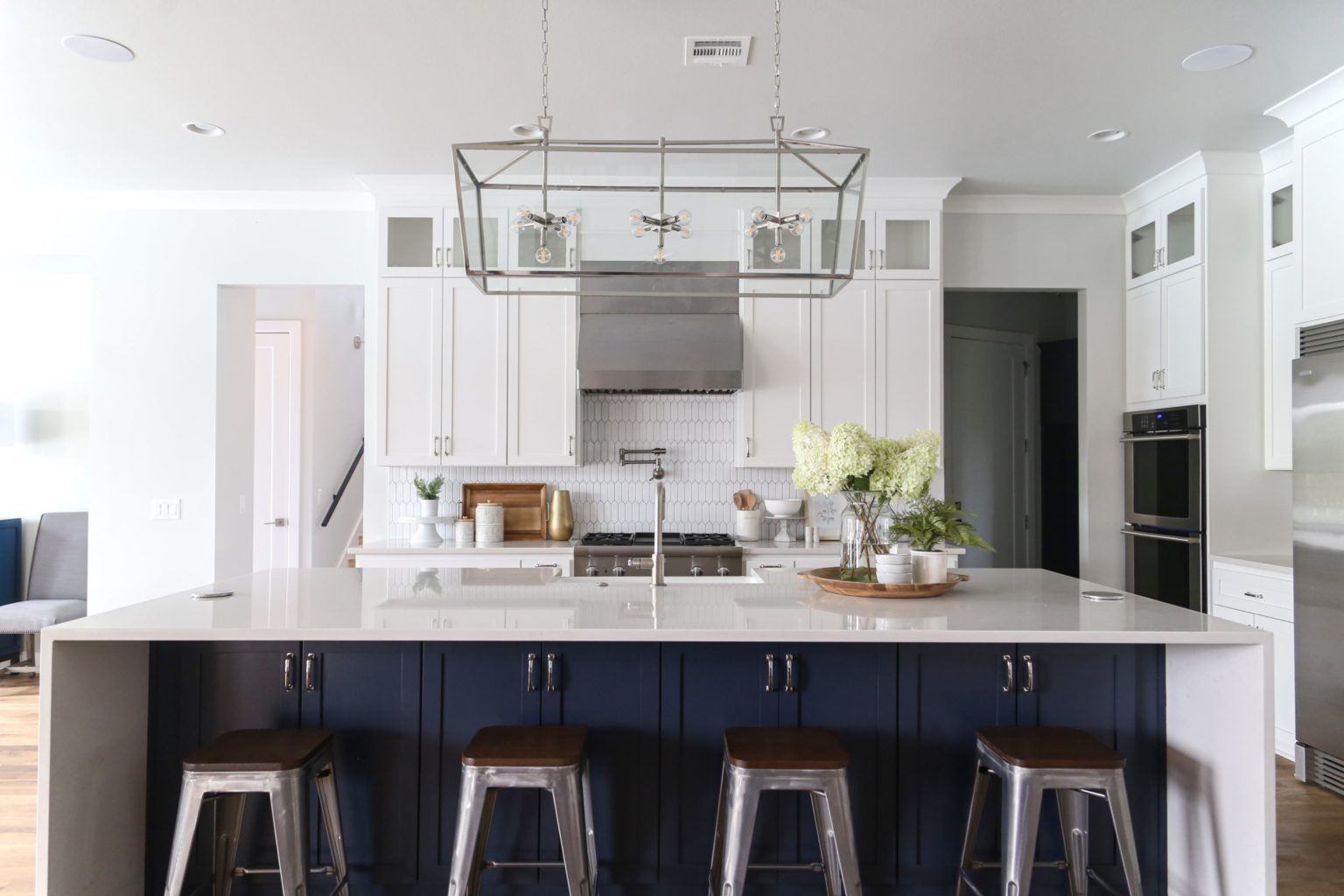 SHOP THE MEADOWLARK KITCHEN

Patterned Floors and Mirrors for Small Spaces
When it comes to small spaces like bathrooms and laundry rooms, small touches make all the difference. In the Meadow Lark Reveal, we went with a patterned floor for the boy's bathroom using these White Paloma 8" square floor tiles. We continued the pop of color from the kitchen by painting the floating bathroom cabinets in Navy Hale. The Franco Mirror opened the space and added the perfect finishing touch to the bathroom renovation.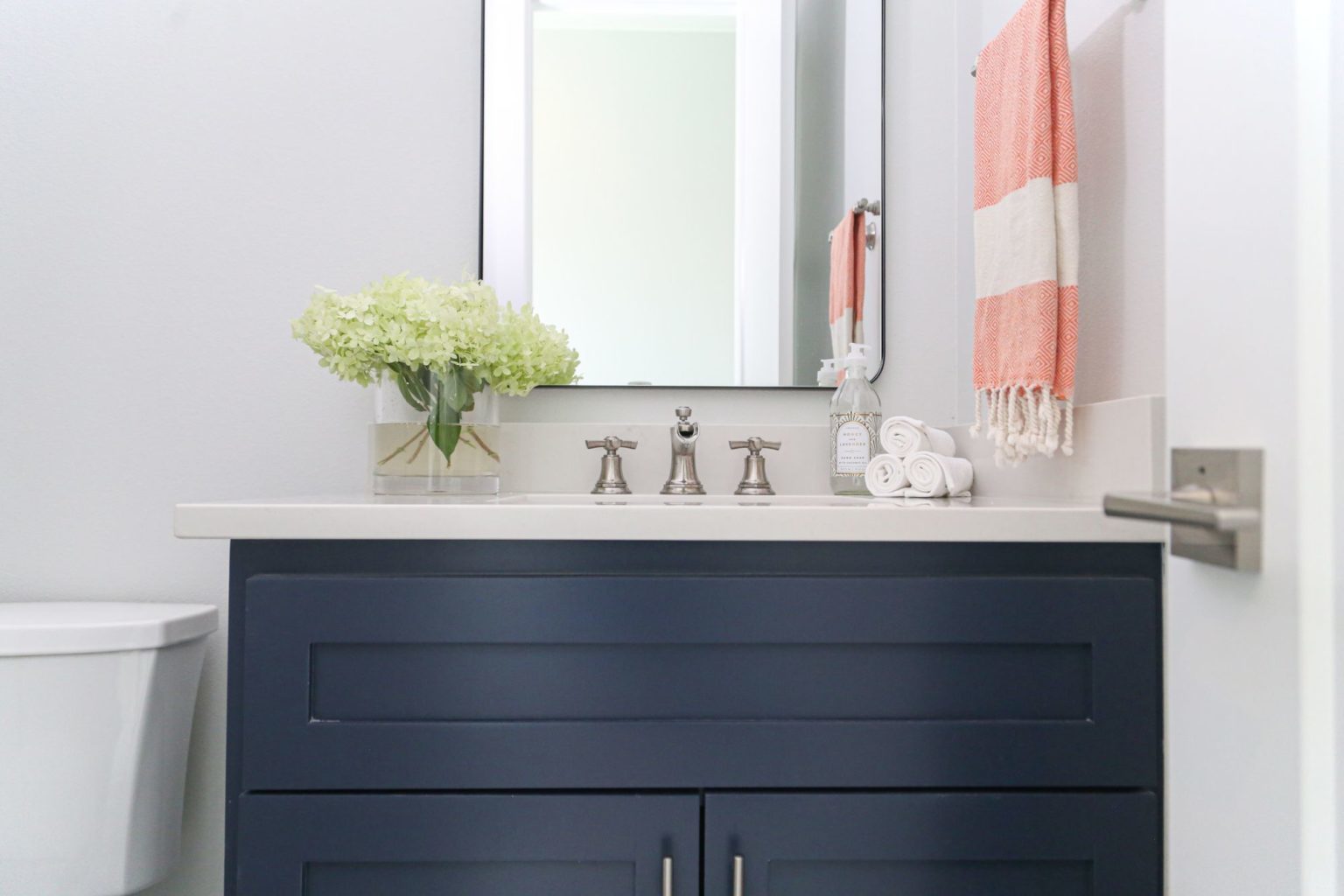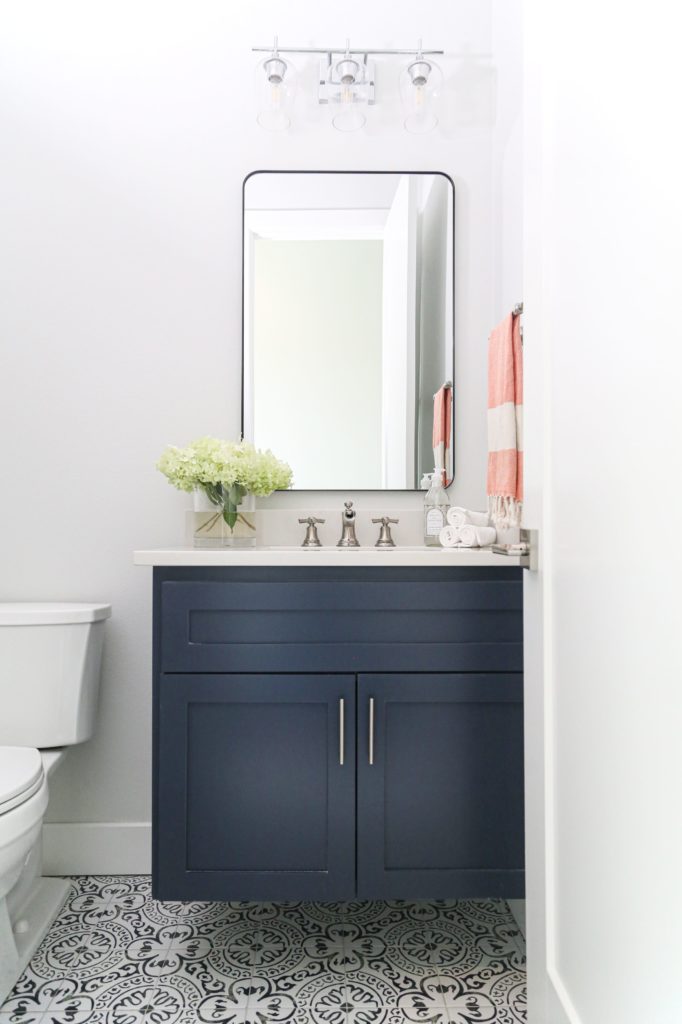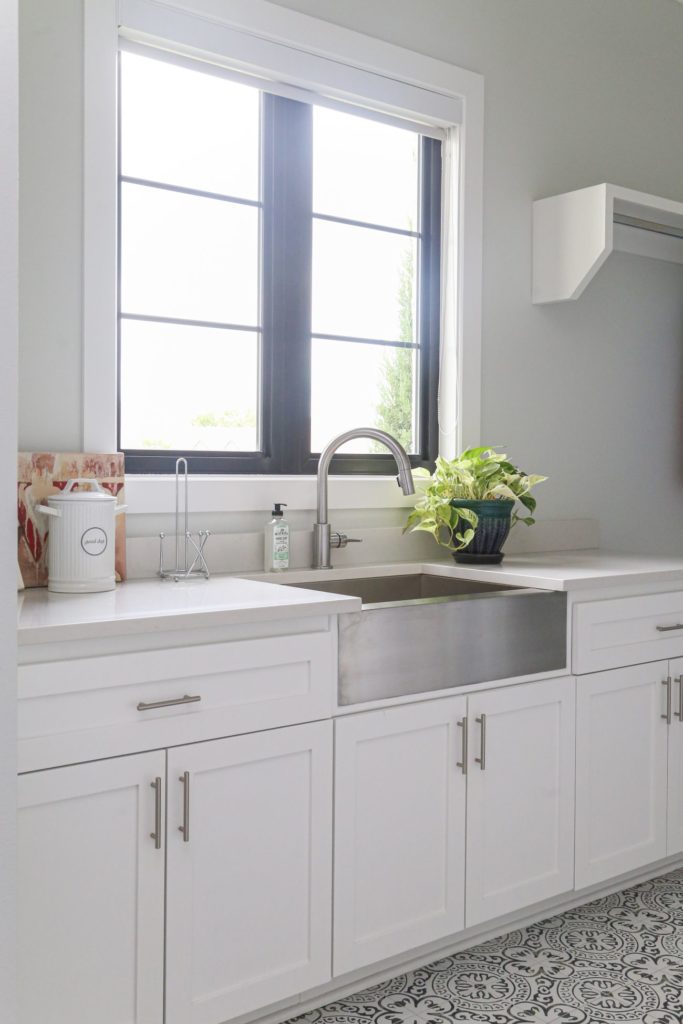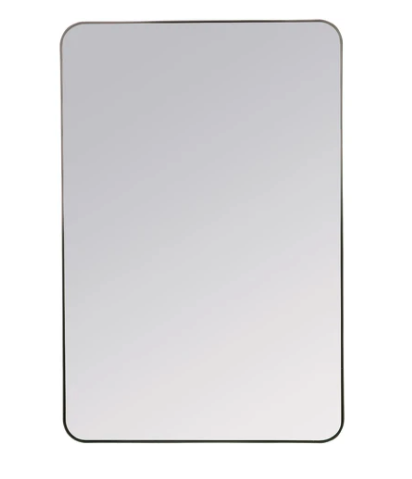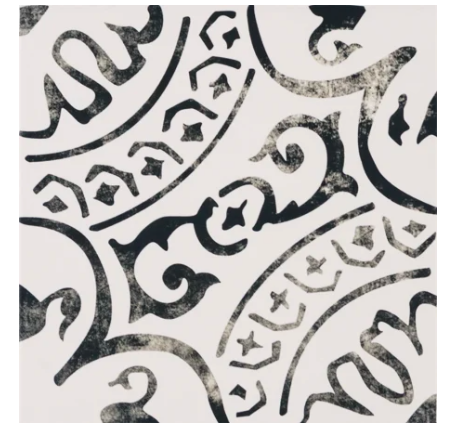 Meadowlark Reveal: Master Bathroom Upgrades
In the Master Bathroom, we knew we needed something more sophisticated. We continued the theme of painting these stunning floor to ceiling cabinets in Navy Hale. Then, we installed faux marble tiles in the master walk-in shower for a luxury vibe. We used a similar style of tiles to pattern the floor. The finished master bathroom look was absolutely stunning. With custom lighting, a standalone tub, floating cabinetry, and a privacy window treatment, the bathroom at the Meadowlark Reveal home is the perfect place for some me-time.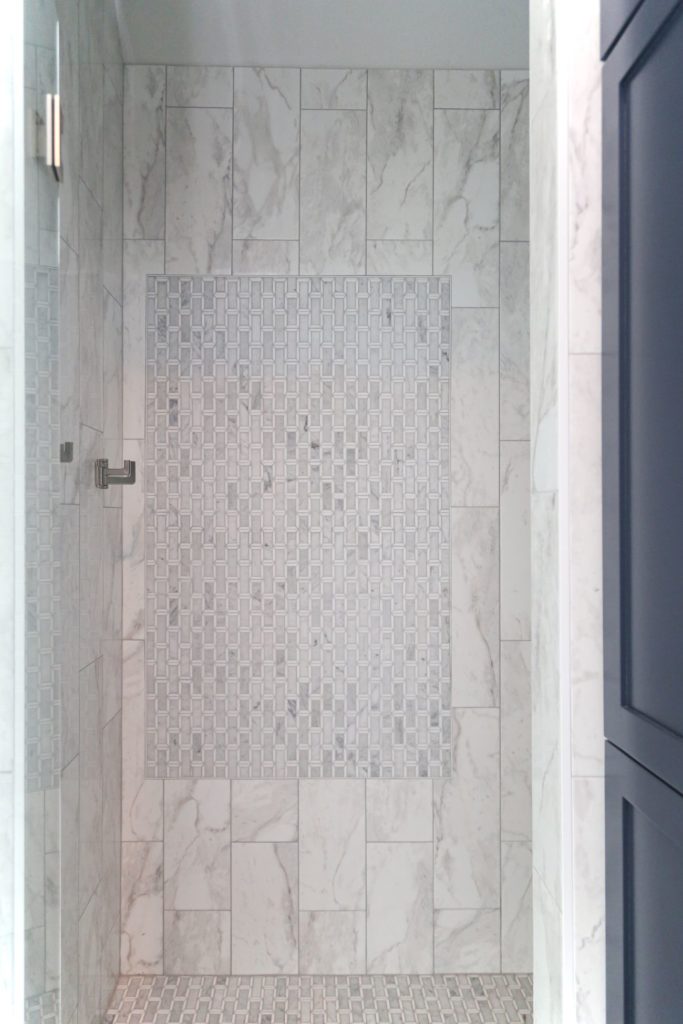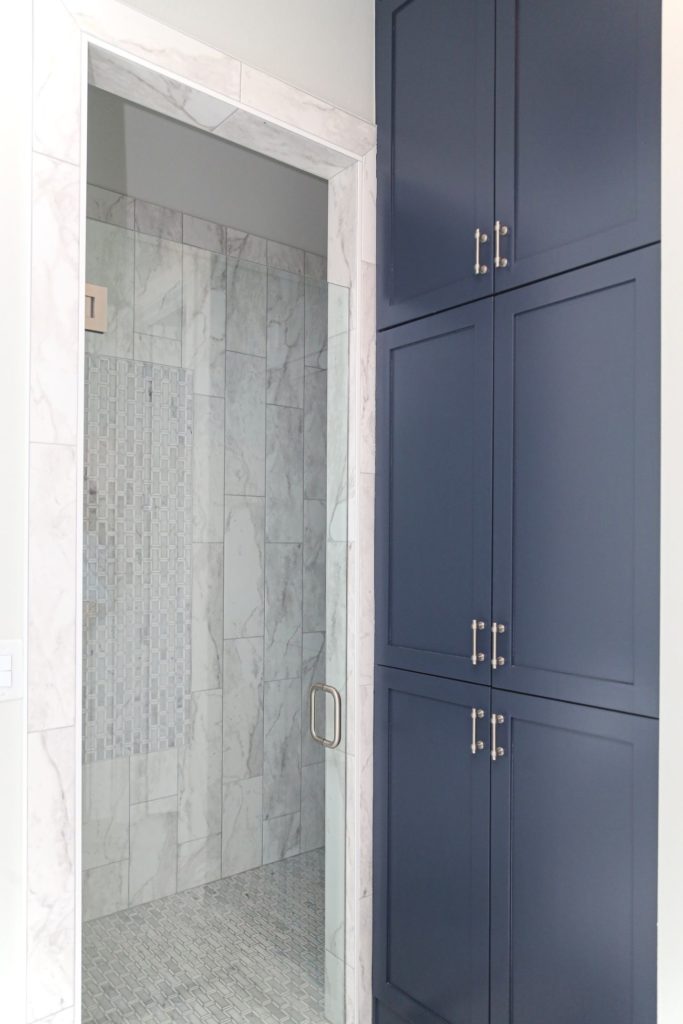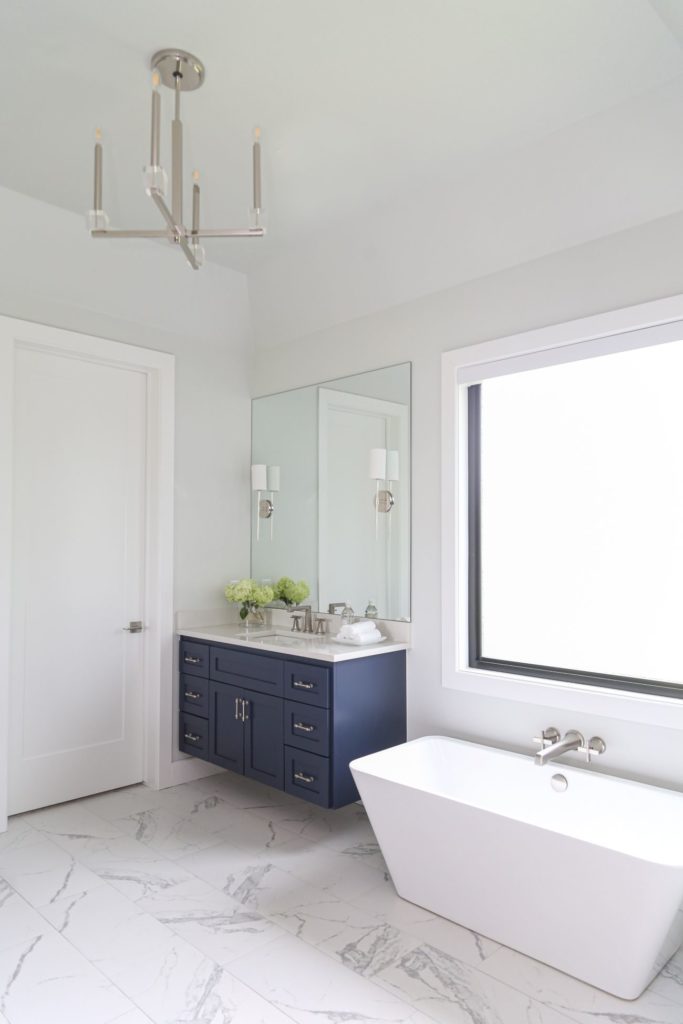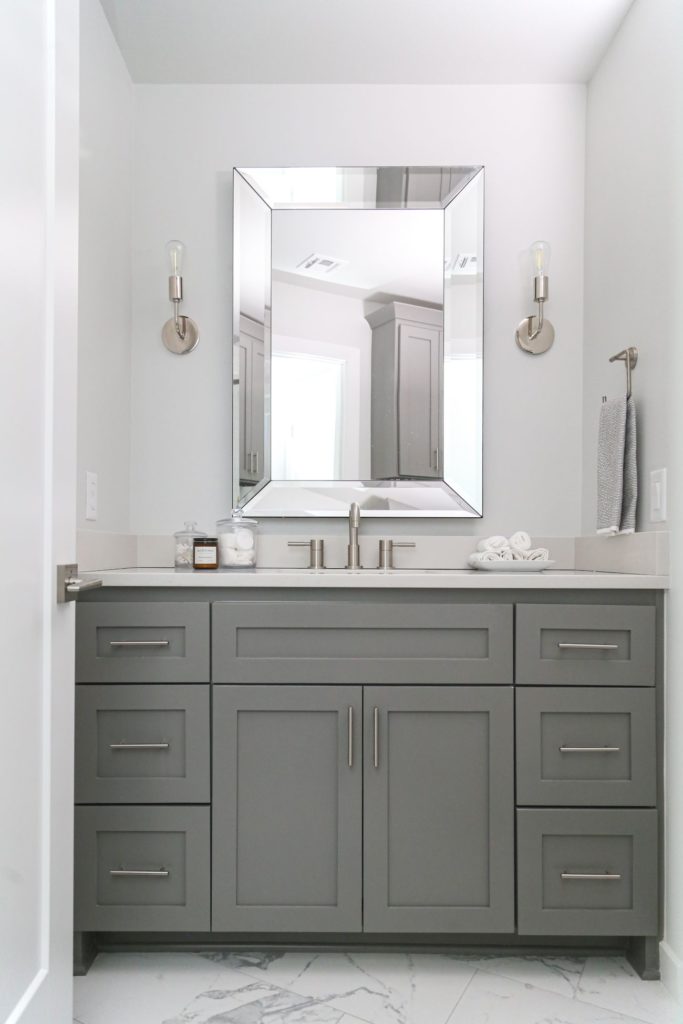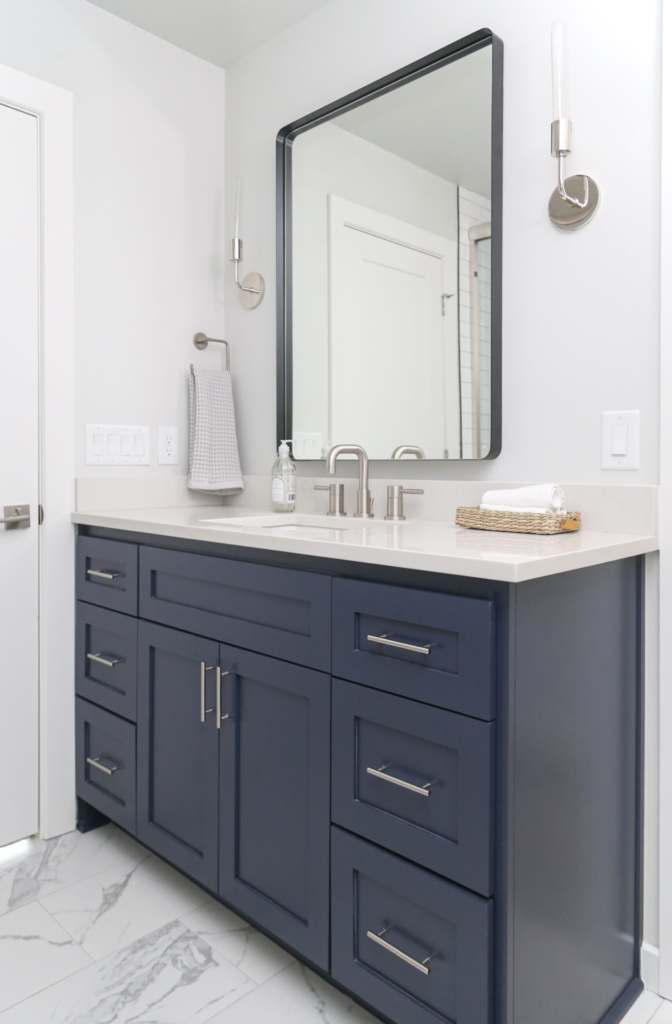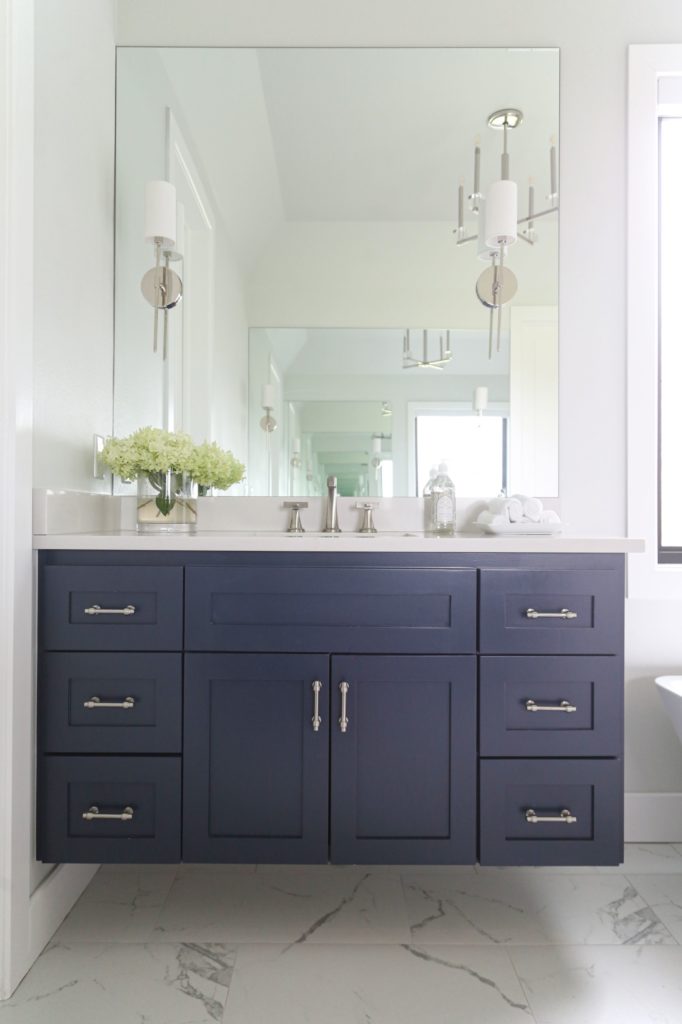 Meadowlark Reveal Exterior in Slurried Brick
For the Meadowlark Reveal, we chose a slurried brick finish on the outside of the home. Slurried brick was one of my top recommendations to my client's home rather than using stucco, the reason being that I don't personally like the look of expansion joints that are required for stucco across an exterior that is this expansive. We will do an entire post soon about slurried brick and the products we recommend in order to achieve this look. But for now, just know that slurried brick is a process that involves applying a mortar troweled over the brick instead of painting it.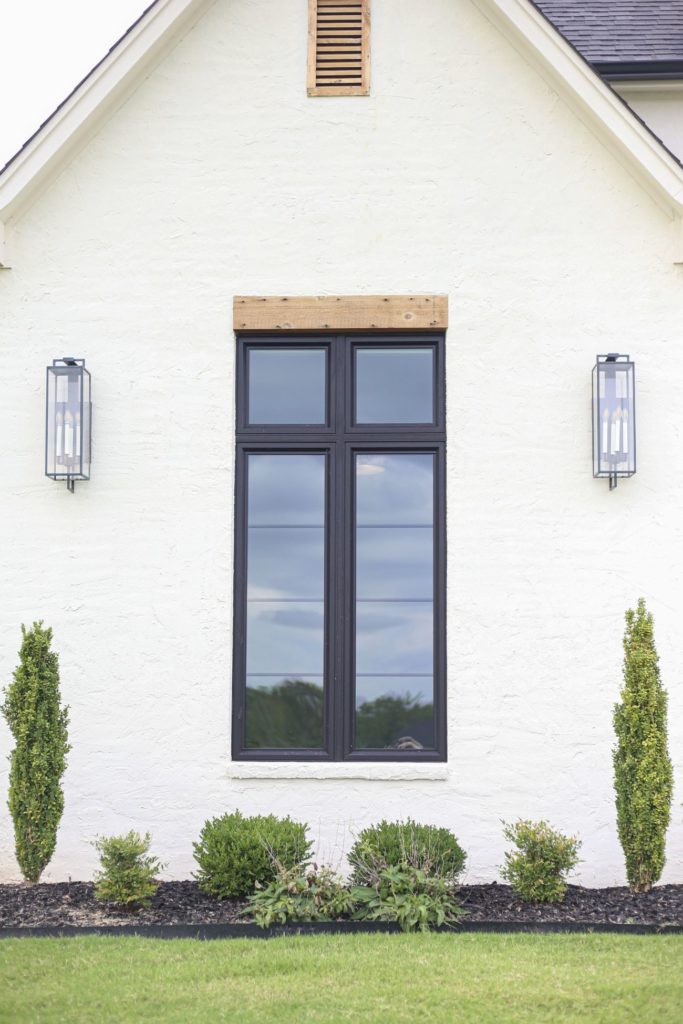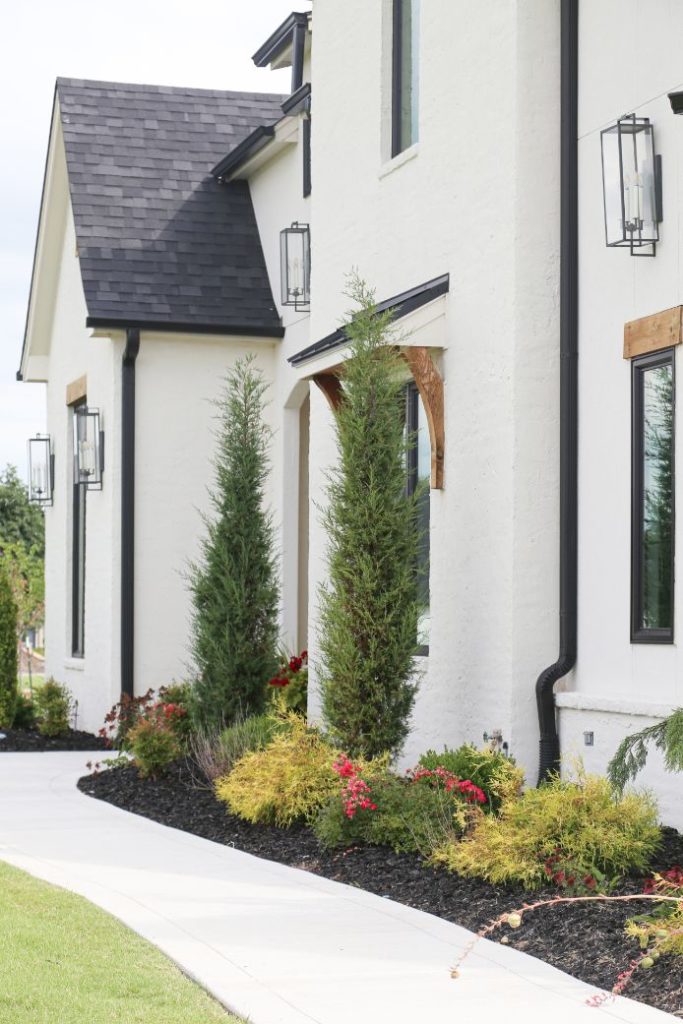 We hope you enjoyed this tour of our Meadowlark Project. If you're looking to build or remodel your dream home, we would sure love to help you. We design homes nationwide and can build your custom home if you are in the Oklahoma area (and maybe even take a few very special projects in Arkansa and Oklahoma and Texas as well. You an fill out our form to tell us more about your project if you'd like. And of course you can always follow us and keep up to date with what is going on with our latest projects on INSTAGRAM.
Thanks for being here y'all!
Love,
CC and Mike and the crew