It's that time of year again – The Nordstrom Anniversary Sale! We are heading out of town for our annual Rosemary Beach Trip so I wanted to get this post put together for you guys to let you know my favorites from the sale – both either tried and true items that we already own and love, like my Quay sunglasses and Spanx leather tights, or Mike's Cole Haan shoes and Adidas Ultra Boosts that he loves. I know the sale can be overhwhelming so honestly I wanted to just break these things down for you to my top 10 items for women (and the things I'm actually buying or have) and my top 7 items for men (also things we already own or are buying.). So let's start there!
SHOP MY TOP TEN WOMEN'S PICKS (PICTURED ABOVE) HERE
ONE | TWO | THREE | FOUR | FIVE | SIX | SEVEN | EIGHT | NINE | TEN
The top 5 items I'm wanting from the sale are the Kent Colorblock cardigan, Marc Fisher Booties, North Face jacket , Barefoot dreams cardigan , Black chain booties, and Adidas Leopard Shoes. I already own the following Spanx leather leggings (and they are a must have in my opinion) and the Quay sunglasses which are my favorite sunglasses.
WHAT I AM ORDERING
Here are my top items that I've picked out in the sale, have already added to my wishlist, and plan to order the second the sale opens to me which will be July 16th.
KENT COLORBLOCK CARDIGAN | ADIDAS LEOPARD SHOES | BAREFOOT DREAMS CARDIGAN | BLACK CHAIN BOOTIES | MARC FISHER BOOTIES | NORTH FACE JACKET

I also have to mention this Brendan Flannel Shirt which comes in several color ways and I think will be a best seller. I think it will be so cute paired with cardigans and boots for early fall and winter and have even seen some of my blogger friends who have this shirt and booties whether they are the Marc Fisher Booties, Black chain booties, or Joan of Arc Sorel wedges
ClICK ON THE PHOTO TO SHOP BRENDAN FLANNEL OUTFIT LOOKS

WHAT I ALREADY HAVE AND LOVE
Here are items that are available in the sale that I already own and love. They are, if you will, closet staples and are things I wear constantly. I have to say that my Michele watch is one of my favorite items and it is such a great deal right now during the sale. So if you've been eyeing one, now is the time to buy. The Spanx leggings are a wall and winter must and the Quay aviators are truly my favorite sunglasses. They look amazing with everything from sporty to dressed up looks. I also love the Steve Madden chain mules that come in multiple colors. I got camel but I love them in all four colors offered!
STEVEN MADDEN CHAIN MULES | MICHELE WATCH | QUAY SUNGLASSES | SPANX LEATHER LEGGINGS
WHAT MIKE ALREADY HAS AND LOVES
Alrighty now let's talk about menswear! There are several items in the sale that Mike already owns and loves as well, and highly recommends. His absolute favorite are the two Cole Haan tennis shoes which he wears all the time. He has the pair in the middle in navy and gray and wears them year round. they are:
ADIDAS ULTRA BOOST | Cole Haan TENNIS PRO | Cole Haan STITCH LITE | NORTH FACE JACKET | SAXX UNDERWEAR
WHAT I'M BUYING FOR MIKE IN THE SALE
Here's what I'm loving in the Nordstrom Sale for Men's picks and what I'm buying for Mike!
BOMBER JACKET | MENS JOGGERS | NORTH FACE VEST | NIKE AIR MAX | PLAID SHIRT
ALRIGHTY, now that I've broken it down for you guys specifically on my very top picks (things I already own and things I'm buying in the sale for both Mike and myself, let me give you the longer list of things I am loving for the Nordstrom sale. A few of these items that are of notable mention – The Barefoot Dreams cardigan which makes a great gift both for yourself and for others, and I'm also loving these leopard leggings and Joan of Arc all-weather Sorel boots. The camel sweater dress is probably going to make it in my cart as well. How cute would it be with leopard booties or tall OTK boots for fall and winter.
Here's my longer list of Nordstrom list faves!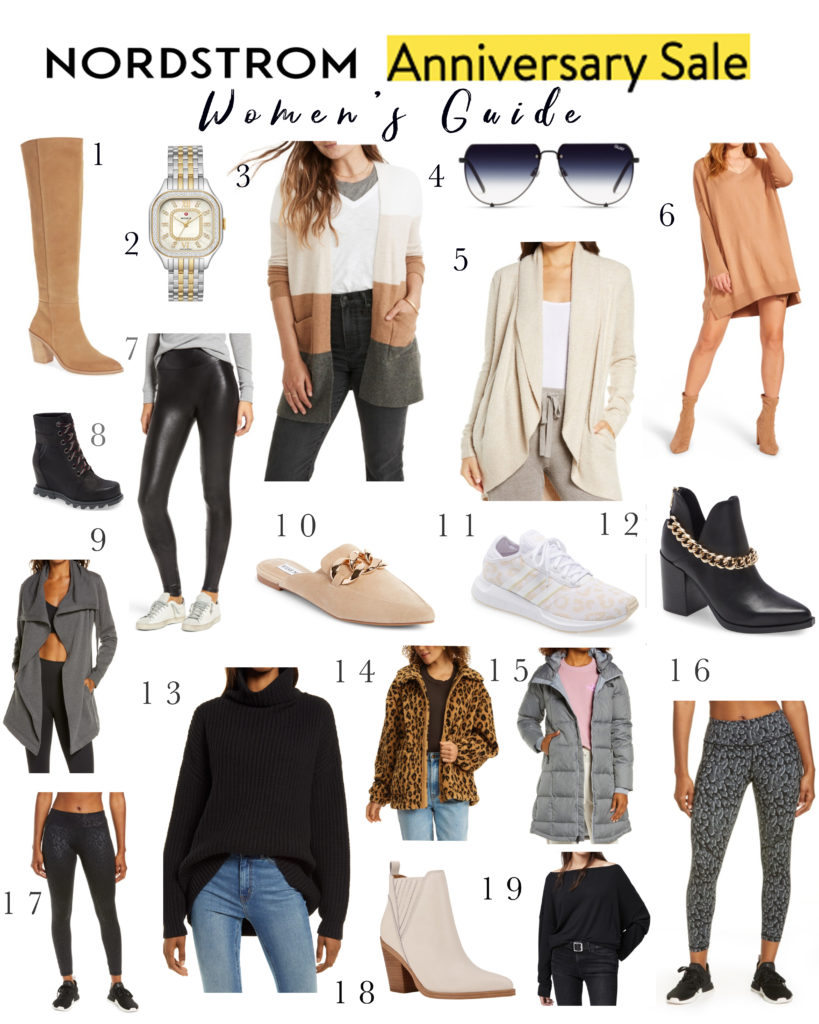 ONE | TWO | THREE | FOUR | FIVE | SIX | SEVEN | EIGHT | NINE | TEN | ELEVEN | TWELVE | THIRTEEN | FOURTEEN | FIFTEEN | SIXTEEN | SEVENTEEN | EIGHTEEN | NINETEEN |
YOU CAN ALSO SCROLL AND TAP ON THE PICTURES TO SHOP MY NSALE CHOICES FOR WOMEN

Now for the guys choices! There are a lot of things on this list that work for both Mike and Easton. Loving the shoe selections and of course all of the North Face gear!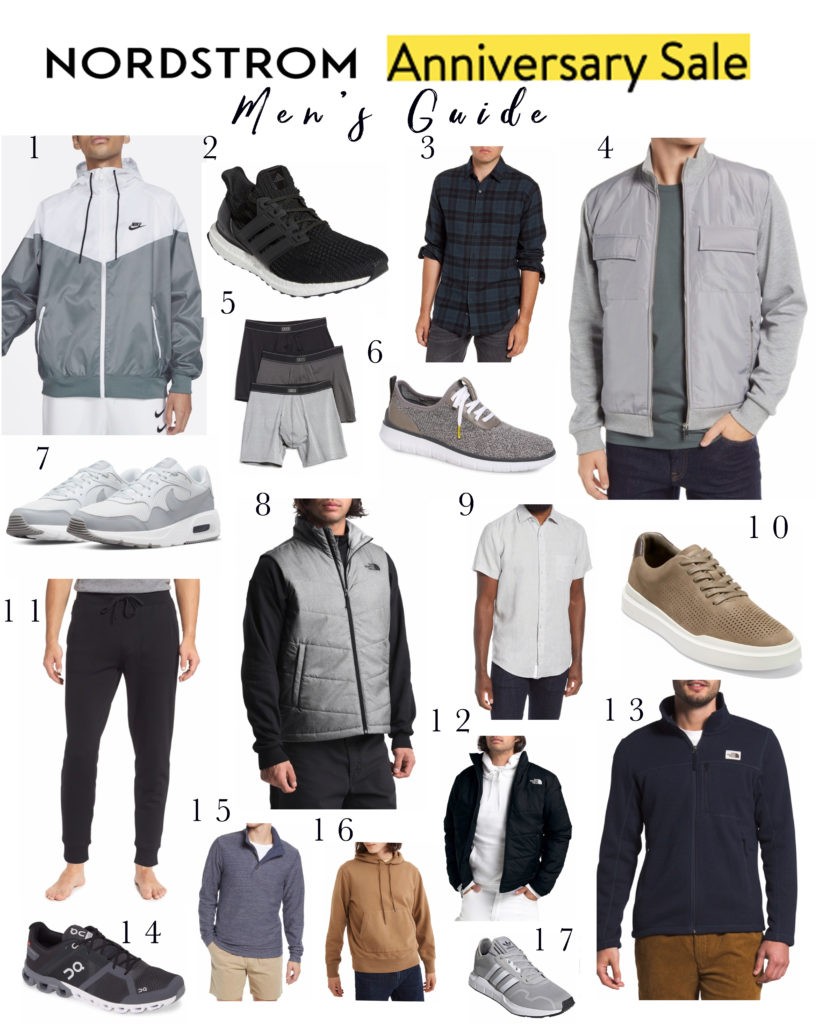 ONE | TWO | THREE | FOUR | FIVE | SIX | SEVEN | EIGHT | NINE | TEN | ELEVEN | TWELVE | THIRTEEN | FOURTEEN | FIFTEEN | SIXTEEN | SEVENTEEN |
YOU CAN ALSO SCROLL AND TAP ON THE PICTURE TO SHOP MY MEN'S NORDSTOM SALE PICKS HERE:

SHOPPABLE PICTURES OF ALL MY NORDSTROM FAVORITES