One of my favorite quick and easy recipes that my mom made growing up was Mexican Pinwheels. These are a fun little Mexican Party in your mouth that kids and adults love and I'm excited to finally be bringing them to the blog. I know they take a bit of work but they are so fun and worth it and I hope you guys will give them a try! They are also great for feeding large gr0ups of people and are delicious when reheated. You can't beat that!
First, you start with 1 lb of ground beef. Cook it in a large pan, then drain.  Add water and seasoning mix.  Heat to boiling.  Boil gently, uncovered for 15 min or until the liquid has evaporated.  Remove from heat then stir in 1 cup of cheese.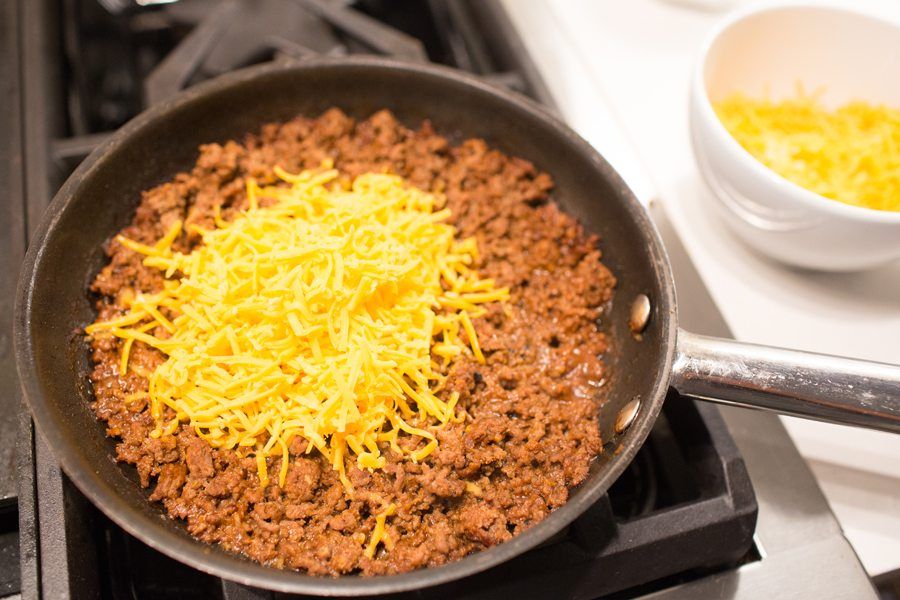 ***First of all, I have a confession to make. I totally  1 1/2 this dough recipe because duh, the dough is the best part and I like double dough. Obvi. So I wrote the recipe as is below but just know that if you are a double dough kinda girl like me, you might want to do (3 cups flour, 6 tsp baking powder, 1 tsp salt, etc… instead of the as written recipe below). #doubledoughisbetter 🙂
Combine 2 cups flour, 4 tsp baking powder, and 1/2 tsp salt. Cut in 1/4 cup margarine.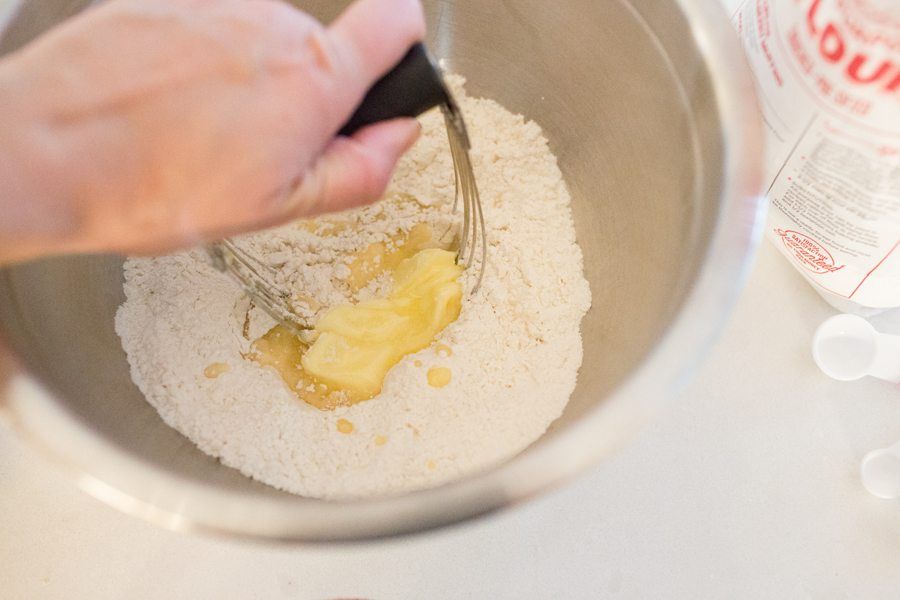 Add 1 cup of undiluted evaporated milk.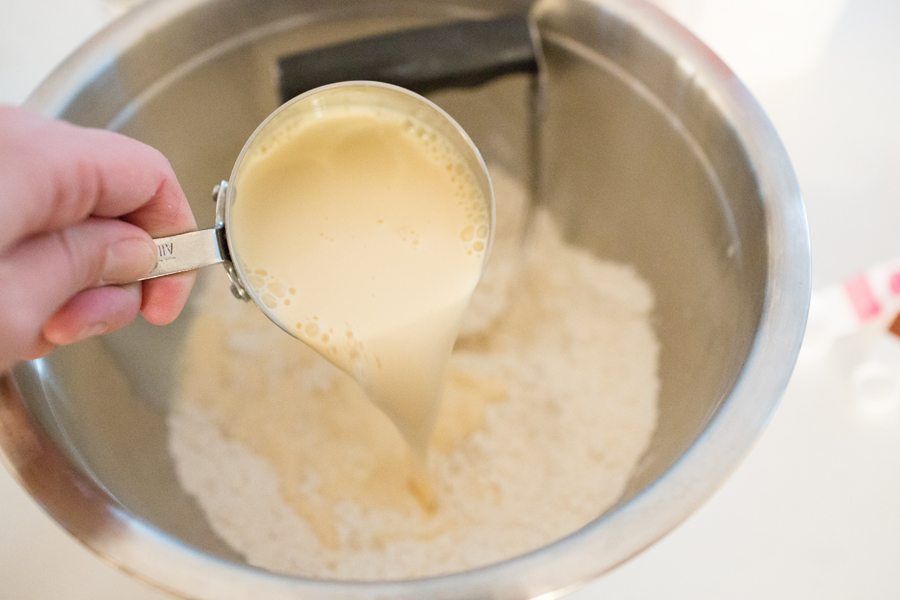 Stir together.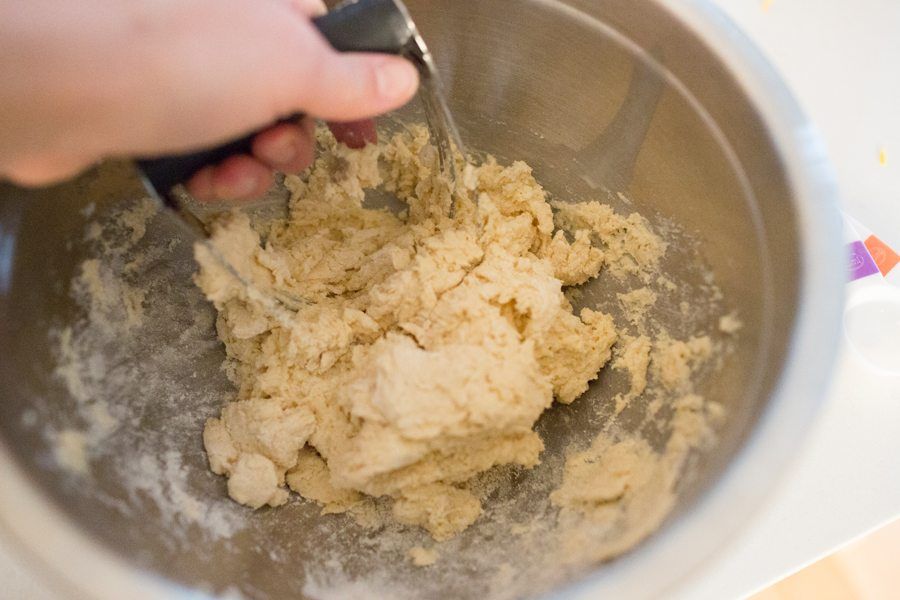 Roll out onto a floured surface into an 18 inch x 10 inch rectangle.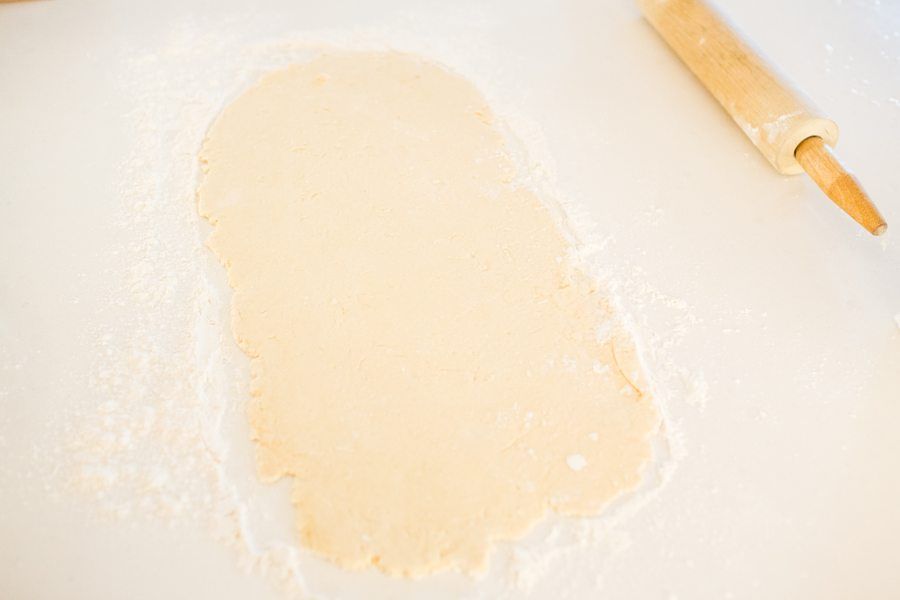 Spread the meat filling over the dough.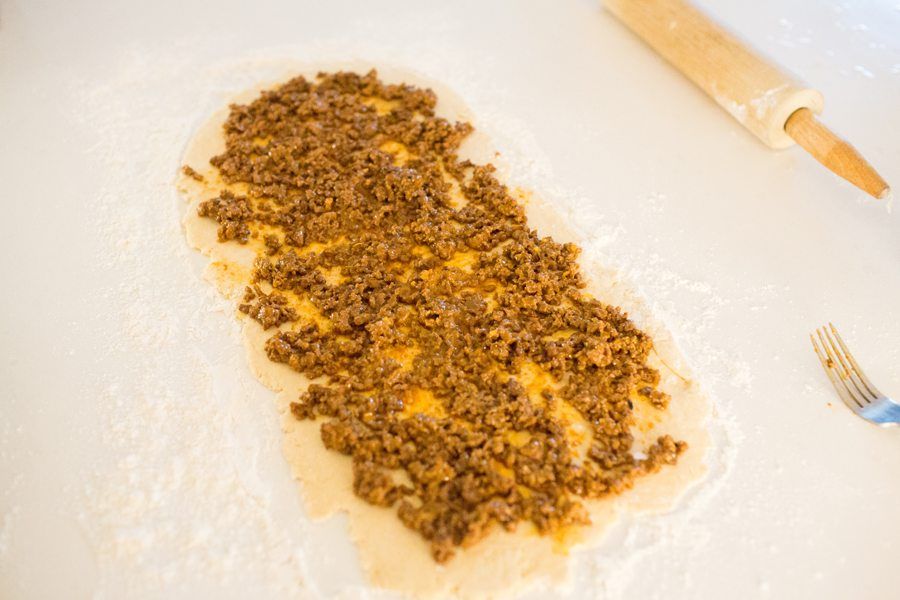 Roll up tightly, starting at the long side.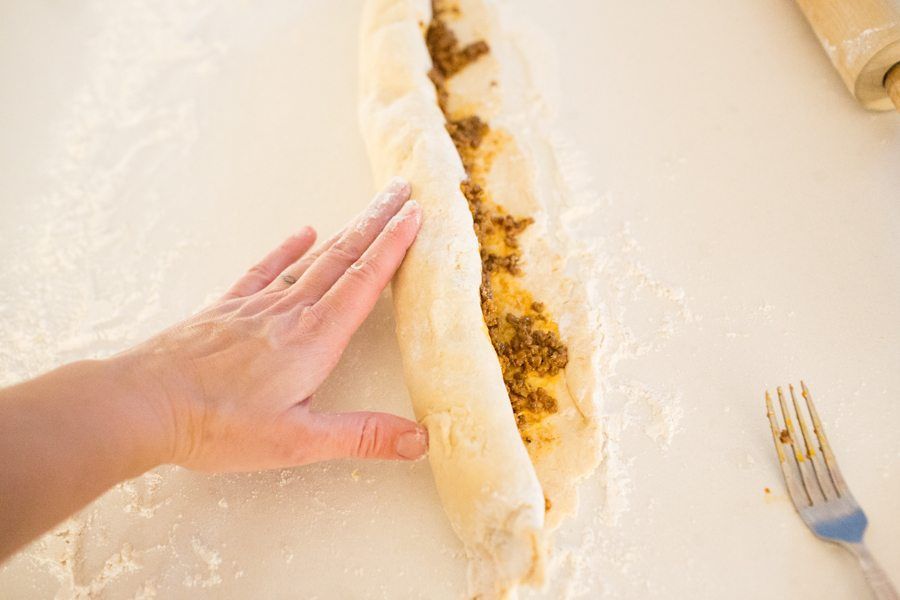 Pinch ends to seal.
Cut int 1 to 1 1/2 inch slices. the place cut side up in a 9 x 13 baking dish.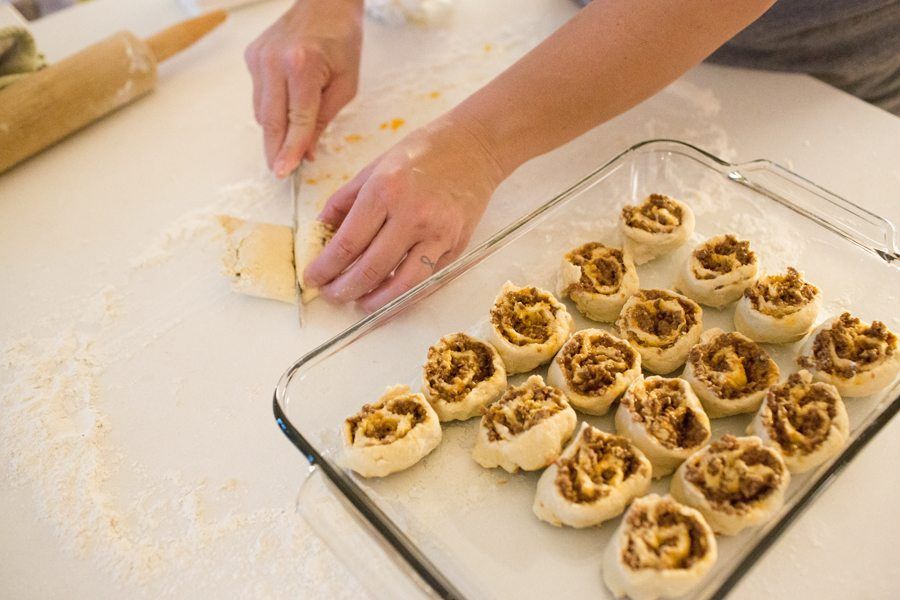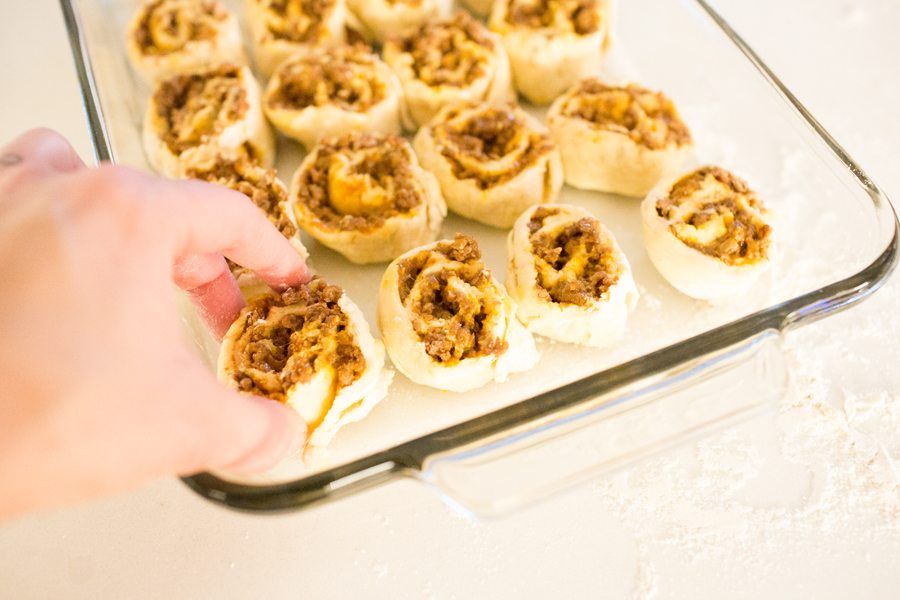 Bake 350 degrees for approximately 25 minutes.  Sprinkle the remaining cheese on top of the pinwheels then bake 2 minutes longer.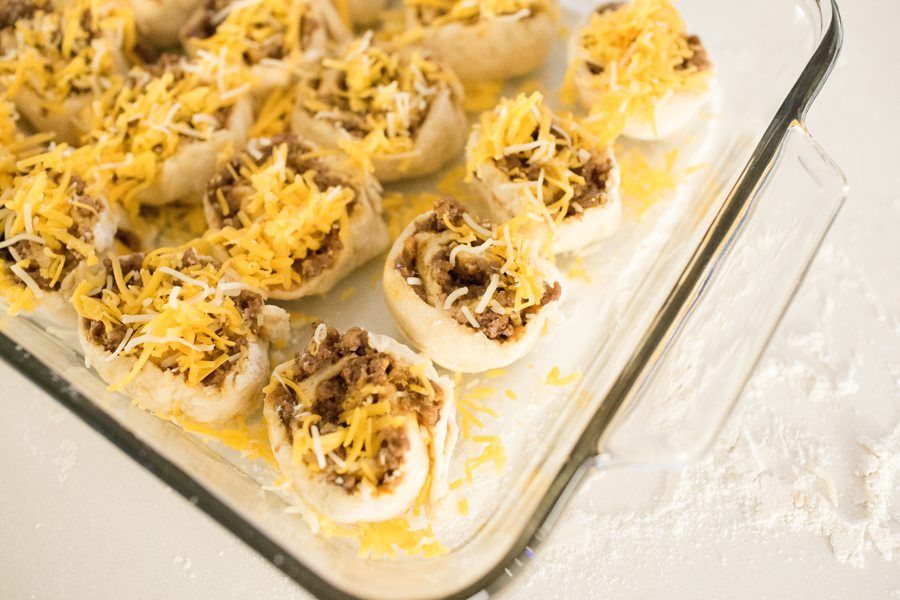 Bake at 350 degrees for approximately 25 minutes.  Top with your favorite Mexican food toppings such as sour cream, fresh salsa, guacamole or avocado slices, and sliced black olives.  Enjoy your little Mexican Pinwheel Party in your mouth!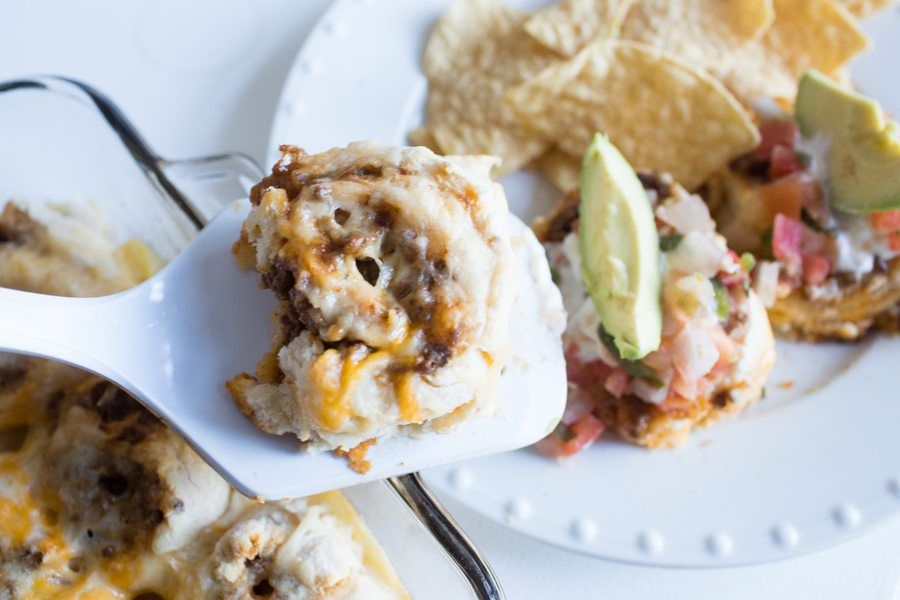 1. Brown 1 lb of ground beef. Cook it in a large pan, then drain. 2 Add water and seasoning mix. Heat to boiling. Boil gently, uncovered for 15 min or until the liquid has evaporated. 3. Remove from heat then stir in 1 cup of cheese. 4. Combine 2 cups flour, 4 tsp baking powder, and 1/2 tsp salt. Cut in 1/4 cup margarine. 5. Add 1 cup of undiluted evaporated milk. Stir well into the flour mixture 6. Roll out onto a floured surface into an 18 inch x 10 inch rectangle. Pinch ends to seal. 7. Cut int 1 to 1 1/2 inch slices. Then place cut side up in a 9 x 13 baking dish. 8. Bake 350 degrees for 25 minutes, remove and sprinkle with remaining 1 cup of cheese, bake for 2 more minutes