I'm doing a Target Fall fashion try on and also sharing some of my favorite Target items for fall! SO MUCH CUTE STUFF! #targetdoesitagain. Happy Shopping!

There are some great sales going on today. Some of my favorites from SOLE SOCIETY are on Final Sale and incredible deals. I also recommend grabbing an Apricot Mist Skye rug from CC and Mike THE SHOP and one or two of the Pottery Barn throws that are on sale right now.

More great sales going on for Labor Day on items we have and love! Now is the time to buy the Barefoot Dreams cardigan and pants set. It's pricey when it's full price so definitely grab a set while they're on sale!

I had a return at Express today and they had 40 percent off everything when I went in there so I did a try on! You can also head over to Instagram and check out my stories if you want to see some of these items being worn. The leopard top from JC Penney is under $20 and is a new fave too!

Sharing some sales for the day. My favorite high waisted jegging jeans from American eagle are on sale. I have them in black, white, and am grabbing them in white too! Also grabbing some of these waffle long sleeve shirts and I love that Madewell striped sweater.

Alrighty guys, the MUST HAVE booties for fall – Gigietta booties – are back in stock but selling out fast. I just grabbed them black and the light brown color. They are sold out already in snakeskin but don't worry, I got yall covered with my best-selling FOCUS BOOTIES which are at an all-time best sell price and are avialable in leopard print now too! I also just grabbed a pair of these look for less wedge tennis shoes from Walmart. They are total dupes for the Steve Maddens that are double the price. Also, Y'all know Free People is my jam and Dillard's has an incredible sale going on right now so I shared some Free People too. Happy Shopping!

Macy's is having a huge one day sale that ends tonight at midnight.  They have great Free People sales so I went through all the sale items and found so great Free People but also lots of other stuff including my red Calvin Klein belted jumpsuit for a steal of a deal in three different colors AND my snake skin Chinese Laundry booties that I have never before seen on sale.  They were a best seller and I wore the ever living heck out of them last fall.  I highly recommend them!

Huge American Eagle sales going on.  If you saw my stories I'm wearing my new kimono and LOVING IT!  It's on sale and there are some other great AE kimonos on sale for only $14.99 so I did a round up for you.  Also, AE jeans are BOGO and I can't recommend the high waisted curvy jeggings enough!  Seriously you guys I have them in three pairs – black, white, and dark destroyed denim and I wear them on repeat.  I size up one in AE jeans, especially these jeggings because they are super stretchy and fitted but they are glorious in my opinion.  You can find the links below my collage below for the exact jeans I'm wearing (black, white, and denim next level high waisted jeggings) Trust me you will love these jeans – They are high waisted and hold everything in and feel good and look good.  Just check out the reviews too!  Hope you find some stuff you like in today's Daily Deals!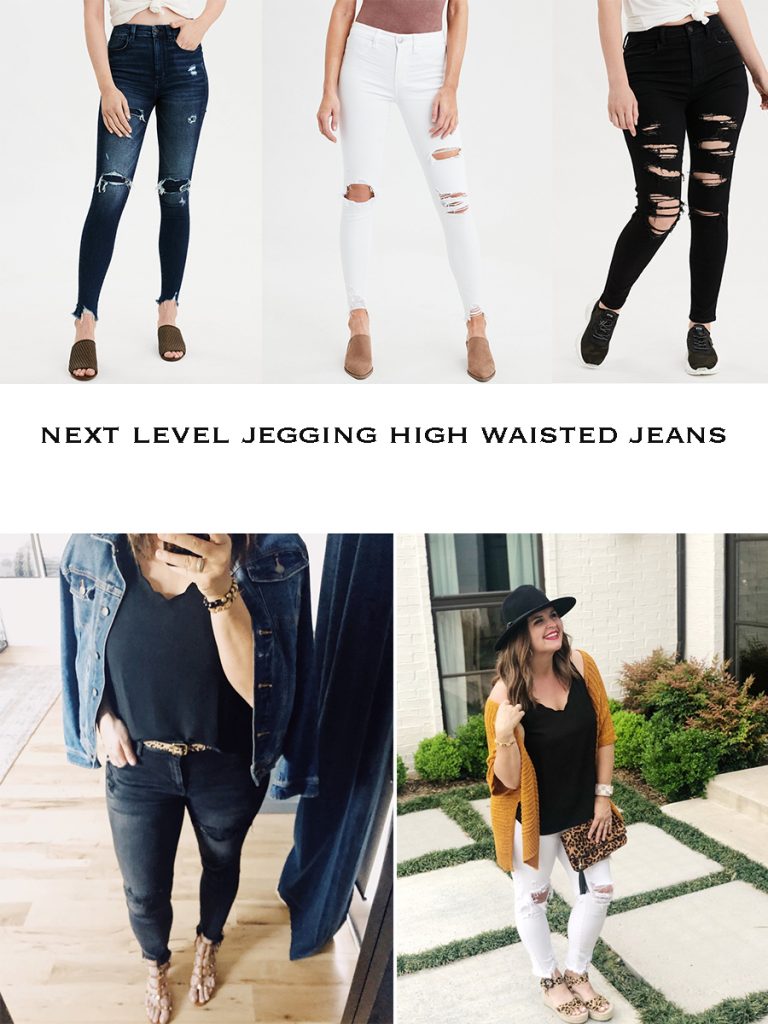 1. Dark wash  2. White 3. Black
Here's some photos of me in the jeans so you can see how they fit.  Like I said, I sized up one, but I always recommend just buying them in two sizes if you are unsure then return the one that doesn't fit – easy peasy, especially with just mailing in your returns these days and not even having to go to the store!
Here are some of my beauty items that I'm obsessed with and am frequent asked about.