I'm so excited to share our new teen hangout room design plan and hanging chairs with you guys today!  I've decided I'm going to start sharing more in progress posts. I think it's important to see the behind the scenes of our projects as well, and not just the reveal photos!  So….I'm sharing with you guys our plans for our new teen hangout room and thanks to Hayneedle, the kids (and ok maybe the parents too) are flipping out — pun intended — about these new hanging chairs that we have suspended from the ceiling.  They are, without a doubt, going to steal the show in our new teen hangout room and if you're looking for a fun new addition to any room, you should definitely consider these hanging chairs.
SCROLL AND TAP TO SHOP OUR HANGING CHAIRS AND HARDWARE FROM HAYNEEDLE:

Woven Hanging Chairs are great for not only a teen hangout room, but a game room, a kid's bedroom, a homework or art room, or even a master bedroom! This is my friend Nicole's master bedroom and she has a hanging chair in the corner of her room.  I love the touch it adds!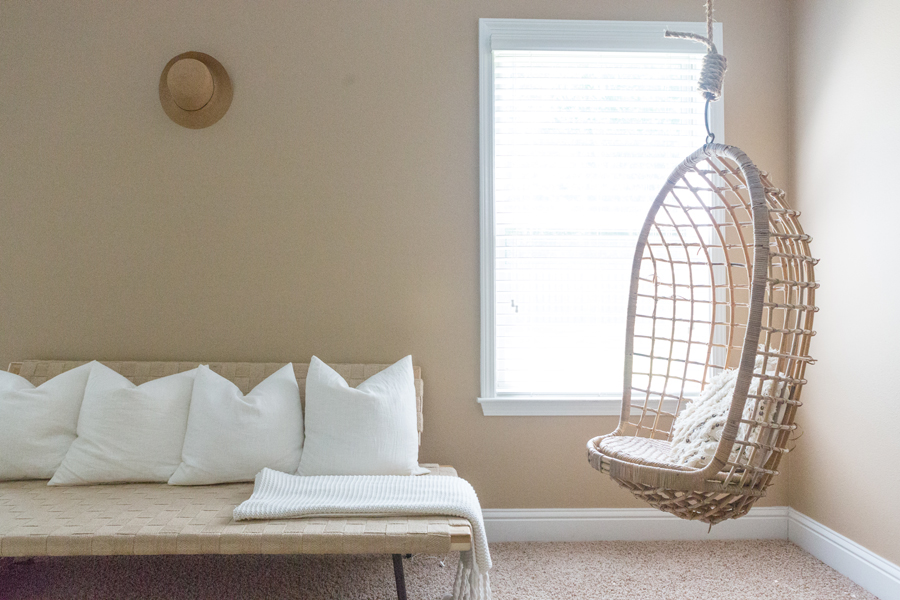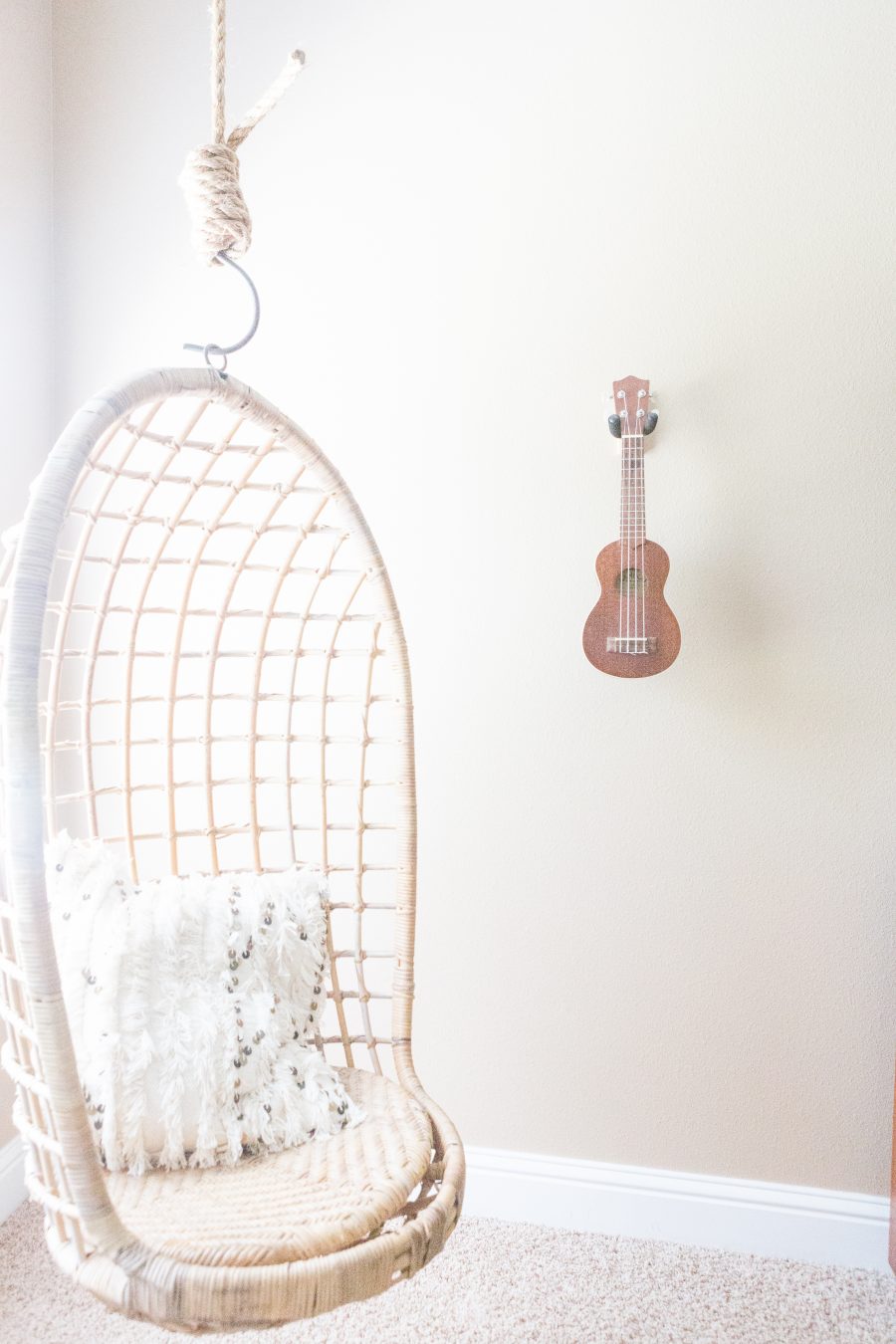 So back to our teen hangout design plans and me turning over a new leaf and starting to share the behind the scenes of some of our projects.  You've seen our game room before….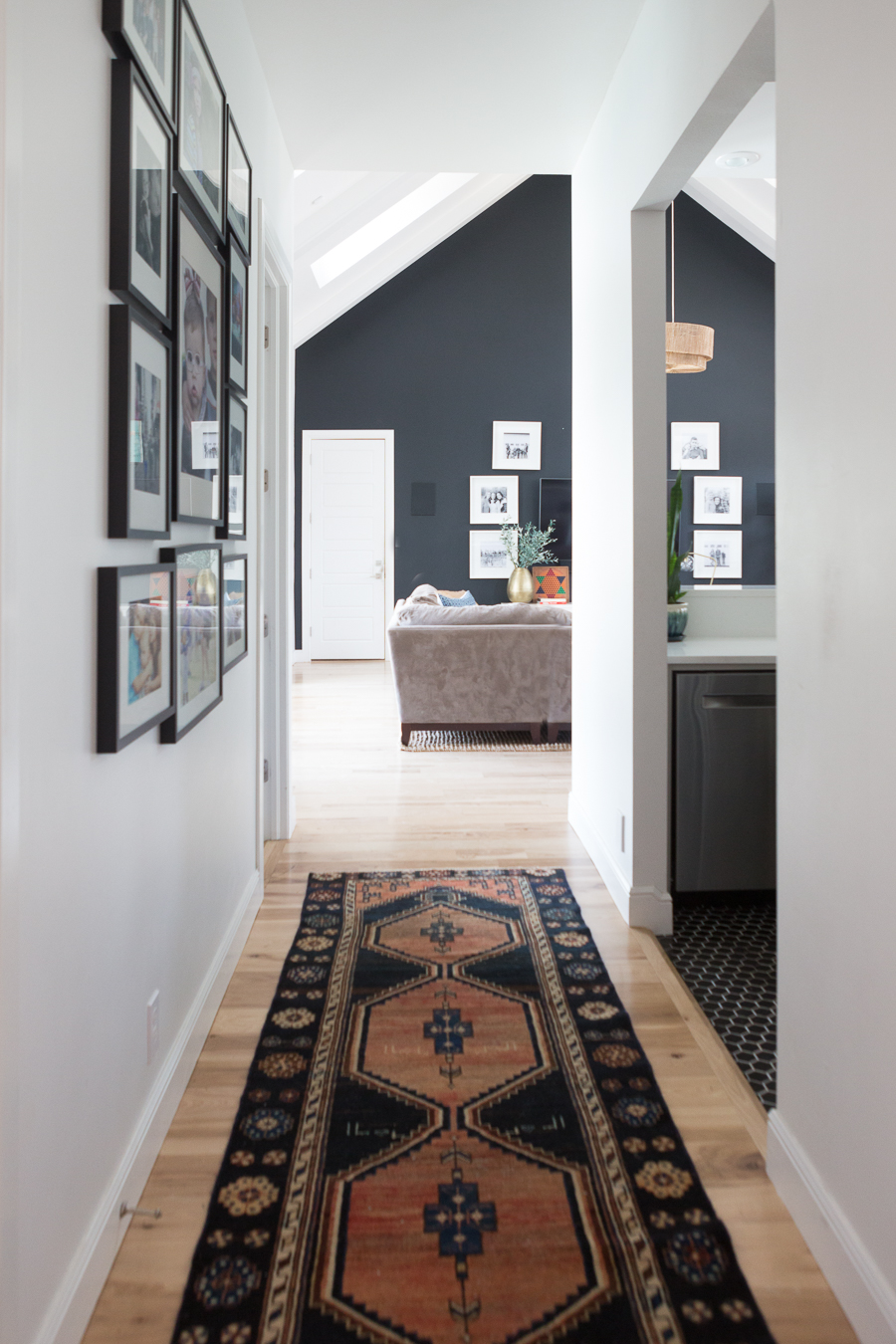 SCROLL AND TAP TO SHOP OUR GAME ROOM DECOR

But I've never before shared what's at the top of the stairs that go upstairs from our game room. That's because we've been in our house three years and this space has basically been a catch-all for junk and legos and you name it.  But now we have a new plan!  We are going to turn this empty space into a fun, teen hang out room and without a doubt, the inspiration for my design of this room and the first  thing we ordered — yes, we got our hanging chairs ordered and installed before we even have a couch — was our new hanging chairs from Hayneedle.  Here is our design plan for our teen room:
Charcoal Umbria Rug | Osage Nation Print | Black Pillows | Gray Amba Pillow | Hanging Chairs | Lewis Sectional |  Leather Ottoman
In order to hang these chairs from the ceiling, you will also need the ceiling hardware that Hayneedle sells and you will need to make sure that you hang the chair carefully from a ceiling beam.  Per Mike Miller, you must hang the chairs from something structurally solid.  Since he personally built our house, he knew exactly where the beams in our ceiling were and we hung both of these chairs into LVL beams in the ceiling.
Please be careful to hang these chairs on something structurally sound or else I will be in trouble with Mike Miller!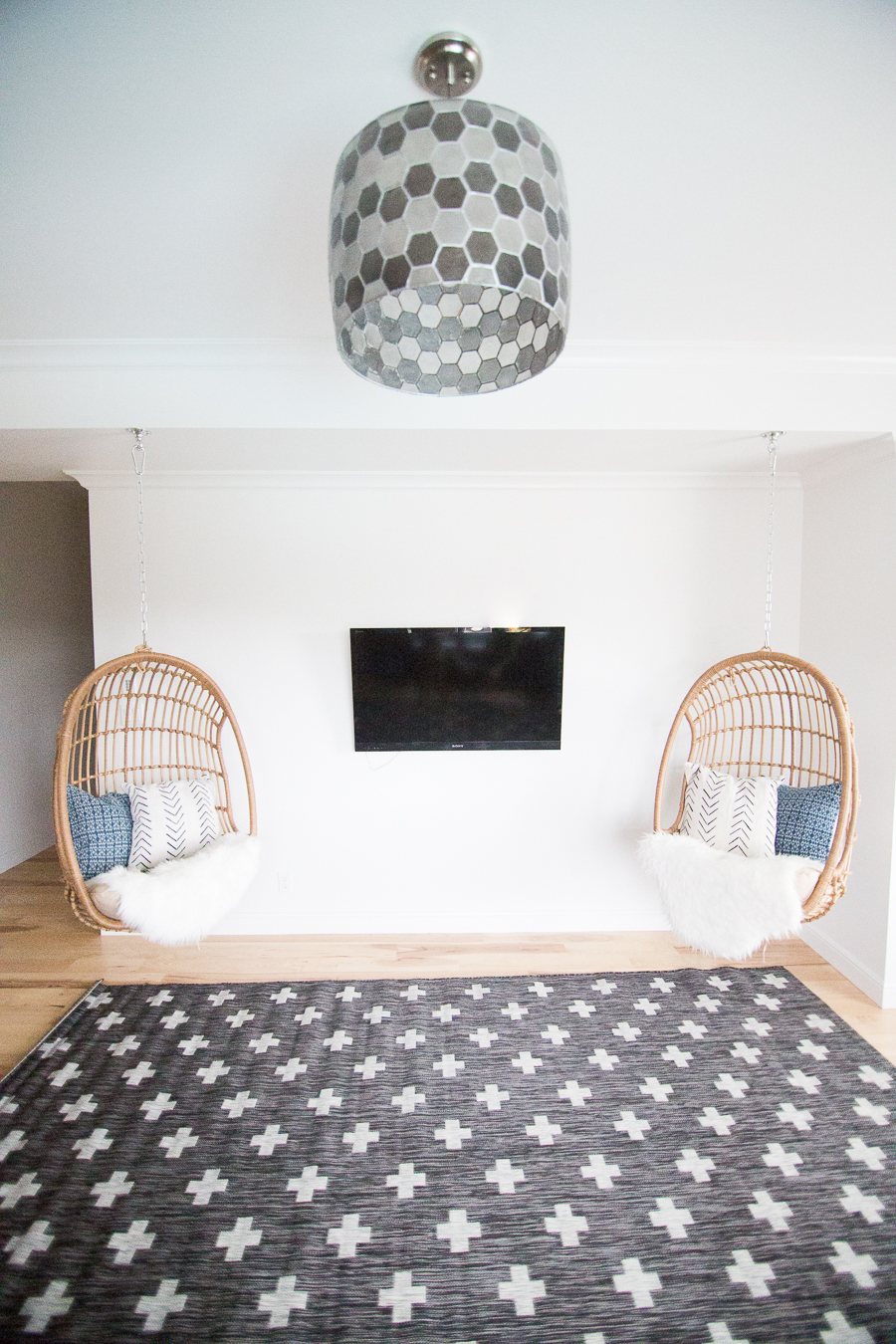 I also have some fun plans to refresh our downstairs game room which you can see from the second story balcony and bunk bed room that is adjacent to our teen room.  I will share more pictures of exactly how this all fits together when I do the game room reveal.  But basically our game room has a set of stairs that leads to sn upstairs area that is the bunk bed room and what will now be the teen hangout room. From the bunk bedroom, you can look down and see our game room which is the room with the black accent wall and the ping pong table. I'm just doing a small refresh in the downstairs game room with a new rug and a new coffee table from Hayneedle. You can see the rug I plan to use — The Ivory Maya rug — which is available now in our SHOP, in my friend Nicole's living room.  This rug is just such a great, comfortable, and cozy area rug.  I've loved it ever since I first saw it and have wanted to incorporate it into our game room.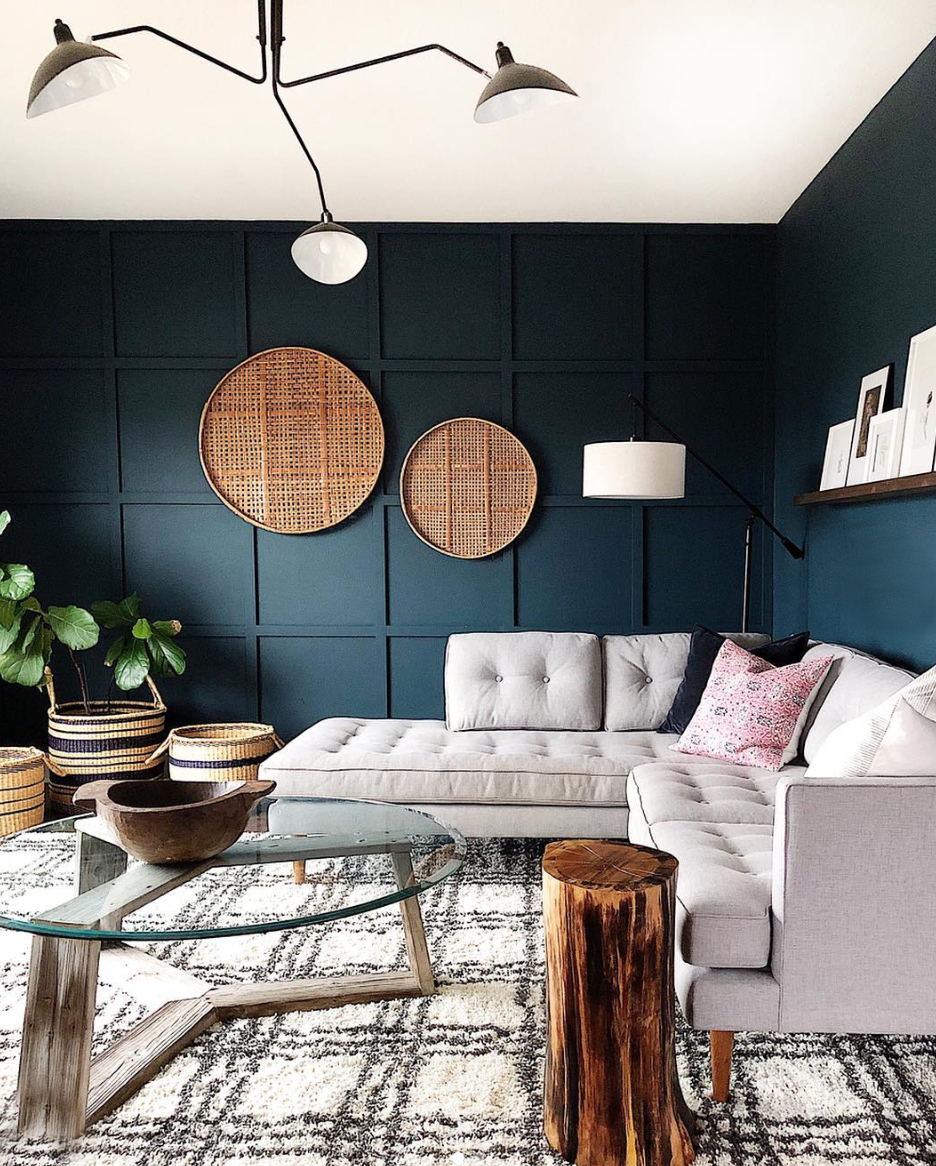 Here you can see  some of the little changes I'm planning to refresh our game room including the Maya Rug | Metal Tripod Floor Lamp | Four Hands Round Wood Coffee Table – available from Hayneedle| and new pillows from our shop – BLACK Cooper Pillow, White Zig Zag, and the Bako Pillow   | Good Vibes Print – Coming Soon in our PRINT SHOP
I'm loving these fun new African mudcloth pillows we have in our shop.  Paired with our new Maya rug with this gorgeous wood coffee table from Hayneedle and some new lighting, I can't wait to see how they refresh our game room space!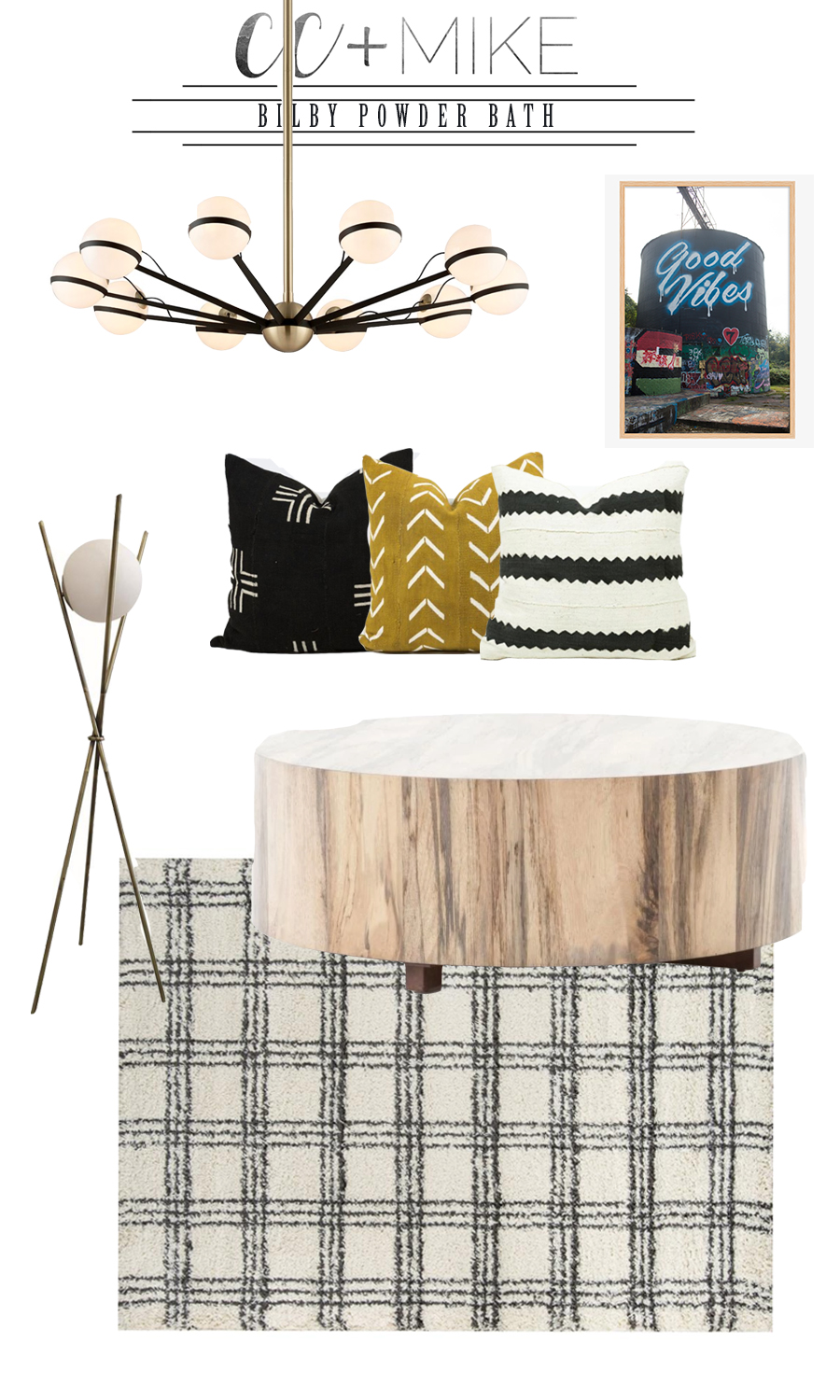 Thanks for stopping by to check our in progress post about our Teen Hangout Room Design Plan and Hanging Chairs.  Hope you get some inspiration for your next project!  Our new hanging chairs from Hayneedle make a great addition to any space as well as our Maya rug and new pillows from our SHOP!