I'm so excited to reveal a beautiful new full-service design furnishing project for you guys – the Fairway Project. Our client came to us for help with furnishing three rooms in her newly remodeled ranch-style home in midtown Tulsa and let me tell you, we were up to the task! Our team instantly loved the bones of this house and was excited to help our client make her house a home through full-service design and furnishing.
You guys know I love elements of glam, so I was loving the fact that the client asked for me to infuse some of my own personal style into this home with some navy velvet and touches of brass and more! Without further ado, I give you the first room you see when you walk into the home of the Fairway Project, the formal living/den!
The color scheme of this room was so clean and crisp. The design was stunning! However, I knew we had to shake things up and add texture to the room. If you have been following our projects, you'll know that I love the warmth that a leather couch can bring to a space. I especially loved the Beckwith sofa from CC+Mike: The Shop. The modern shape fits the room perfectly. So beautiful!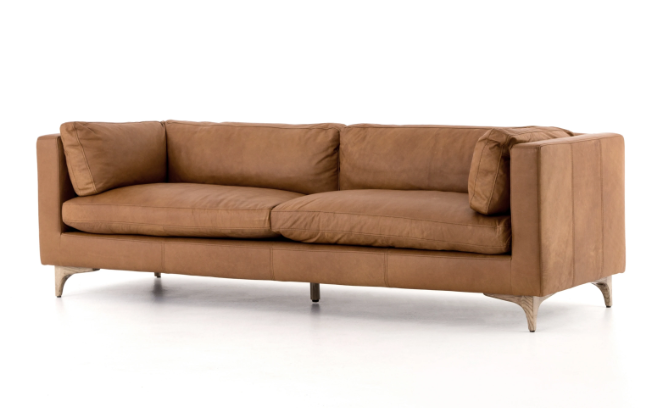 Creating a pillowscape for the room was so much fun. It allowed our team to bring in some pops of color when furnishing. On the sofa we featured the blue lavish velvet Prussian pillows with a few white accent pillows and a comfy throw.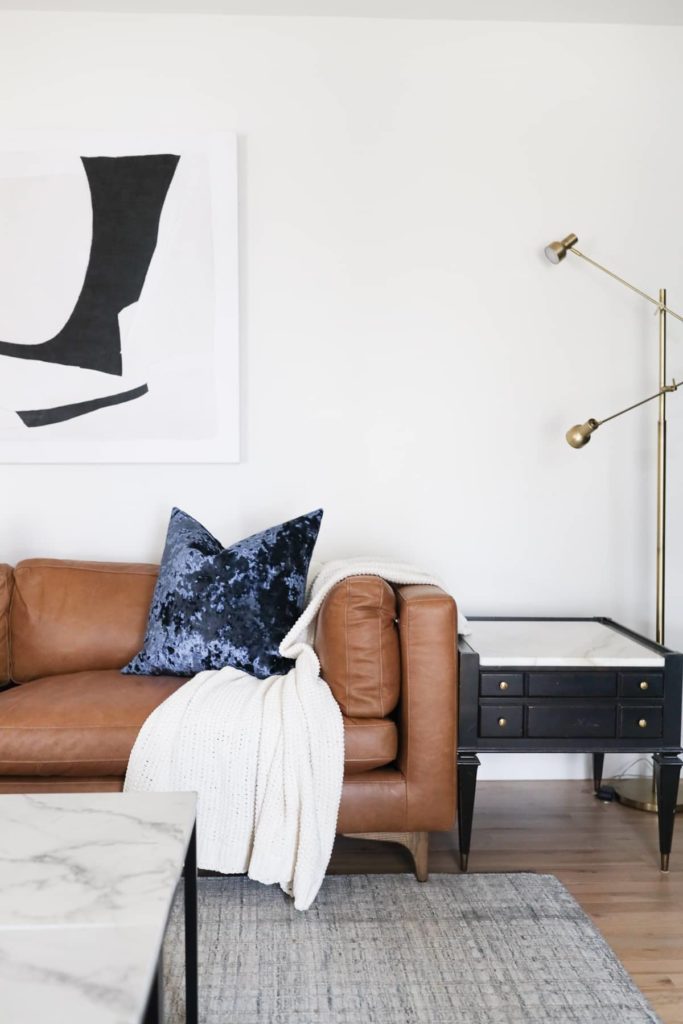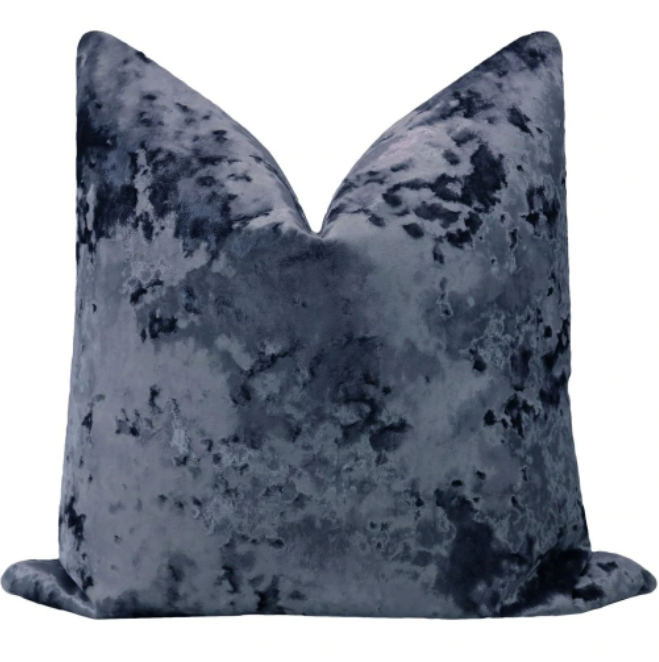 To contrast the beautiful carmel color of the couch, our team kept thing light with a pair of the Topanga swivel chairs. The speckled color of these chairs has such a beautiful texture. Love! To tie the two sides of the room together we brought over a hint of blue. The channels pillow is such a cool graphic contrast!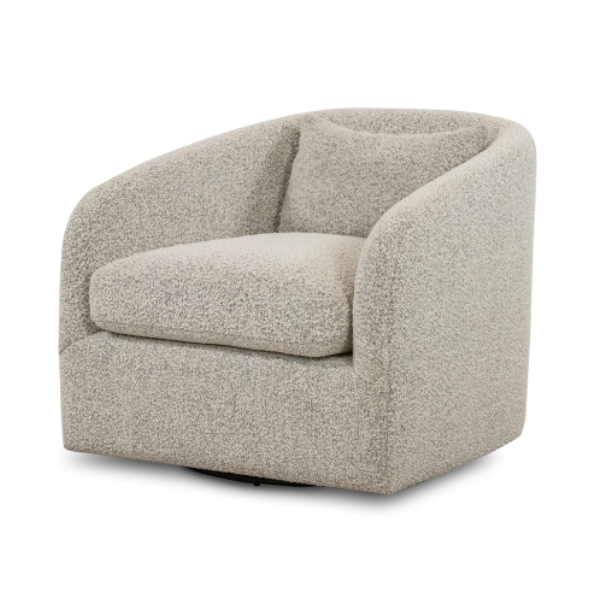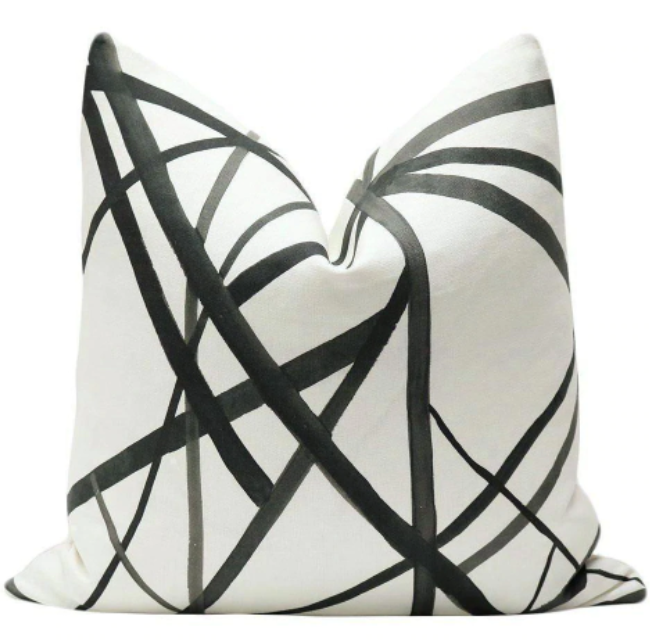 See something you like? All the pillows we used in our design can be found in CC+Mike: the Shop!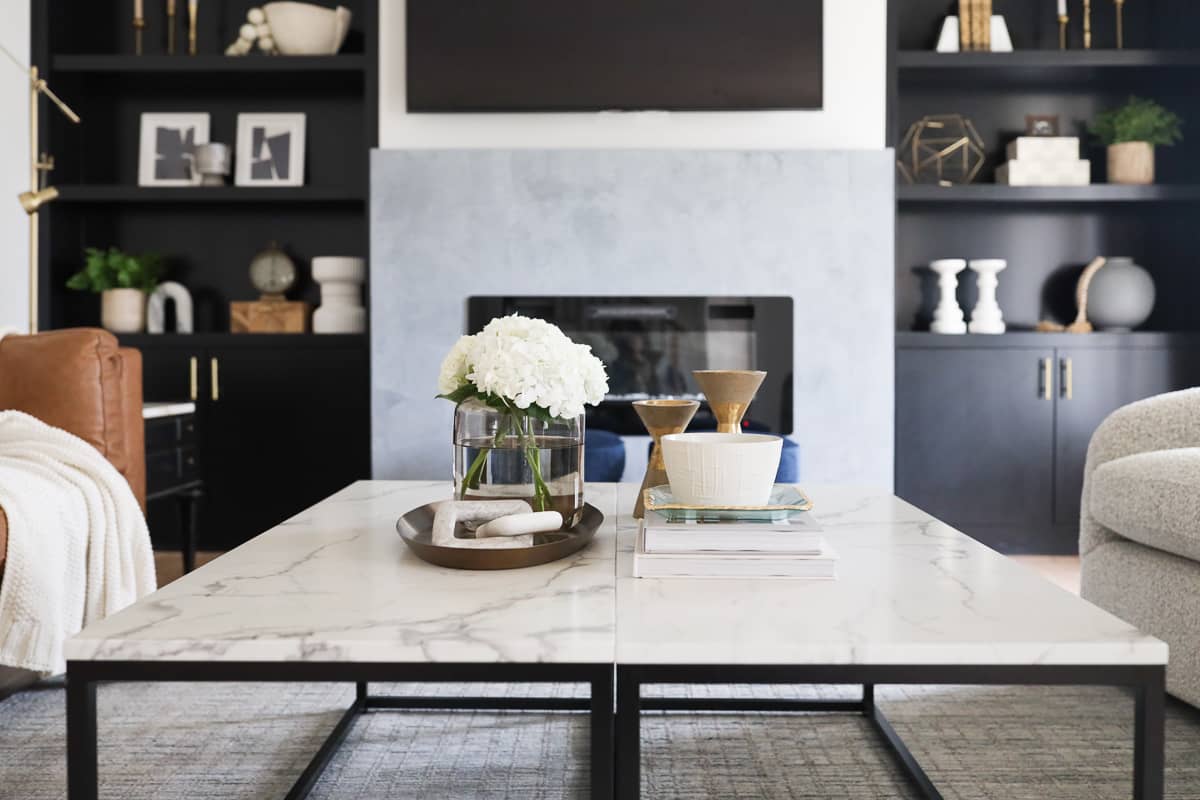 Another way I was able to use some of my personal style in this full-service design furnishing project was by adding marble. Marble (faux or real) can add a touch of glam to any room. We paired two of the very affordable Baize Coffee Tables side by side in this space to get this look, which was a cost-effective alternative to buying one large marble-top table that would be triple the cost. The Baize coffee table is a faux marble table with a black iron base. To say I'm obsessed with the look and price point is an understatement!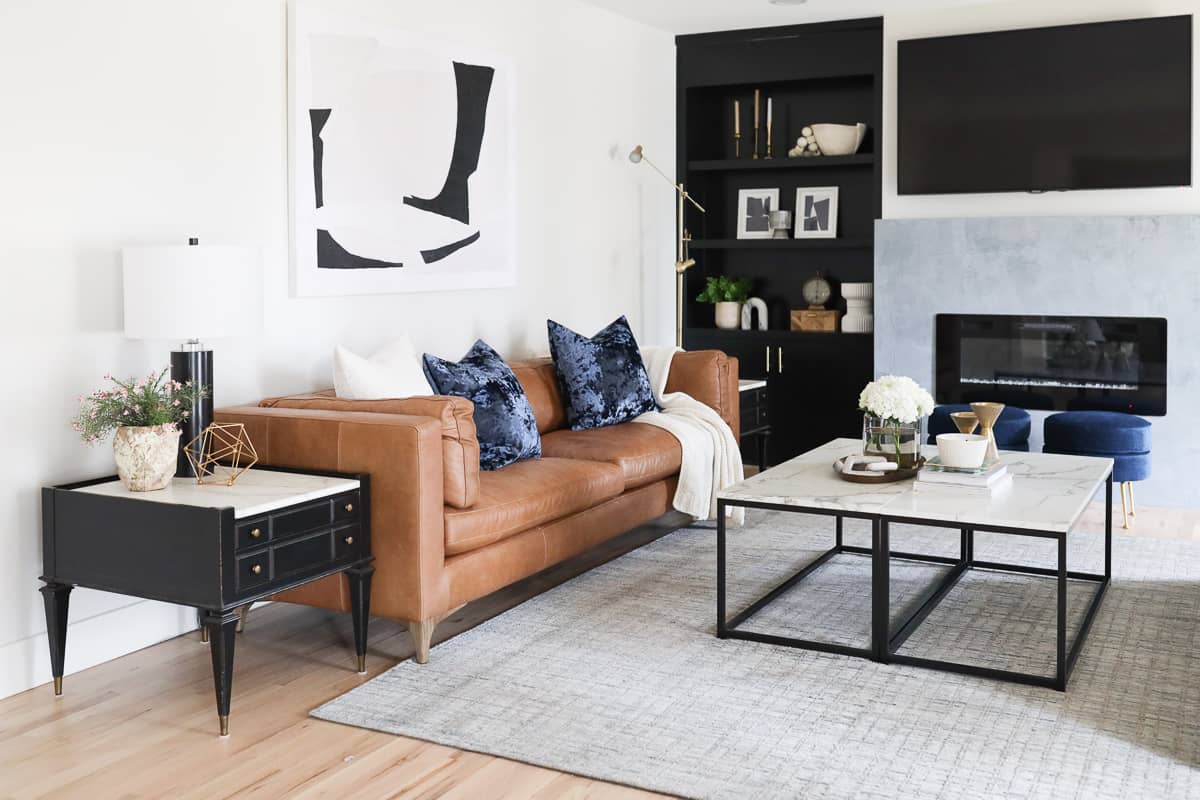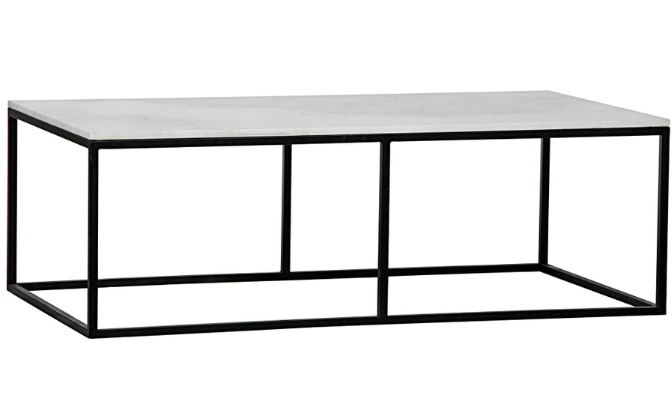 We also placed some stunning marble side tables throughout the room. I love these vintage pieces that the homeowner already owned which belonged to her mother previously. We always try to incorporate vintage and meaningful pieces in our client's designs. The black vintage end tables with marble tops were a great way to make the room cohesive while adding an extra bit of style! The details in these pieces made the room feel unique without stealing the show. Our goal was to make the furnishing pieces feel like they belonged together. I think we did just that!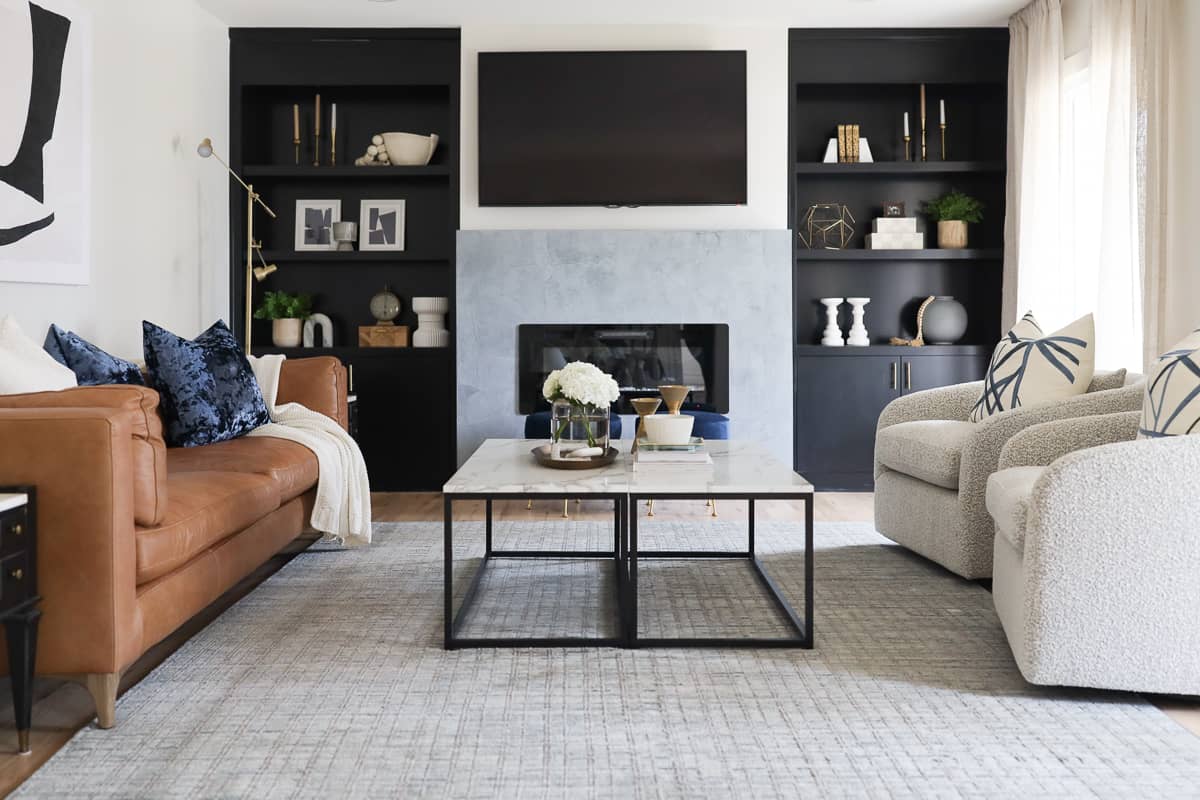 One of my favorite elements in this room is the feature wall. The drama that these stunning black bookshelves and concrete fireplace create is incredible! As the designers, we weren't in charge of the remodel, but thankfully we were able to work with the contractors to have this wall design incorporated. It's what made this furnishing project so unique and is such a cool way to add personality.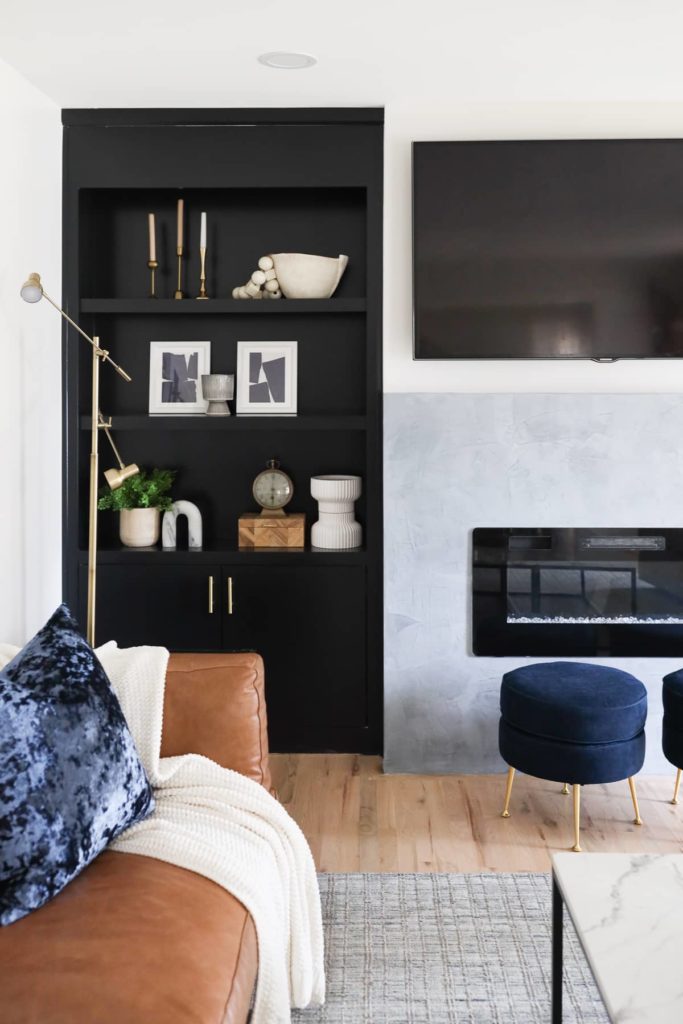 Shelf staging can be one of the most fun parts of furnishing. It's where I like to show pieces that enhance the style of the room and complete the vision for the space. I included everything from brass candlesticks and wood boxes to marble bookends and abstract art. It brings together all the little details from the room. So beautiful!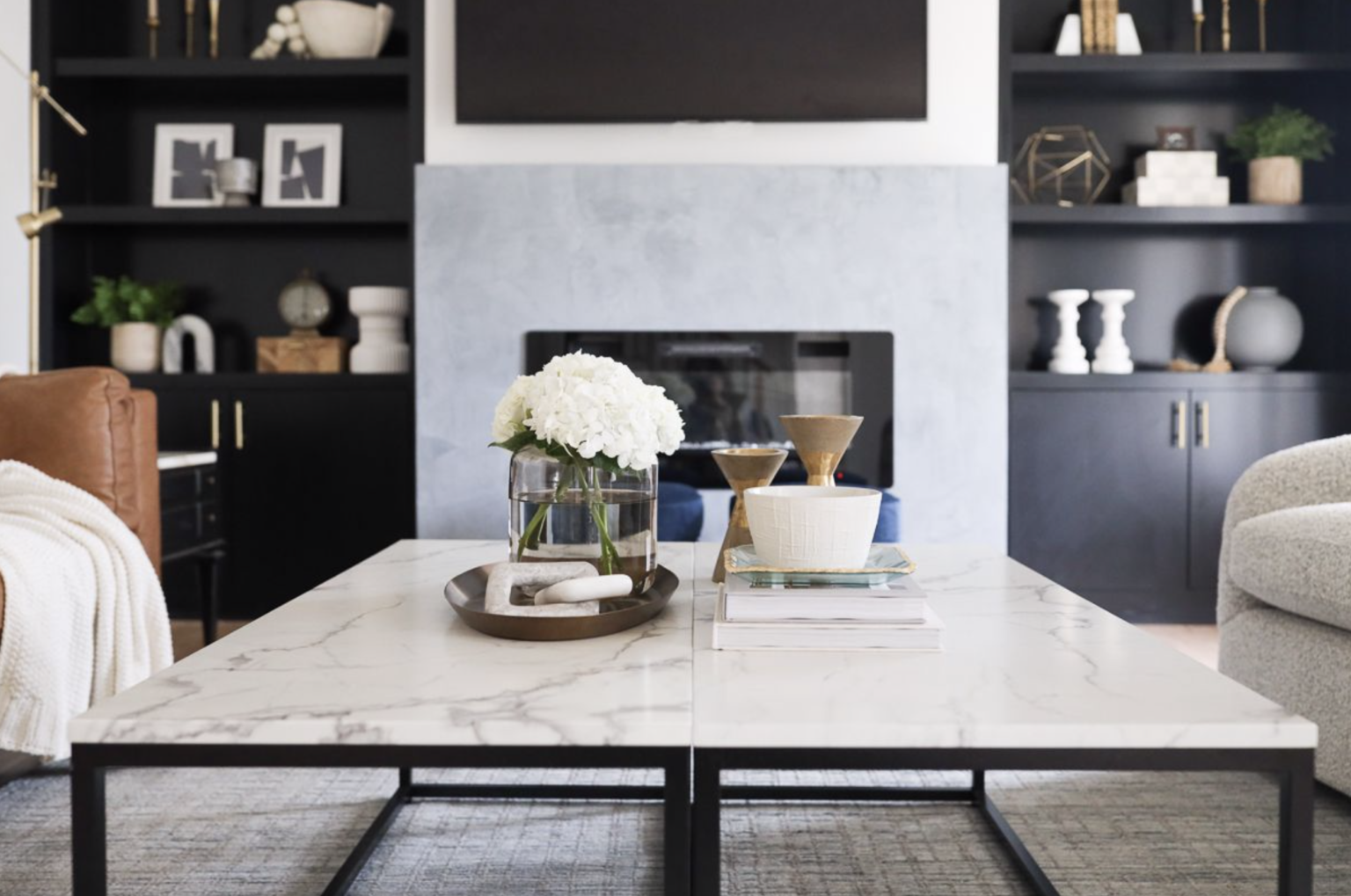 Our team had such a blast taking on this design furnishing project! It was a joy to work with our client and do our part to turn their newly remodeled house back into a home. Being able to infuse some of my design style into the work was an incredible privilege. I hope this inspires you to add some glam to your home. Stay tuned — I can't wait to share more of our design projects with you soon!