Transition your closet for Spring by shopping my outfit: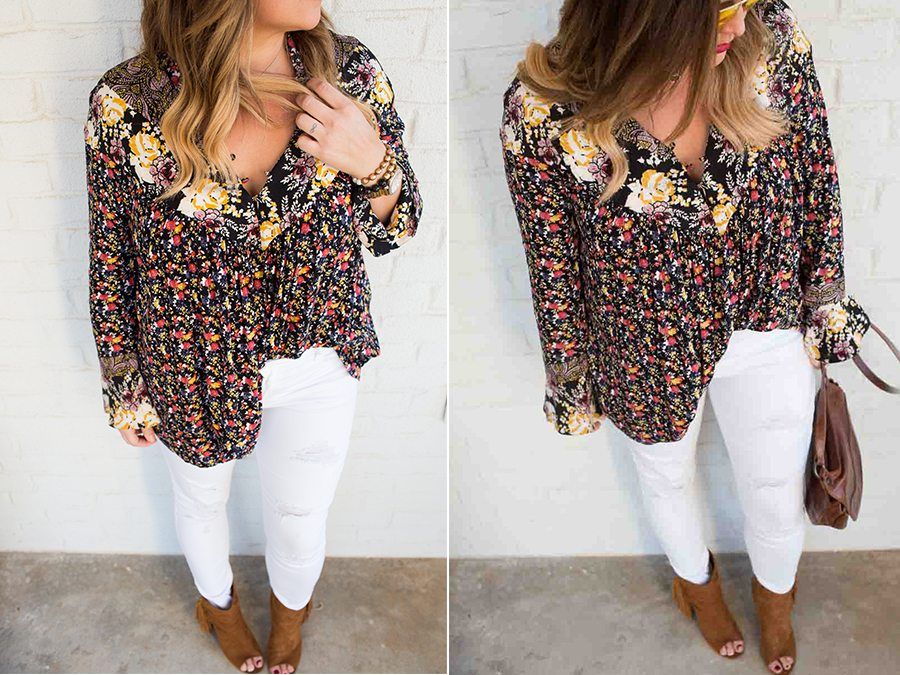 Okay, girls, we need to talk. I mean is it just me or does the weather feel like a Katy Perry song right now? It's hot then it's cold, yes then it's no, up then it's down, in then it's out (insert that eye roll emoticon here).  It can be frustrating and if you're like me, you're having trouble with this question— "WHAT IN THE HECK DO I WEAR?!?!" You're over all the jeans and sweaters and boots you've been wearing and you're ready to start to transition your closet for Spring but it's too cold for shorts and sleeveless tops. Can we go ahead and be honest about the fact that no one is ready to go from donning baggy sweaters and jeans to fitted shorts and tank tops? NO, just no. I'm here to help with these 10 Tips for How to Transition your Closet for Spring. 2017 is all about white jeans, denim, and these Marc Fisher wedges and Free People flats that are so hot right now. Cute jewelry and cute bags, floral dresses and shirts, and of course some lipstick will help you transition your closet for Spring! Hope you find some inspiration for how to take your closet from winter to Spring on this post.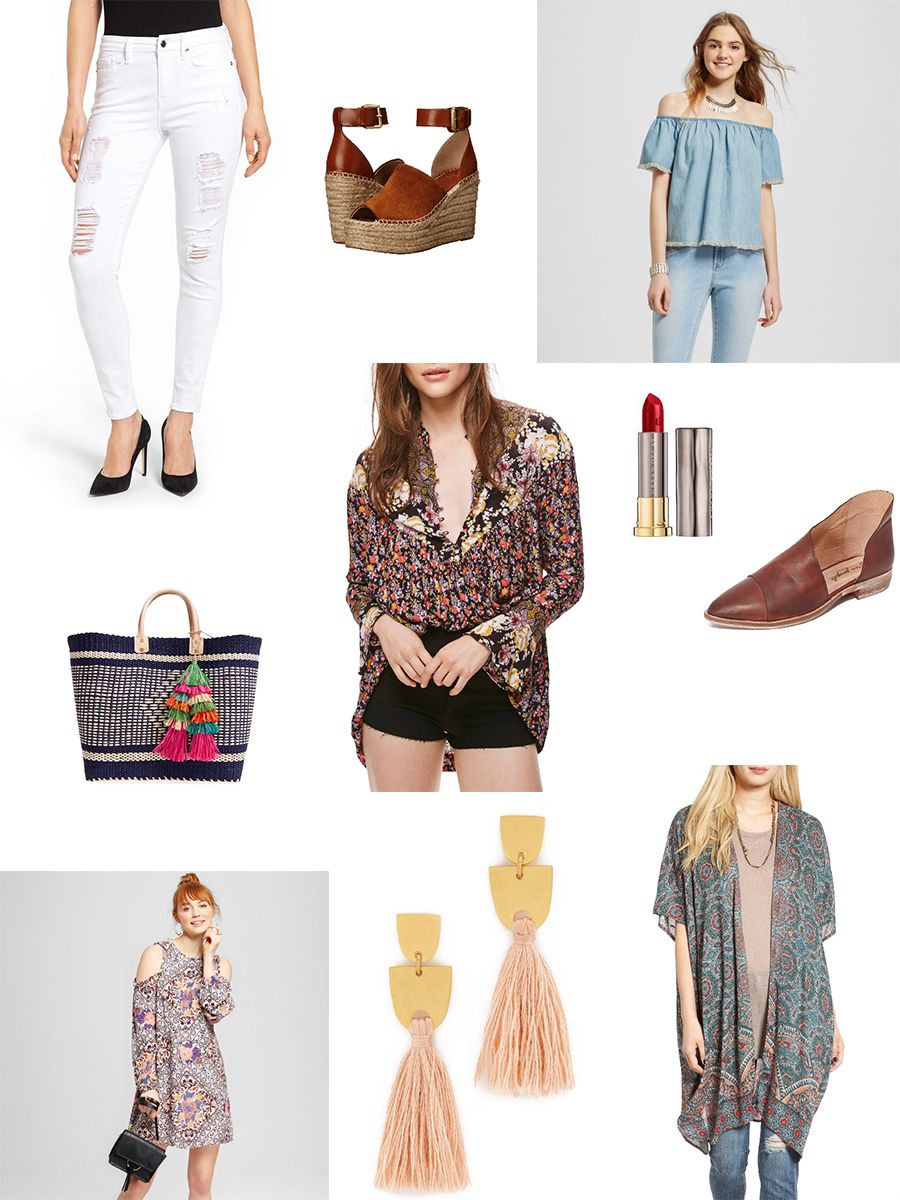 1. Good American White Jeans | 2. March Fisher Wedges | 3. Target off the shoulder Denim | 4. Nordstrom Tassle Bag | 5. Free People Wildflower Tunic | 6. F-Bomb Lipstick | 7. Free People Royale Flats | 8. Target colder shoulder dress | 9. Madewell Tassel Earrings | 10. Nordstrom Kimono
1. White Jeans –
I'm going to go ahead and say it's darn near impossible to transition your closet to Spring without a good pair of white distressed jeans. They immediately take any top and suddenly make it feel like Spring. Pair it with some cute denim and some wedges and you have an adorable Spring look.  My favorite choice for white jeans are the Good American jeans by Khloe Kardashian. Maybe it's because I'm a curvy girl and, let's be honest, the Kardashian's know how to make some good clothes for curvy girls, nonetheless, I'm loving these Good American jeans by Khloe Kardashian. My second choice is the J Brand pair of jeans and I've also sourced a pair from Old Navy and GAP that are only $50. I actually have a pair from Old Navy that I love if you aren't wanting to spend on the Good American or J Brands.
Shop my top white jeans picks here:

2. Cute Shoes –
Cute shoes are a must during the Spring.  You're not ready for sandals because it's too cold, BUT you need something to go with your denim and floral dresses and white jeans. It's all about these March Fisher wedges this Spring.  Yes, they are pricey but the are amazing. I've sourced two other pairs that look very similar to the Marc Fisher wedges that are from GAP and Target and are under $50. My other favorites to transition your closet for spring are the Free People flats and Kristen Cavallari peeptoe booties and sandals. I'm obsessed with her stuff. I am also still obsessed with the Jeffrey Campbell Taggart cutout booties.  I have them in navy but they come in blush pink suede now and, you guys, someone be brave and buy these. What a fun way to spice up your closet for Spring! I know you can find some cute shoes for yourself for Spring!

3.Floral Prints –
Incorporate floral prints into your closet in the way of tops and dresses. I have the cold shoulder Target dress pictured above and love it. I wore it to church the other day paired with white leggings and peeptoe booties and got so many compliments. I also have the Wildflower tunic I'm wearing in the first picture and think it's so cute paired with white jeans. Basically, floral prints can be an easy way to incorporate Spring into your closet without having to wear shorts and a tank top.  Here are some of my favorite floral picks:

4.  Denim –
Denim is one of my favorites for Spring. I love wearing it with white jeans and I also have a denim chambray dress that I layer with kimonos (see #9) and I wear the heck out of it during the Spring with peeptoe booties or wedges. I have several cute denim tops and dresses sourced for you here:

5. Tassel and Statement Jewelry –
These tassel earrings are all the rage right now and I'm loving them. They are a fun and inexpensive way to transition your closet for spring!  You can wear just a white t-shirt and jeans and these earrings immediately make the outfit more fun!

6.  Lipstick –
Change your lipstick up for Spring. F-Bomb is one of my favorite bright reds and I am also loving purples for Spring – Rebel from MAC is one of my favorite purples and works with a variety of skin tones.

7.  Spring Bags –
Bags with tassels and pom poms are huge for Spring. These cute bags can take any outfit and make it feel like Spring!

8. Off the Shoulder, One Shoulder Shirts, and lace-up tops –
Pair these off the shoulder and one shoulder tops with white jeans, distressed jeans, or shorts and they are a cute, on trend way to transition your closet for spring.

9. Kimonos –
Kimonos are a must in my closet and they are, without a doubt, one of the number one things I get asked about. I plan to do a full post soon on how to wear those kimonos complete with pictures but, for now, just trust me — you need one, or maybe even two or three or more. I'm not telling you how many I have. And yes, it is because they are not only cute but cover your butt when you start making that transition your closet for spring and are wearing shorts but aren't quite ready for the backs of your legs to be seen. Not to mention, they add layer and texture and interest to any outfit. Wear them over dresses, t-shirts, with shorts, or jeans. They are versatile and are a great way to transition your closet to Spring!

10. Get outside and enjoy the nice weather!
Nothing says Spring like enjoying the outdoors and getting some much needed Vitamin D!
If you didn't have a chance to check out my Styled for Spring Home Tour, head over there next and check out the blog hop. Now that you know how to get your closet ready for Spring, next up is your house!
If you don't want to miss posts from CC and Mike (we have some exciting announcements coming soon!) head on over to CC and Mike and subscribe and you can also follow us on:
Instagram | Pinterest | Facebook | Twitter
I hope you find some inspiration for how to transition your closet for spring on this post. Thanks so much for stopping by y'all!