You guys all know I love some glam which is why I'm excited to share with you today, 5 Tips for Adding Glam to your Christmas Decor. If you love a touch of glam in your decor, it can be tricky at Christmas time because it doesn't necessarily mesh with the traditional Christmas colors. In fact, glam decor doesn't mesh with traditional Christmas colors – red, green, and that lovely buffalo plaid.
I love some glam decor and if you saw my Modern Eclectic Christmas home tour, you know that my Christmas decor isn't traditional. It's full of bright colors, textures, gold, fur, and jewel tones. If you love a little glam, let me give you 5 Tips for how you can Add some into your Christmas Decor and I also just want to say, YOU DO YOU. This creative journey has been quite the ride for me. When we designed our house and built it there was no CC and Mike. I had no instagram account other than a private social one, and I never used Pinterest. There were times, after I started this journey, that I would question myself. I would see the beautiful all white accounts, or coastal-themed homes, or all wood and white, and I would think—what was I thinking? Why did I do all this black and white marble floors and navy velvet chairs, and bold colors and leopard prints. BECAUSE IT'S ME. That's why. My style matches my personality and the further I go down this journey, the more I'm embracing that.
"Comparison is the thief of joy."
That is one of my favorite quotes. So…I'm learning not to compare. Sure I LOVE all my friend's accounts with all wood and white and fresh garland but I'm learning to appreciate other styles while embracing my own. And my style definitely has a touch of glam. If that is what you like too, then I hope this post on 5 Tips for Adding Glam to Your Christmas Decor, gives you a little inspiration and maybe even a little push to — BE YOURSELF! Add that glam to your Christmas decor! I mean, who doesn't love a little leopard, fur, and gold?!?!
1. Use Blue and White Chinoiserie. – I love blue and white chinoiserie and it is one of my favorite items to collect. You don't have to put your blue and white vases away at Christmas time! USE THEM! Here are some examples of how I used my blue and white in my Christmas decor—on the mantle, on my entryway table, and my matching lamps in my living room!  If you want some blue and white vases and chinoiserie of your own, here are some of my favorite affordable pieces.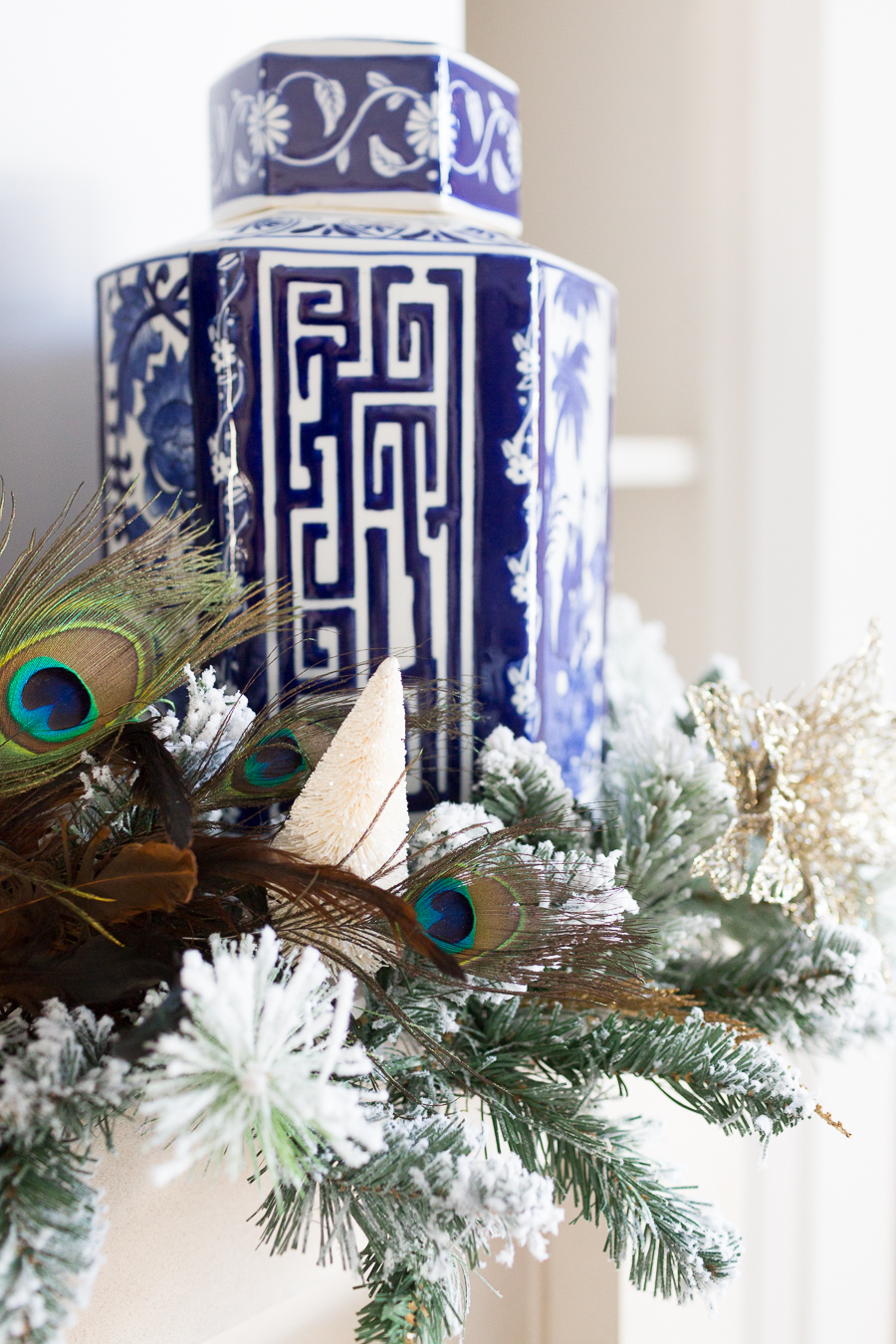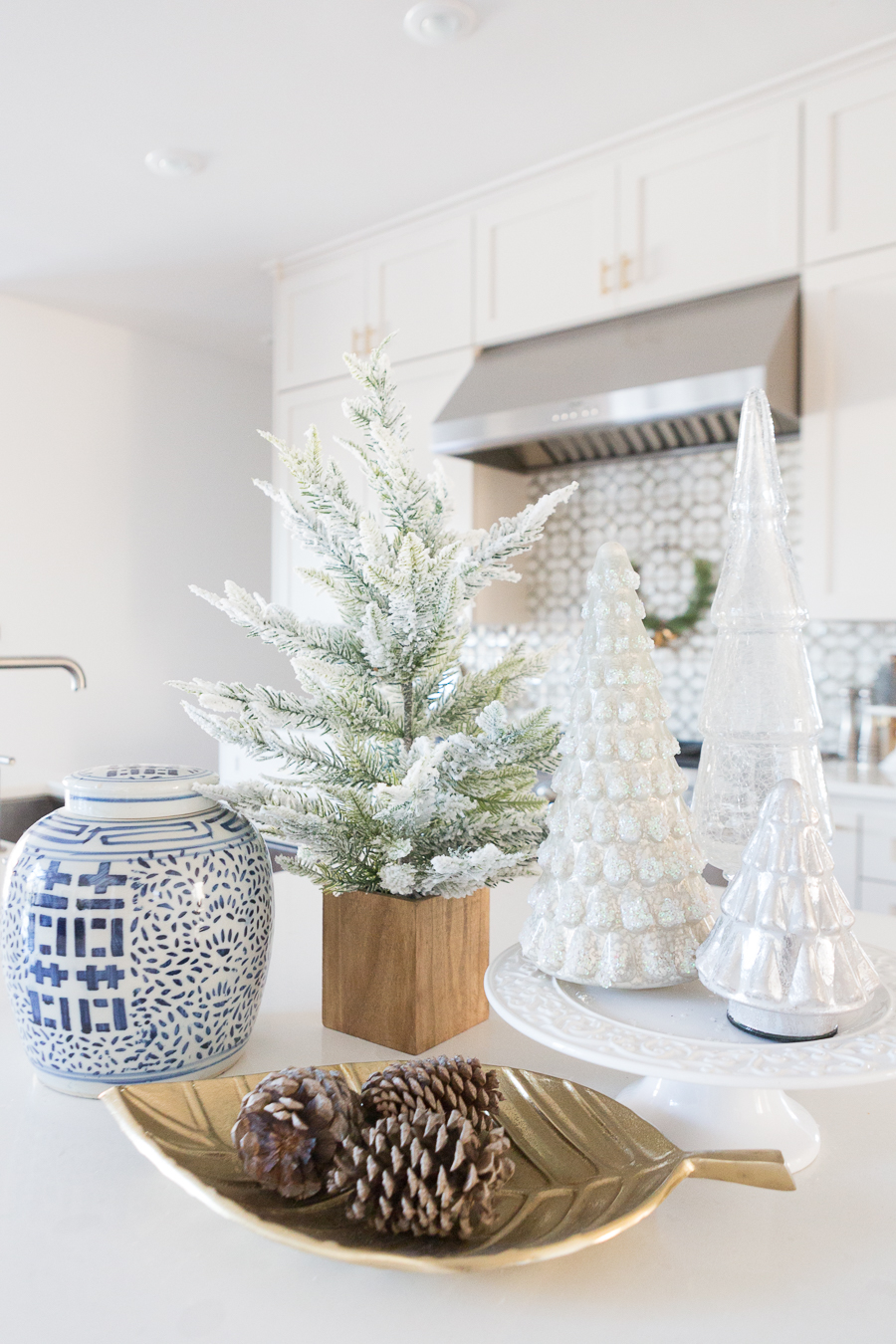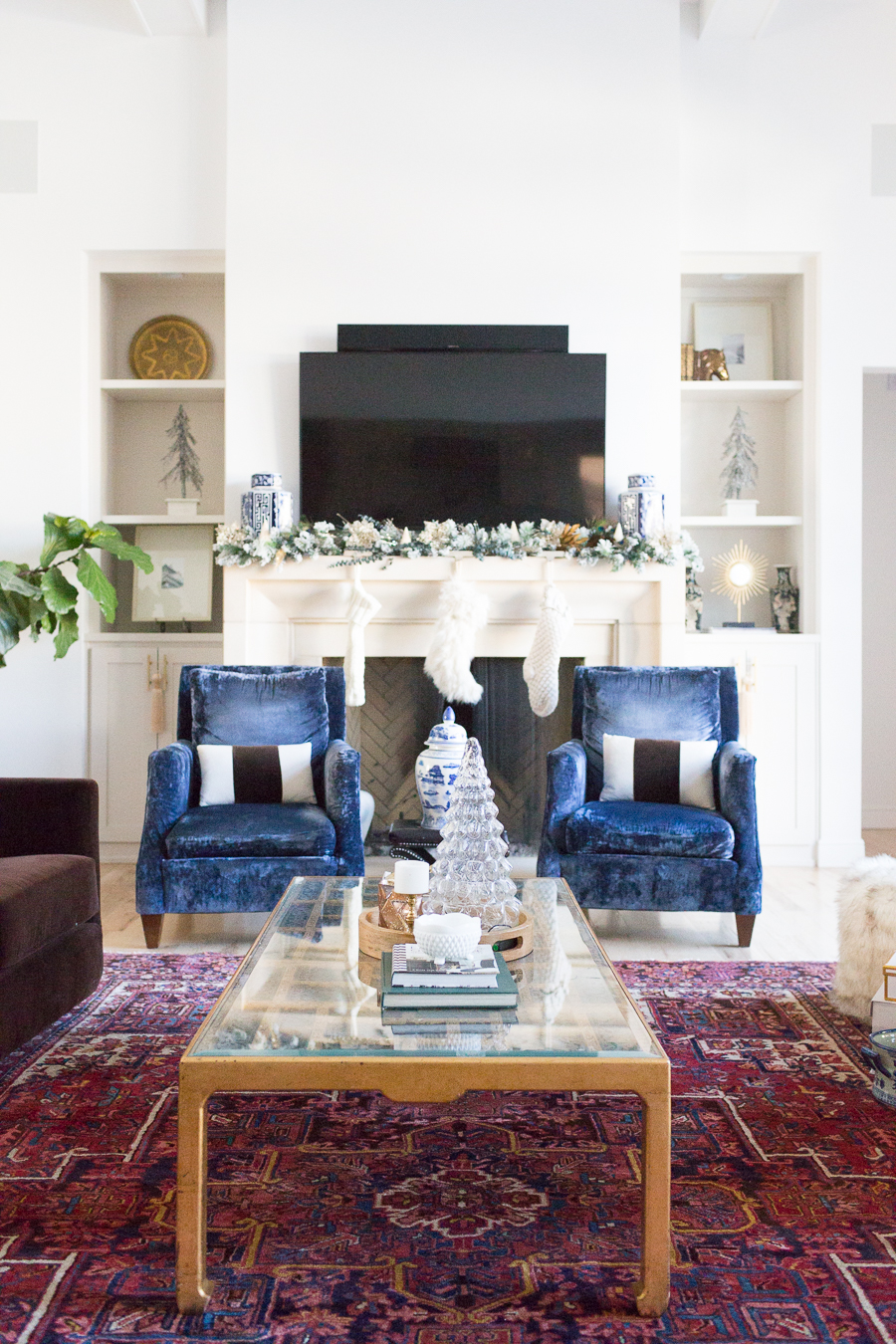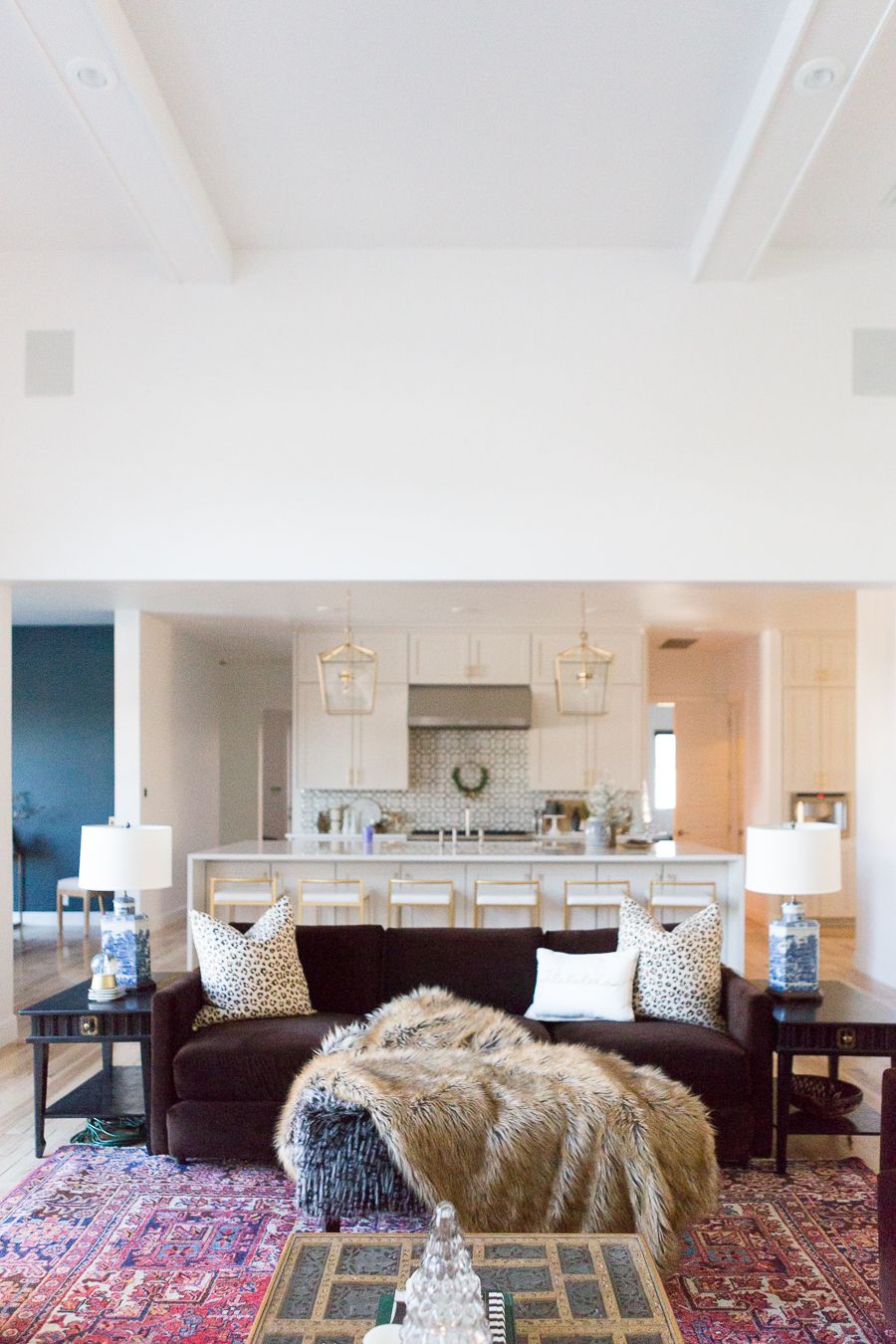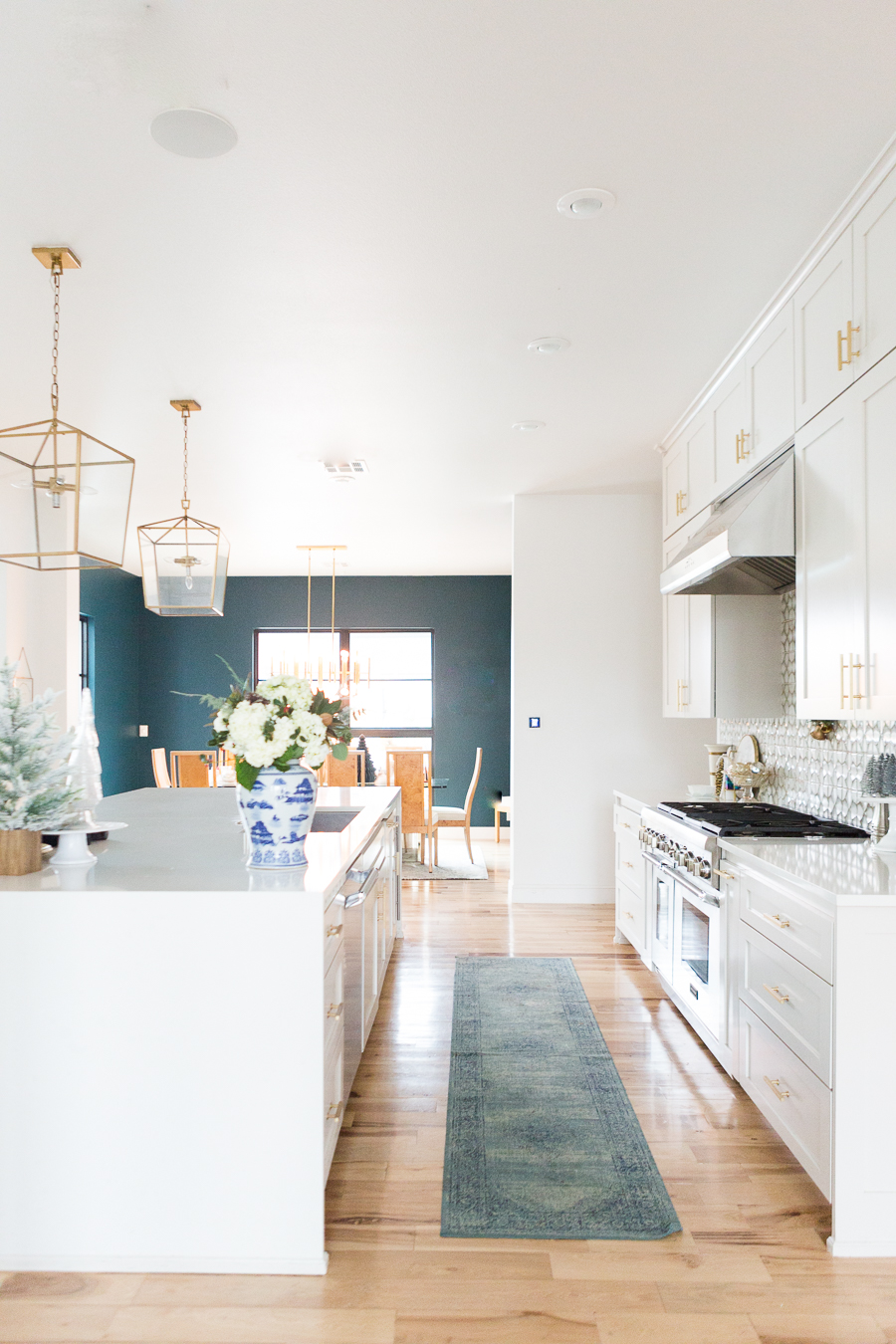 You can shop our kitchen products here: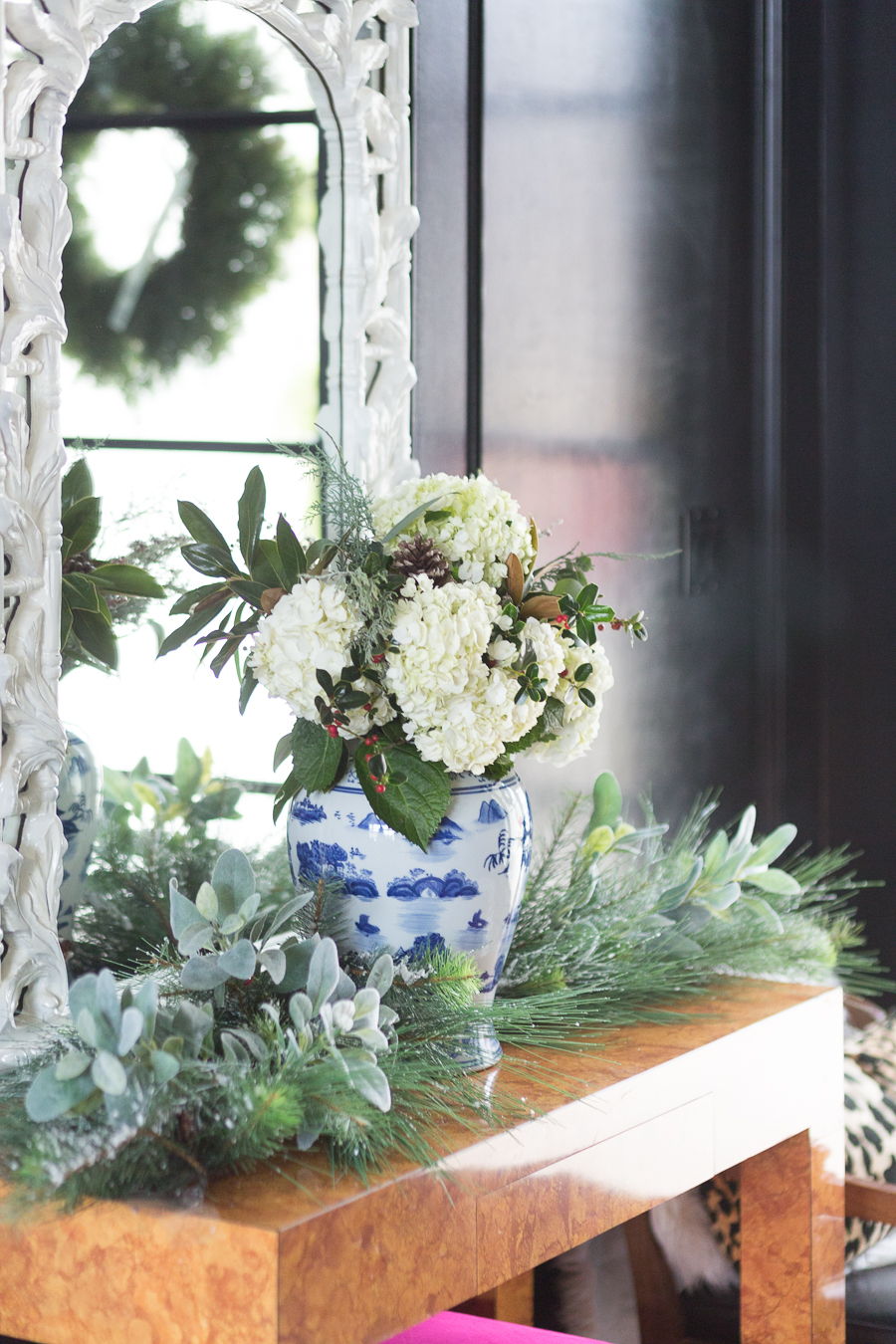 2. USE FUR – I really can't get enough fur in my house and it is a great way to add glam to your Christmas decor. This year I used fur garland from West Elm on my Christmas tree, on my dining room table, and I have fur footstools in my living room. My other favorites are my hayneedle fur throw—if you don't have a good fur throw, I can't recommend this one enough—and my sheepskin throws which are a must-have in my opinion. I move these around and use them constantly. Here is an example of how I used fur in my Christmas decor both last Christmas (the fur on my stools in my kitchen) and this Christmas. And here are some of my favorite fur products:

.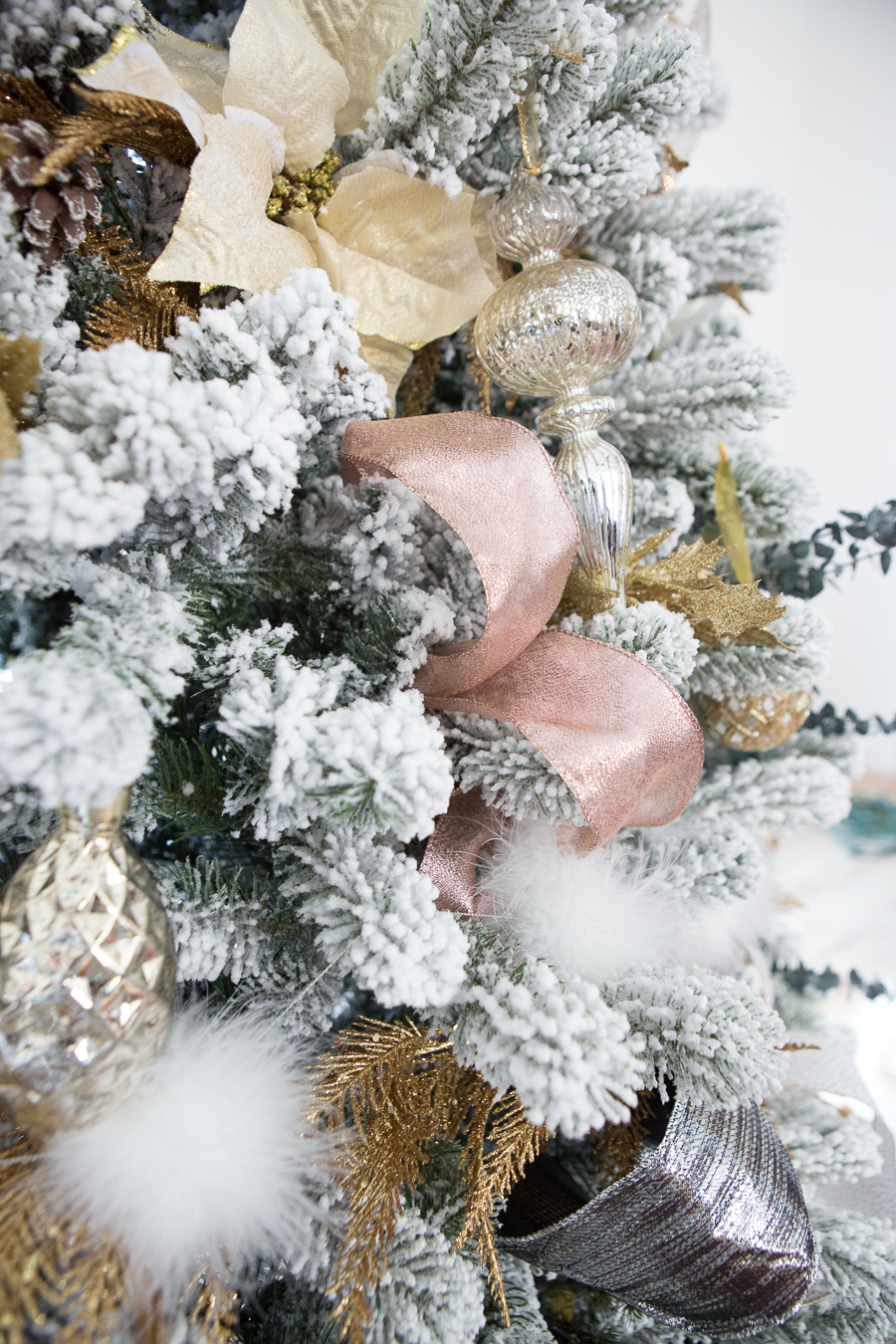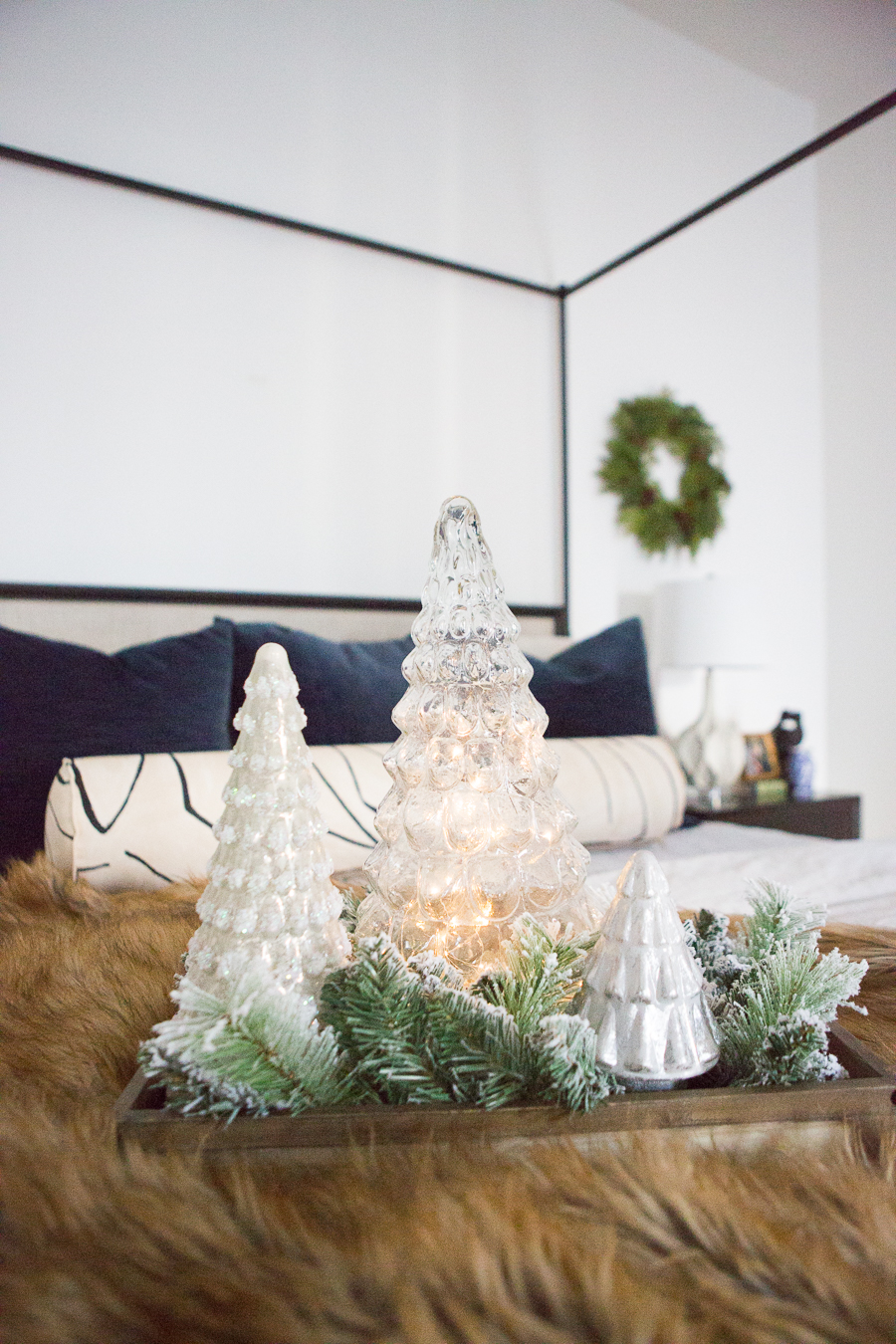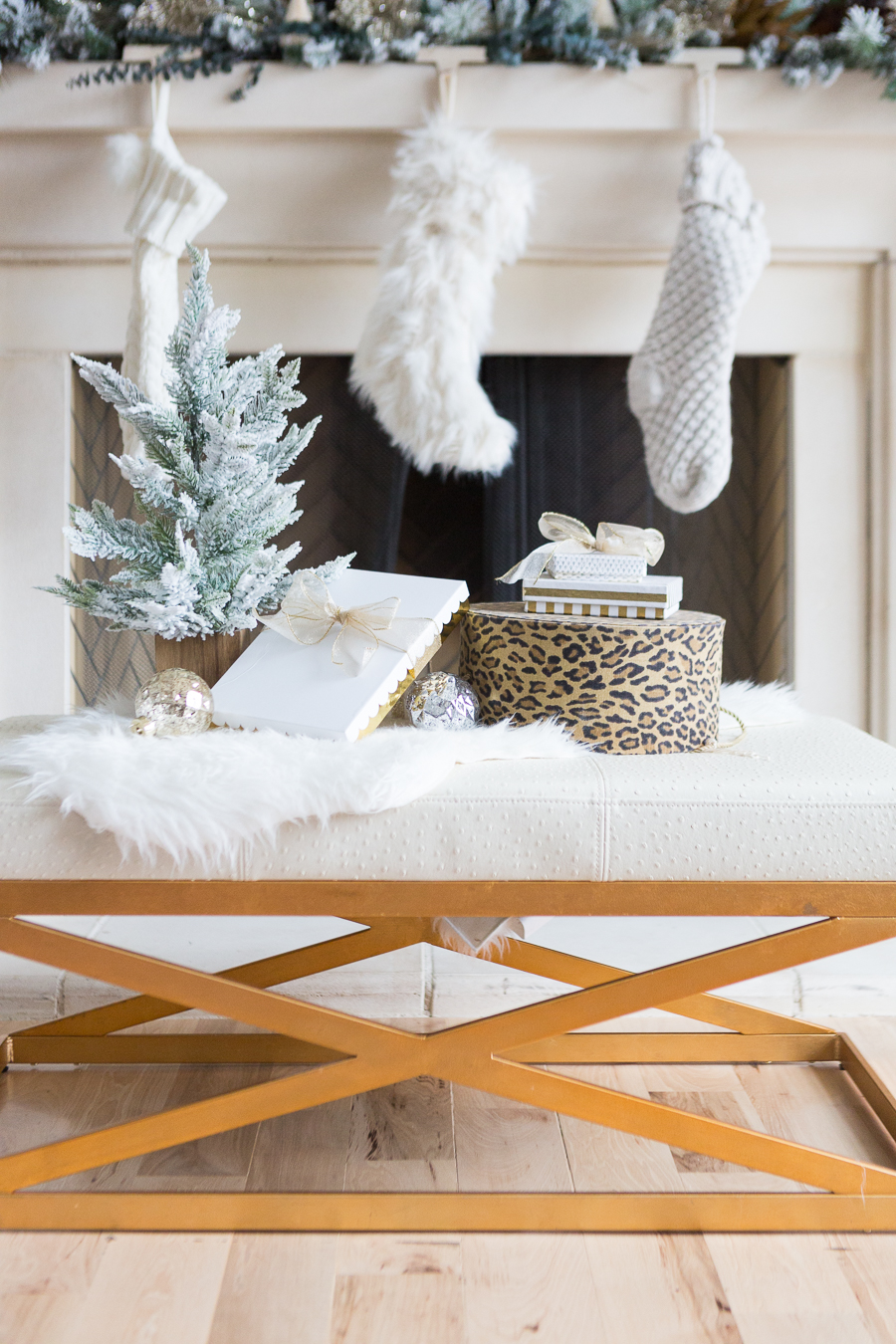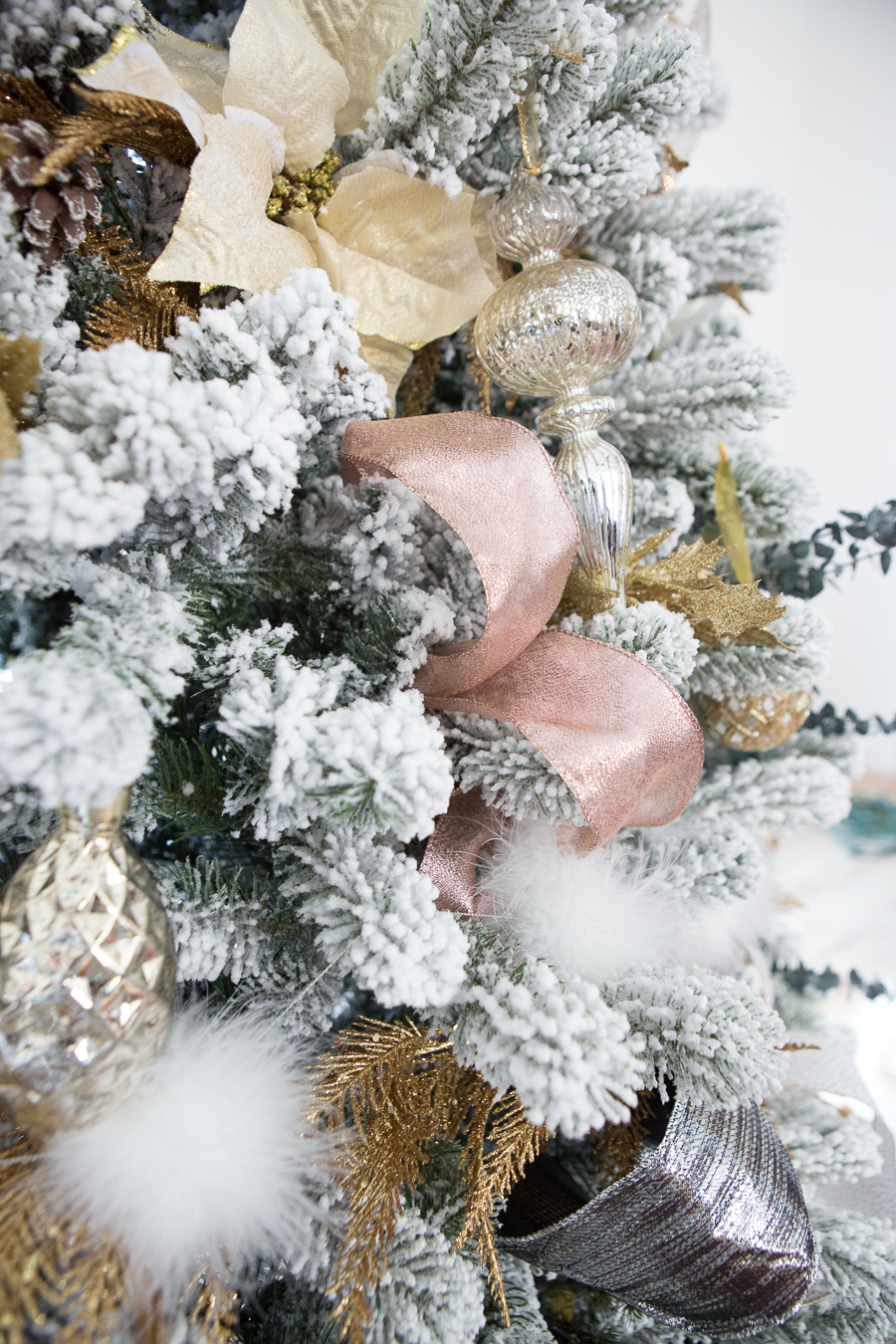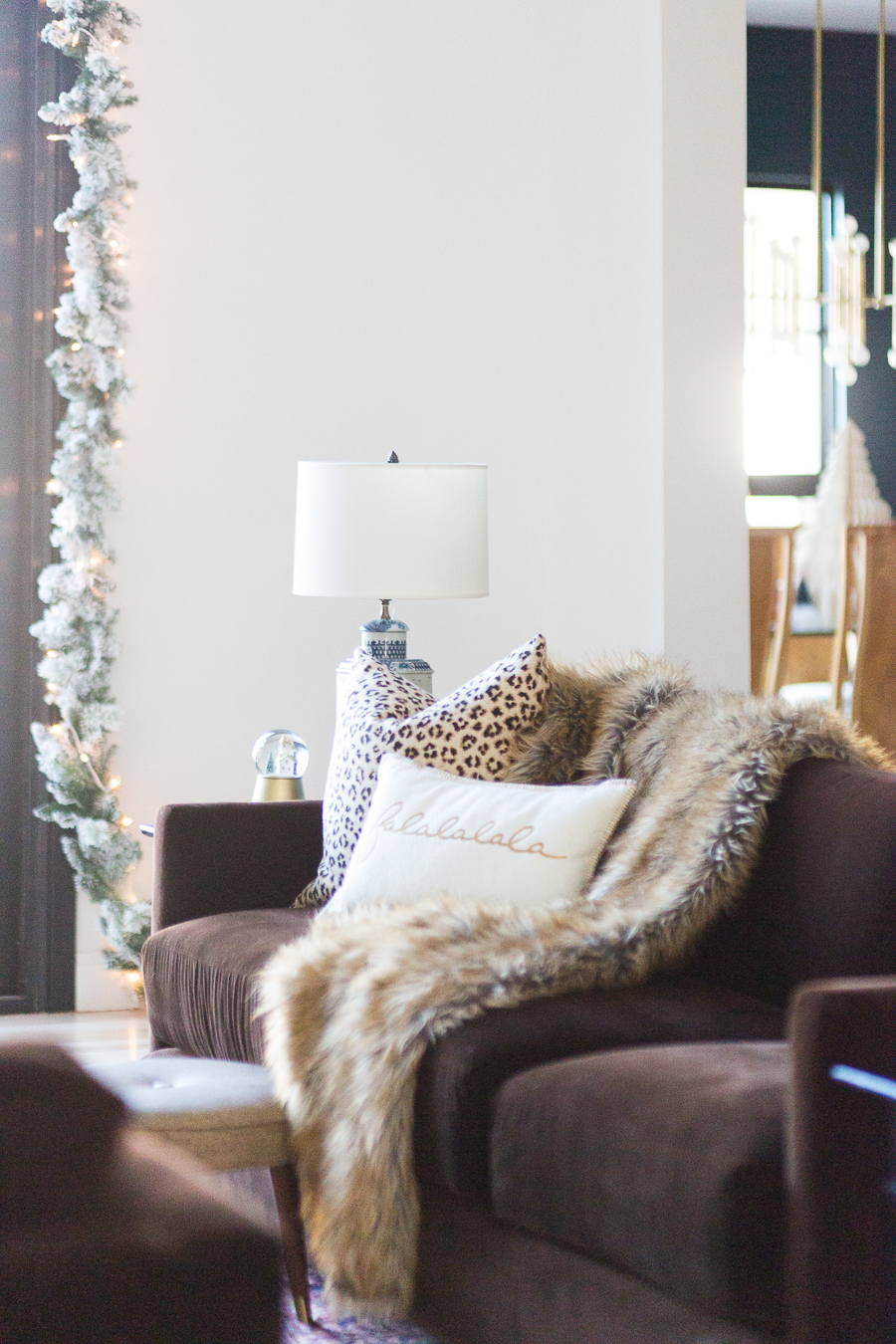 3.  USE LEOPARD PRINTS –  This one is pretty straightforward. Using leopard prints is an amazing way to add glam to your Christmas decor. I do that in the way of Leopard Pillows from Little DesignCo. I also used a little leopard hat box. Personally, I can't get enough leopard and here are some of my favorite leopard products – both design and fashion.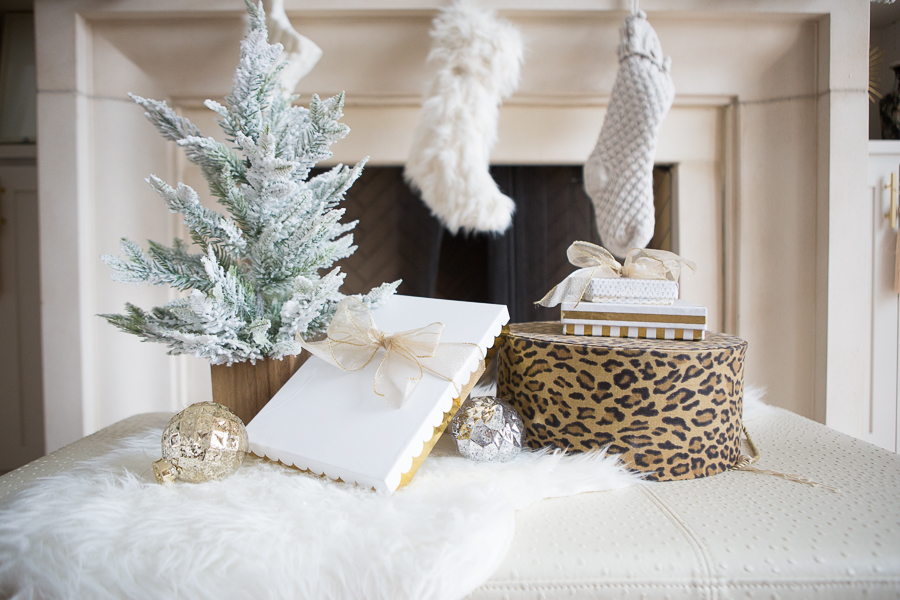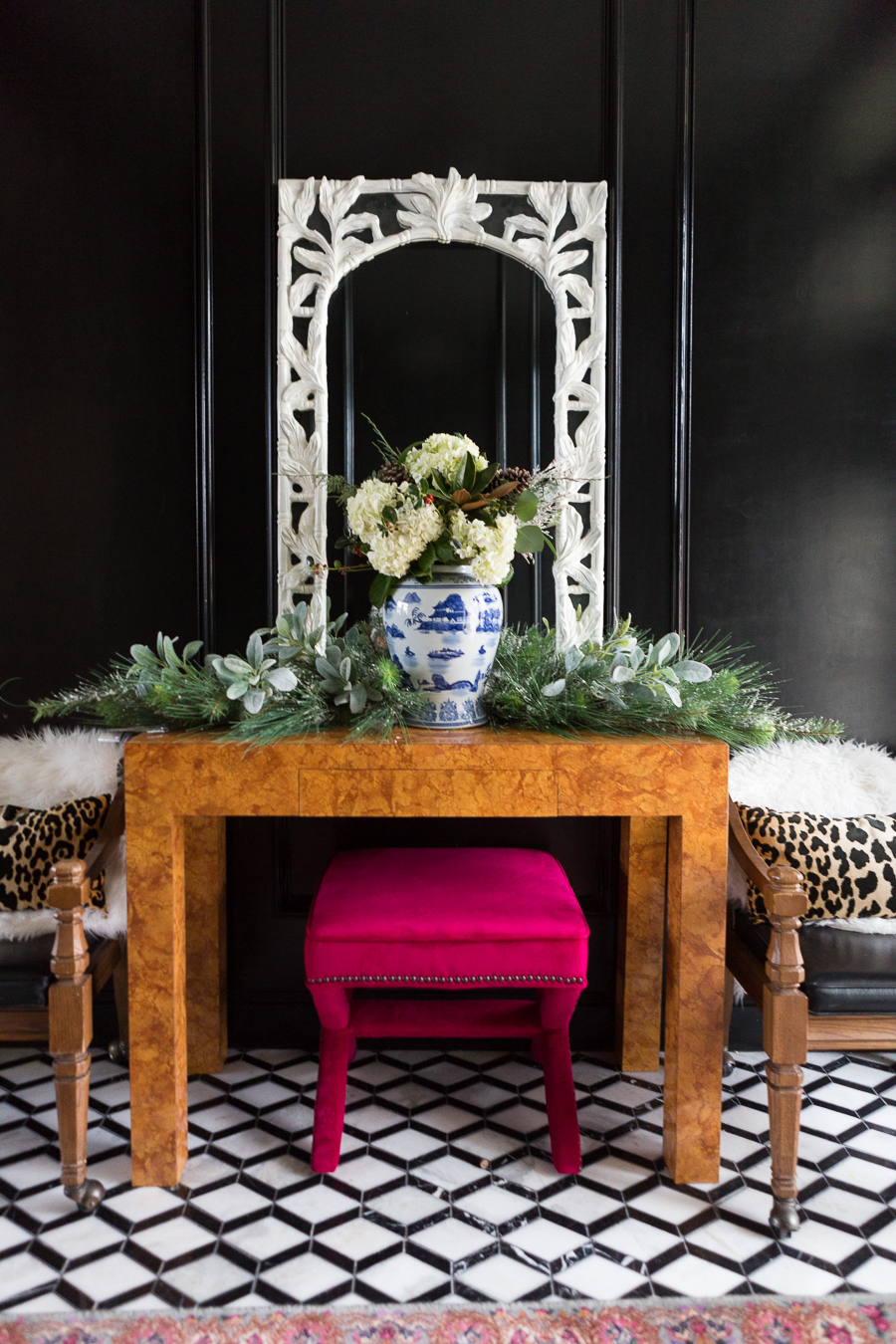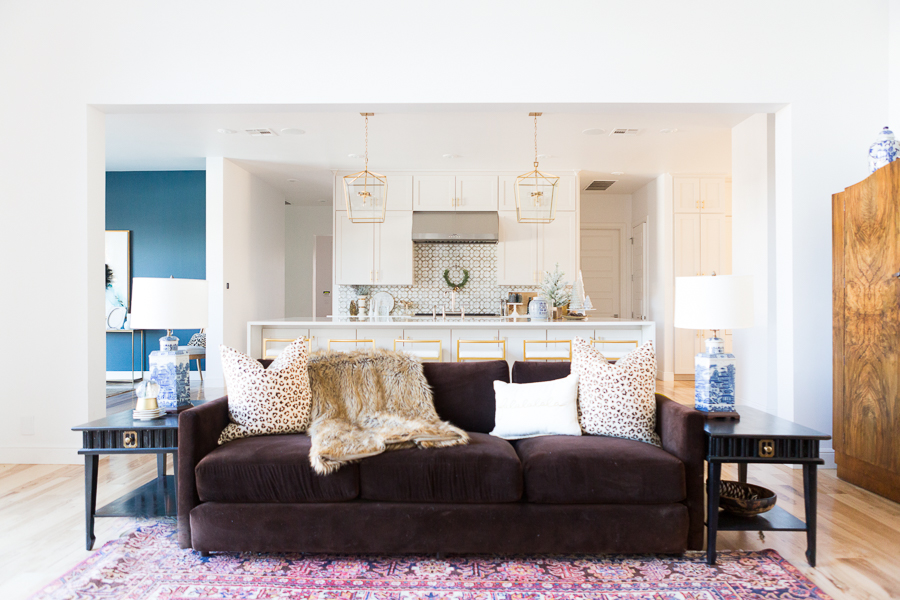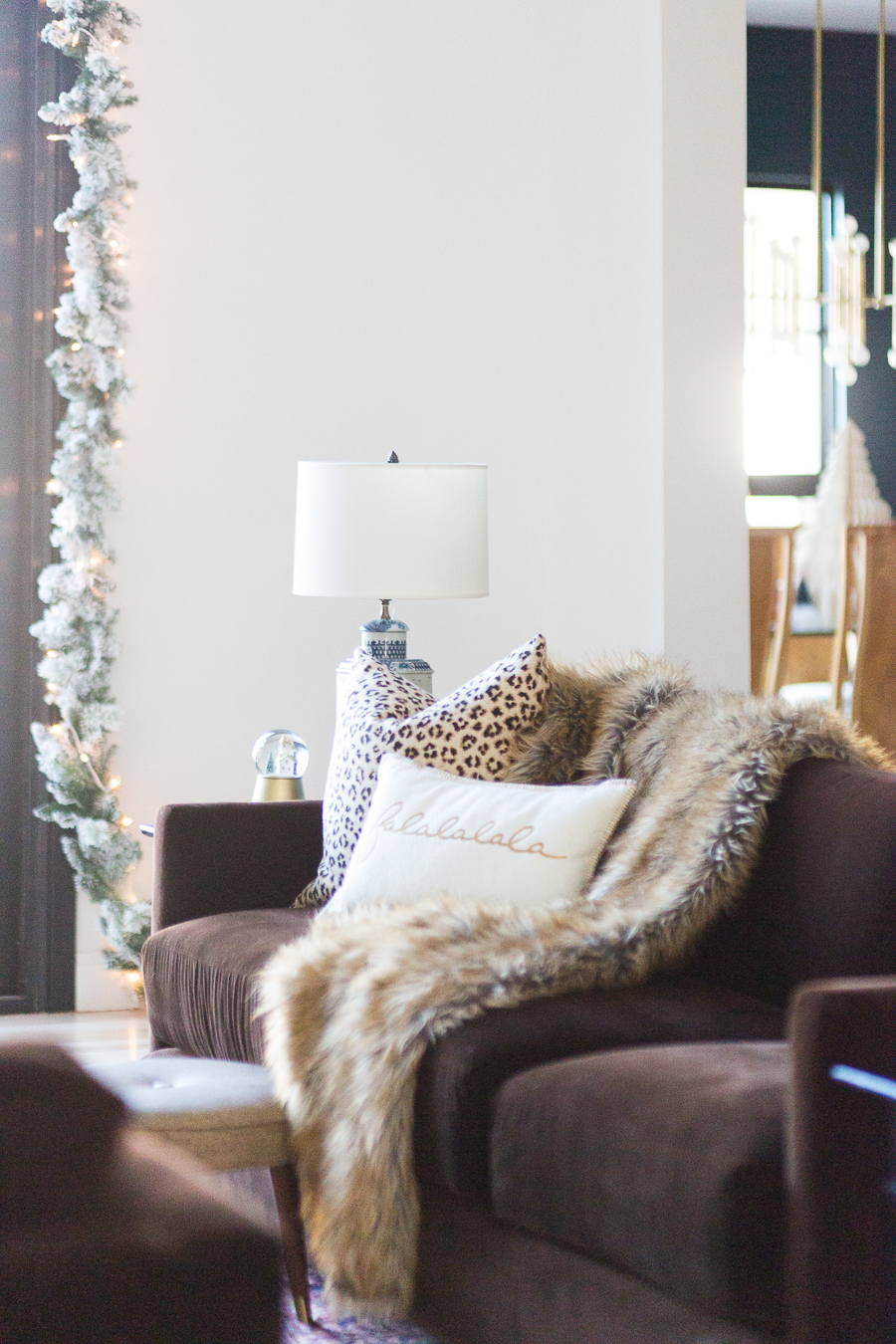 4. USE GOLD, MARBLE, AND MERCURY GLASS – Gold and mercury glass adds an instant touch of glam and I love using it in my Christmas decor. My absolute favorites this holiday season are West Elm's gold candlesticks which are a must-have decor item in my opinion. Not only will you use the heck out of them at Christmas-time but you will use them all year round. They are great on mantles, tabletops, dining room console tables (which is where I usually keep mine) and pretty much anywhere else. Gold candlesticks are one of my favorite styling pieces and I love their versatility. If you don't have these West Elm gold candlesticks, I would pick them up before they are gone! And I would also pick up some of their mercury vases because they are a staple and I use the heck of them at Christmas time and throughout the year. Some other favorites that we have are my Threshold marble and gold serving tray, BE MERRY Cheese board, and my burl wood and gold tray from West Elm which I love.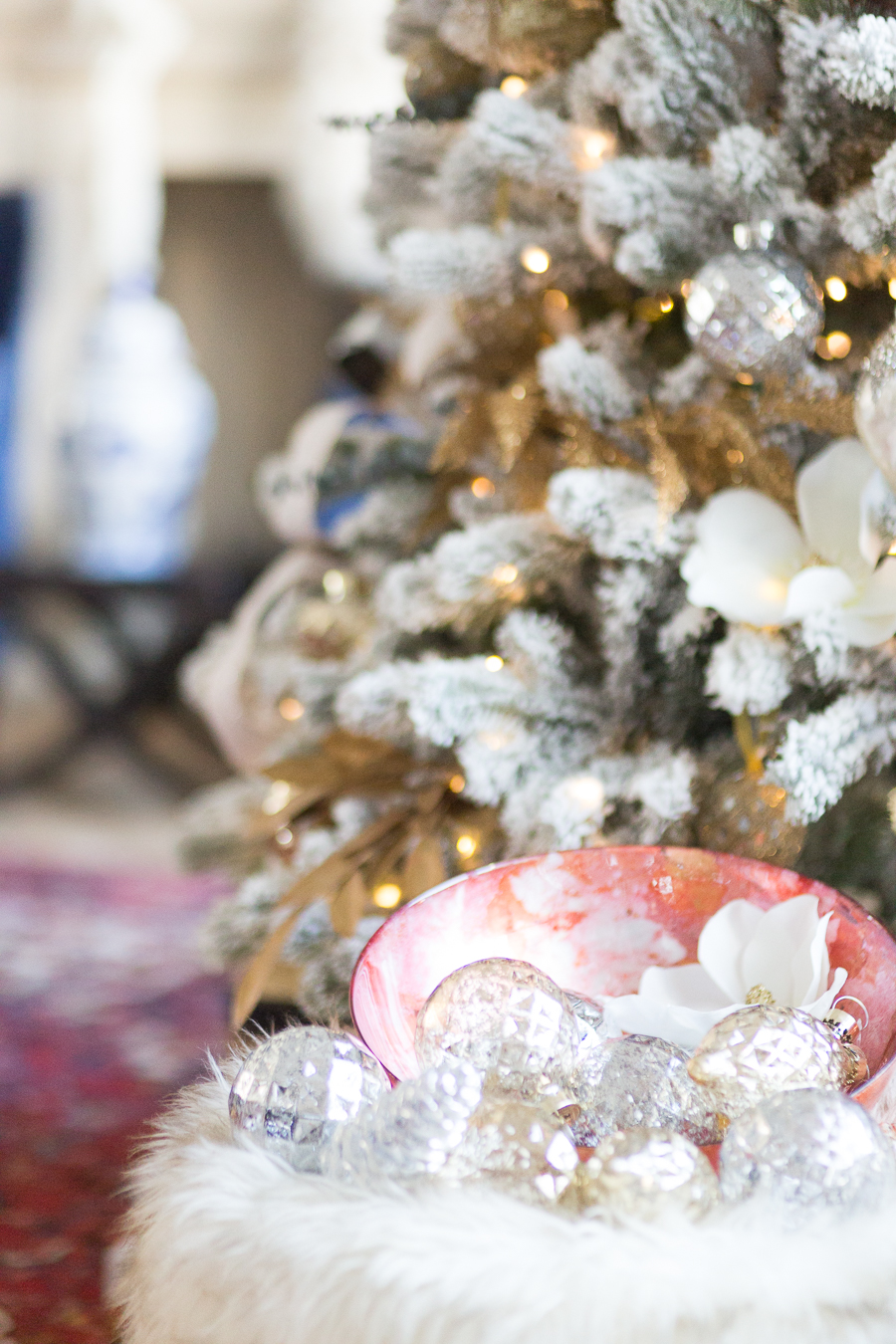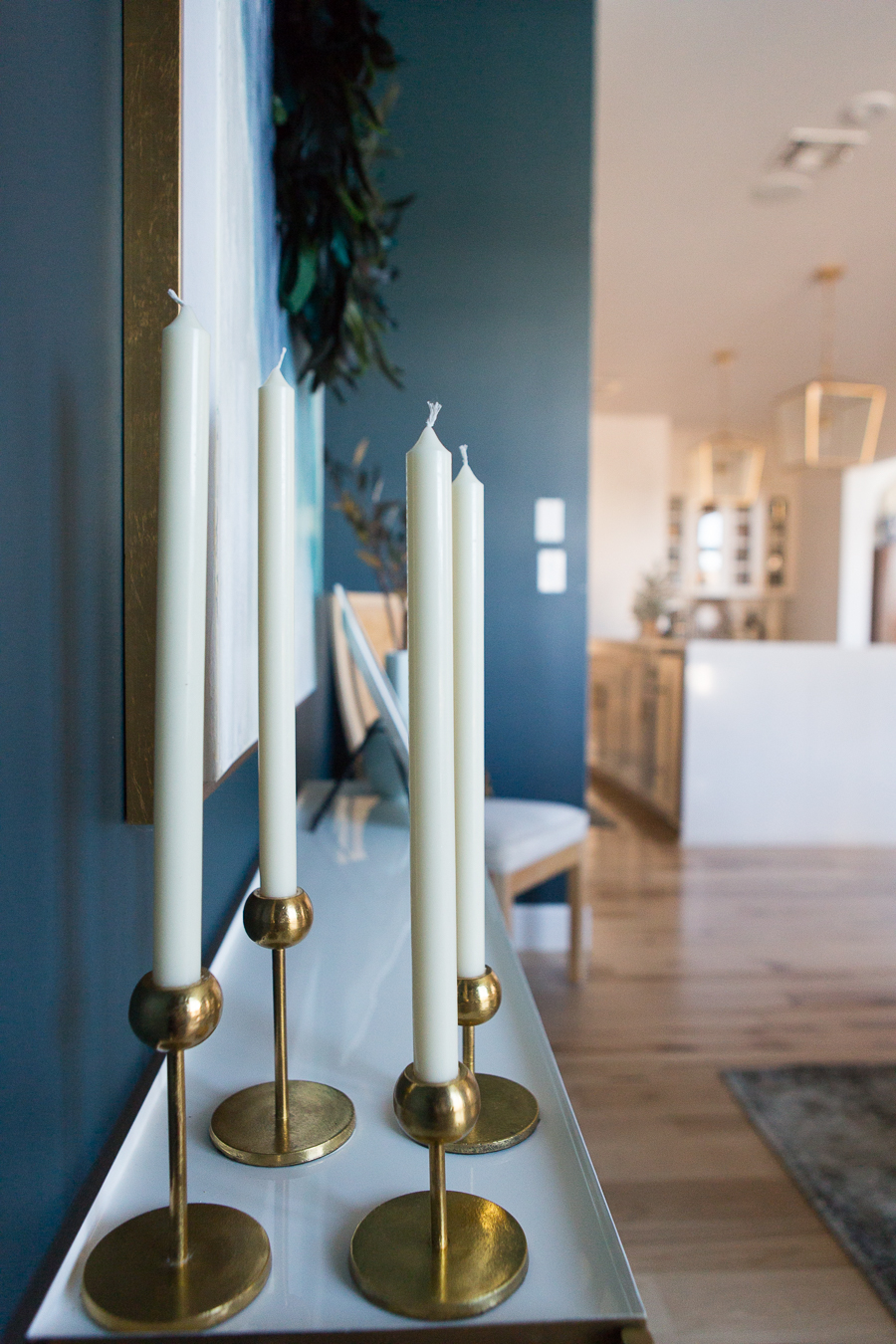 5.  DON'T BE AFRAID TO USE BOLD COLORS –  If you want to add glam to your Christmas decor, you might have to accept that you have to change your color palette. Glam works best with jewel-tones—navy, emerald green, black and white, and bold prints like leopard. But hopefully, with the tips I've given, you can see how you can incorporate all of it for a gorgeous glam Christmas look. For your softer colors, add in some pale pinks like I did with the bowl full of silver and gold mercury ornaments, the pale pink ribbon on the tree, the bottlebrush trees, and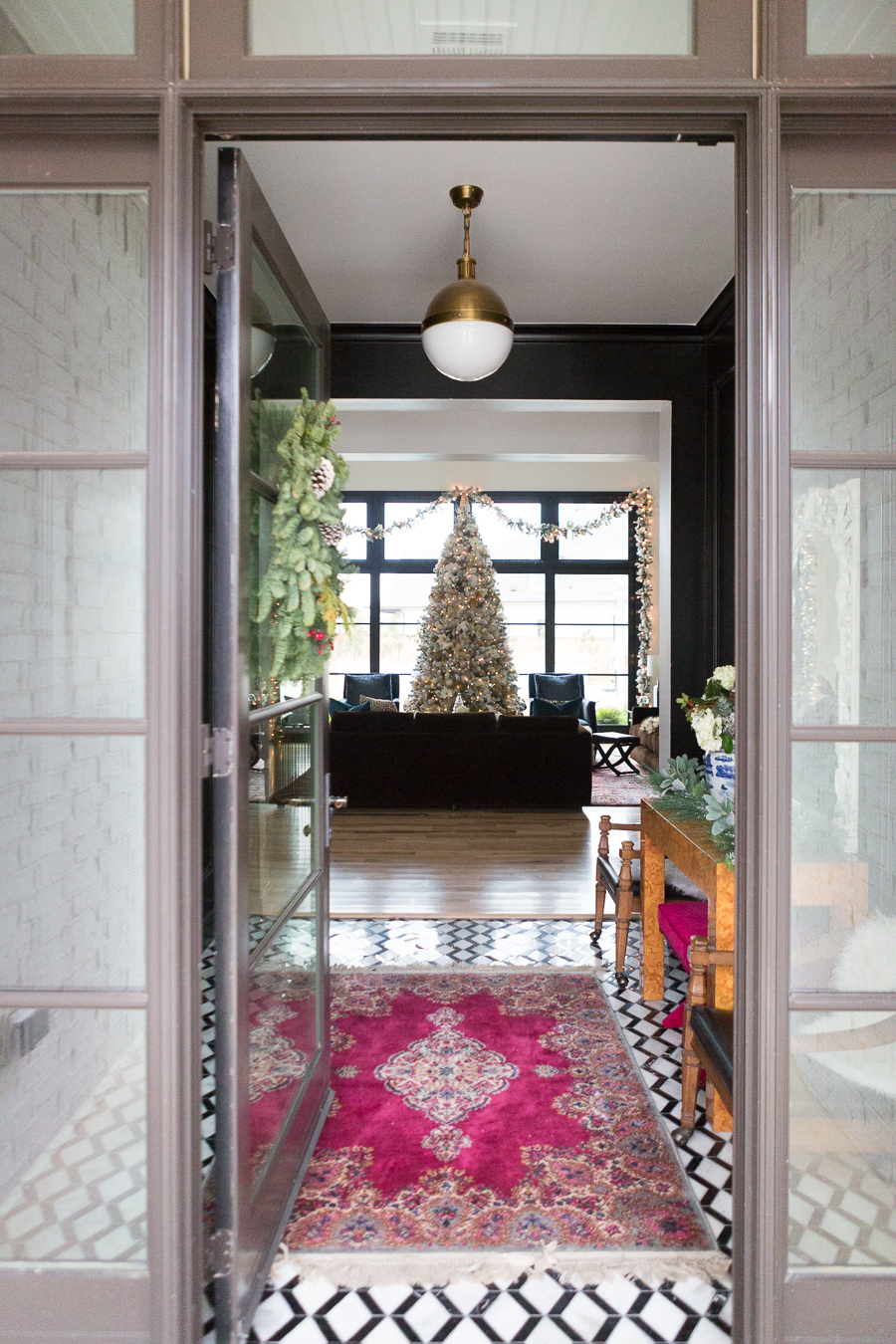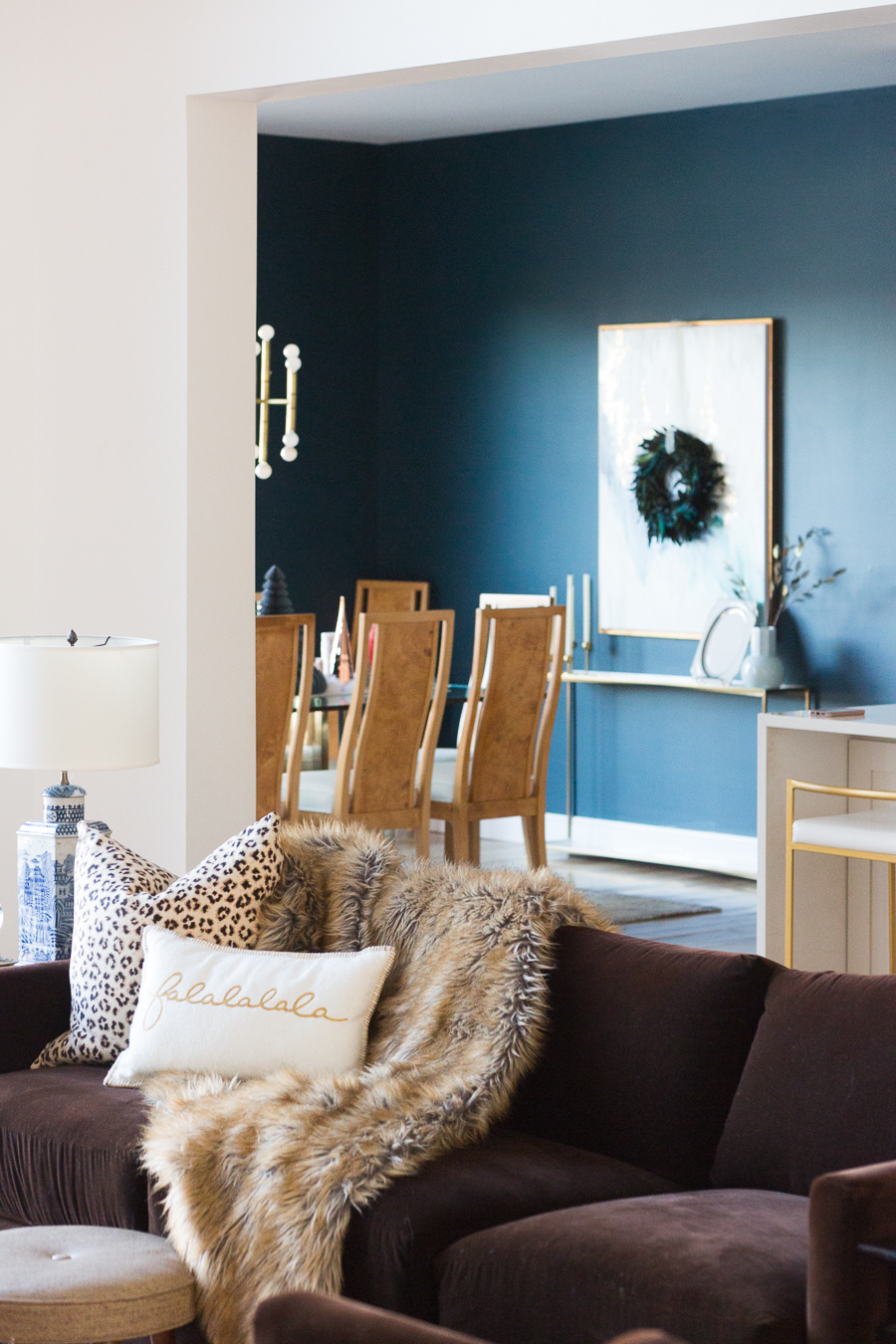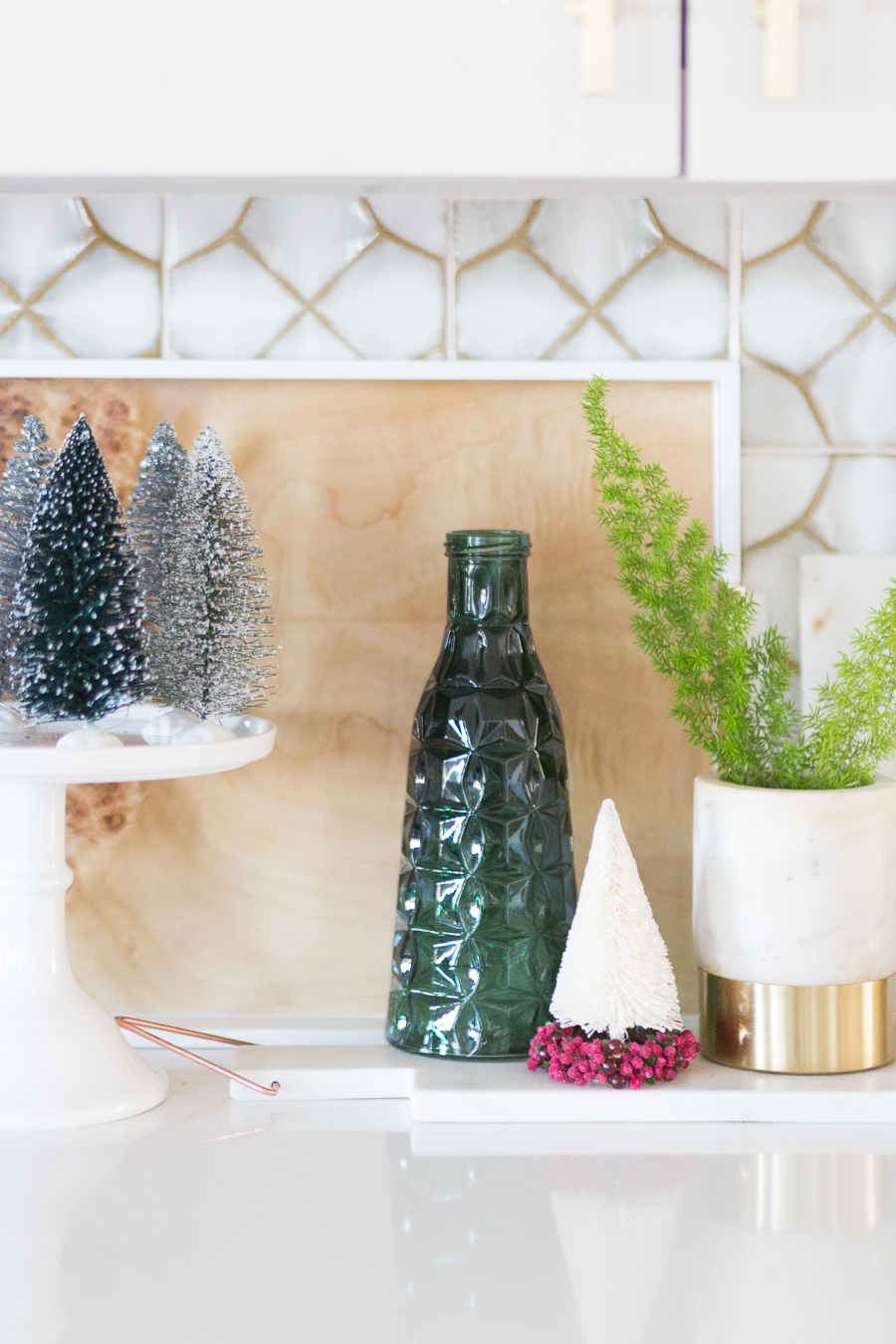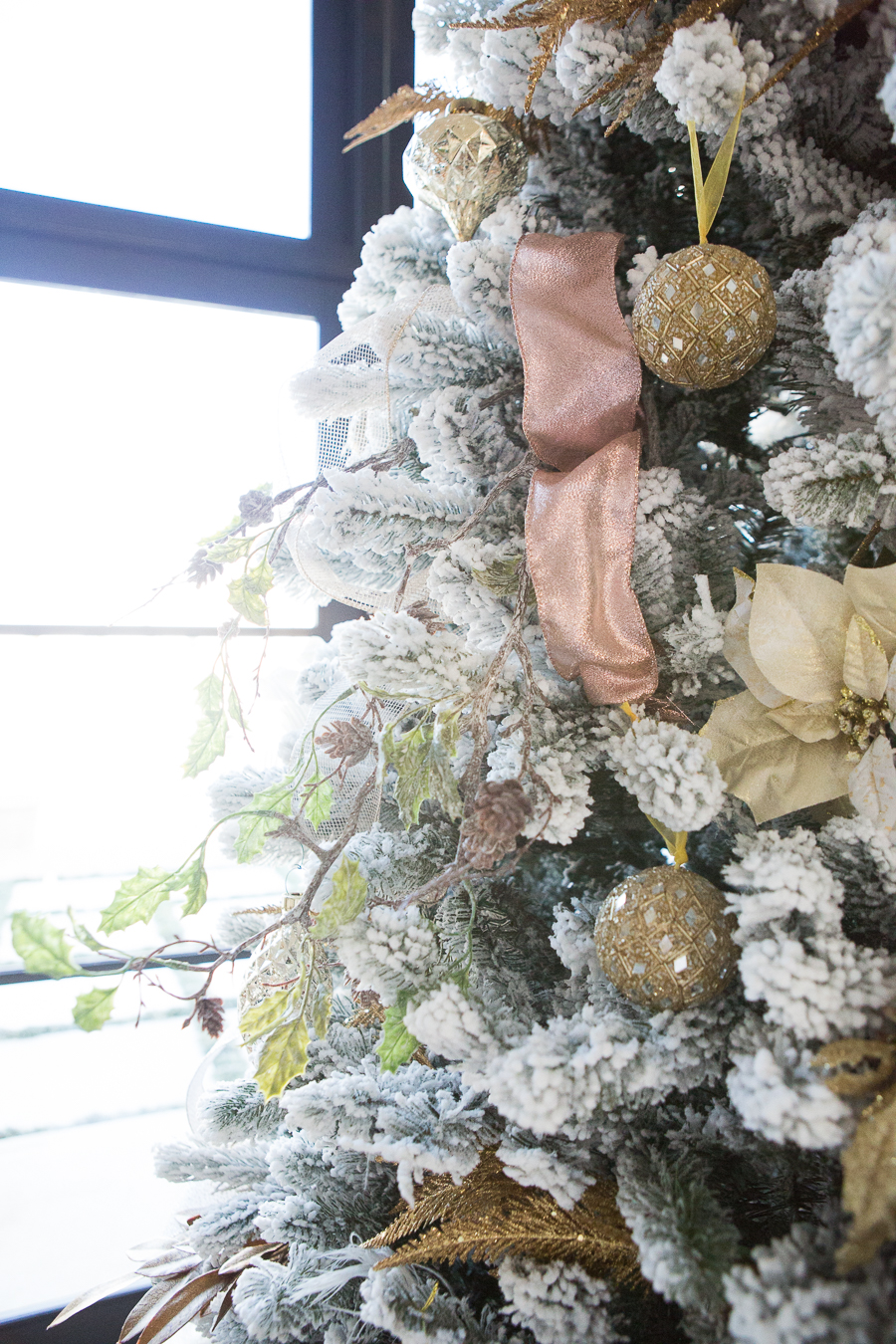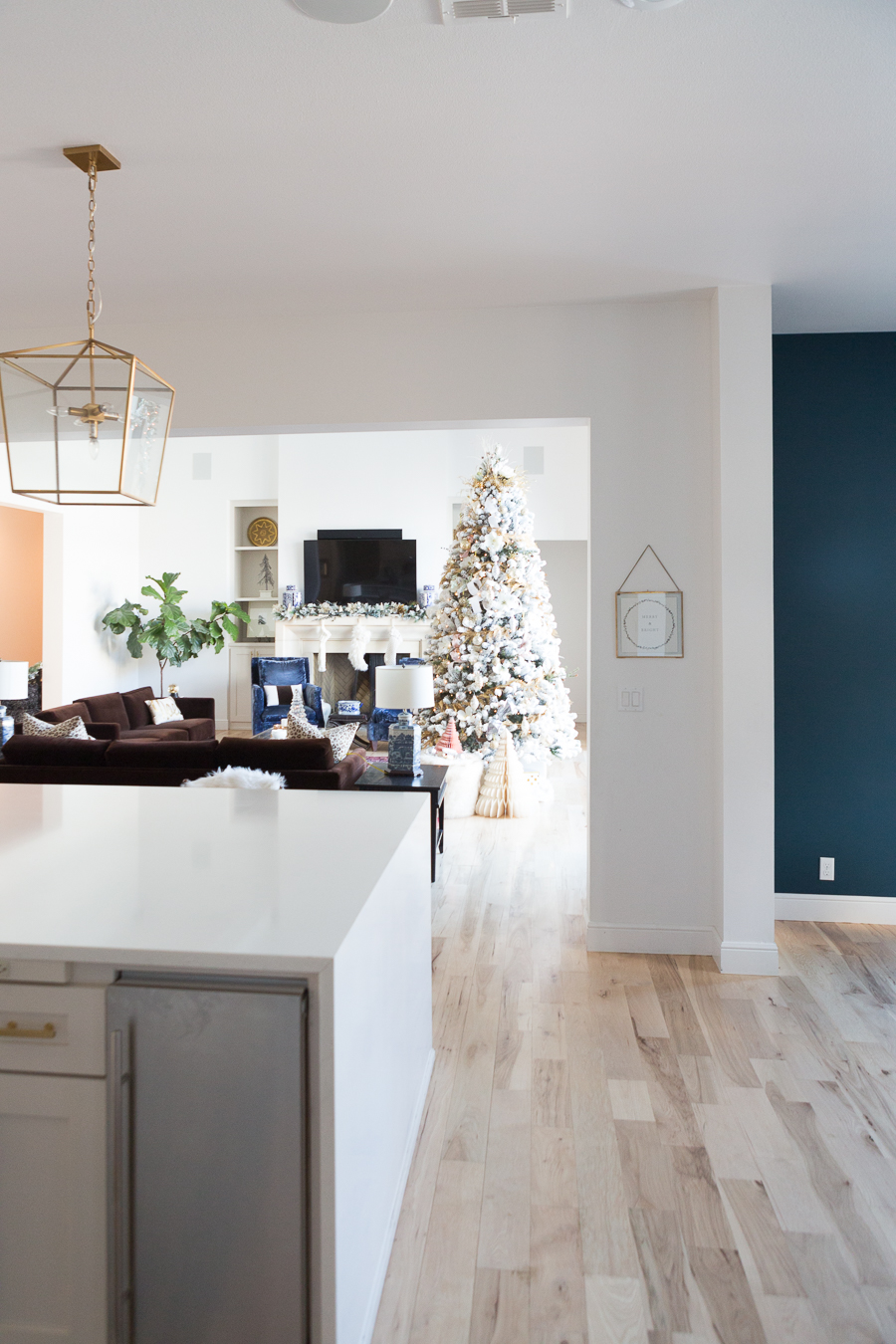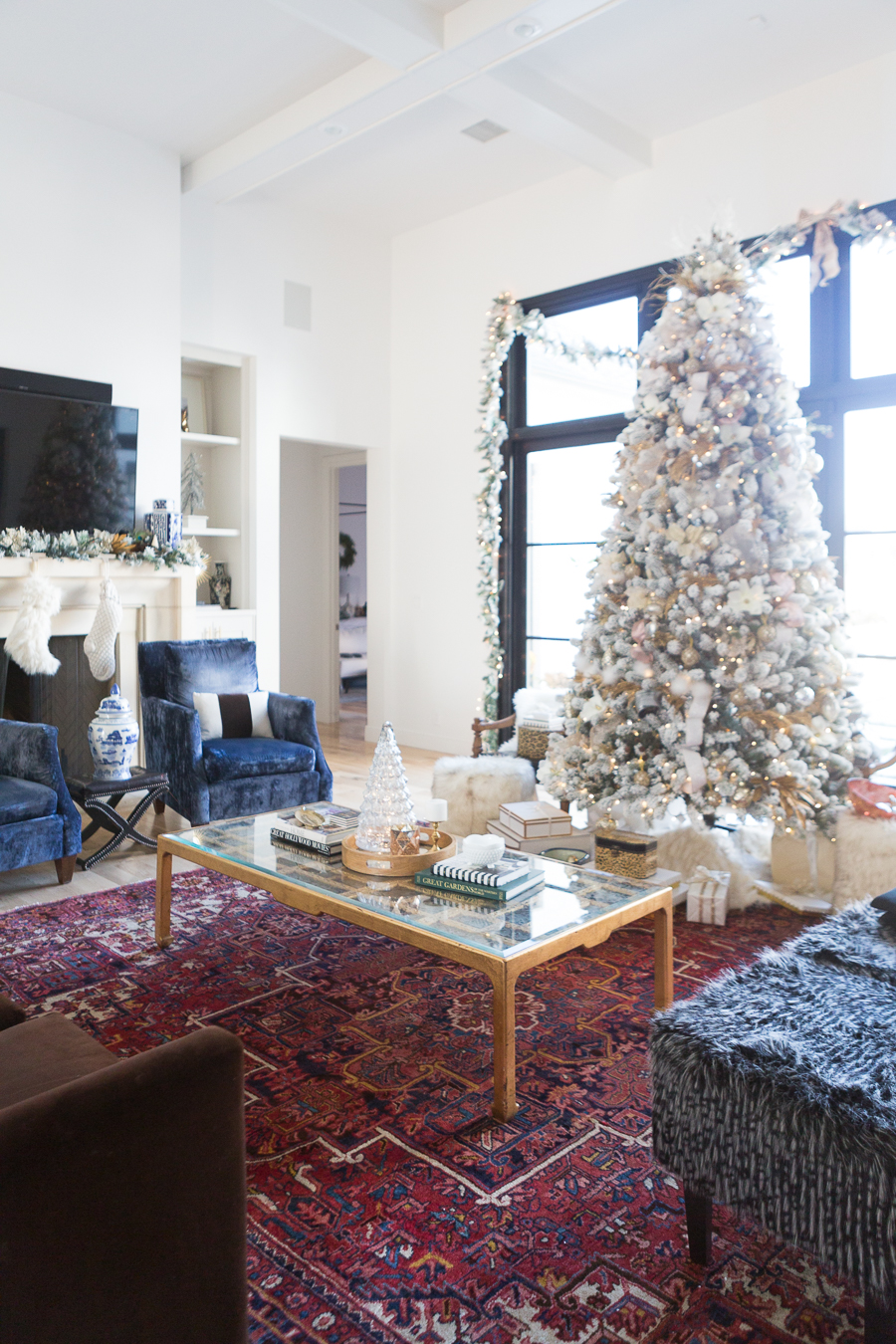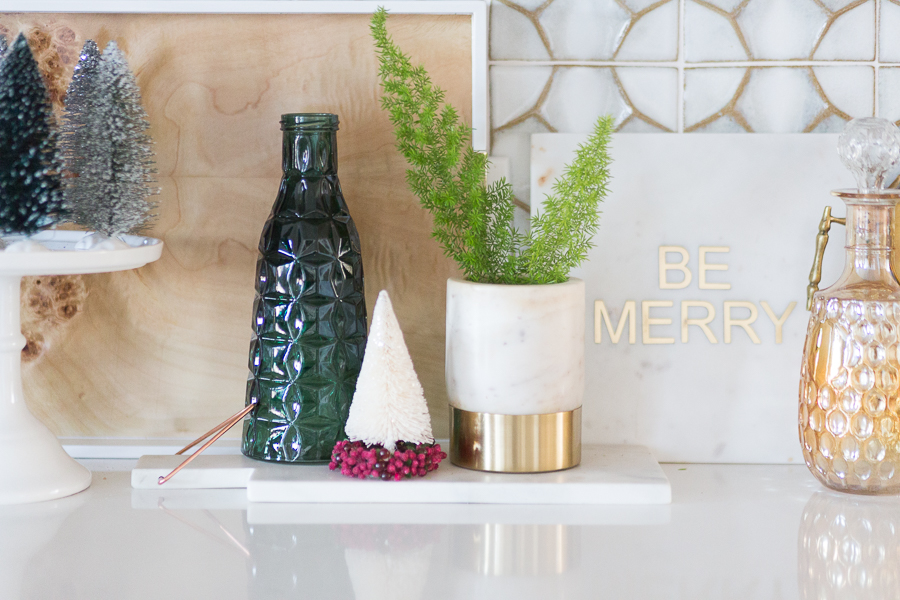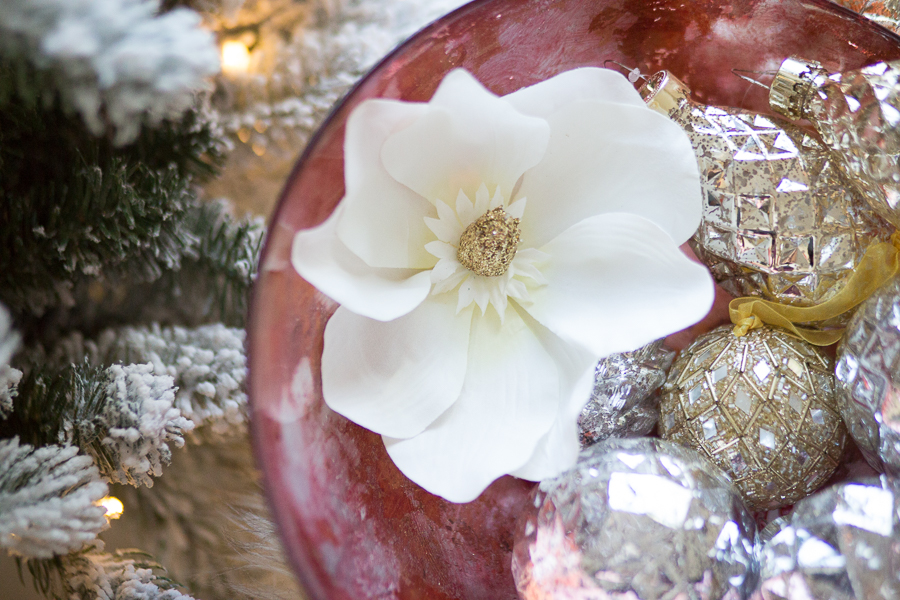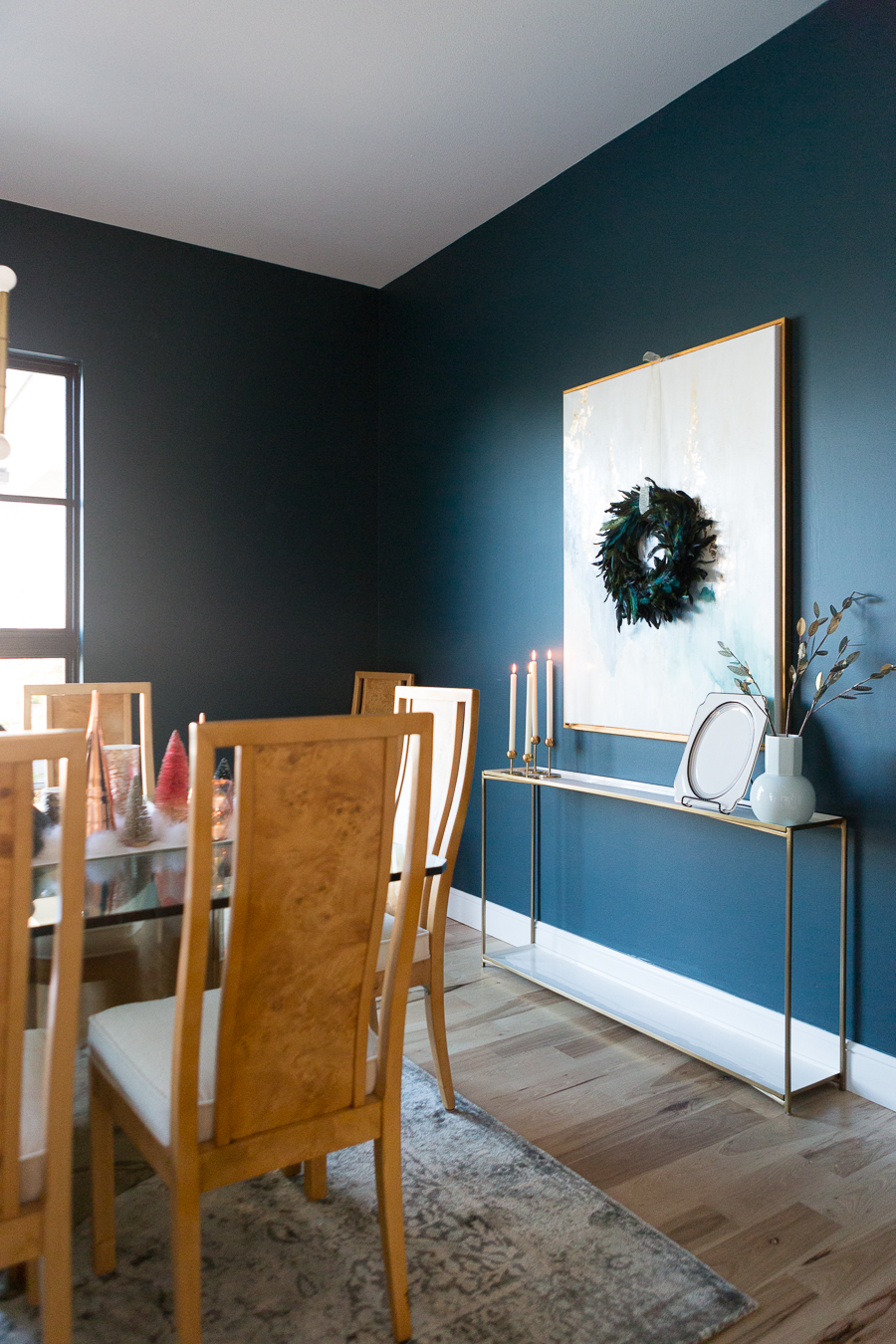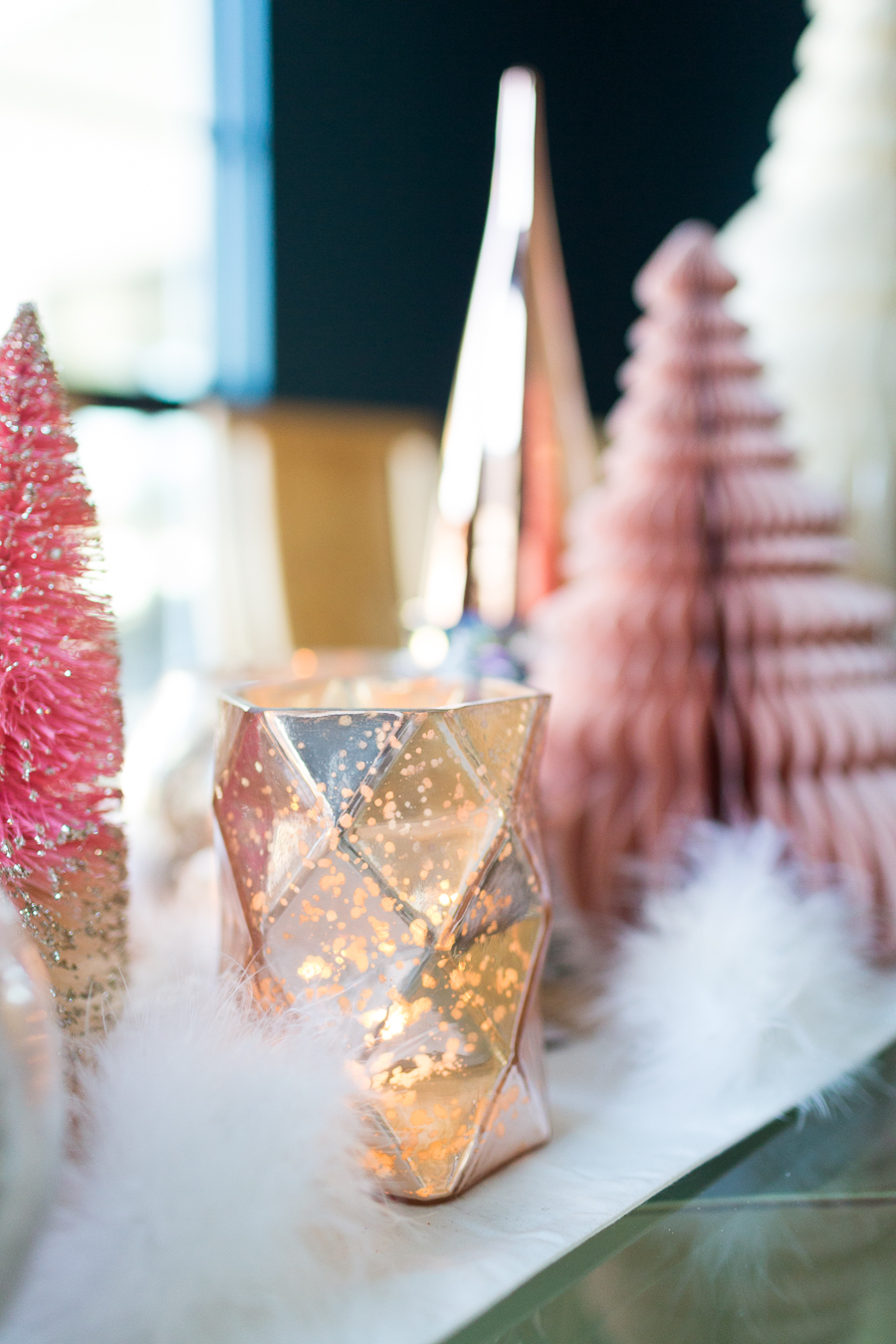 Thanks for stopping by everyone and Happy Holidays from the Miller! Make sure to stop by and check out our Miller Family Christmas Photos 2017 as well as our Favorite Things List, 21 West Elm Decor and Gift Ideas, and 10 Tips for Budget Decorating at Christmas Time.