So last week we finally shared our kitchen post ice maker leak remodel and now it's time for the CC and Mike Living Remodel Reveal!
I guess, technically speaking, we didn't remodel our living room but when our ice maker leaked while we were on a getaway to Napa and Lake Tahoe, I did choose to see it as a prime opportunity to make lemonade out of lemons.  In other words, if we were going to have to rip up the wood floors and remodel the kitchen, why not give the living room a little makeover too?!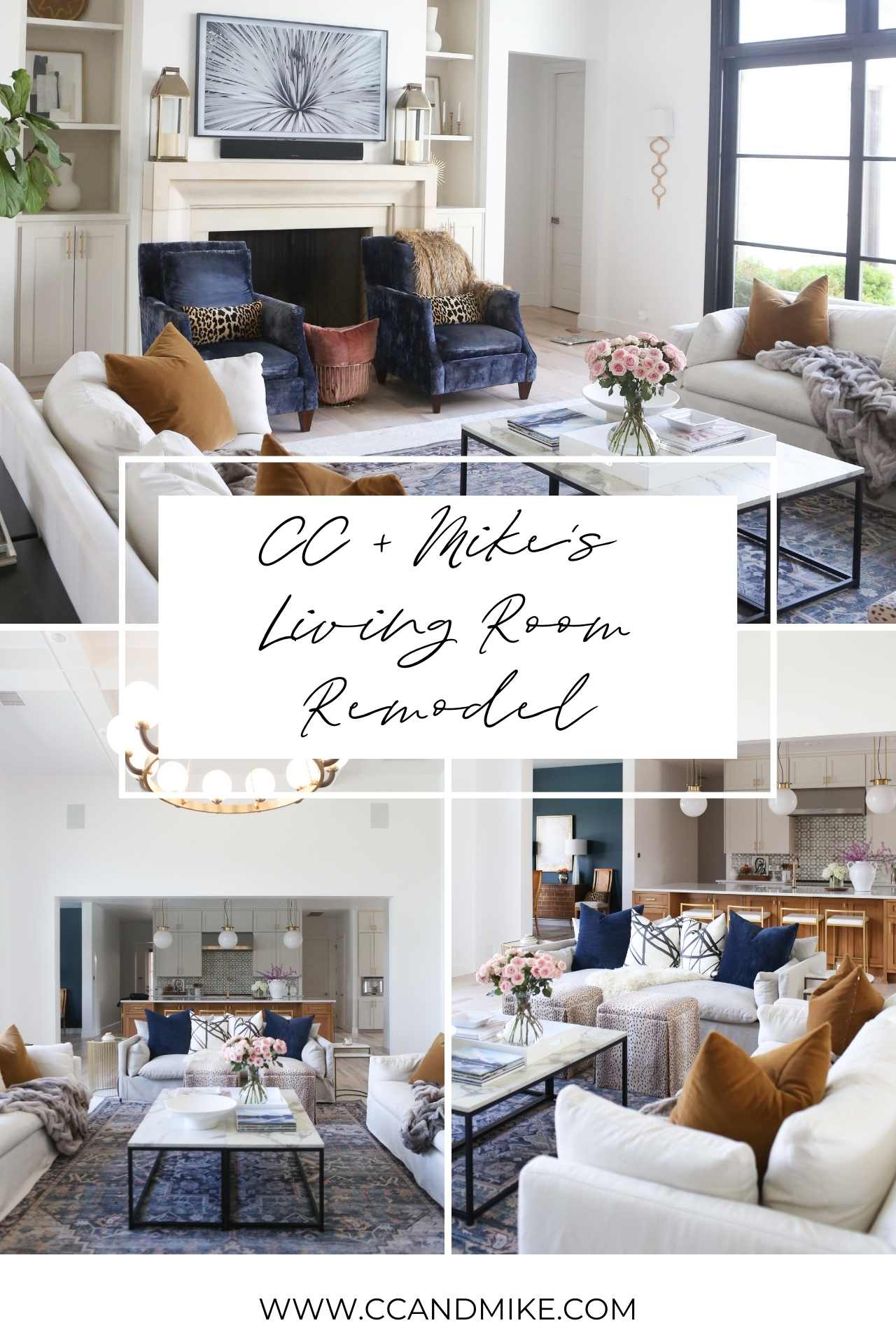 I'm going to show you some of the statement pieces we used in our living room remodel, all of which are available in CC and MIKE THE SHOP.  First of all, let's talk about the rug which is from my new favorite rug line in the SHOP – THE HATHAWAY line.  If you are looking to refresh your rug in your home or get a new runner for the kitchen, I can't recommend the rugs in the Hathaway line enough!
THE RUG – THE NAVY HATHAWAY
This rug is a stunner.  The colors are gorgeous and it's a bold statement rug.  I love it paired with Navy and blush tones but you could totally pull out the neutrals as well with taupe, grays, and black.  I personally have it paired with the following 22×22 pillows from CC and MIKE THE SHOP:  Navy Velvet, Bourbon Mohair, Antelope  Linen, and the Ebony Channels.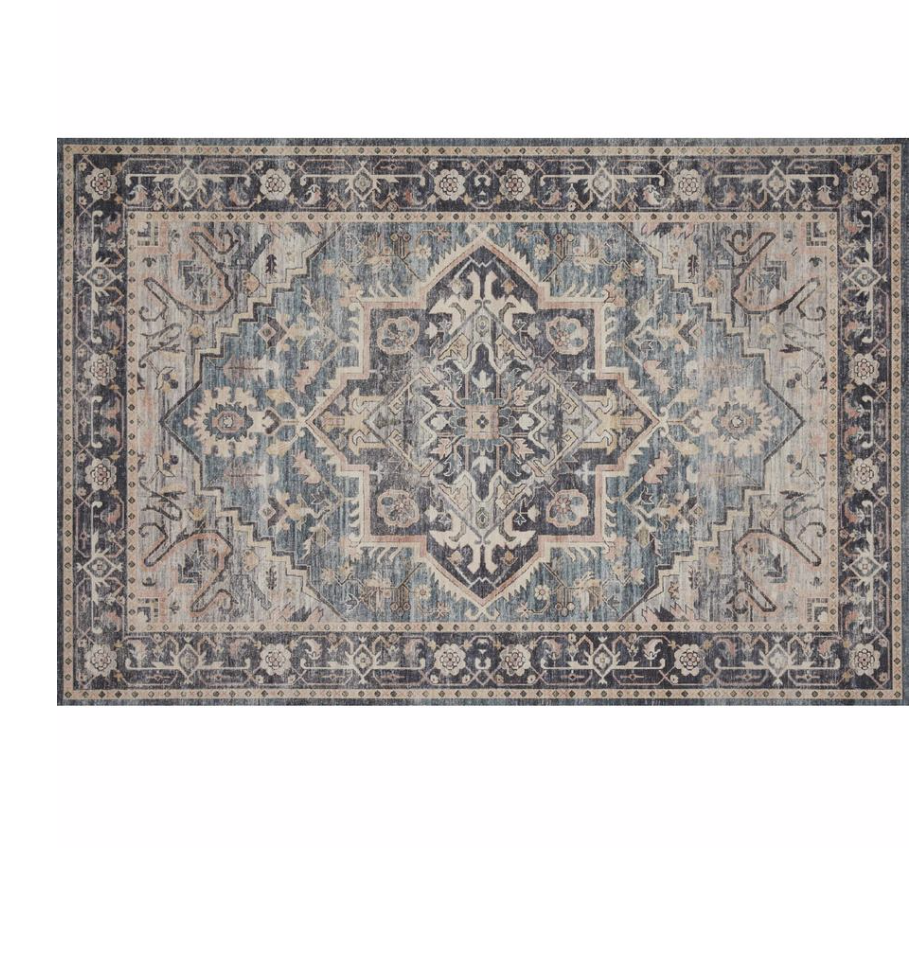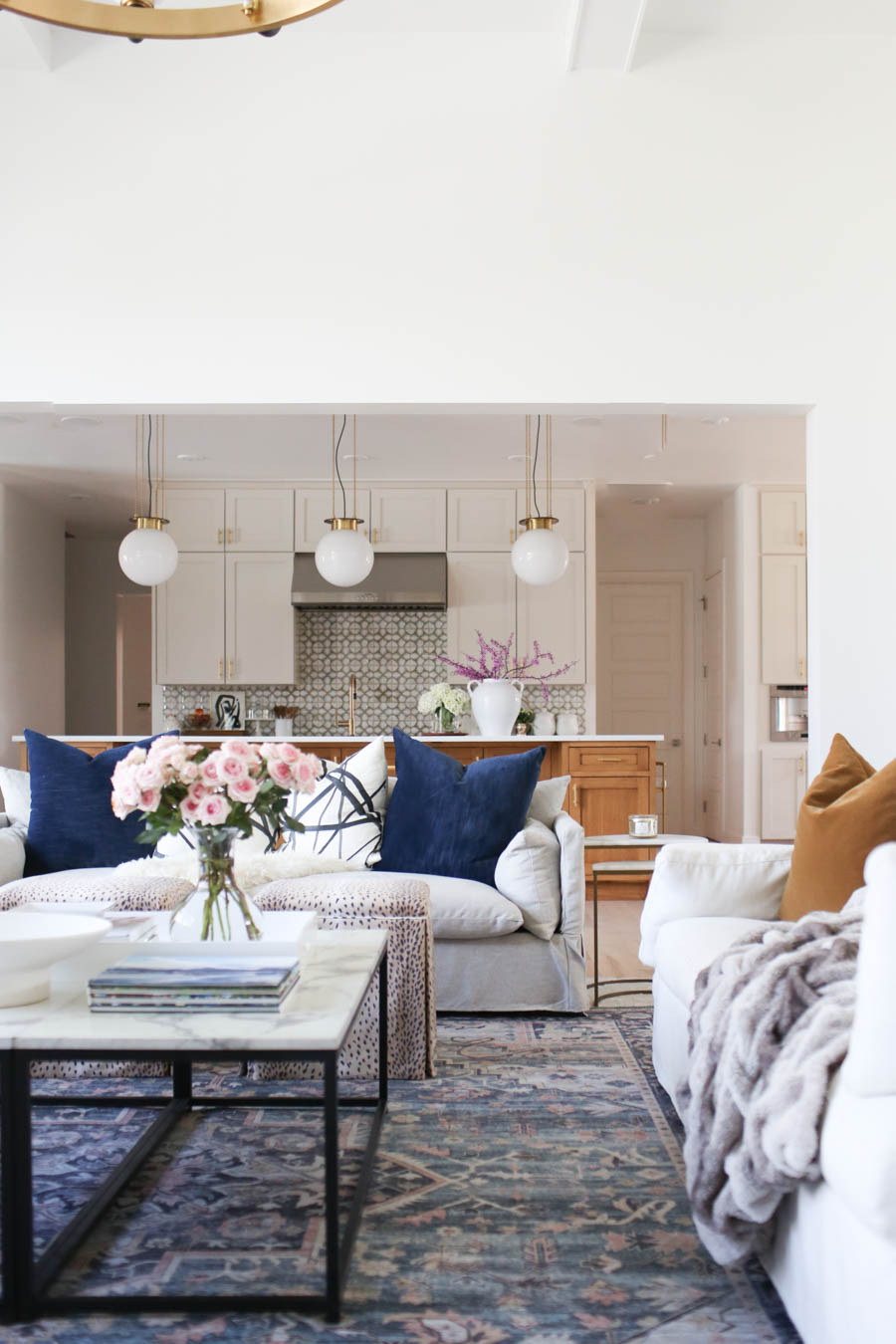 SHOP OUR LIVING ROOM PRODUCTS
HATHAWAY RUG | COFFEE TABLES | BRADFORD SOFAS | NIMBUS SOFA | THROW | NAVY PILLOW | CHANNEL PILLOWS | ANTELOPE PILLOWS | MOHAIR PILLOWS | NESTING TABLES | WALL SCONCES
SHOP COFFEE TABLE ACCESSORIES: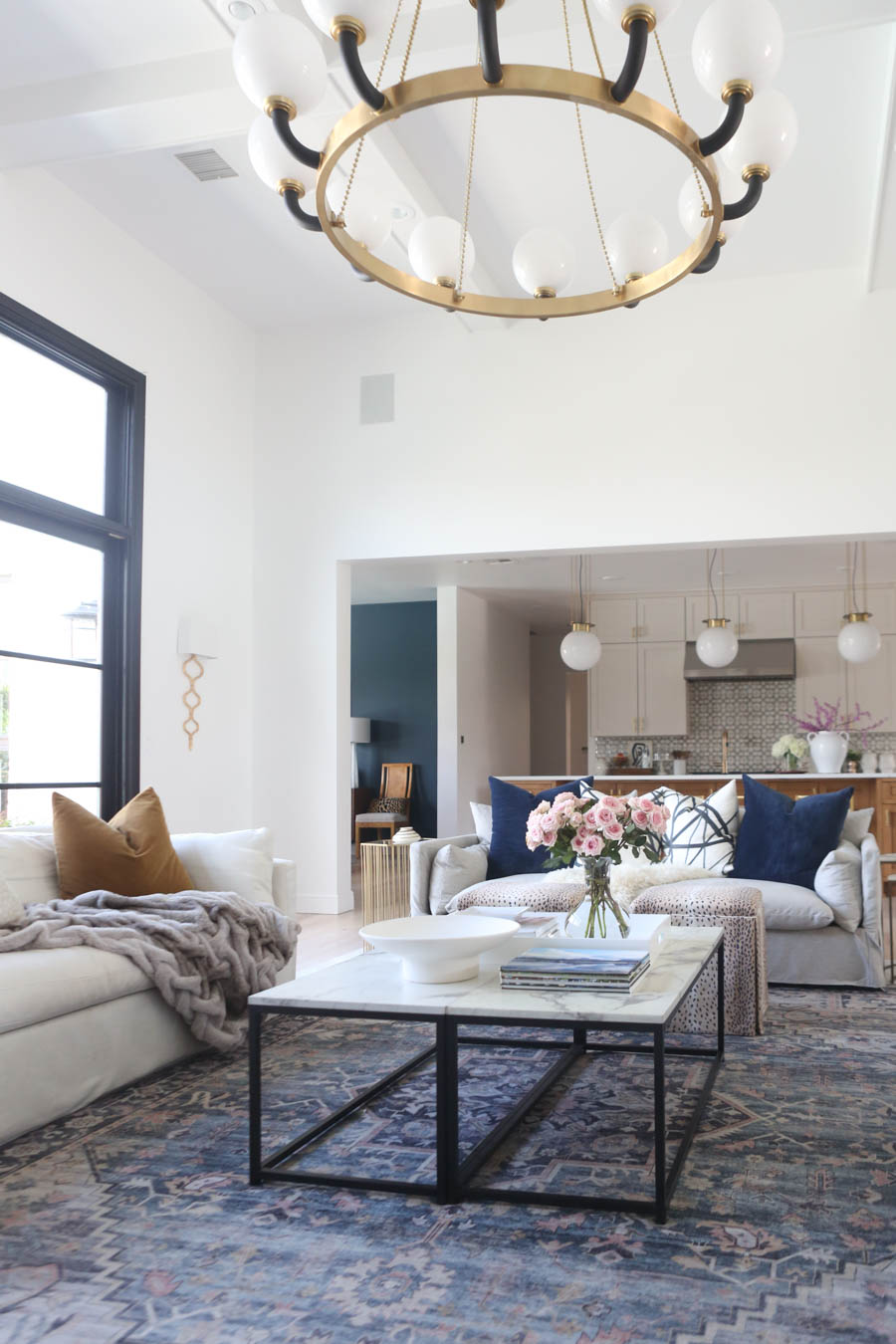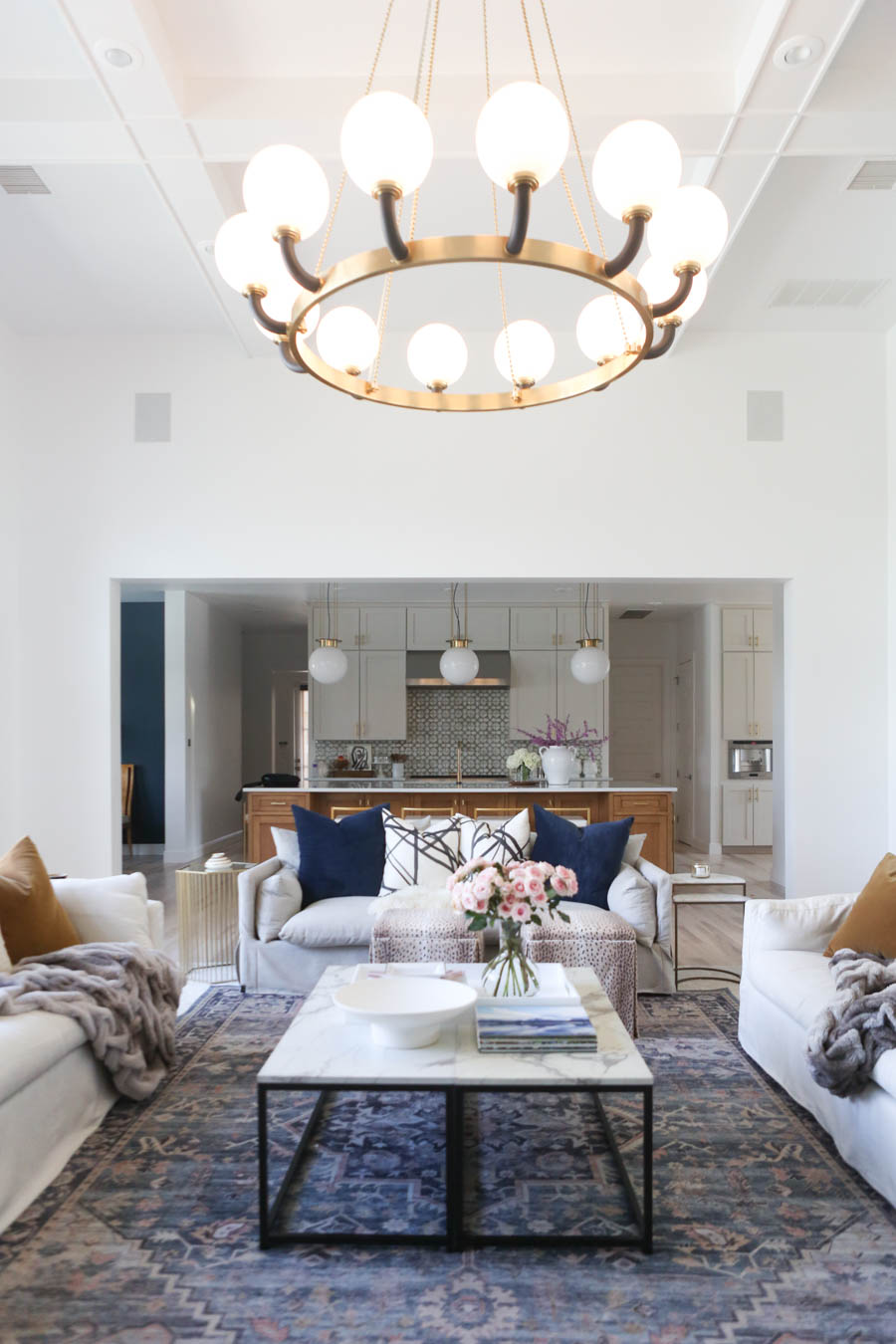 THE LIGHT – WERNER CHANDELIER 
We were so excited to partner with Hudson Valley Lighting on this project for our living room and kitchen lights.  I absolutely fell in love with the WERNER CHANDELIER when I saw it at market and new it would be the perfect statement I was hoping to make in our living room.  I paired it with the GUNTHER PENDANT in our KITCHEN REMODEL and I think they are the perfect mix!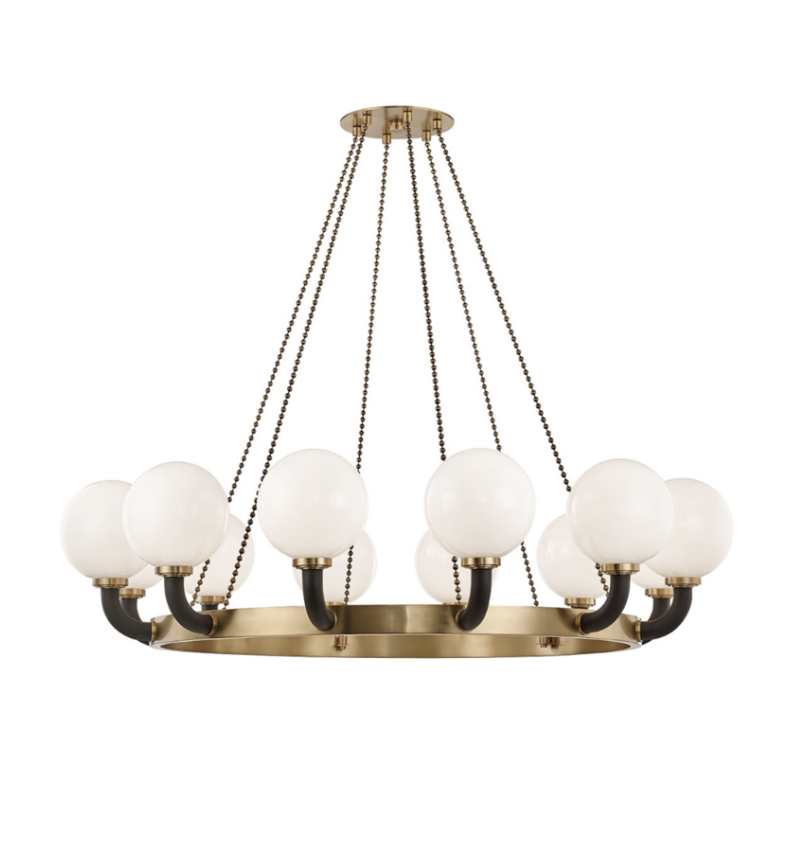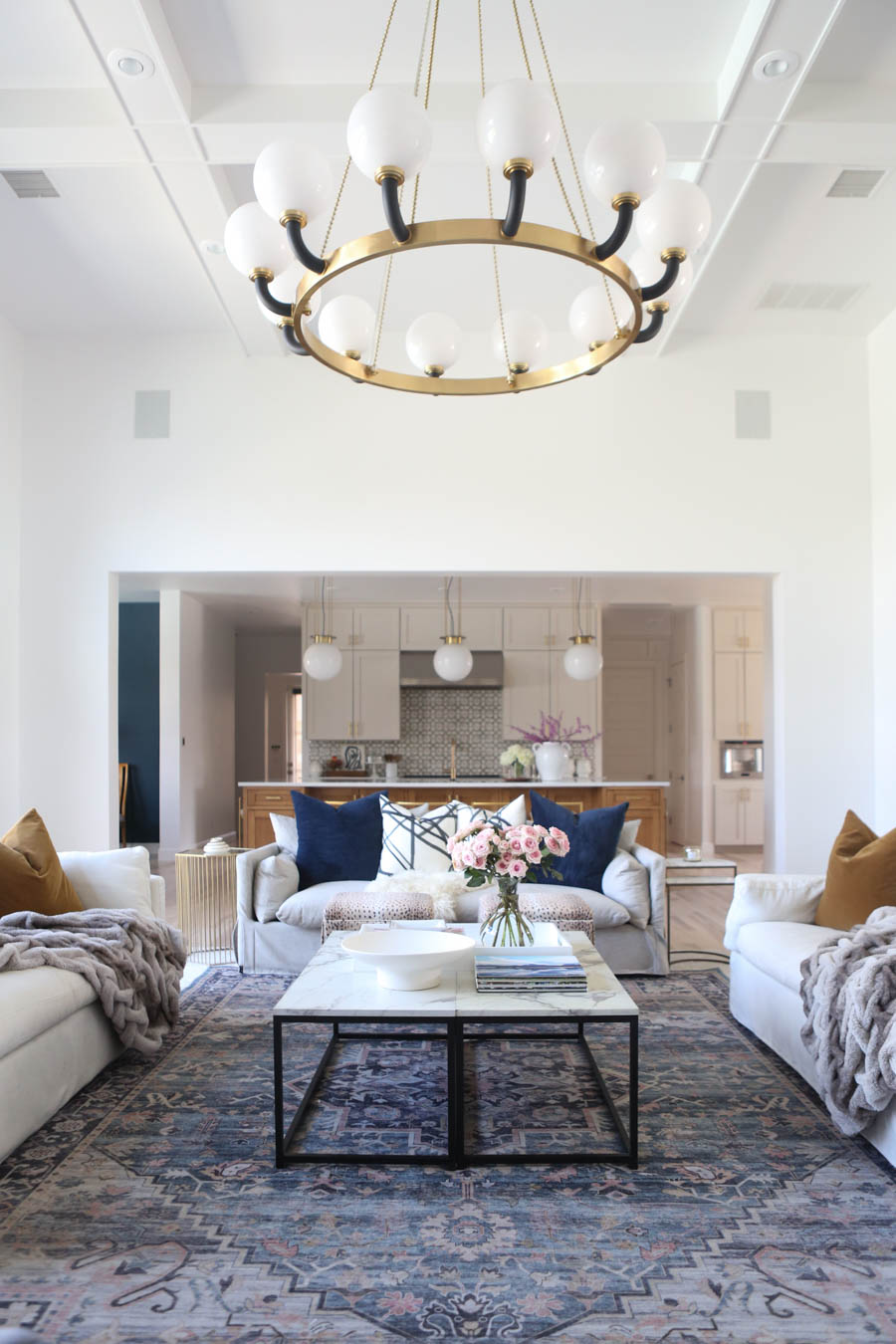 THE KITCHEN
You can check out our Kitchen Remodel Reveal here if you'd like!  All the details from the wood stain to the backsplash to the countertops are in that blog post for you guys.  You can also shop our kitchen products here:
SCROLL AND TAP TO SHOP OUR KITCHEN PRODUCTS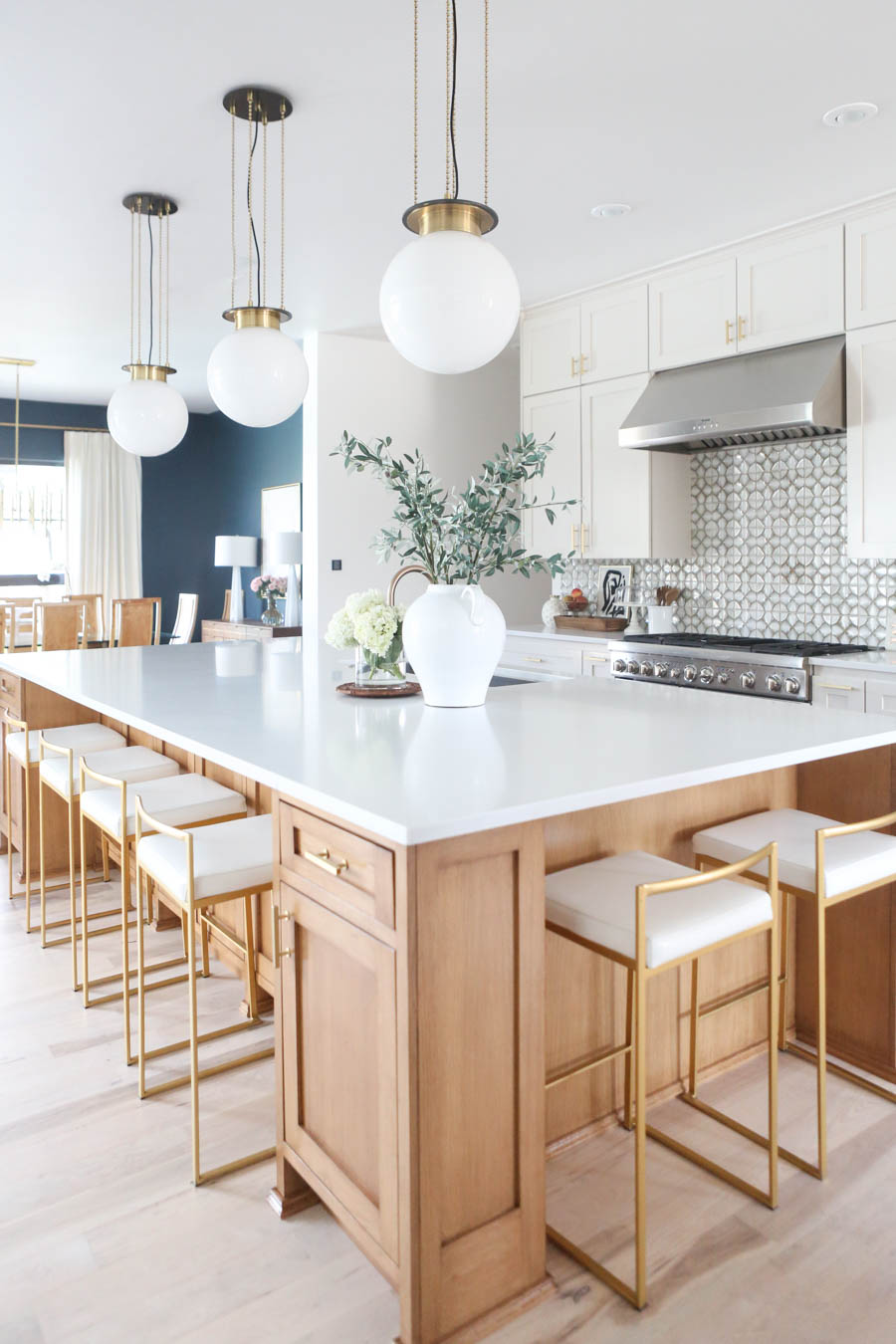 SHOP OUR KITCHEN:
Our gold counter stools are affordable and durable and are NOW AVAILABLE in CC and Mike THE SHOP.  If you're looking for bar stools or counter stools for your new home we have some of my favorites ready to shop for you in CC and Mike THE SHOP.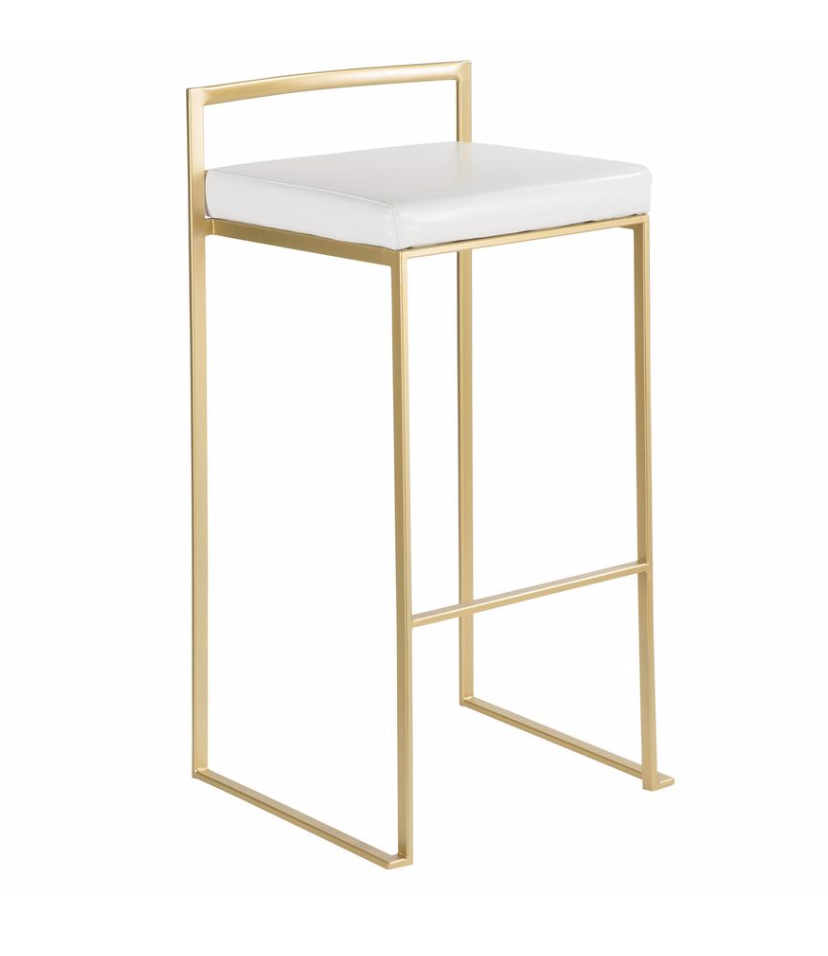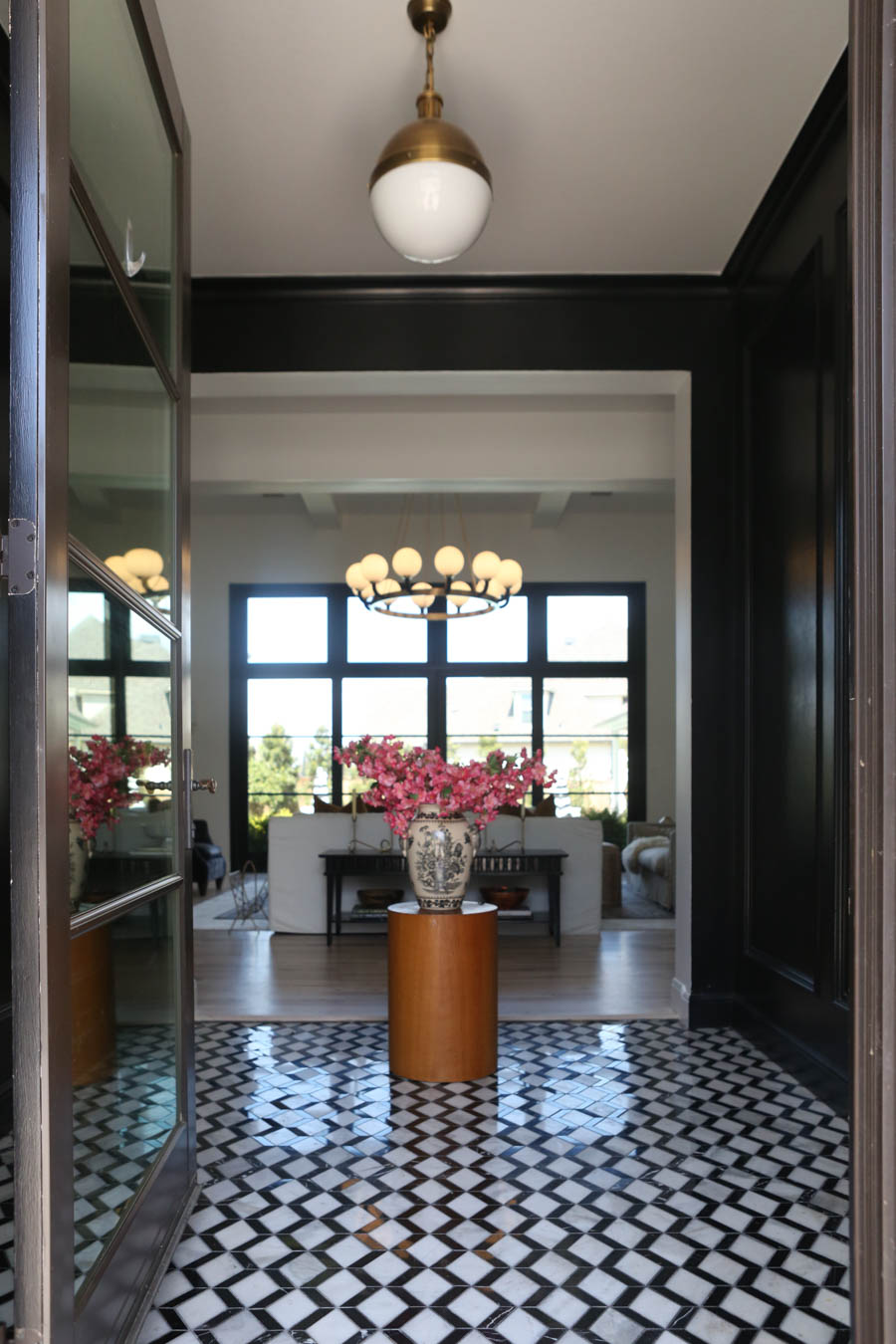 SHOP OUR ENTRYWAY: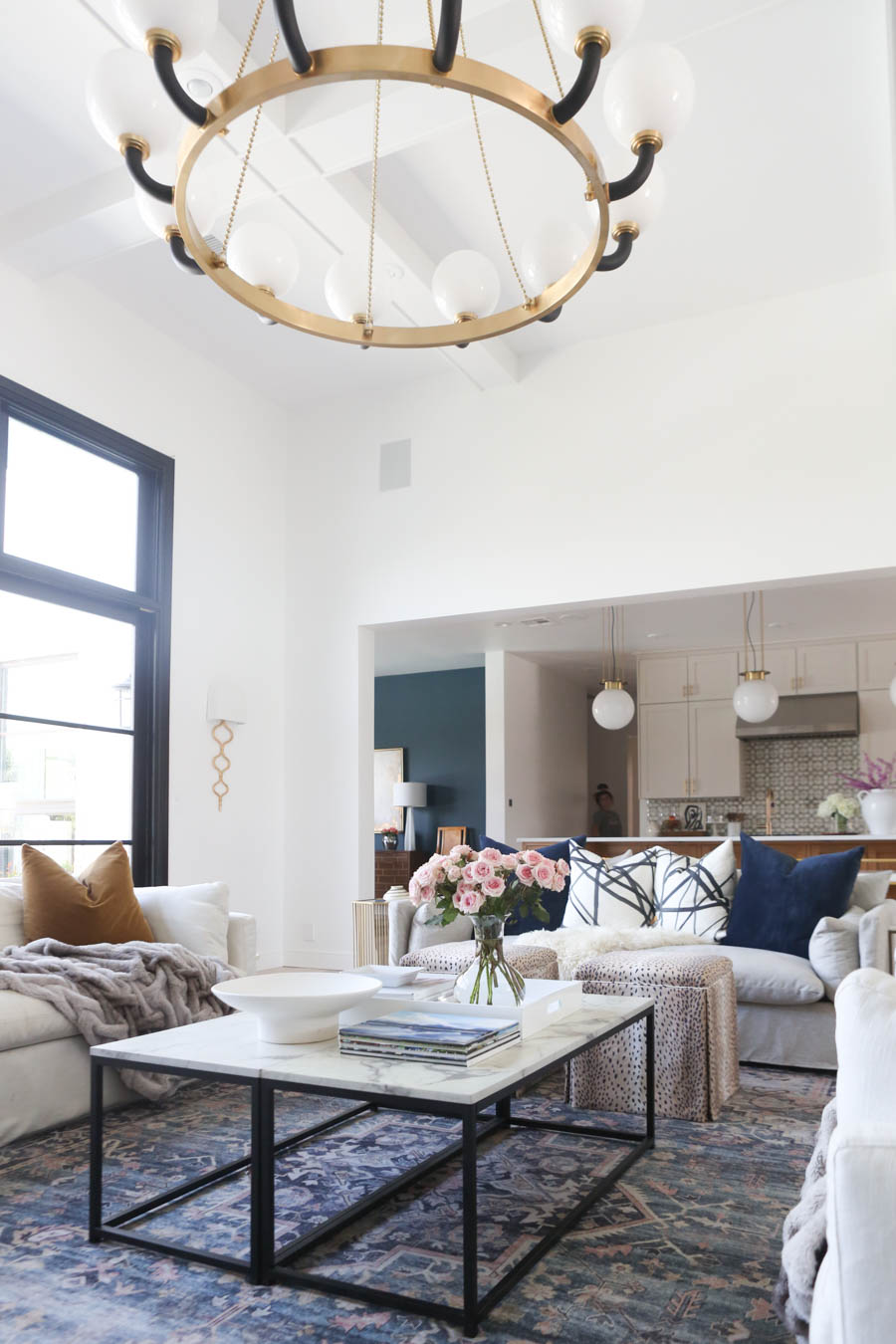 THE COFFEE TBALES –  The Baize Coffee Tables
I paired two Baize Coffee Tables together for our living room.  The are an affordable, faux marble table top coffee table that we offer in CC and Mike THE SHOP.  I like the look of two of them paired side by side as well which is what I chose to go with in our space!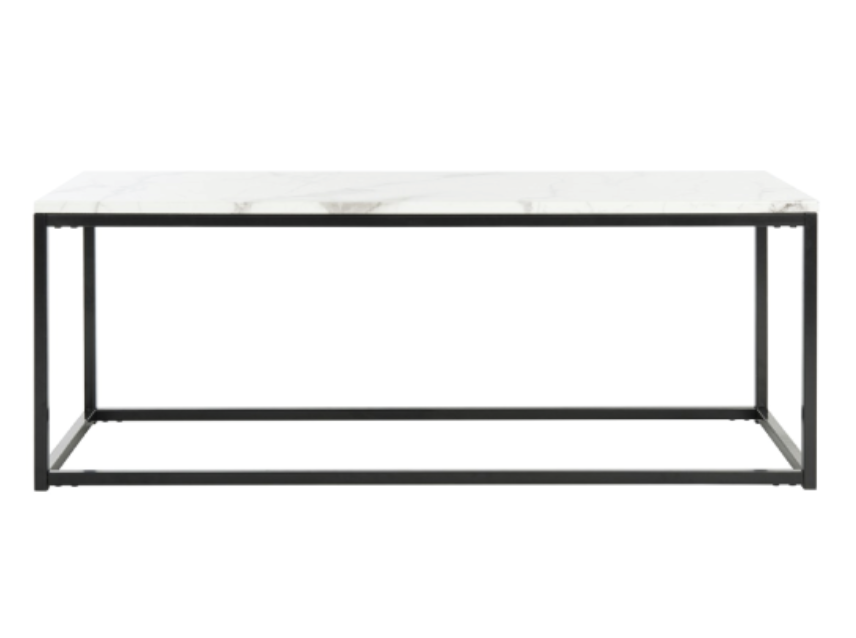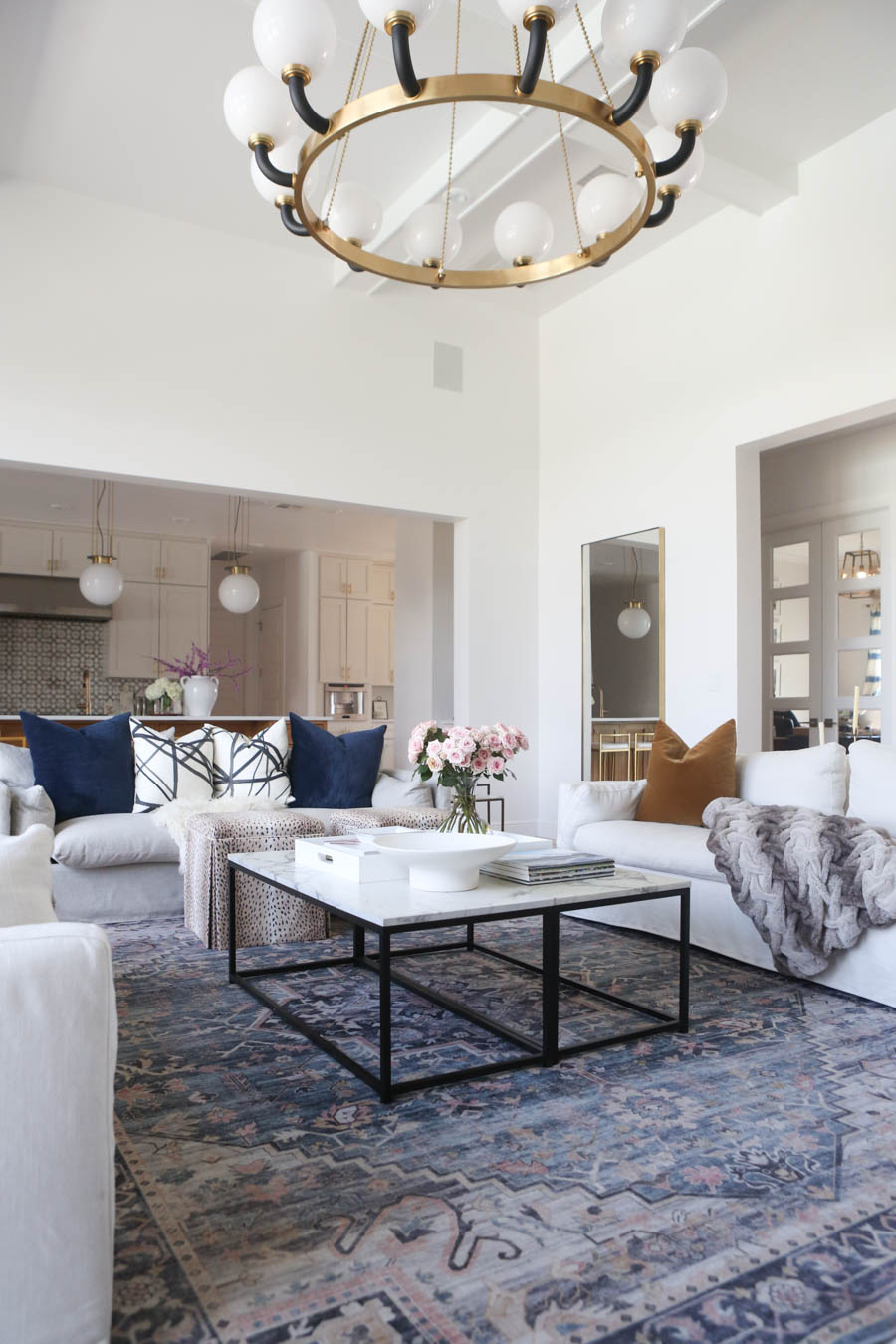 If you're looking for a large gold floor mirror, The Bellevue is gorgeous.  I used two of them on the walls of my living room!
THE LEOPARD SKIRTED OTTOMAN – The skirted ottomans we offer in CC and MIKE the shop are the perfect addition to any living room.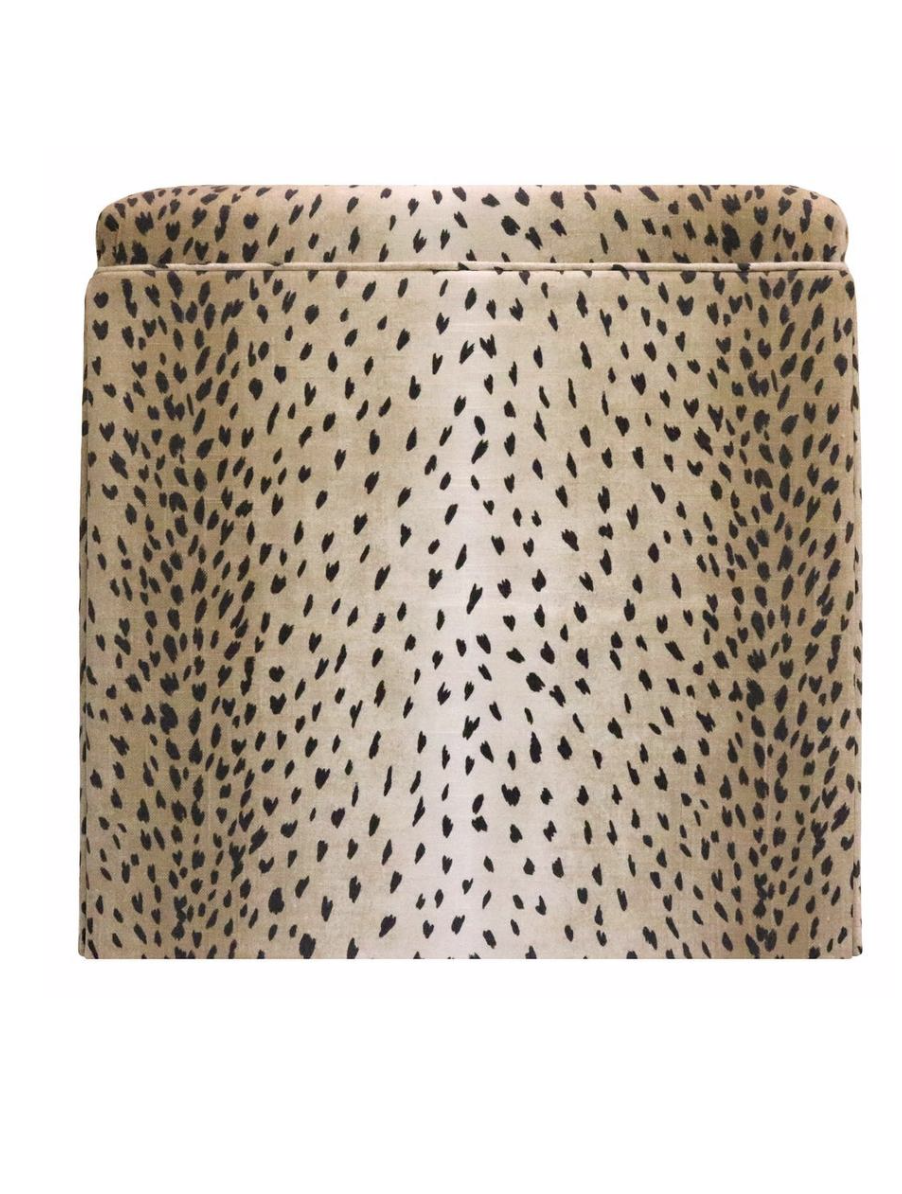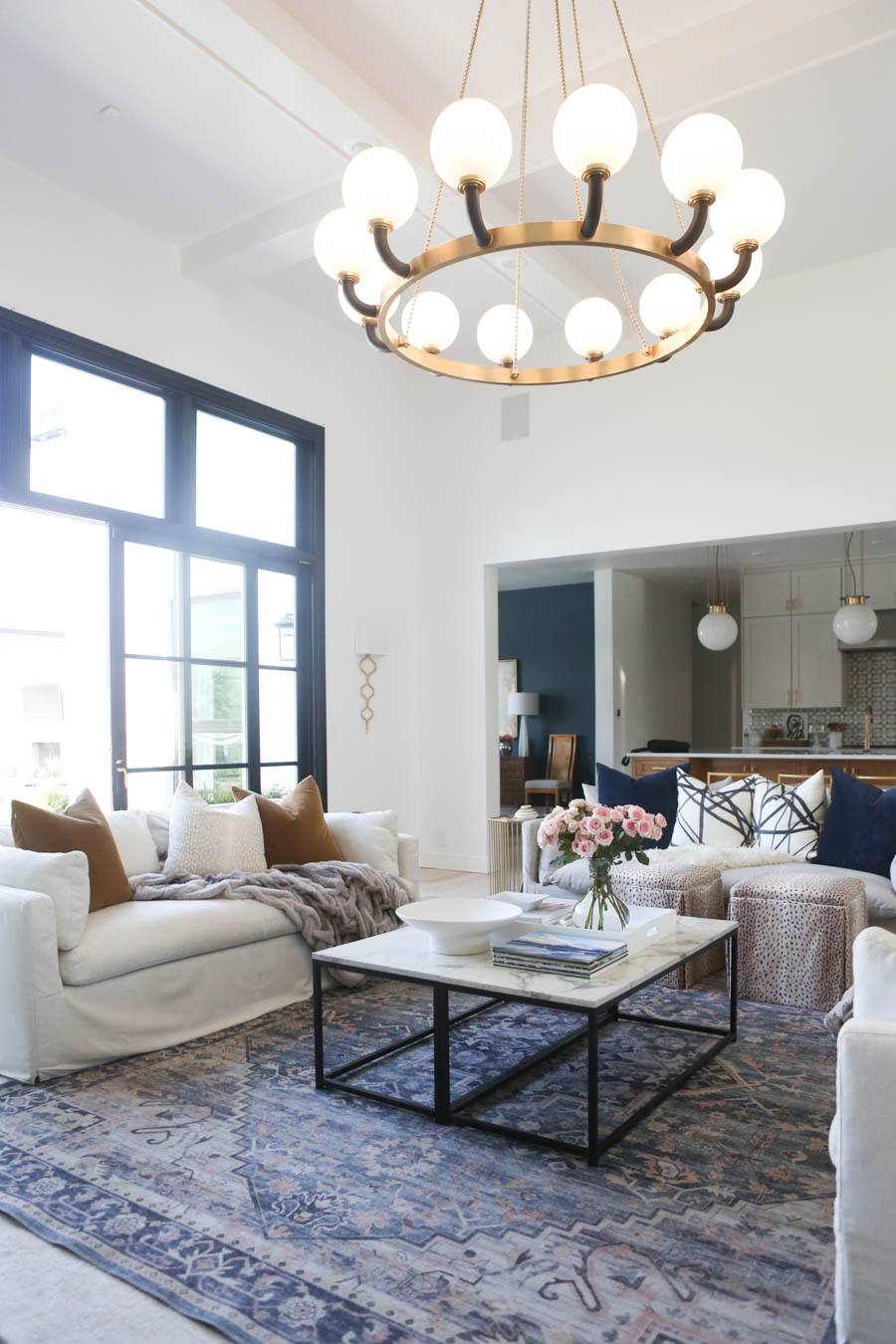 THE WALLS SCONCES – THE SINUOUS SCONCE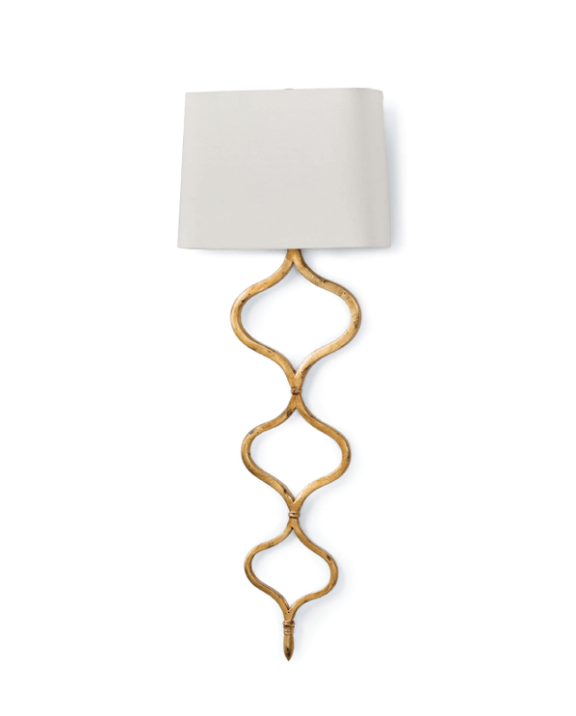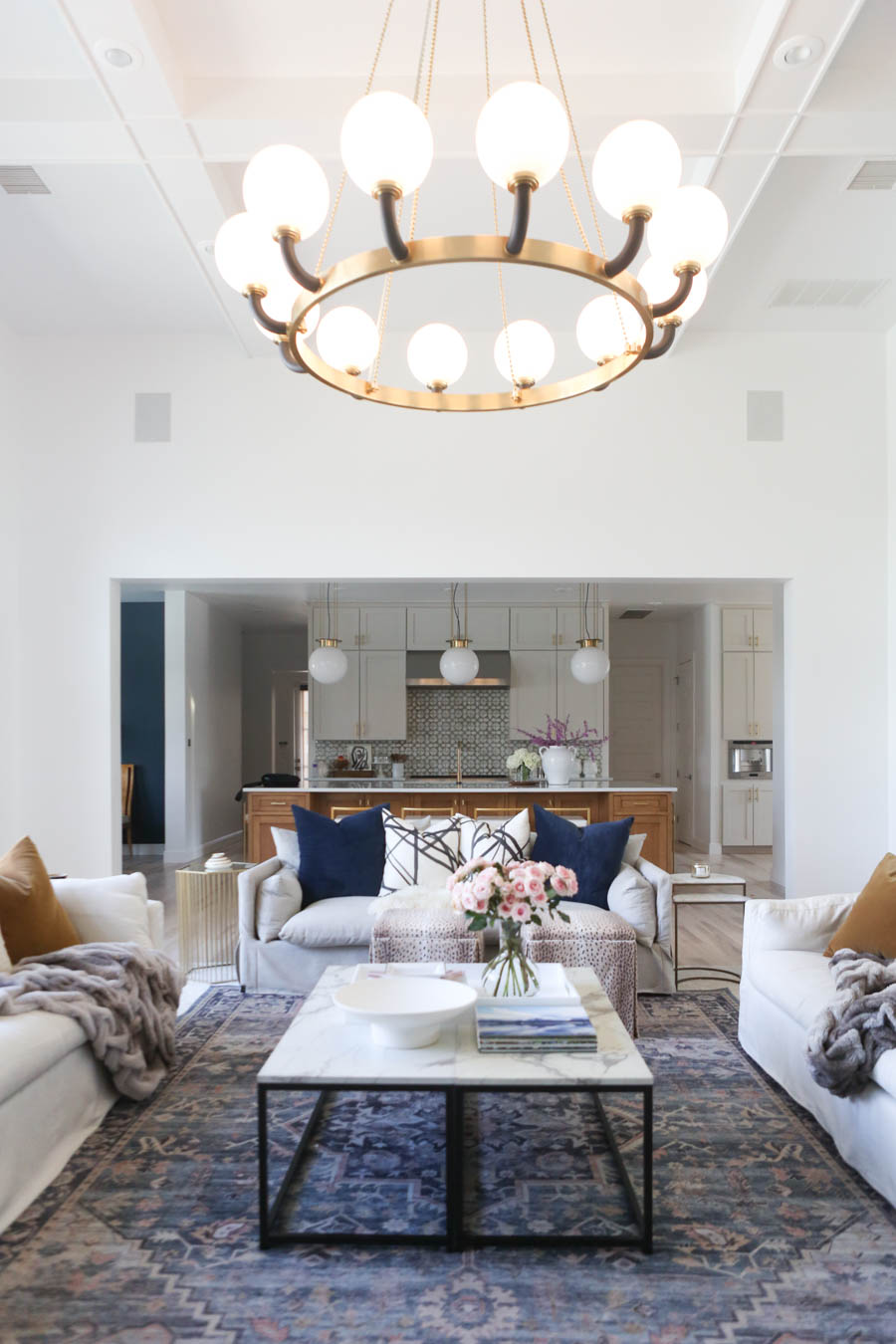 If you are looking for some new tables for your living room, I LOVE these nesting tables and have not only used them in my personal home but in several projects as well.  The gold base and marble tops are gorgeous and I love the layered look of the nesting tables!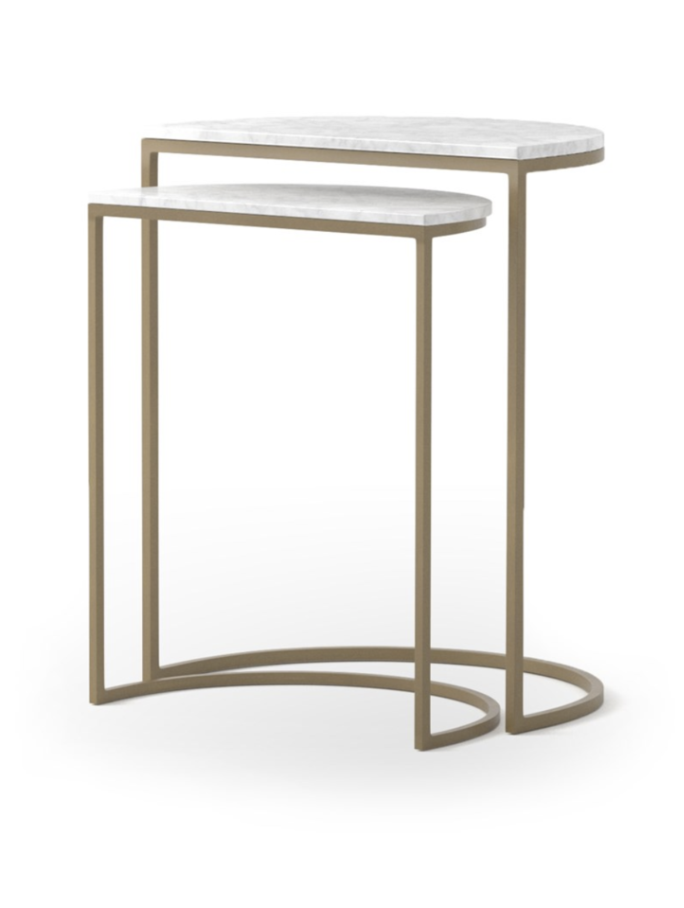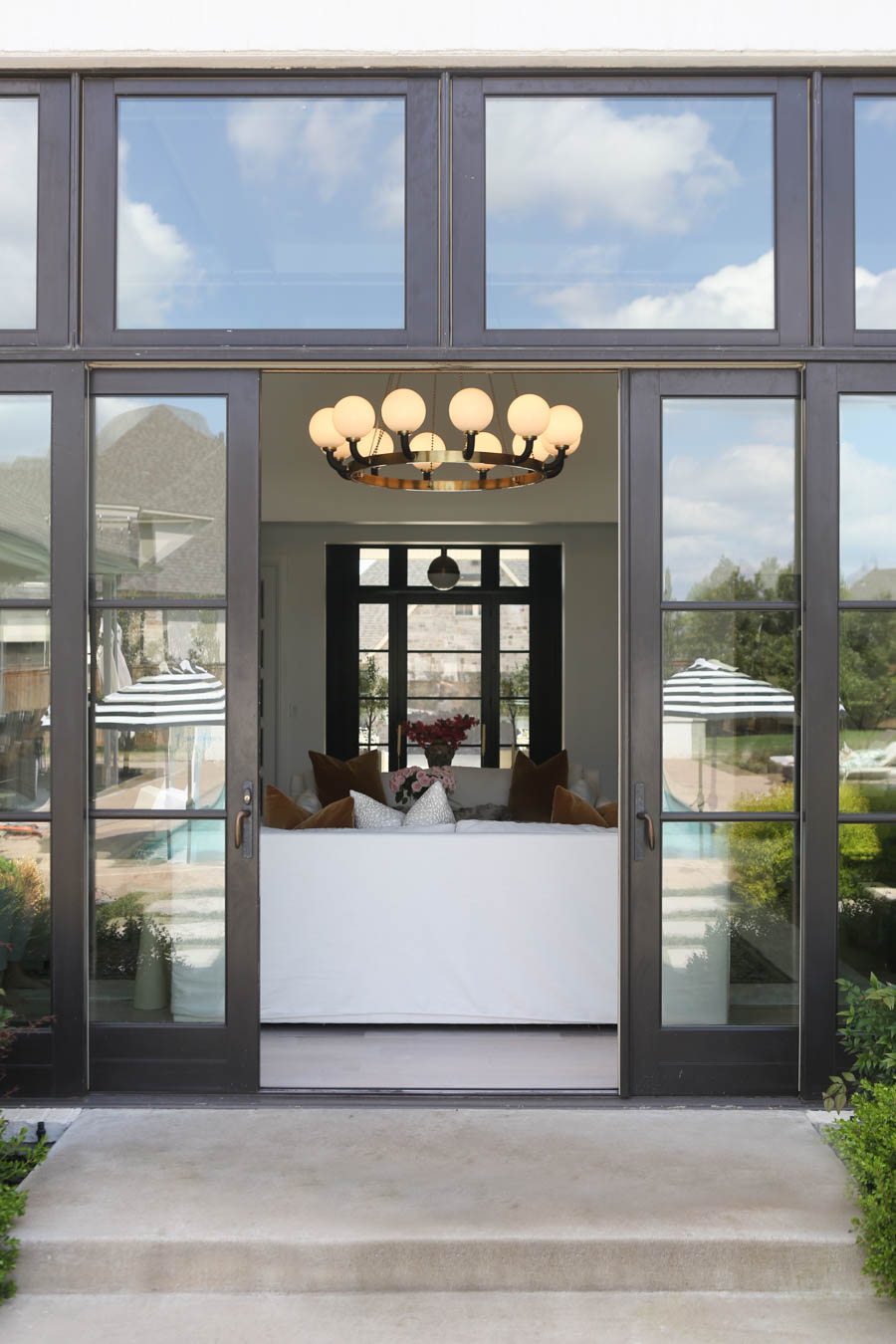 THE OUTDOOR AREA AND POOL
Here is a look from our backyard and pool area looking into our home.  If you are interested in our black windows and doors, one of our most read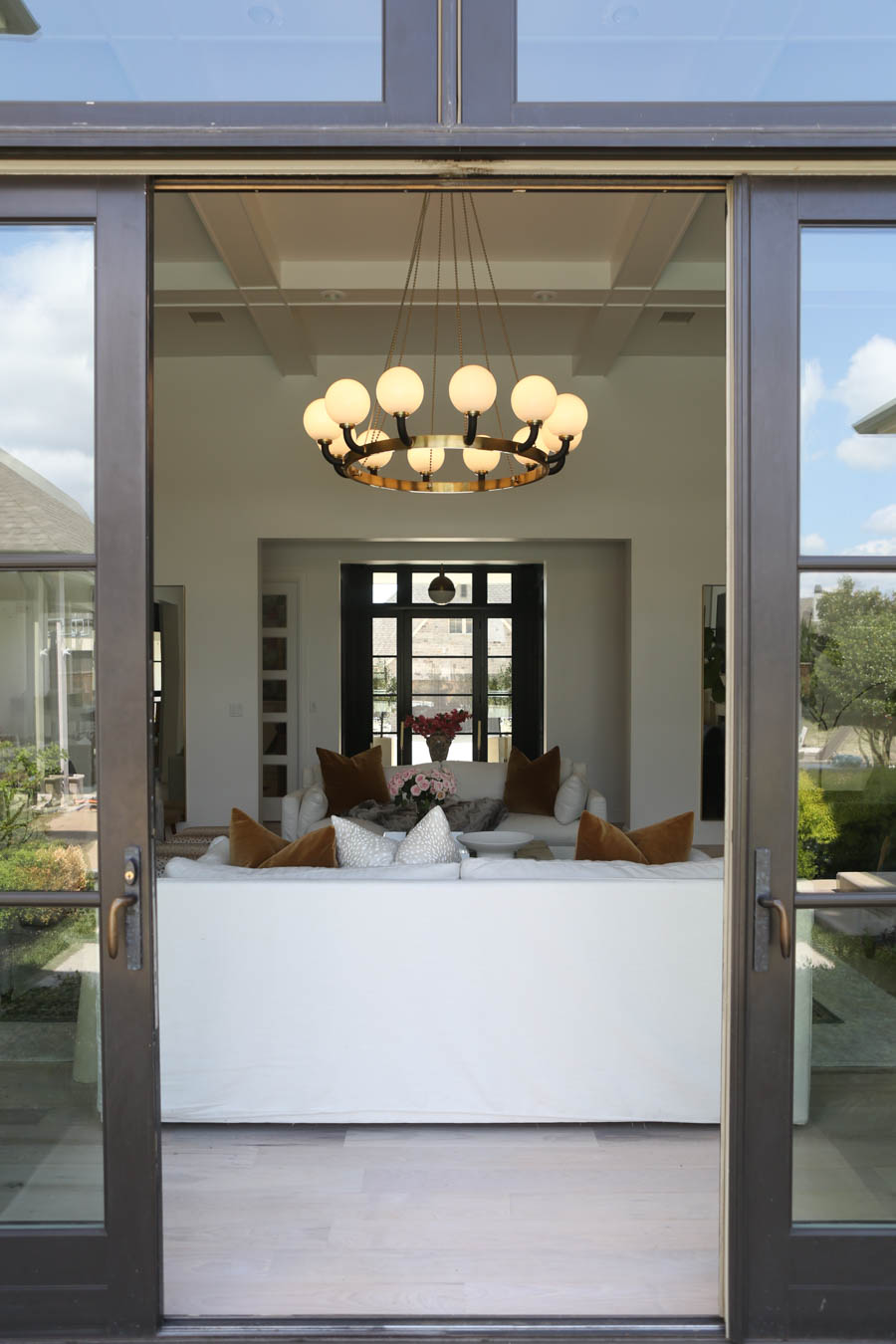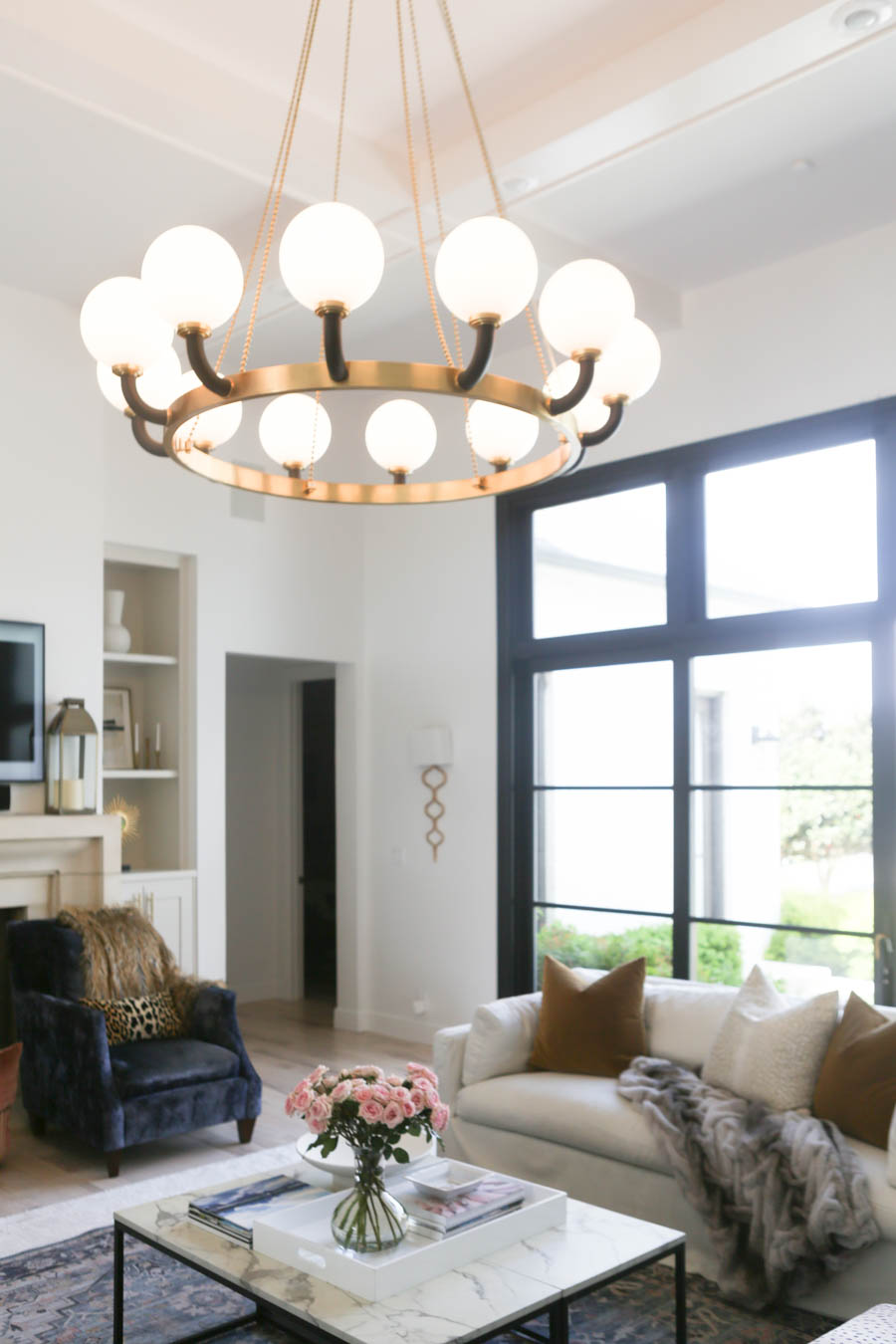 HEre's a few pictures of my family enjoying our new living room look.  They were very involved in the design, in fact, they all vetoed me on the chairs I wanted in the living room because they preferred to have the Nimbus Sofa instead of chairs.  They love how cozy the Nimbus Chaise is and after I moved it to the living room for Christmas, the entire family insisted that it had to stay!  Here are the two sofa types that we used in our living room:
1.  THE BRADFORD SOFA – The Bradford sofa is our slipcovered sofas that we have two of, both facing each other, in our living room.  We often get asked how we keep our light covered sofas so clean.  They are covered with a performance grade fabric called CRYPTON fabric that repels stains.  You can literally pour a glass of red wine on it and it won't stain.  It's pretty cool and I definitely recommend crypton fabrics when custom ordering sofas.  You can custom order our exact BRADFORD SOFAS through CC and MIKE THE SHOP.  Production and delivery will take 6 weeks.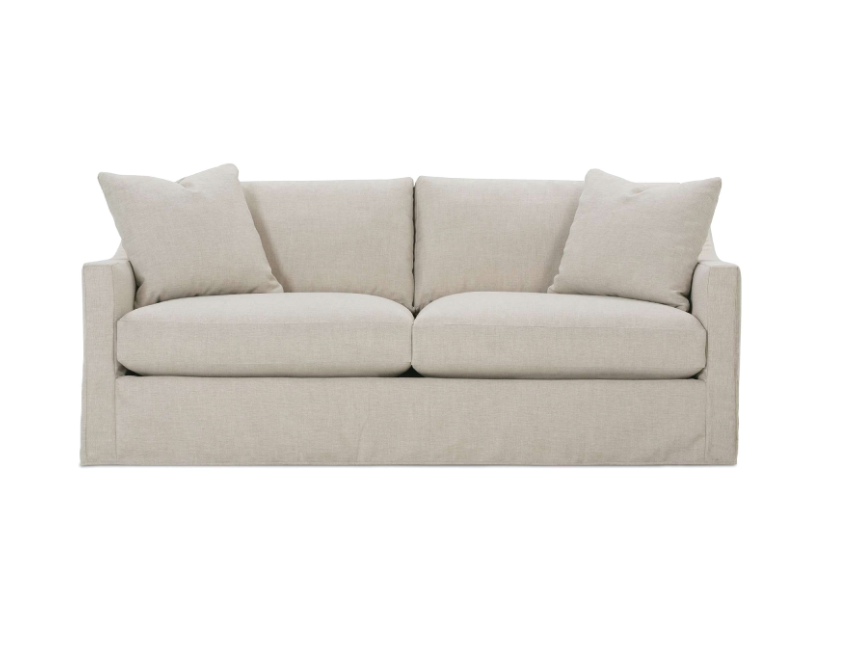 2.  THE NIMBUS CHAISE – In front of our kitchen island, we have the Nimbus Chaise.  It is so cozy and my family absolutely loves it!  Like I said earlier, they vetoed me on putting two chairs, as I had originally planned, in our living room.  They love the comfort of the Nimbus Chaise.  It is huge, deep, and cozy.  It's so big that my 6'4″ son and 6″5″ husband can both stretch out on it together!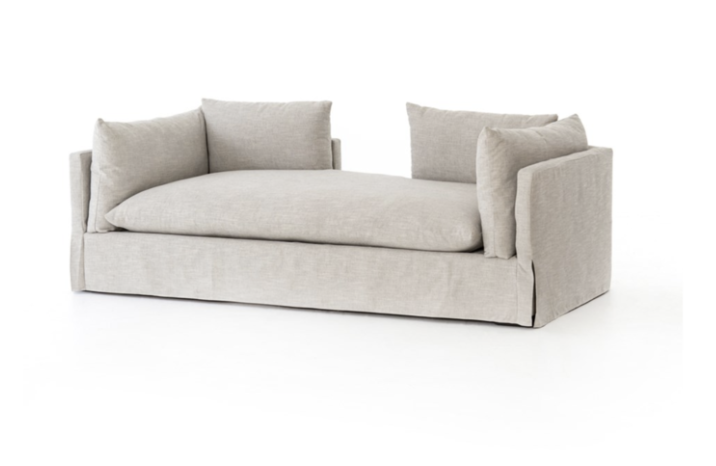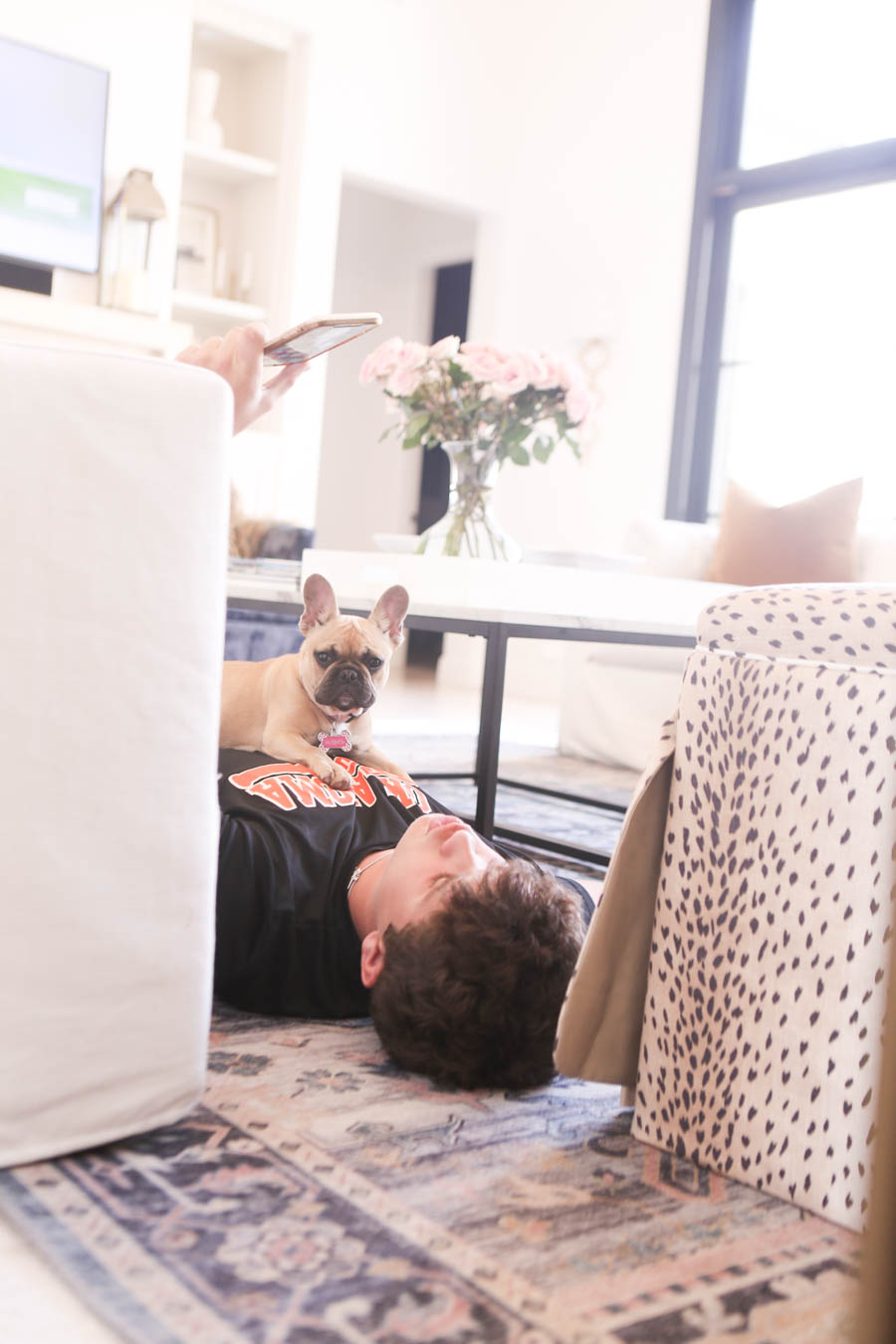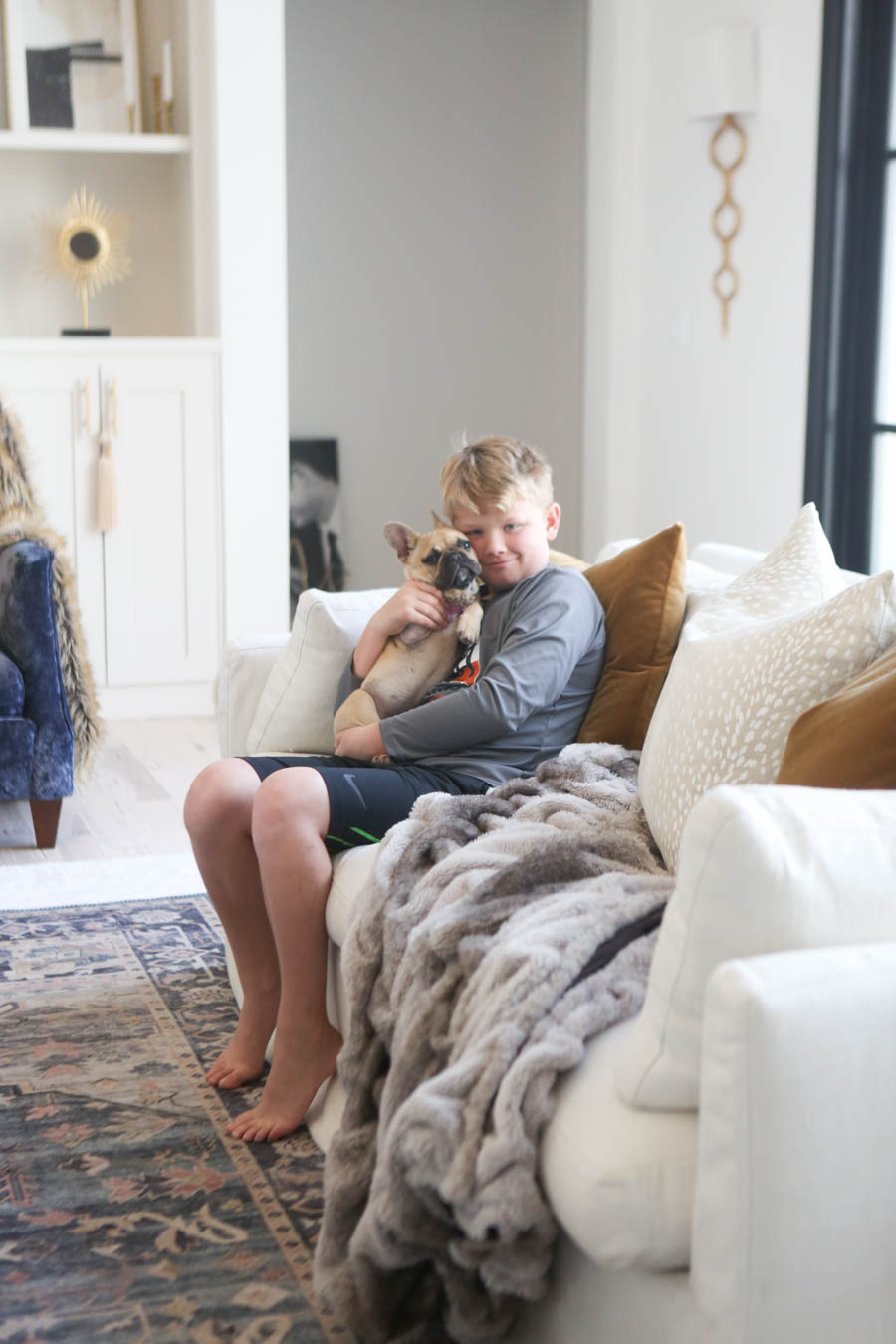 Hope you enjoyed our CC and Mike Living Room Remodel Reveal!  Feel free to check out some of our other reveals like our recent FRISCO REVEAL and KITCHEN REMODEL REVEAL.
We also share daily on our INSTAGRAM STORIES if you want to follow us over there.  We have some amazing new projects coming up in 2020 that we are excited about and we are also excited to reveal six of our projects from 2019 that we have yet to show you guys!  As always, thanks for stopping by and thank you for following along with us.
With Love, CC and Mike.