HEY GUYS!  It's CC and Mike and we are so excited to welcome you into our newly remodeled kitchen today!  But first, we have to go through the back story and tell you why we found ourselves in a position to even need to do a remodel a four-year-old kitchen in the first place.
Oh, the infamous ice maker debacle of 2019…..

YOU CAN WATCH OUR FULL REVEAL on our IGTV channel here.  Special shout out to Emmy for creating this video for us!

If you haven't heard, last summer we went on a fun and last-minute getaway to Napa Valley and Lake Tahoe.  The trip was AMAZING.  What was not so amazing was the phone call that we got while we were there…
Letting us know that our ice maker had leaked, for four days straight, and our house was an absolute disaster zone.  It was a tough phone call.  Mike Miller wanted to get on a plane and go home early.  My take…You know what, let's look at this from a positive perspective.  THIS IS WHAT WE DO FOR A LIVING.  We know who to call and what to do.  We got this.  Let's finish our trip and have some fun.  I think we are going to need the R and R when we get home to a house that is going to need to be ripped apart and remodeled.
So, after a few Lone Eagles by the fire in Lake Tahoe, I convinced Mike Miller all would be well and that we should make a few calls and finish up our trip…..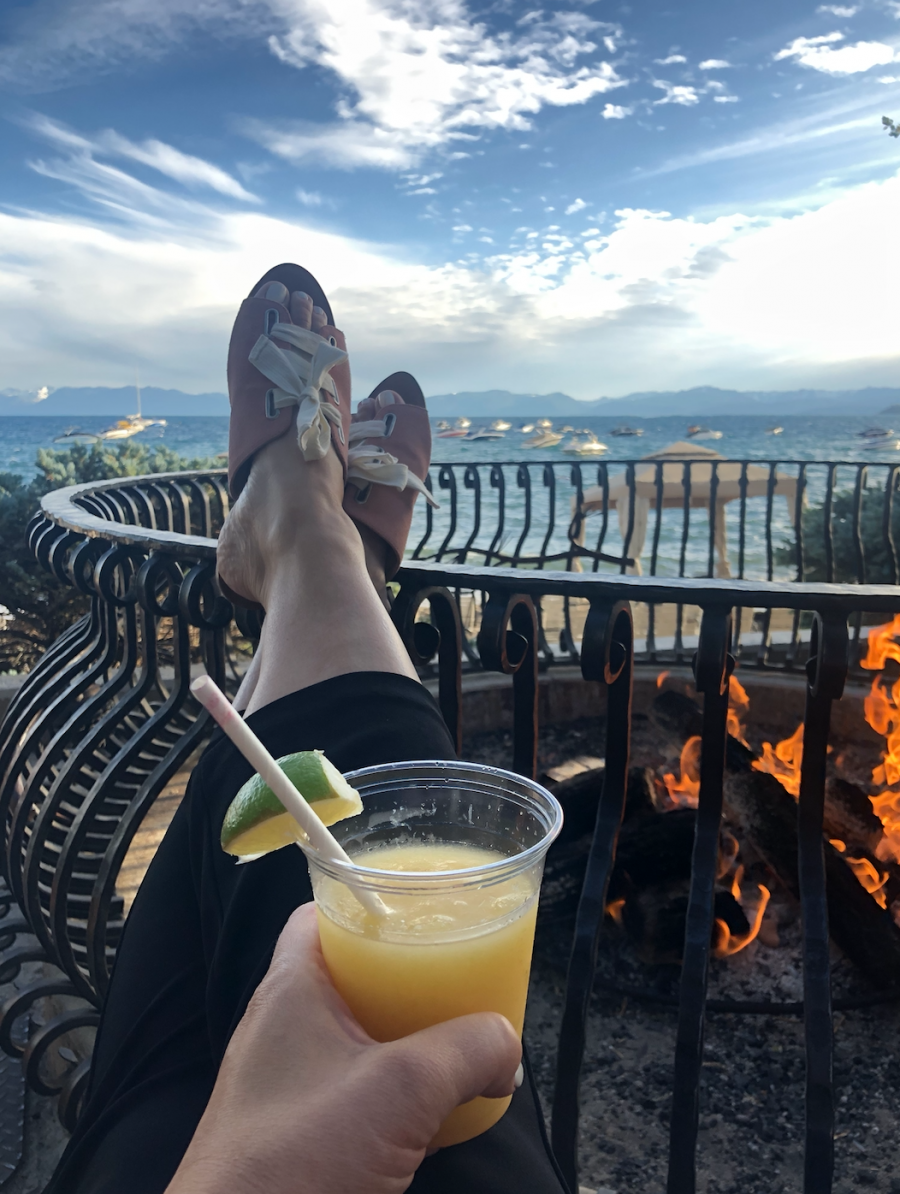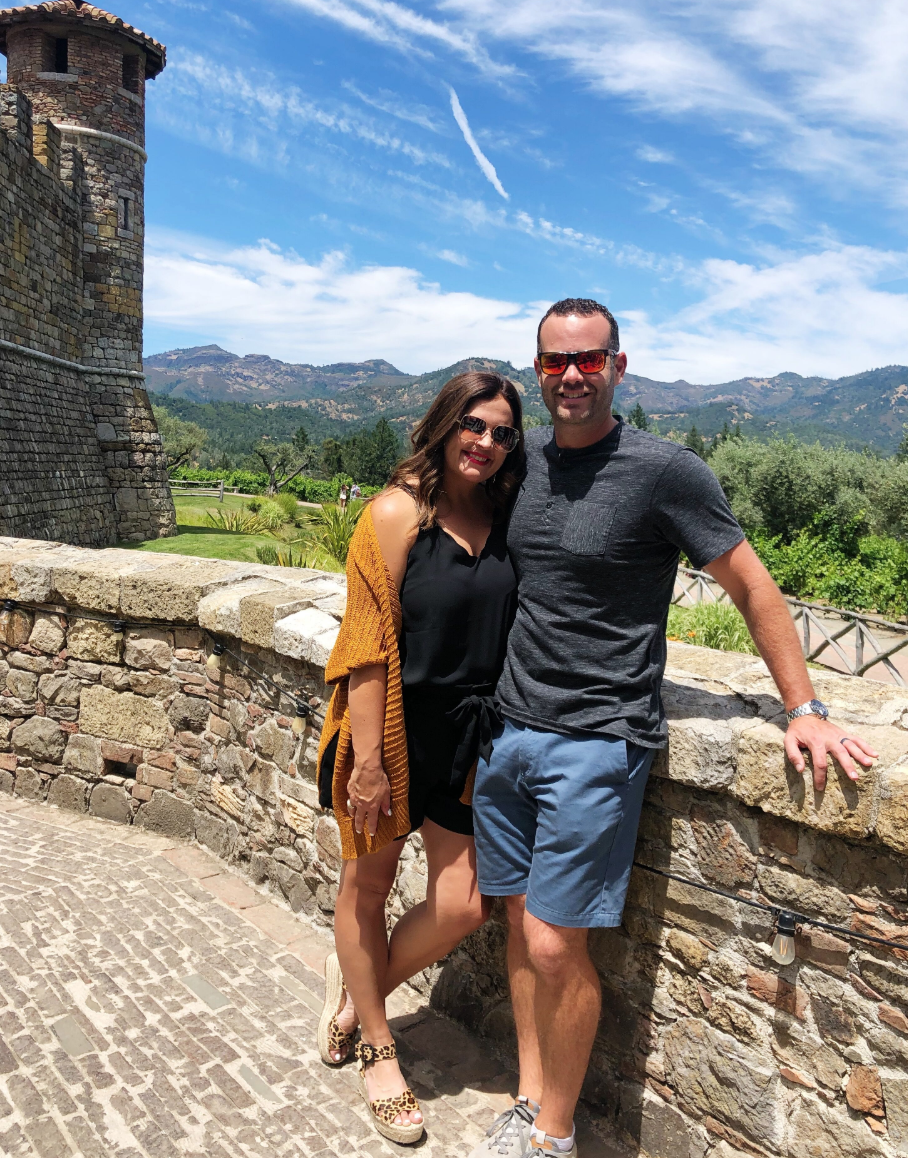 Then, when we got home, we would get to work on this disaster that awaited us which was this: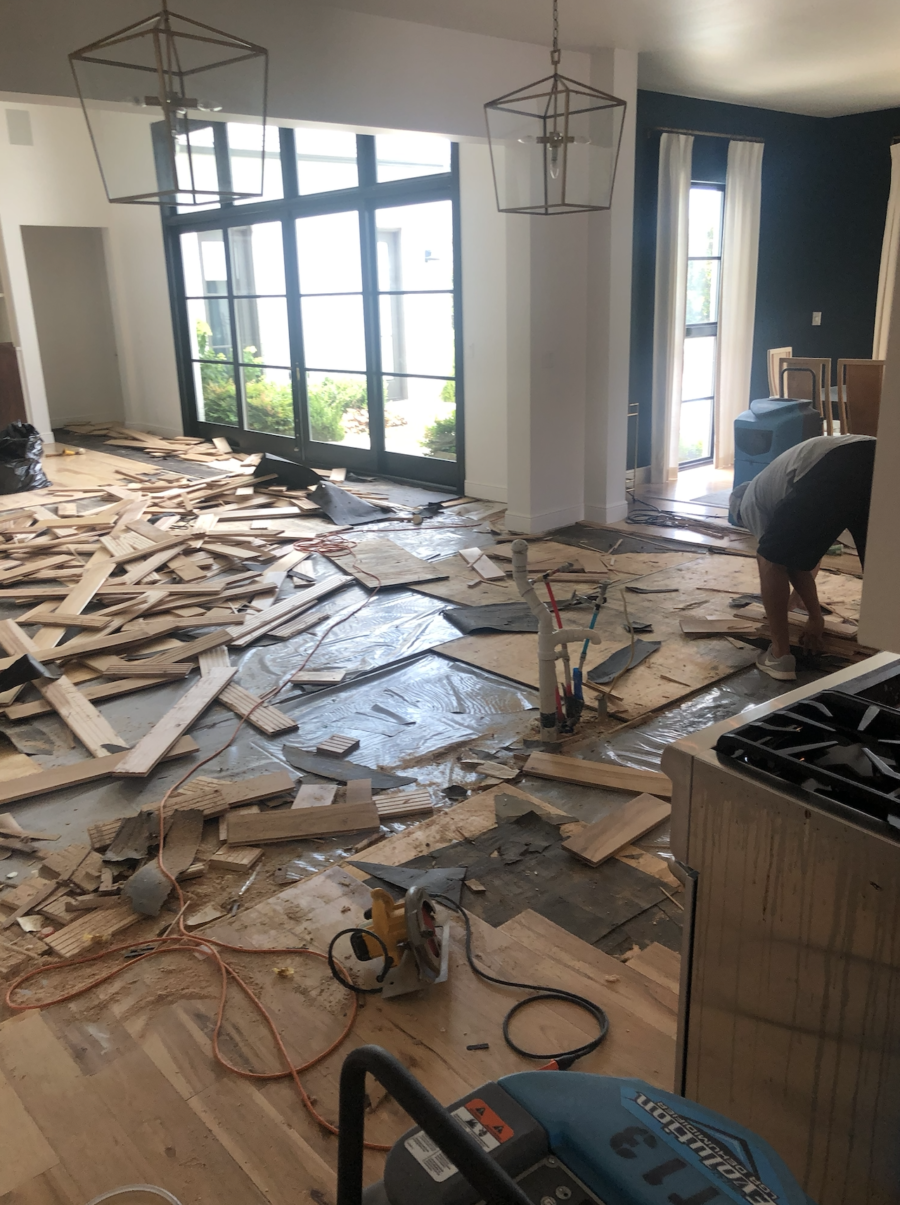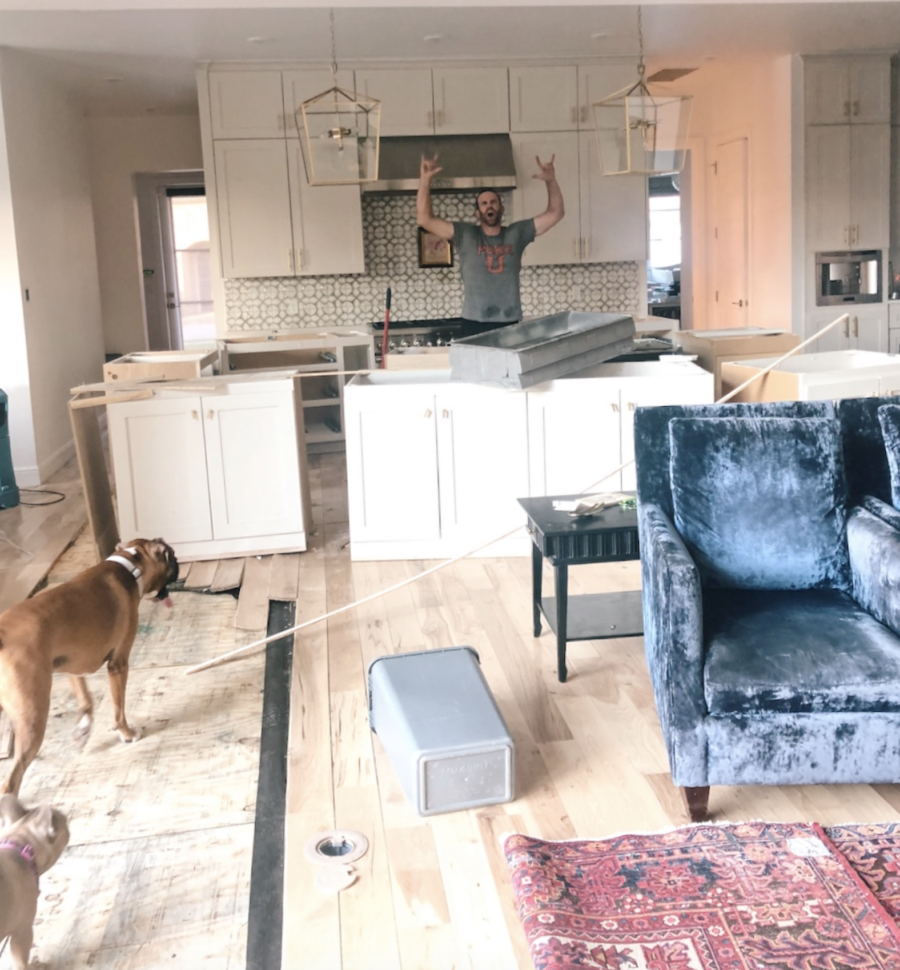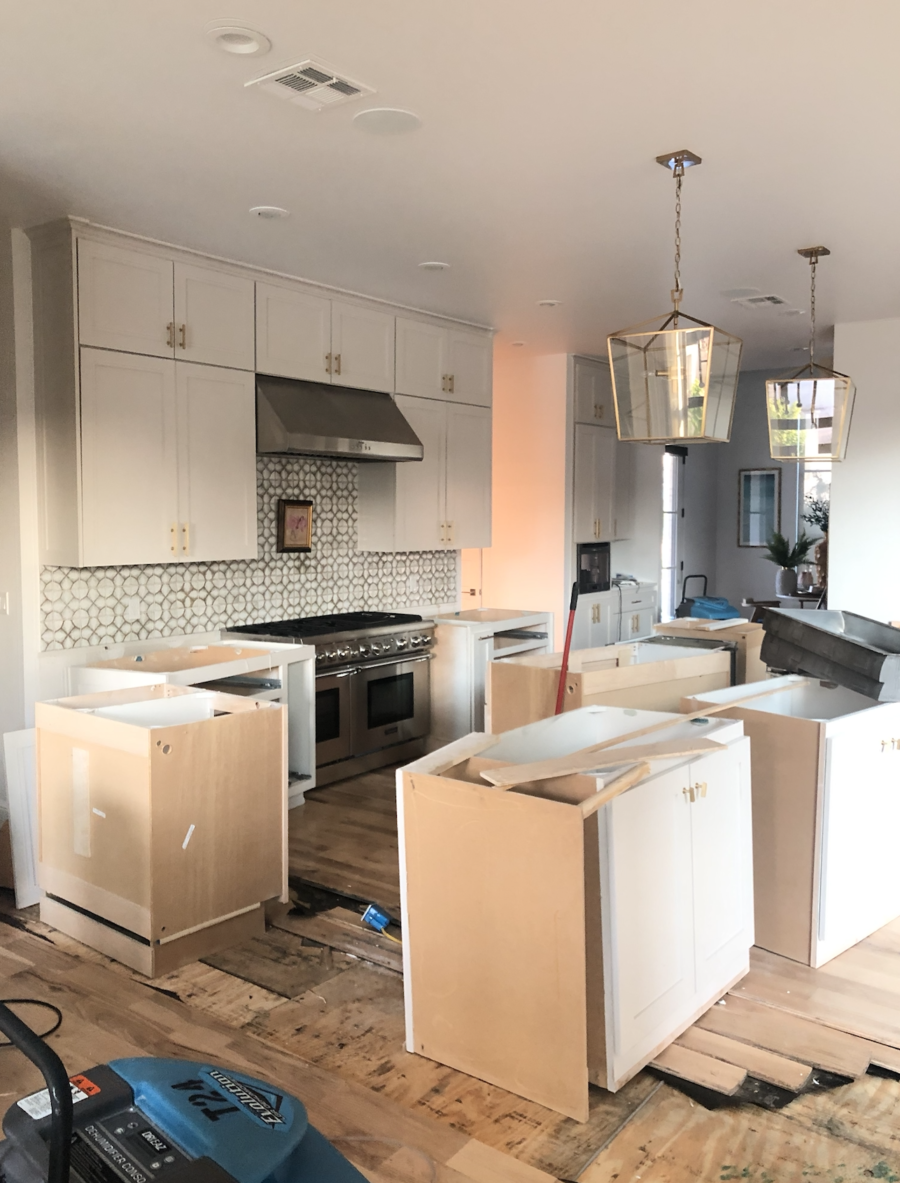 THE DESIGN PLAN
I immediately saw the opportunity to make lemonade out of lemons from the entire ice maker debacle.  We realized pretty quickly that there was absolutely no saving our kitchen island.  Truth be told, I had always regretted not doing natural wood on my island.  I wanted to go natural wood when we were building but decided to play it safe and go all white.  Don't get me wrong, I LOVE an all-white kitchen.  But my personal design style just lends itself more toward a little more contrast and I love wood tones.
Changing The Island
So, when I realized we would be replacing the entire island, the first decision I made was to do an all-wood island.  I also knew that I wanted more seating around my island.  Again, I absolutely loved my waterfall, white Island from a design standpoint (see photo below).  But from a function standpoint, I didn't love it.  Our family lives around our kitchen island and I didn't anticipate how much I would miss being able to have seating around the edges of my island.  So, I saw this as an opportunity to change up the island and get more seating.  As you will see from the final photos, we went from 5
New Design Choices
The second thing I knew I wanted to change was the lighting.  I absolutely fell in love with some light fixtures from HUDSON VALLEY LIGHTING when I was at market, THE GUNTHER PENDANT, and I knew the second I saw them that I wanted to use them in my personal kitchen.
Finally, I knew I wanted to do a new faucet.  I did a satin nickel faucet the first time around and always wished I would have gone with gold.  Again, I saw this whole ice maker debacle as an opportunity to make a few small changes that I felt would improve our kitchen design
HERE is what my kitchen looked like before the ice maker leak and with my original design choices.  Yes, I love my white island, and yes I love the looks of a waterfall island, but I was ready for a new look and more seating!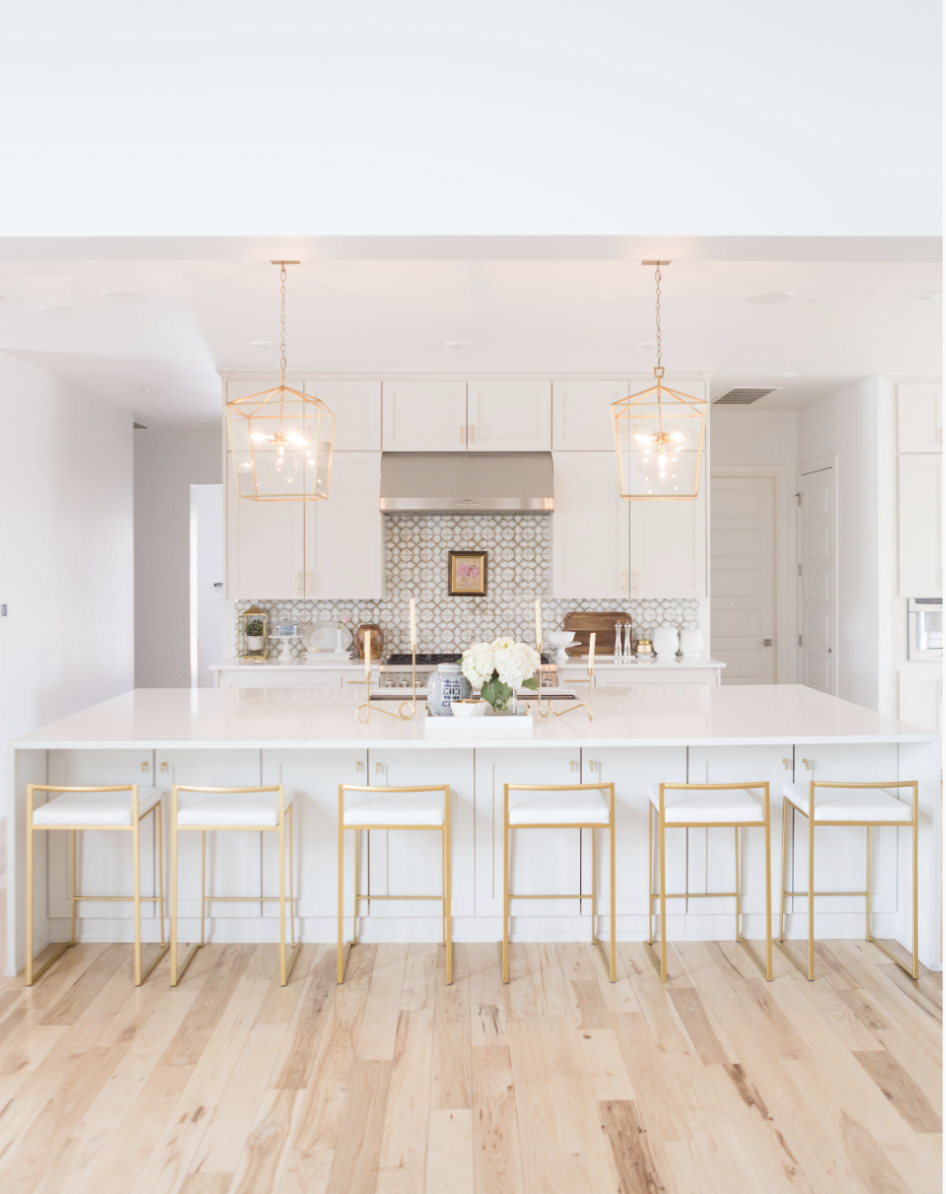 And now I want to show you the little design board I threw together just to visualize what my kitchen would look like with the new lighting, natural wood island, and new seating plan.  I also wanted to show Mike Miller and the kiddos what I was thinking and get everyone's feedback since the kitchen truly is the heart of our home.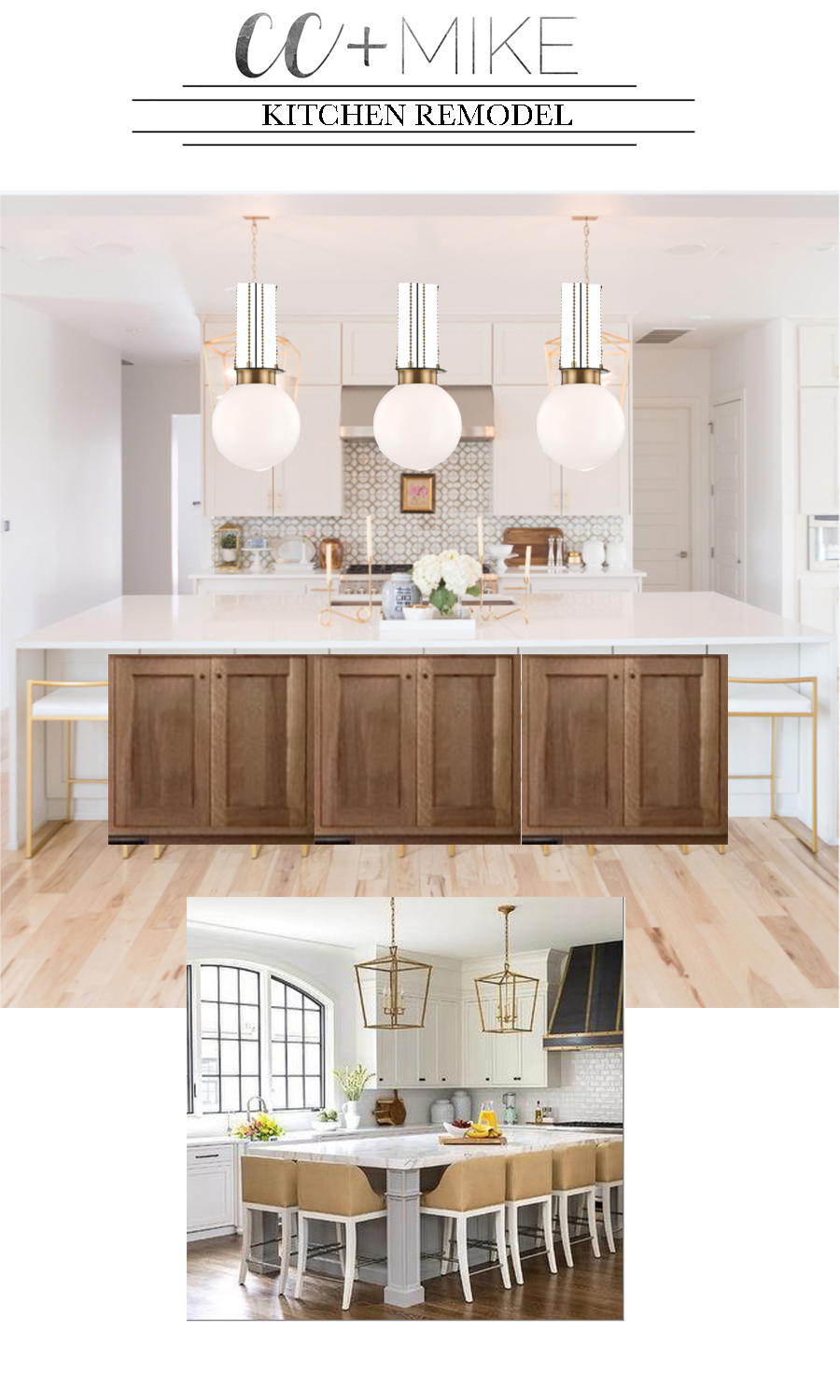 And here is the final result after two months of ripping apart our kitchen, ripping up our floors and refinishing them (more on that below), redesigning the island, and having it built by WOODSTOCK cabinets, reinstalling, getting new quartz countertops, a new faucet. and getting electrical done to hang new light fixtures: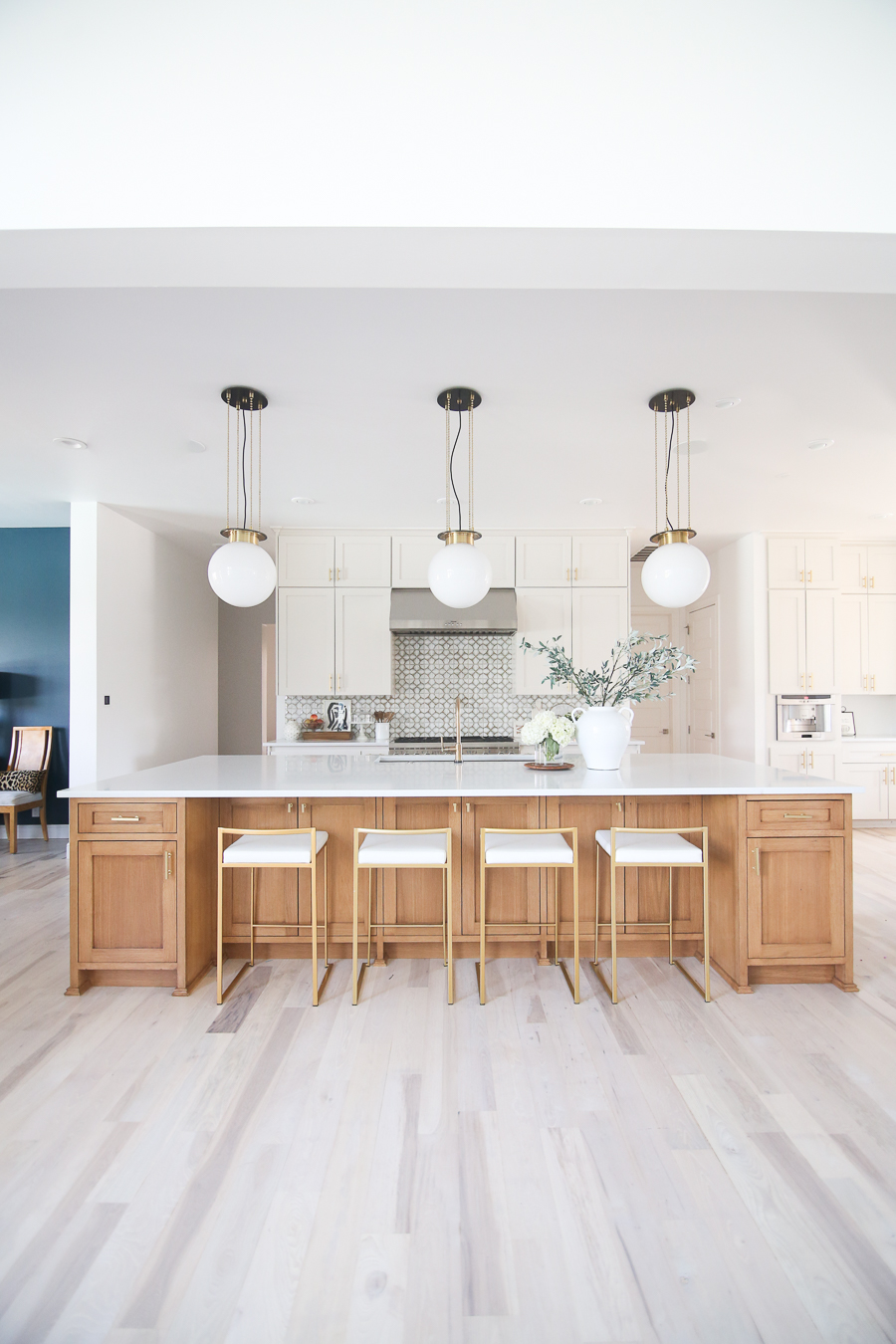 THE DETAILS
Here are the details all in one spot for you of the products in my kitchen — a one-stop-shop if you want to find all the information about our kitchen remodel.
KITCHEN PENDANTS |  BAR STOOLS | HARDWARE – 7″ cabinet pulls |  HARDWARE – Drawer Pulls | KITCHEN RUNNER | FAUCET | LARGE WHITE VASE | SMALL GLASS VASE | OLIVE BRANCHES | BACKSPLASH | THERMADOR BUILT-IN COFFEE MAKER | THERMADOR RANGE |
BACK CABINET COLOR: Pale Oak Benjamin Moore
THE FLOORS: Before the remodel, we had white oak floors but the finish was just a clear coat.  You will notice that they have a warmer tone.  After the remodel, you will notice the white oak floors have more of a whitewash finish.  This is because we did a clear coat with 5 percent white paint mixed into the finish to give this lighter finish.  I love how they turned out!
KITCHEN CABINET STAIN:  White Oak cabinets;  First coat Fruitwood Stain:  Second coat was a wiping/tinting glaze.  INFO:  NEUTRAL BSE 50204 Color: OM Dark Mahogany (see photos below)
DINING ROOM PAINT COLOR:  Benjamin Moore Dark Harbor
ISLAND DIMENSIONS: 12′ L x 6′ W
SCROLL AND TAP ON THE PHOTO TO SHOP CC AND MIKE'S KITCHEN PRODUCTS

THE KITCHEN ISLAND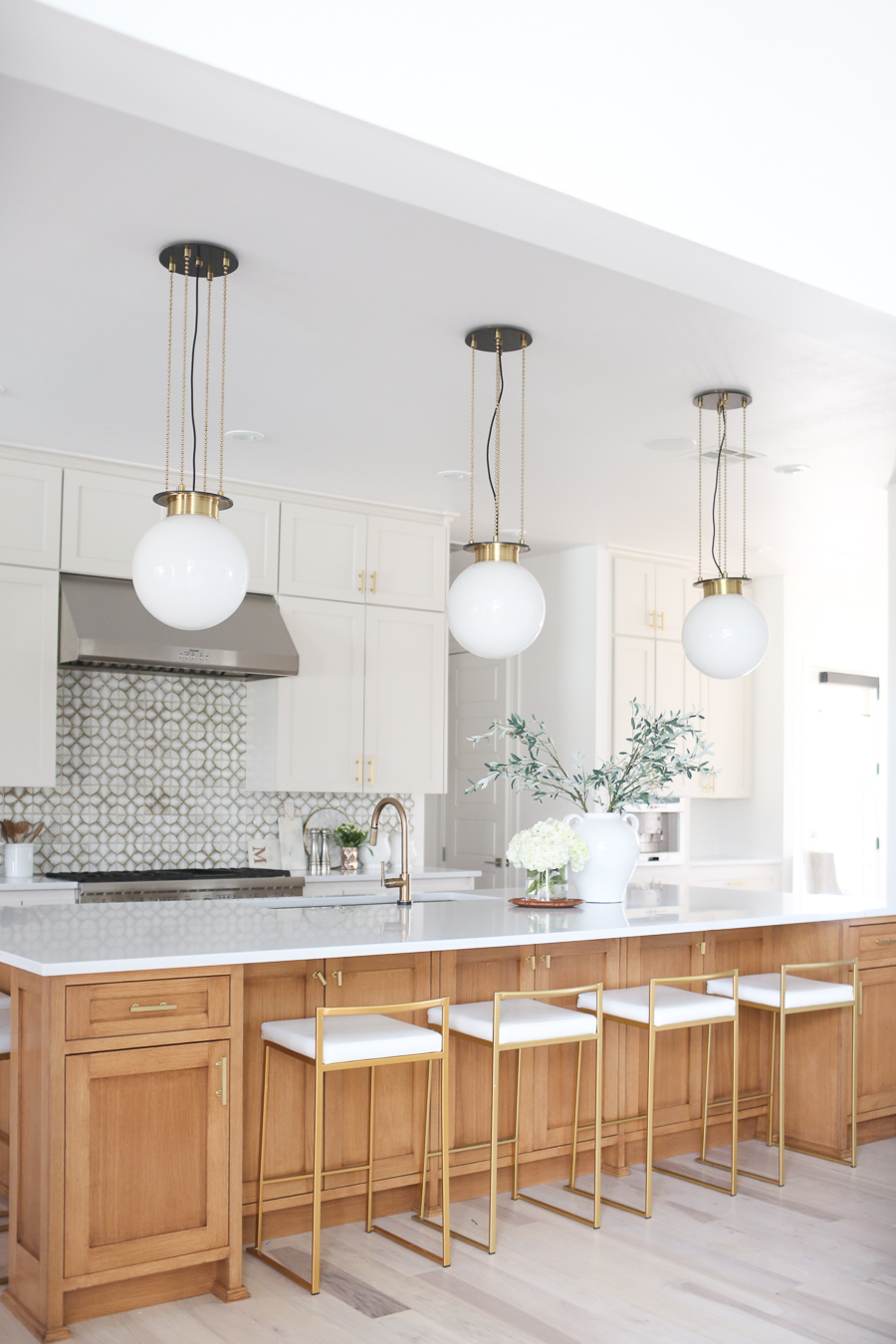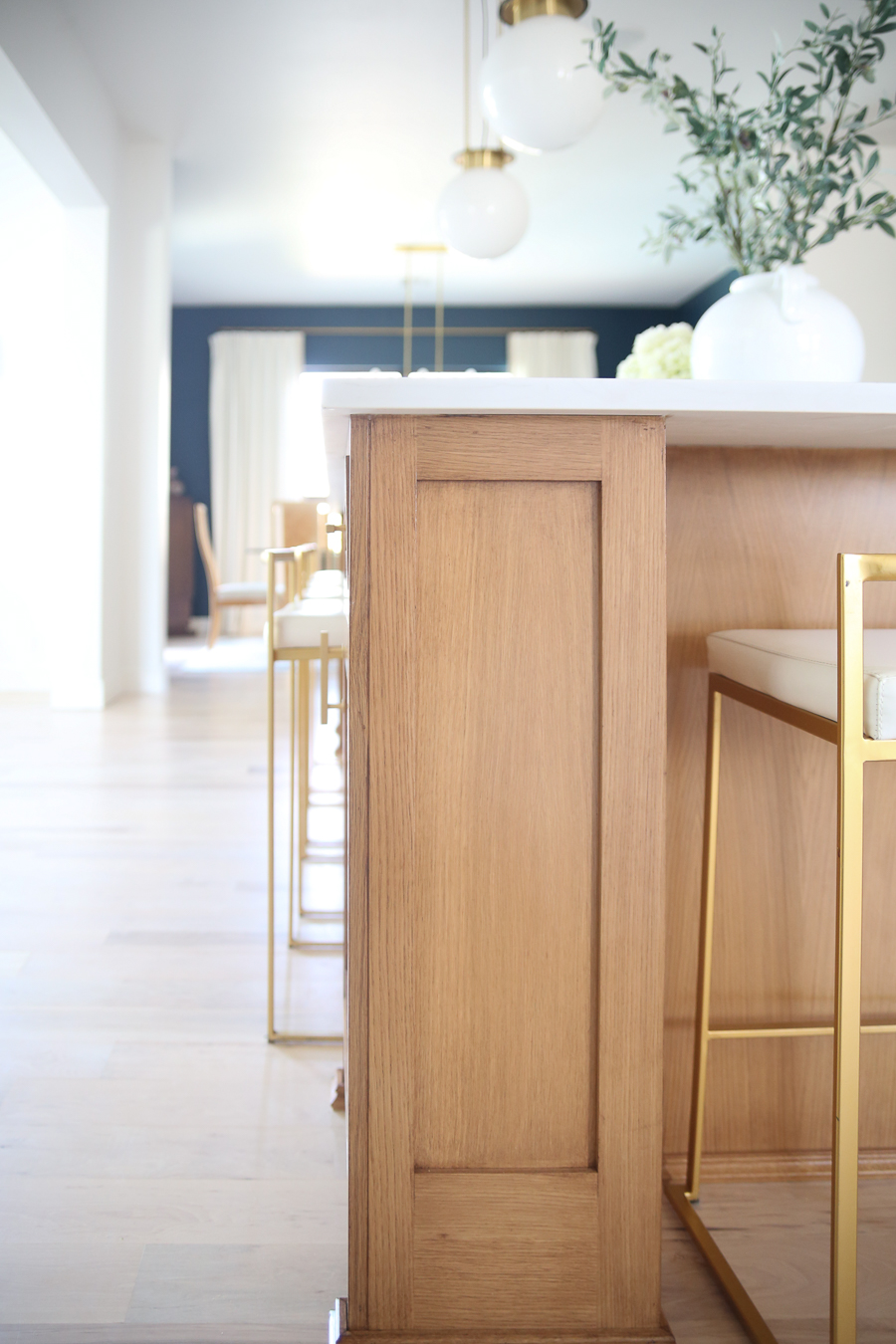 THE BAR STOOLS
FUJI GOLD AND WHITE CONTEMPORARY BAR STOOLS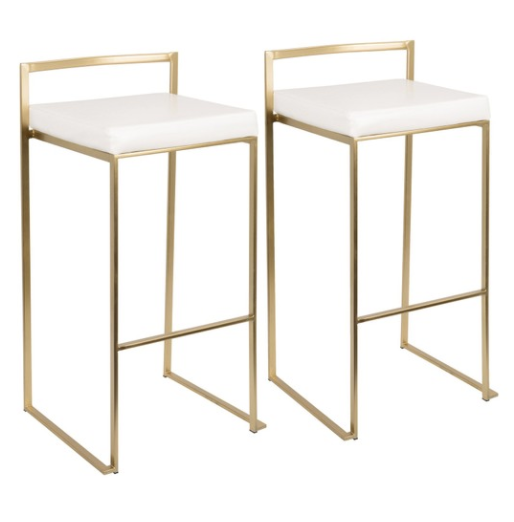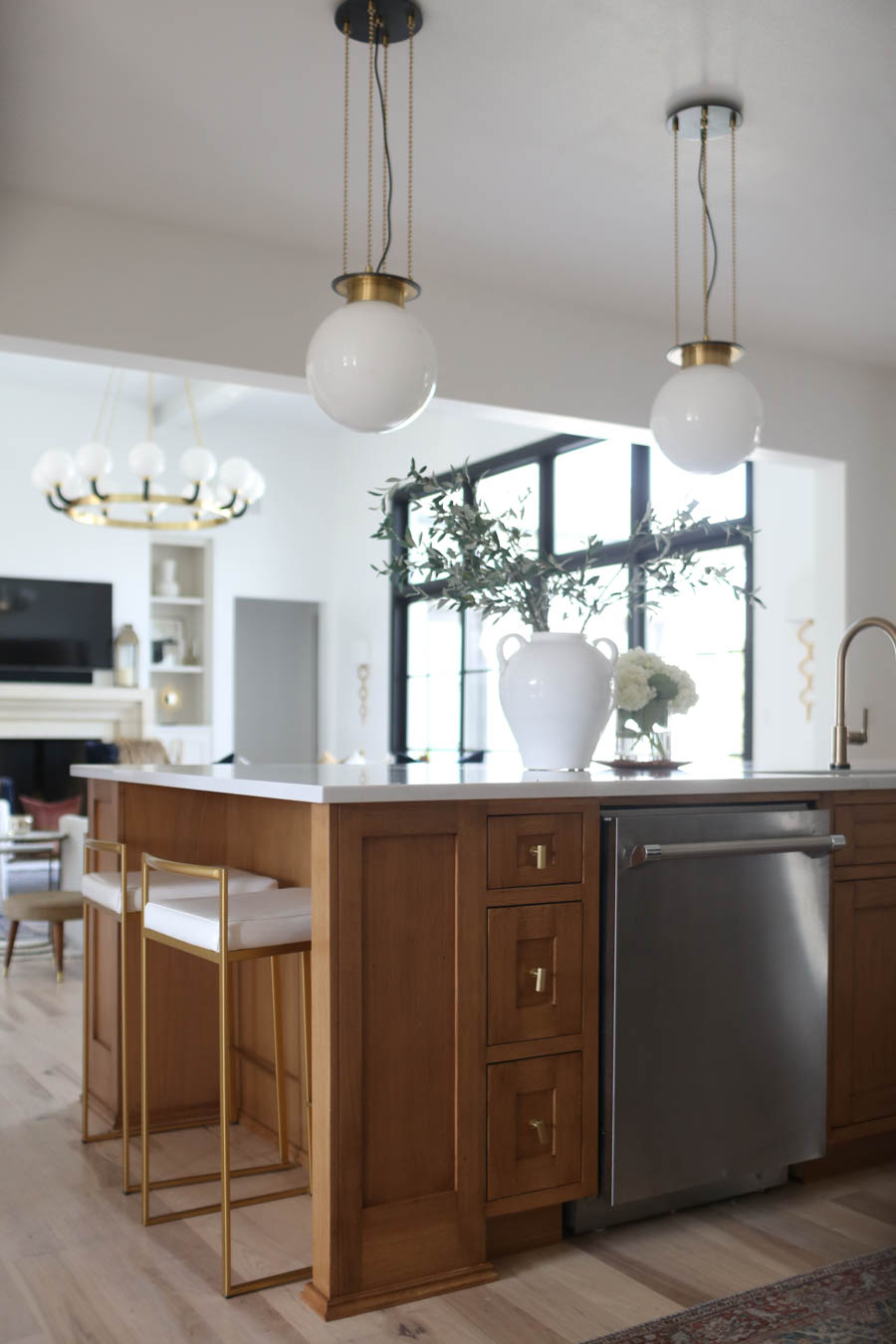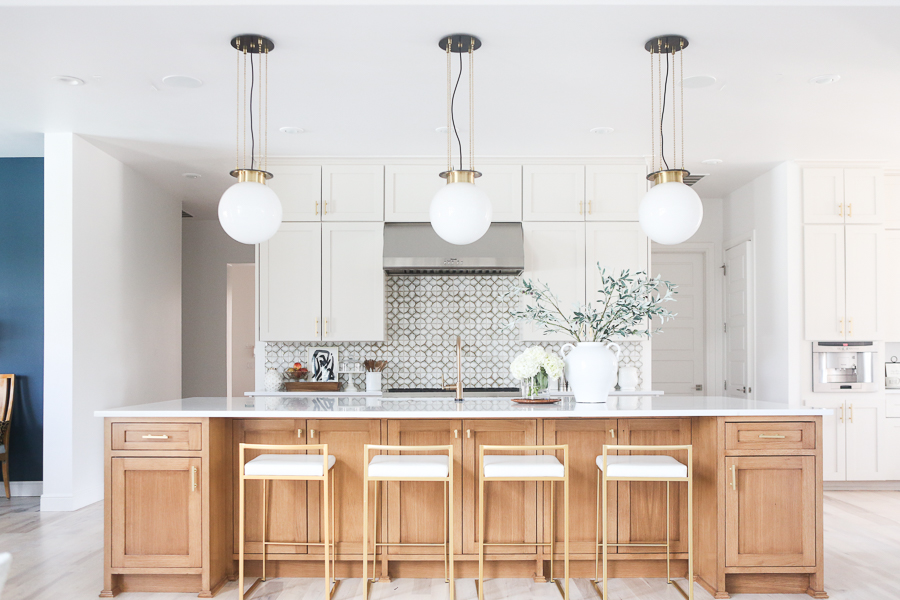 THE LIGHTING
We would like to say a HUGE thanks to our favorite lighting brand, HUDSON VALLEY LIGHTING, four partnering with us on this project.  CC and Mike proudly offer HUDSON VALLEY LIGHTING in CC and MIKE THE SHOP!  We will also be revealing our living room lights with HVL soon and our entire Jenks Flip House Project.
GUNTHER PENDANTS from CC and Mike THE SHOP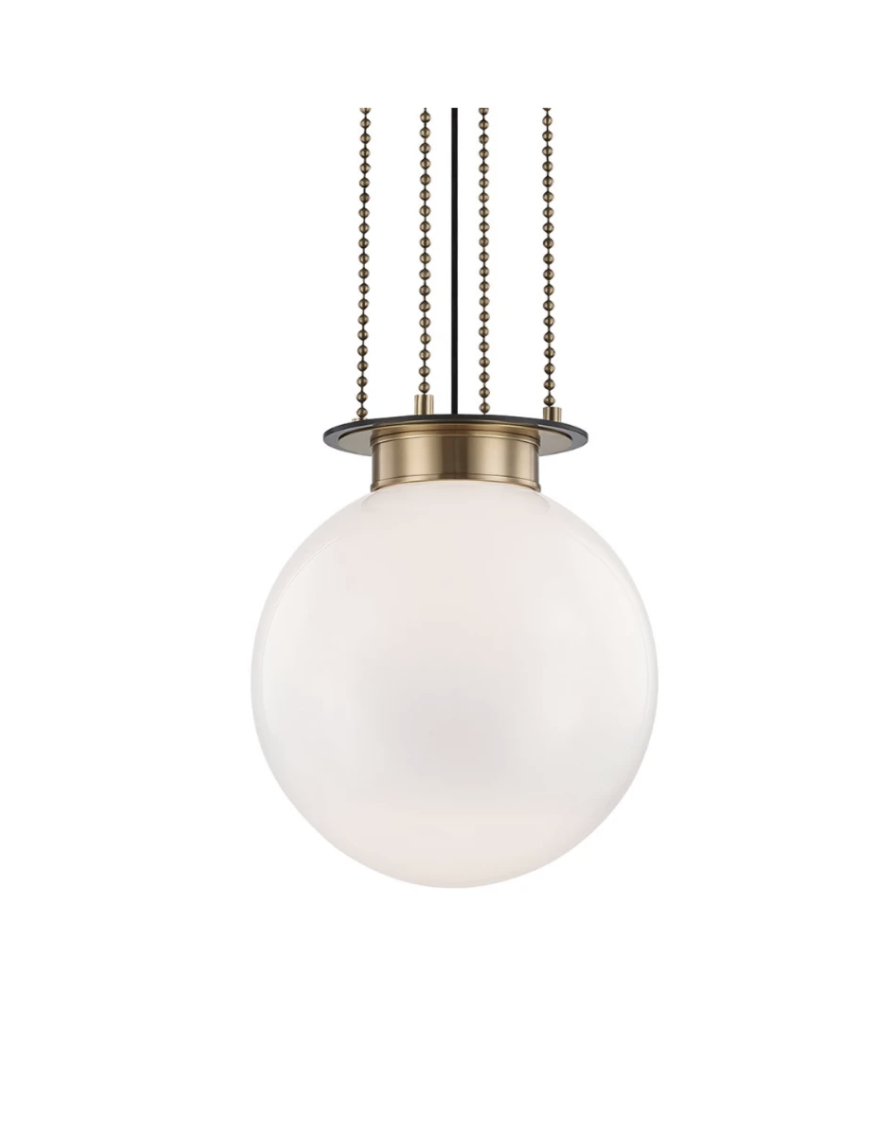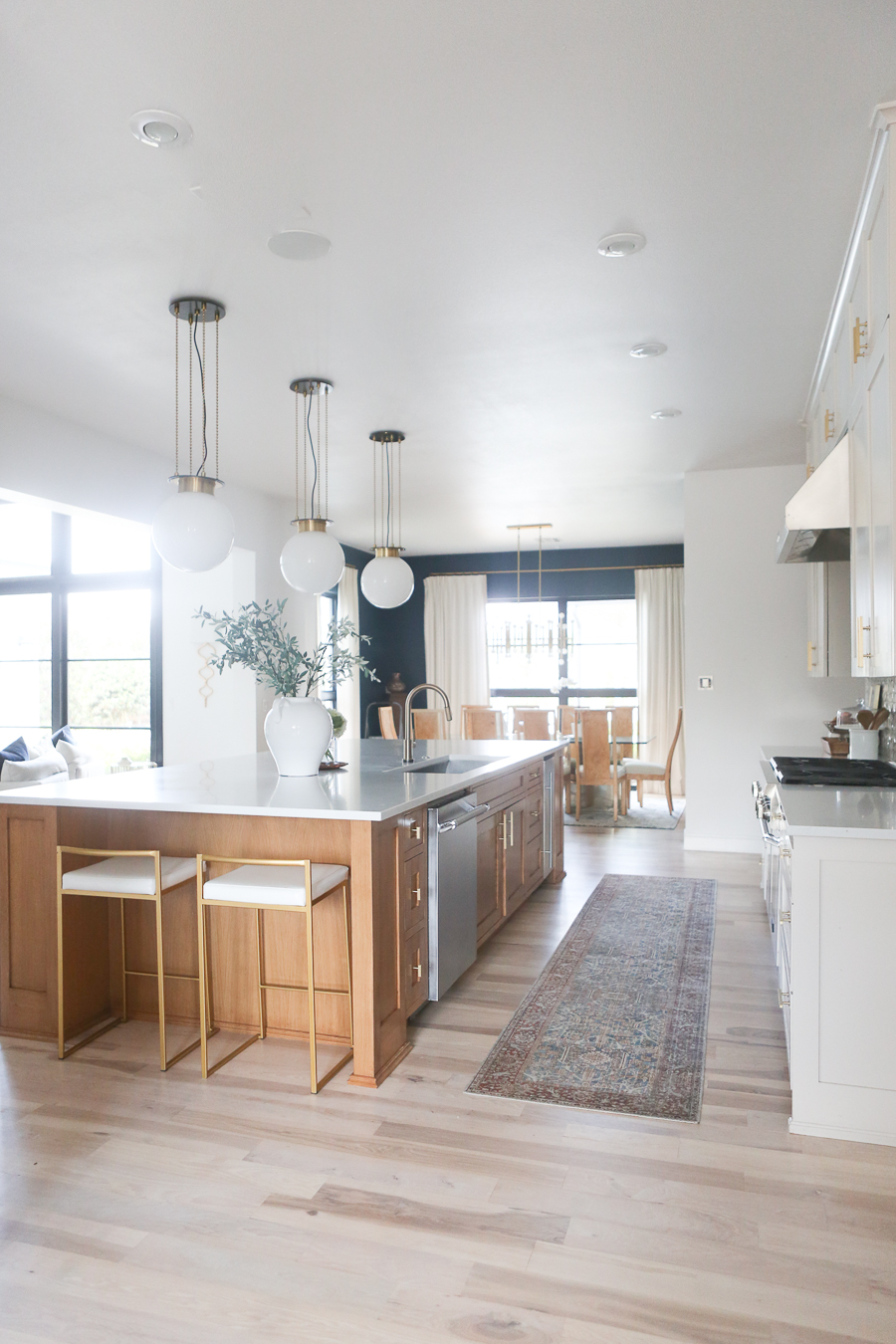 THE RUG
Ocean Rust Layla from CC and Mike THE SHOP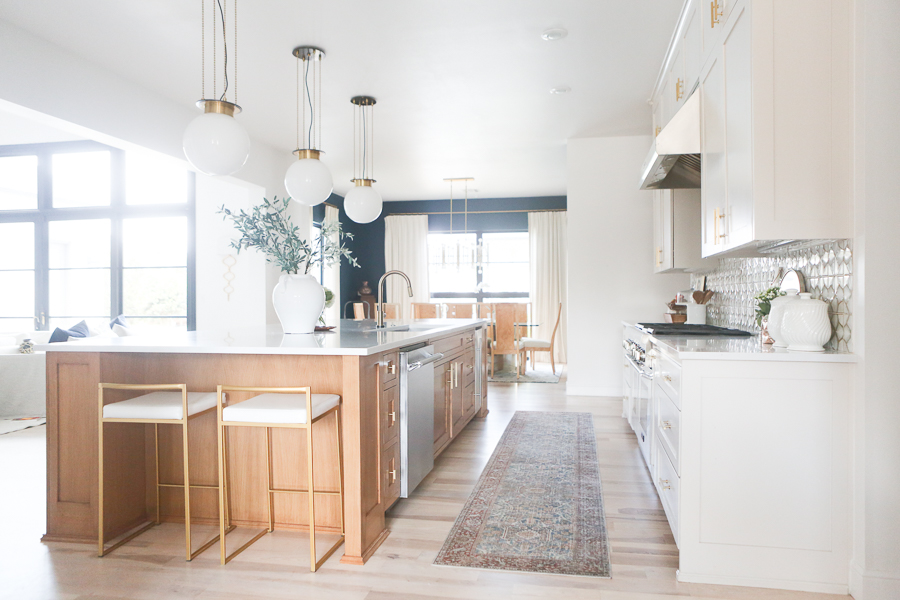 I chose the OCEAN RUST LAYLA as a runner for our kitchen because I love it with wood tones and it has subtle blue/green tones that pull out the tones in our kitchen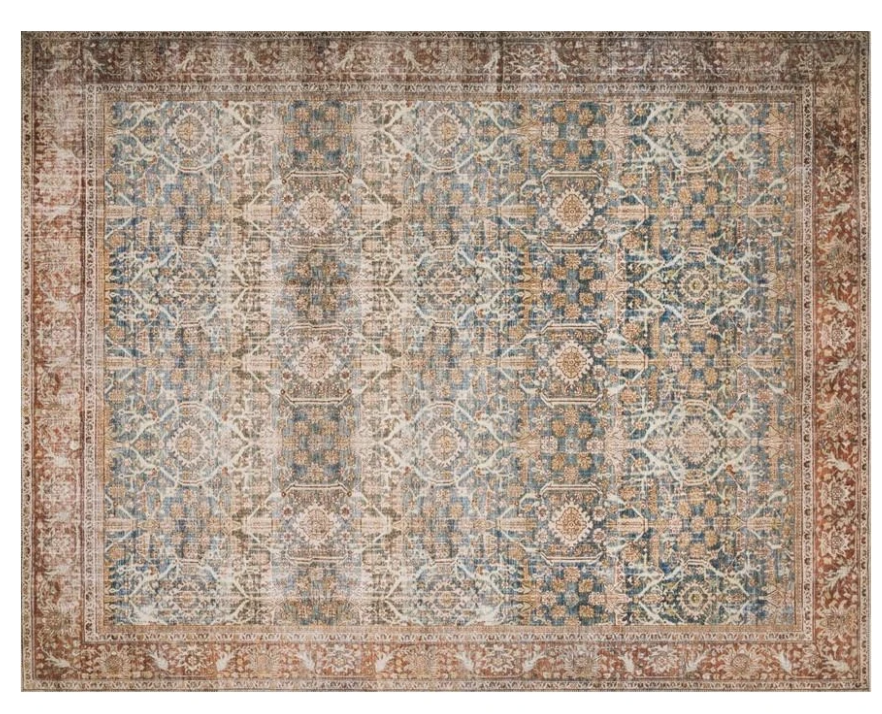 You can shop our favorite rugs and runners CC and MIKE THE SHOP here (SCROLL AND TAP TO SHOP CC and MIKE BEST SELLING RUGS).  Also, if you are looking for help with picking out a new rug, it might be helpful for you to check out this blog post on HOW TO UPDATE THE RUGS IN YOUR HOME which has pictures of some of our best selling rugs in designer's homes.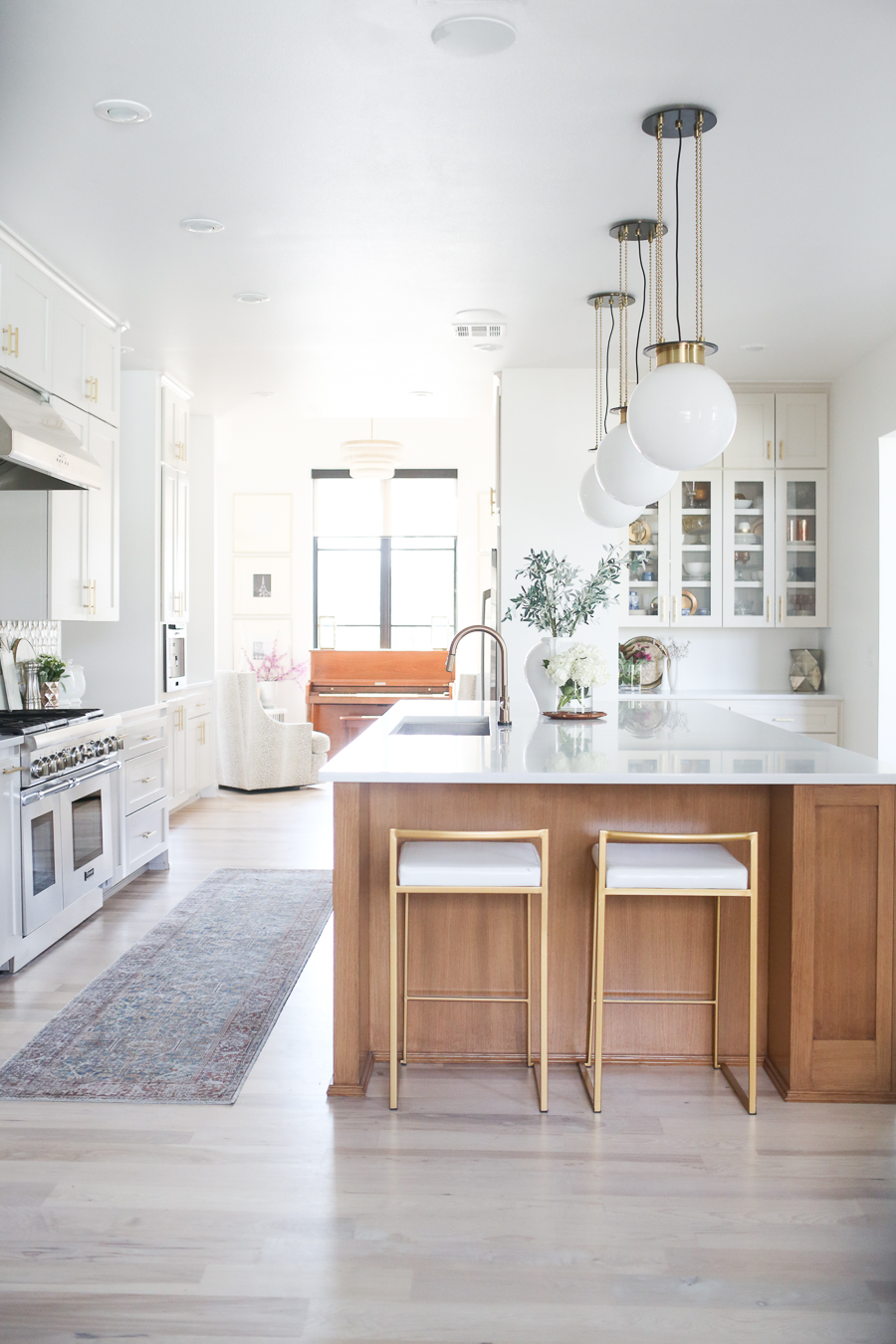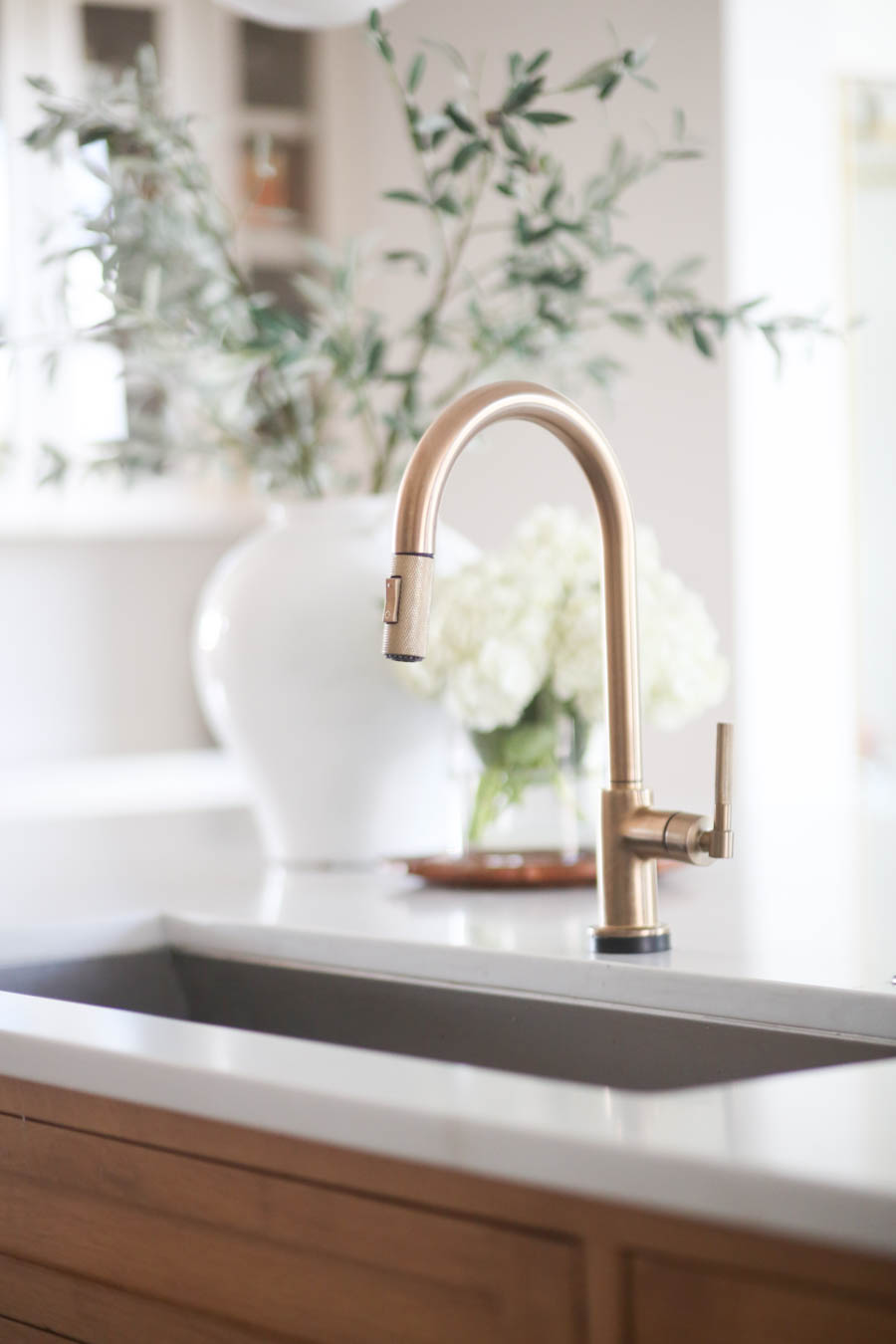 THE FAUCET AND SINK
BRIZO FAUCET and Kallista Sink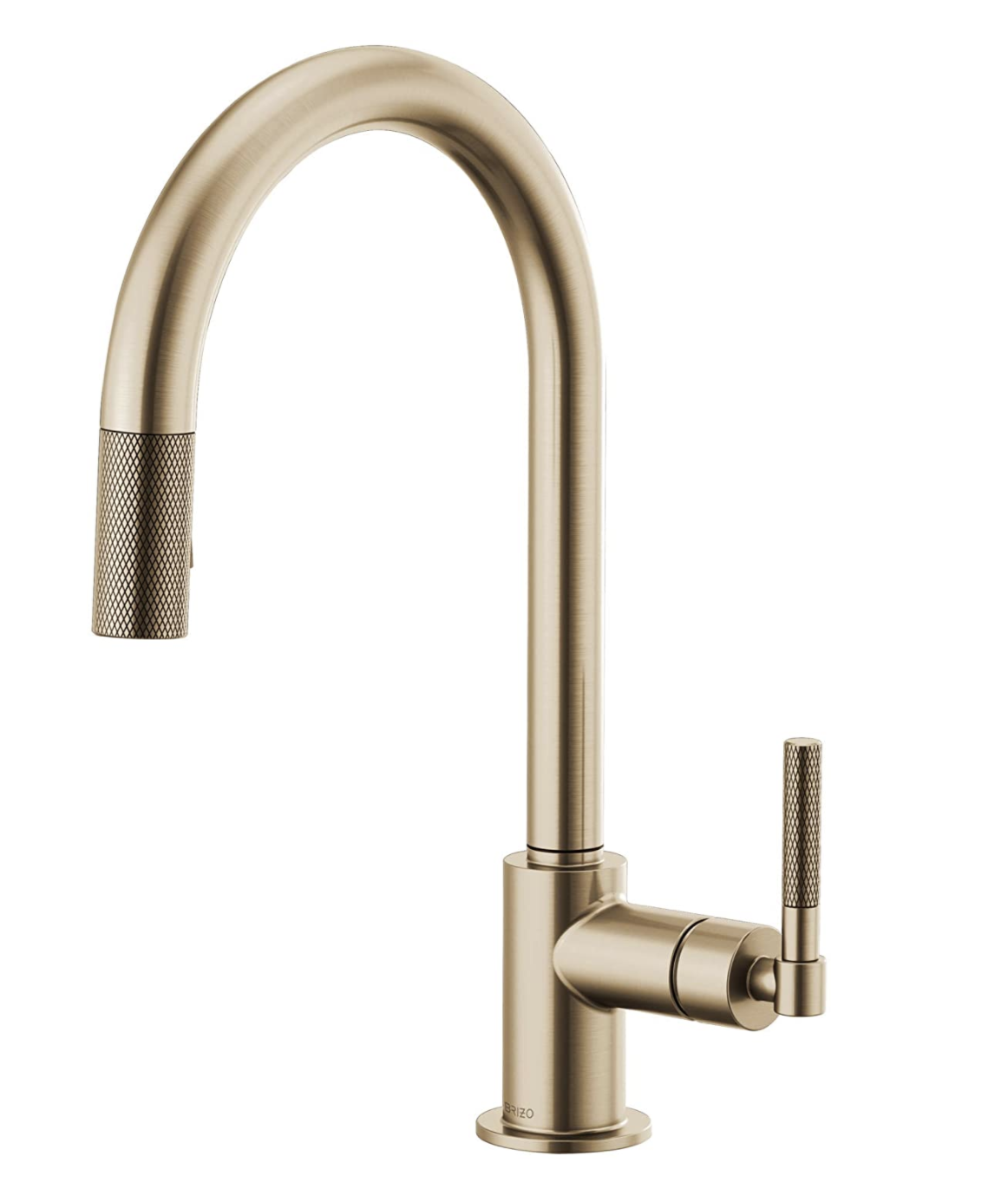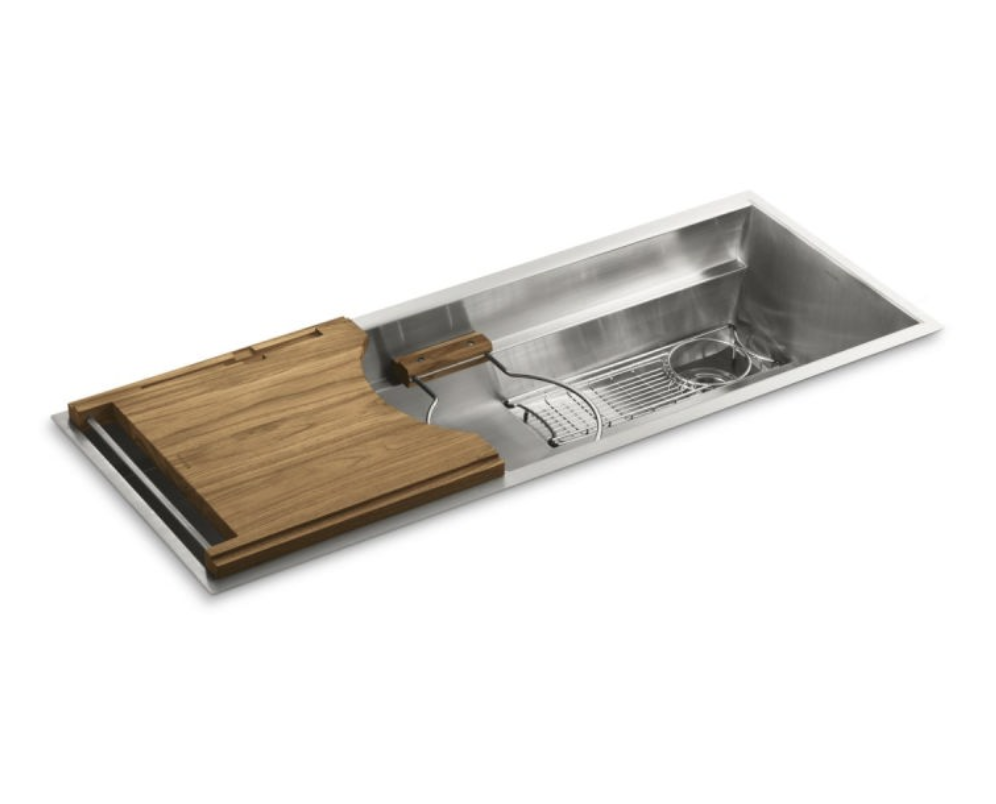 THE HARDWARE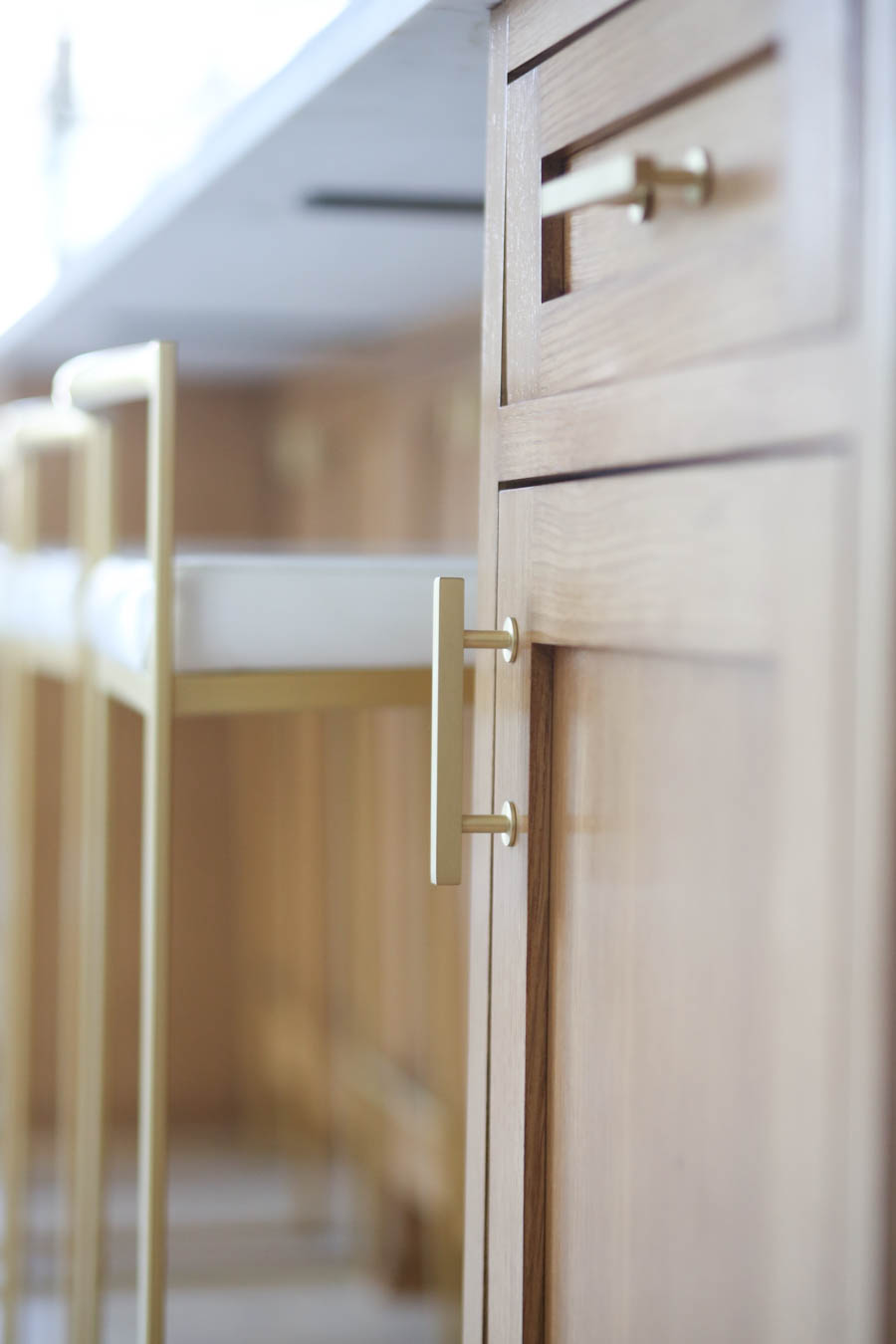 THE BACKSPLASH
We kept our original back wall of cabinets so I was able to keep my Ann Sacks Honeycomb tile which is a favorite from the original design of the kitchen!  If you're looking for a patterned tile to pack a punch and make a statement, this tile is gorgeous as is any Ann Sacks tile!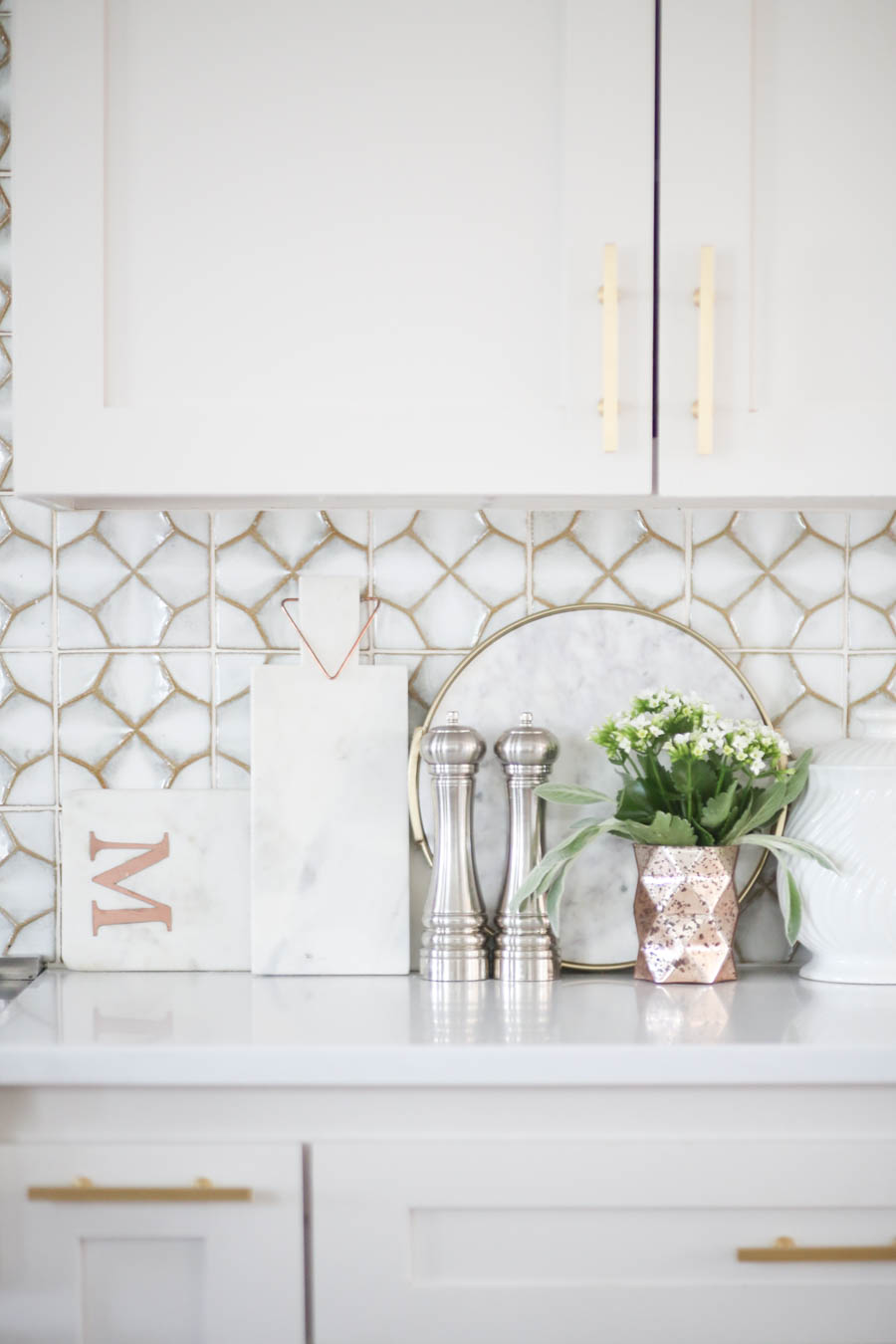 THE QUARTZ and BACKSPLASH
I chose Aurea Stone Phidias for our quartz. Since I was working with our bold Ann Sacks backsplash as well, I wanted to make sure that the quartz countertops didn't compete with the backsplash.  Another question I get asked a lot is about the size of our island and how that works with the quartz.  Our island is very large — 12′ x 6′ — so there is a seem in the quartz in order to span this large of an island.

Here is another look at our Ann Sacks Honeycomb tile.  You can see how I didn't want the quartz to compete with this patterned tile so I went with a simple, understated pattern in the quartz.  The Phidias by Aurea Stone is a perfect option

Here's another look at our Brizo Faucet.  It is a touch faucet and it has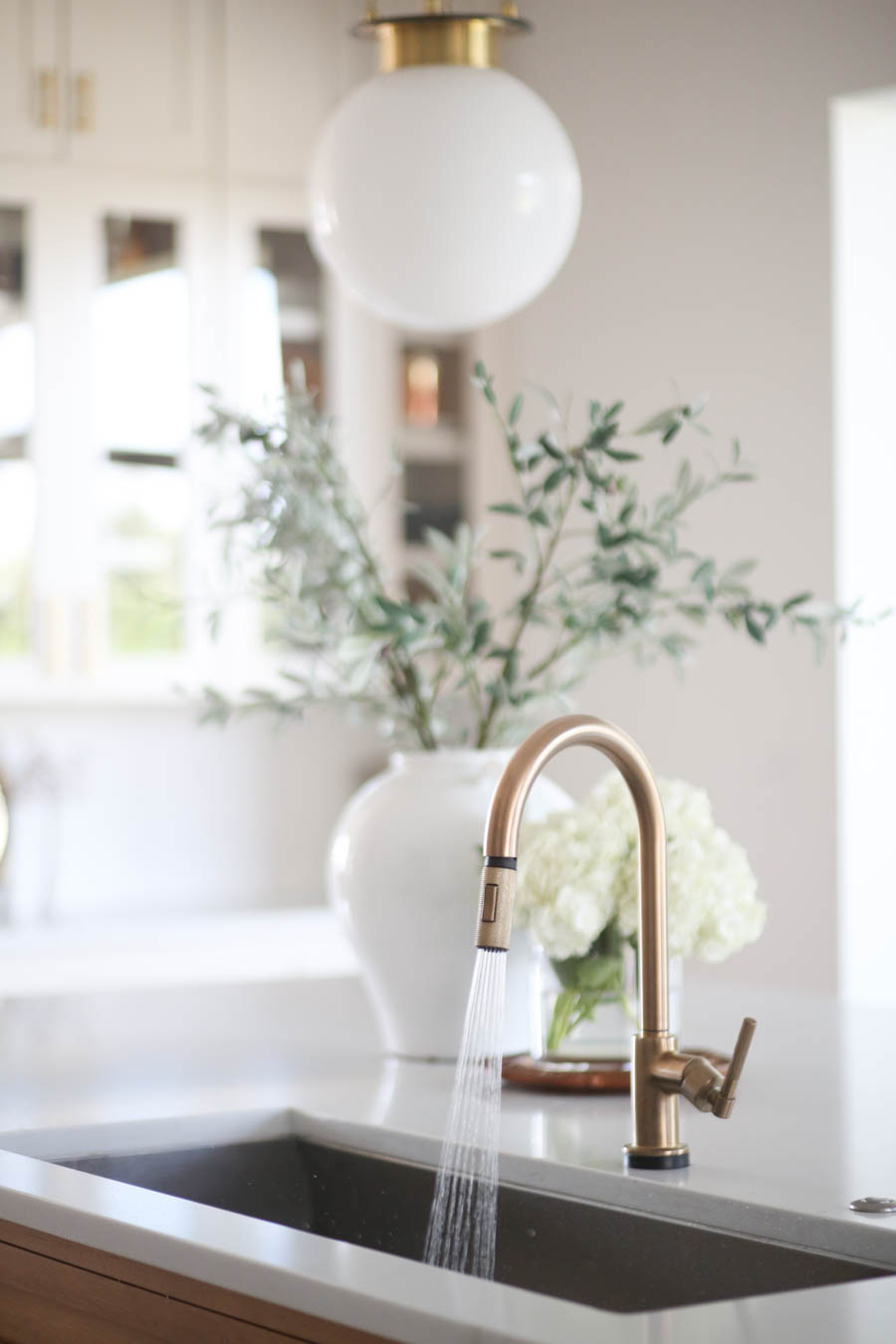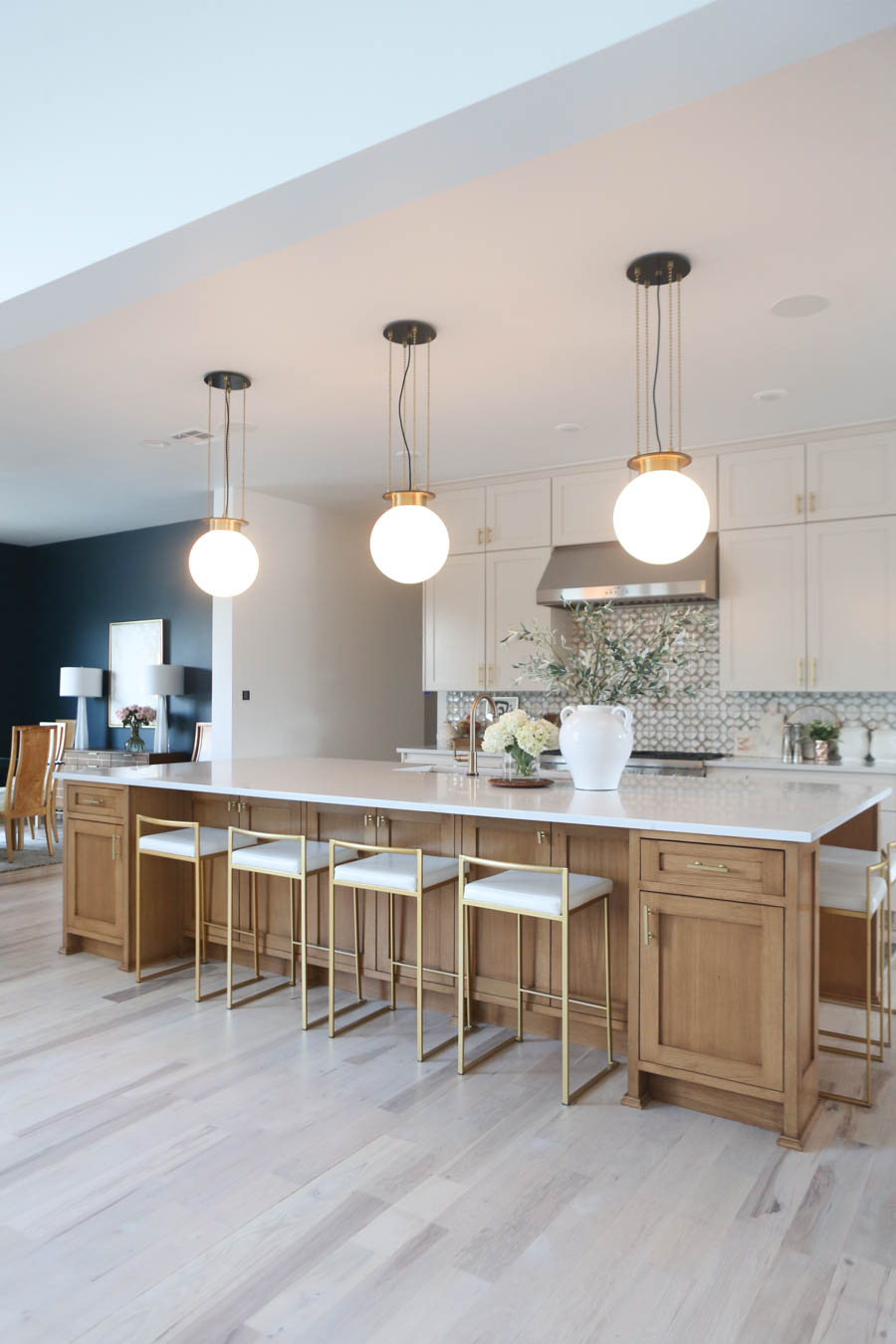 THE CABINET STAIN
Our cabinets are rift-sawn white oak from WOODSTOCK Cabinets in Tulsa, OK.  The stain mix is as follows:  First coat is Old Masters Wiping Stain Fruitwood 12304.  After that dried, we did Old Masters Tintin Glaze Neutral Base 50204 Color: OM Dark Mahogany to deepen the richness of the cabinets after the fruitwood stain.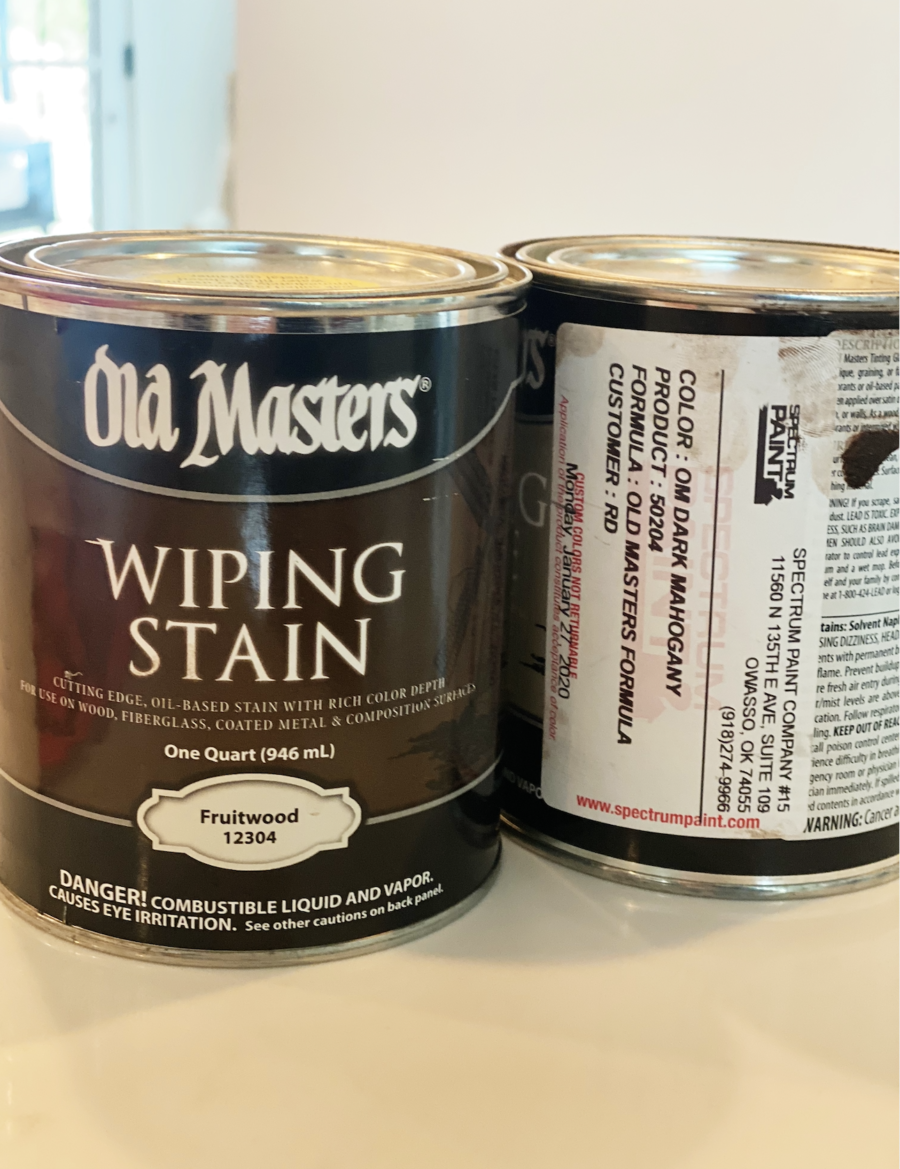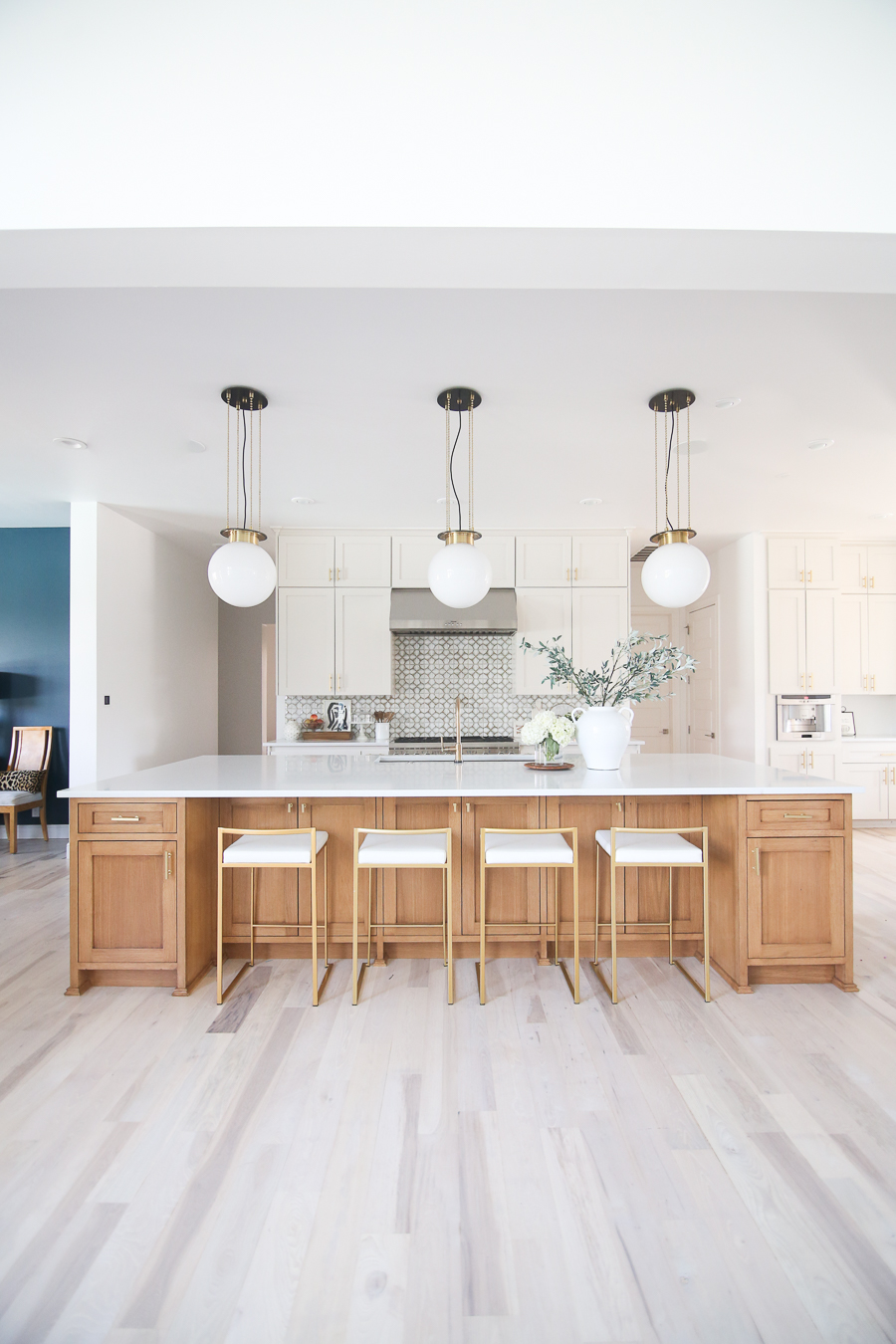 THE NEW ISLAND LAYOUT
We absolutely love how we can all sit around this huge island. Whether it's eating dinner together, the boys doing a lego set, a craft project, or a party with friends…the new island layout allows for us to hang out, entertain and do all the things we love to do as a family together!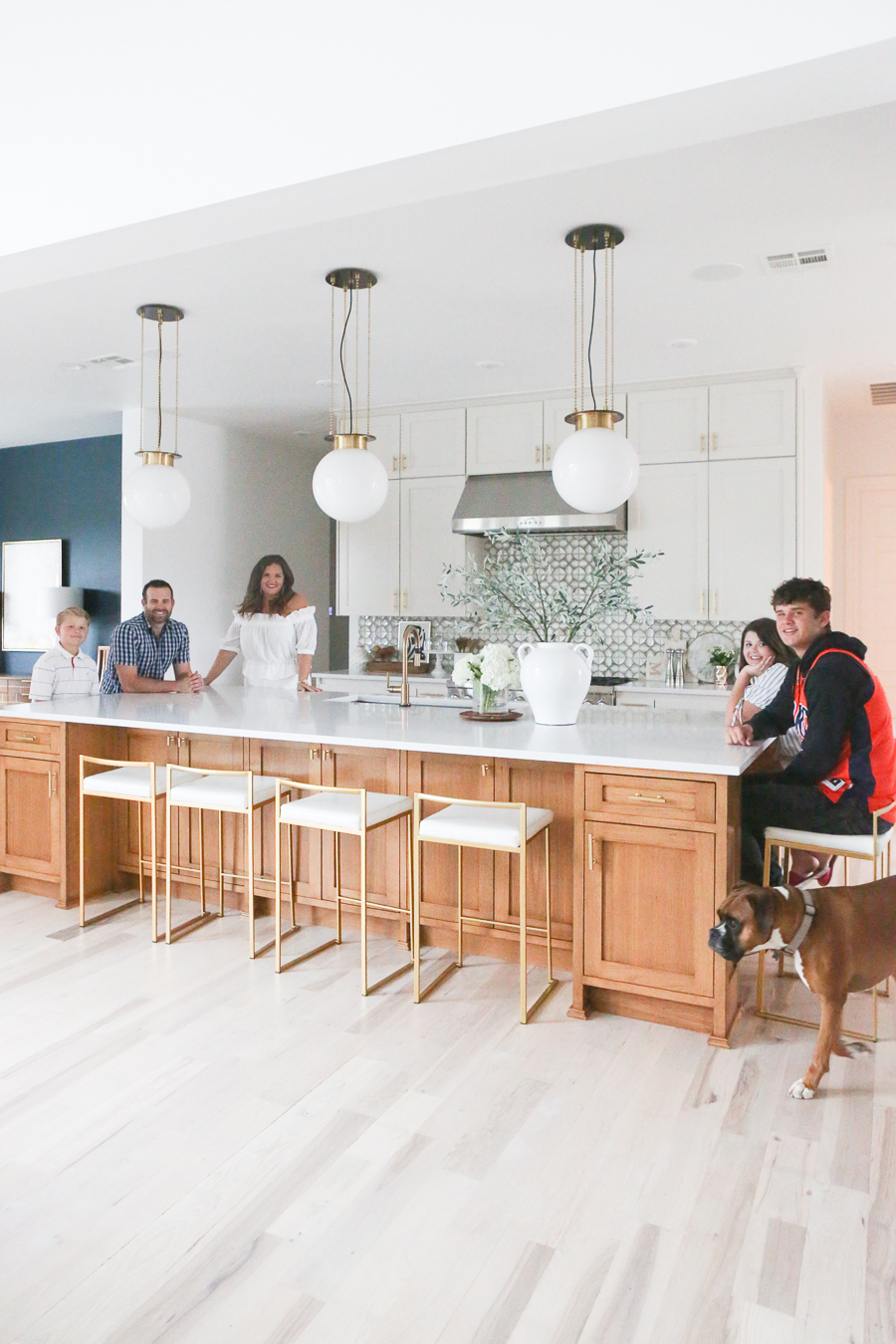 THE PREP KITCHEN AND COFFEE AREA
I also wanted tis how you this are of our kitchen because it shows how around the back side of our kitchen, we have prep kitchen, also known as a butler's pantry or I've even been told lately that they are sometimes called sculleries.  Whatever you call it, it's a great idea that our architect recommended and we recommend it to all of our clients who are custom building.  It's where our kids make lunches and where we prep meals and set up our crockpot.  It's where I make all of the messes when we are entertaining.  I'm so glad that our architect recommended it!
We also love our Thermador appliances.  Specifically, our Thermador built in coffee maker.  Without a doubt that coffee maker is the most used appliance in our whole house.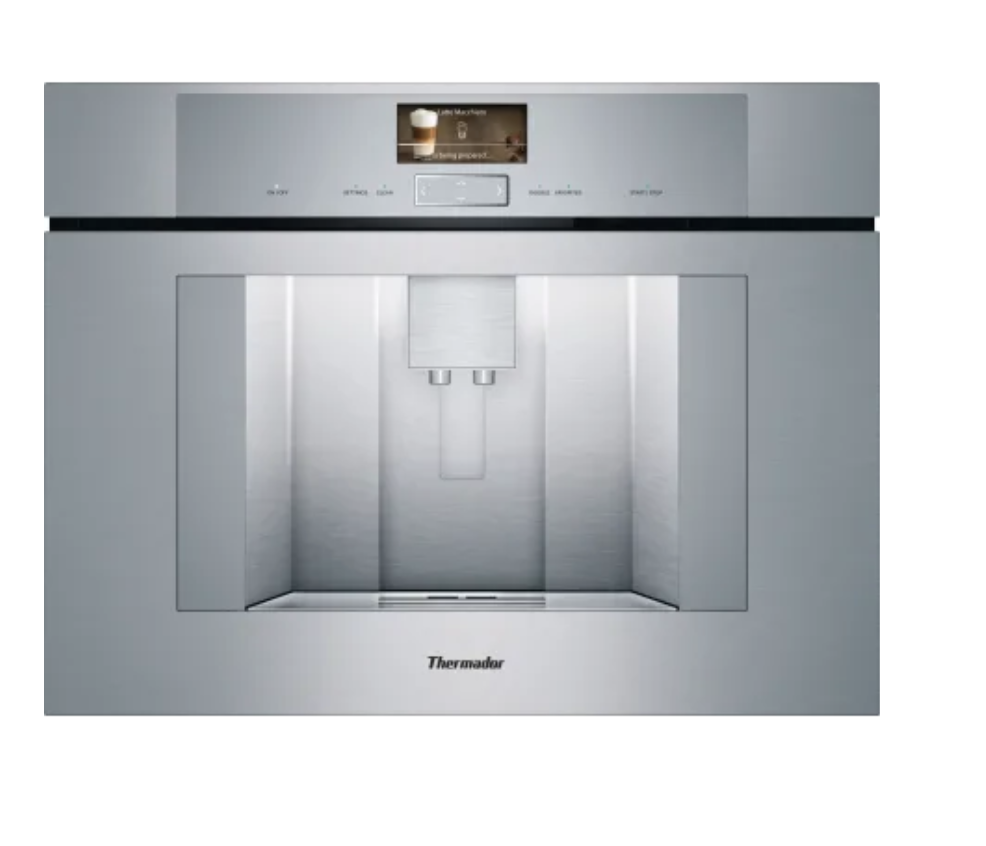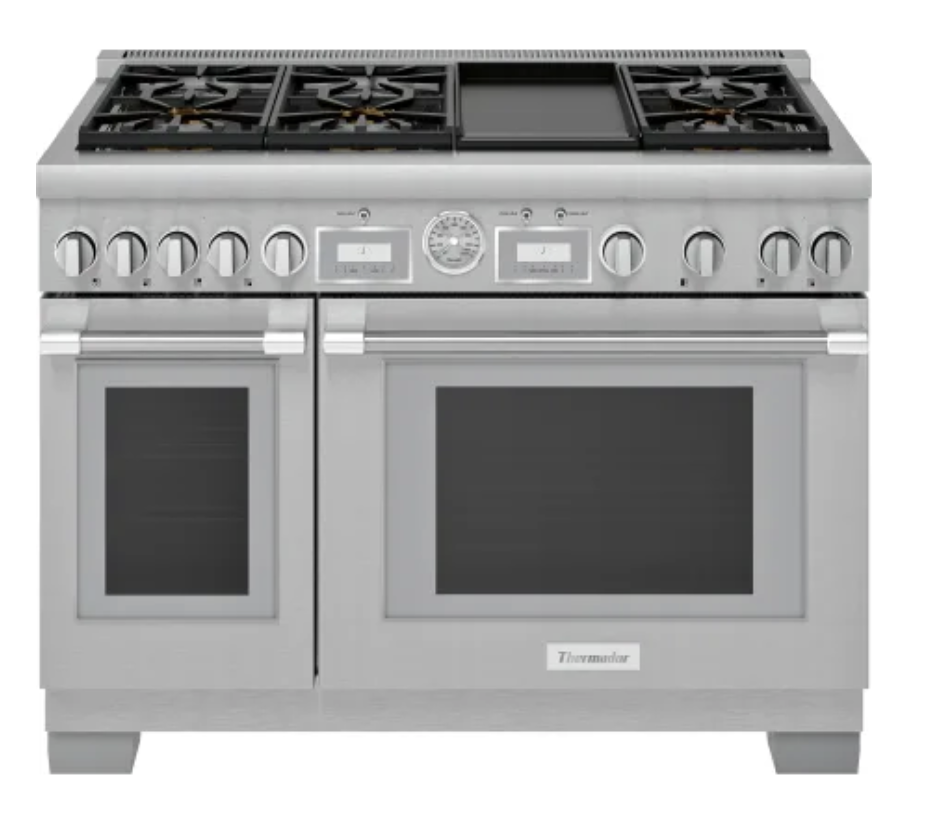 THE REFRIGERATOR and ICE MAKER
We have an Electrolux ICON 32″ built in refrigerator/freezer combo in our kitchen and a Scottsman ice maker.  Yes, we put the ice maker back in even after the leak.  There were two faulty parts in the ice maker and Mike Miller said it was just a freak accident and bad luck.  We love our "Sonic ice" and definitely wanted to put the ice maker back in.  When we travel, we will definitely be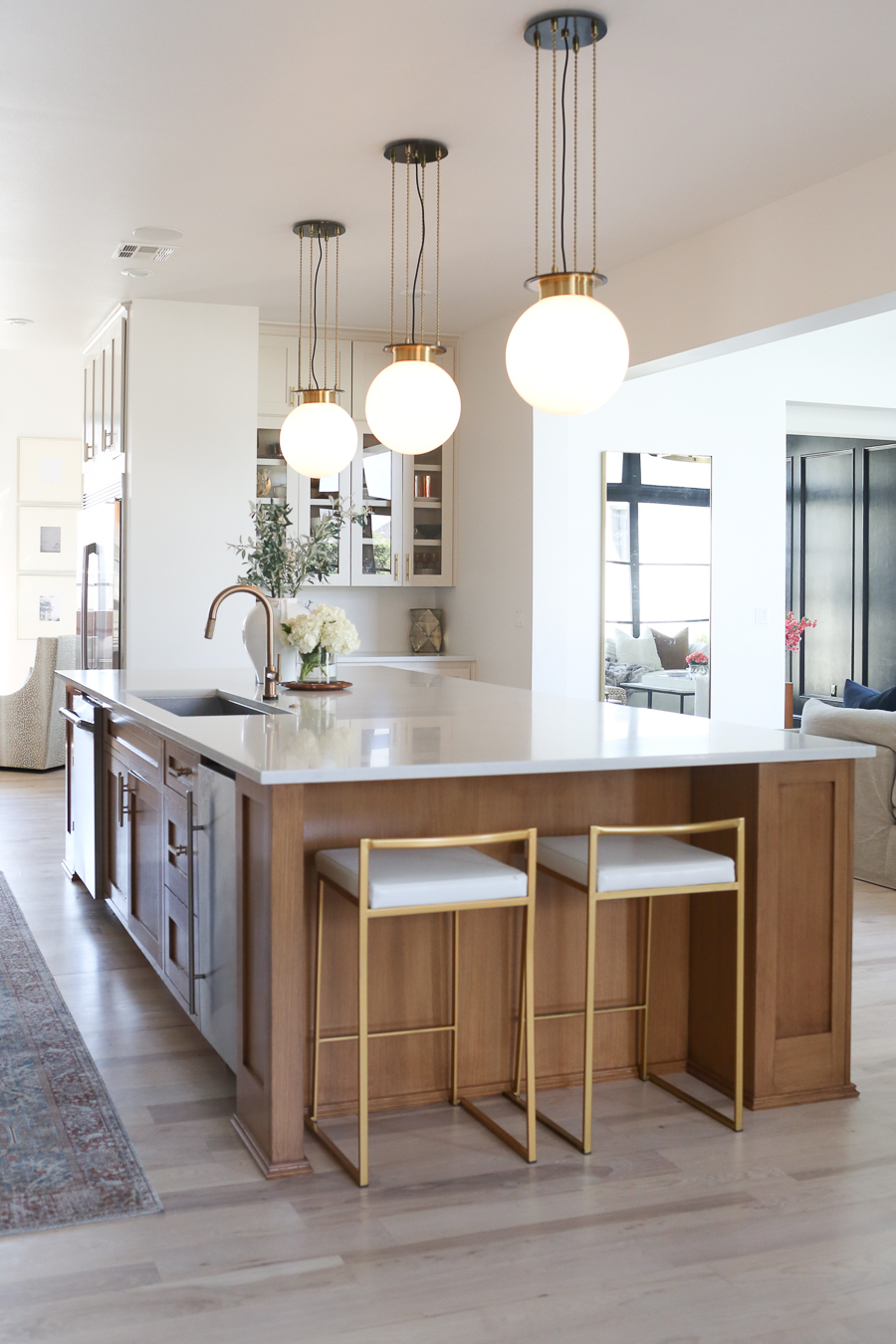 THE END RESULT
Here is a few more views.  Sure it was a mess for awhile but we made lemons out of lemonade.  I'm so happy with the end result and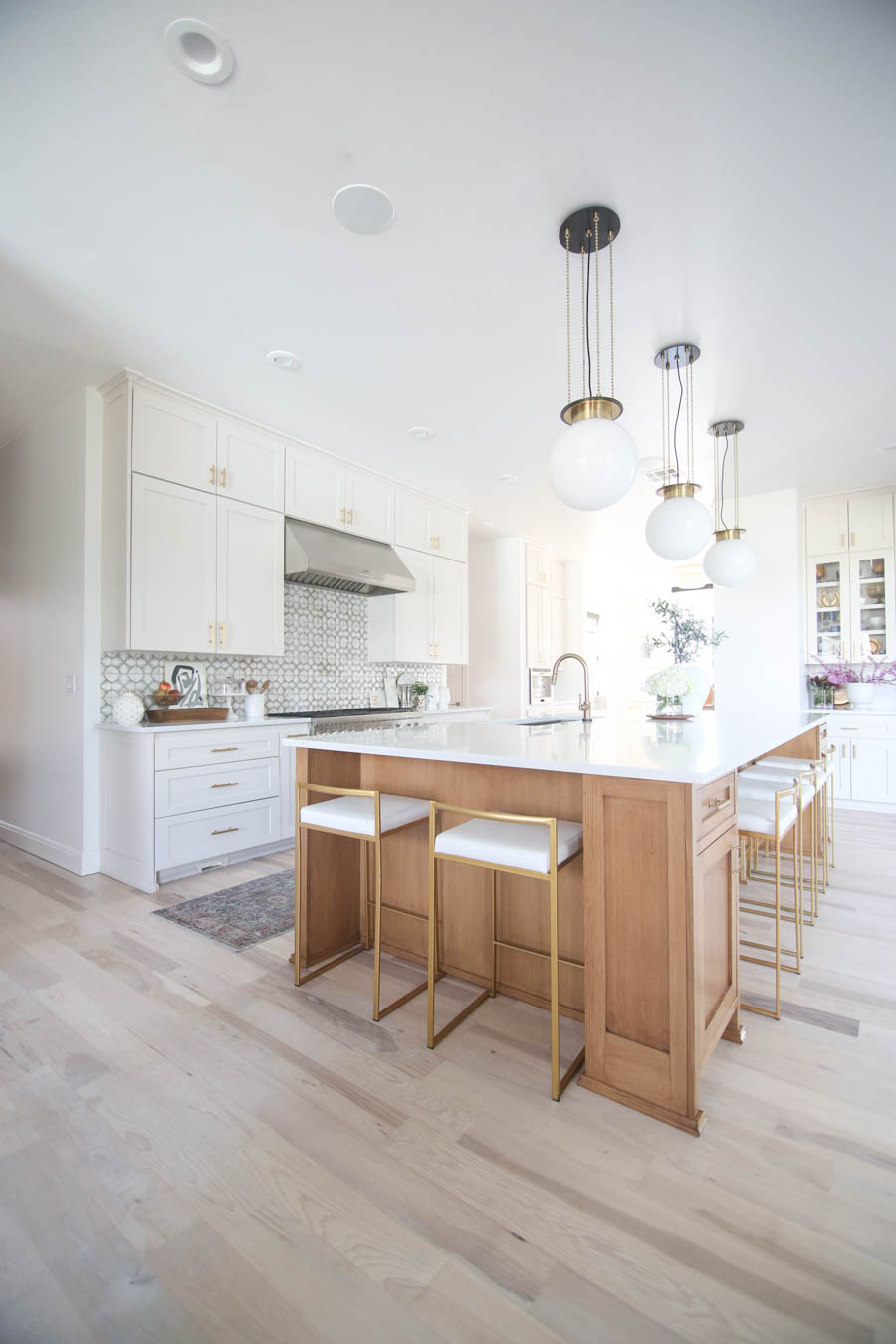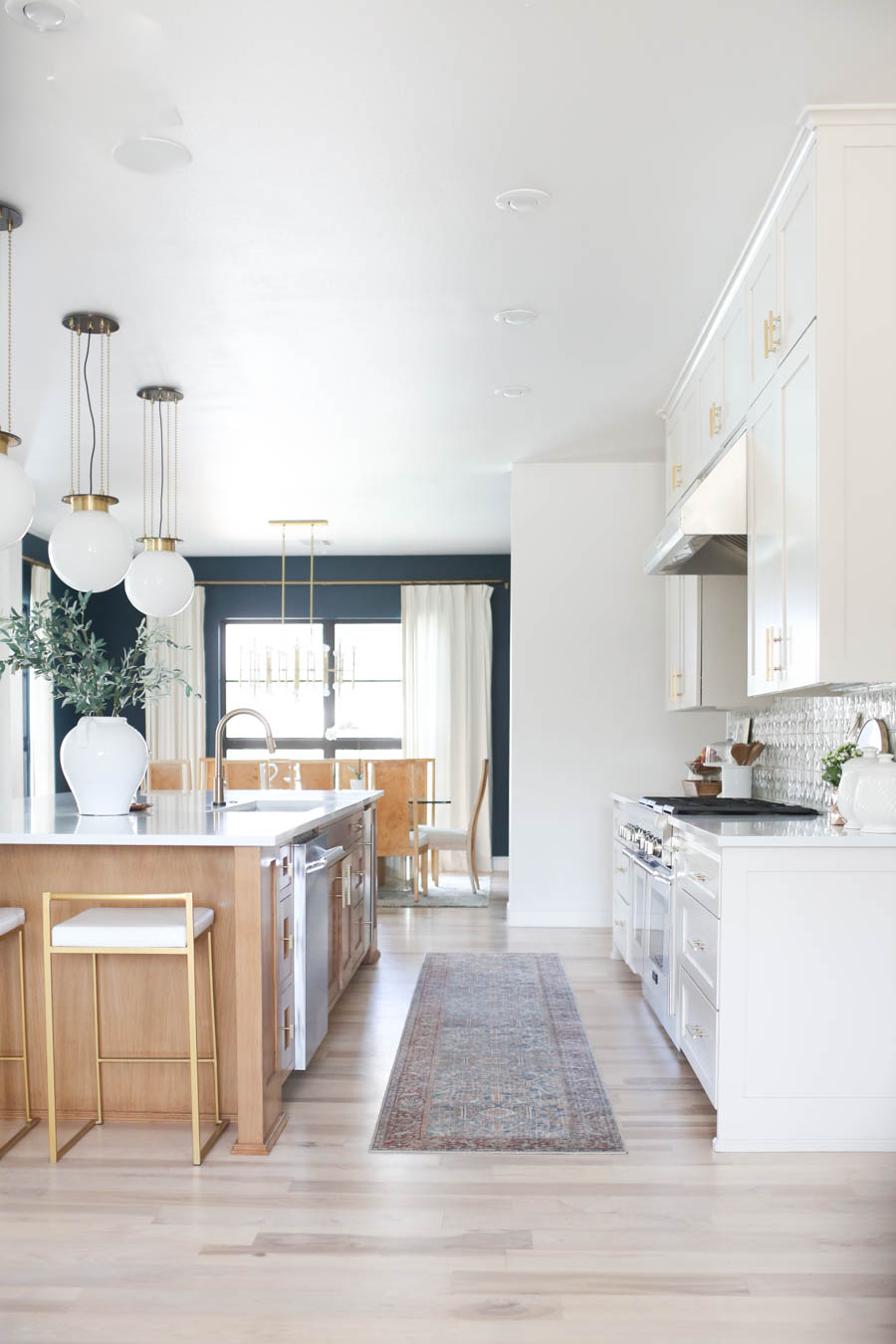 Thank you so much for stopping by to check out CC and MIke Kitchen Remodel Reveal.  We hope you enjoyed checking out our own personal kitchen remodel and hearing some of the ideas and inspiration we had for this project.  We will also be revealing our living room soon as well as the Jenks Flip house project which is going to be a HUGE REVEAL.  You guys, these before and afters are the most dramatic ever in CC and Mike History.
Make sure to follow us on INSTAGRAM for daily updates! And if you haven't check out our Frisco Project Reveal yet, we highly recommend heading over there for more inspiration as well.
With love,
CC and Mike and the Crew.