I know many of us are home bound for the indefinite future while we practice our social distancing skills so I thought I'd work up this post on How To Update Your Rugs for Spring  and we decided to offer our biggest discount ever to you guys in CC and Mike THE SHOP —30 percent off! — in hopes that it might bring a smile to your face and also help you bring some joy into your home during these uncertain times.  
We are offering 30 percent off our BEST SELLING RUGS, in CC and Mike THE SHOP as well as running a sale on PRINTS and PILLOWS.  
I know a picture is worth a thousand words so I've rounded up some of my favorite stagings from my designer friends who have used our rugs in some of their projects, to show you the hottest new rugs for SPRING.  First up is our friends over at THE SPOILED HOME who have the Jocelyn Rose rug both in their master bedroom and as a runner in their laundry room.
(PICTURED ABOVE is the Pink Indio runner in Curls and Cashmere's lake house.  It has been one of our best selling rugs of all time and is available for preorder!  Don't miss out because it sells fast when it comes back in stock.  Pre-ordering can ensure you can get one of these beauties when they are restocked.)
Now back to the Jocelyn Rose.  Isn't she such a beauty?  I fell in love with this rug at market and it is one of our TOP THREE choices for How To Update Your Rugs for Spring.  The colors are so gorgeous and specifically bring a fresh, spring and summer vibe to your home with the blush, navy, and gold tones.  You can see two different ways the Jocelyn has been styled in The Spoiled Home's master bedroom and their laundry room.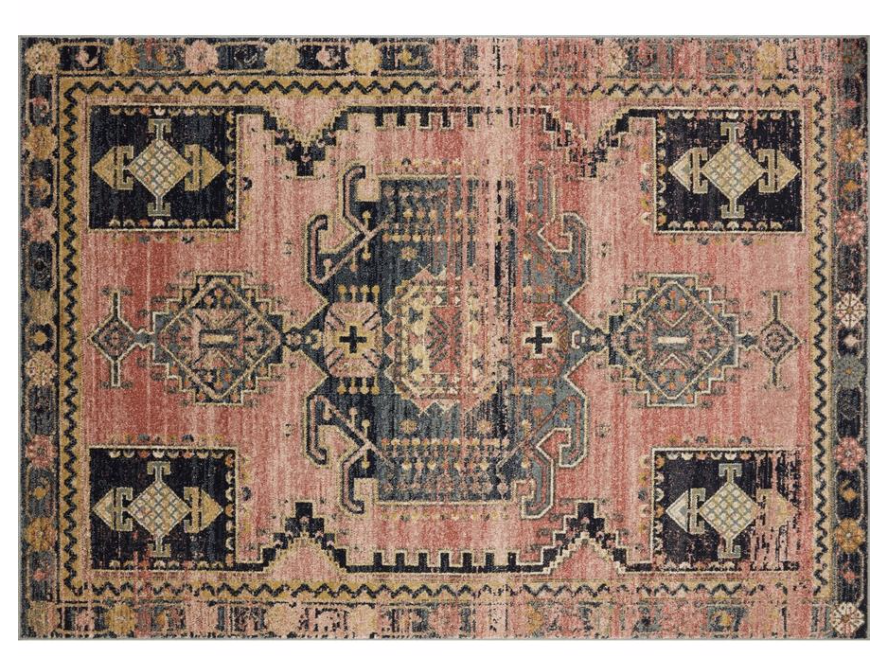 I know you're going to ask so here are the pillow recommendations I have for the Jocelyn Rose Rug so I've got you covered!  Any of these pillows or a mix of these pillows go well with the Jocelyn Rug! 
PILLOW RECOMMENDATION FOR THE JOCELYN ROSE RUG:

Now for my SECOND choice for TOP THREE rugs for How to Update Your Rugs for Spring.  DRUMROLL PLEASE…the Hathaway Line.  I literally fell in love with this line at Market and chose to update my own personal living room with the Navy Hathaway.  But let me assure you, the entire HATHAWAY LINE is to die for and I can't recommend it enough.  If you want to go more bold, I suggest the NAVY HATHAWAY or DENIM HATHAWAY but if you want to go more neutral choose on of the other patterns from the Hathaway line. Here's a Sneak Peek at my living room with the Hathaway in it.  It's not fully ready to reveal but this will give you an idea of how gorgeous the rug is!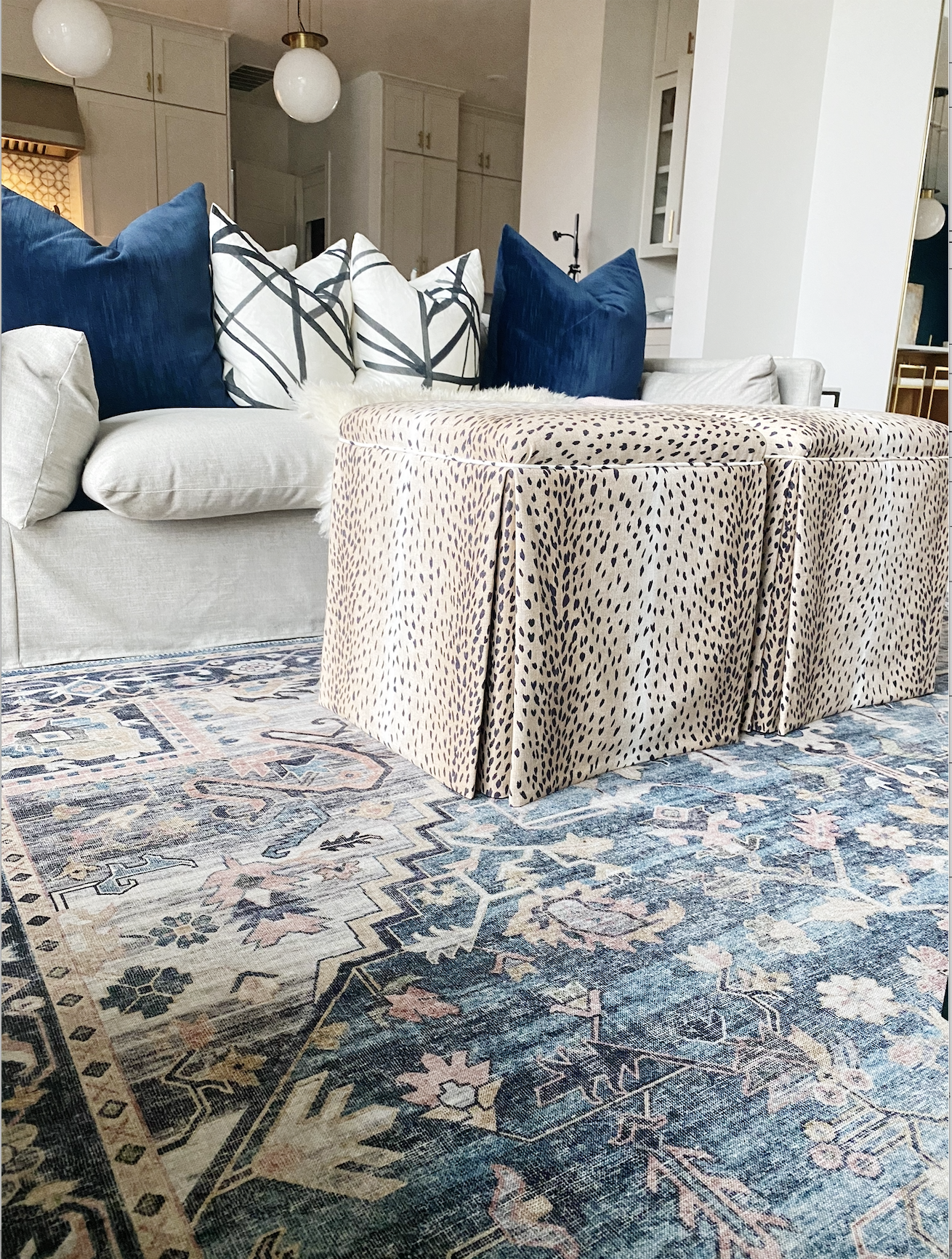 SHOP MY LIVING ROOM LOOK:  
RUG | SKIRTED OTTOMANS | COFFEE TABLES | SLIPCOVERED CHAISE SOFA | NAVY VELVET PILLOWS | BLACK AND WHITE PILLOWS | 
SHOP PILLOWS THAT COORDINATE WITH THE NAVY HATHAWAY RUG:

SHOP OUR LIVING ROOM (SCROLL AND TAP ON THE PHOTO TO SHOP)

Also, BELOW you will see the photo of the NAVY HATHAWAY online (versus the true life photo of my living room above).  You guys.  THIS is why I do what I do and why I want you to feel confident buying rugs from CC and MIKE THE SHOP.  Online stock images just look SO different than the real life rug which is why I travel to market 3 to 4 times a year and take as many real life photos as possible of these rugs for you.  I also send them to my influencer and designer friends and have them stage them in their homes because I truly believe REAL life stagings of these rugs is the best way for you to see them and know whether or not they are going to work in your home.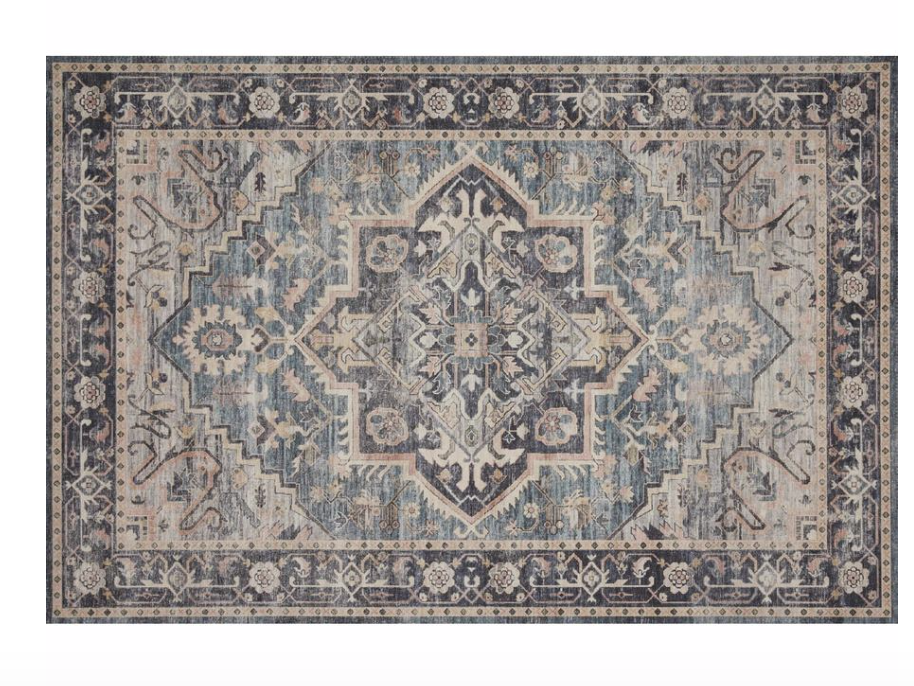 SHOP THE ENTIRE HATHAWAY LINE:

NEXT UP THE PINK INDIO AND THE GOLD BLUSH SKYE RUGS: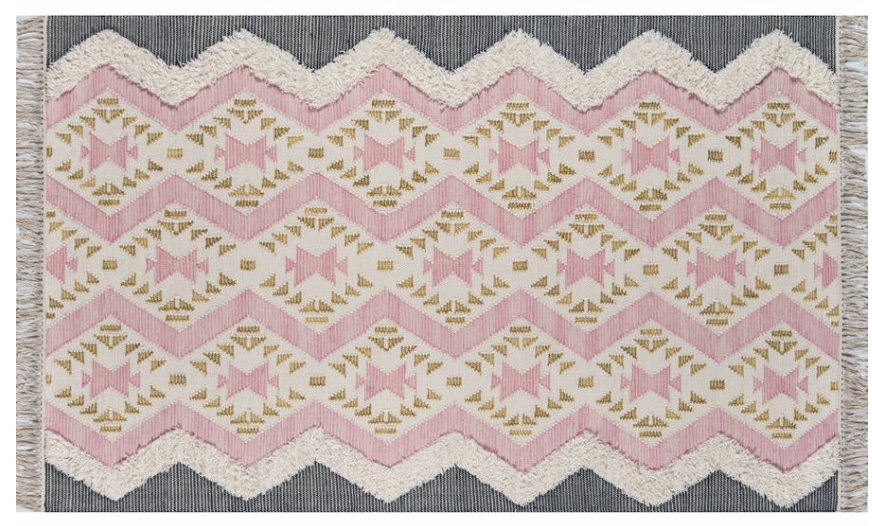 This rug has been a best seller and my blogger friends have loved it! My friend Ashley used it in her lake house kitchen as a runner and my friend Sandi layered it over the gold blush Skye in her daughters room. Speaking of the gold blush Skye, it is also a beauty and the colors in it instantly give Spring vibes as well! These rugs are all gorgeous year round of course but with Spring right around the corner, many of us are thinking of softening and lightening our homes. I definitely recommend both the Indio and SKYE rug lines from CC and Mike THE SHOP in order to accomplish that!
(All PHOTOS of Frisco I Project Reveal taken by Sarah Baker Photos)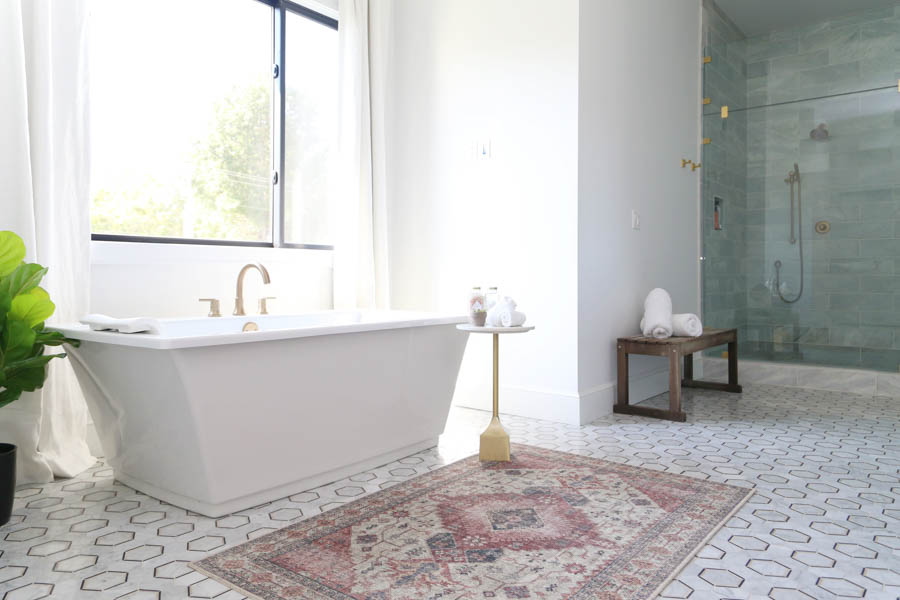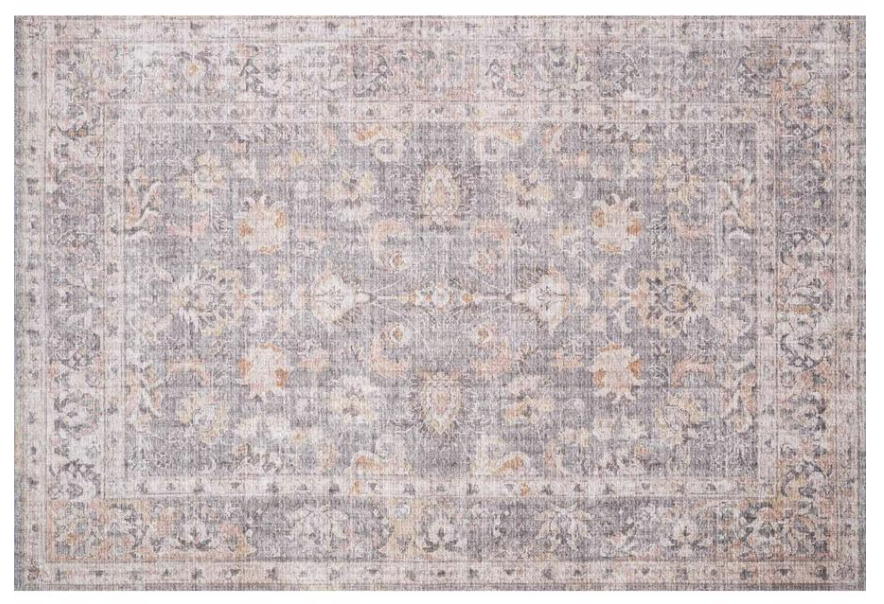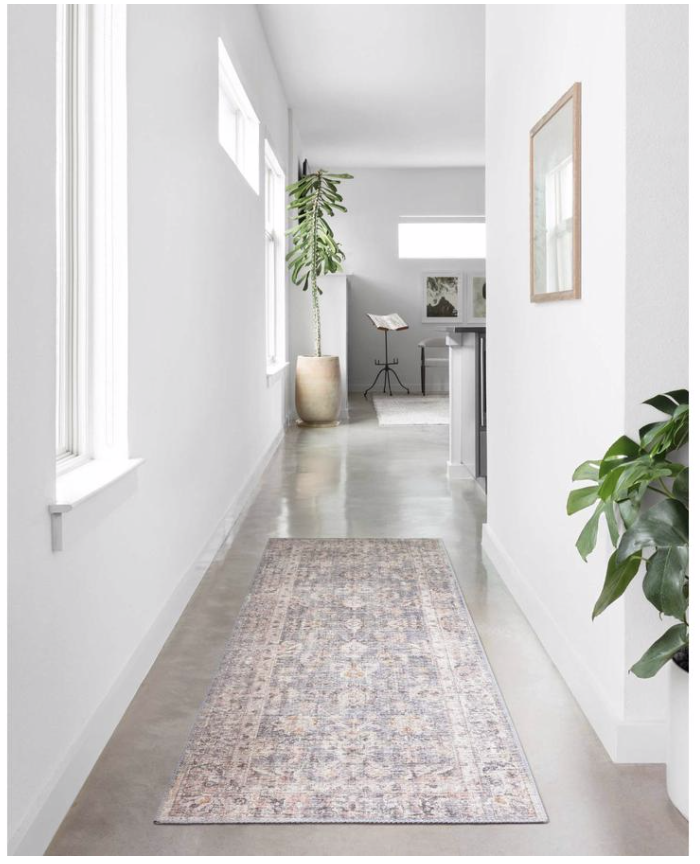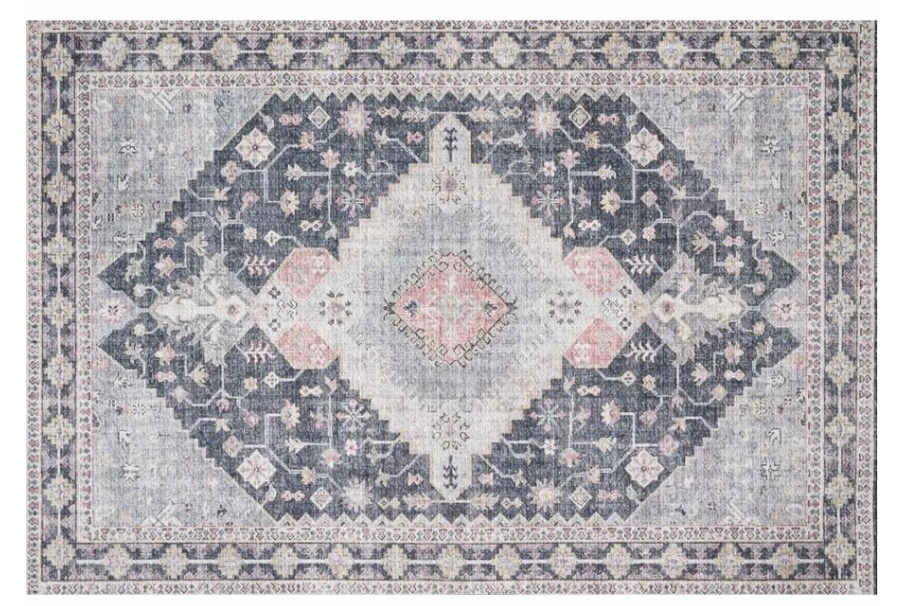 SHOP THE SKYE RUG LINE:

Last but not least I have to mention two of our best selling rug lines of all time:  
THE LAYLA RUG LINE and the LOREN RUG LINE
Both of these rug lines are timeless, gorgeous, and can be used year round.  
OLIVE CHARCOAL LAYLA
pictured in Gueld and Gold 's dining room and my personal bedroom.  PS I LOVE the olive charcoal Layla mixed with leather, black, and wood for a timeless, gorgeous look.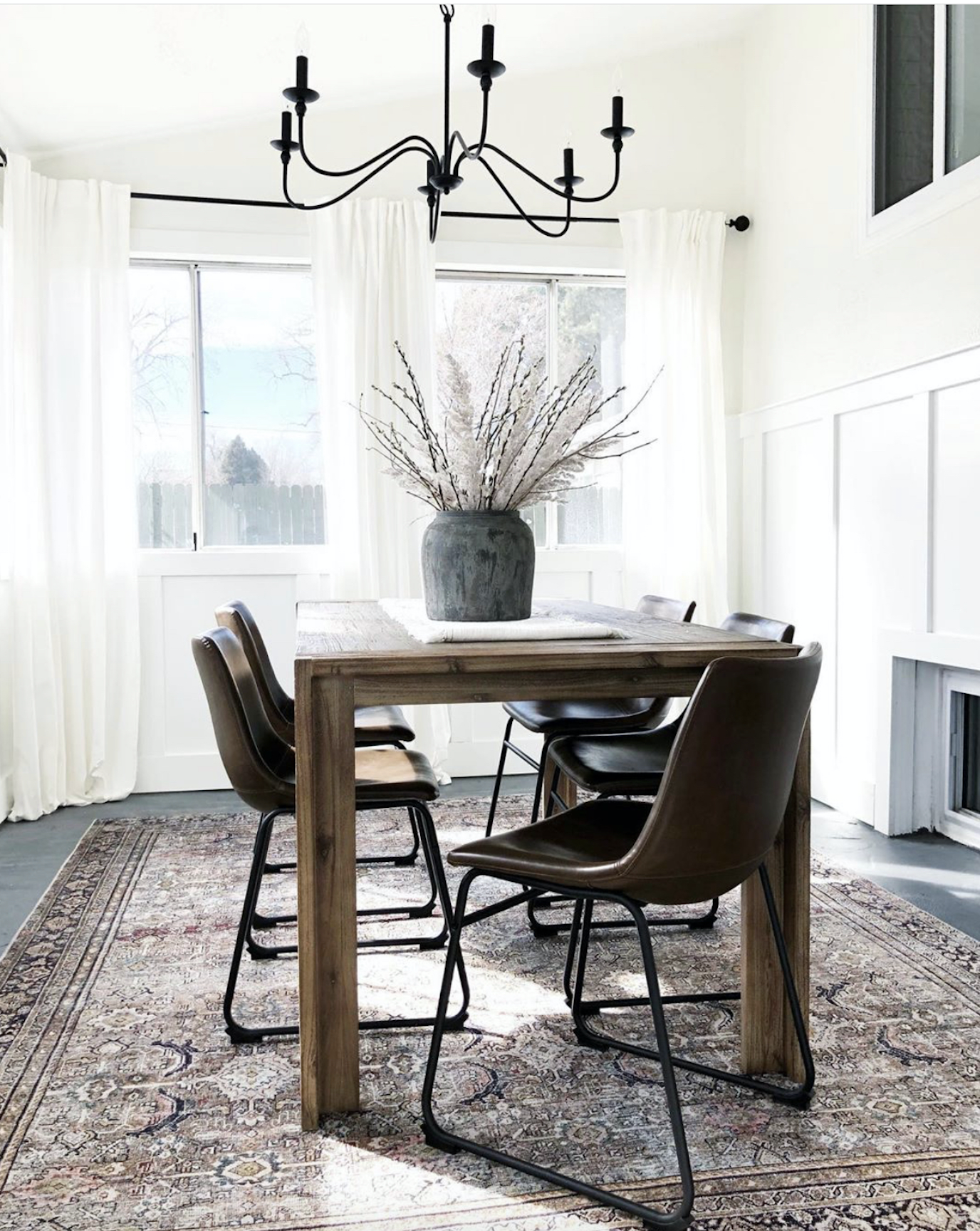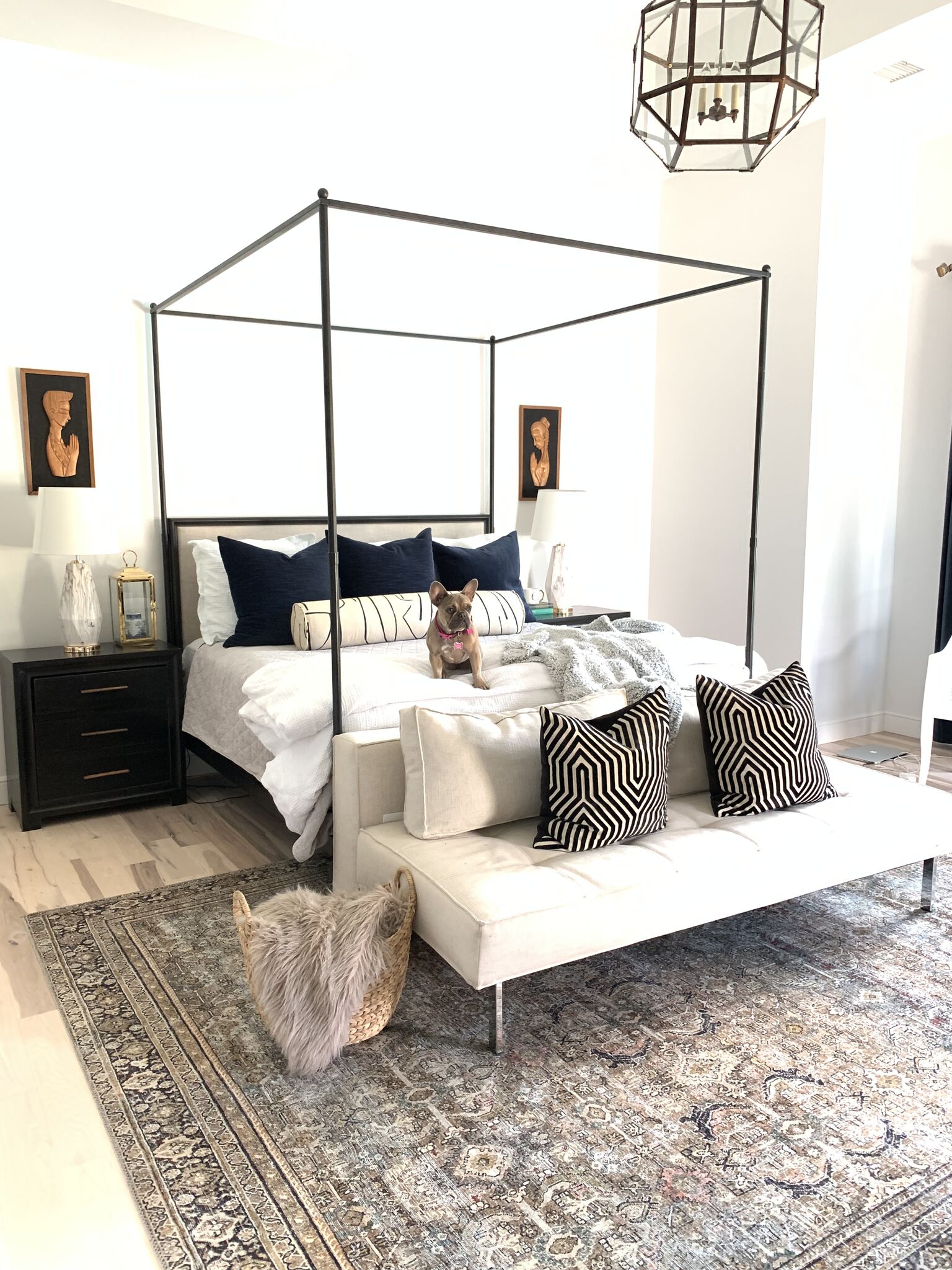 SHOP OUR MASTER BEDROOM HERE:

Last but not least we have the LOREN rug line, specifically our best selling TERRA COTTA SKY LOREN seen in Our Haven Bliss's dining room, Our Vintage Nest's Playroom, and in our Kane Remodel Project living room.  As you will see, this rug pairs gorgeous with denim, leather, white, wood, terra cotta (if you want to pull out more bold colors) and it can definitely be mixed with black as well.
I know I'm showing pictures of just one of the LOREN rugs but trust me when I say, I have used over half of these Loren rugs in projects and they never disappoint.  The colorways are GORGEOUS and if it is in our SHOP, it means I've seen it in person and LOVED IT!  So don't hesitate to grab any of these beauties in either a runner or an area rug!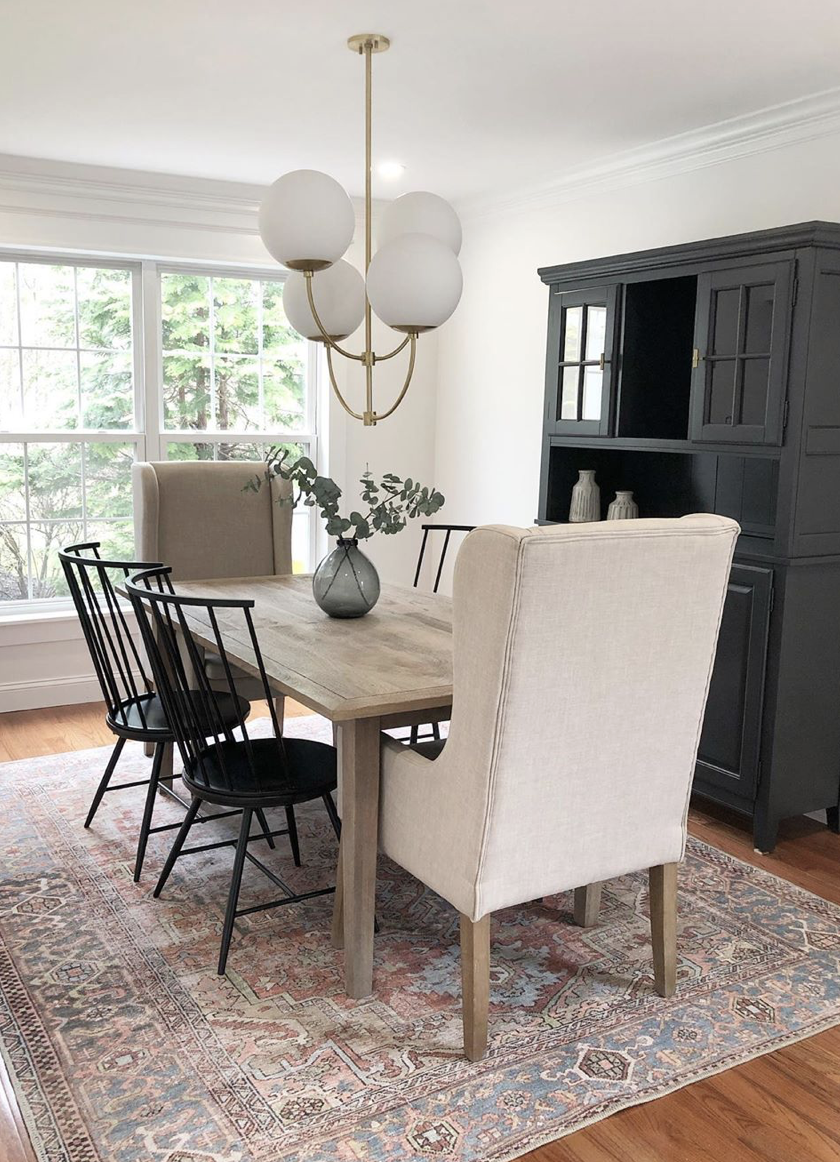 A CLOSER LOOK at OUR BEST SELLING TERRA COTTA SKY LOREN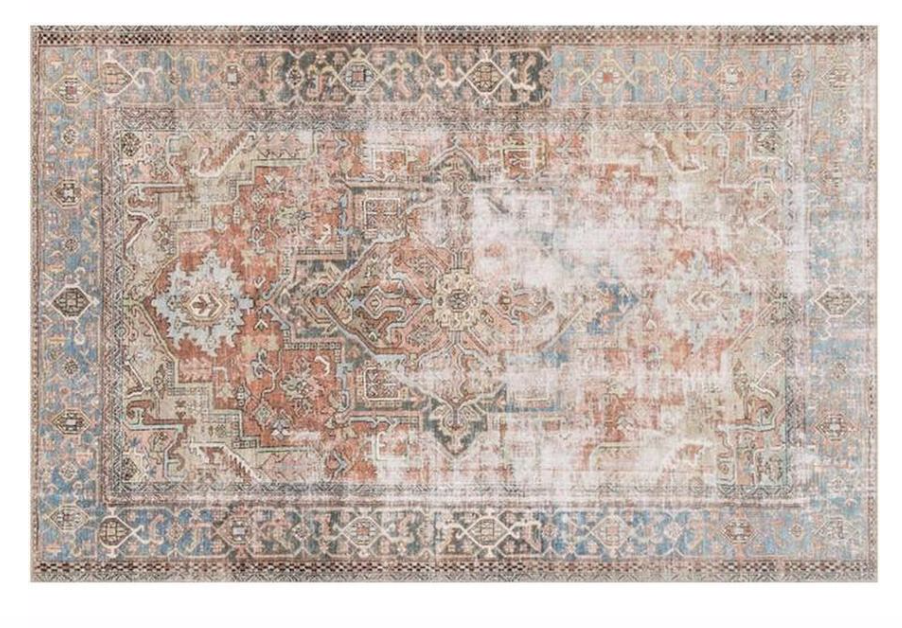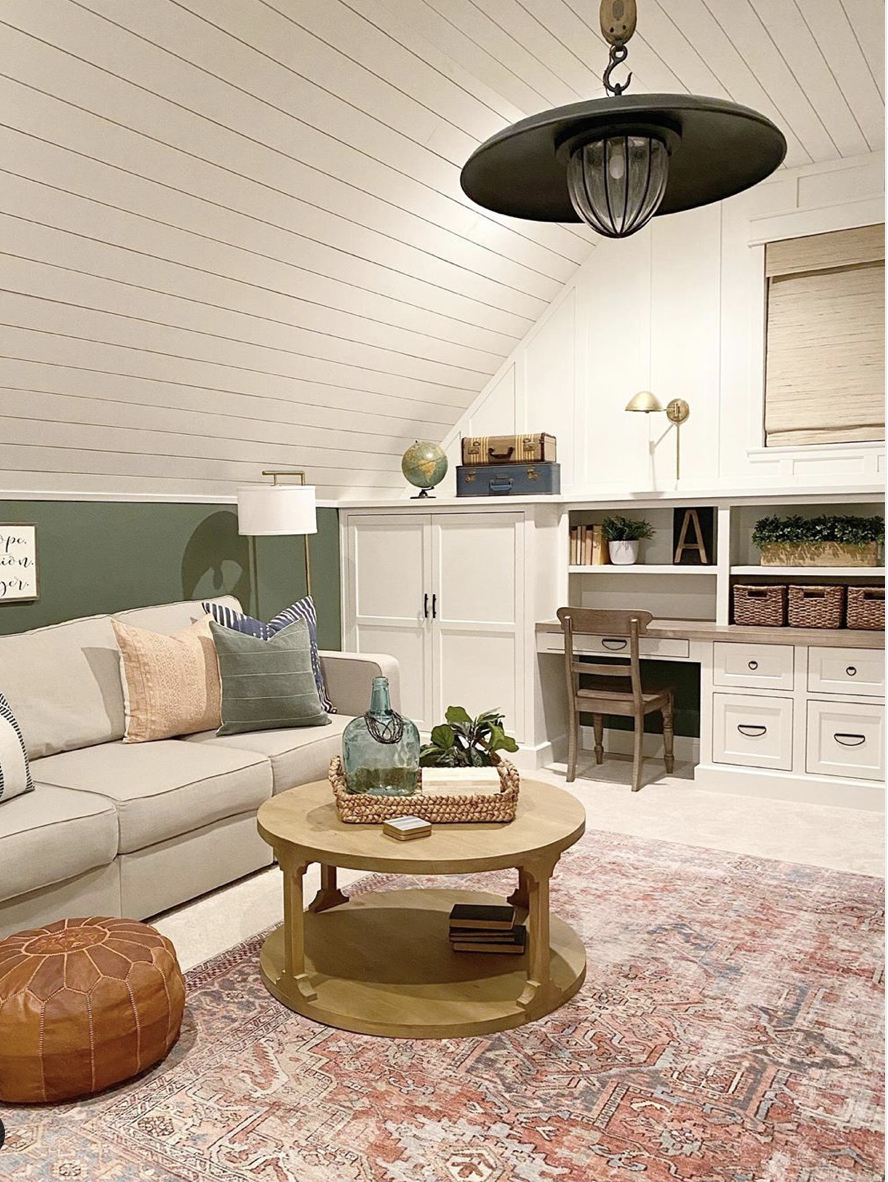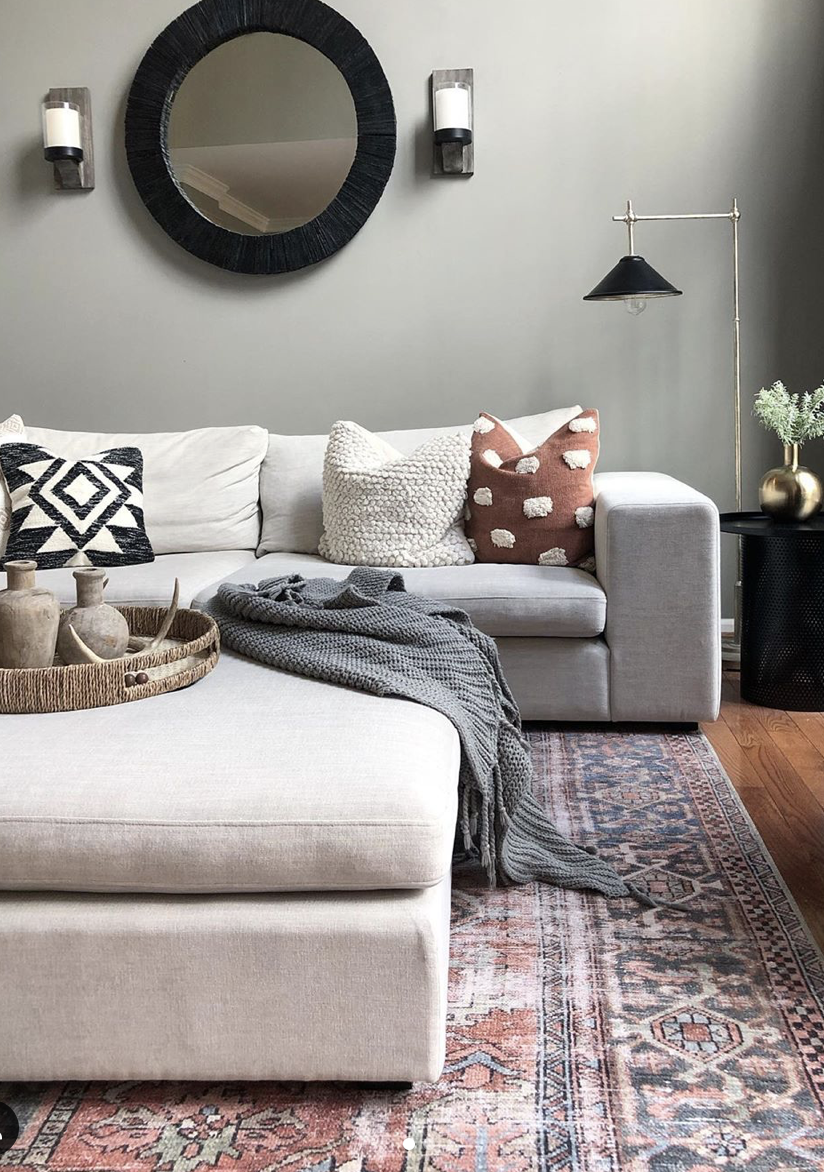 This is our KANE REMODEL PROJECT.  If you would like to see the before and afters and read more about that project you can head over to the KANE REMODEL REVEAL.  You can also shop the KANE REMODEL HERE:
SCROLL AND TAP ON THE PHOTO TO SHOP THE KANE REMODEL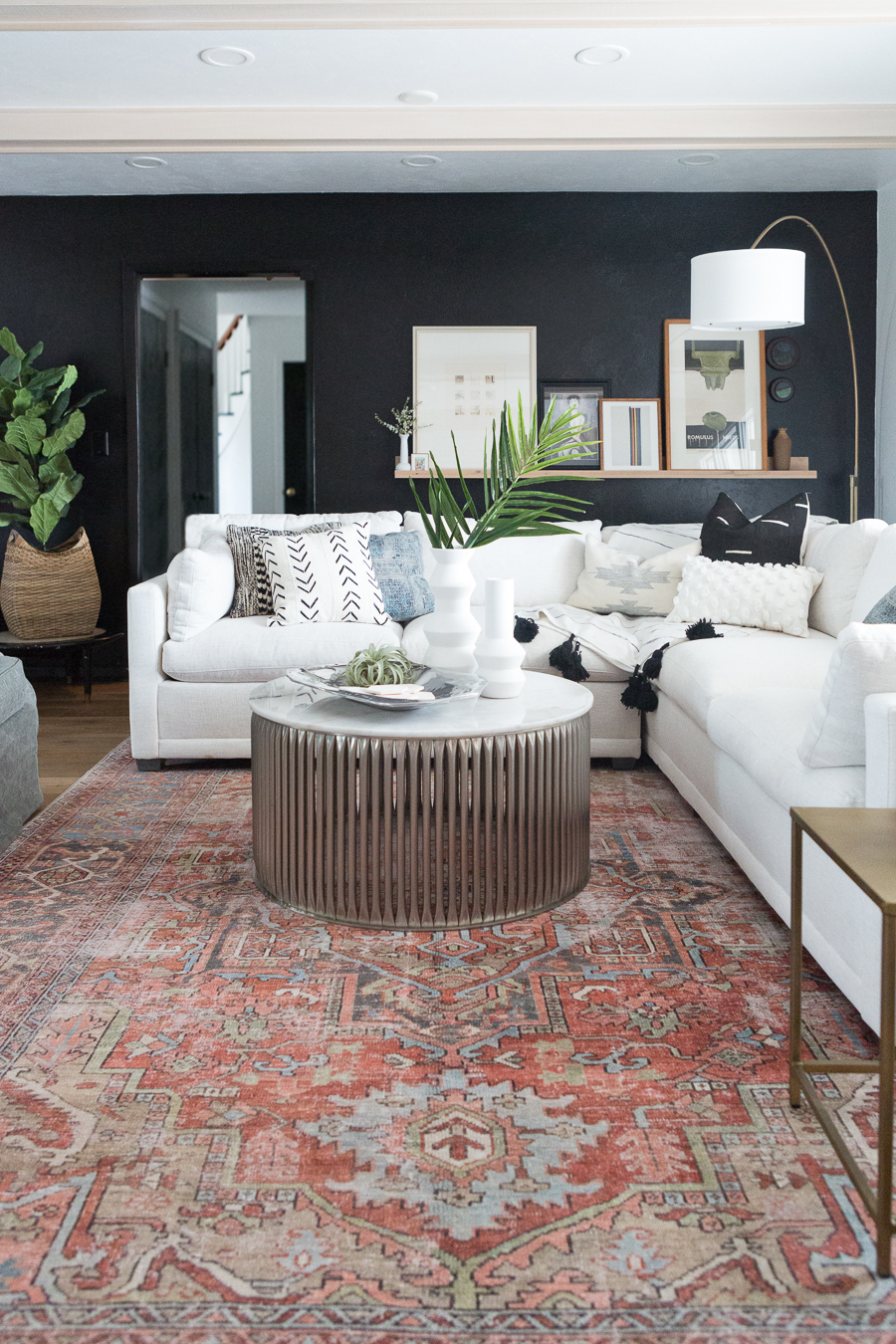 Hope you enjoyed this post on How to Update Your Rugs for Spring!  I hope you can use the SHOP DISCOUNT to get some things that bring a smile to your face and joy to your life while you're spending so much time at home.
Our thoughts and prayers are will all of you during this difficult time!  
With Love,
CC and Mike.