Hello y'all!  Just wanted to welcome you inside for our Home for the Holidays Christmas tour!  Which basically just means I've taken a heck of a lot of photos and I want to share them with you so that maybe you can get some easy and affordable holiday Decor ideas for your own homes! My fellow Oklahoma girl, Ashley, is joining me on this tour so make sure you hop on over and check out her Christmas Living Room Tour as well for some more great decorating ideas!
A few weeks ago, I shared this quick, easy, and budget-friendly little tabletop Christmas arrangement and everyone has been loving it!  Our followers on insta have been sending me all of their photos of where they put their own little tabletop Christmas trees in the Opalhouse polka dot vases and I've been loving it!  So it's really easy….all you do is buy this medium flocked pine tree from Target — make sure you buy medium — and then you buy the Opalhouse polka dot vase.  Drop the tree in the vase and put them all over your house! No seriously….I put them all over my house and I've been loving getting all the photos of other people have been doing the same.  If you try this idea…make sure you send me a photo on our CC and Mike Instagram because I absolutely love seeing them!
SHOP OUR TABLETOP CHRISTMAS TREE LOOK: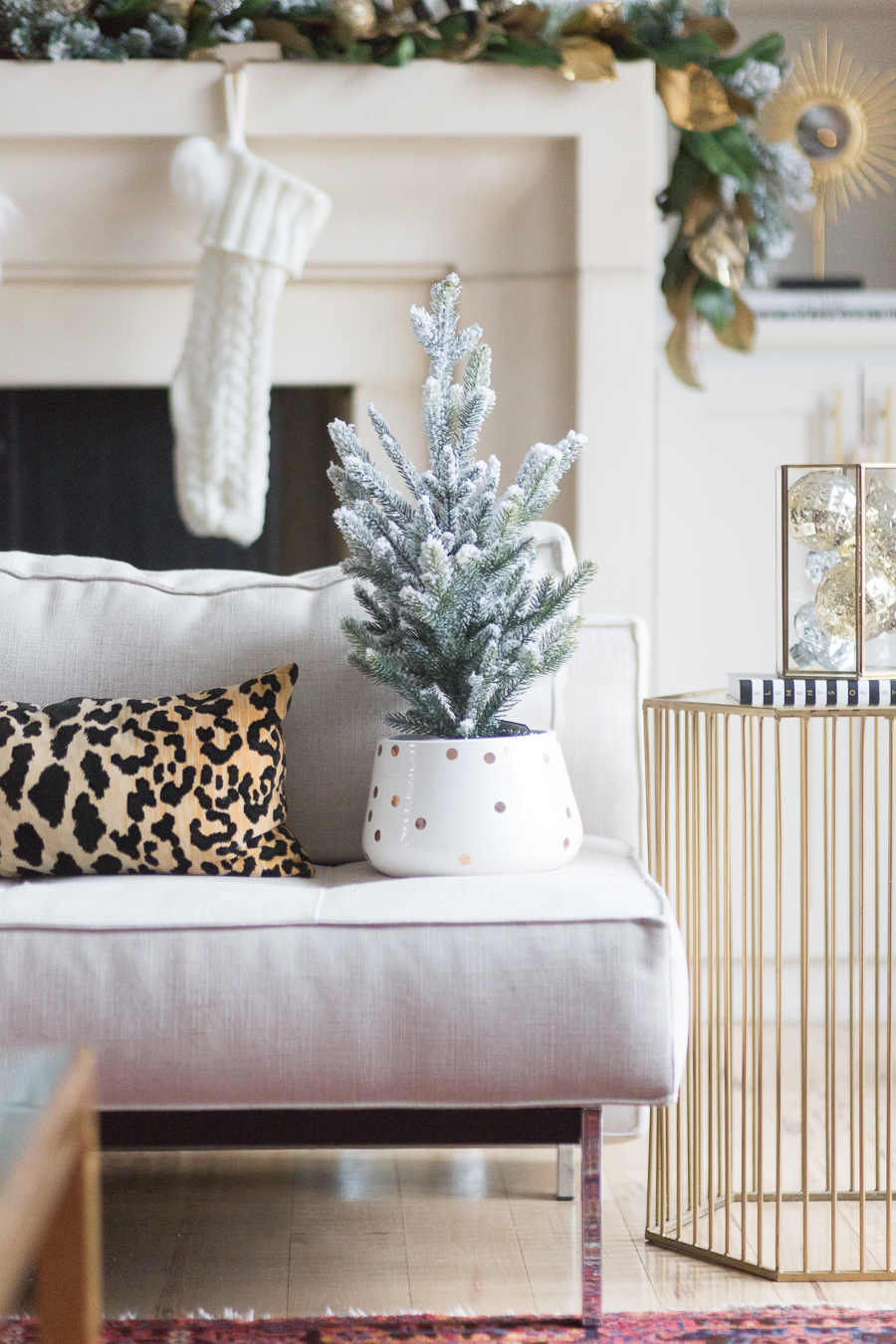 Undoubtedly, the first thing you will see when you come to the Miller household is Oscar!  He's always at the front door to greet everyone! As for front porch decor, I was able to decorate our front porch on a budget this year thanks to Home Depot.  Our 3 foot pre-lit Christmas trees from Martha Stewart Living is my new favorite and it's only $29!  Buy the matching pre-lit garland and wreath and you have a complete set for your home that you can use for years to come. I also bought some silk poinsettias, which were my favorite that I have found and look very much like real poinsettias, and I put them in this little copper pot from Home Depot.  The two fit together perfectly and the whole set is only $20!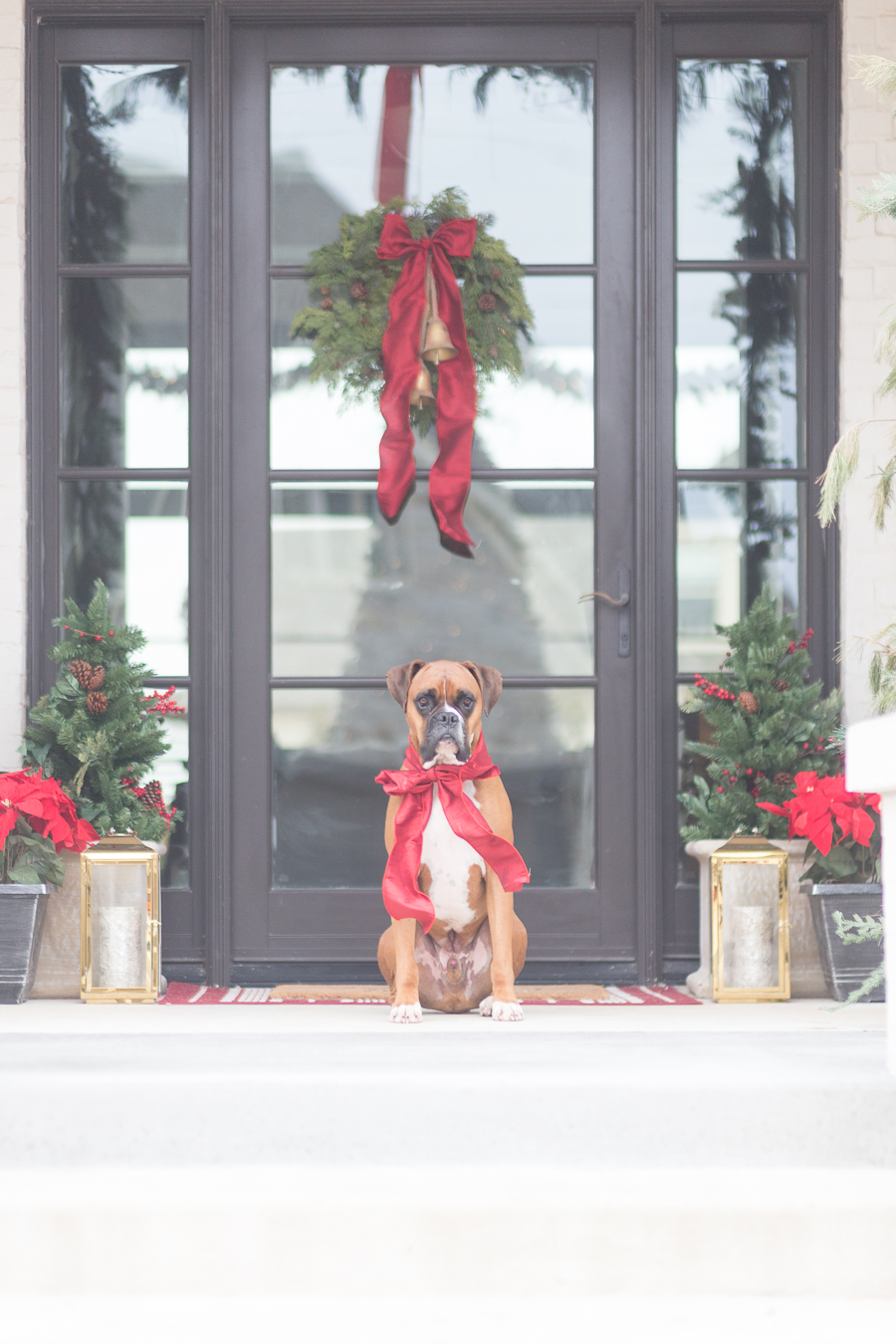 SHOP OUR HOME DEPOT FRONT PORCH:

SHOP OUR FAVORITE AFFORDABLE HOME DEPOT PRODUCTS: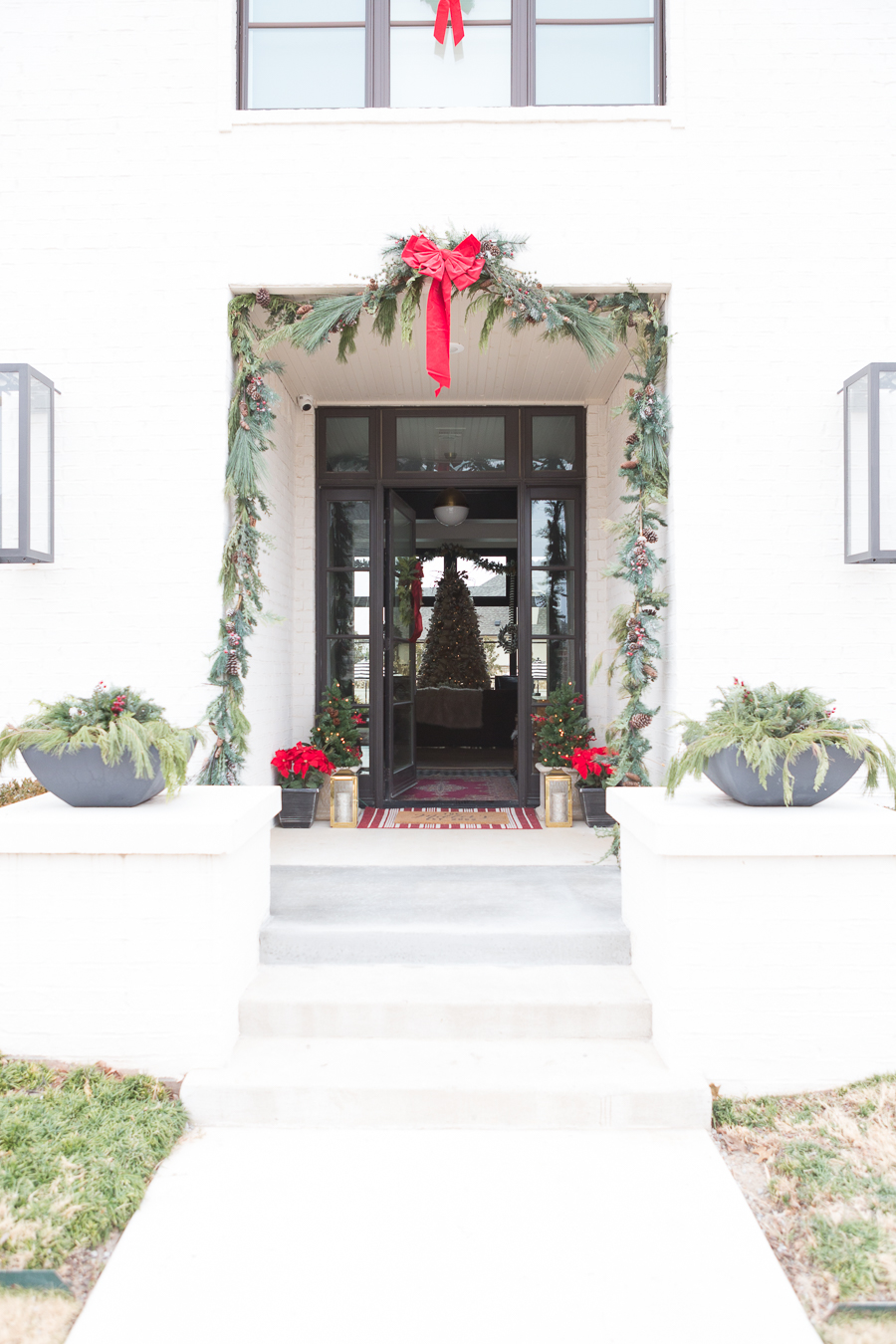 Here is my entryway look this holiday season!  If you don't have bottlebrush trees, we can't be friends.  OK, I kid…but seriously if you don't have bottlebrush trees how are you surviving Christmas?  They are some of my absolute favorite affordable holiday decor items.  By the way, as you will see I use them for my holiday tablescape and put  a little one on each plate.  You can even make them a little party favor for your guests to take home, especially if you buy from Walmart which is where I pick up a majority of my little bottlebrush trees.  Oh but if you're in the market for some larger ones and want to make a statement, can we talk about these beauties from Neiman Marcus.  I'm putting these on my wishlist.  Maybe if I'm a real good girl I can get them for Christmas next year.
SHOP BOTTLEBRUSH CHRISTMAS TREES:

SHOP MY ENTRYWAY DECOR: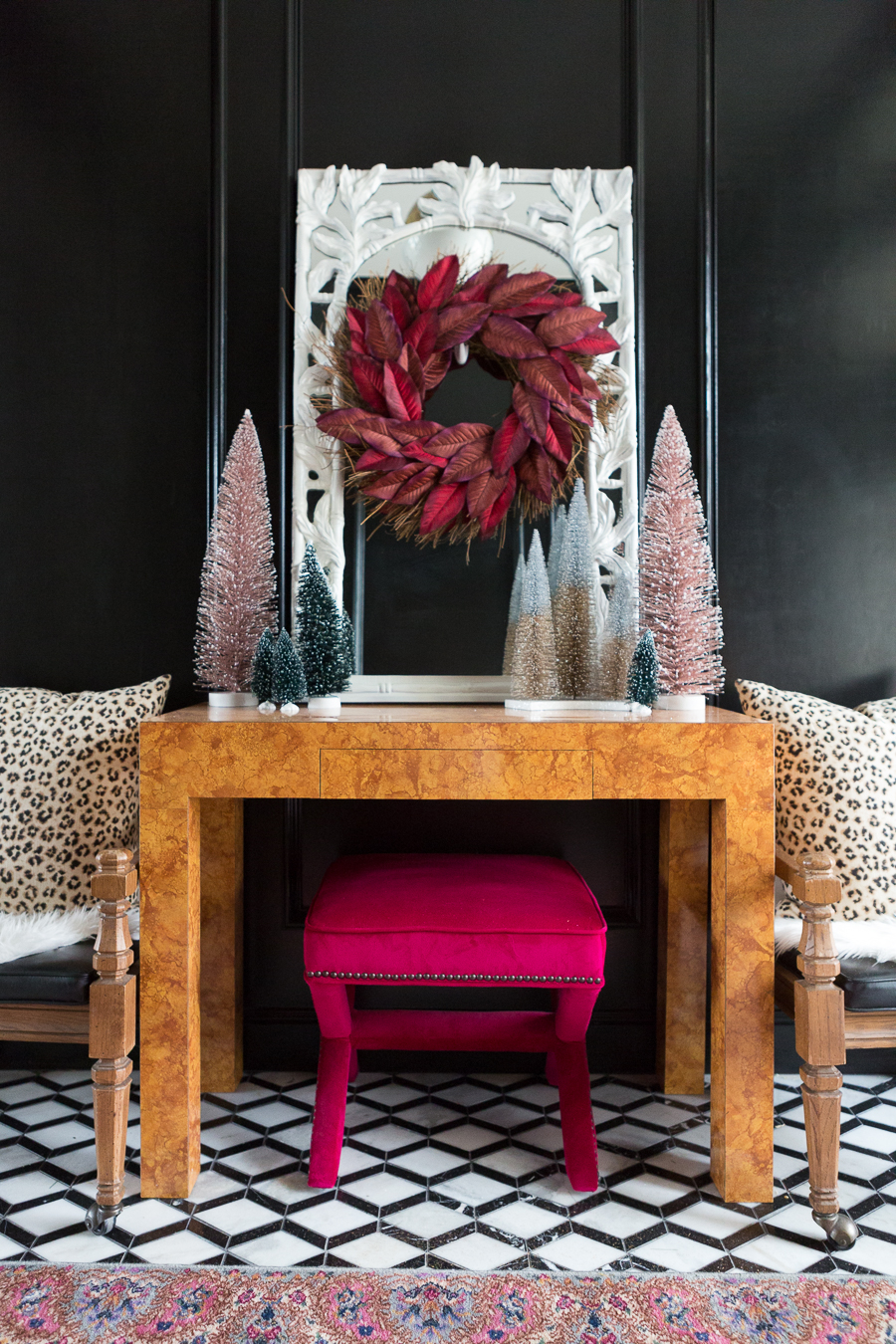 Next up I wanted to show you our main Christmas tree in the living room.  It is a 10 foot pre-lit King of Christmas flocked Christmas tree.  King of Christmas trees are an investment and are worth every penny in my opinion.  I personally love the flocked and pre-lit Christmas trees they offer but trust me, King of Christmas has absolutely any type of Christmas tree that suits your fancy.  Also, if you've been looking to invest in a nice Christmas tree, all their trees including this one are on sale right now.  So I would recommend buying one now for next year or if you haven't put your tree up, treat yourself to an early Christmas present and put one of these on order ASAP!
I went with a black and white, blush and copper theme this year and I'm loving it!  If you want to reduplicate this look, you can shop our ribbon and Christmas tree trimmings below.  The flowers are local from Hobby Lobby and the black and white striped ribbon that I used on my tree that I've been asked a lot about — well, I found it last year on clearance at good old Sam's club but I found the exact same ribbon for you guys from an etsy shop!  Don't forget the Sugar Paper boxes and wrapping paper and leopard ribbon to complete the look!
SHOP OUR CHRISTMAS TREE AND TREE DECOR: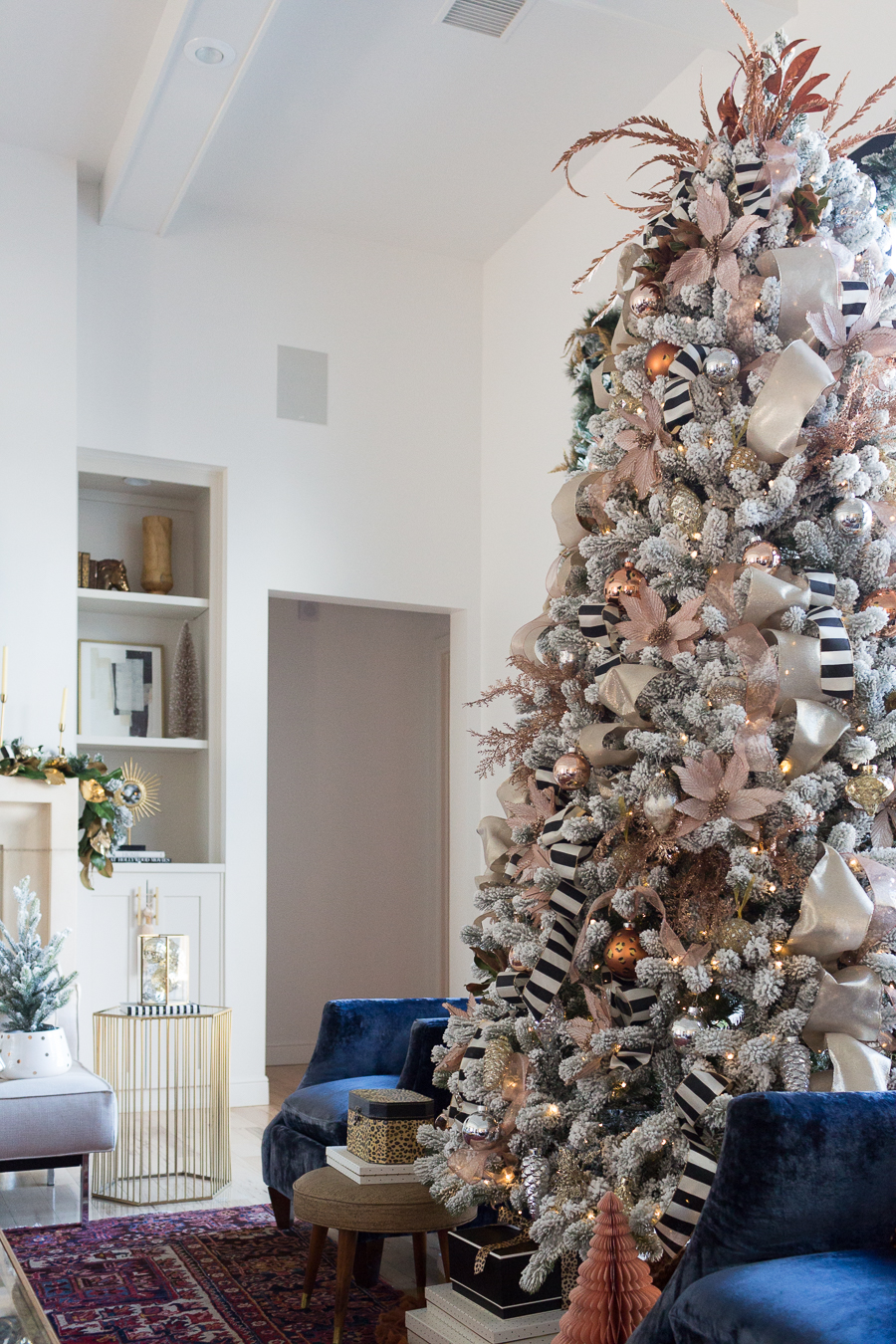 The focal point of my dining room and kitchen look is Walmart!  That's right, I absolutely love decorating my house using WalMart products because they are affordable and I love their holiday line!  For a great tabletop look, I've been using the Pioneer woman white cake stand and filling it with some cute Christmas ornaments or bottlebrush trees.  I also am obsessed with their gold lanterns and have been using them everywhere including my kitchen, dining, and outdoor areas.
SHOP OUR DINING ROOM AND KITCHEN CHRISTMAS DECOR:

SHOP OUR KITCHEN AND DINING ROOM FURNITURE AND LIGHTING:

The other place that has helped me get Holiday Ready is West Elm.  I am particularly obsessed with their tabletop accordion Christmas trees and I think everyone should have a set of these.  They fold up after you are done using them for easy storage and they are mess free which is amazing.  I also love their hexagon vases and gold candles and use them in all my holiday tablescapes and tabletop arrangements. Also, if you don't own one of their fur blankets, you are seriously missing out and they make great gifts as well.  You will see them pictured below in my living room.
SHOP OUR FAVORITE WEST ELM CHRISTMAS DECOR ITEMS:

There's that gold lantern and Pioneer woman cake stand combo paired with the tabletop tree arrangement.  Loving this combo, especially with that King of Christmas tree in the background!
SHOP THIS TABLETOP LOOK: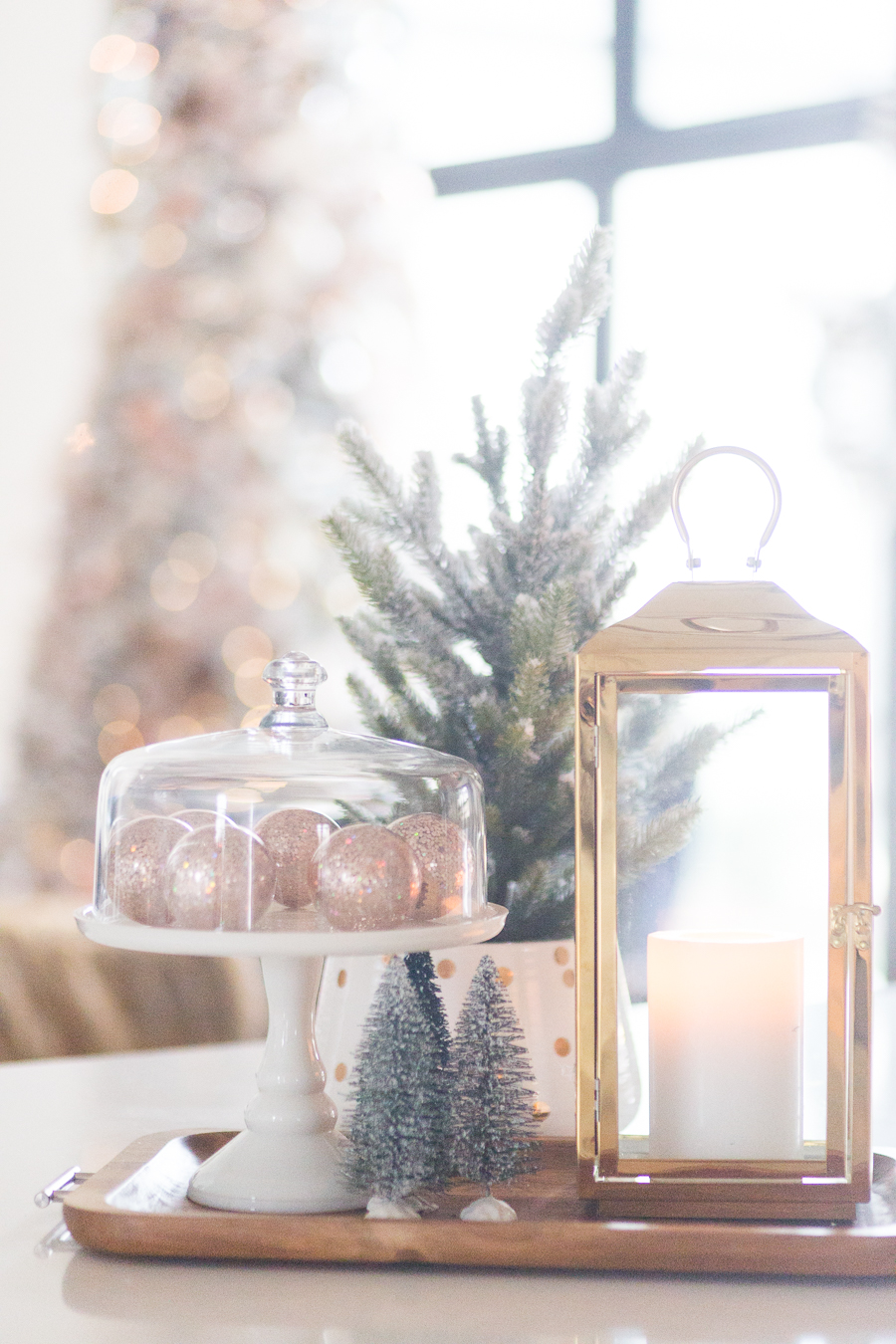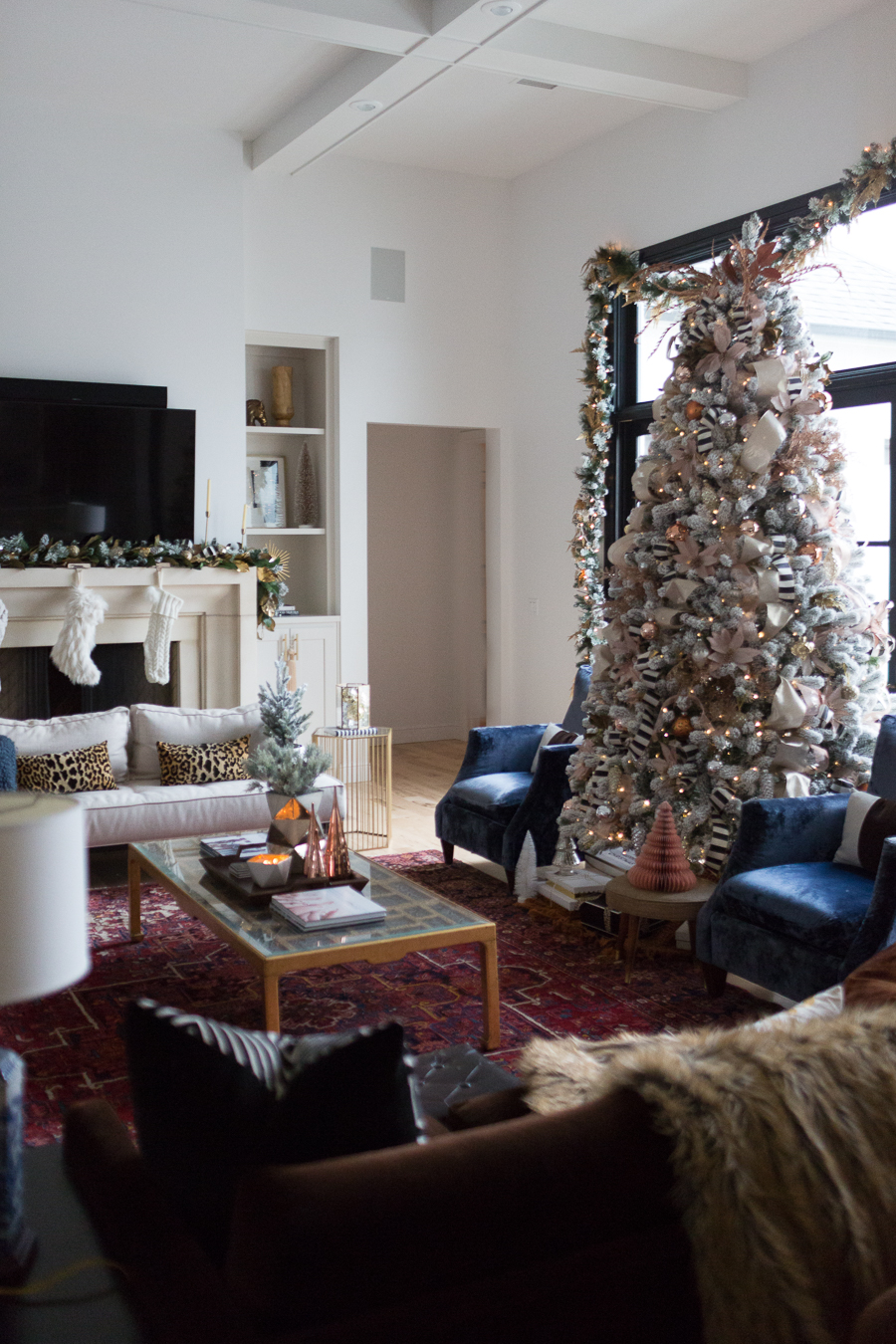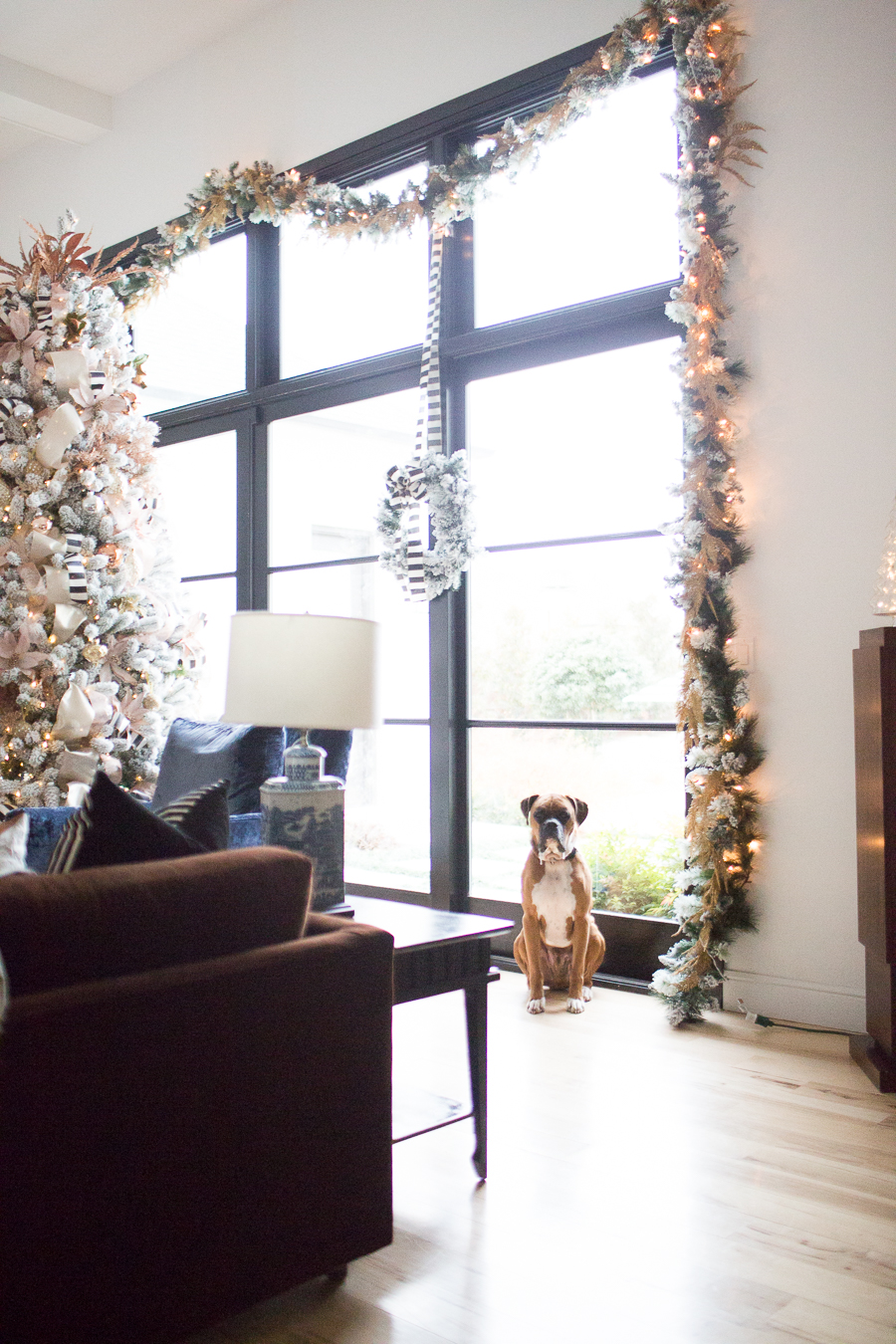 Here is another look at our dining room with our new 7.5-foot pre-lit and flocked Birmingham fir tree, also from  — you guessed it — Walmart!  I love it and it's so affordable!  Don't forget to pick up those accordion trees from West Elm too.  This picture shows how I used them on my tabletop!
SHOP OUR DINING ROOM CHRISTMAS LOOK:

My bold and colorful living room with it's jewel-tones, makes it difficult to decorate with a traditional Christmas-colored theme.  I went for a blush and copper themes with black and white ribbons on the tree and leopard and copper pillows.
SHOP OUR LIVING ROOM FURNITURE: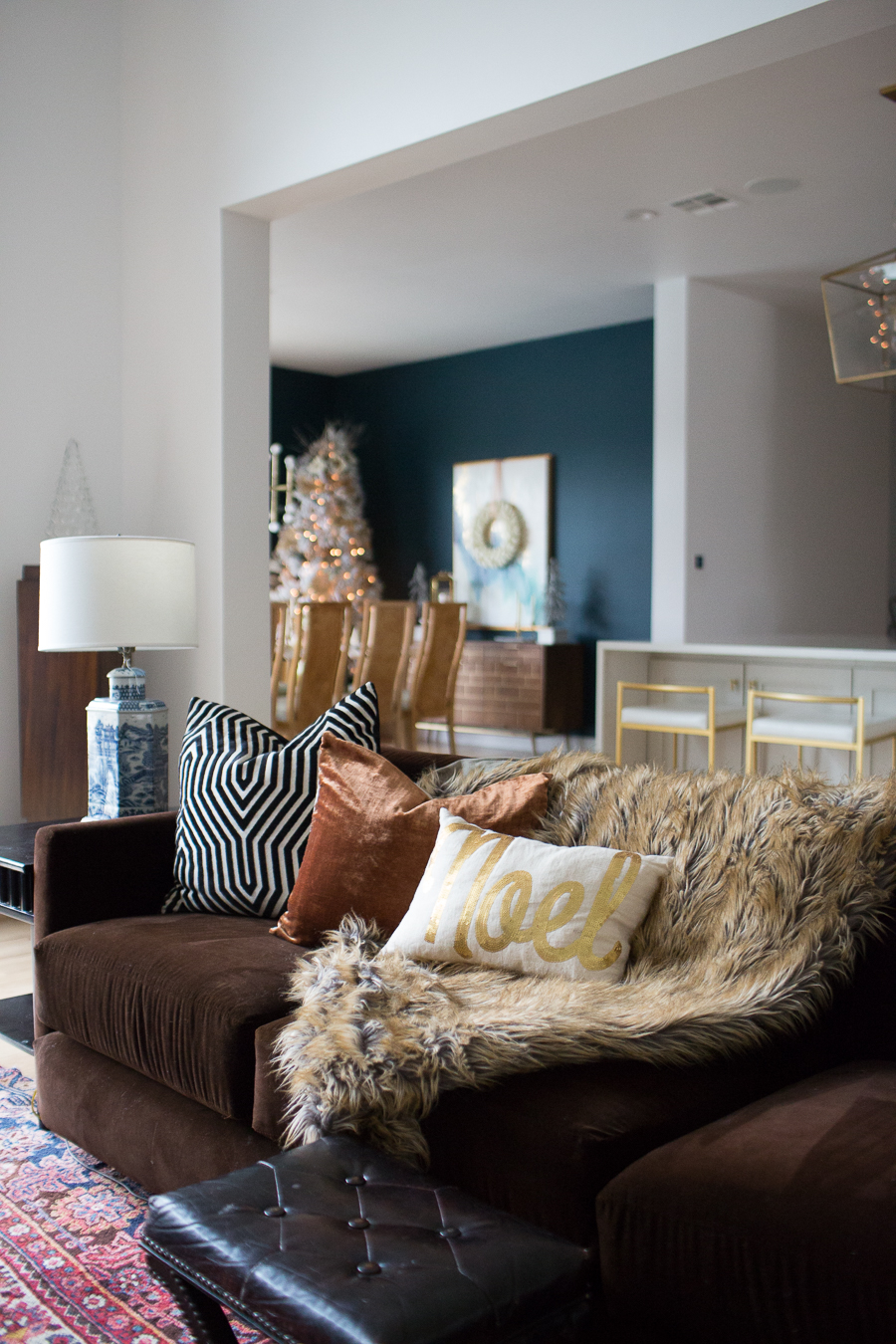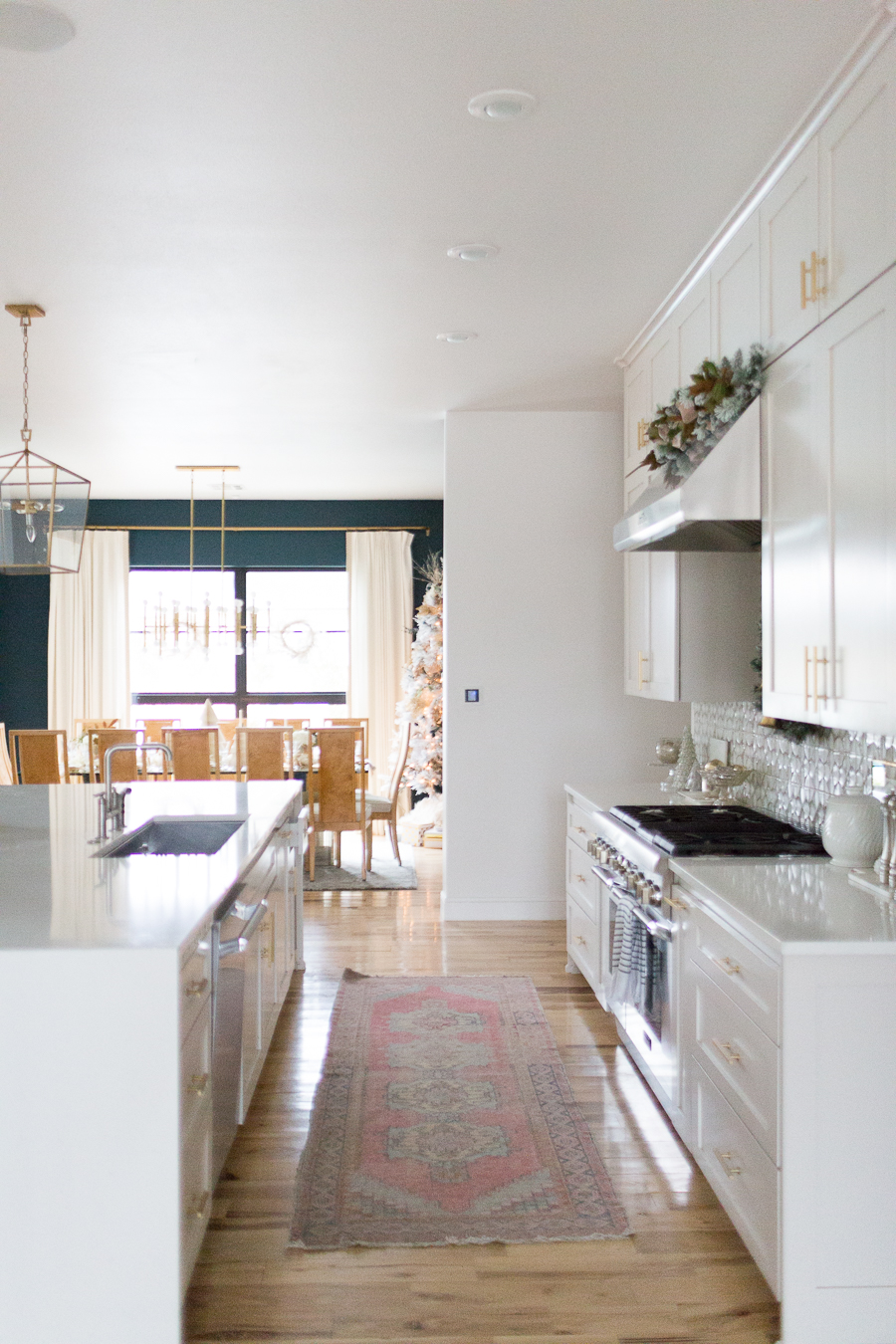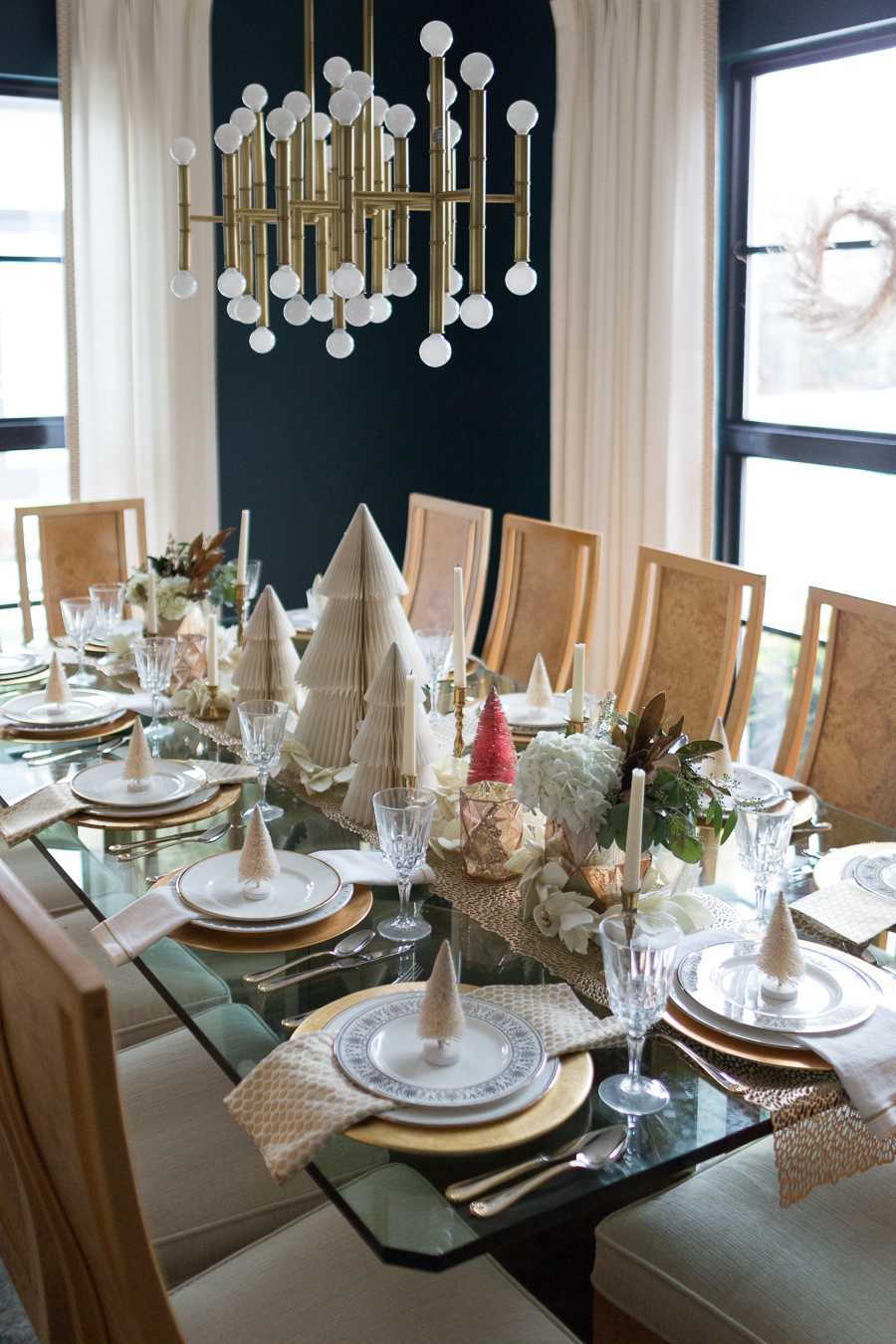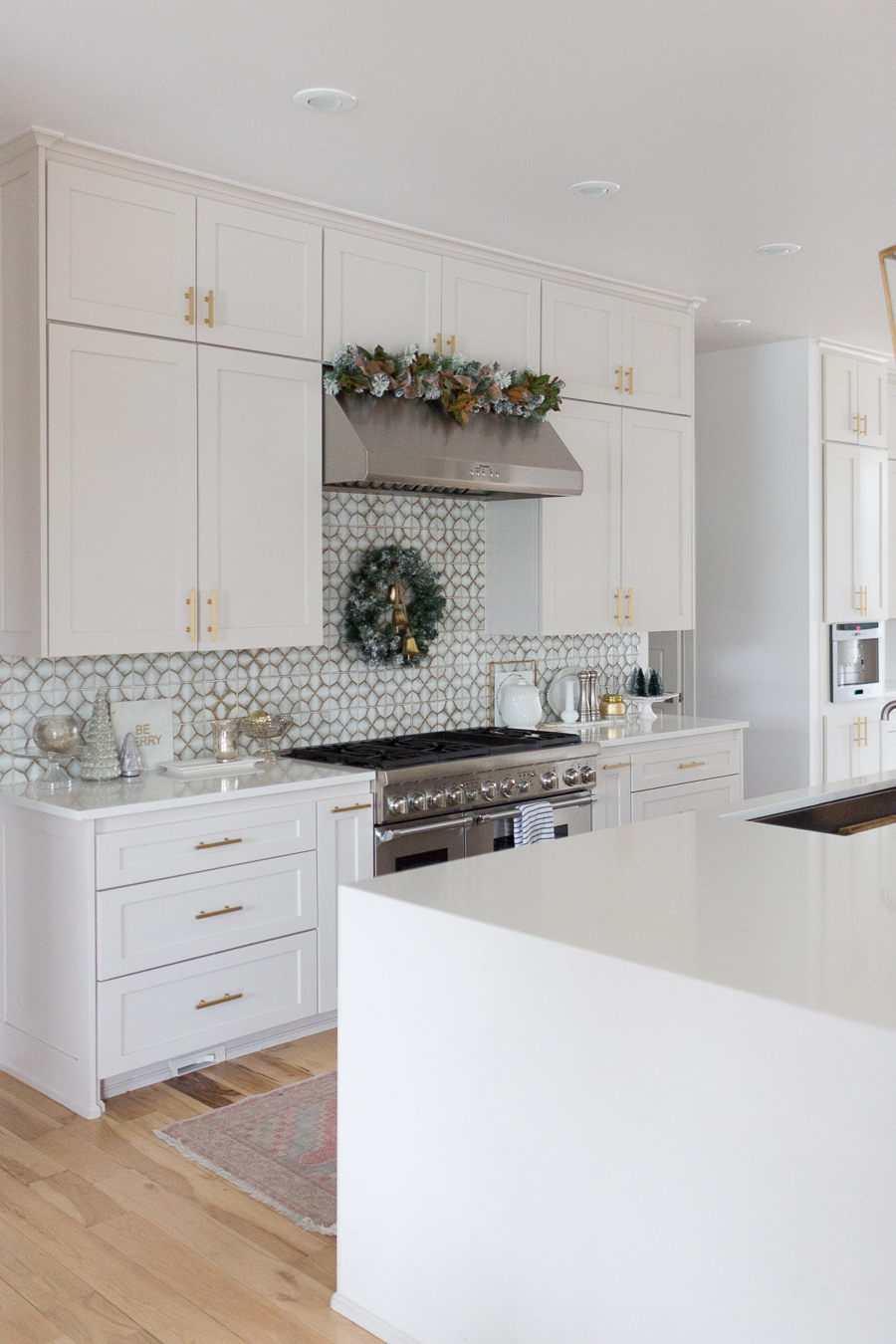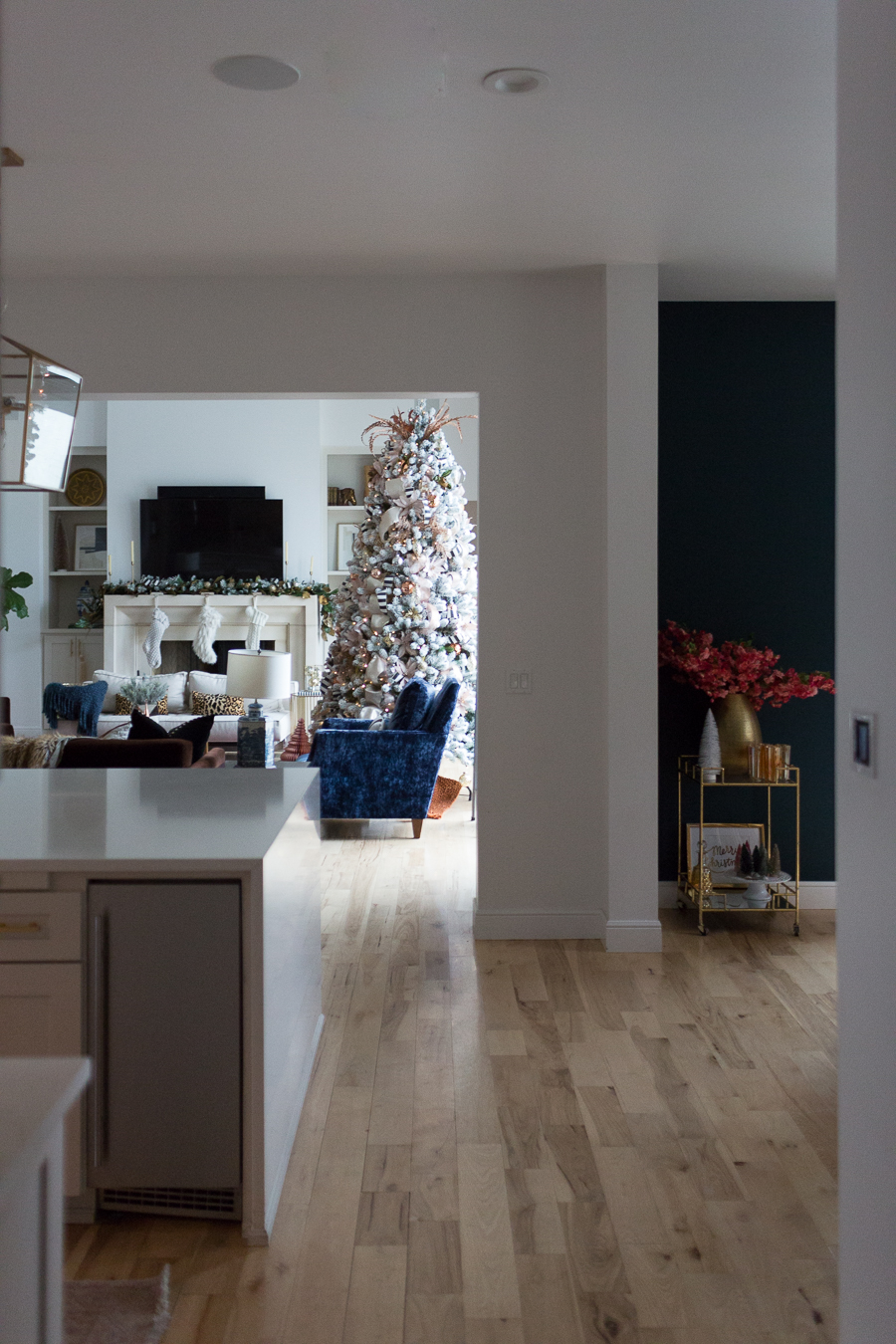 Thought I would share some candlelight photos as well!  Gold candlesticks are a must-have holiday decor item and West Elm has some of my favorites to choose from!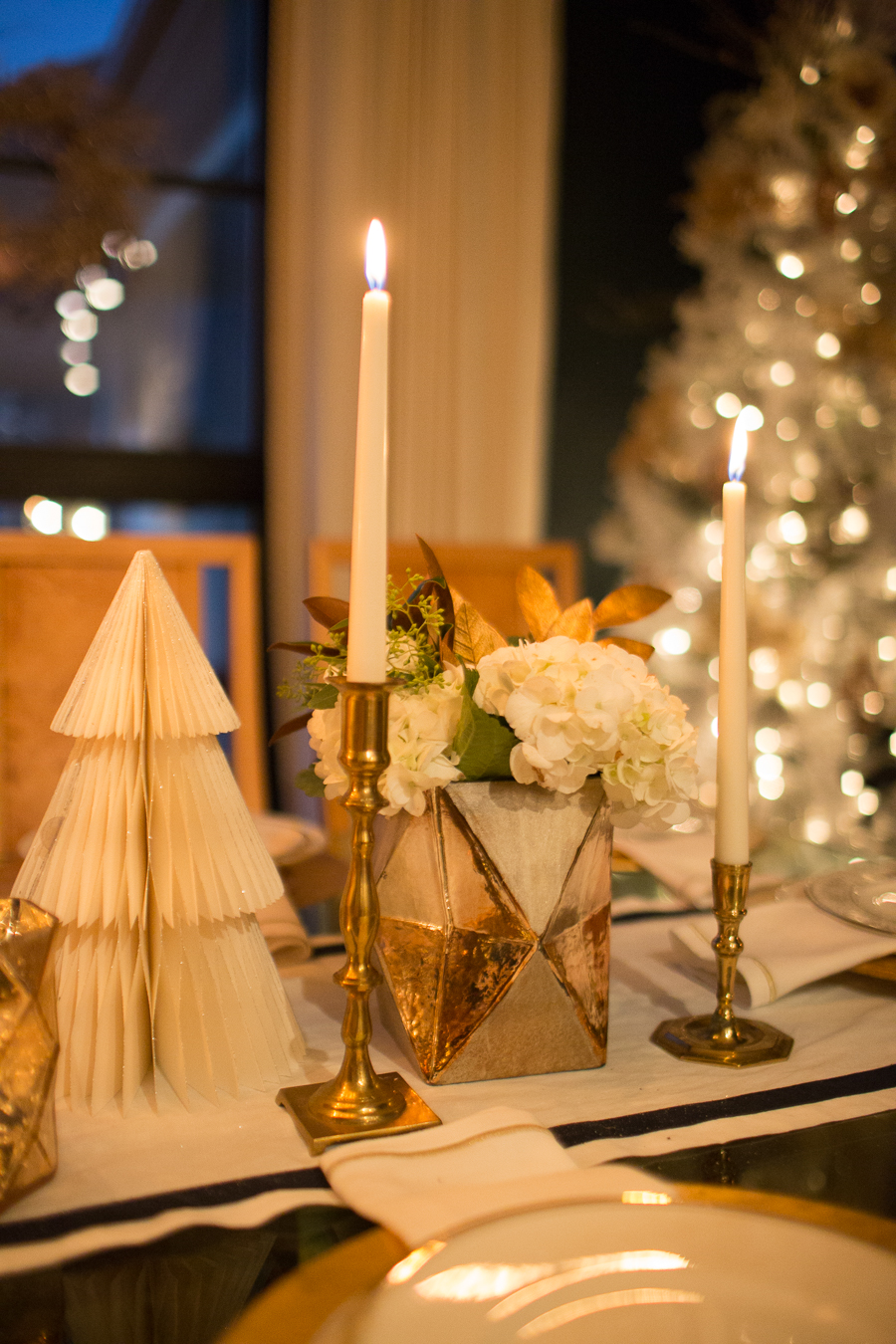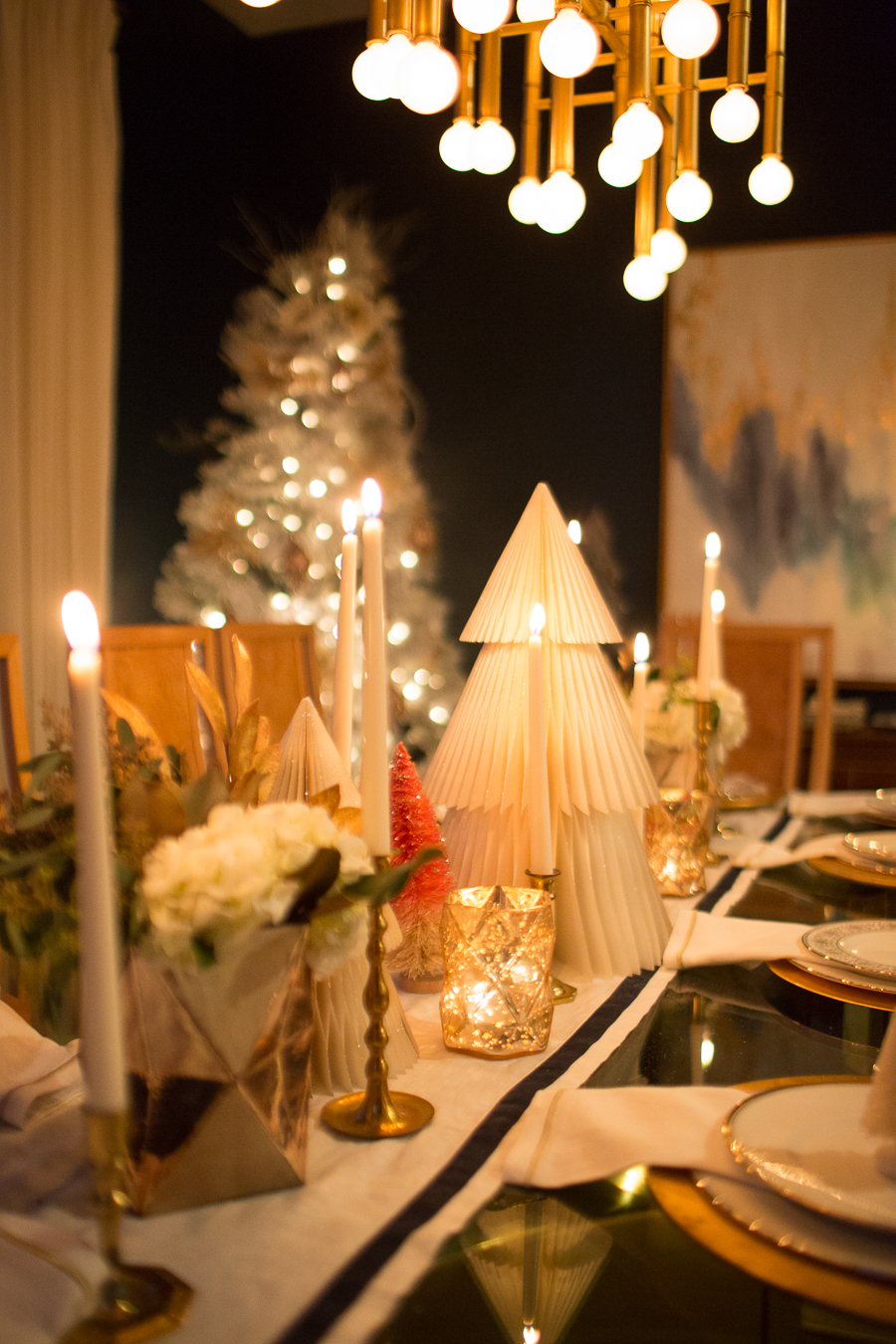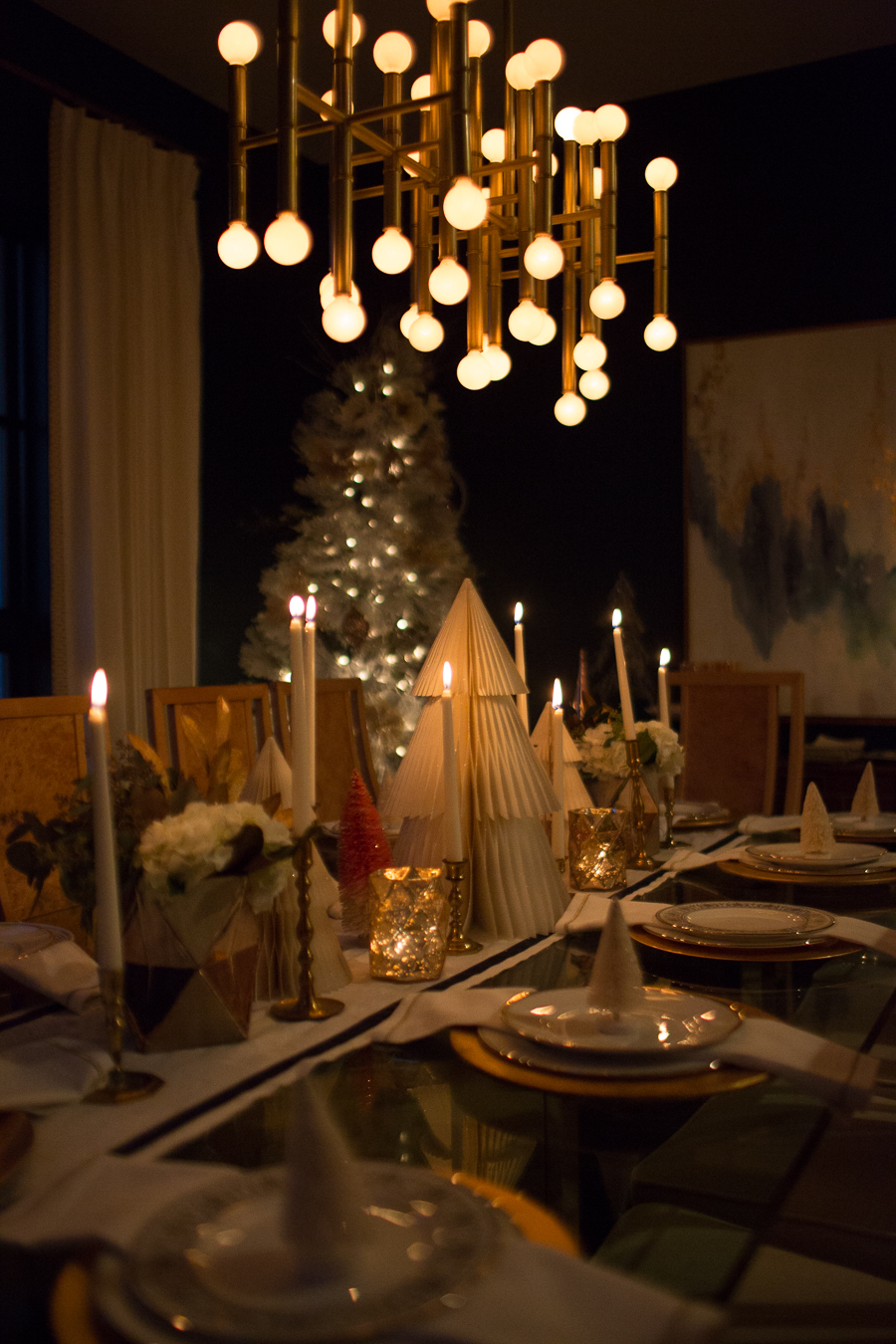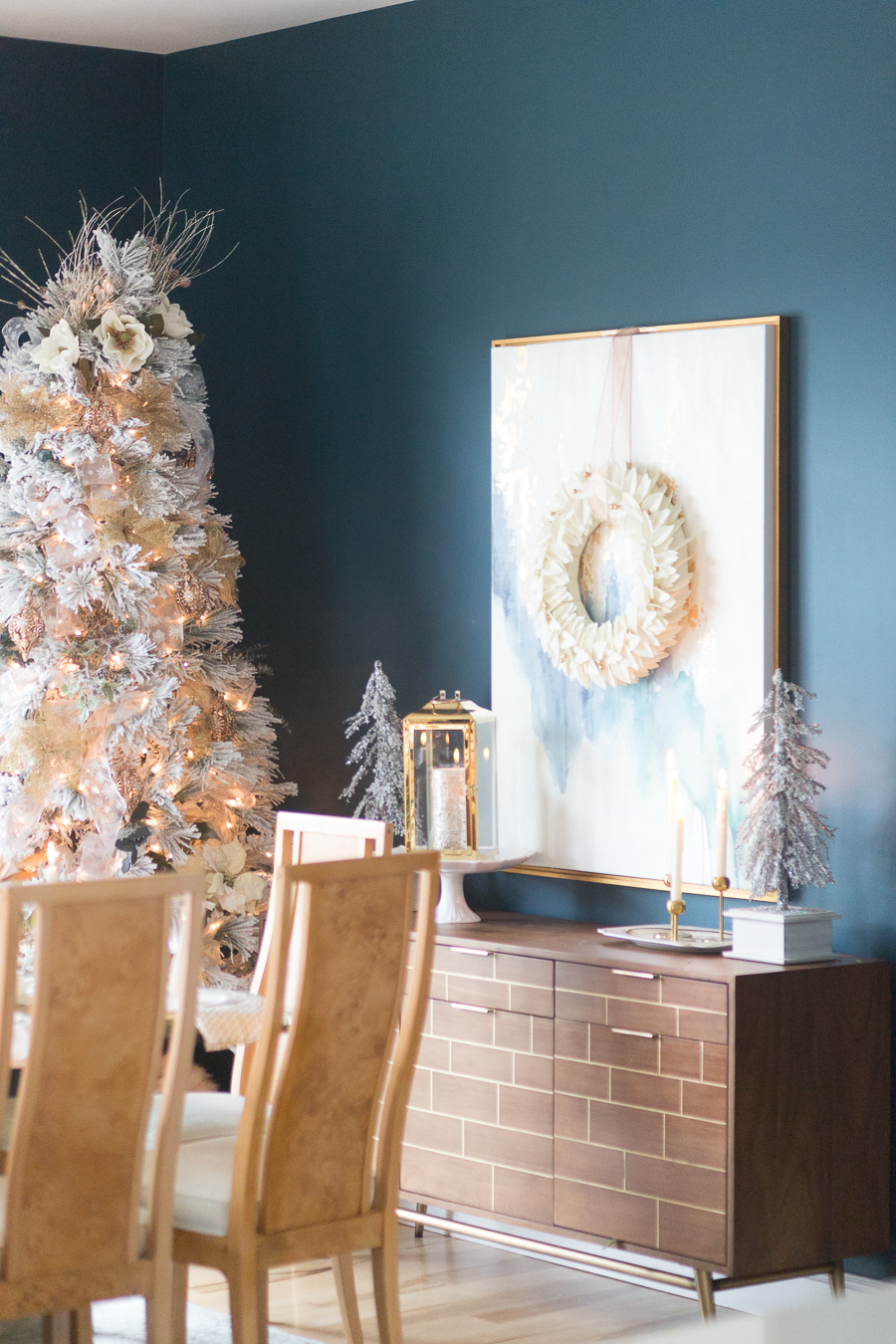 I love Wal-Mart's new felt wreath and felt garland and I used them both in our dining room this year!  I also love the mess-free, wipeable table runners that I bought from Wal-Mart this year! Let's be honest, I hate ironing and I'm so tired of having to iron table runners.  This new mess free table runner from Wal-Mart was the perfect solution!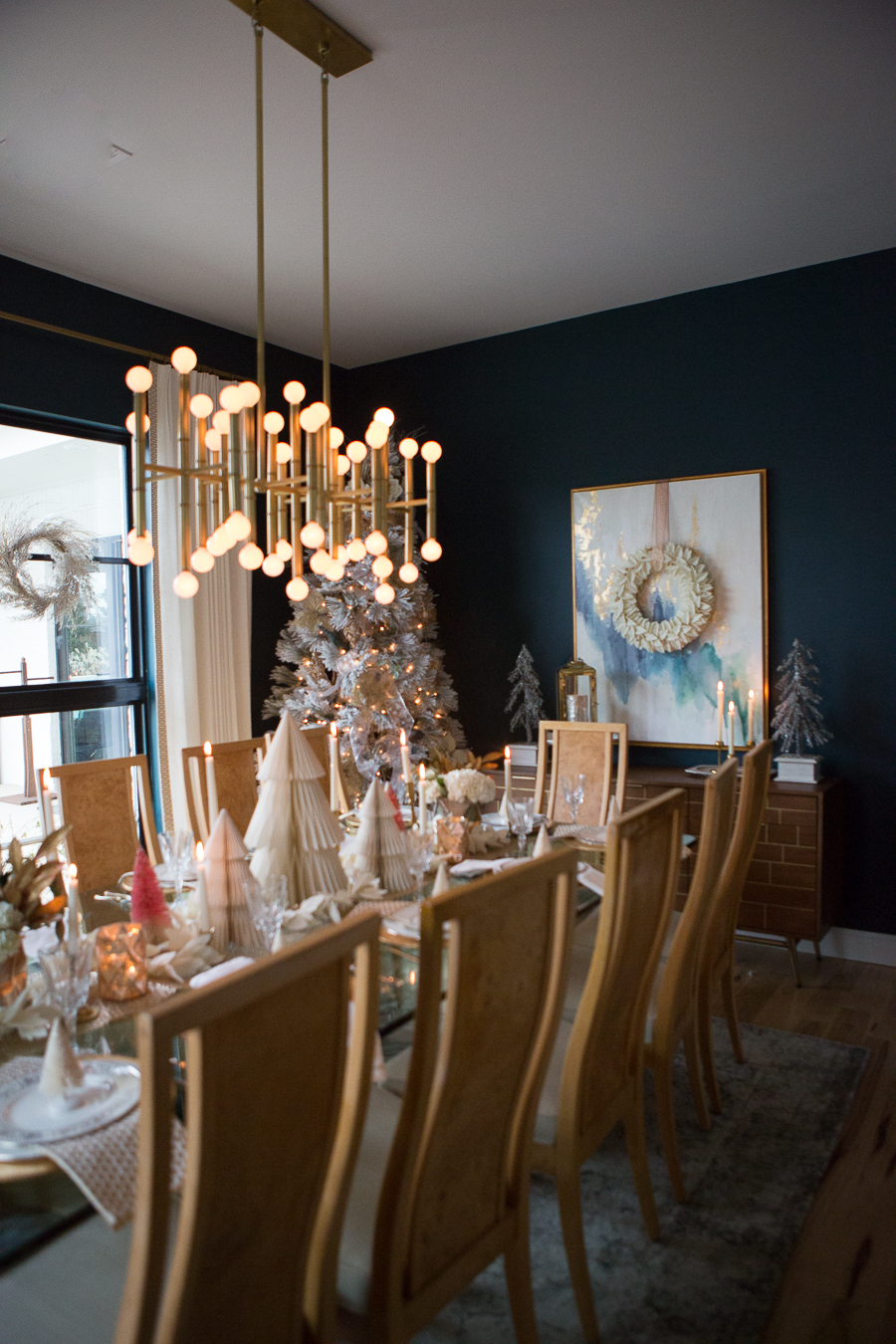 SHOP OUR FRONT PORCH PRODUCTS AND OTHER FURNITURE FAVORITES FROM THE HOME DEPOT: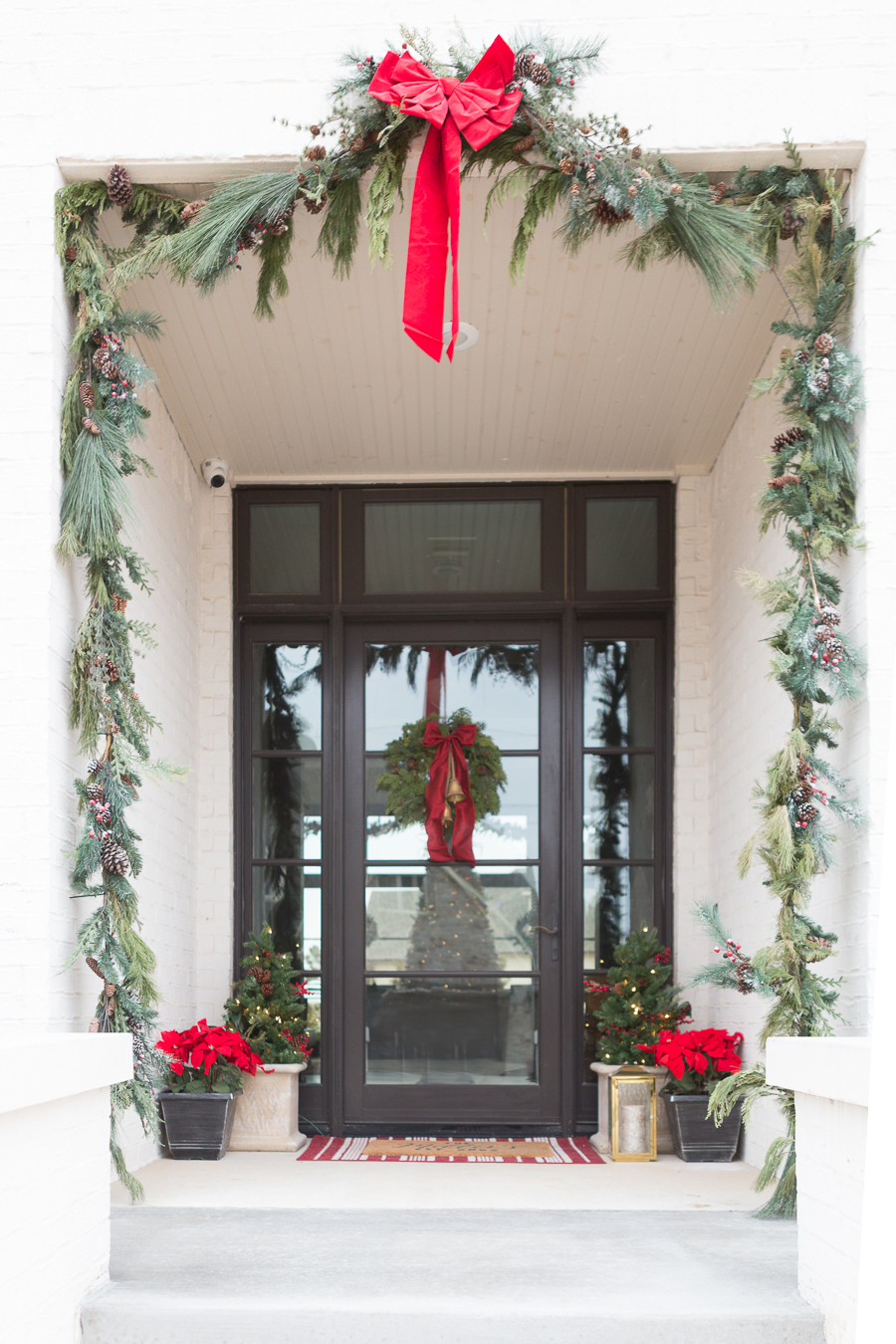 And here is on more view looking into the dining room at the new tree! Hope you enjoyed our little Home for the Holidays Christmas Decor Tour and most importantly, I hope you found some easy and affordable ideas that you can carry over into your own Holiday Decor! For more holiday gift ideas, you can check out our post on Holiday Gifts 2018 and for Holiday recipes, one of our holiday favorites is Oreo Peppermint Balls!
Thanks again for stopping by!