Today I'm joining 6 other bloggers to share the loveliest looks of fall, from home decor to fashion. We're so glad you're here!
We are CC and Mike, a husband and wife accidental design duo who designs, builds, flips, and remodels houses in the Midwest.  What is an "accidental design duo" you might ask? Well, two years ago we started an Instagram account to sell my print art and share some of our home projects.  Mike Miller had just built our house and I designed it, a hobby of ours since we were newlyweds, and we decided it was finally time to start sharing our passion.  Fast forward two years later and here we are on a journey we never could have expected,  designing, building, and remodeling homes for others now, and even doing projects like Society Restaurant and Elite Dance Studio. We have a lot of exciting announcements coming in the next month and we would be so very honored if you would follow along with us as we continue this journey of walking through the doors God is opening. You can subscribe to our blog to never miss an update and follow us on Instagram if you don't already for daily updates of what CC and Mike and our crazy crew are up to.  But for now….let us welcome you into our home (and closets – ha!) for the Loveliest Looks of Fall Home Tour where we are sharing some of our favorite fall decor and fashion. Be sure to stop by the other amazing women on this tour for more fall fashion and home decor inspiration —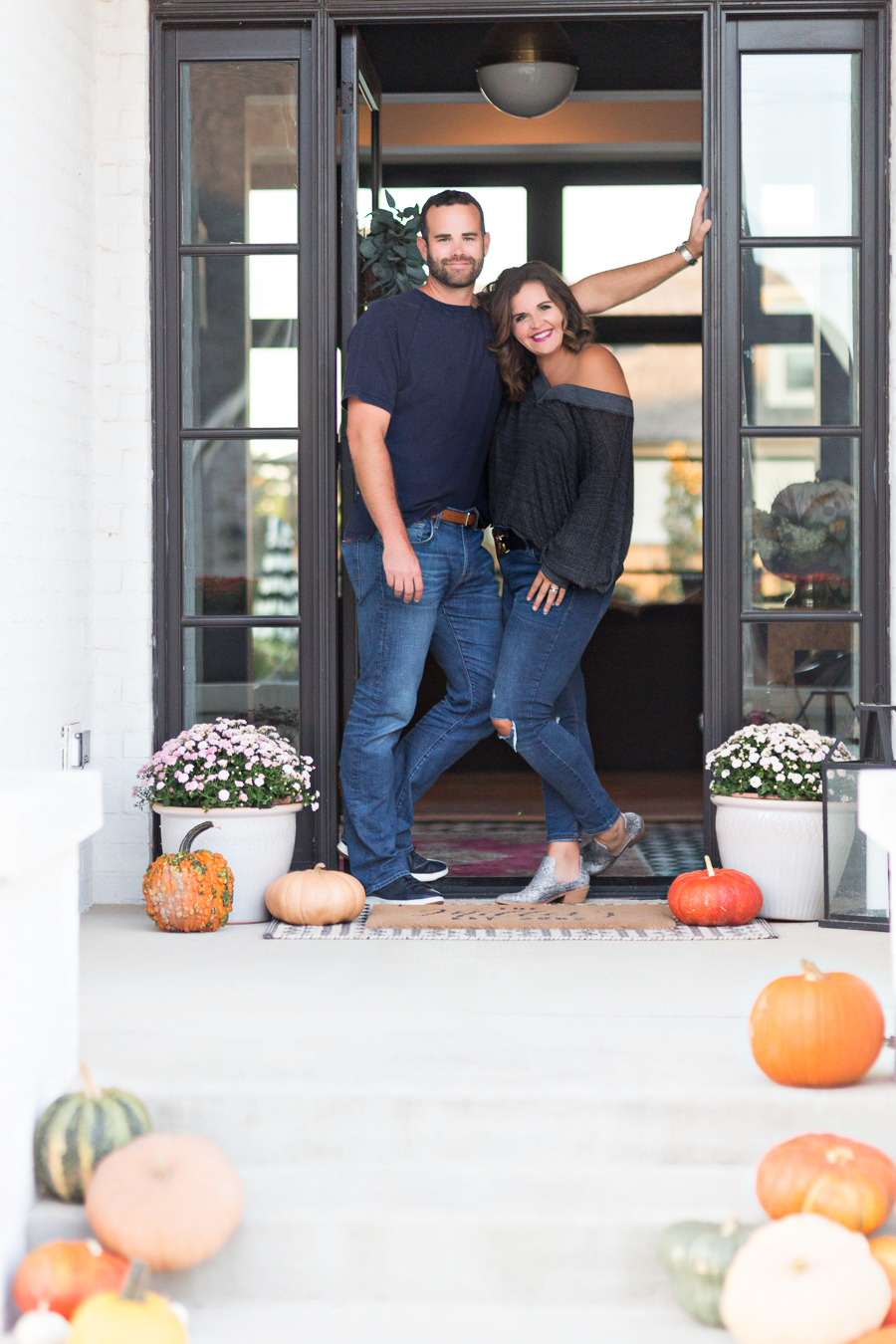 CC AND MIKE'S FALL FASHION FAVORITES
Before we start talking about fall home decor, we wanted to share some of our fall fashion favorites.  Obvi, I am going to have more recommendations than Mike Miller but we will have some fashion for both him AND her and as always, we will have both SAVE and SPLURGE options. As for SAVE options, you know my recommendation is always for Old Navy Rockstar jeans (I mean, you can snag these amazing jeans for $20 you guys!) and as for SPLURGE, well my number one recommendation for a fall splurge is these snakeskin Focus Booties. I can tell you I am really picky about booties.  I love them to be cute but comfortable which means no super high heels that I can't walk in.  The focus booties are JUST the right height to give you a little heel but not so tall that you are uncomfortable when walking around.  I would say they run just a bit big so if you are in between sizes, size down a half size. If you're feeling REALLY sassy, buy this Gucci belt as a splurge as well. It's pretty much an amazing accessory that takes even just a plain jeans and t-shirt ensemble and snazzes it up.  Is snazz a word? Surely it's in the urban dictionary or something? Well even if it's not, I'm leaving it because it should be a word.  But back to the Gucci belt…you can also look for one on Poshmark and you can get it for over half off if you're lucky. Last but not least, I highly recommend the Anthropologie circle bag I'm carrying (pictured below).  It's under $100 and is so on trend with the stitching and gold circle handles.  It comes in three colors and is a fabulous fall buy!
As for Mike Miller, well…he loves his Seven bootcut jeans and Cole Hahn shoes.  The Cole Hahns are a best seller and he now has them in navy and cognac.  I'm guessing black will be his next buy.  What can I say…when he finds something he likes, he just sticks with it.  But then again, I can't complain since I was his first girlfriend and he told me he would marry me when he was sixteen years old. I'm glad he's a —find what he likes and stick with it kinda guy. 🙂
CC's Look : 1. Focus Bootie  | 2. Gucci Belt | 3. Rockstar Jeans | 4. Southside Thermal Pullover  5. Bend &Snap Matte Lipstick  6. Anthropologie Circle Bag
Mike Miller's Look: 1. Goodfella Navy Shirt | Brett Bootcut Seven Jeans | Cognac Belt | Navy Cole Hahn Shoes 

If you would like more fashion posts, check out this post on my favorite high-waisted jeans for fall! And now, welcome to CC and Mike's for the Loveliest Looks of Fall Home Tour. First off, if you don't follow us on insta, then you haven't met our dog Oscar and we must remedy this situation.  Oscar is our crazy boxer who opens doors  (no seriously, he opens doors) and goes on excursions all over our neighborhood, even opening neighbors front doors and letting himself into their home.  He drives us absolutely crazy with his antics but life would not be complete without him.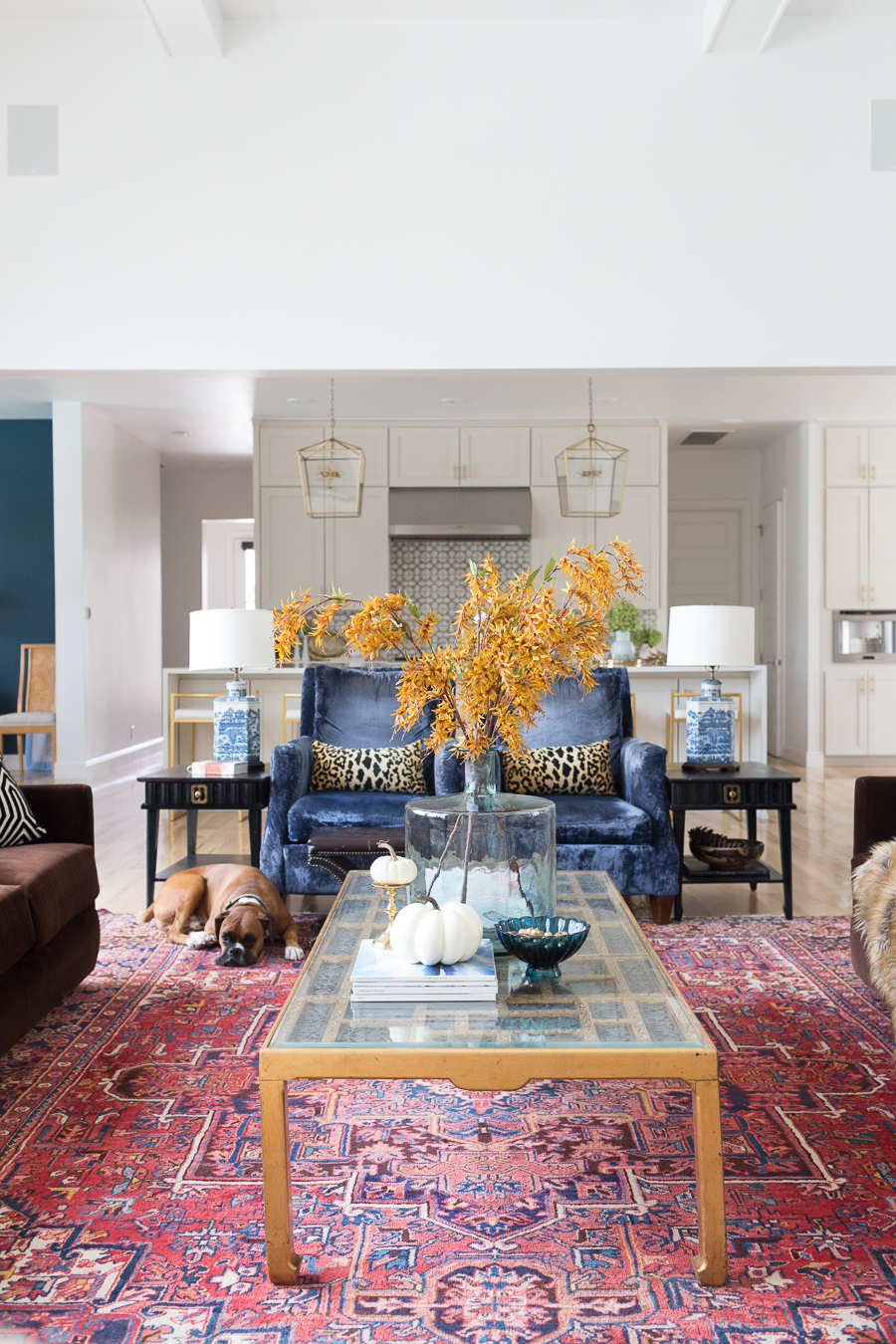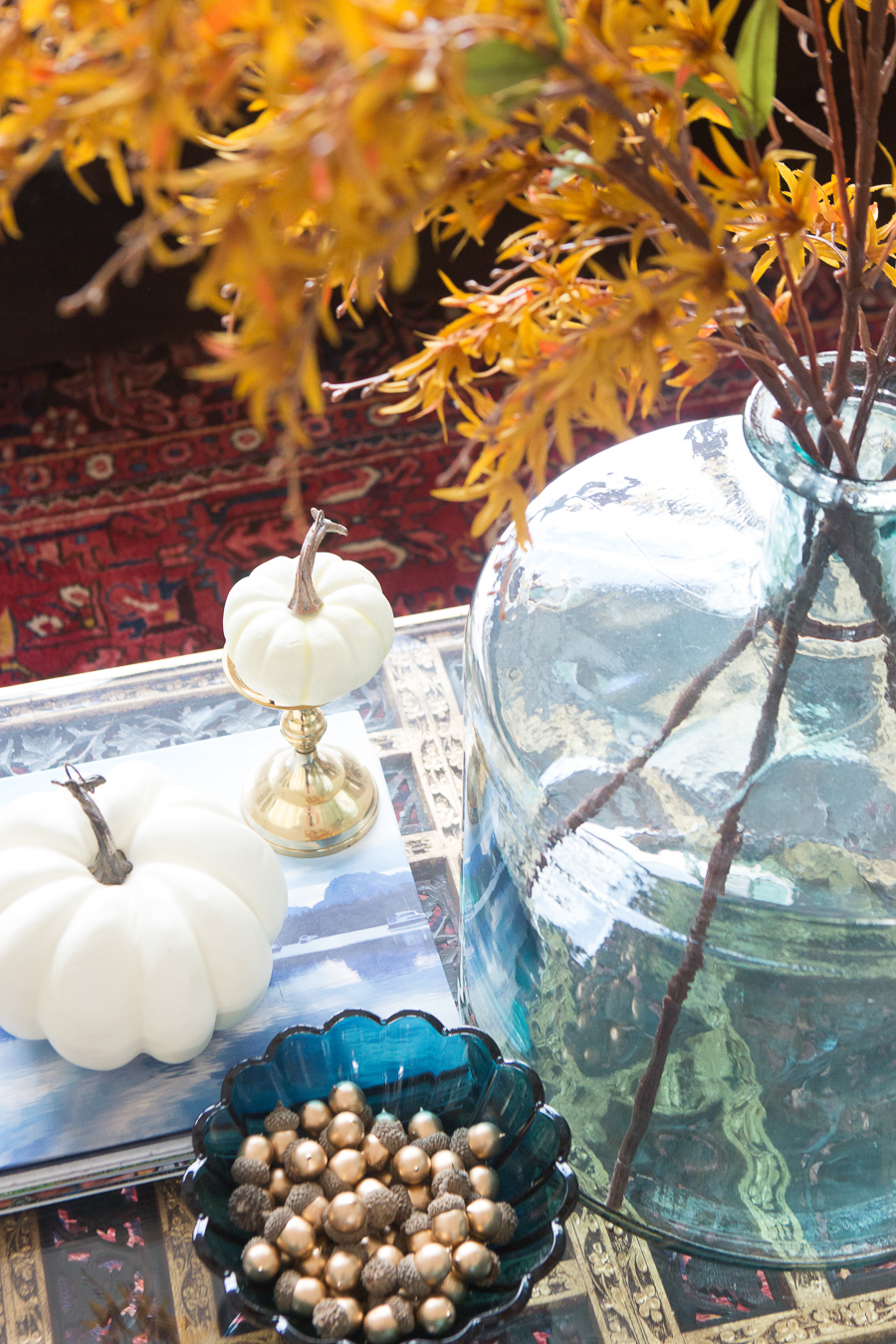 Next up on our fall home tour, you will see how I used a variety of stems, white pumpkins, velvet pumpkins, gold acorns, and candlesticks to bring fall to our home.  First of all, I can NOT recommend enough that you buy the fall stems that I bought from Pier1 this year, specifically the FAUX MUSTARD SPIDER LILY STEM. You guys, I went to Pier1 three times while I was decorating for fall because I just wanted more, and more, and MORE of them.  They are hands down the best decor item I bought for fall and they are such an easy way to bring fall to your home.  Simply throw the mustard spider lily stems in a vase that you already have, or you can buy one of the large vases I am going to recommend below, and with these stems from Pier One, you will have the feel of fall in your home instantly!  Here are the fall stems I recommend from Pier One and Pottery Barn. The Blue Vanda Orchid Spray Stem is also a gorgeous pick from Pier1 and I highly recommend it as well.  As you will see below, I used it in my dining room and I am now wanting to make a return trip to buy some for my breakfast nook as well! I also recommend Olive branches for year round use.  They are nice to put into a vase with some of the fall stems to add filler and just create a fuller look.  I use my olive branches year round!
Also of notable mention is this new blue Magnolia serving bowl that I filled with gold acorns. I'm loving this color for fall and it pairs so well with the Pier1 stems that I recommended.  Pair it with some gold acorn vase fillers and you have a great little fall tabletop accessory.
SHOP OUR FAVORITE FALL STEMS (Scroll and tap on the bottom of the picture to buy)

SHOP OUR FAVORITE FALL PUMPKINS (Scroll and tap on the bottom of the picture to buy)
My favorite pumpkins this year were the clear glass pumpkins from Pier1 which were a fraction of the cost as compared to the Pottery Barn pumpkins (so there is another SAVE) for you guys, and the white ceramic pumpkins from TJ MAXX! Honestly, I think TJ Maxx had the cutest pumpkins out there (that's where I got my hello fall pumpkins and they have some striped black, white and gold pumpkins that are ADORABLE. I also bought the set of 4 Matte White Ceramic baker set of pumpkins at World Market last year and use the heck out of them.  If you don't have them, I recommend picking up a set!
I am also in love with velvet pumpkins. I just like to put a splash of them here and there, so I picked up this set of 3 velvet pumpkins from an etsy shop.  They are cute for putting on a plate on your kitchen countertop our in your dining room.  I've also seen designers use them in mantle displays and just about everywhere.  I love the set of 3 to start out but I also ended up picking up two of the larger velvet pumpkins as well – my favorite colors are white, taupe, and gray but they are all gorgeous!

SHOP OUR FAVORITE FALL VASES HERE:
If you like the look of my extra large recycled glass vase I recommend buying the PB Found Oversized Wine Bottle Vase.  I found my vase at Marshall's in Tulsa but unfortunately, they are no longer available. If you like the look, the Pottery Barn vase will be similar. I also highly recommend the teak vases that Target has right now.  They are so gorgeous and each one is unique, which I love. You will see that I use on in my kitchen for styling my countertops for fall.

SHOP OUR LIVING ROOM HERE:

Next up on our Loveliest Looks of Fall Home Tour is our kitchen. Kitchens are hands down my favorite place in the home to design.  It's ALWAYS the room I start with, whether I'm designing for myself or for a client.  There is just something about the kitchen — it's the place where we gather, host, entertain, and make so many family memories.  The hallmark of my kitchen design is the large 12 foot quartzite waterfall countertops paired with Ann Sacks honeycomb tile and of course, last but not least, the Regina Andrew gold lanterns.  For my fall kitchen styling I just used a simple vase and the large Mustard spider lily stems from Pier1.
Also, if you are looking for some good recipes, don't forget to check out some of our CC and Mike Favorite's like our Oreo Madness Recipe, or our Feta Bean Dip, OR our pumpkin sheet cake which is THE ultimate fall recipe.  Trust me, you're going to want to take this to all your fall parties (see this amazing yumminess pictured below)!

SHOP OUR KITCHEN PRODUCTS HERE:

SHOP OUR DINING ROOM LOOK HERE:
Don't forget to grab some of these gorgeous Blue Orchid Stems  that I used in our dining room for fall and honestly, I will probably be using them year round.  I passed on them my first trip to Pier1 then couldn't stop thinking about them so I went back and bought them.


SHOP OUR BREAKFAST NOOK HERE:
Our Breakfast nook was a total SAVE (not splurge)….we redid the whole thing on less than $500 for the One Room Challenge and ended up getting featured on House Beautiful!  It is one of my favorite rooms and it features the Elodie rug and some vintage wishbone chairs that we refinished and recovered.


SHOP OUR MASTER BEDROOM HERE:
My bedroom was my favorite room to decorate for fall.  The painting above our bed was painted by Mike Miller's grandma and I've been wanting to use it in my fall decor for years.  Mike's mom was so sweet to drop it by for me and after trying it out in 5 different rooms in our house, I finally decided on putting it here.  All of our pillows are by the amazing Little Design Co and my favorite fur throw you see on our bed is the Woven Worx throw from Hayneedle.  It's a fall and winter must have in my opinion as well.


OK, last but not least on this Loveliest Looks of Fall Home Tour, I wanted to share some comfy fall fashion because let's be honest….we all know that loungewear in the fall is a must.  I mean, who doesn't want to cozy up by a fire with a throw and a cup of coffee or wine and read a book or binge watch Netflix.  I know I do.  So…I wanted to share all my favorite loungewear with you from Aerie.  You guys, the products I'm about to tell you about, I can not recommend highly enough.  Especially the play pocket jogger pants.  I don't think I've ever put something so comfortable on my body before.  They are also slimming AND so cute and on trend.  Oh yes, and did I mention they are affordable!?!  Here they are so you can get a visual of what they look like. I bought them in two colors and am not at all embarrassed to say that I'm going to grab a third! Here is my favorite loungewear including the camo jogger set I'm wearing (above), Ugg slippers (a must for fall and winter), and the play pocket joggers with the Side Snap hoodie!
SHOP MY FAVORITE FALL LOUNGEWEAR HERE: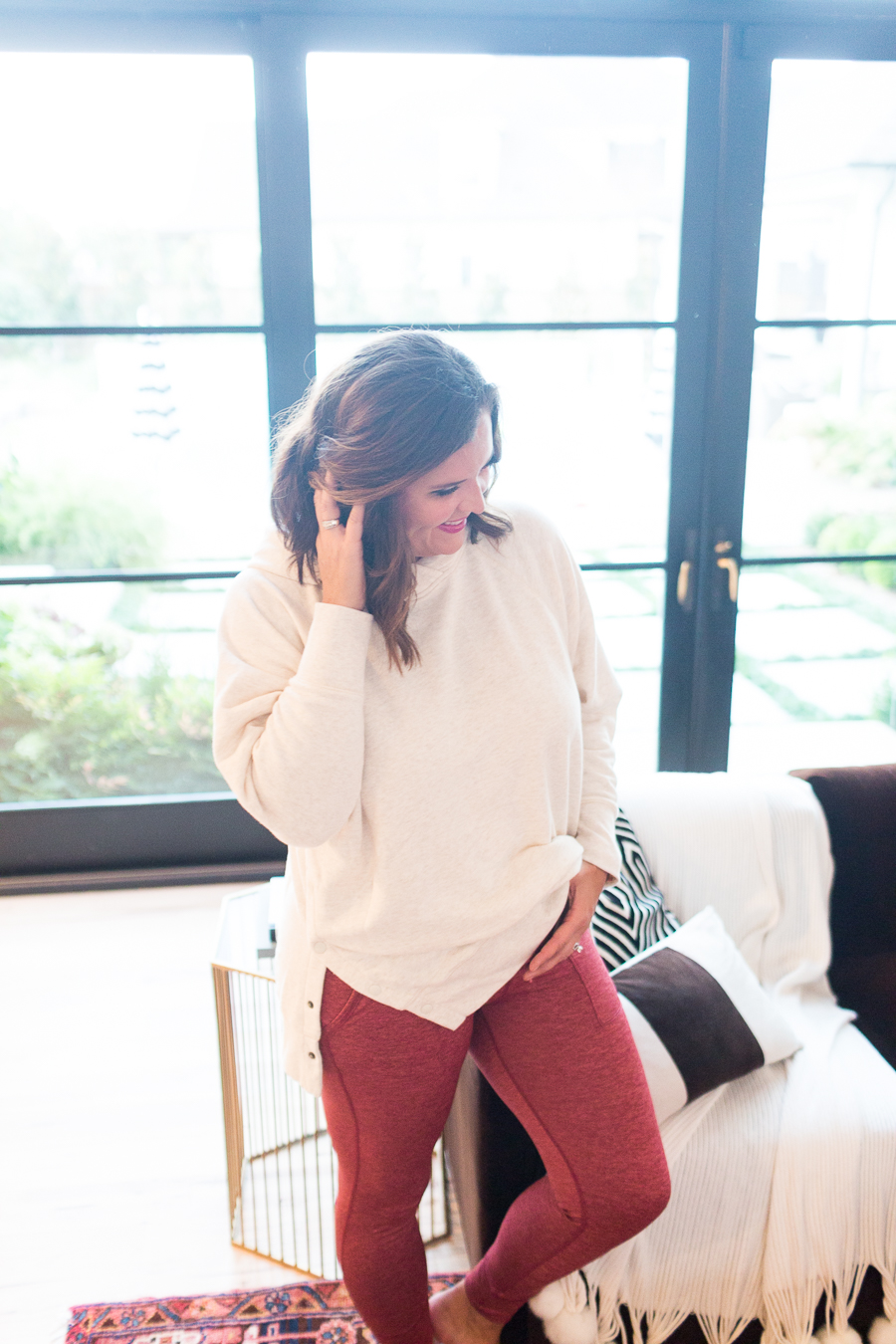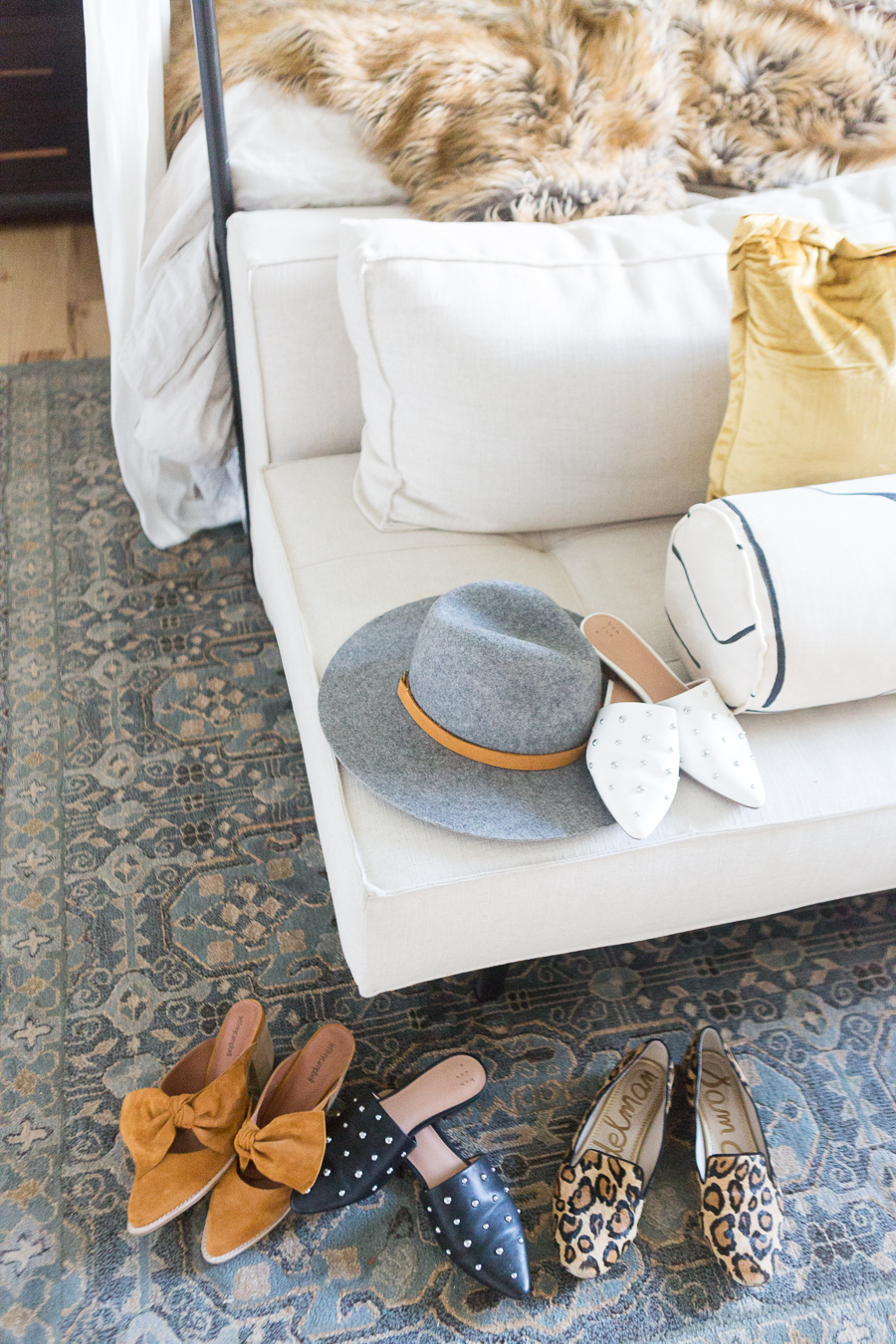 SHOP MY FAVORITE FALL SHOES HERE: 
This fall is all about studded mules, bow mules, cognac slide-ons, and cute little leopard flats.  Find all my favorites and must-haves (including my Jeffrey Campbell mustard bow mules and Kari studded slides) which I can't recommend enough!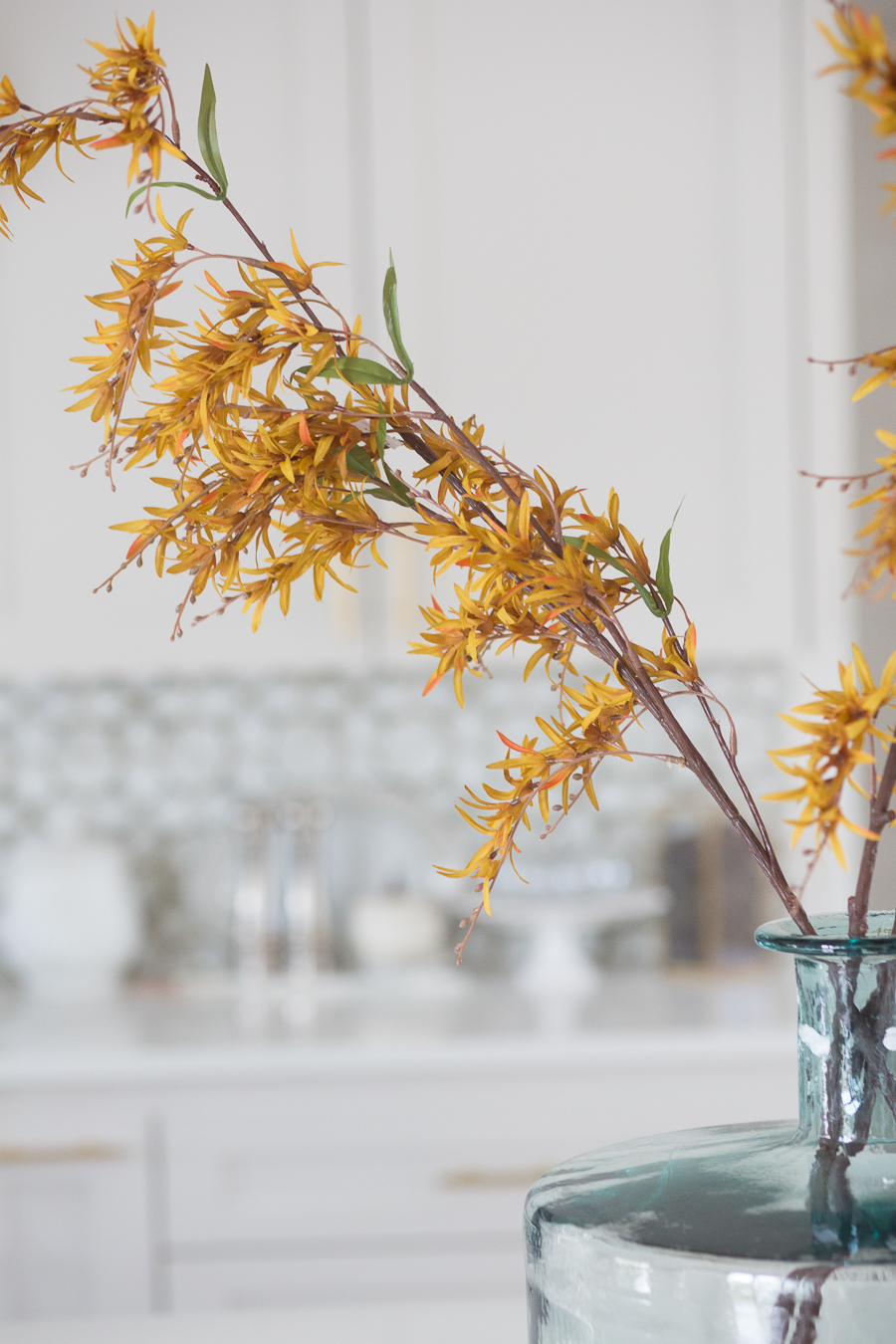 Here is a beautiful pumpkin centerpiece I made for our Loveliest Looks of Fall Home Tour and I will be sharing a tutorial on the blog in coming months!
SHOP OUR ENTRYWAY HERE: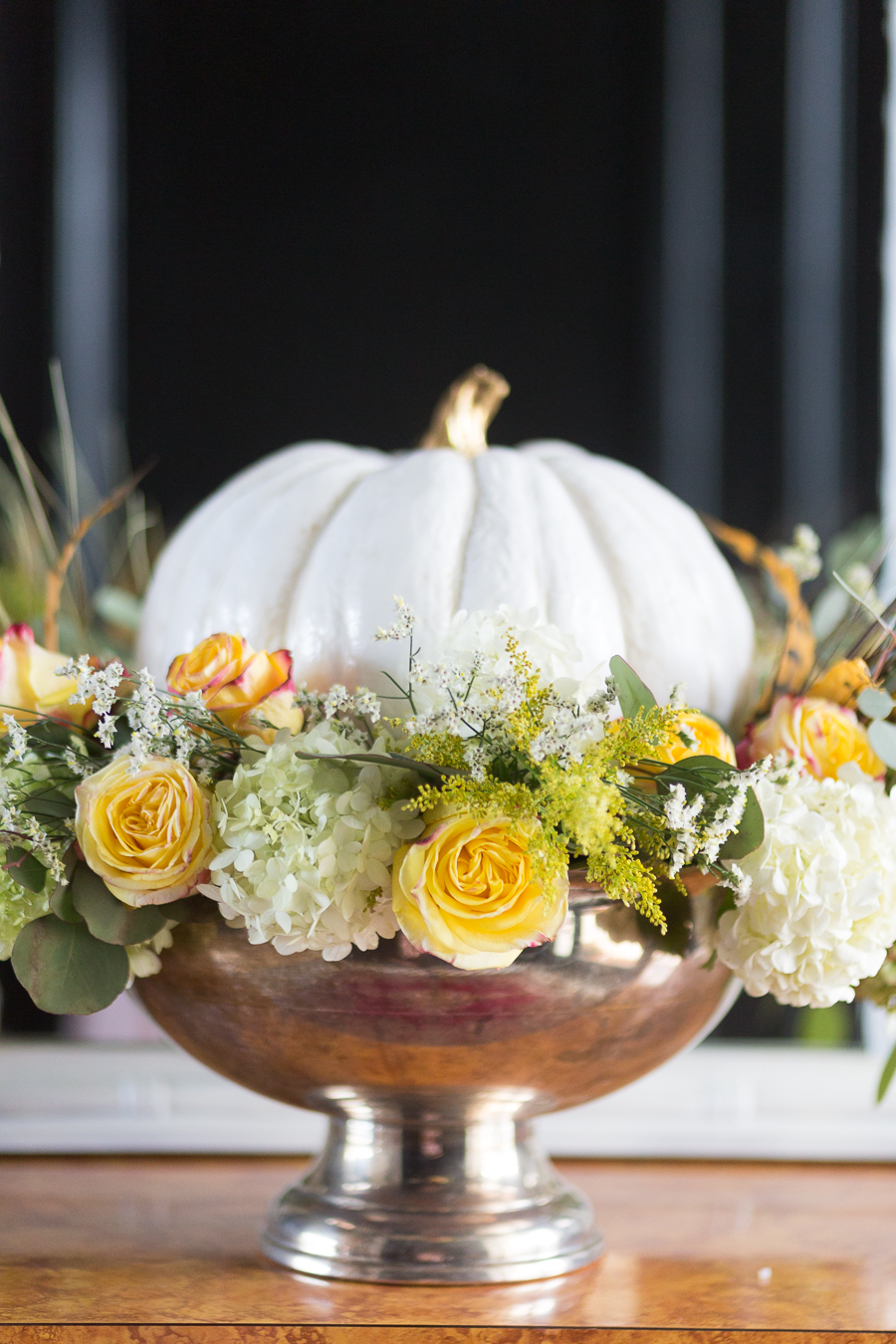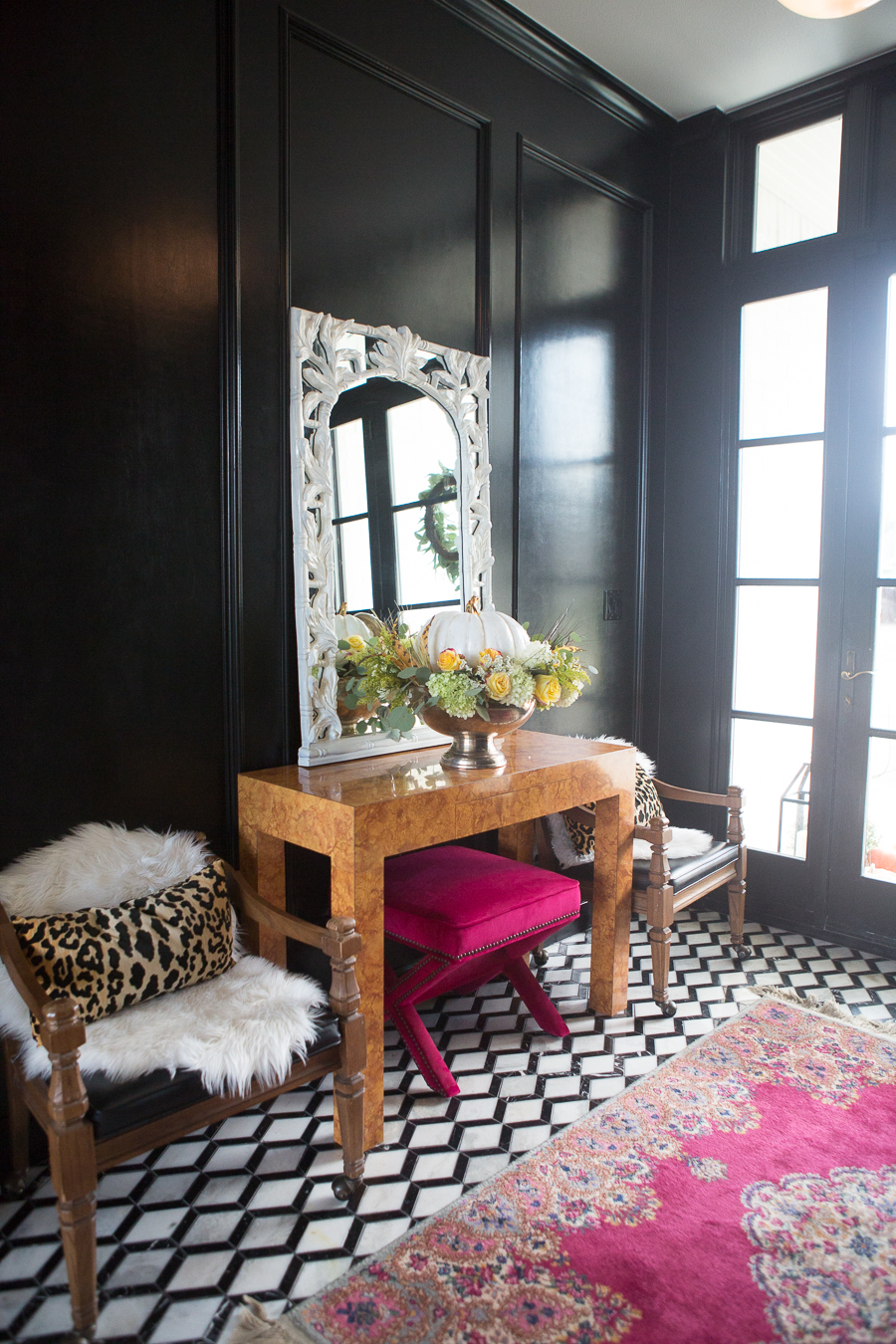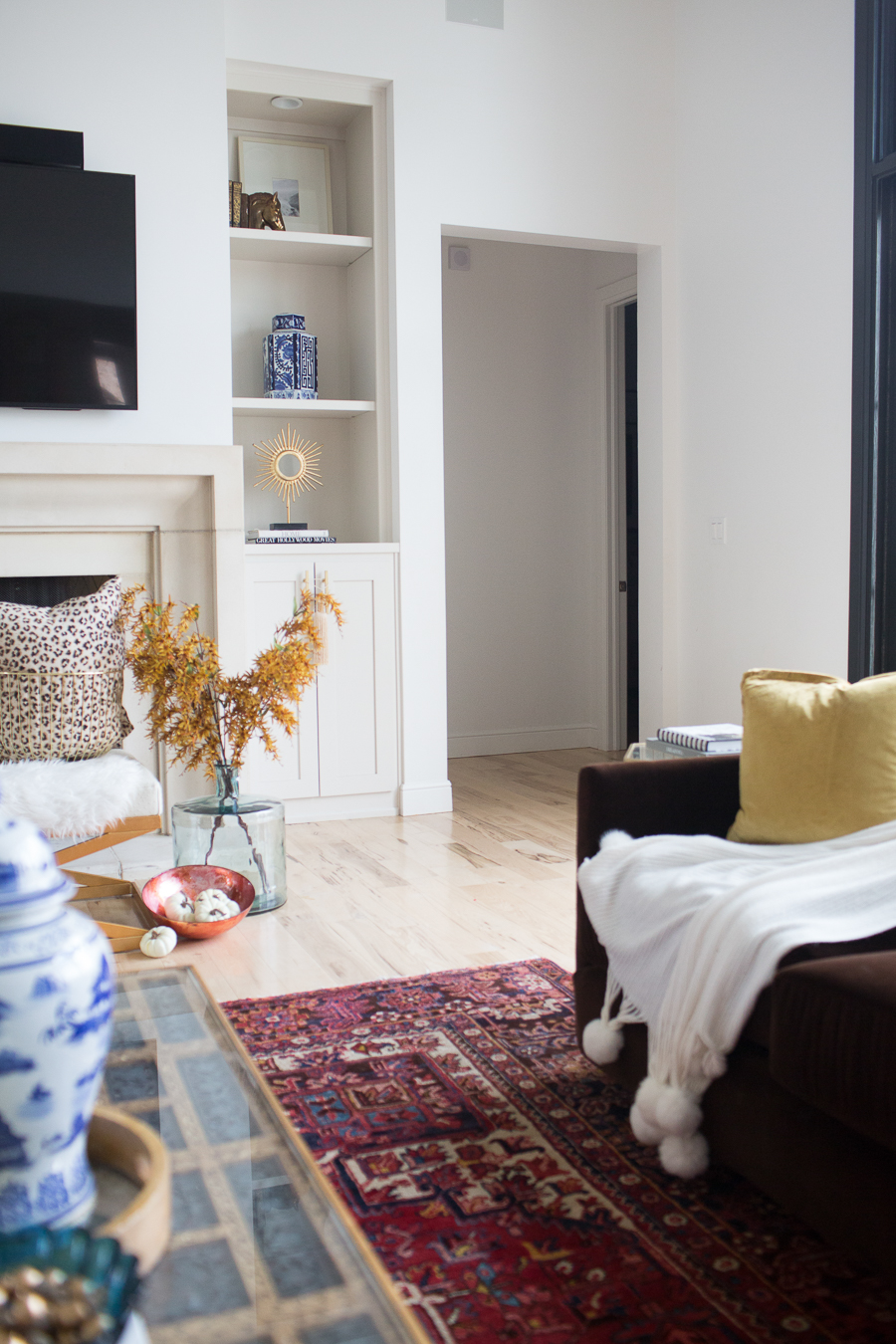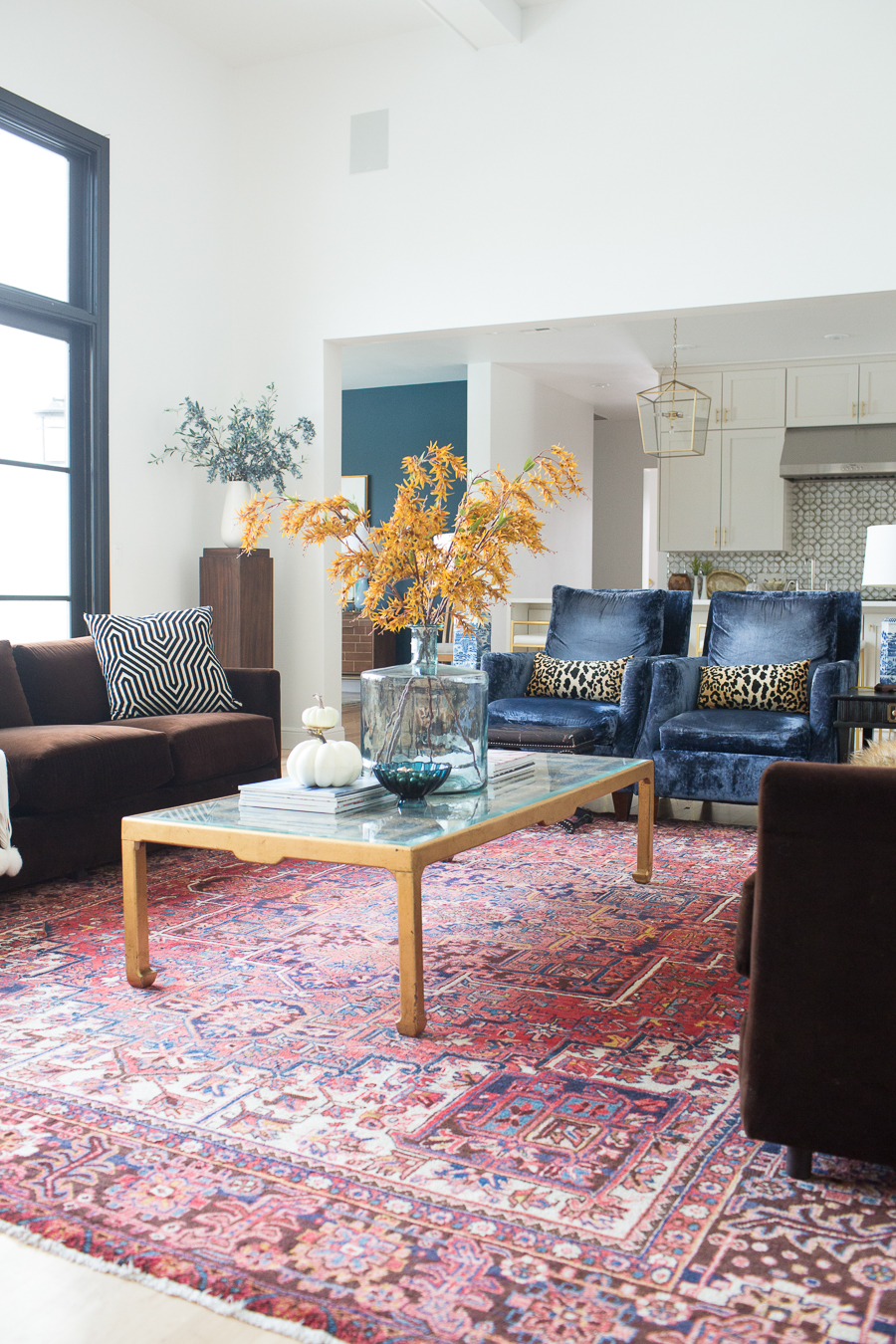 SHOP OUR FRONT PORCH

Layering rugs is such a fun, inexpensive way to add depth and character to your front porch.  For under $100 you can buy both the rugs — the personalized front door mat and the black geometric Target rug — I have on my front porch and layer them for a fun, fall look!
THANK YOU SO MUCH for joining us for the Loveliest Looks of Fall Home Tour.  It means the world to us that you stopped by.  We hope you find some inspiration for your home AND closet for fall and we hope to see you around again soon!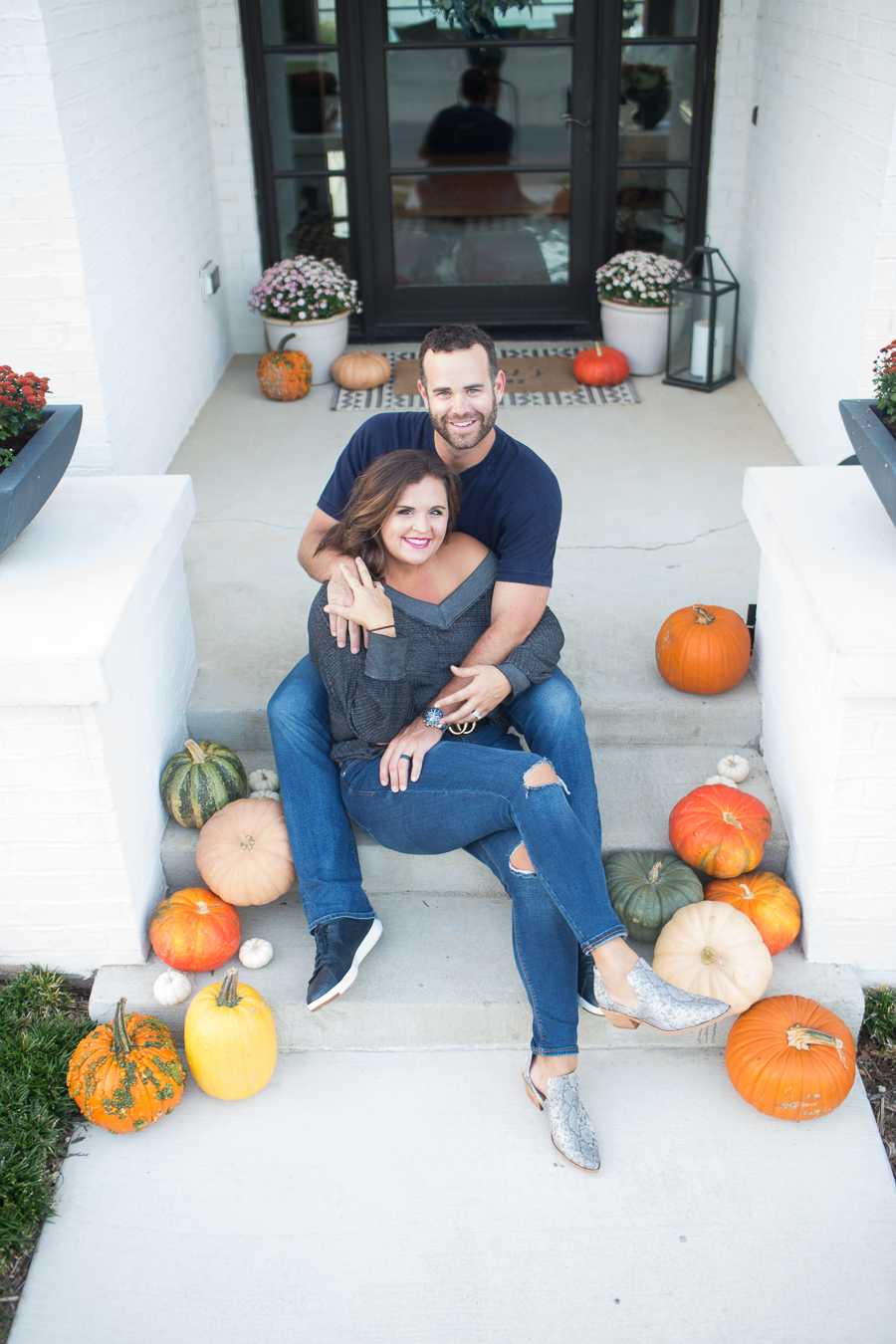 Please hop on over to visit my other friends and enjoy all of the fall inspiration they're sharing with you today!
Summer Adams | The Lush List | CC + Mike
BlueGrayGal | House Full of Summer | J.Cathell | A Blissful Nest
SHOP ALL OUR FAVORITES FROM THE LOVELIEST LOOKS OF FALL HOME TOUR HERE: (Click on the bottom part of the picture to shop)