Finding the right bed, decor, and art for a teen and tween boy bedroom can be tricky in
modern home decor
and I think we could all use some ideas.  Why?  Well I'll go ahead and say it.  Because balancing what YOU want and what that opinionated teenager of yours wants, can be downright impossible sometimes.  For example….What do I want?  This gorgeous all white boys bedroom with the antique looking iron beds from the ever amazing
Studio McGee
 (pictured below).  YEAH RIGHT.  What does he want?  A life-size fathead decal of Rob Gronkowski covering one entire wall (notice I'm not showing any pictures of that) and Oklahoma State stuff EVERYWHERE.  Just so you guys know, Oklahoma State's colors are orange and black so good luck working with that color pallet.
I actually made my tween son make his bed the other day—usually it's no man's land up there— so I wanted to share his bedroom with you guys because I do actually LOVE his bed from West Elm.  I bought him the Emmerson Reclaimed wood bed when we were building our house last year and had it delivered the day we moved in.  We have BOTH loved it ever since so I say that is a winner of a bed right there if a tween and a mom can agree on it.   I would recommend this bed to anyone.  It also looks great in master bedrooms and guest bedrooms but I particularly love it for a teen or tween boy's room.  I'm giving you shop ready links to the bedroom products in my son's room as well as my 10 favorite beds for tween boy bedrooms starting at $300 and going up from there.  They are available in all price ranges from places like Target, West Elm, Overstock , and Land of Nod.  Finally, I'm linking up to my favorite art from our print shop and showing you how amazing it looks above the Emmerson bed.  So basically, you have everything you need to redo your son's tween or teen bedroom and best of luck to you trying to convince him not to put a fathead decal covering one entire wall.  I definitely lost that battle.
I'm also linking up to all the items in Easton's bedroom including his awesome nightstands from Target, bedding from West Elm and Target, and rug from Urban Outfitters.  So basically after you are done with this post you could build your very own teen or tween boy's bedroom!
One last thing…someone please please PRETTY please let me design a boys bedroom for you with that plaid bed.  I have so many ideas that begin and end with that bed and Mike Miller will most definitely say NO since we just bought that Emmerson bed.  But for real, hit me up if you want a room design with that bed because I keep waking up dreaming about it's potential.
Hope you find something that works for your next boy bedroom project in this post!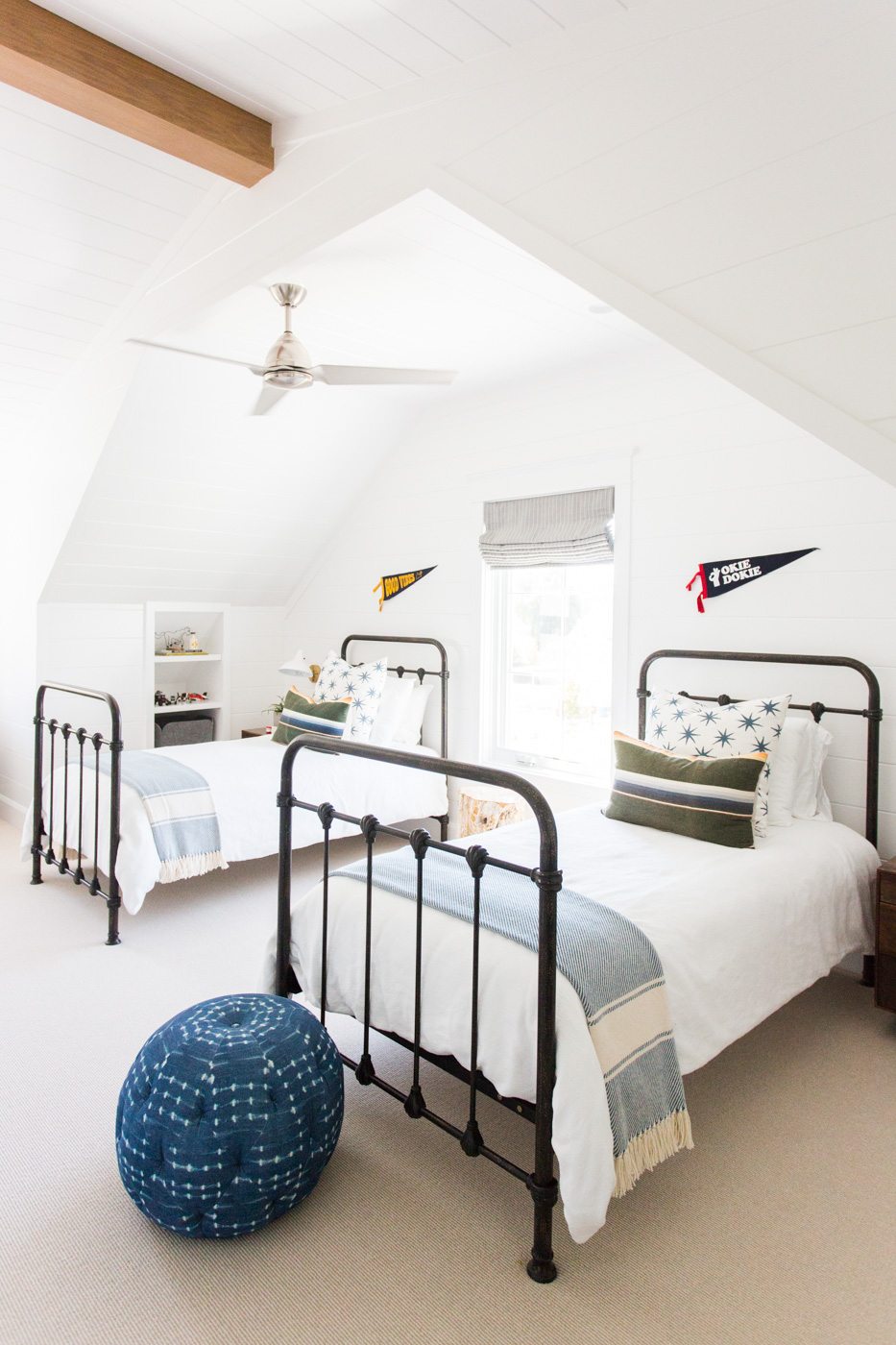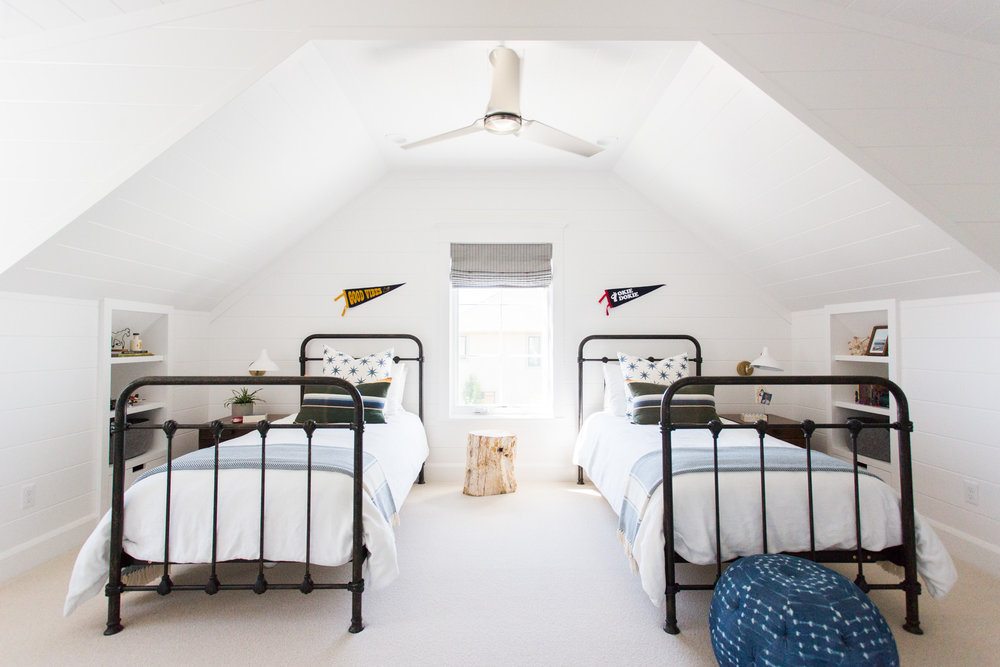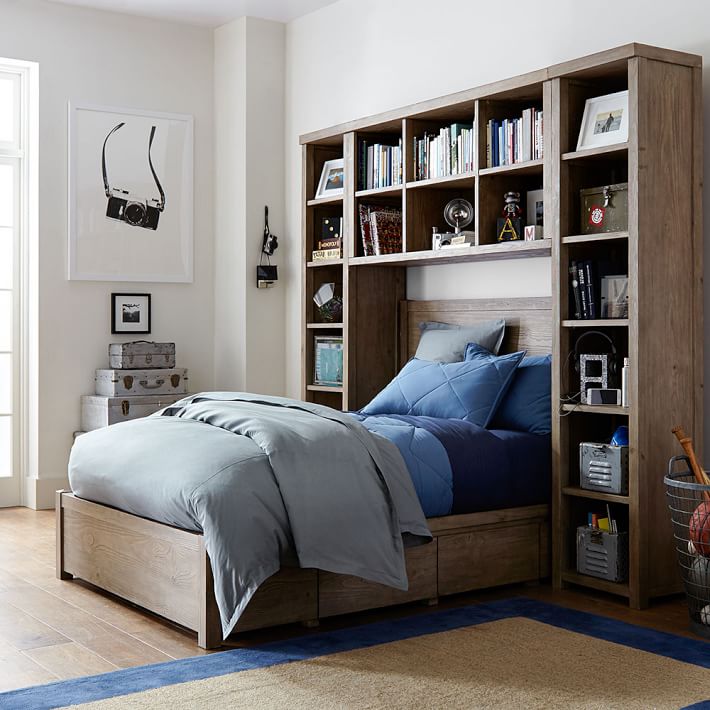 Here are my top pics for teen and tween boys beds then don't forget to scroll down to see my art choices from our print shop and see how they can be used in boy's bedrooms!


All prints, like our
longhorn
 picture are available in our
print shop.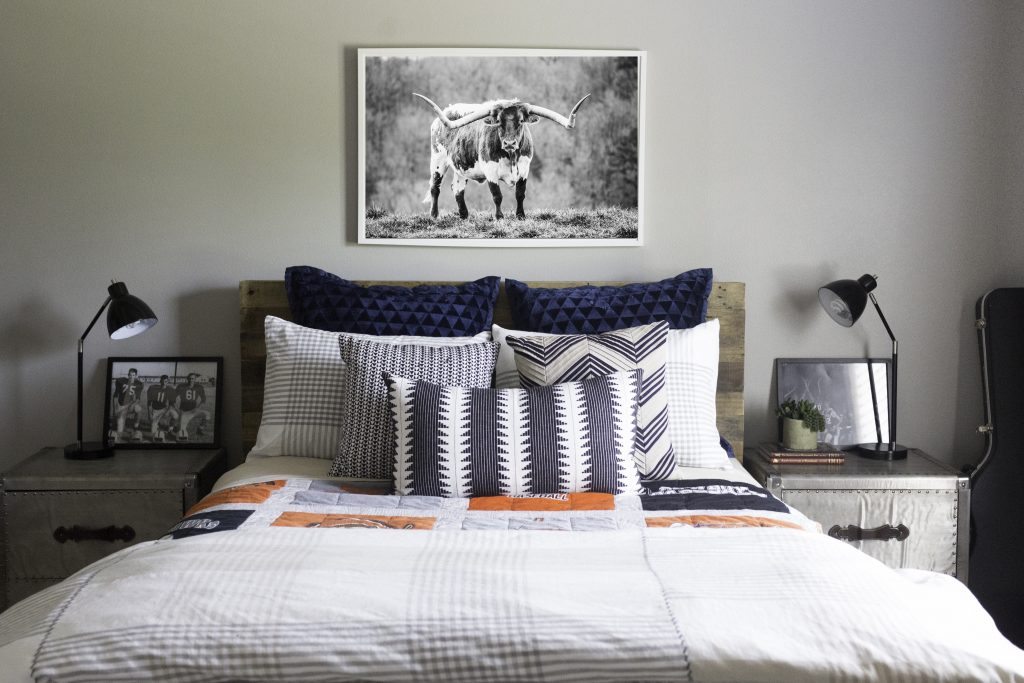 Grand Tetons Collection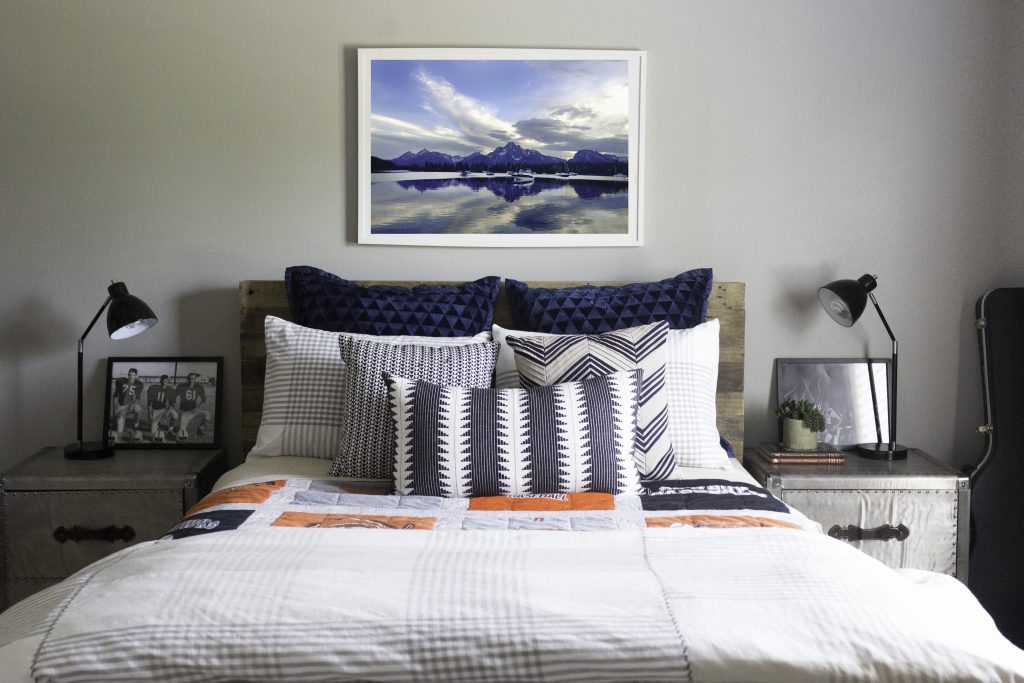 Growth – from the Charleston Collection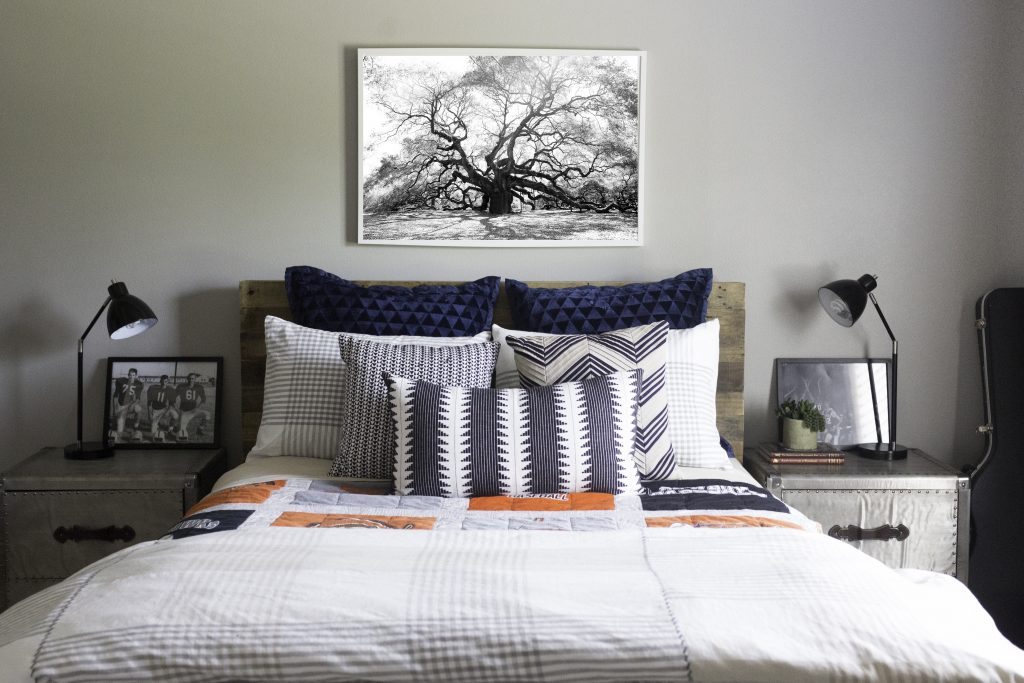 Cactus from our Desert Collection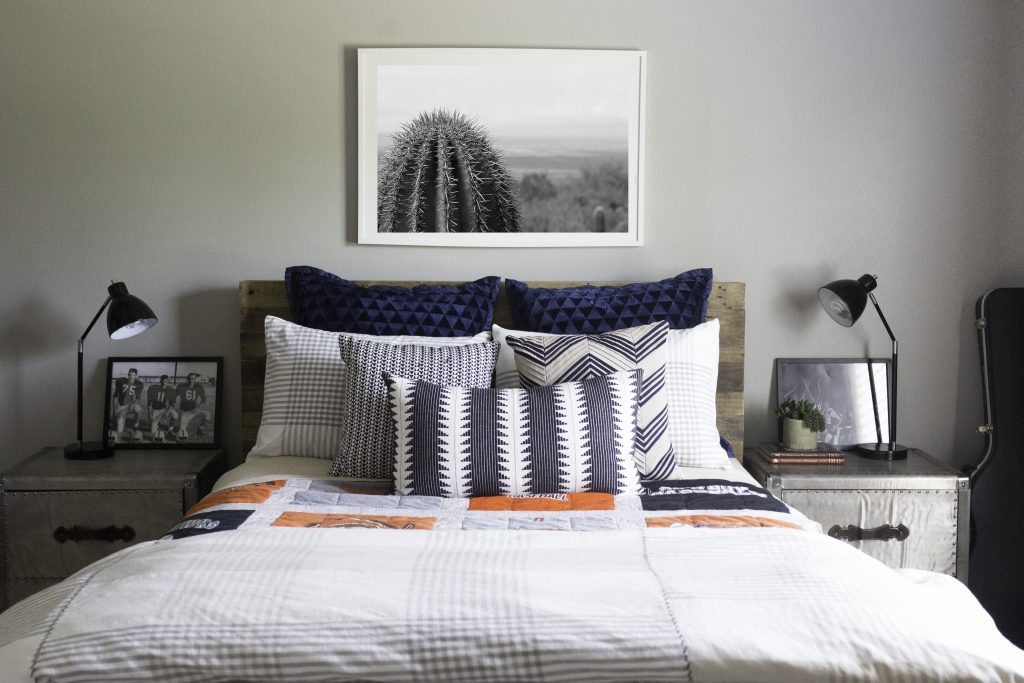 "Lone Tree" in our Africa Collection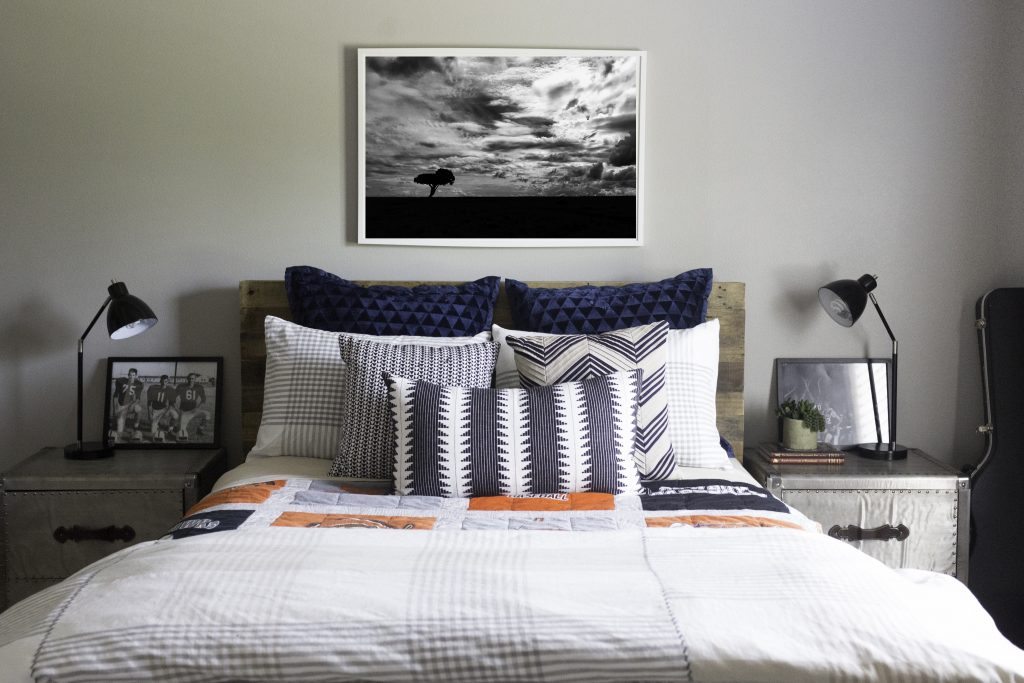 "Elephant Walk" also in our Africa Collection

"Gnarled" – from the Charleston Collection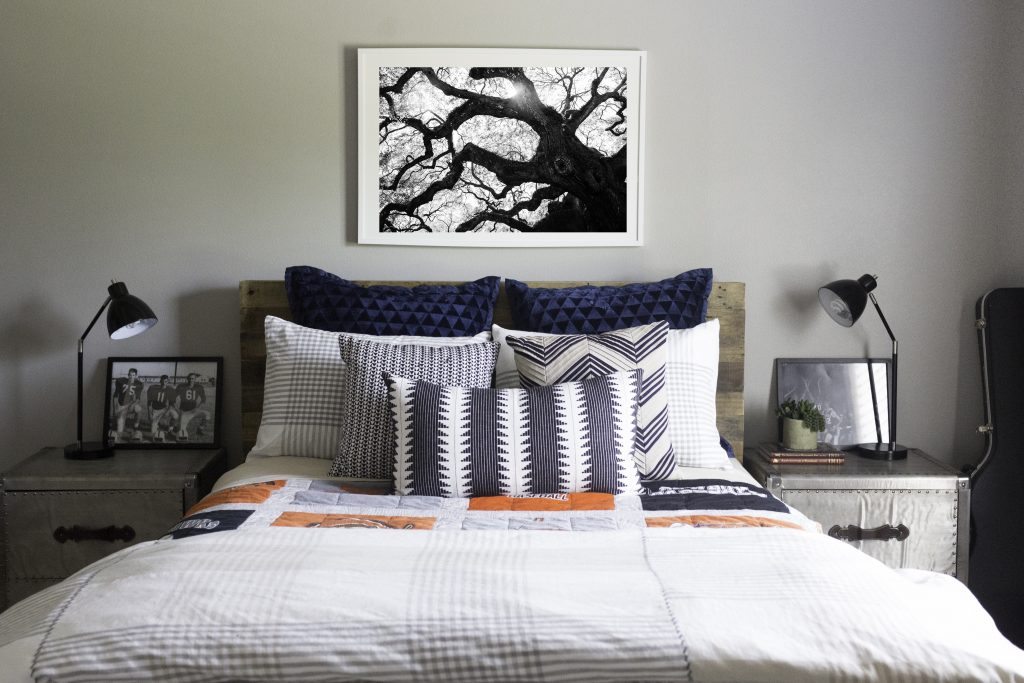 Majestic – this gorgeous buffalo looks amazing everywhere and has been used in living rooms, studies, boys bedrooms, master bedrooms, and entryways just to name a few.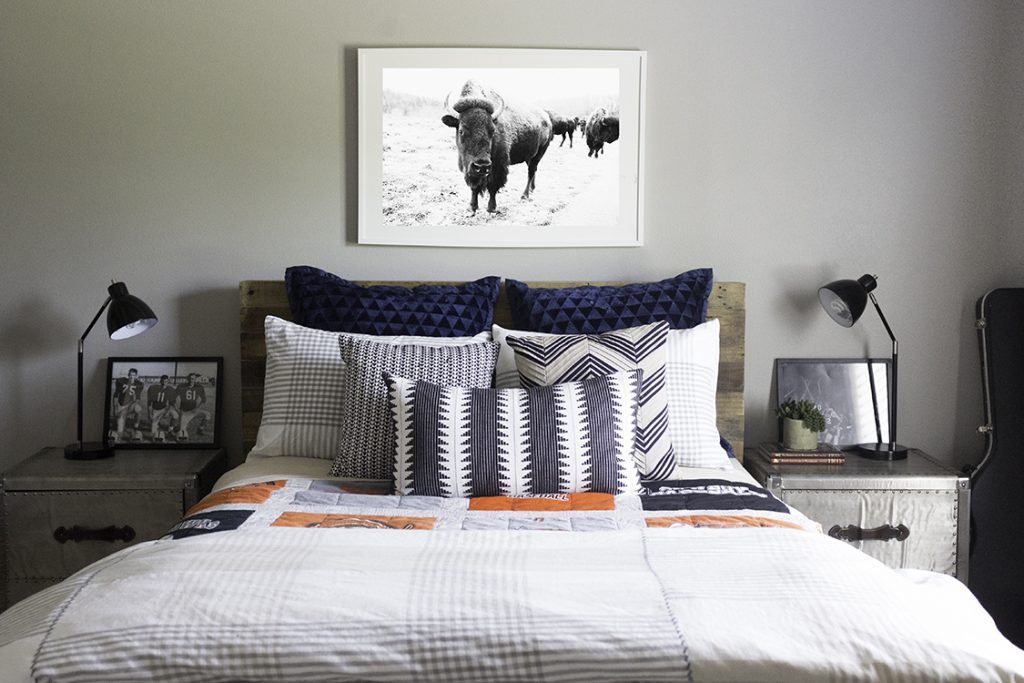 "Tunnel" – from our Japan Collection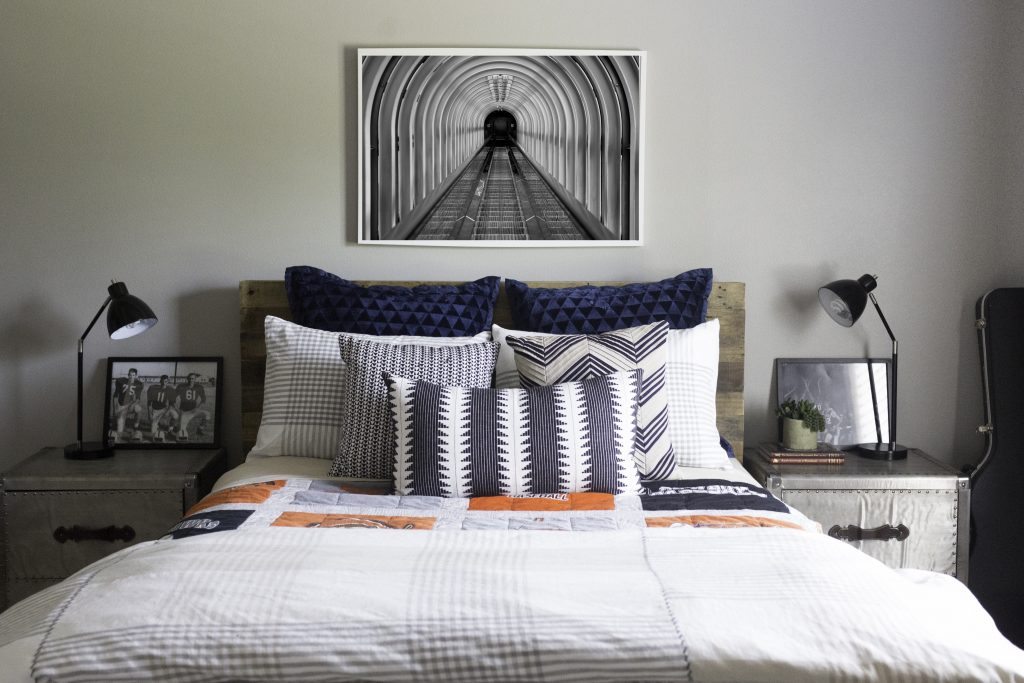 Cody, Wyoming Rodeo