Hey there guys! So it's almost Dec 25th and I know I'm probably the only home decor blogger who in America who is just now posting a blog on their Christmas decor but hey, better late than never right? If you've been following us on insta then you know that I gave Mike Miller an early birthday present and agreed not to put out our Christmas until after Thanksgiving. I've just been taking a slow and steady approach since then and finally had some photos ready to share with you guys. A lot of my Christmas decor that I use from year to year is often on sale this time of year so I thought I'd do a quick post for you guys just in case you want to grab some things for next year, or for this year for that matter!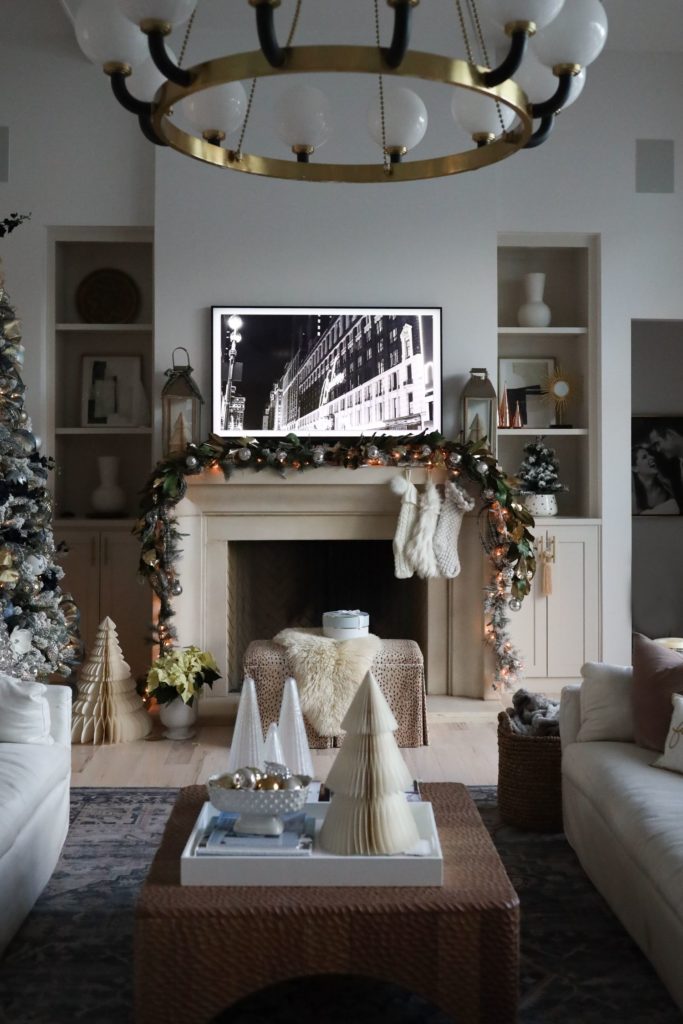 First of all, I have to mention our Samsung Frame TV because it's one of my favorite new additions to our living room. You can change out the art year round based on the season or based on what you are feeling at that moment. For the holidays, I've used a print from NYC at Christmas Time and I love the Christmasy mood it's creating in our living room! Especially when it's cold enough to light a fire! I also have to mention our Christmas tree which is the Prince 10 foot flocked from King Of Christmas. If you don't have a Christmas tree from King of Christmas, they are an amazing investment that will last year to year and I highly recommend them. Lots of their trees are on sale now so it's a great time to buy.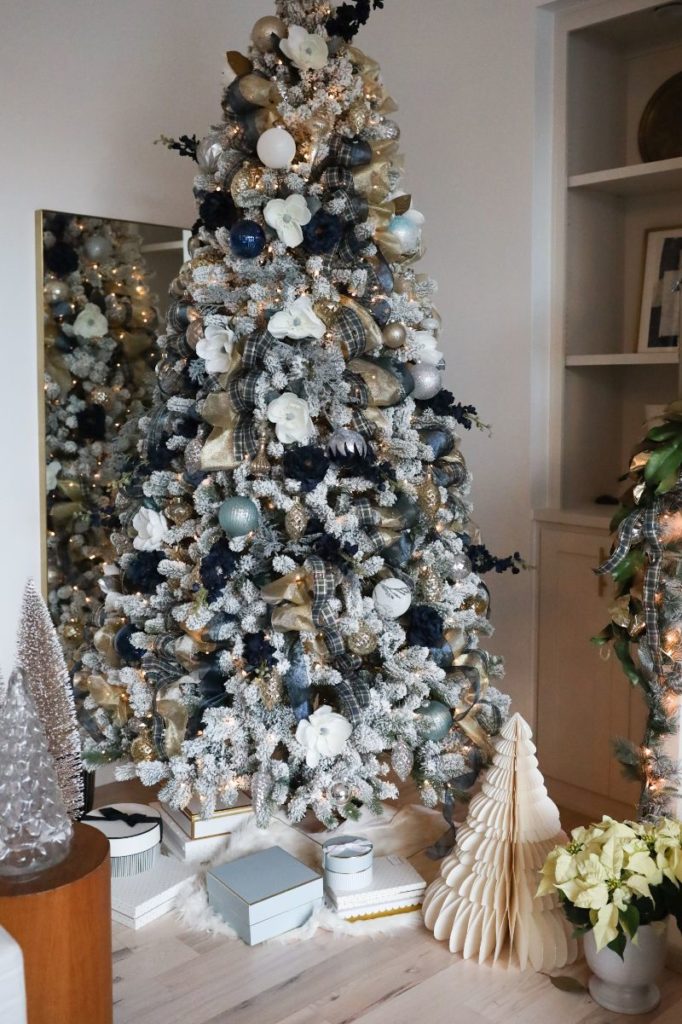 Like I said, I really took my time this year and have just taken a really slow approach to my Christmas decor. Here are some of my recent easy tabletop decor ideas and a look at my dining room decor. My flocked Christmas tree from the dining room is from Walmart and I've had it for three years and love it! It's a more affordable alternative to the King of Christmas tree.
SHOP OUR DINING ROOM AND DINING ROOM CHRISTMAS DECOR: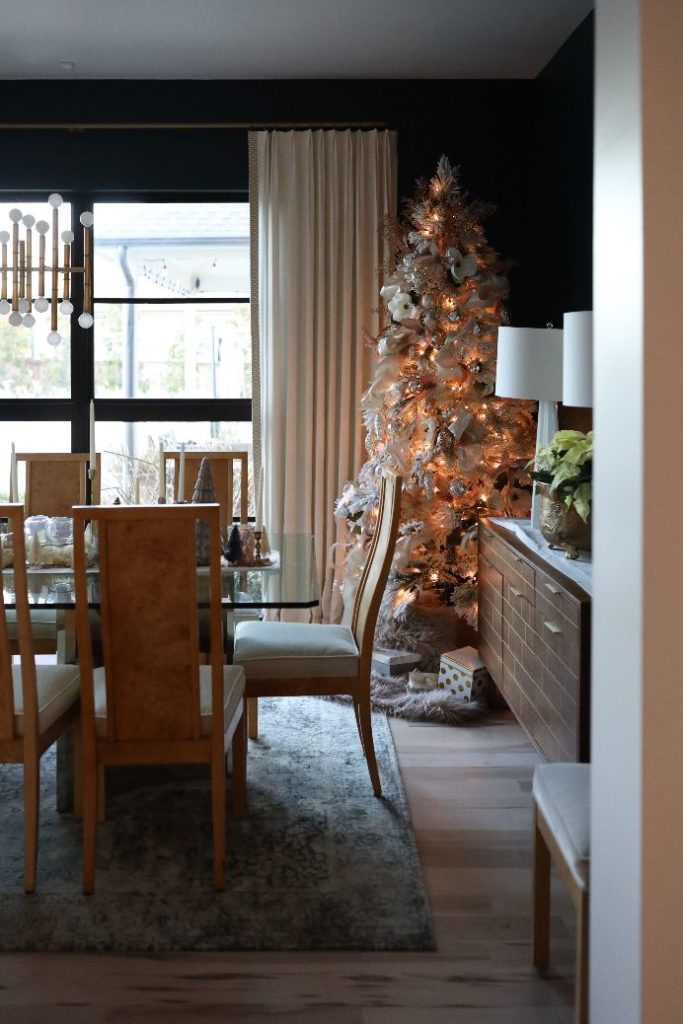 Next up, here's a little look at the Christmas decor in our living room. I have featured some of our tried and true Christmas decor items that we use each and every year in our holiday decor. Of course, we started off with some of our favorite pieces from CC+Mike: The Shop. The Hathaway rug and Atrumed coffee table are staples in our living room. Perfect for every season!
YOU CAN SHOP OUR LIVING ROOM HERE: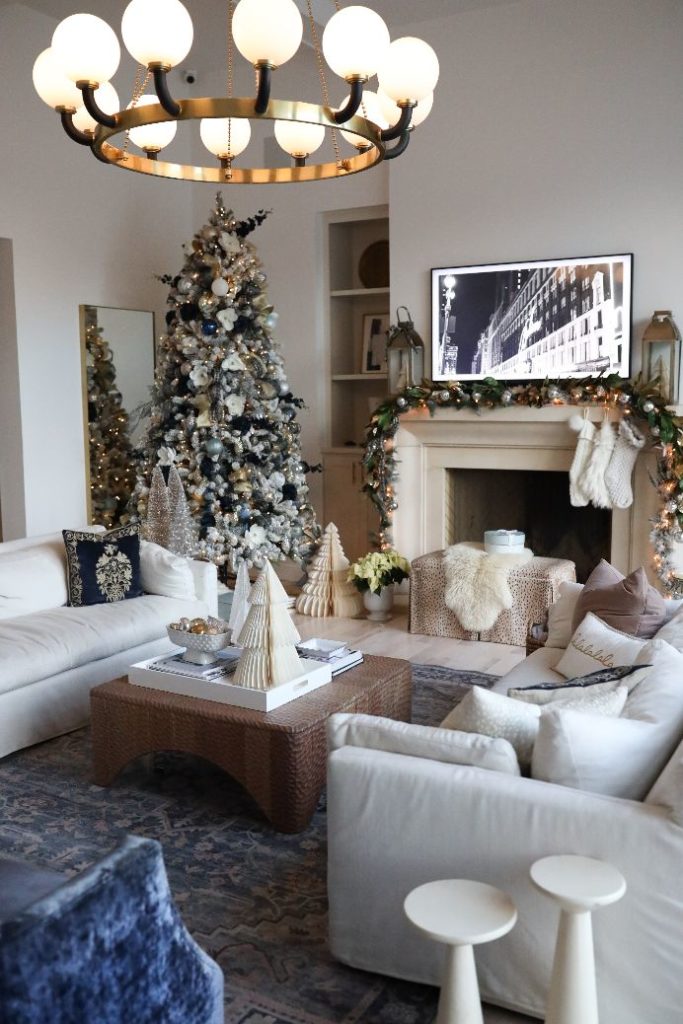 Part of what makes this transition so easy is choosing colors that play off the fixtures I already have in my home. I love to use lots of saturated colors like navy added in with white, green, and metallic details! These work so well with my favorite year-to-year Christmas decorations like my West Elm candlesticks, gold lanterns from Walmart, and accordion Christmas trees from West Elm. I've used them for coffee table styling this year but last year they were the center of my dining room tablescape last year. I definitely recommend snagging some of them while they are on sale!
SCROLL AND TAP TO SHOP OUR FAVORITE YEAR TO YEAR CHRISTMAS DECOR

Speaking of our dining room, here's a look! I love decorating our dining room for the holidays and always use lots of candlesticks on our holiday tablescape!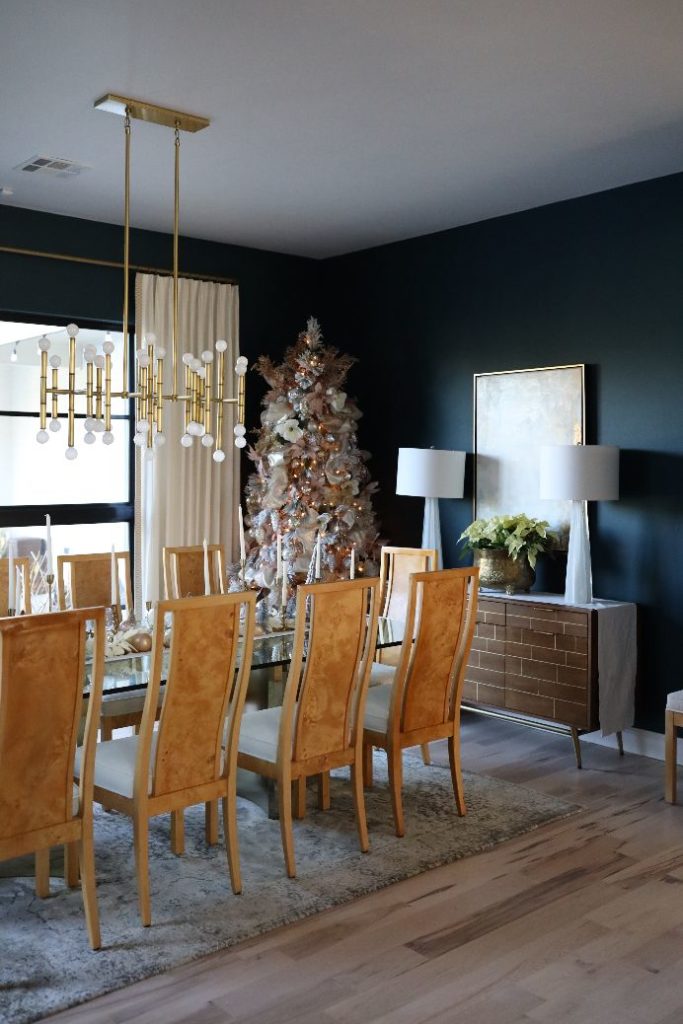 Let's talk about the mantle! On either side of the Samsung Frame TV, I used Pottery Barn lanterns and put some accordion trees inside of them. Our Garland is two strand of the magnolia garland from West Elm mixed with some flocked garland from Walmart. I also use some LED strands and some mercury bulb LED lights in our mantle mix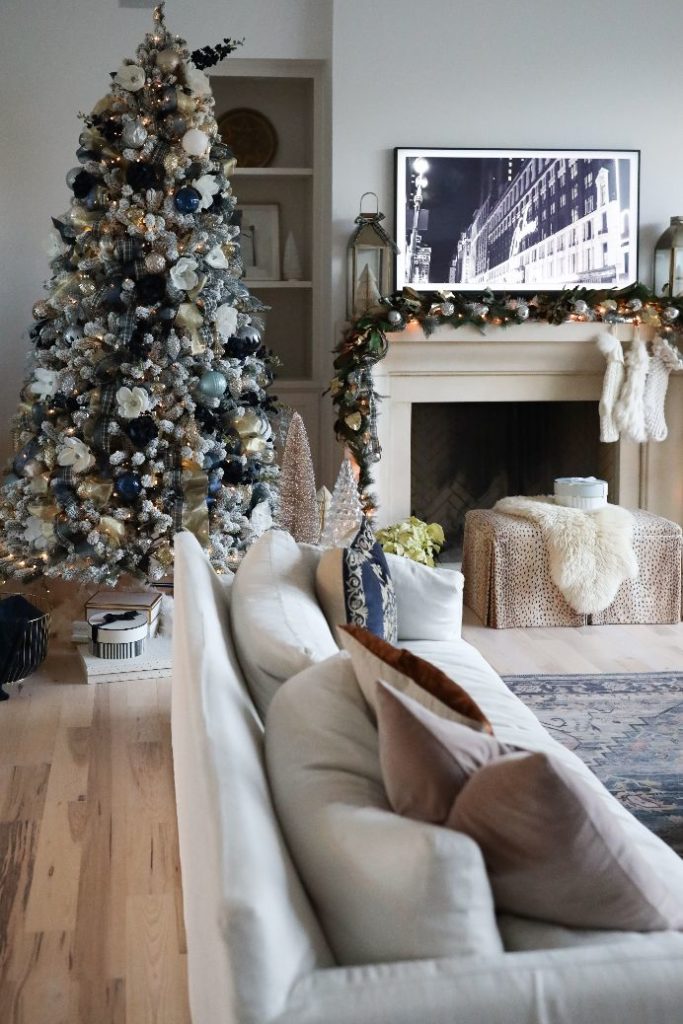 SHOP MY FAVORITE YEAR TO YEAR CHRISTMAS DECOR ITEMS

Here's a closer look at the Accordion Trees from West Elm! I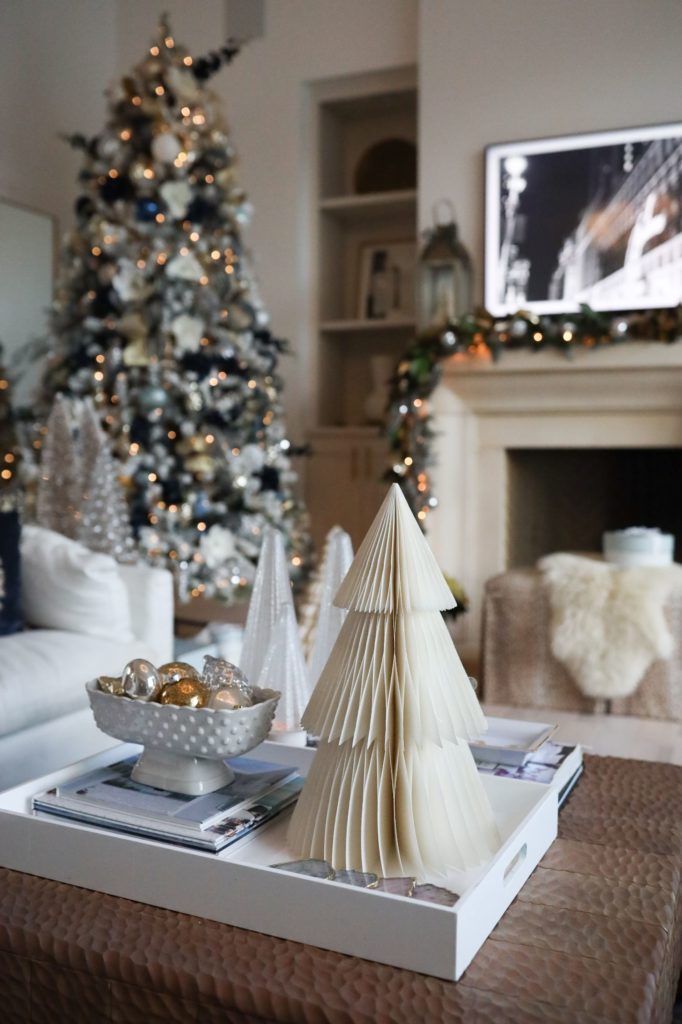 Another item I use in my decor every single year is the Pioneer Woman cake stand featured in my tabletop decor blog post. Honestly, I use this little trusty cake stand year round but I love it especially at Christmas time. It's beautiful if you put glitter or metallic ornaments on it and just place it on top of the Walmart Better Homes and gardens Tray. This entire look is so affordable! Don't forget to grab some table top Christmas trees as well. I use them all over my house at the Holidays!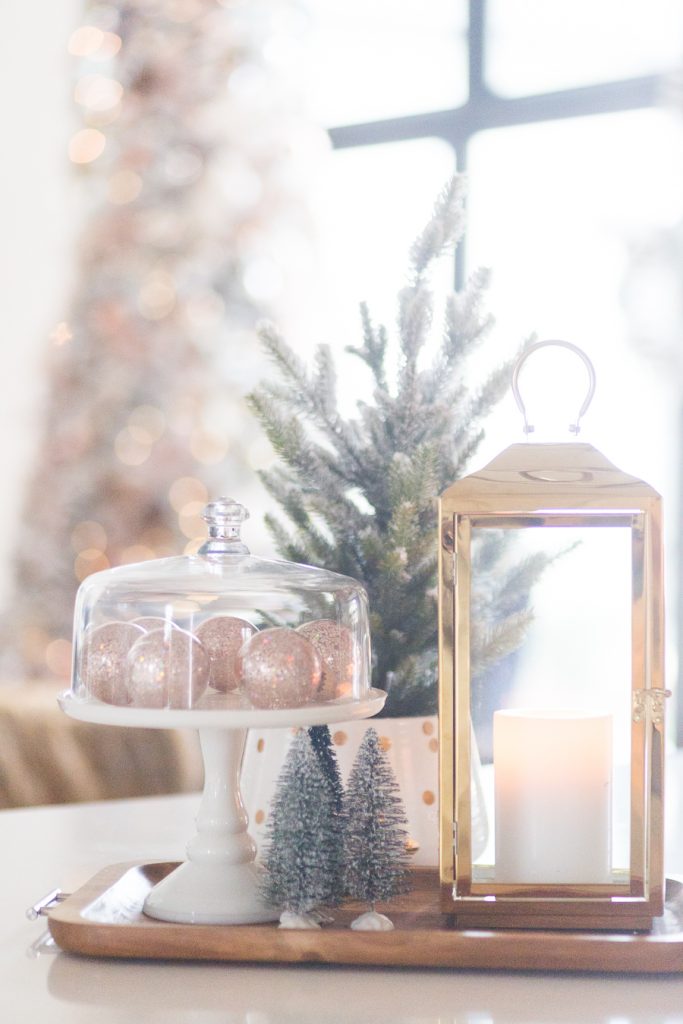 Hopefully since it's the middle of December you can grab some my favorite year-to-year decorations on sale. Maybe you'll even grab a King of Christmas flocked Christmas tree at a steal of a deal! Our magnolia garland from West Elm is also a state for Christmas decor every year as well. Whether you are taking it slow and easy, or throwing up decor all at once, I hope you are inspired to bring a little Christmas into your home this year. MERRY CHRISTMAS AND HAPPY NEW YEAR from the Miller family!