We are so excited to share another family favorite recipe with you guys — Easy Honey Maple Garlic Shrimp!  Emmy is going to be taking over the blog again for this one.  She helped me make this recipe and is becoming quite the little cook.  We are hoping to do more cooking over the summer together and share more of our favorite recipes! And who knows…maybe we can even do enough cooking to put together a cookbook someday or something.  But who are we kidding…that's NOT going to happen during baseball season – ha! 🙂  OK I'm handing the blog over to Emmy….hope you guys enjoy this recipe and leave us a comment if you make it or send us a DM on Instagram!
Hey guys! It's Emmy taking over the blog again. Today I'm going to be explaining how to make a family favorite, Easy Honey Maple Garlic Shrimp! This is definitely one of my favorite meals to cook, and of course to eat! I'm not kidding you when I say this is restaurant quality food. The first time my mom made it I was unsure. I was like honey and garlic on SHRIMP? Who came up with that. But believe me when I tell you it's amazing. So here's how we made it…
Heres what you need:
1 pound of shrimp (raw shrimp, make sure it is peeled as well)
1/4 cup of soy sauce
1/3 cup of honey
2 tablespoons of maple syrup
1 tablespoon of minced garlic
1 chopped green onion
2 tbsp vegetable oil
4 cups of cooked rice
Here are all the ingredients.  We also have a rice cooker that we recommend using for steaming your rice!  Also, for our family of five with boy who eat A TON we sometimes 1 and a half or double this recipe.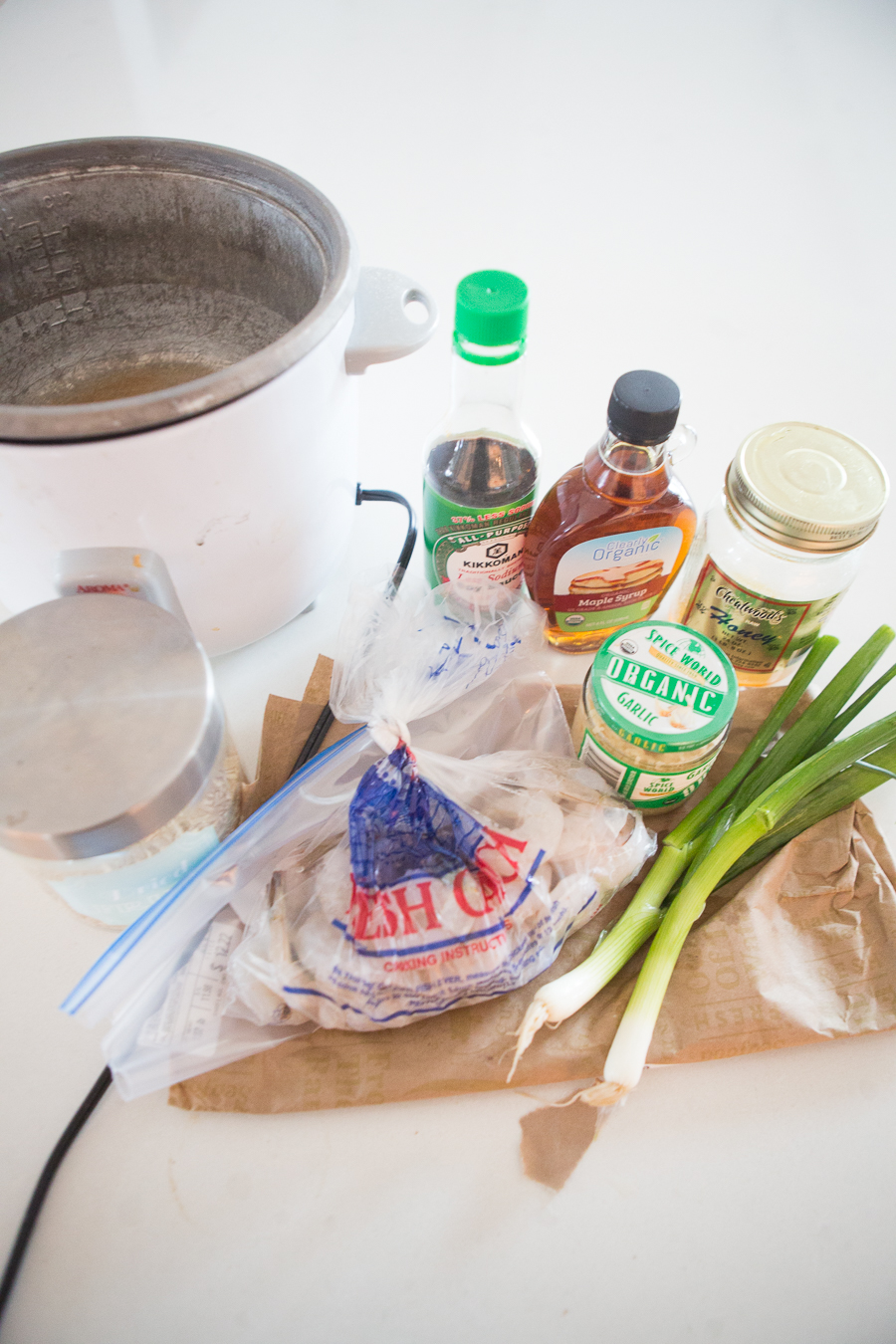 First, we chopped the tails off the shrimp.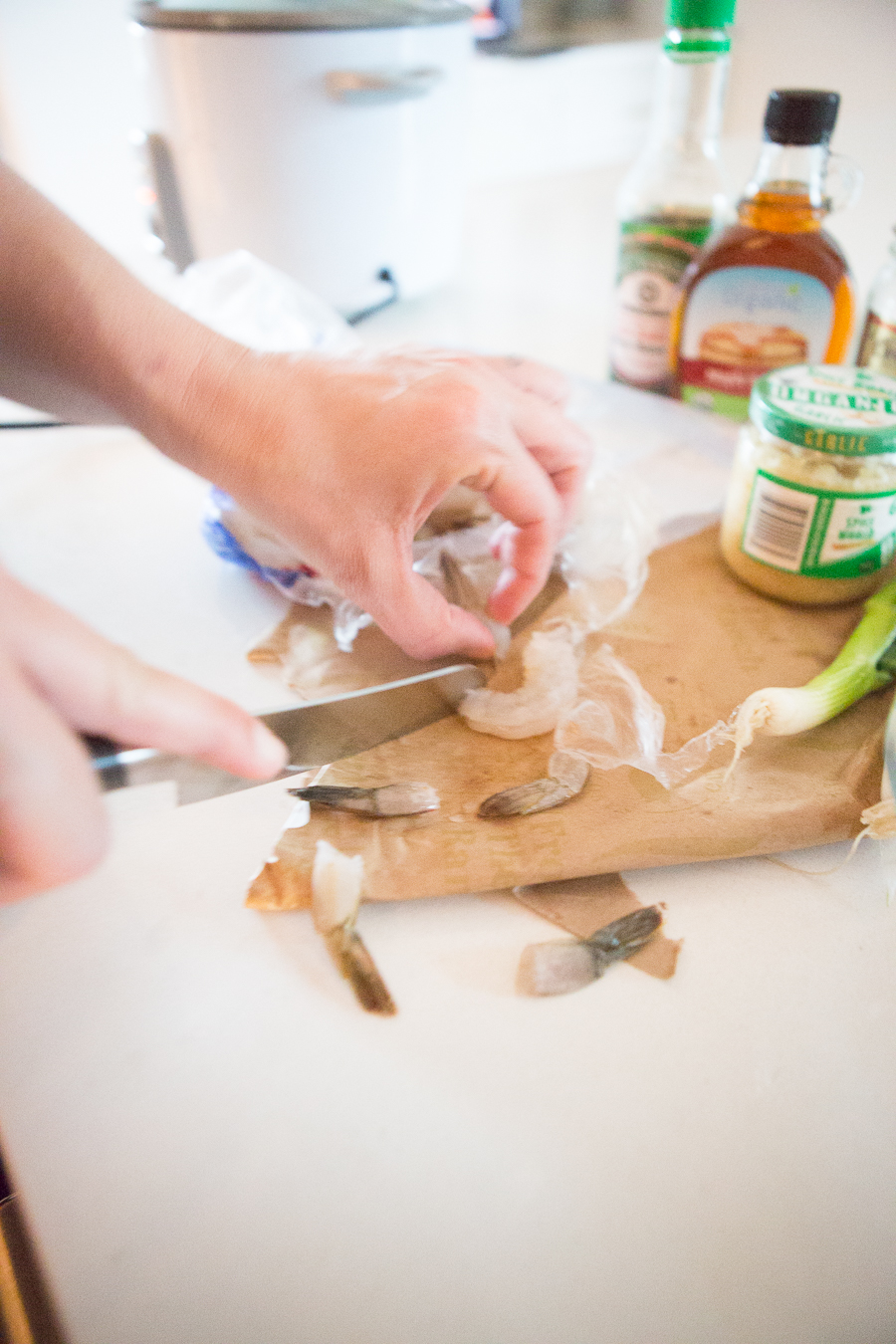 Add the following ingredients into a bowl: 1/4 cup of soy sauce, 1/3 cup of honey, 2 tablespoons of maple syrup, and 1 tablespoon of minced garlic.  After you have mixed them well, pour the soy sauce mixture of the shrimp and mix well then refrigerate.  You can refrigerate all day or for just a few hours, but you want the shrimp to have time to soak in the mixture.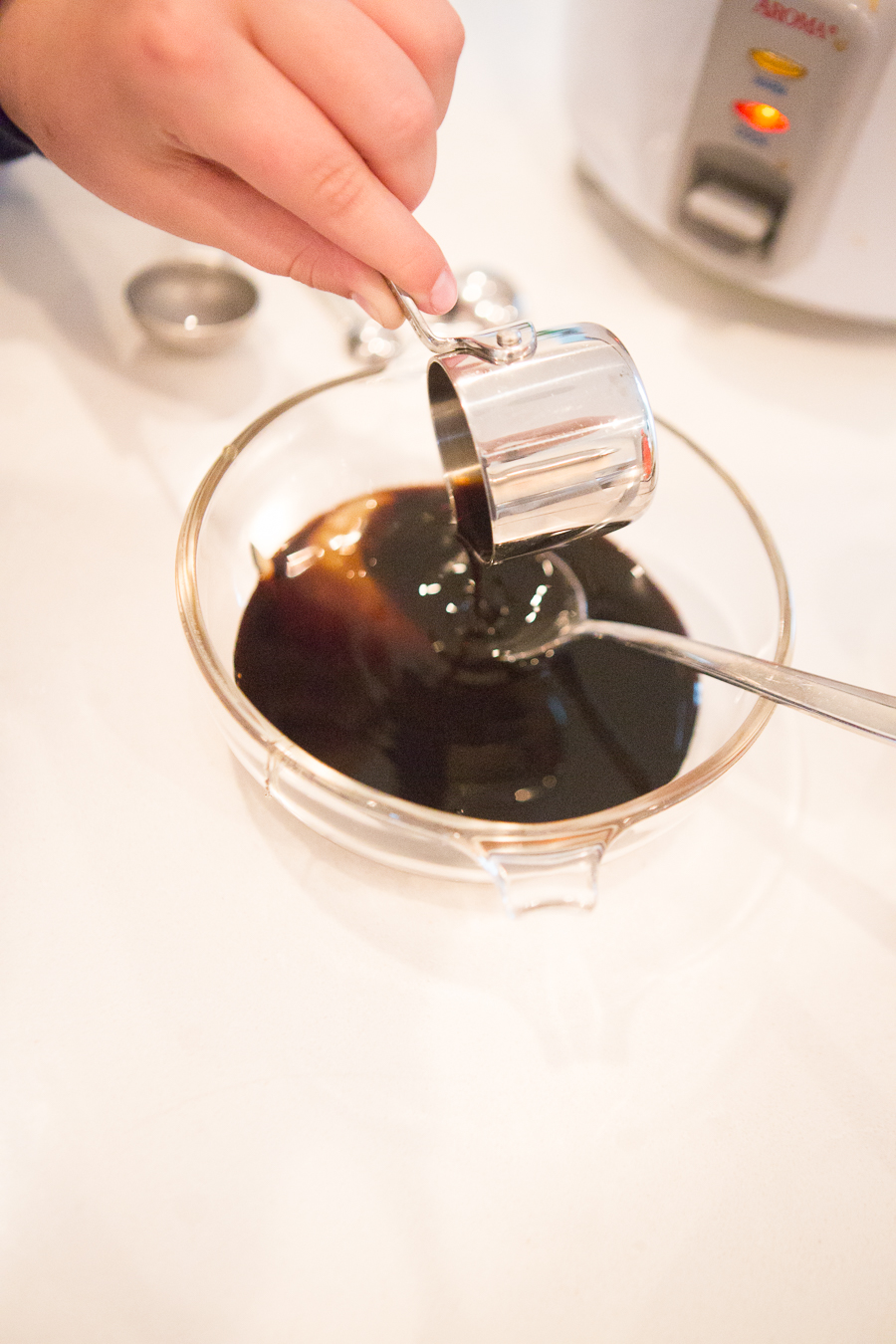 When you're ready to cook the shrimp, pour oil in a pan and heat it on medium to medium-high heat until it's sizzling.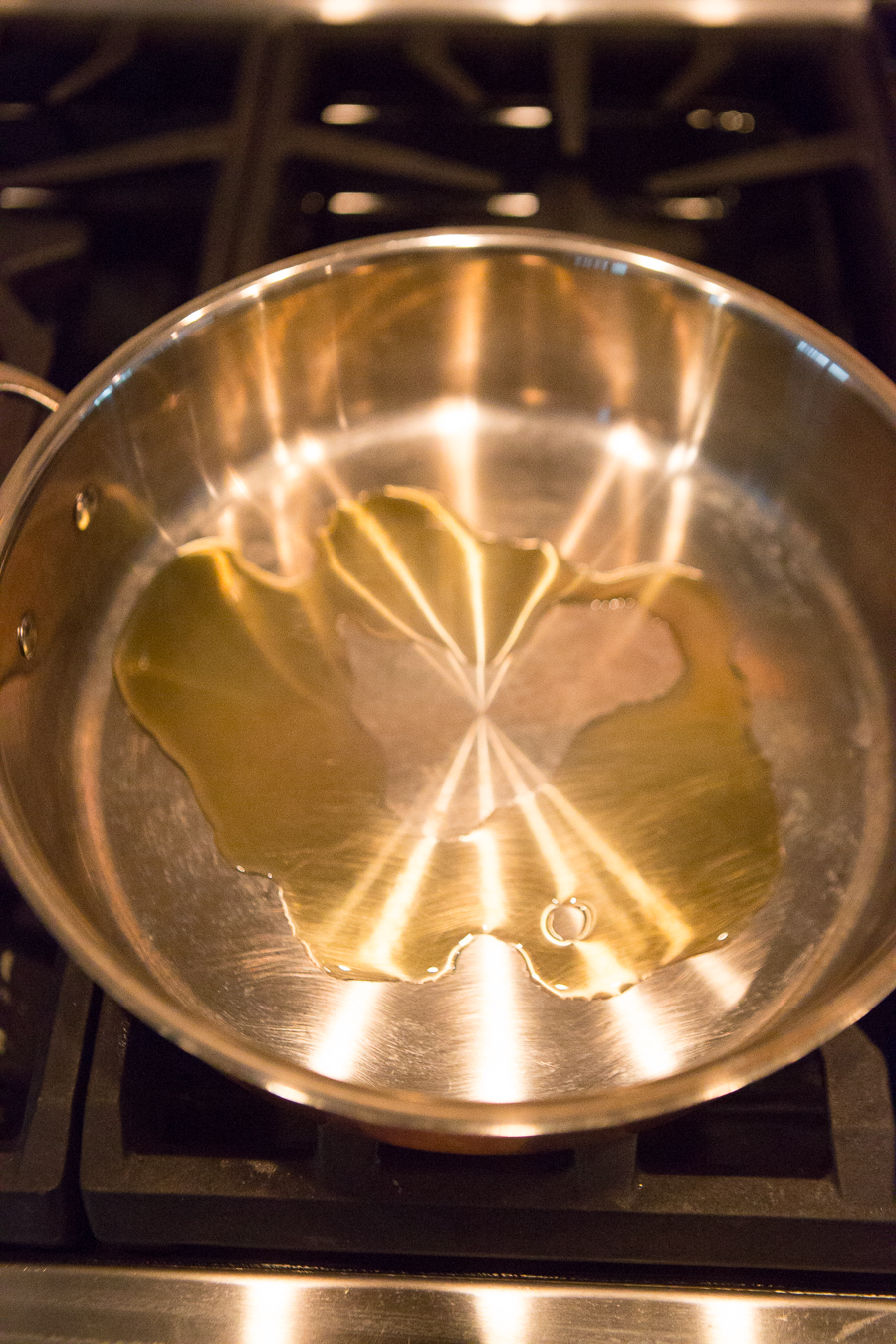 Add the shrimp to the pan and cook for 3 minutes on each side.  Don't forget to cook it on one side for several minutes then flip it over and cook on the other side as well.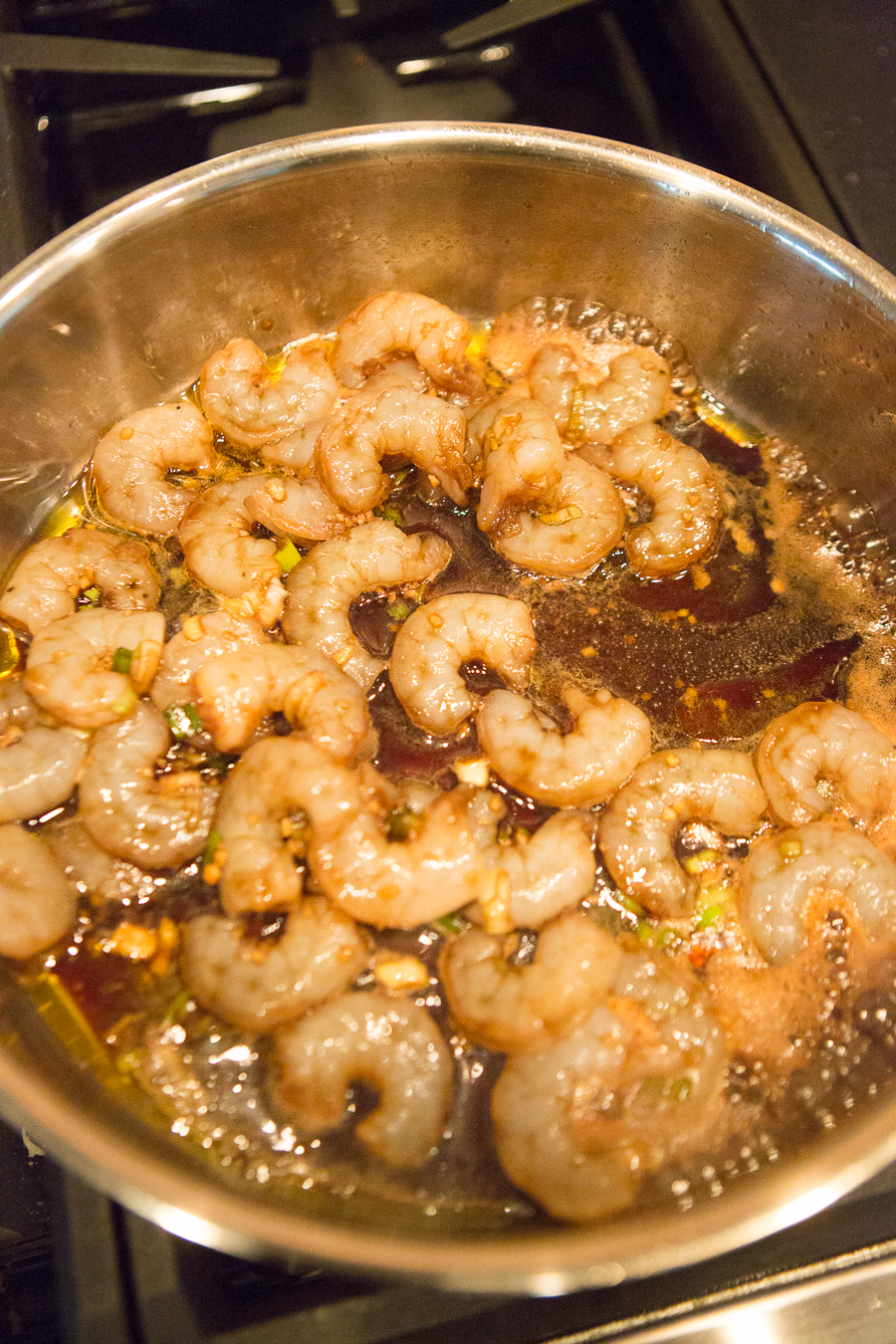 When the shrimp is done cooking, spoon it over the cooked rice you should have already cooked in your rice cooker!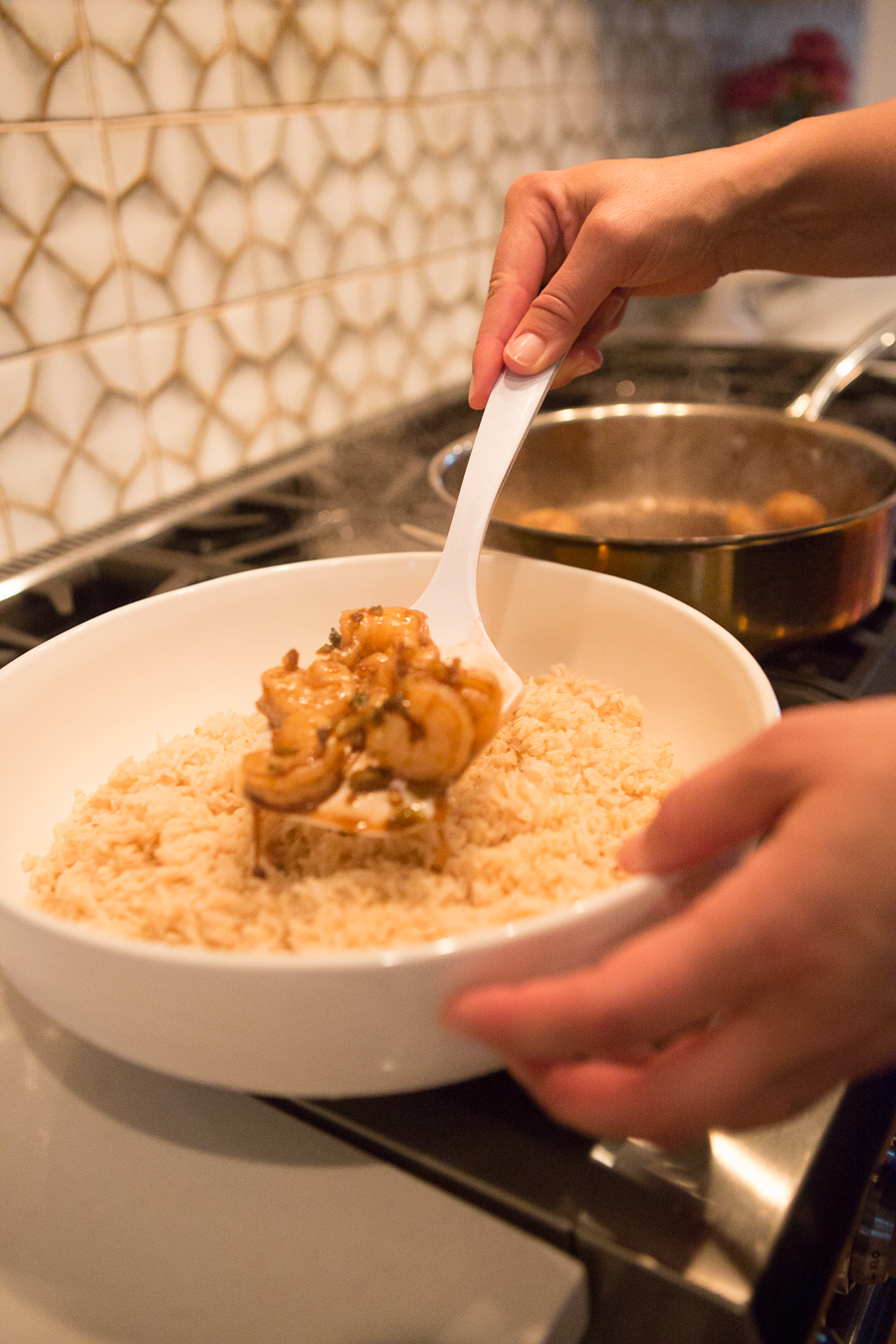 You will have some reserve liquid in the pan.  Pour 1 tsp of corn starch in the liquid and heat it, stirring constantly, until it starts bubbling.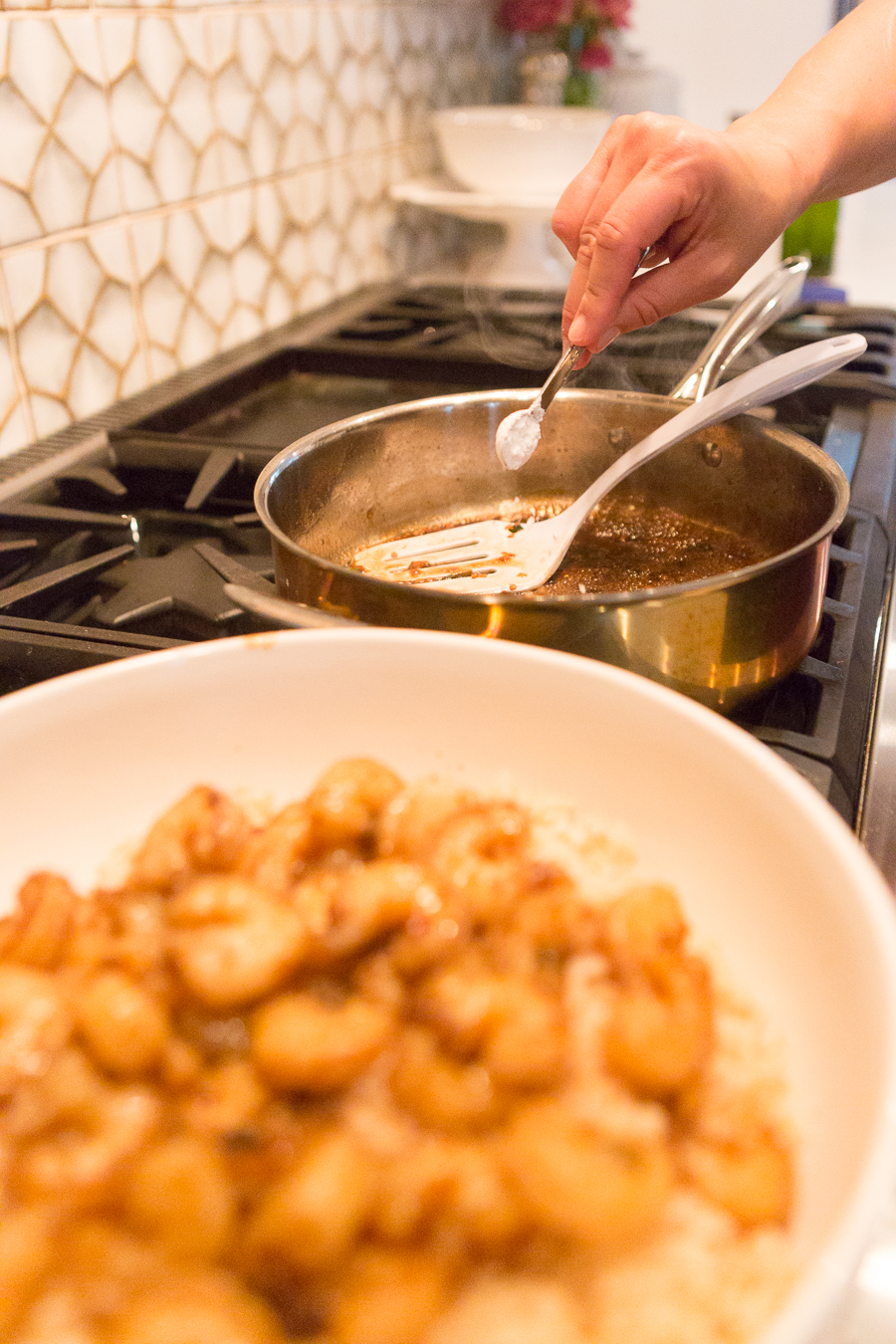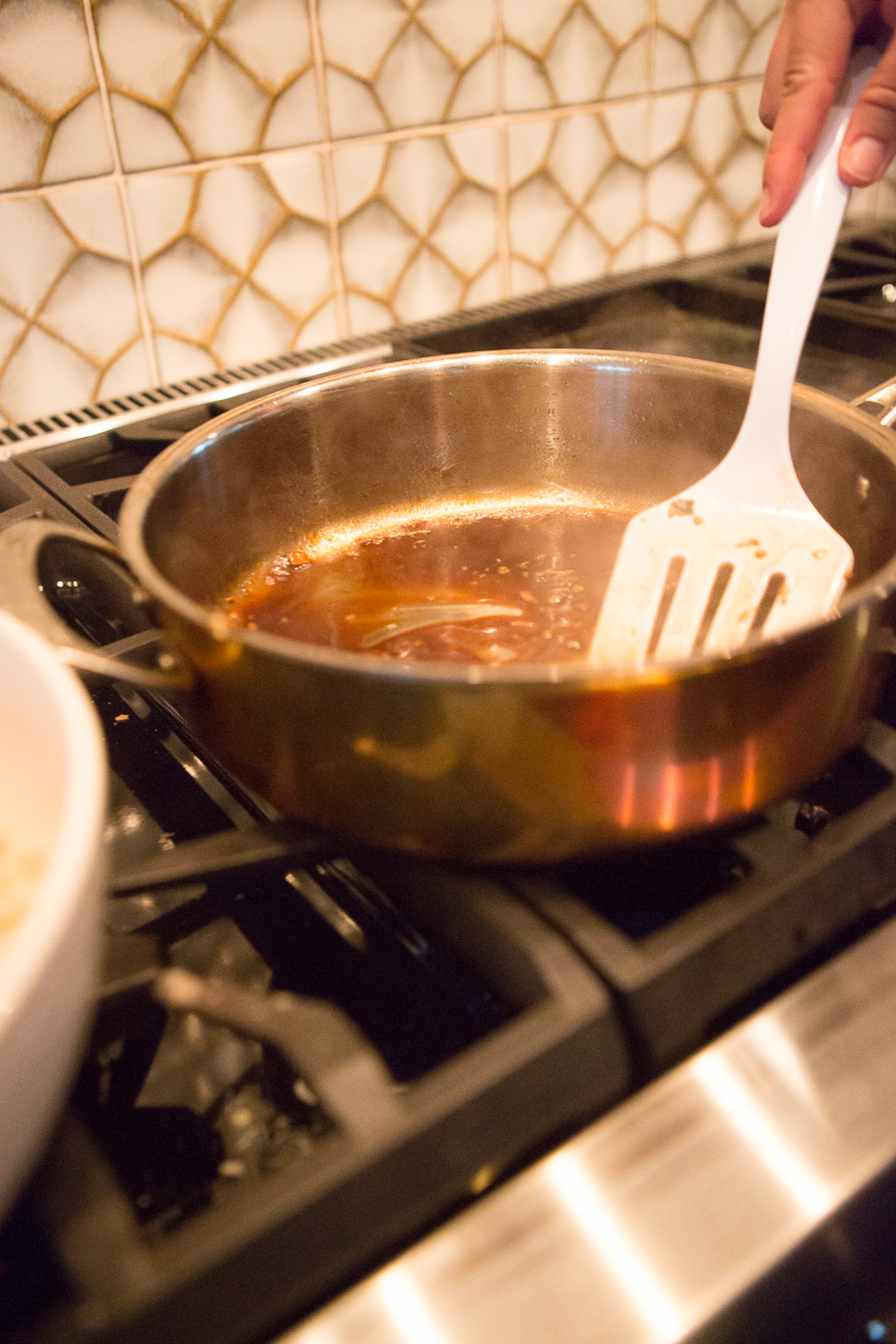 Once the mixture thickens, pour it over the shrimp and rice.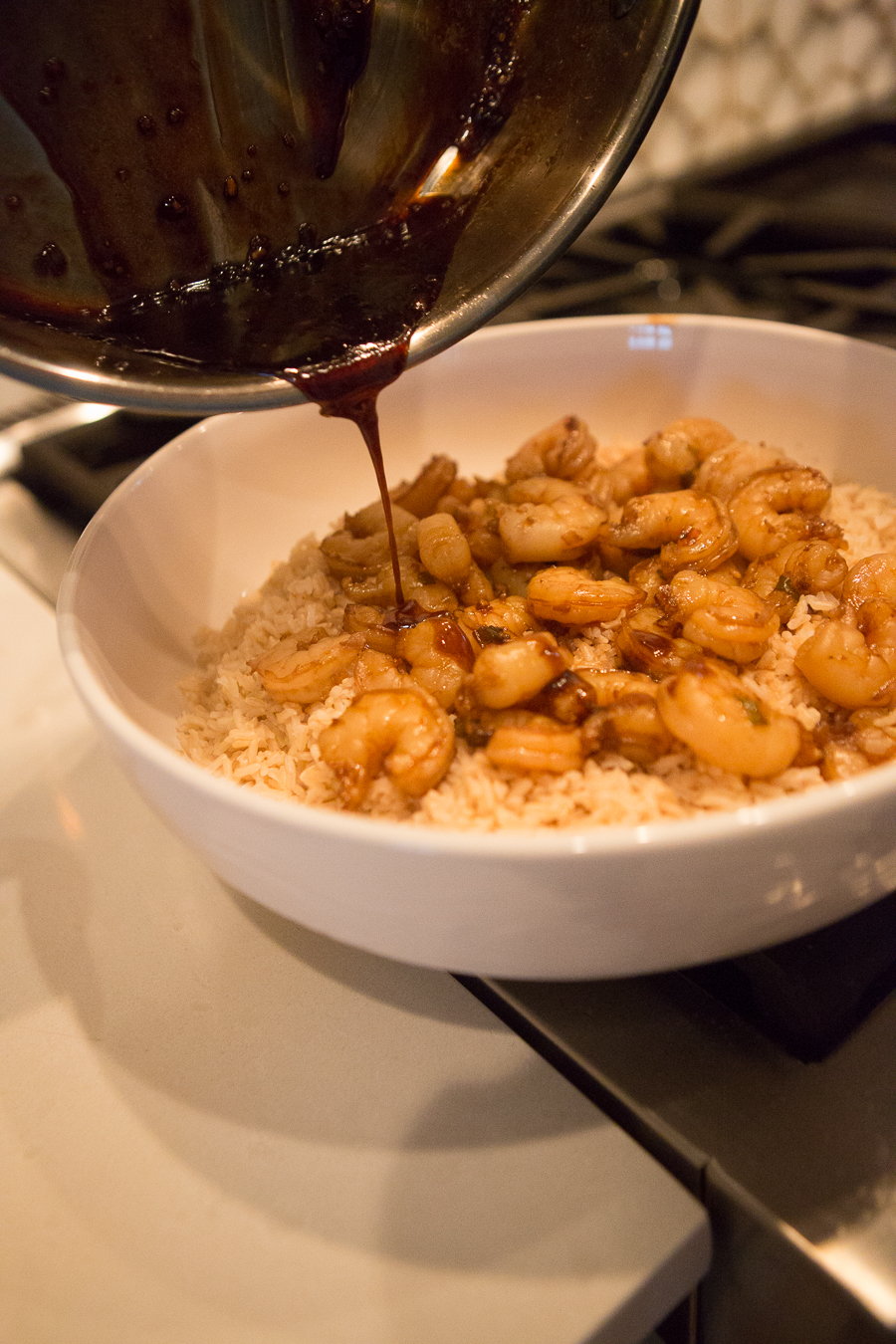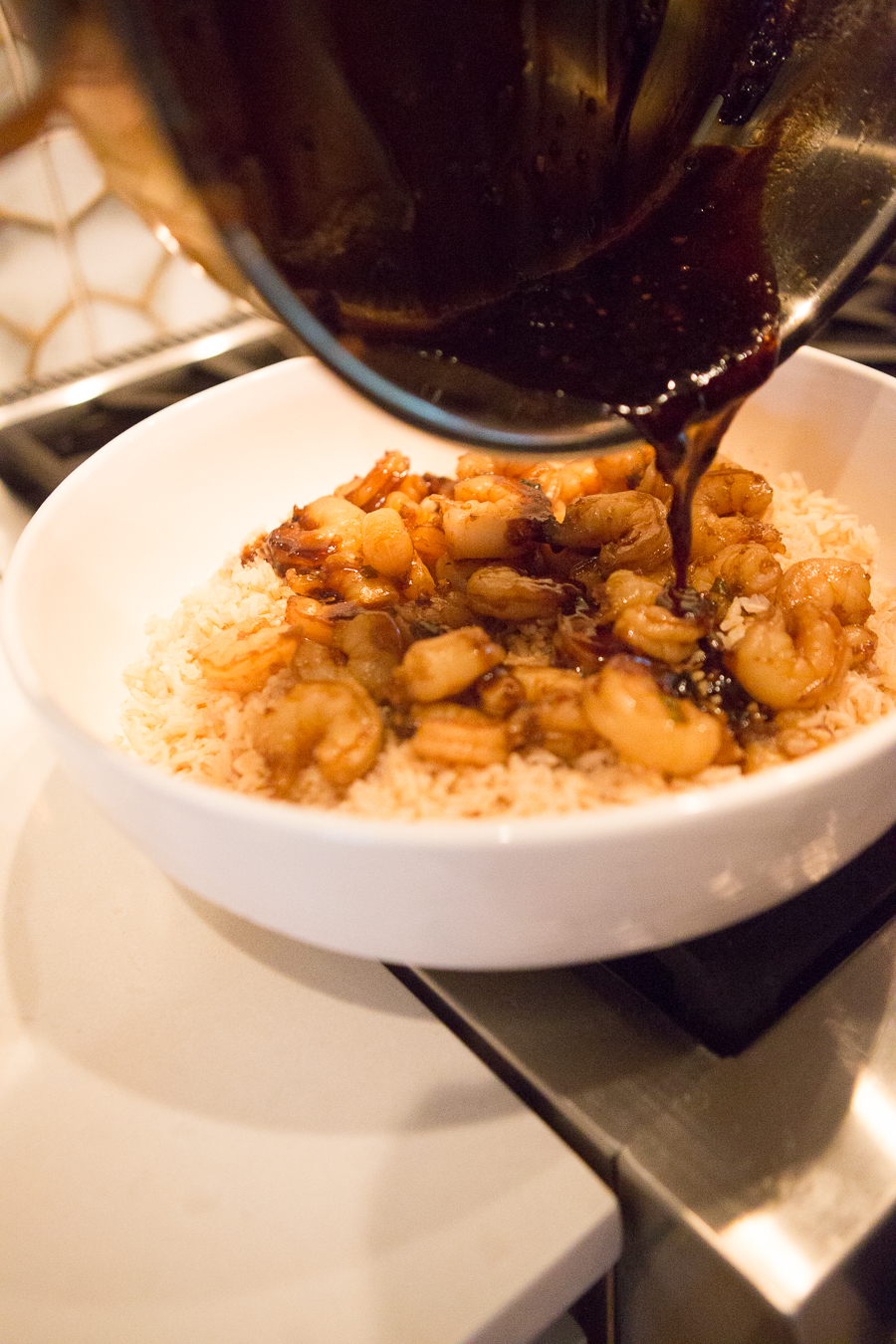 And there you have it, a quick and easy Honey Maple Garlic Shrimp recipe that is a Miller family favorite!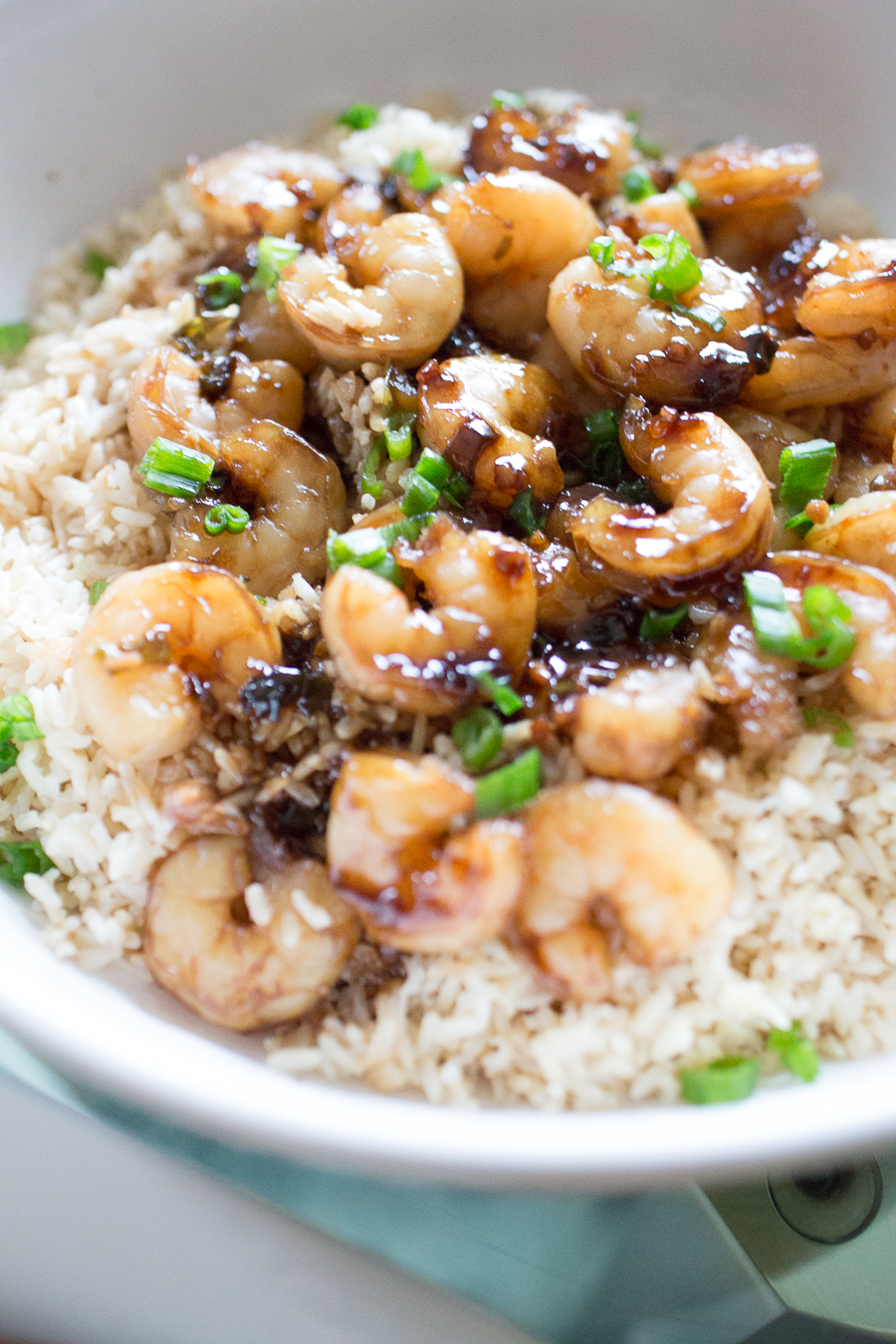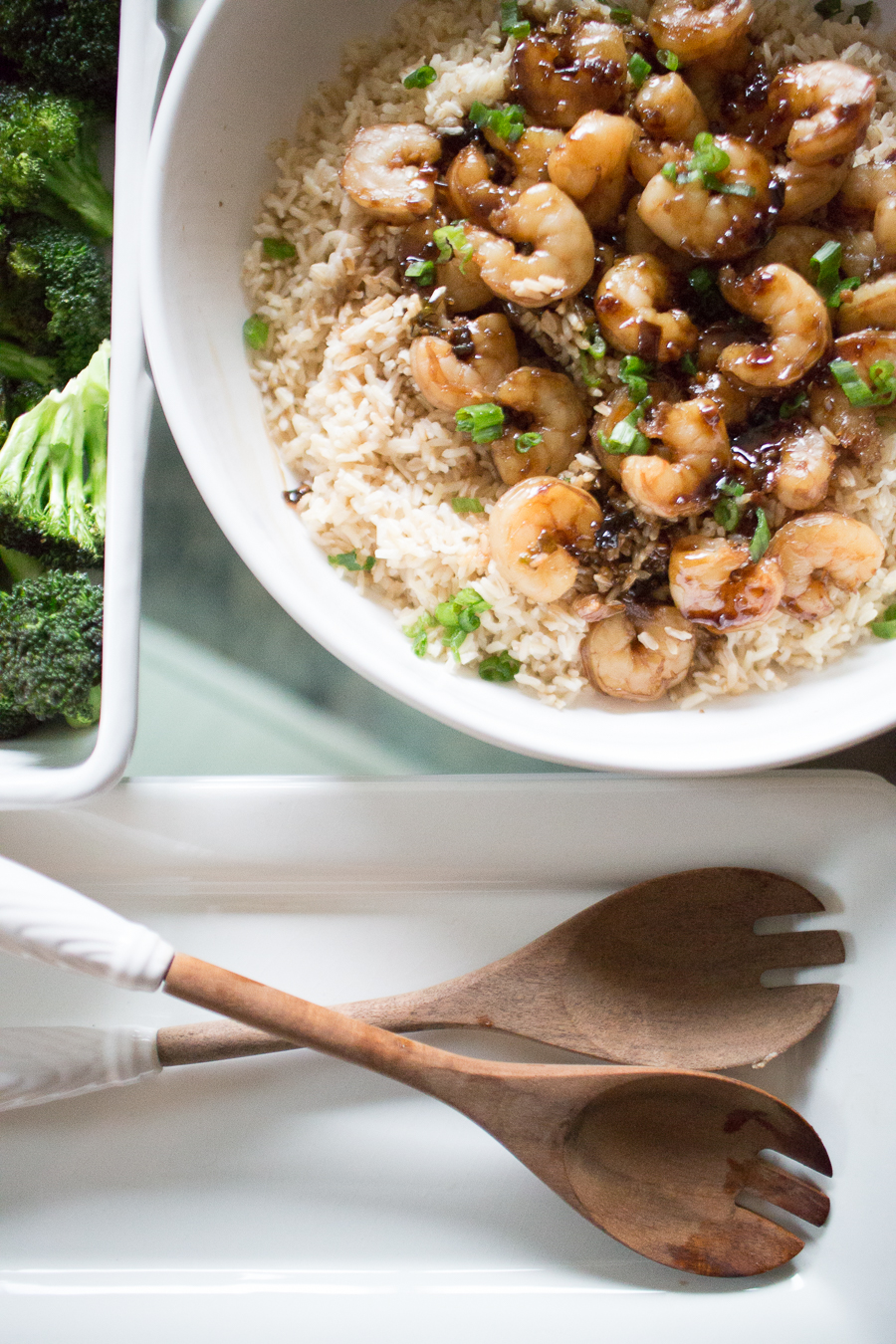 If you are wanting more recipes like this, try our Chicken Tacos recipe and our Tortellini Recipes.  They are favorites as well!  You can also shop our kitchen products here: