Just trust me, you're gonna want to make this Raspberry Peach Summer Beer Recipe for your next summer party or to take to the lake, or beach, or poolside, or you even have time to pick up the ingredients and make it for your July 4th chin dig!
I just whipped up a huge batch of this for a party we hosted this weekend and it was a hit!  I made some modifications and added in some good old Peach Fresca and I'm not gonna lie, this new and improved Raspberry Peach Summer Beer Recipe has it goin' on!  Hope you enjoy it as much as all of us did at our party over the weekend.
Here's what you'll need and here is the ratio. For reference, I hosted a party for around 35 to 40 adults and I quadrupled this recipe. It goes fast so you will probably want to make at least a double batch if you are making this!
1 can pink lemonade concentrate
1/2 to 3/4 lemonade can full of Tito's vodka (or preferred vodka)
2 cans Peach Fresca (if your grocery store doesn't have peach Fresca you can substitute with normal Fresca)
4 bottles Corona Light or Corona Extra
Raspberries and Lemon wedges to garnish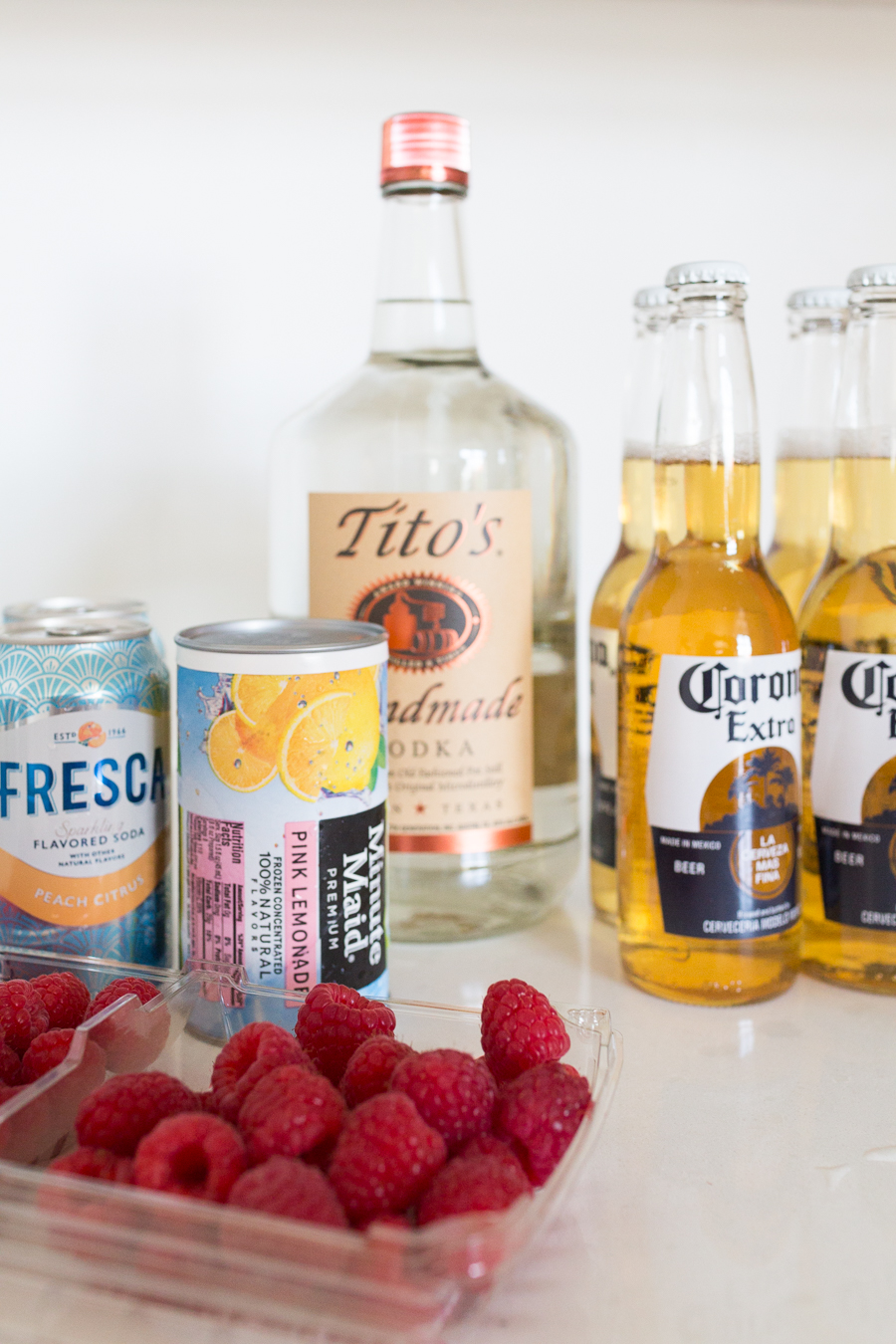 Mix all the ingredients together well!  Then garnish with raspberries and lemon wedges. I like to serve this yummy Raspberry Peach Summer Beer in Mason Jars with cute little straws!

If you would like to see more of my favorite kitchen products, you can see our kitchen in this post or shop our kitchen below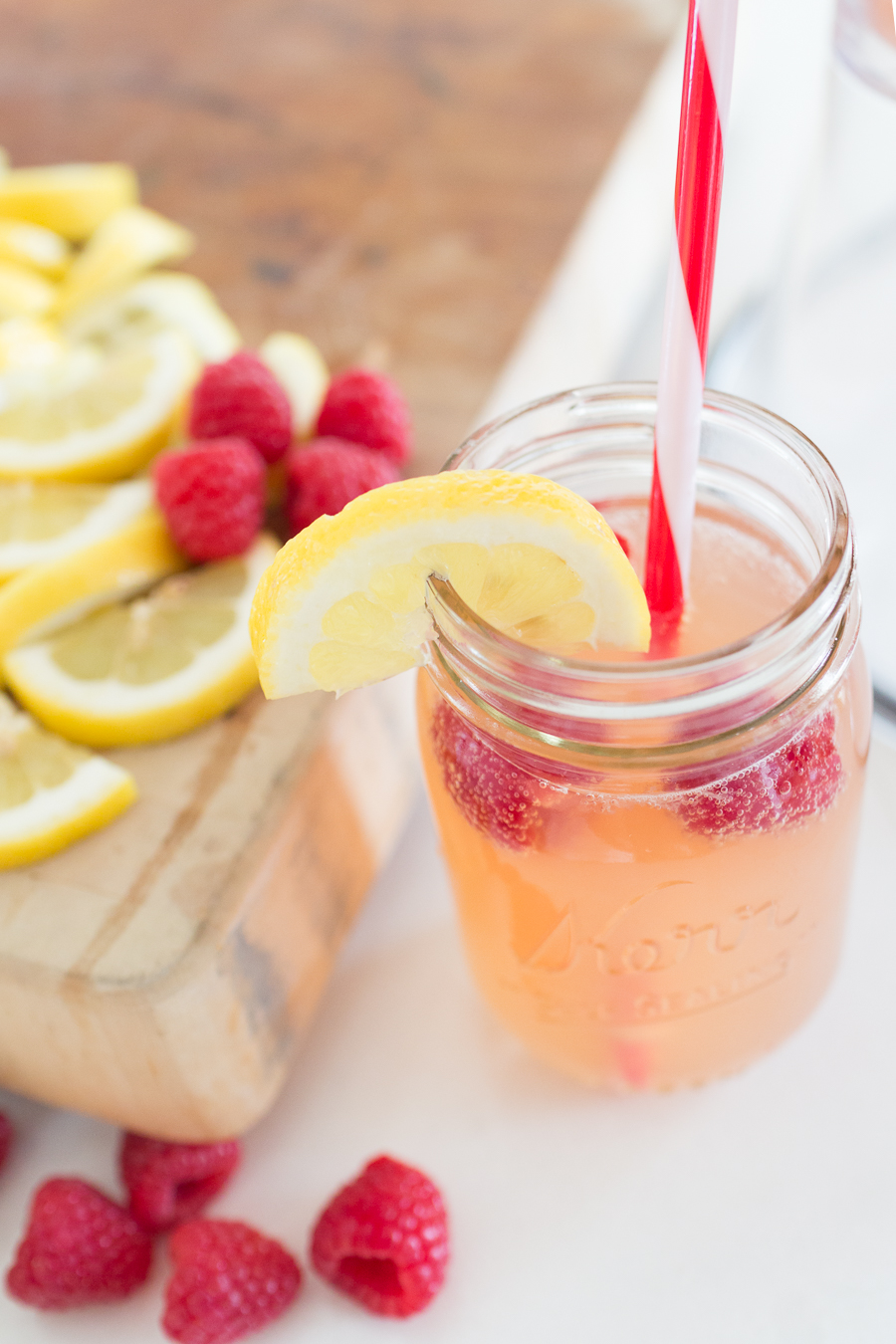 I also have a huge plastic drink server that I couldn't live without and it's especially handy for this Raspberry Peach Summer Beer.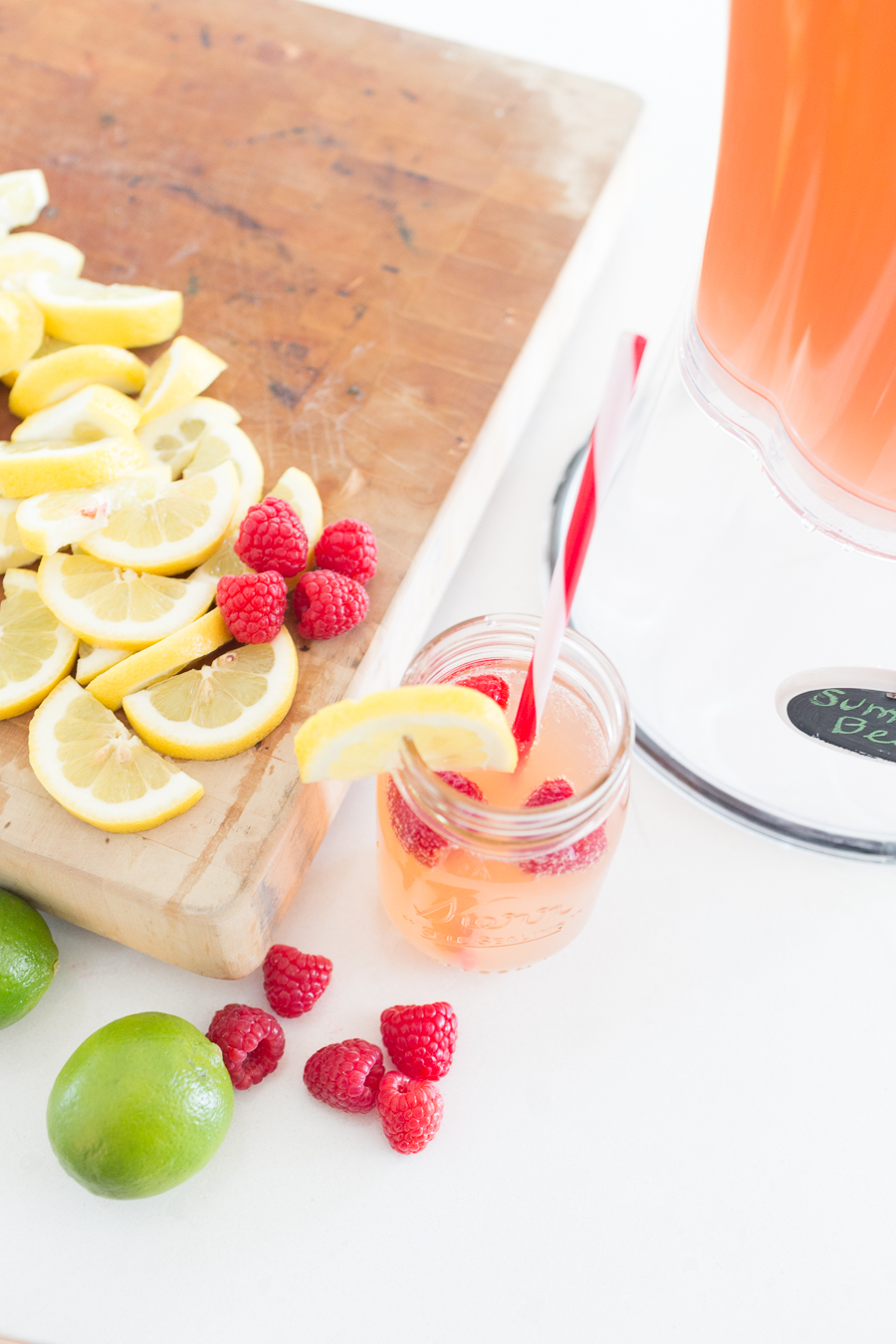 Also, gotta give a special shout-out to my little photography helper for this Raspberry Peach Summer Beer Recipe. I was needing a white backdrop to photograph and he came to the rescue with this pillow. Just a little behind the scenes action at CC and Mike, you guys. This is what true life is like. Gosh I love that ornery little smile.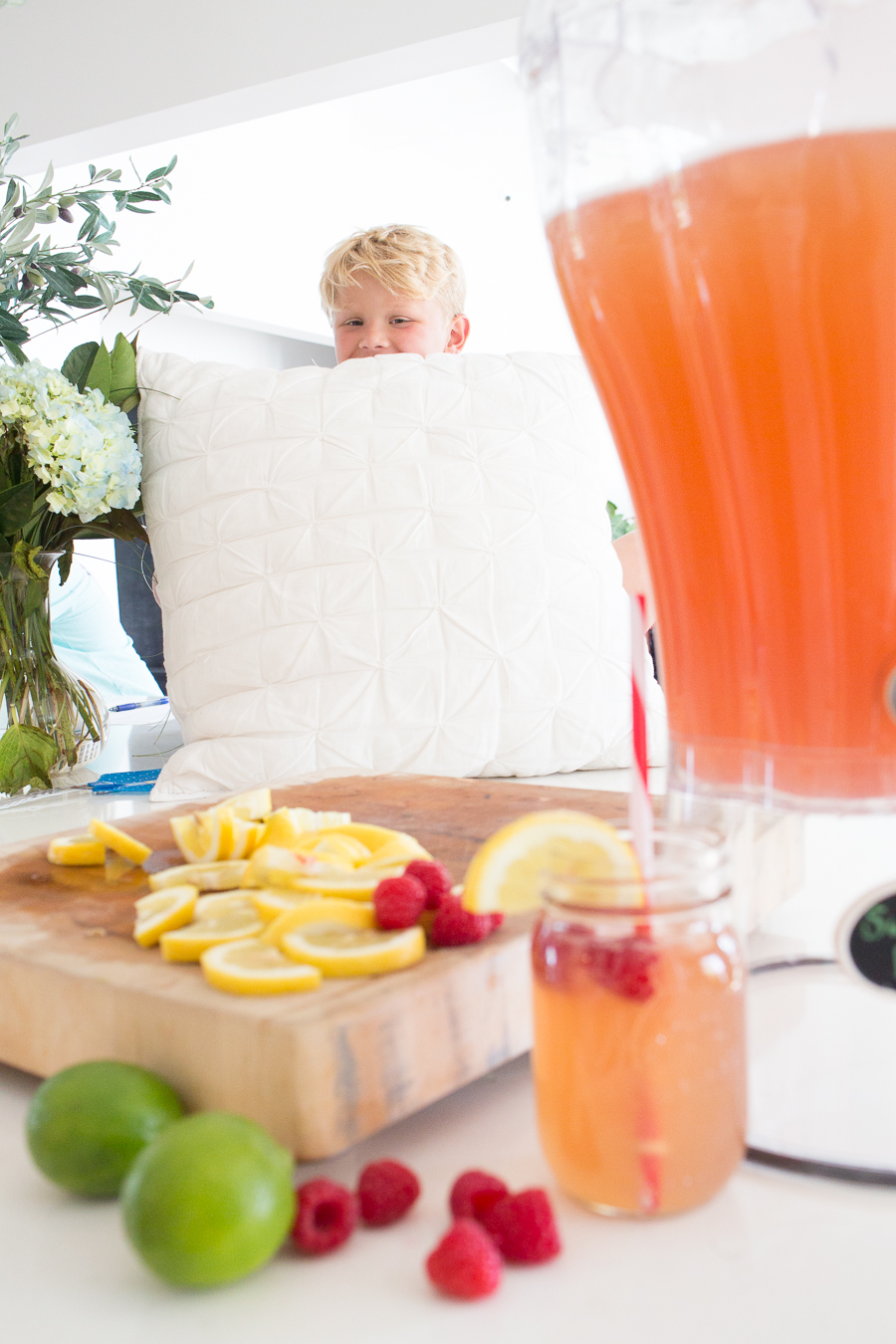 Hope you enjoy this Raspberry Peach Summer Beer  recipe and if so, leave me a comment or feel free to share with your family and friends. I've been getting all your INSTAGRAM  messages asking for more recipes and I've been answering the call. And I LOVE when you guys send me pictures and messages showing me that you've made one of our recipes or are wearing a kimono or a swimsuit or a pair of shorts I recommended. It just makes my day y'all.
Enjoy your Raspberry Peach Summer Beer you guys. But not too much if you know what I mean.
Happy Summer from CC and Mike and crew.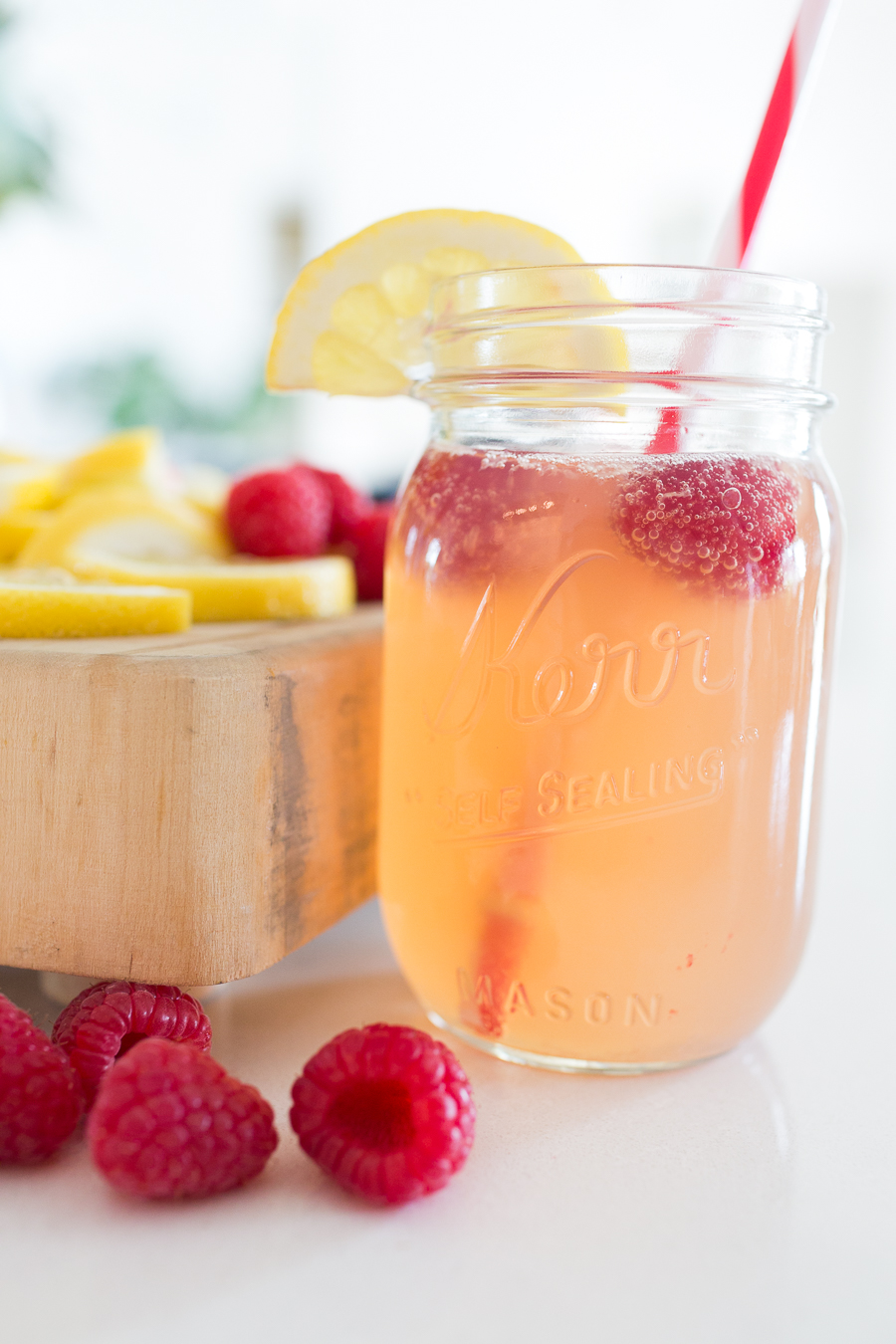 Mix the following ingredients together until blended well: pink lemonade concentrate, vodka, fresca, and Corona Garnish with raspberries and lemon slices. Serve in mason jars with cute summer straws!
I never just make one batch of this recipe.  To give you an idea, I recently hosted a party for around 40 adults and I quadrupled the recipe. The summer beer was gone in an hour!  It goes quickly so make sure you make plenty!!!
Enjoy!!!