I'm answering one of my most asked questions for you guys today – "If you were to only buy a few of the Colleen Rothschild products, which would you buy?" I totally get it, you guys! I've been singing my praises for Colleen Rothschild and have covered many of my favorite products. But you guys want to know…what are your absolute top picks as in, if you could only buy one or three or maybe five of these products, which would you choose and why. So, I'm breaking it down for you guys and telling you what my Top Choices for Colleen Rothschild Products are to help you really narrow it down to what you should start with if you want to jump into using these amazing hair and skin products.
**Thank you to Colleen Rothschild for sponsoring this post. All thoughts and opinions about the products are my own.*
I also wanted to mention an amazing sale that Colleen will be offering that provides an incredible opportunity for you to get started using these products! To celebrate Colleen's birthday, there will be a sale on
9/23 – 9/27: Colleen's Birthday Sale
Save 25% Off Site-Wide with CODE: BDAY25
So now that you know you can get these incredible products for a discount during this sale, let me help you out with where to get started!
#1 Quench and Shine Restorative Hair Mask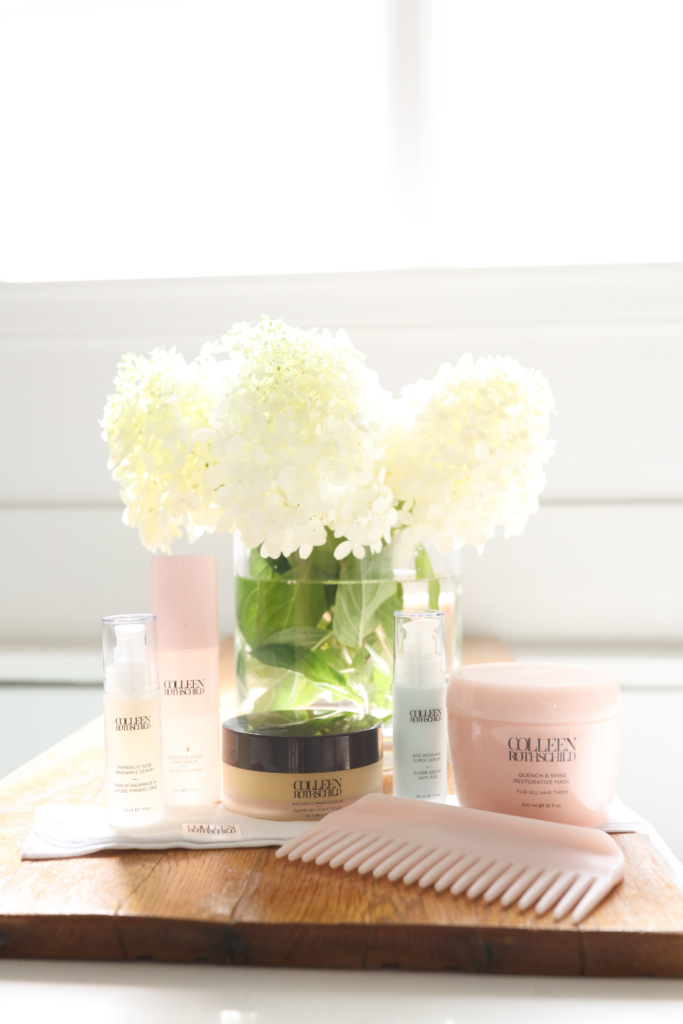 If I could only choose ONE Colleen Rothschild product, it would undoubtedly be the Colleen Rothschild Quench and Shine Restorative Hair Mask. It has revolutionized and restored my hair not to mention allowed my hair to grow over 12 inches in the last year and a half since I started using it. If you haven't read my blog post about my hair loss story, you can do that here.
I had tried absolutely everything to help restore my hair health and had no luck. Then, I met Colleen Rothschild herself — holy amazing girl boss! — at our Reward Style conference and she introduced me to her products. I started using the hair mask then. Within three months my hair was looking healthier and had finally started to grow again. I can not recommend his product enough. That is why, if I had to choose my NUMBER ONE Colleen Rothschild pick– it would be the hair mask.
I do also use the shampoo and shine serum in addition to the hair mask. So if that is in your budget, add those to your shopping cart as well. Trust me, you will love them!
HOW DO I USE THE HAIR MASK?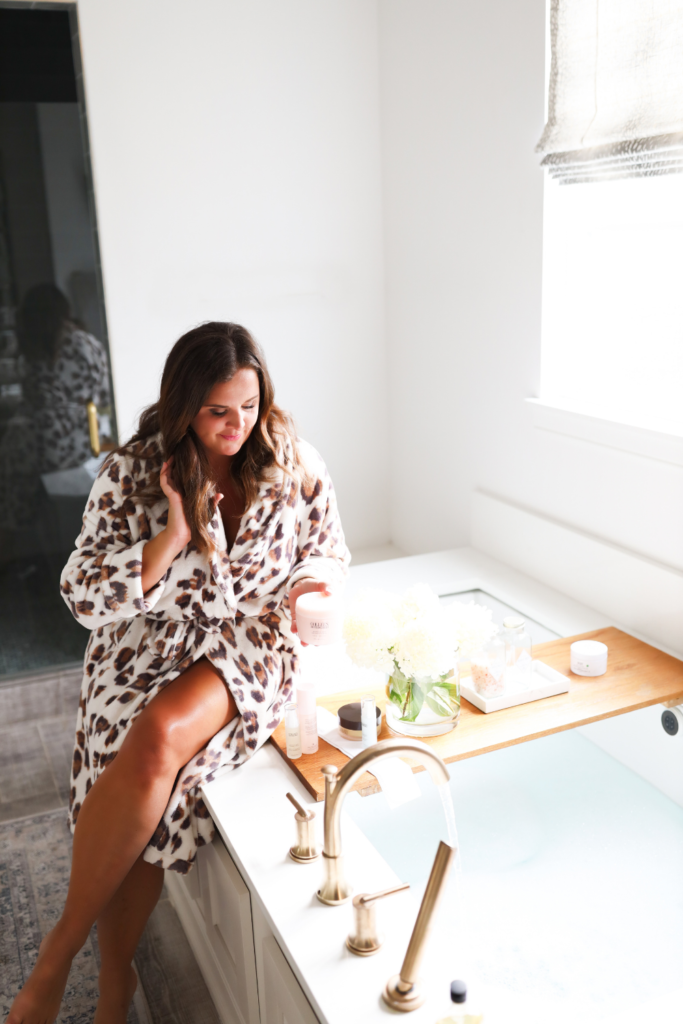 This is another most asked question that I receive. So, I only wash my hair once a week. I know, I know…some people think that's crazy but I have extremely thick hair and with the right dry shampoo and the Colleen Rothschild hair products that work best for me.
SCROLL AND TAP TO SHOP THE POST:

#2 Radiant Cleansing Balm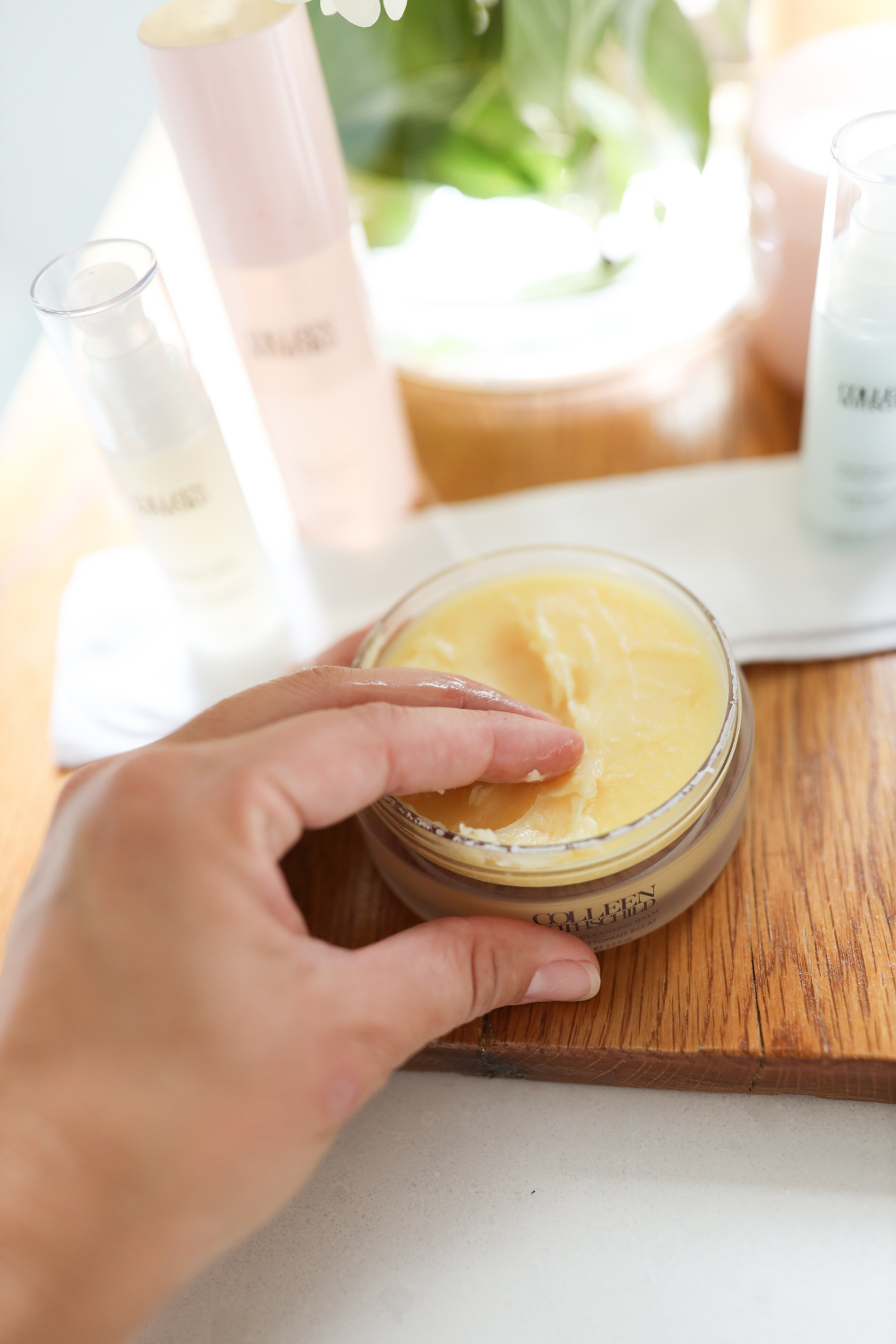 OK so next up, what would I choose as my #2 most loved Colleen Rothschild product, it would be the RADIANT CLEANSING BALM. I can't tell you how much I love this product. I use it daily to wash off my makeup and cleanse my face. There are so many things I love about this product, from the way that it smells to the way that it feels when you put it on your face, but by far my most favorite thing about the cleansing balm is how thoroughly it removes your eye makeup and mascara while also cleansing your face.
Have you ever played the – if you could only wear one thing of makeup for the rest of your life, what would it be game? Well, whenever someone asks me that my answer is without a doubt – MASCARA! I love me some mascara and I'm not gonna lie, I coat it on and make those lashes look as long as possible. But, taking it off at night is a total pain.
My Favorite Product for Makeup Removal
I've tried everything from Neutrogena makeup remover wipes to baby oil (yep, someone said to try it and I did) and nothing removed my mascara very well. When Colleen Rothschild recommended the Radiant Cleansing Balm at our conference, I thought I'd give it a try and I was blown away. It removes my mascara, cleanses my face, and feels like I just got a facial at the spa all at the same time! It is my #2 choice only because I had to choose a first but the truth is, the radiant cleansing balm is neck and neck with the hair mask and they are both my absolute must-have skin and hair products. These are the two products that I ALWAYS have in my arsenal. If I start getting low, I order more because they are my gotta haves, if that makes sense.
#3 Mandelic Acid Radiance Serum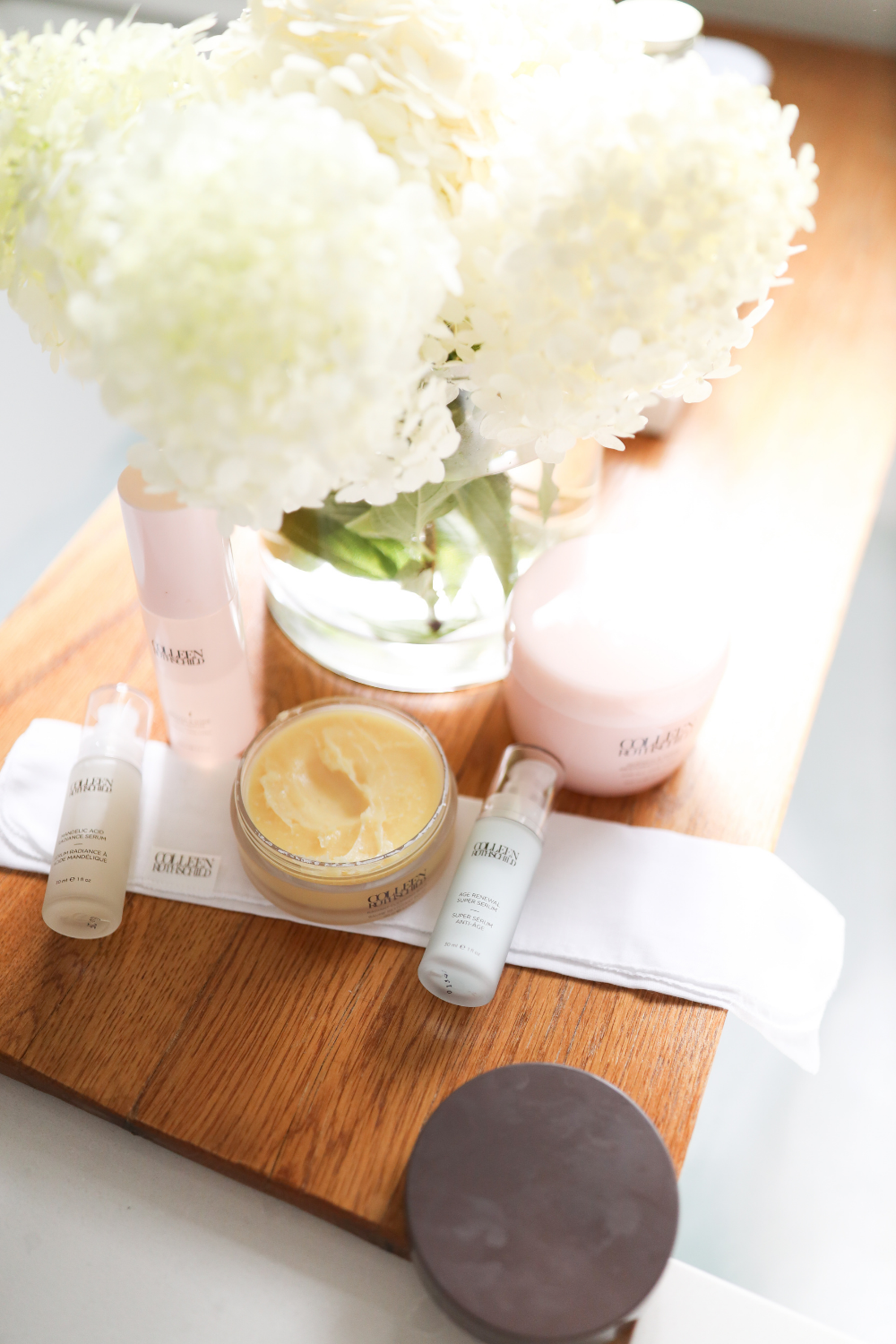 Alrighty so moving onto my third choice for Colleen Rothschild Hair and Skin products, which is the Mandelic Acid Radiance Serum. After I use the Radiant Cleansing Balm to remove my makeup and cleanse my face, I use this serum to help with sunspots, photo-aging, fine lines, and skin texture.
#4 Age Renewal Super Serum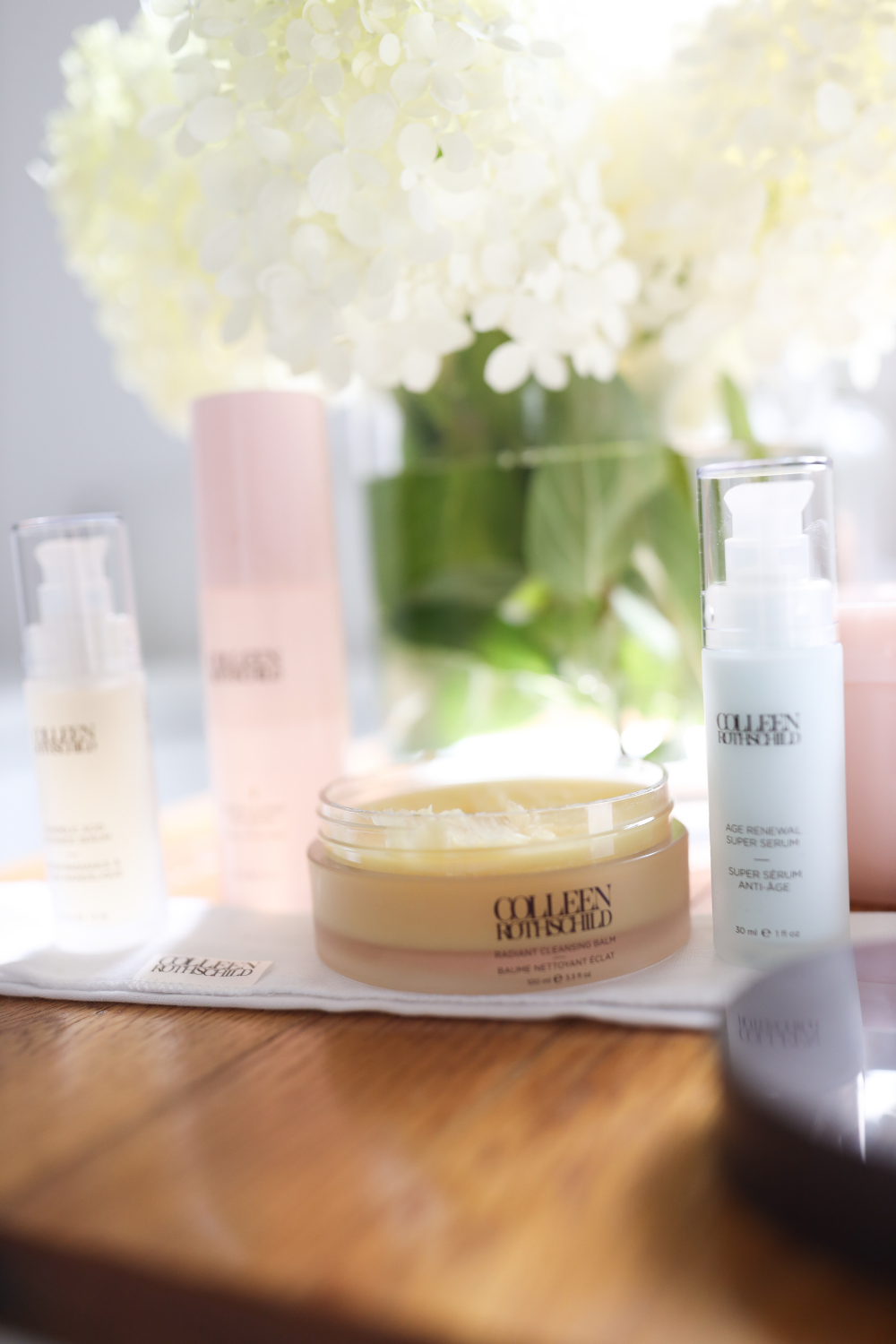 That brings me to my fourth choice which is the Age Renewal Super Serum. My nightly skincare routine goes like this – remove makeup and cleanse with the Radiant Cleansing Balm; apply Mandelic Acid Radiance Serum; Finish with Age Renewal Super Serum.
#5 Super Shine Serum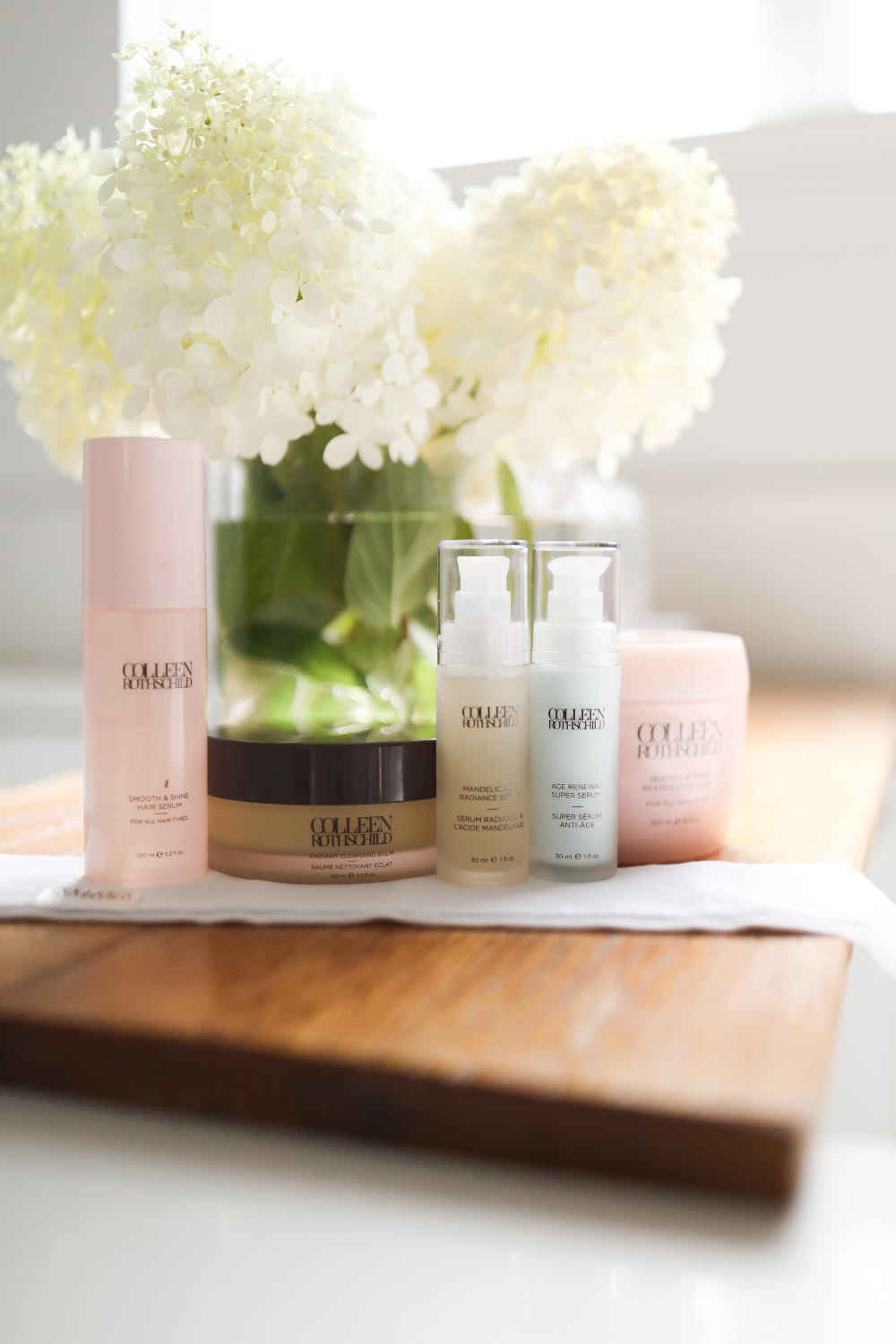 For my fifth choice, I'm going to go back to hair products and choose the Smooth and Shine Serum. I have coarse, thick hair that has some wave to it and I absolutely love this stuff. After I have washed my hair with the Colleen Rothschild Shampoo and have conditioned with the Colleen Rothschild Hair Mask, I blow dry my hair and curl it, then I put a little bit of the shine serum in my palm and rub it all through my hair. It helps tame flyaways and just gives your hair a shiny, smooth finish.
SCROLL AND TAP TO SHOP CC'S TOP 5 HAIR AND SKIN PRODUCTS FROM Colleen Rothschild:

There you have it, my must-have Top 5 Hair and Skin Products from Colleen Rothschild. They have so many amazing products that I also love and would highly recommend. But I wanted to answer your most frequently asked questions about these products which seems to be "CC WHERE DO I START?!?!" I hope this has helped answer that question. These five products, in priority order, are where I Would recommend you start with Colleen Rothschild.
I have absolutely fallen in love with this company and the amazing woman who started it. The results that I have experienced with my skin and hair since I started using these products are amazing. I have heard from so many women saying that they also have fallen in love with Colleen Rothschild products. They have thanked me for turning them on to CR. To check out more of Colleen's amazing skin, hair care, and body products, visit the BEST SELLERS PAGE. You will see all of my Top 5 selections on that page as well as many more you might be interested in trying based on your specific hair and skin.
SCROLL AND TAP TO SHOP Colleen Rothschild BEST SELLERS

We hope you enjoyed the post today on My Top 5 Beauty Products from Colleen Rothschild.