I am SO excited to finally show you guys our Tulsa Remodel Reveal Modern White Farmhouse with Black Windows and Doors, otherwise known as the Rebsamen Remodel! It was such a joy working with the Rebsamen family on this project and helping them transform this Jenks house into the home they dreamed of, a modern white farmhouse!
From a design standpoint when I walked into this home, the first thing I noticed was the dining room in the middle of the living room. Insert awkward thinking face emoticon here. I was like hmm… hold up, wait a second. Why is there a full-sized dining room in the living room? That's got to go.
I had just been itching to do a built-in banquette and felt there was room in the breakfast nook area to do a window seat and have a large seating area. This would enable us to lose the awkward dining room in the living room and enlarge the living room altogether which was also needed.
In order to do this, we had to move a doorway but that's no problem when you have my trusty coworker and partner in life, Mike Miller, on the job. Structurally those were the main changes that needed to be made to the Rebsamen Remodel to turn this Tulsa remodel into a white modern farmhouse with black windows and doors that our clients desired.
OK, Speaking of black windows and doors, that is one of the main questions I get about our own home—CC, tell me about your windows and doors. Well, steel windows are absolutely gorgeous but they are as expensive as all get out. Fortunately, you can get the look of steel windows for less by using aluminum clad windows which is what we did on the Rebsamen remodel.
My idea from a design perspective was to close off the door in the breakfast nook that led to the outside porch so that we could enclose the window seat and do a built-in banquette. This meant we needed to get doors to the outside porch in the living room, which we did by doing a huge sliding door and window system from Anderson windows and doors.
Next up, we did new wood floors and all new furniture for the living room. I did a design board for the Rebsamens which I will show you below. I love seeing the design board and then seeing how it actually turned out once the project was completed. I also just want to comment that, when doing a remodel or any design project, the results will always be best if you allow your designer the control he or she needs to complete the space. I think you are really able to see that illustrated here on how the Rebsamens truly gave me a blank slate in their living room and completely embraced my design vision for the space. Here was my design vision for the Rebsamen Remodel:
You can shop all the products from the Rebsamen's living room here:  Notable mentions include the Article Sven leather sofa, West Elm Stone Tile Rug, Hillenbrand Arm Chairs, Spindle Arm Chair,  CB2 Black Haven Coffee Table, Gorgeous Pillows from Danielle Oakey Pillow Shop – You guys HAVE to check out her pillows,  Parker media console from Pottery Barn, Martini Side Table, Adjustable height bar stools, and the black and white inlay table is no longer available but here is a very similar one — Bone Inlay Table.

Paint: Benjamin Moore Decorator's white (walls, cabinets, and trim)
Windows: Andersen Aluminum Clad Windows and Doors
Wood Beam Mantle: Tulsa Timber and Beam
Wood Floors: Renaissance Wood Floors – 5-inch planks white oak with a clear coat
Here is the BEFORE picture of the Rebsamens living room followed by the AFTER. I mean, have I mentioned how much I LOVE a good before and after.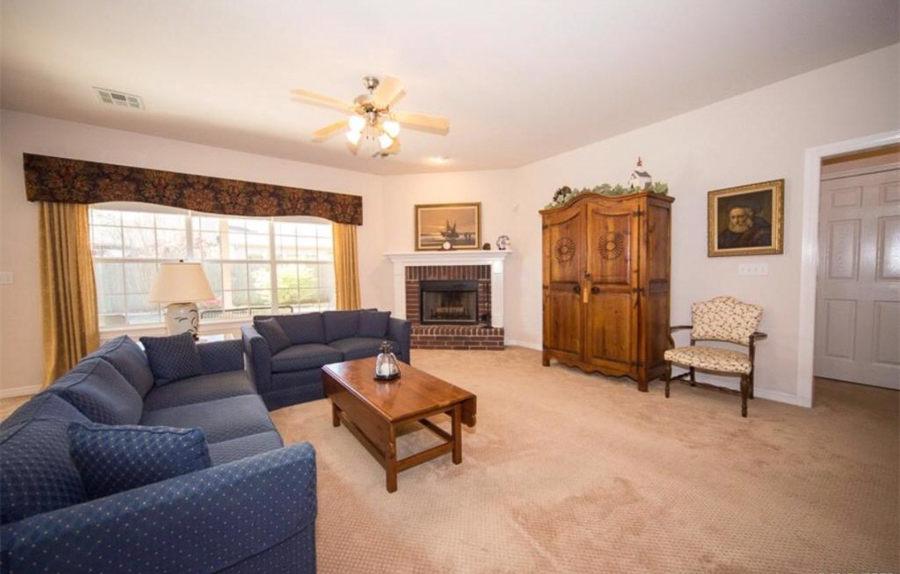 Isn't this so much better? This Tulsa Remodel Reveal of our white modern farmhouse with black windows and doors is so exciting to me because I absolutely LOVE showing you guys how a space can be completely transformed and turned into your dream home with our remodeling services.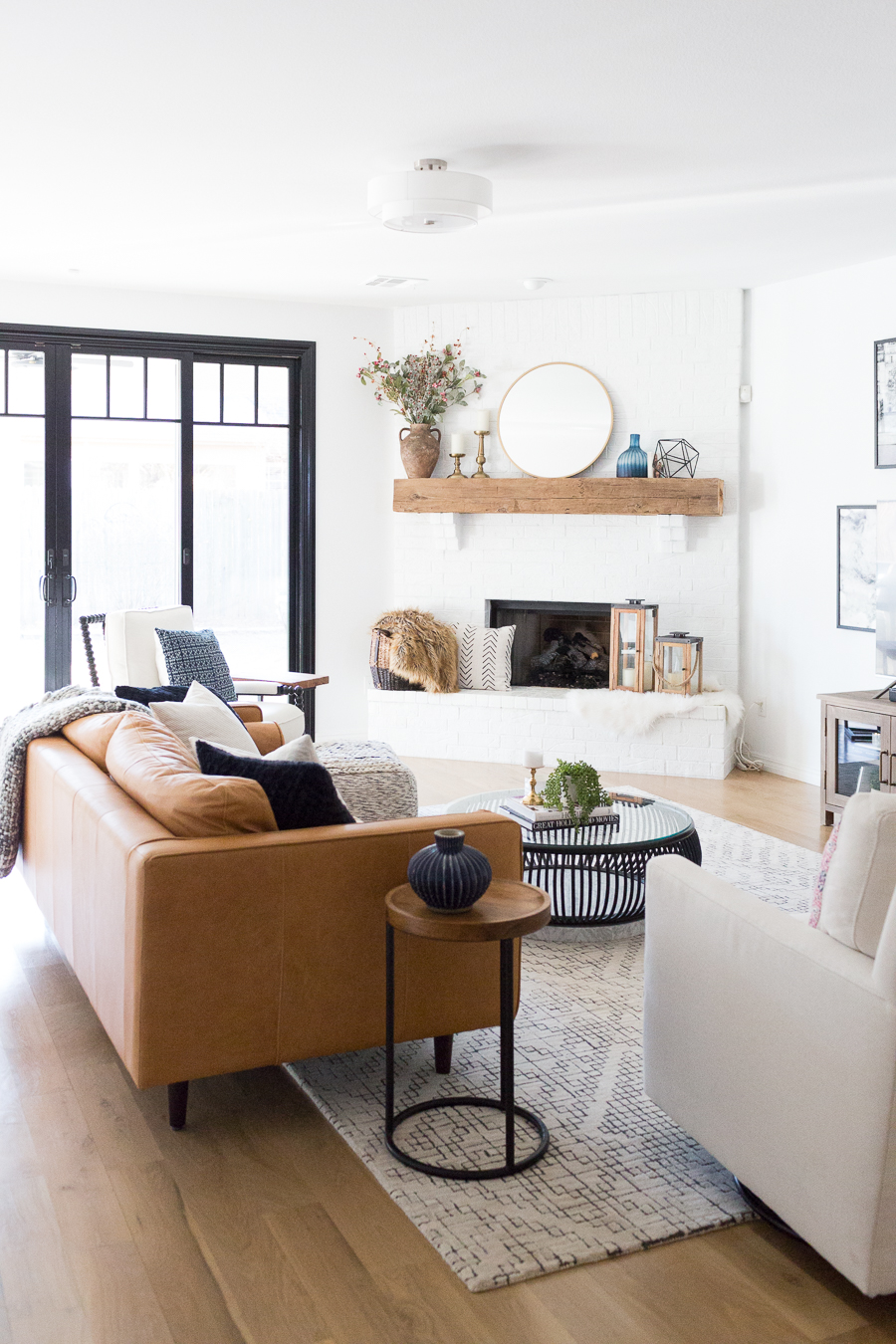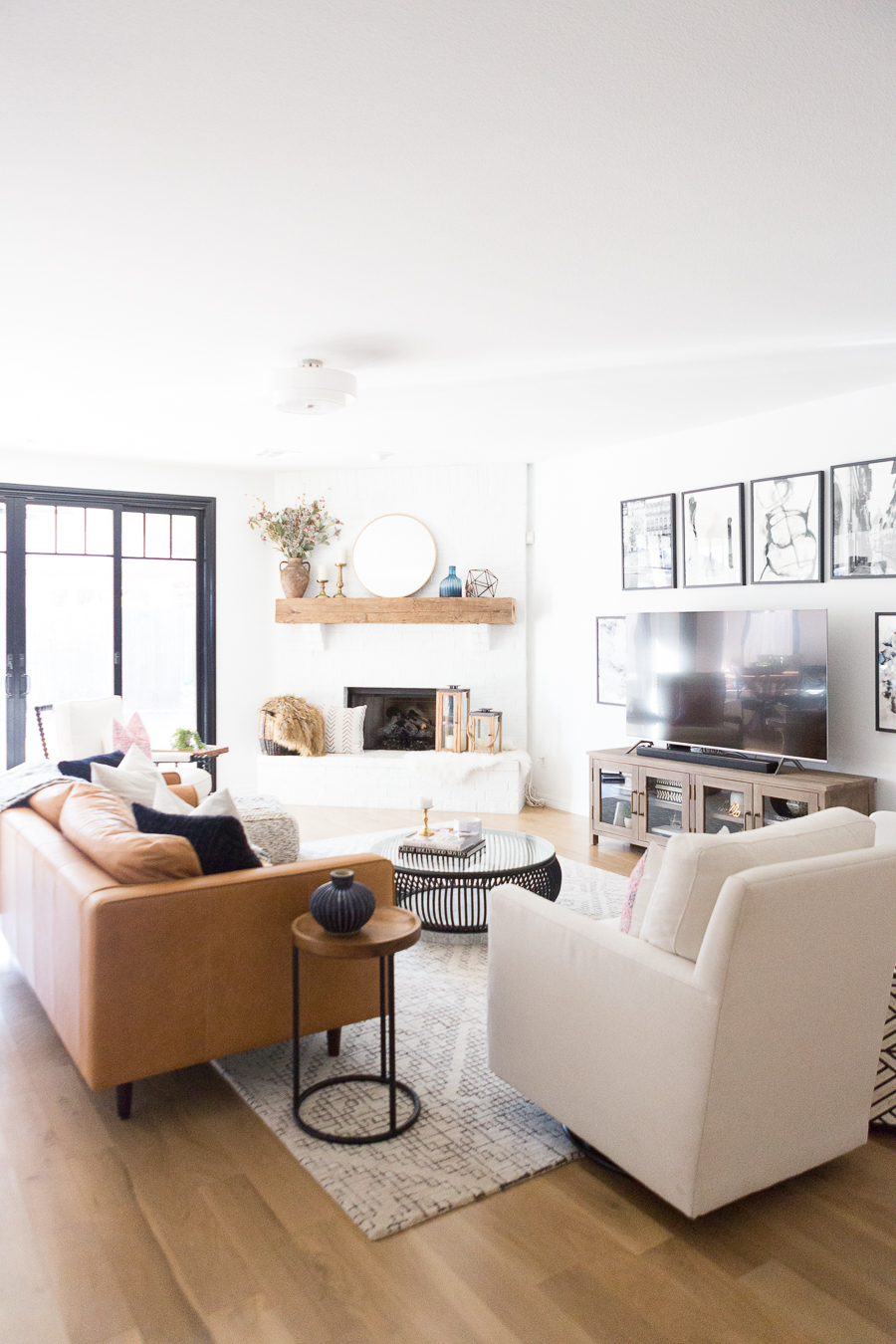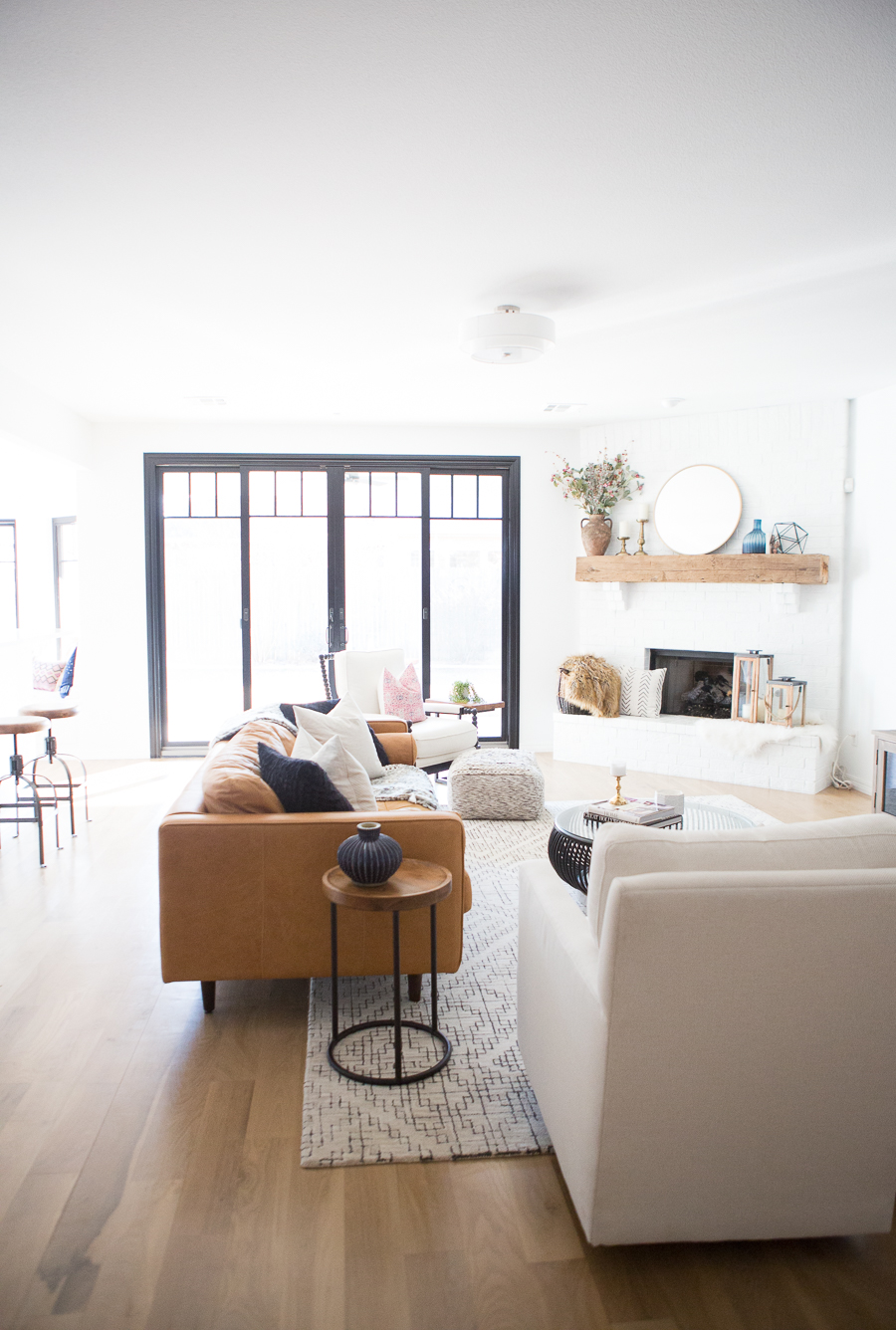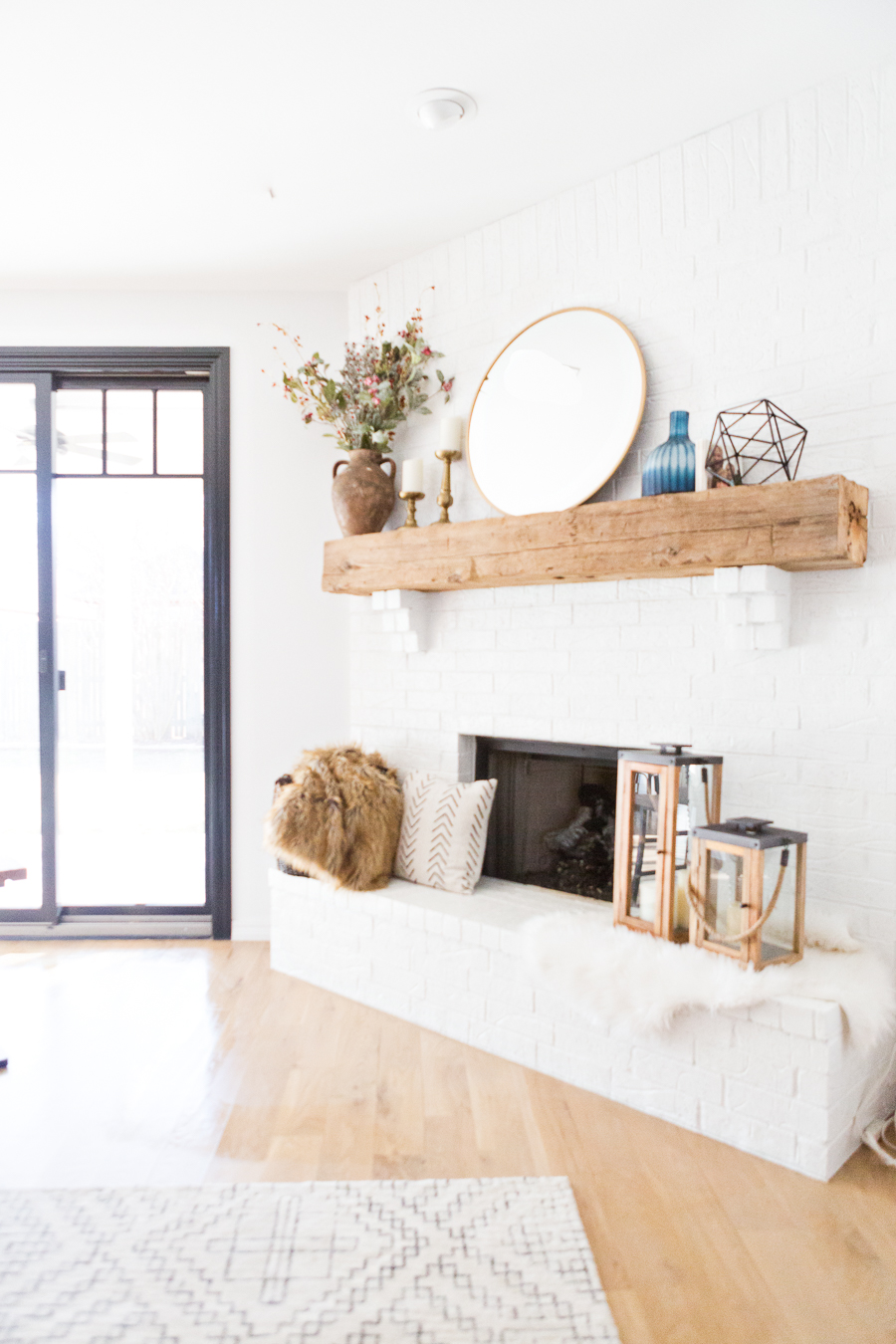 Here is the BEFORE of the kitchen.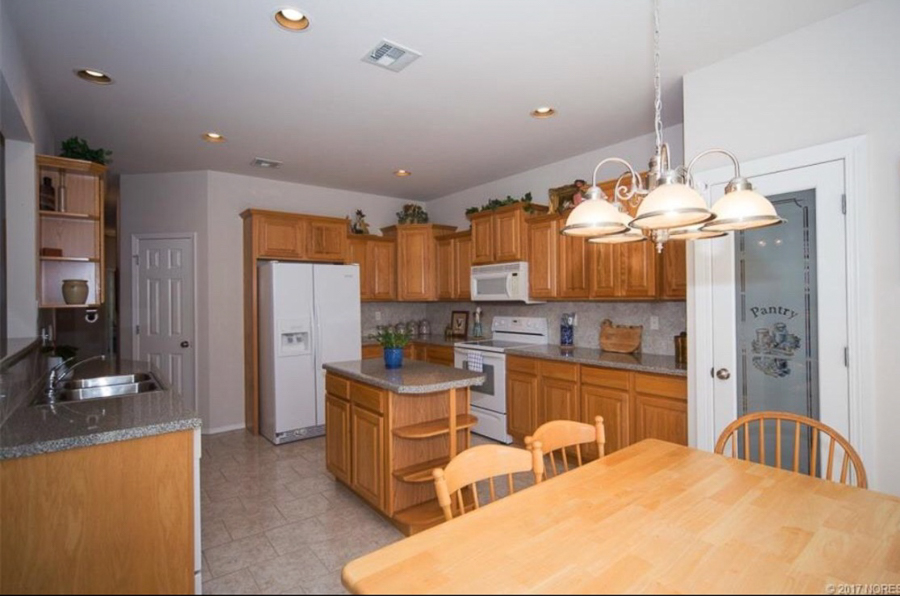 And here is the AFTER!  The brick we used in the kitchen was the focal point. Mike Miller sourced this faux brick and you guys it was amazing! Easy to lay and very affordable. We highly recommend it if you are wanting to do a brick hood or backsplash in your kitchen. It's extremely thin which makes it ideal for use in the kitchen. The hardware is also a notable mention. We used this affordable black hardware in this remodel and the GOOD REMODEL as well. Finally, these World Market Adjustable height bar stools are one of my favorite stools and are so affordable
You can shop the Rebsamen's kitchen products as well as their banquette area (which you will see below) here: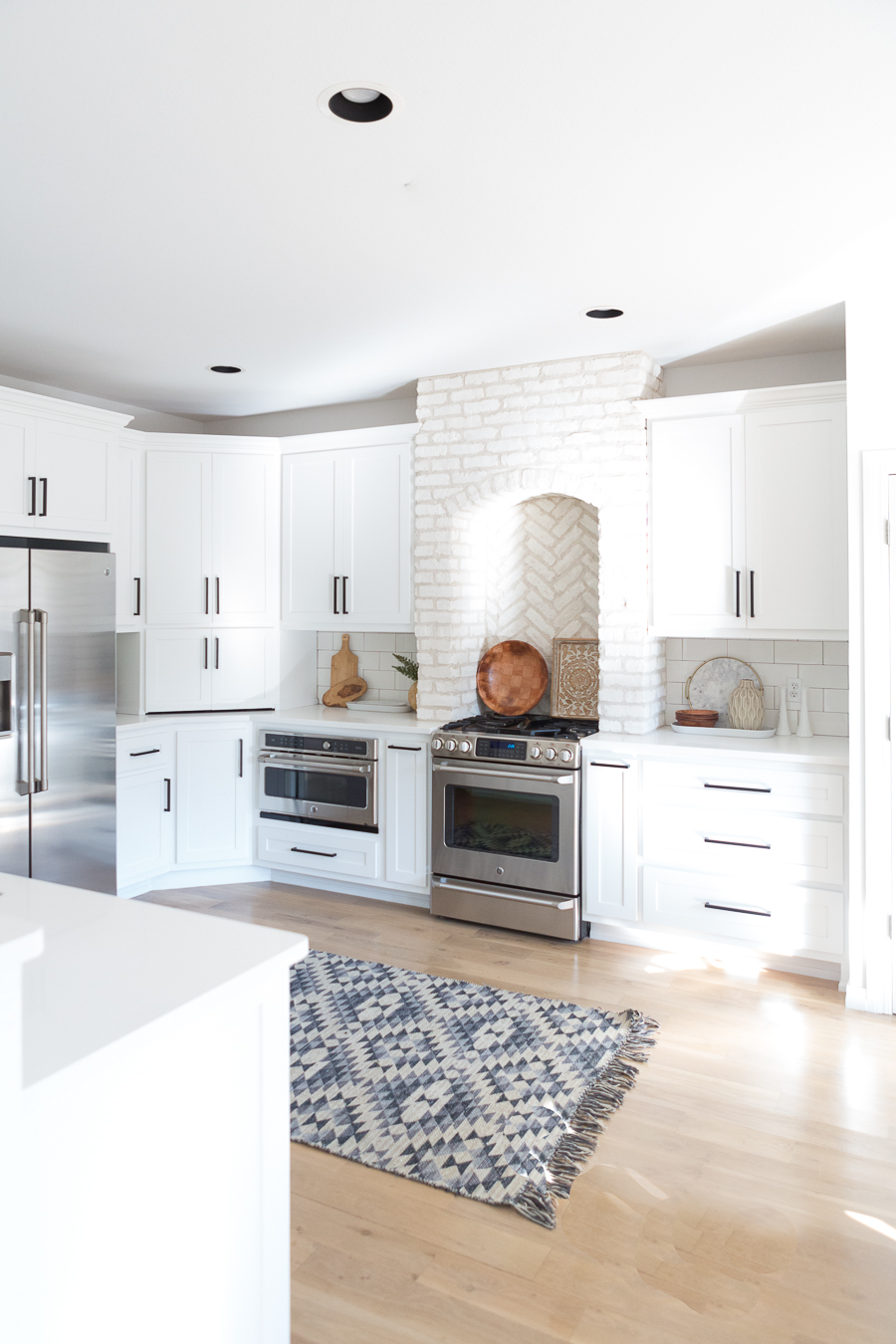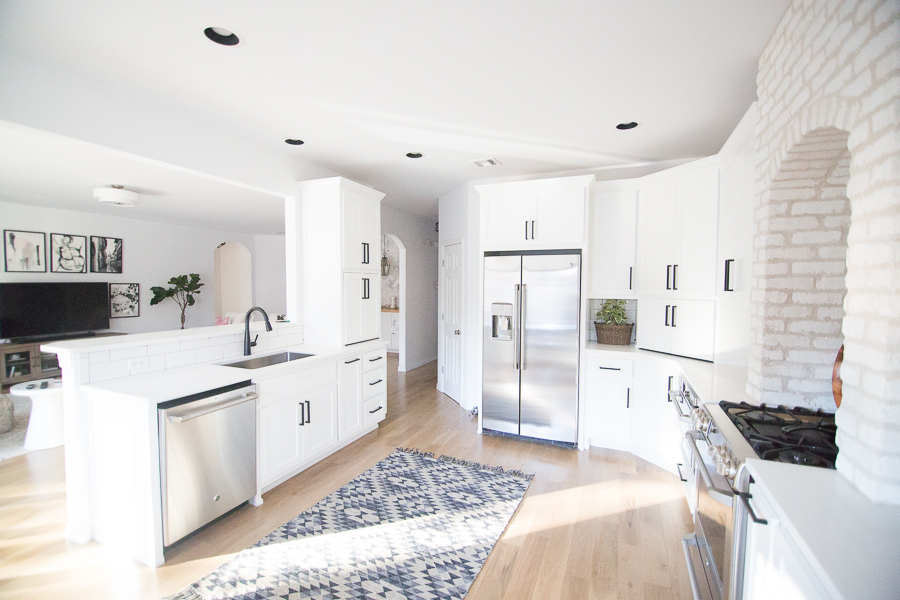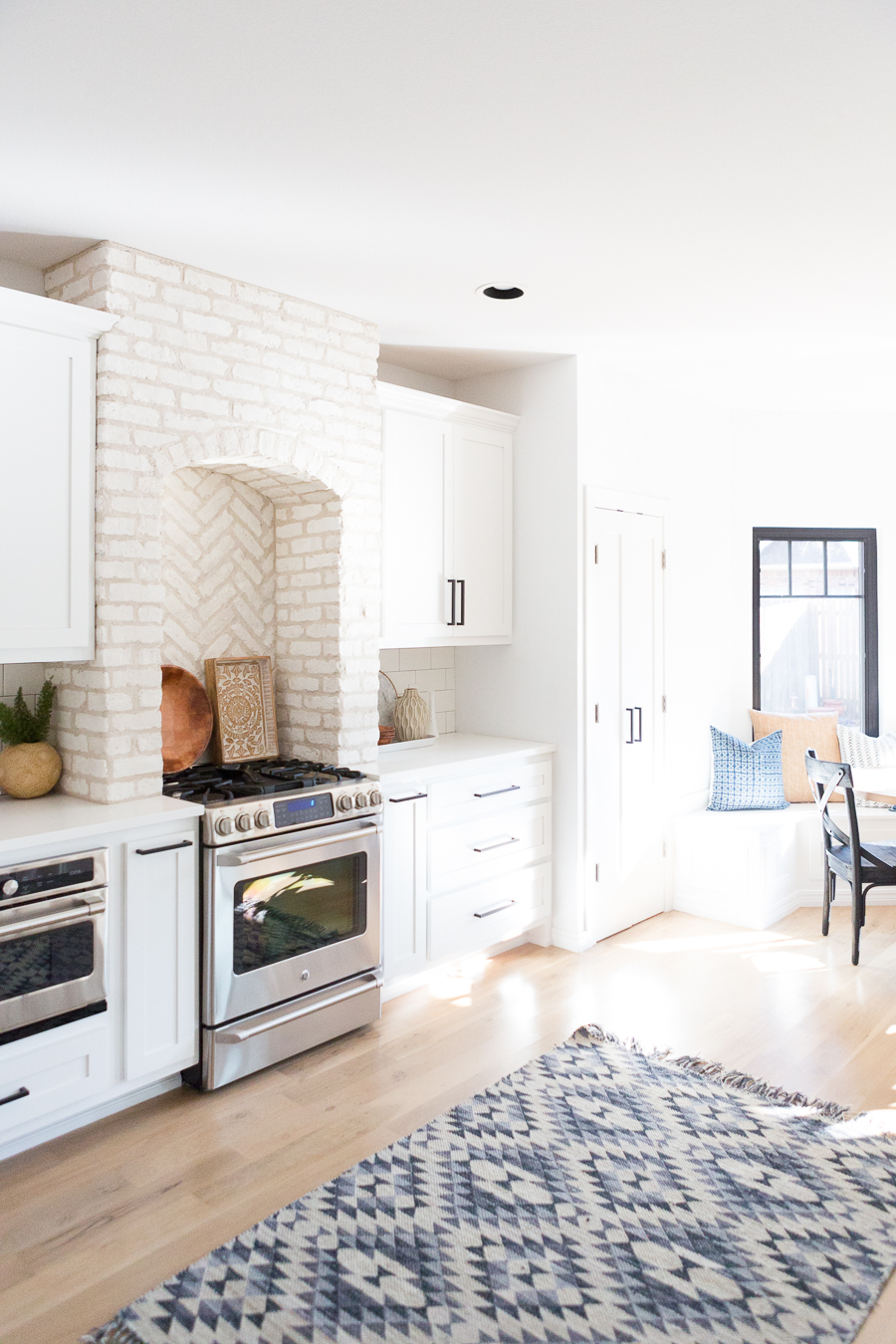 BEFORE OF THE KITCHEN LOOKING INTO THE BREAKFAST NOOK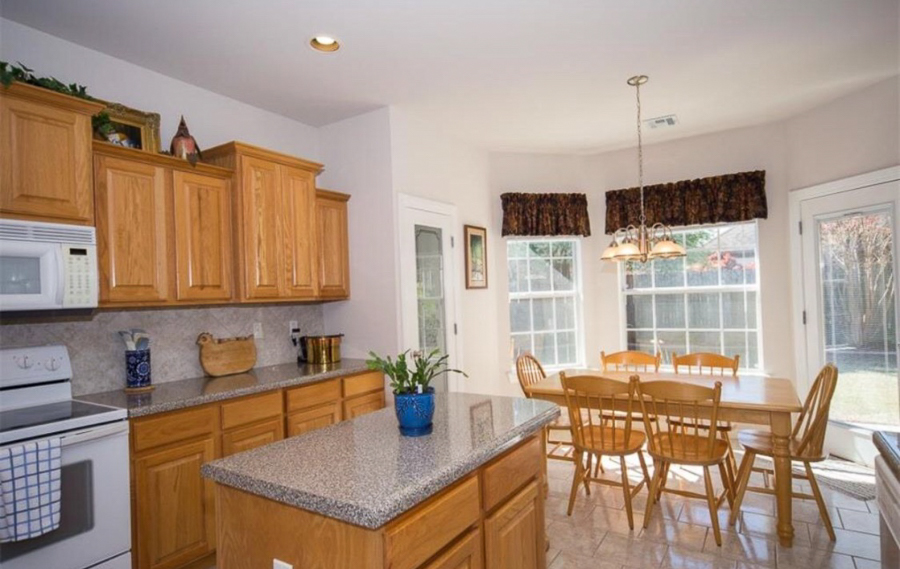 AND THE AFTER: A functional, modern white farmhouse with black windows and doors turned into a built-in banquette and window seat area. This is one of my favorite before and afters of the whole house! Don't forget to shop these pillows from the Danielle Oakey pillow shop. The rest of the sources are pictured above but notable mentions are the Table custom made by Color Me Happy of Tulsa  (if you need custom-built furniture be sure to check them out!).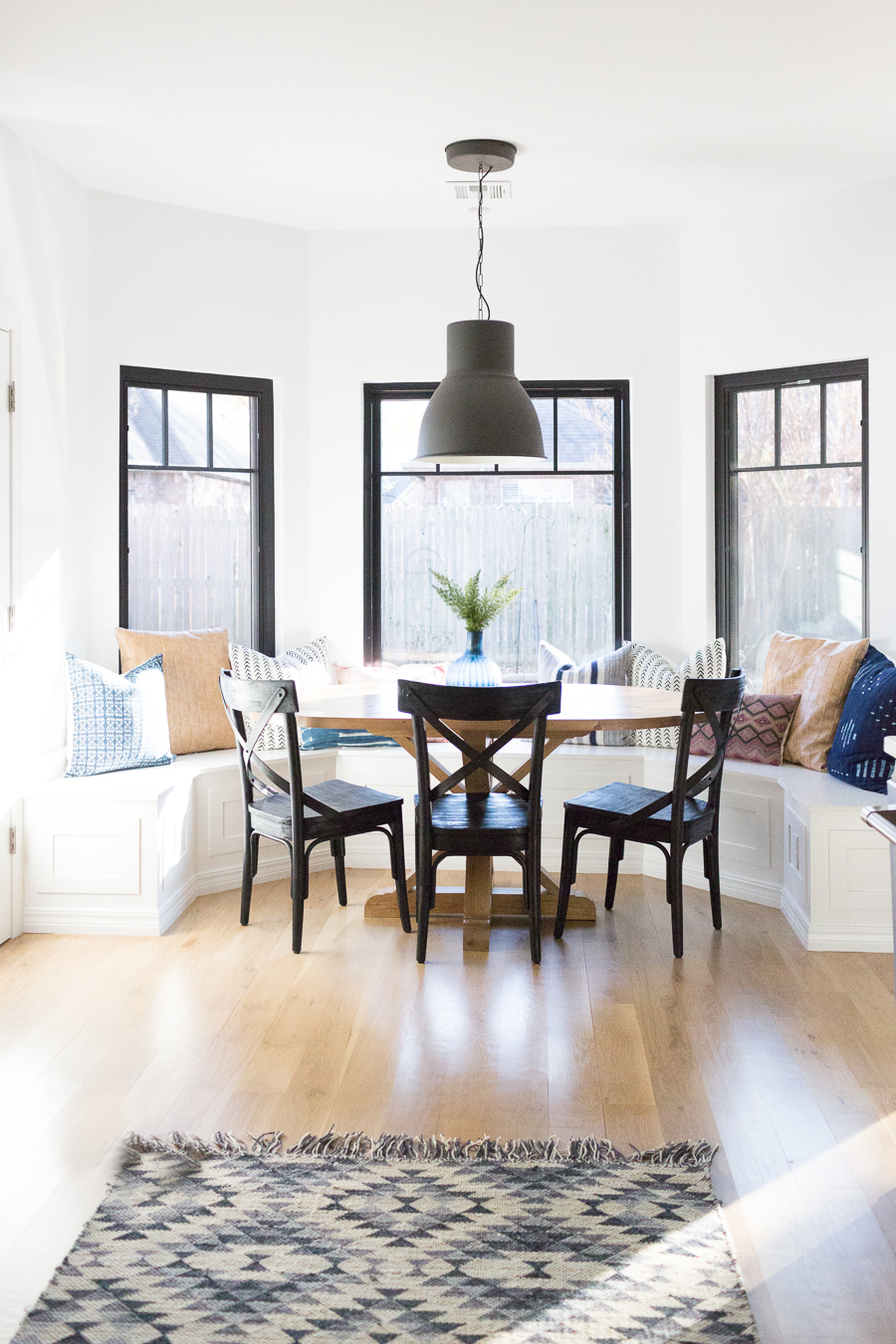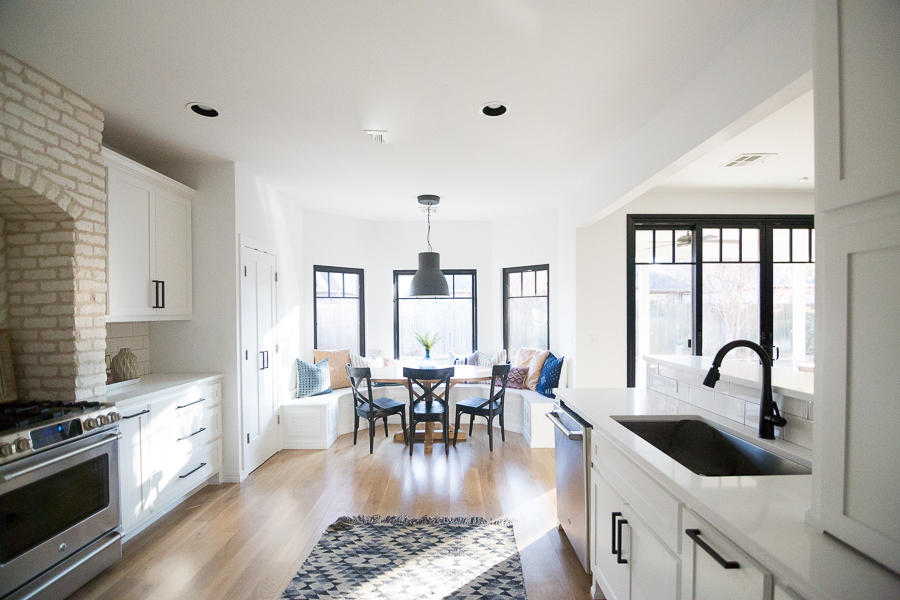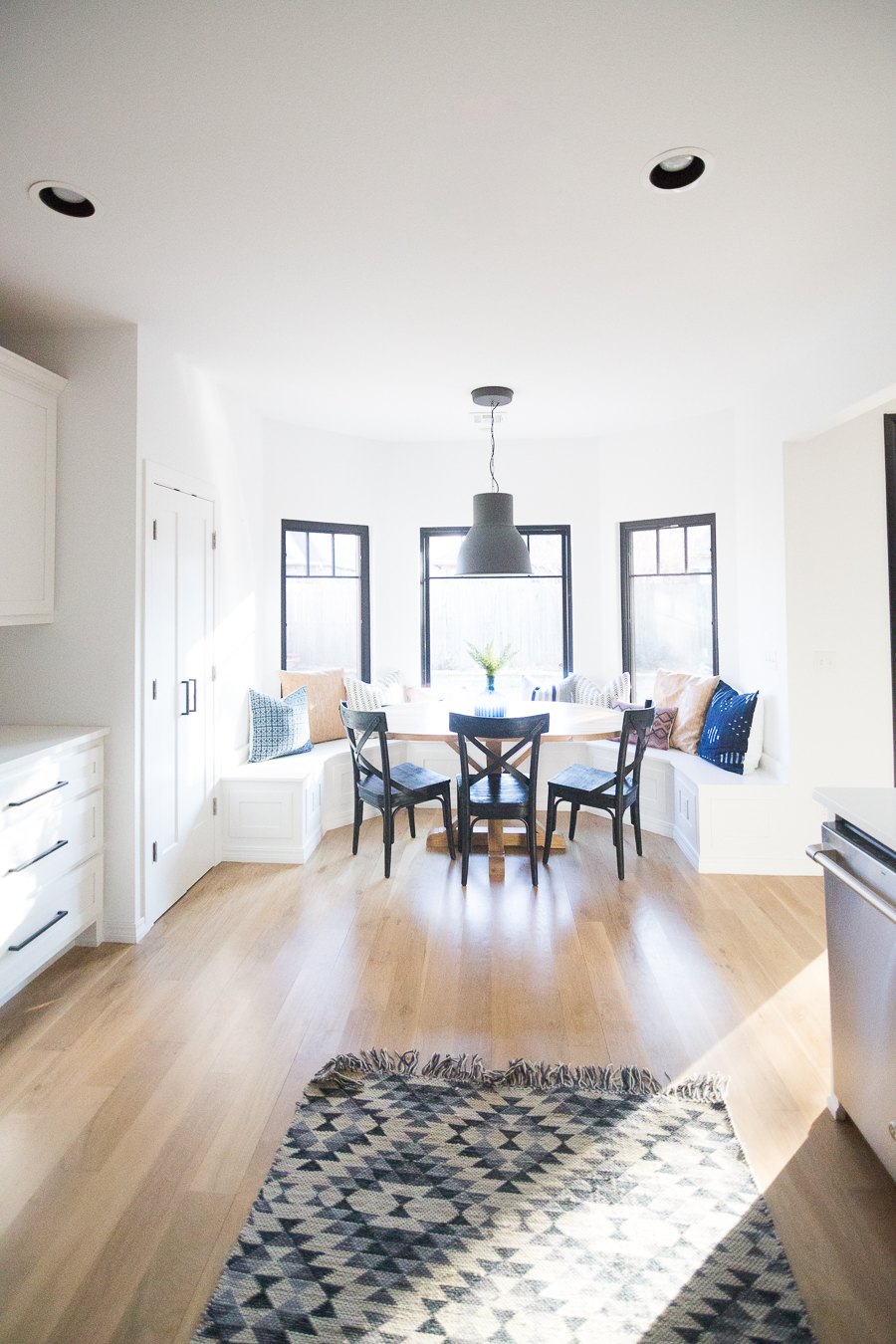 OK, I lied. I think maybe the BEFORE and After of the awkward dining room turned into a bar area might be my favorite. As you can see, this was the area that just made no sense to me from a design perspective. There was a large dining room table in the living room and on the carpet which is a total no-no in my opinion.  It had to go. So what did we do with that space?  Turn it into a gorgeous bar area.  You guys…just wait for it. Drumroll, please…..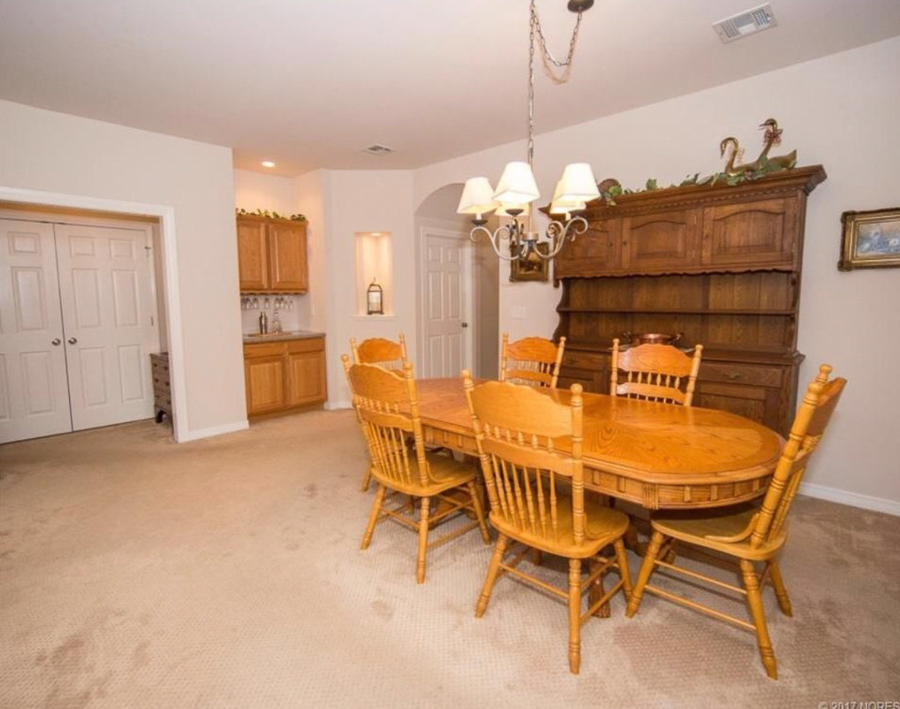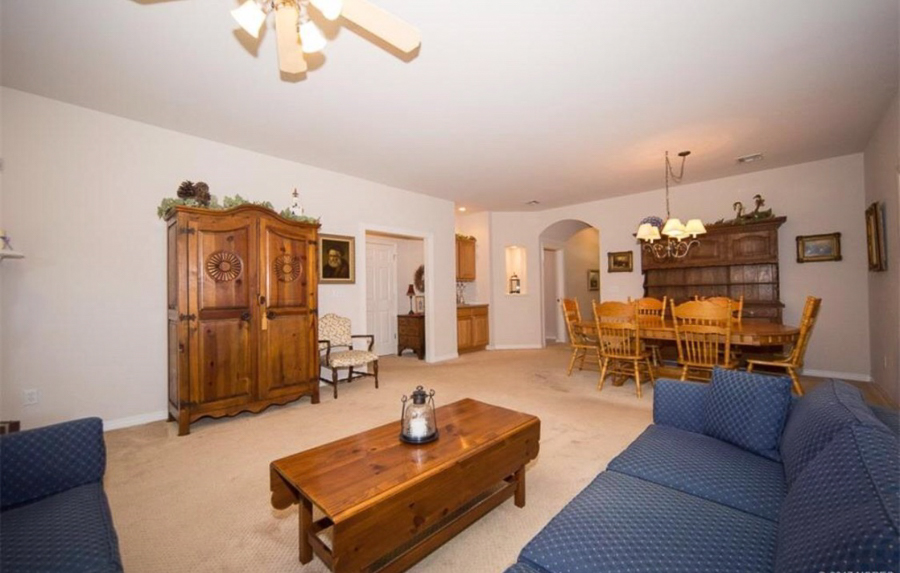 Isn't this SO MUCH BETTER?  That's what I'm talking about! Marble hexagon tile, faceted pentagon drop pendant lighting, butcher block countertop, and of course that black hardware that we've been loving so much. You can shop the Rebsamen's bar products here: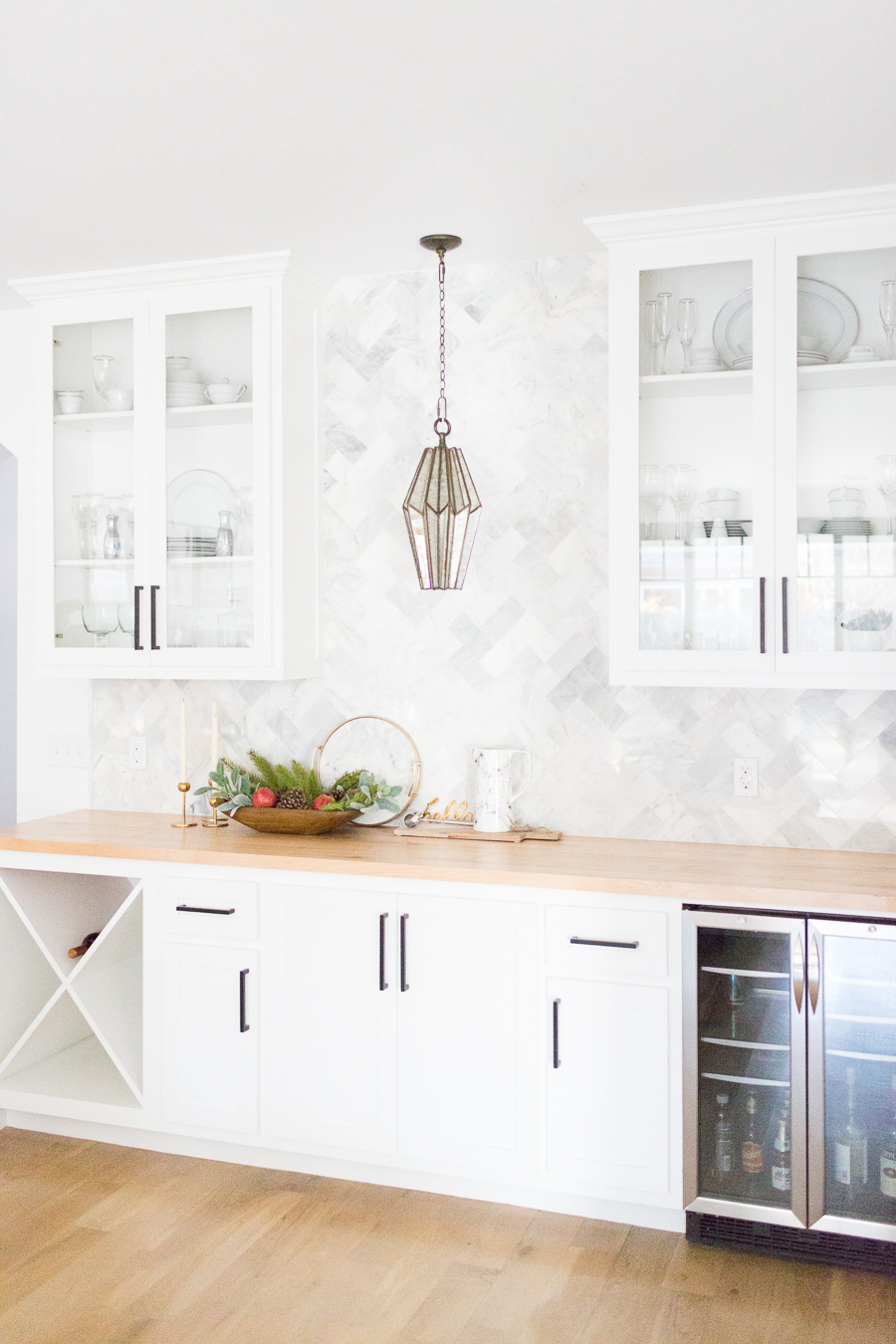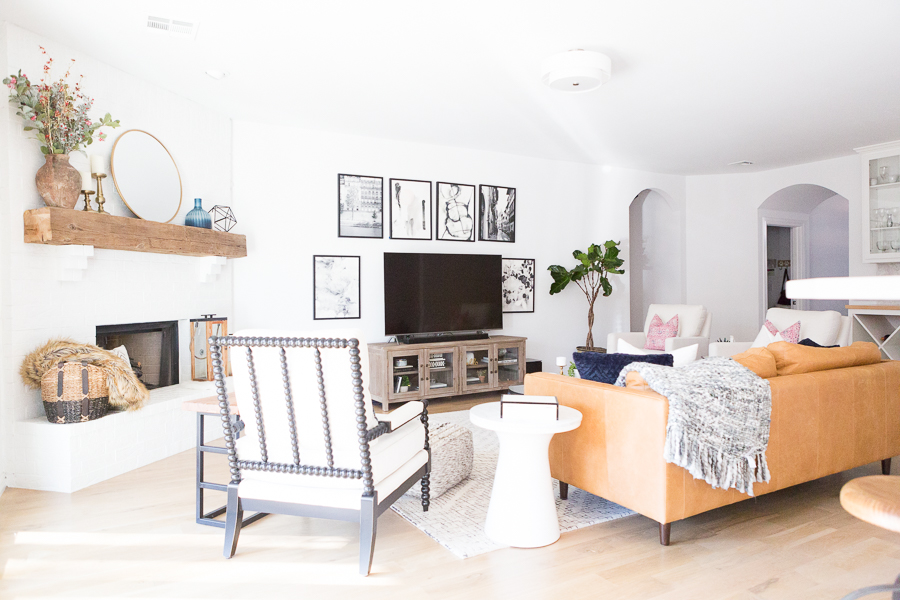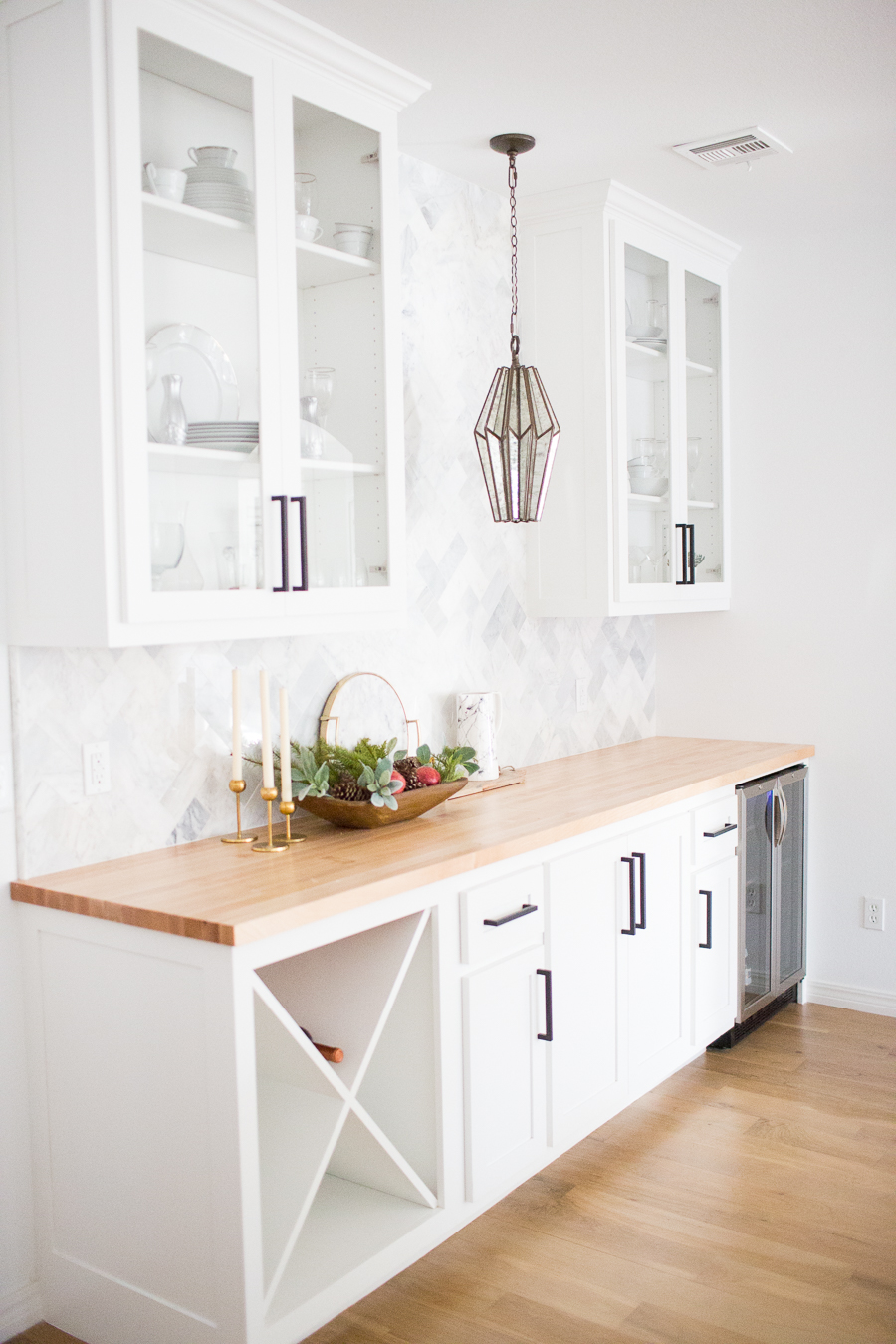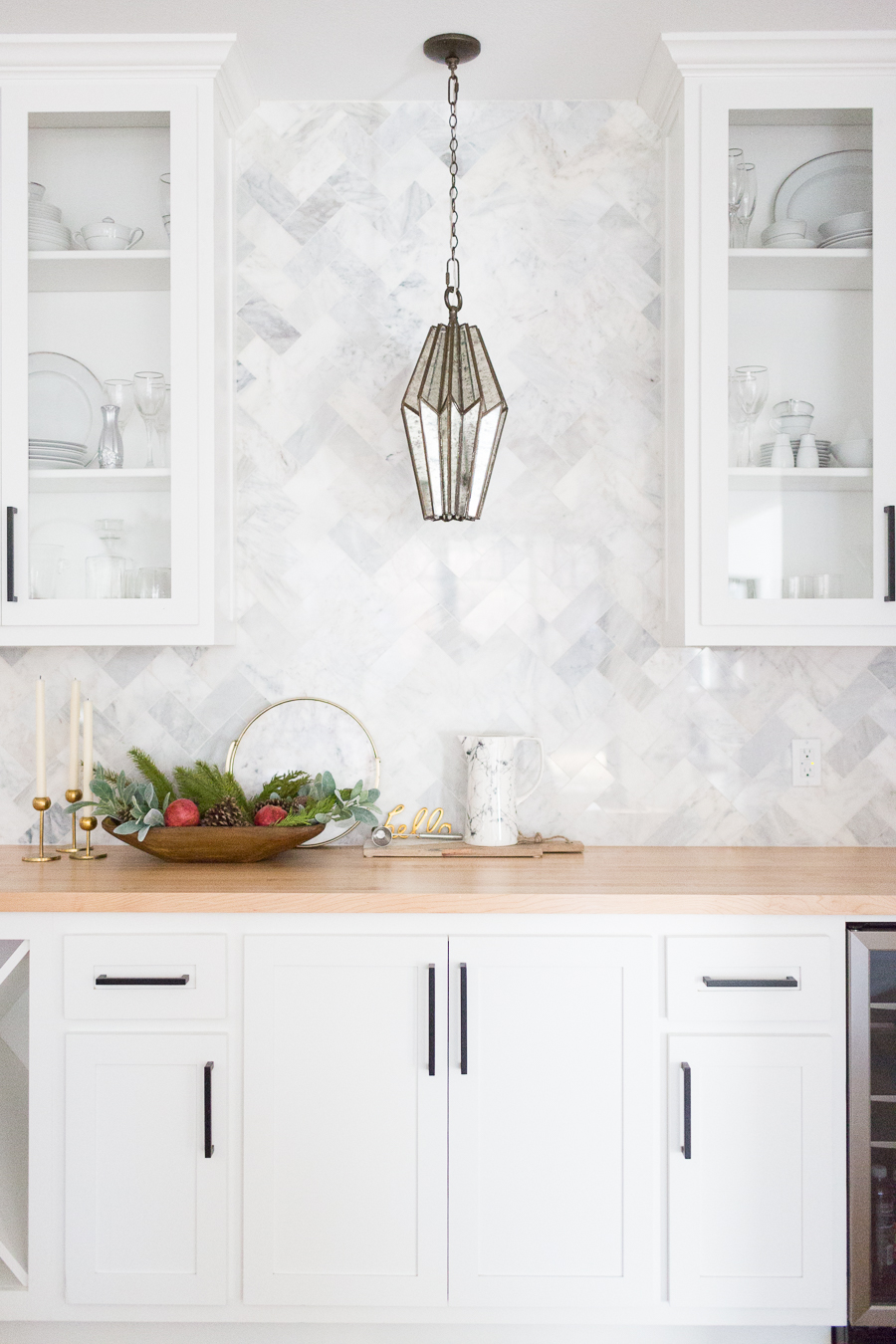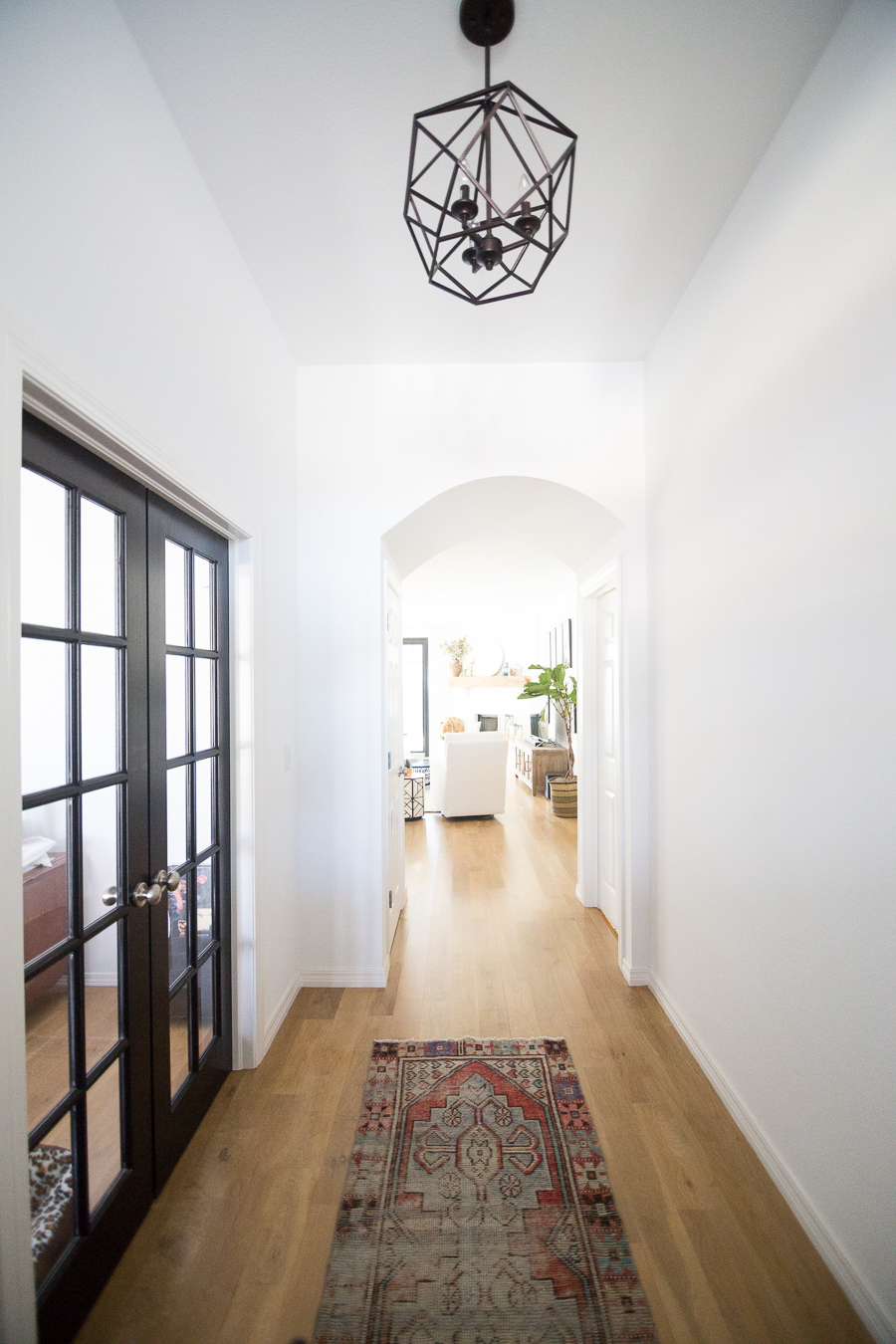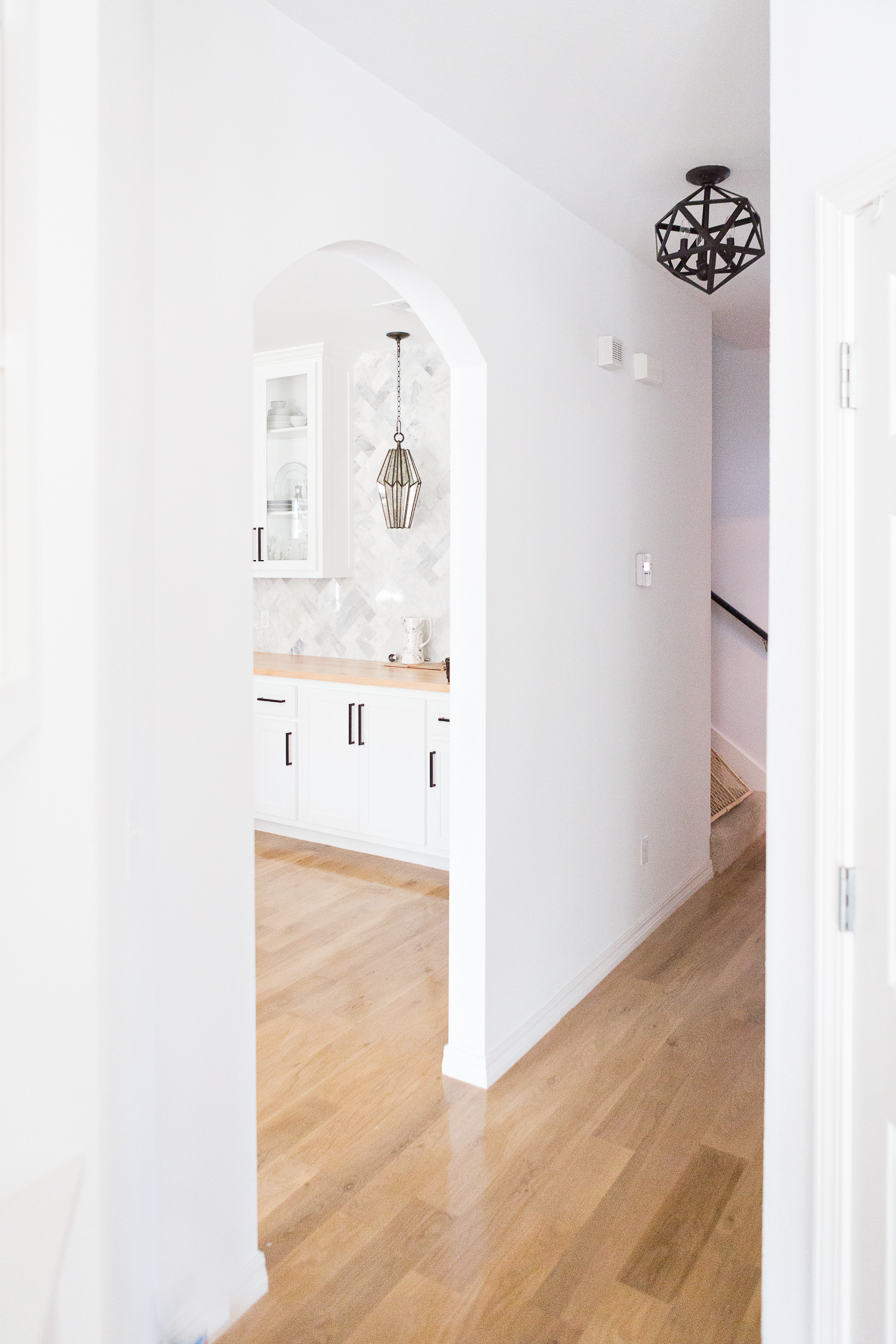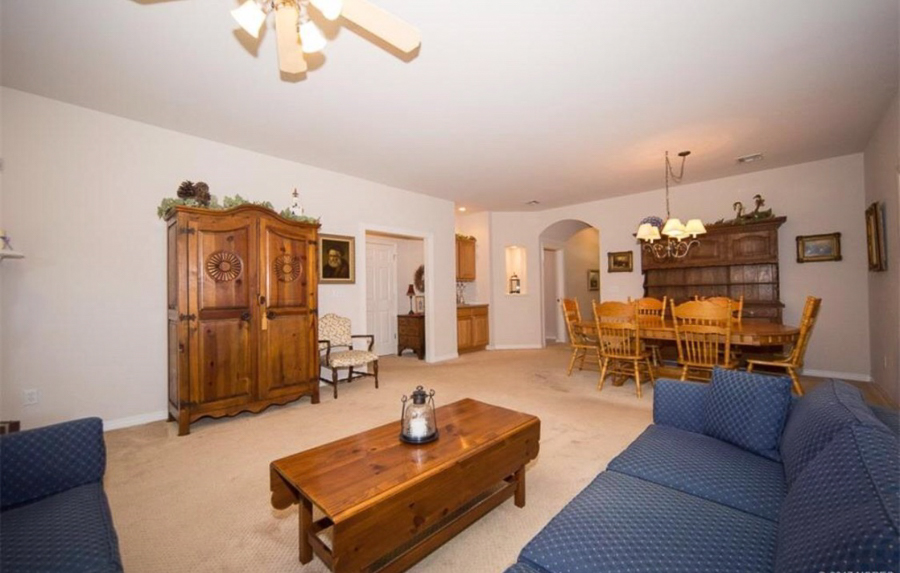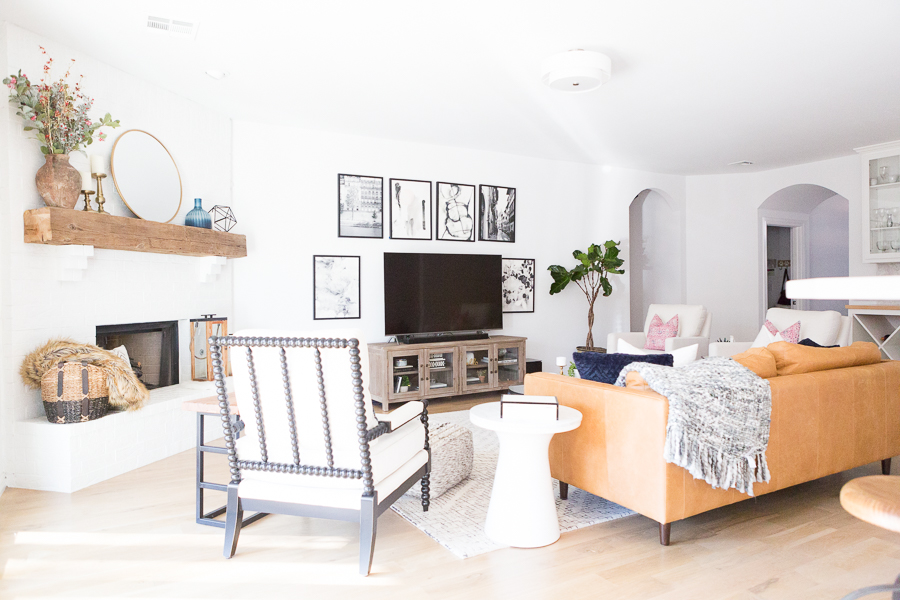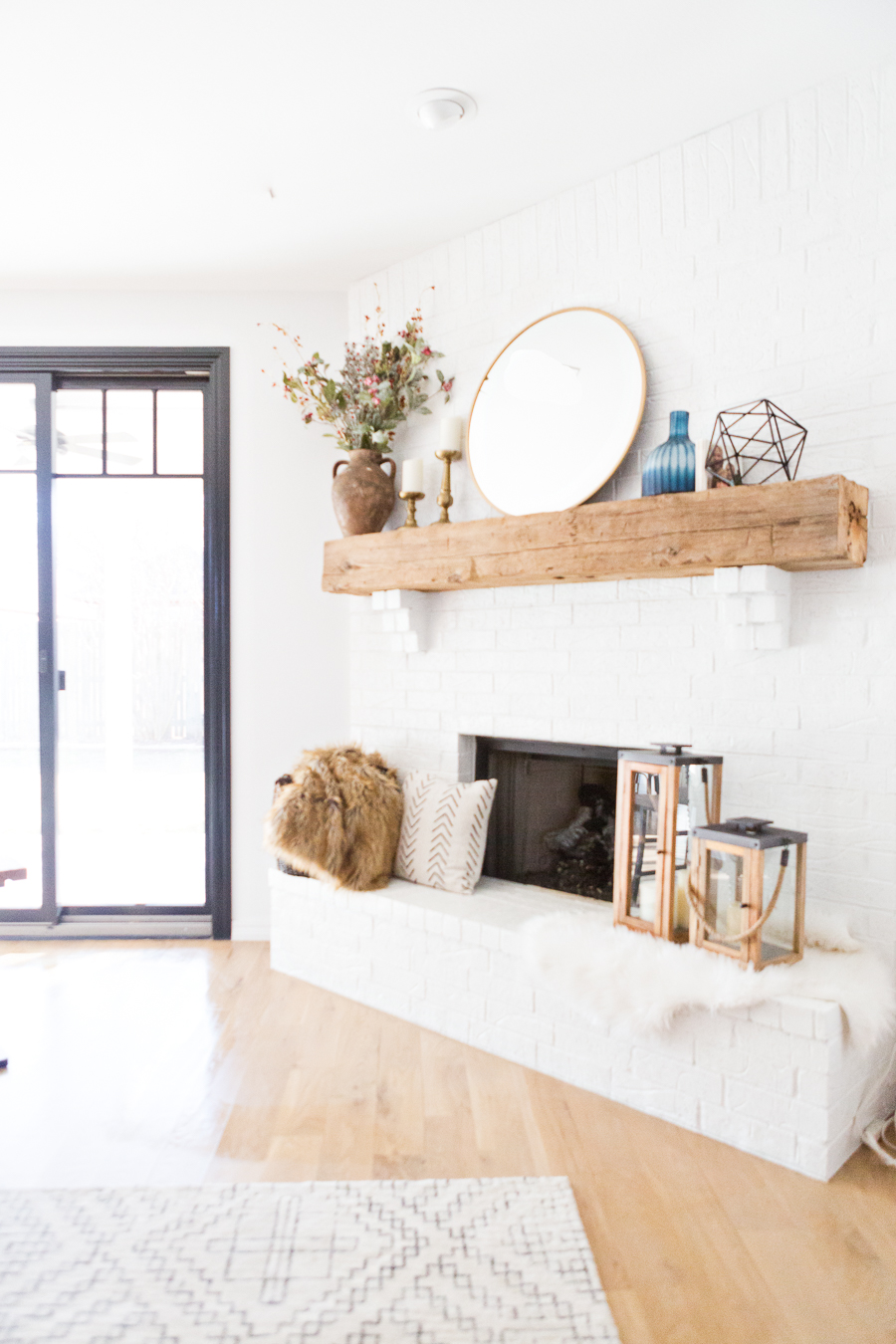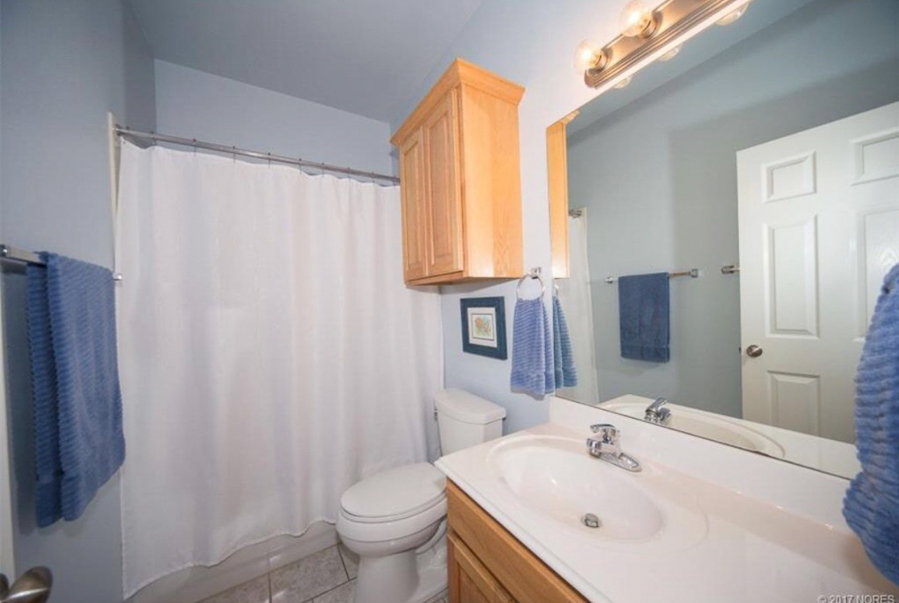 And here is the after! Full post on the bathroom remodel coming in the next few days but here are some of the sources: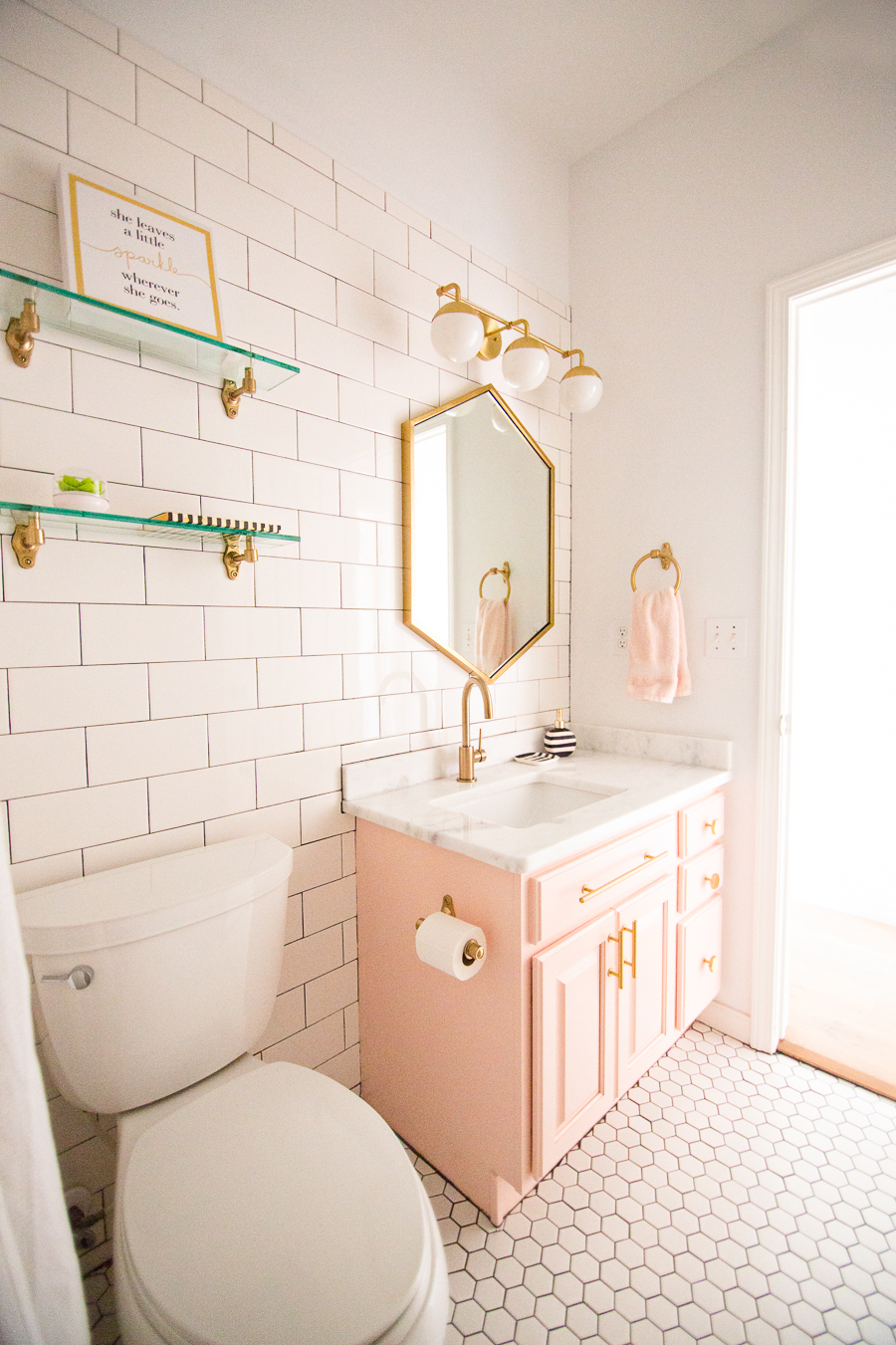 We hope you enjoyed our Tulsa Remodel Reveal Modern White Farmhouse and would love it if you would follow along with our projects in 2018! We just gutted a house we are going to flip and have a potential midtown project that is going to be so awesome. We will be sharing it all over on Instagram | YouTube | Facebook | or you can subscribe by entering your email below to stay in the know and get newsletters, recipes, coupons, and behind the scenes Sneak Peeks from CC and Mike!