I'm sharing with you some updates I did to our pool bath and additionally, some great Vintage Chic Bathroom Updates that Walmart has available right now!  Our pool bath was in dire need of some TLC and thanks to Walmart, I was able to get it whipped into shape.
But before we talk about my pool bath, first we need to talk about a feature that Walmart has online and it's called SHOP BY STYLE.  I think it's genius and it honestly makes shopping so easy!   Just simply click on the link above (Shop by style), find your preferred style type, then have some fun shopping!!  They offer Boho, Mid-Century, Modern, Coastal, and now they offer a Vintage Chic style, which is where I got my goodies for my pool bathroom!
Here is a look at some of the products the new Vintage Chic Shop By Style at Walmart has to offer: adorable settees, chairs, side tables, lamps, furniture, lighting, acrylic chairs, and art….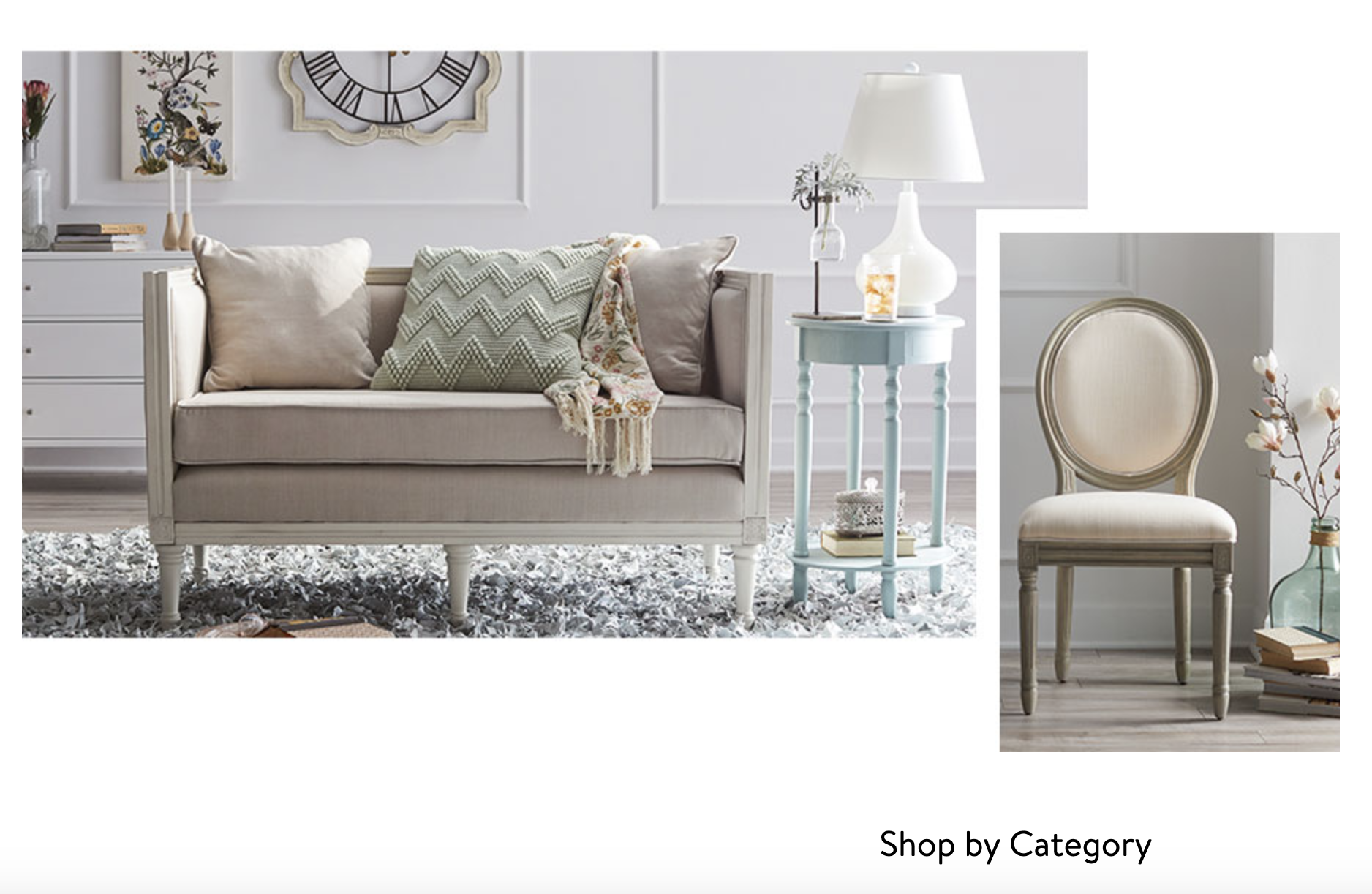 You can SCROLL AND TAP ON THE PHOTO TO SHOP THE VINTAGE CHIC DINING ROOM BELOW: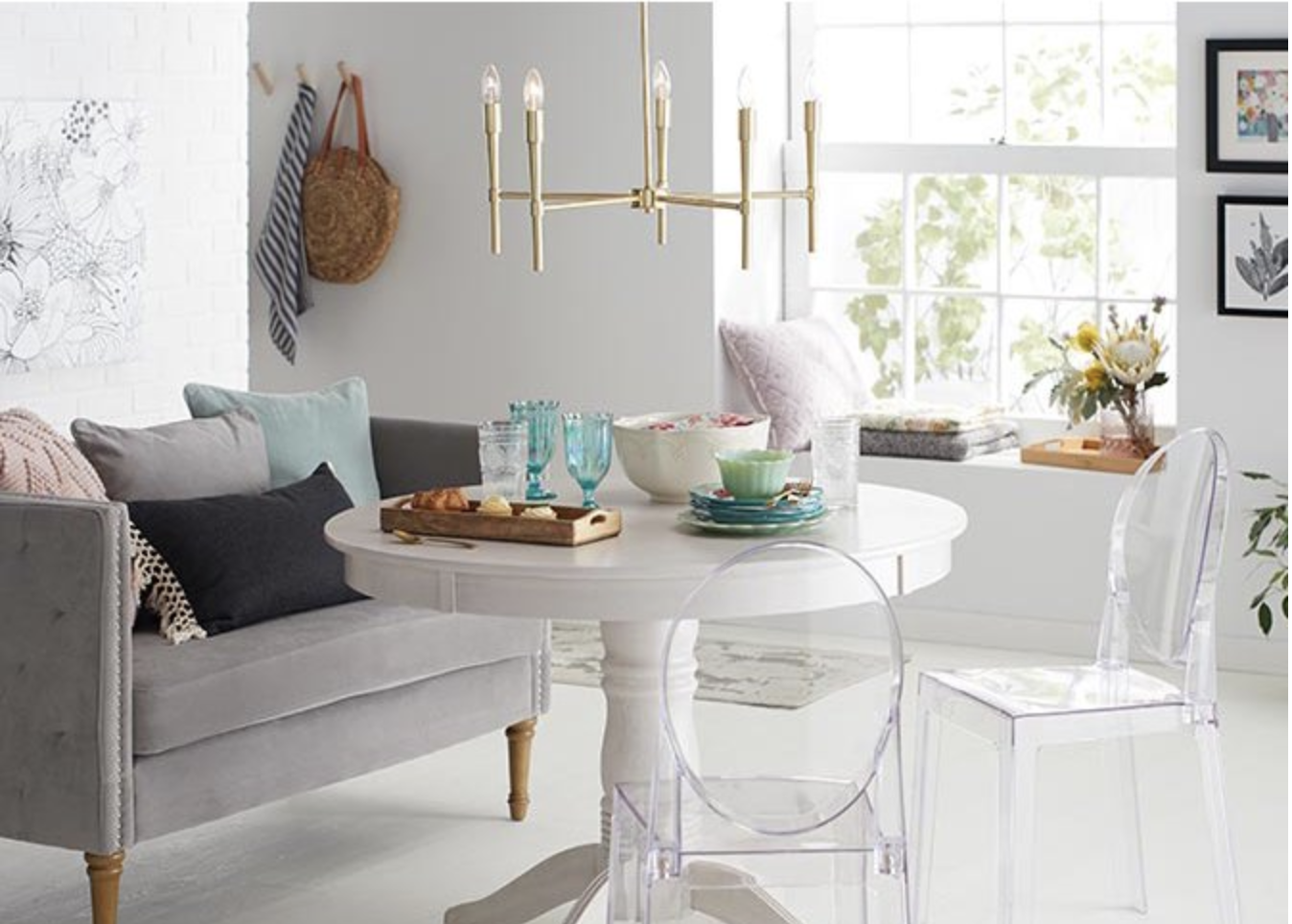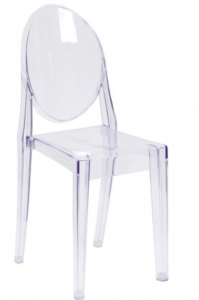 ACRYLIC CHAIRS – These are amazing and are a steal at $65 each!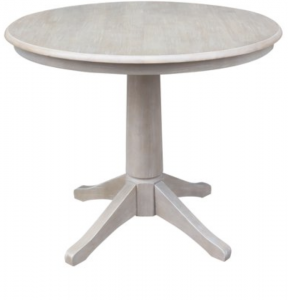 The acrylic chairs look fabulous paired with this ROUND PEDESTAL DINING TABLE
Here are some other great bathroom products that are available right now from the Walmart Shop By Style Vintage Chic Category: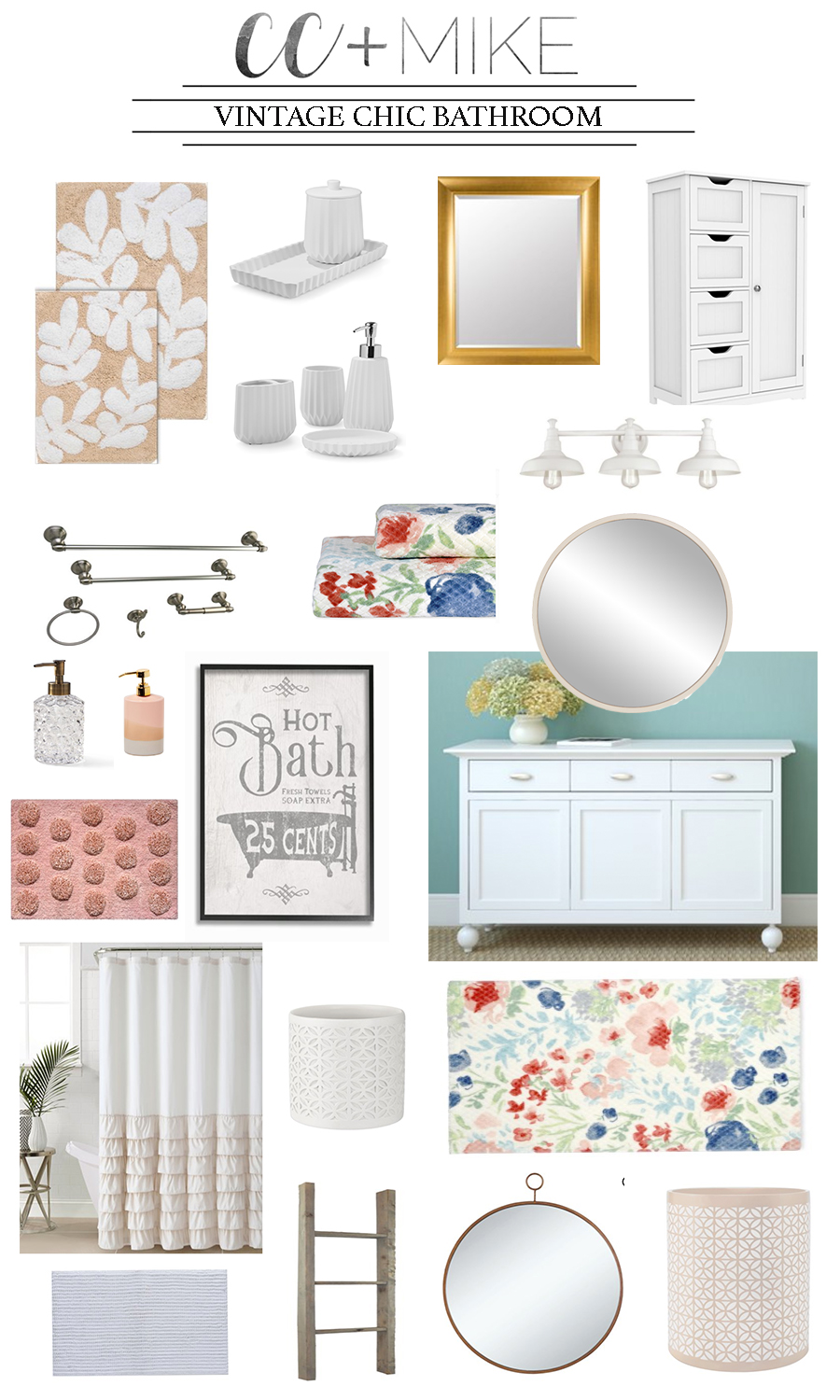 BH&G Woven Basket | 2 Piece White Cotton Crochet Bath Mats | Washed Grey Wood Pedestal Table | Oval Back Translucent Chair | Set of 2 White Dining Chairs | Hexagon Gold Framed Mirror | BH&G Matte Gold Silverware Set | Round Dining Table (Multiple Colors) | Safavieh Tufted Grey Settee | 5 Light Brass Chandelier | Distressed White Metal Wall Shelves | 2 Piece Taupe and White Bath Mats | 5-Piece Bathroom Accessory Set – Brass | Hot Bath Tub Sign | Floral Bath Towels | Solid Crochet Shower Curtain | 30″ Distressed Round Wall Mirror | BHG Memory Foam Bath Mat | 2-Piece Matte Ridges Bath Accessory Set | 4-Piece Matte Ridges Bath Accessory Set | Industrial Farmhouse 3 Light Bathroom Vanity | Pink Lotion/ Soap Dispenser | Wooden Bathroom Floor Cabinet | Pink Wastebasket | Transitional Gold Circular Mirror | Gold Beveled Wall Mirror | Blush Pom Pom Bath Mat | Bubble Glass Soap Dispenser | Metal and Wood Quilt Ladder | Bubble Glass Toothbrush Holder | Ivory Jute 4′ Rug | BHG Botanical Tapestry 4pc Towel Set | Vintage Farmhouse Ladder | Ruffle Shower Curtain
YOU CAN SCROLL AND TAP TO SHOP THE PICTURE:

From bath mats to shower curtains to mirrors to bathroom organization items, whatever you need to give your bathroom a refresh or update, Walmart has it.  Here are the two items I chose for my pool bathroom: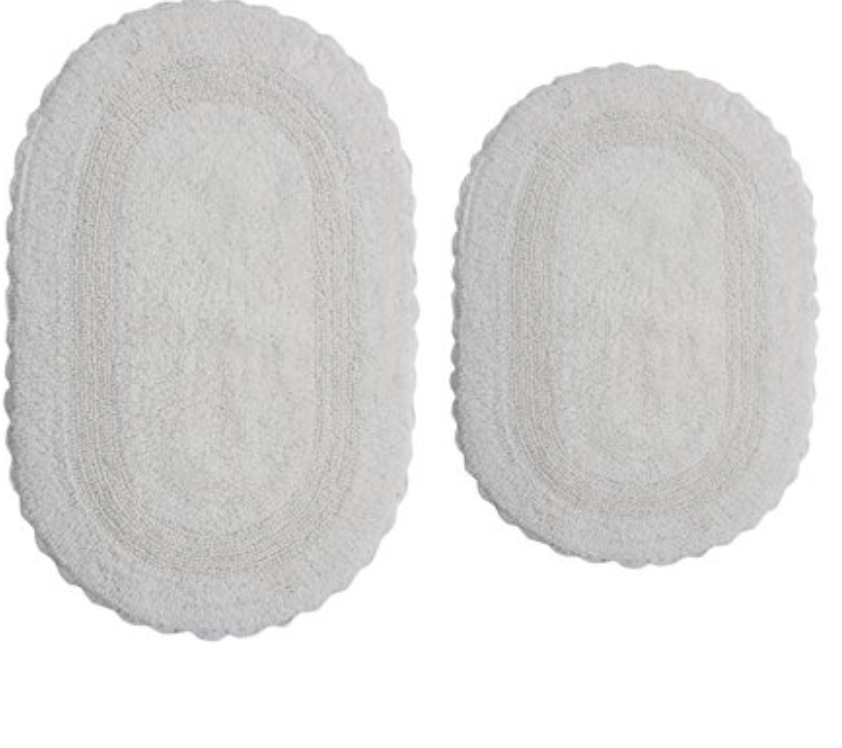 Cotton Crochet Edge Bath Rug Set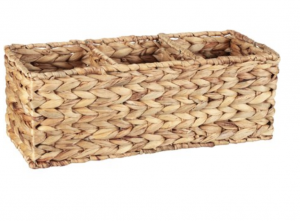 Better Homes and Gardens Woven Water Hyacinth Tank Basket
And here is how I styled them in my bathroom.  I love the wicker basket on the back of my toilet for extra toilet paper rolls.  It's always nice to know that if you have guests over, there are going to be plenty of extra toilet paper rolls set out and this wicker basket makes it look stylish! I also love my new crocheted edge bath mats!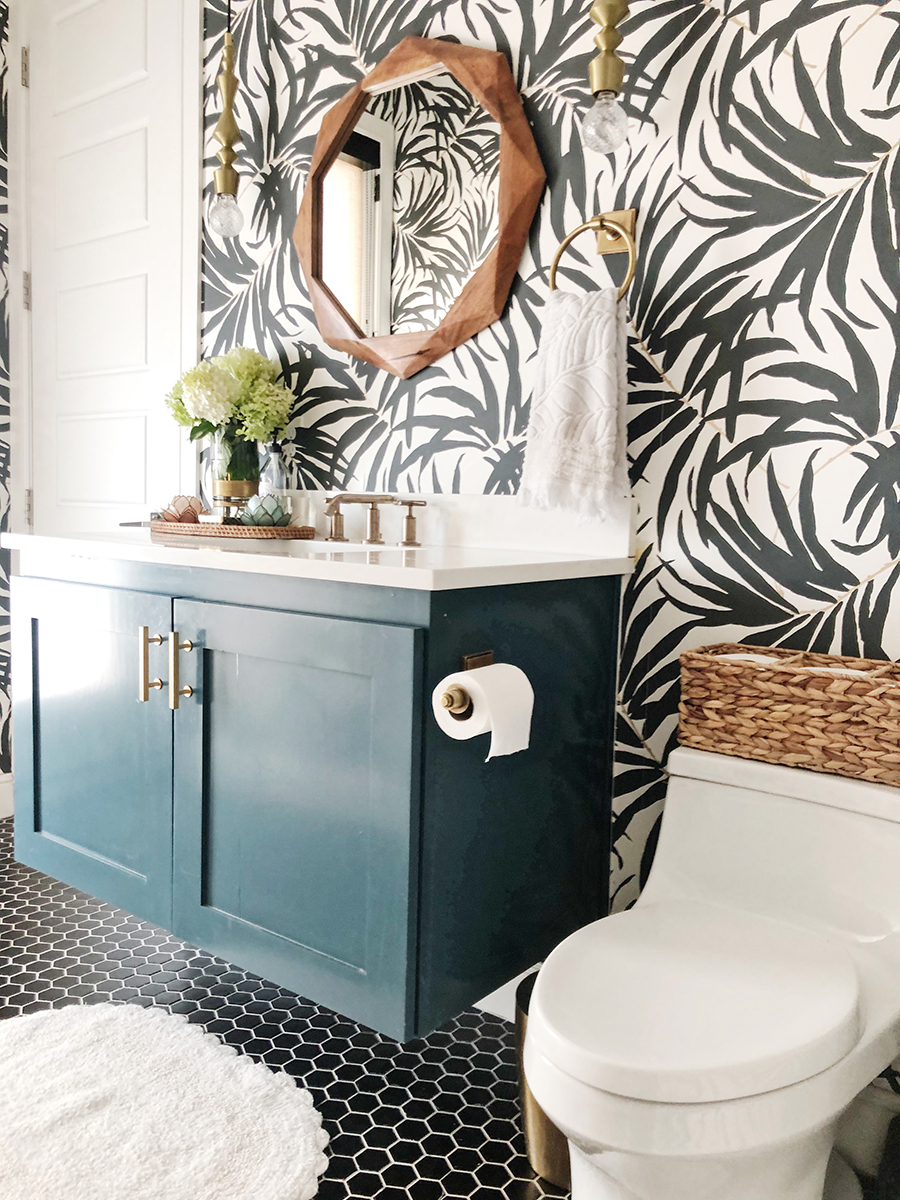 Thanks for stopping by to check out our Vintage Chic Bathroom Update with Walmart and Make sure to check out our Back to School with Walmart posts as well while you are here!
BH&G Woven Basket | 2 Piece White Cotton Crochet Bath Mats | Washed Grey Wood Pedestal Table | Oval Back Translucent Chair | Set of 2 White Dining Chairs | Hexagon Gold Framed Mirror | BH&G Matte Gold Silverware Set | Round Dining Table (Multiple Colors) | Safavieh Tufted Grey Settee | 5 Light Brass Chandelier | Distressed White Metal Wall Shelves | 2 Piece Taupe and White Bath Mats | 5-Piece Bathroom Accessory Set – Brass | Hot Bath Tub Sign | Floral Bath Towels | Solid Crochet Shower Curtain | 30″ Distressed Round Wall Mirror | BHG Memory Foam Bath Mat | 2-Piece Matte Ridges Bath Accessory Set | 4-Piece Matte Ridges Bath Accessory Set | Industrial Farmhouse 3 Light Bathroom Vanity | Pink Lotion/ Soap Dispenser | Wooden Bathroom Floor Cabinet | Pink Wastebasket | Transitional Gold Circular Mirror | Gold Beveled Wall Mirror | Blush Pom Pom Bath Mat | Bubble Glass Soap Dispenser | Metal and Wood Quilt Ladder | Bubble Glass Toothbrush Holder | Ivory Jute 4′ Rug | BHG Botanical Tapestry 4pc Towel Set | Vintage Farmhouse Ladder | Ruffle Shower Curtain