The fiddle leaf fig tree is a must-have for home decor in my humble opinion, which is why I'm writing this post on 10 Beautiful Faux Fiddle Leaf Fig Trees for Home Decor. Fiddle leafs are absolutely gorgeous and as you will see from the pictures below, they add life and beauty to any room but unfortunately, they can also be extremely finicky. The thing is, real fiddle leaf fig trees need A LOT of natural light and not all homes have great lighting. That makes it extremely difficult to keep a real fiddle leaf alive. Another issue is that fiddle leaf fig trees are pretty pricey, most costing well over $100 just to get a small tree. If you are unsure whether or not your home has enough light for the tree to thrive and grow, that is a risky price tag to pay. So, I offer you a solution: faux fiddle leaf fig trees and plants.
That's right, there are so many gorgeous faux fiddle leaf fig trees and plants that I actually would recommend a faux option over a real option, especially if you are uncertain whether your home has enough lighting for a fiddle leaf to grow.
I'm going to share my 10 favorite recommendations for faux fiddle leaf trees and plants but first I challenge you to look at these pictures from our personal home as well as several of our remodels: The Good Remodel, Rebsamen Remodel, and my friend Nicole's home that I photographed for a Glitter Guide Home Tour.  Can you tell a difference between the faux plants and the reals ones? I'm guessing you can't!  Which proves my point: If you're going to invest over $100, why not invest it on something that you know is going to last and pick up one of these beauties from my list of 10 Beautiful Faux Fiddle Leaf Fig Trees for Home Decor?
If you would like to shop the gorgeous kitchen you see pictured above (my best friend Molly's kitchen) you can shop her kitchen design here:

You can shop this gorgeous entryway here: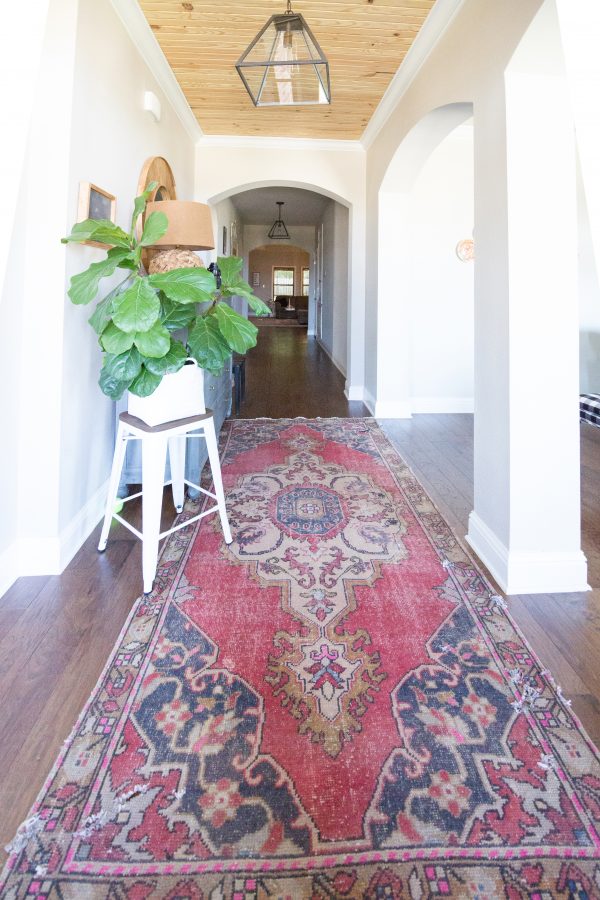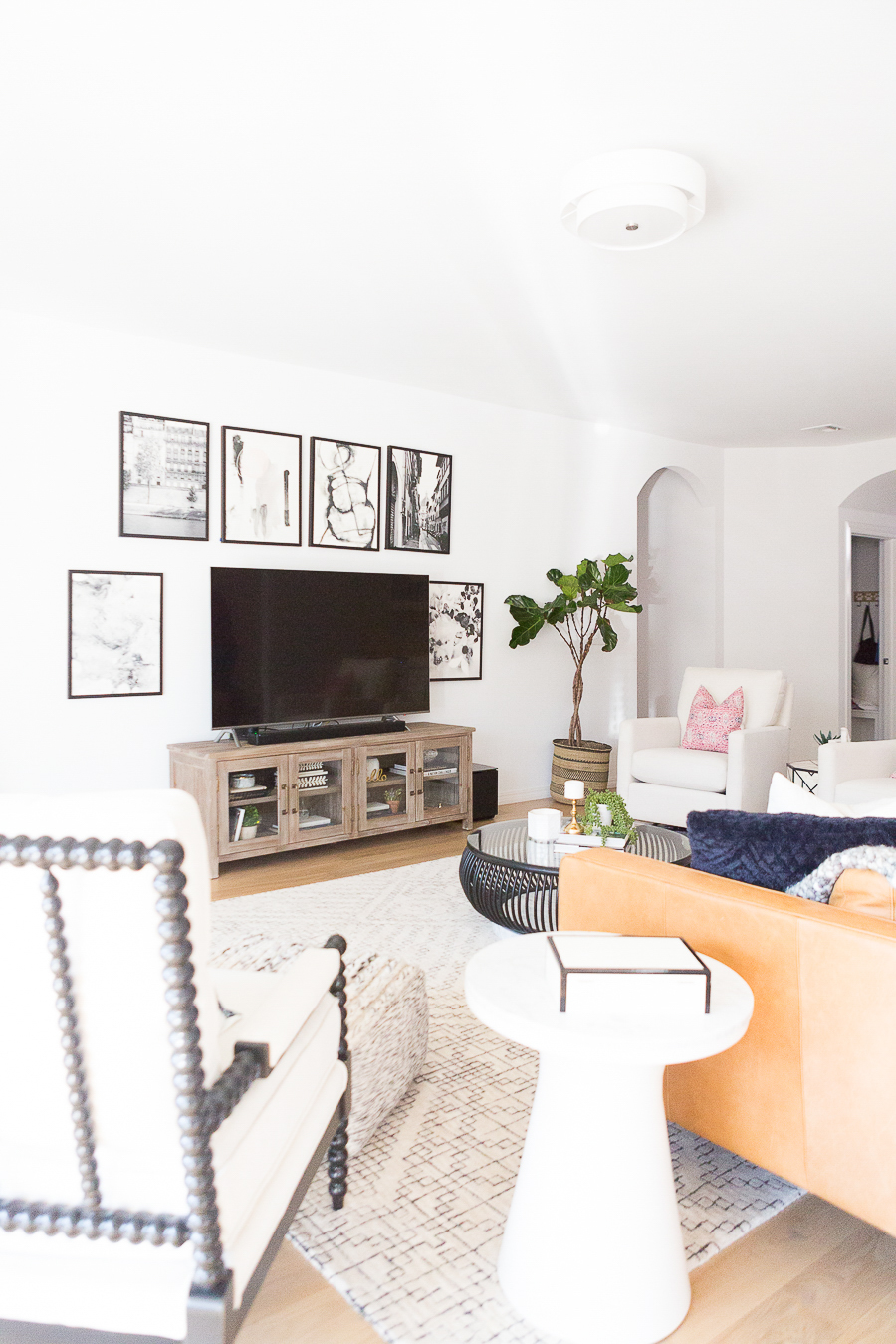 Shop the Rebsamen Remodel here: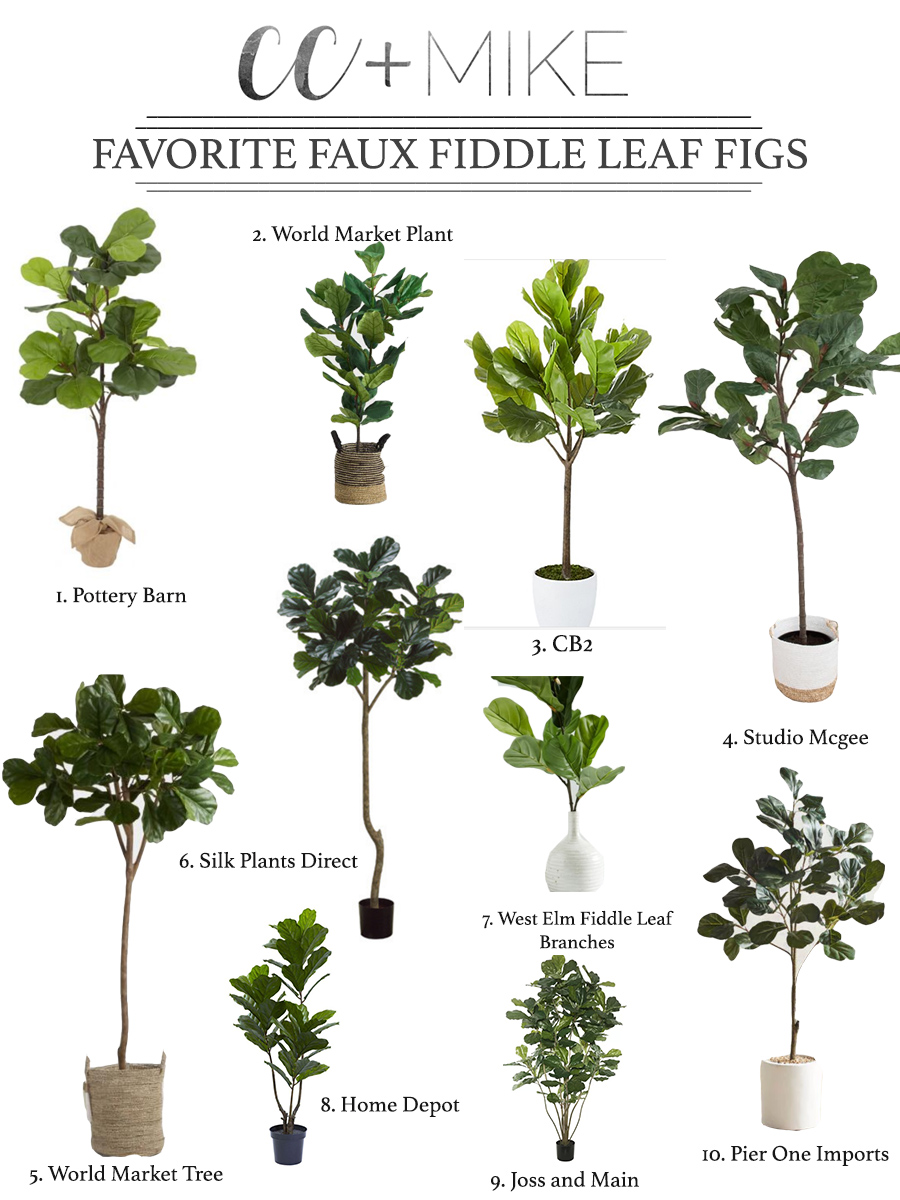 1. Pottery Barn Fiddle Leaf | 2. World Market Fiddle Leaf Fig Plant | 3. CB2 Faux Fiddle Leaf  | 4. Studio Mcgee  – If you have a higher budget, this is my top pick. Because everything by Stuido Mcgee is fabulous and top notch so this tree is no doubt, the best of the best| 5. World Market Fiddle Leaf Fig Tree – This is the tree pictured below in our modern white farmhouse reveal | 6. Silk Plants Direct – This is the tree pictured in our Good Remodel  | 7. West Elm Fiddle Leaf Branches – this is an amazing way to get the fiddle leaf look without buying the whole tree or plant! Just buy some of these branches and stick them in a vase! | 8. Home Depot  | 9.  Joss and Main    | 10. Pier One Faux Fiddle Leaf
DON'T FORGET TO GRAB A BASKET TO PUT YOUR FIDDLE LEAF LIKE THE STUDIO MCGEE BASKET PICTURED IN OUR REMODEL (BELOW)

HERE'S ANOTHER LOOK AT OUR FAVORITE FIDDLE LEAF CHOICES. JUST CLICK ON THE PICTURE TO SHOP.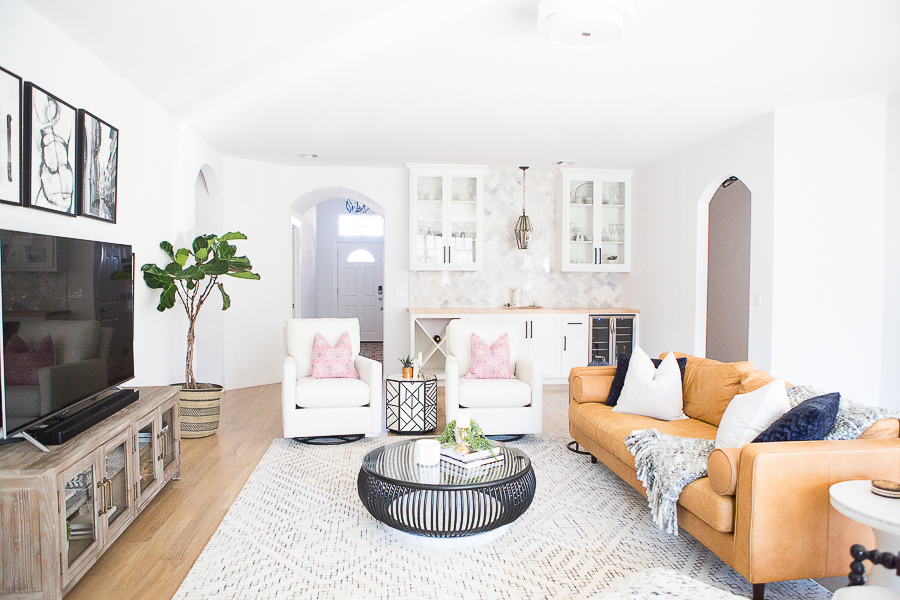 Shop Products from our Modern White Farmhouse Reveal Here: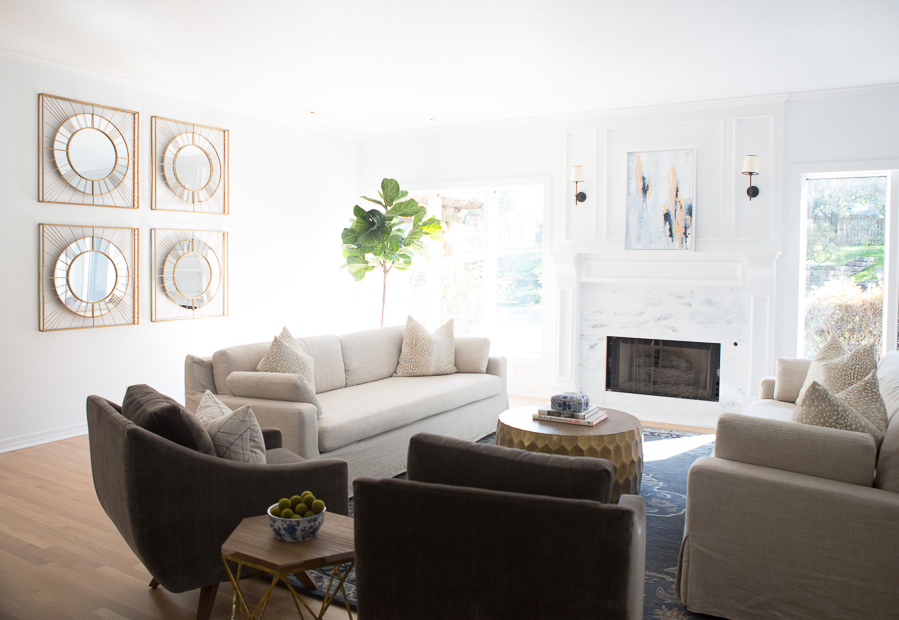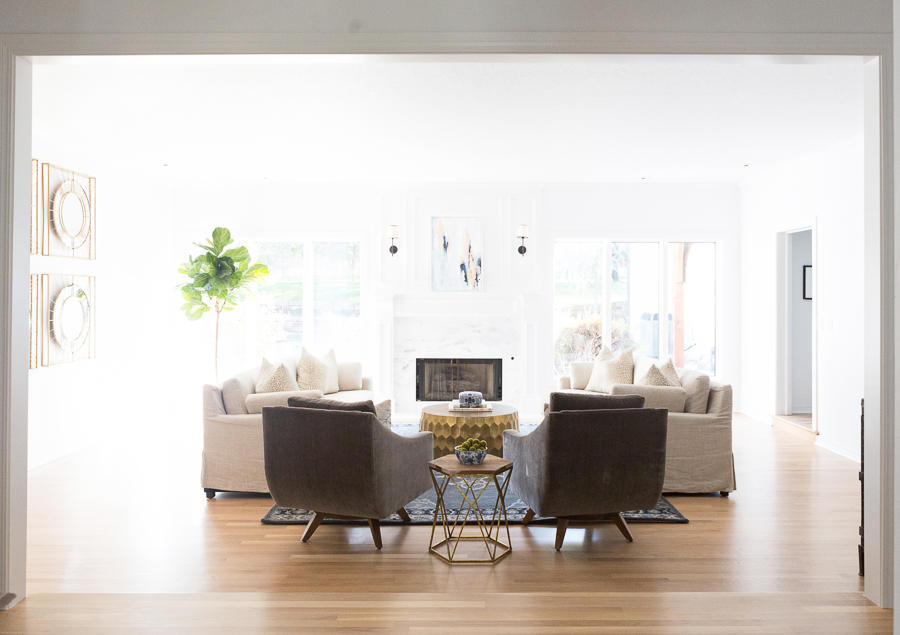 Like the look of our Good Remodel formal living room design? You can shop the look here! They have the Silk Plants Direct Faux Fiddle Leaf in their living room.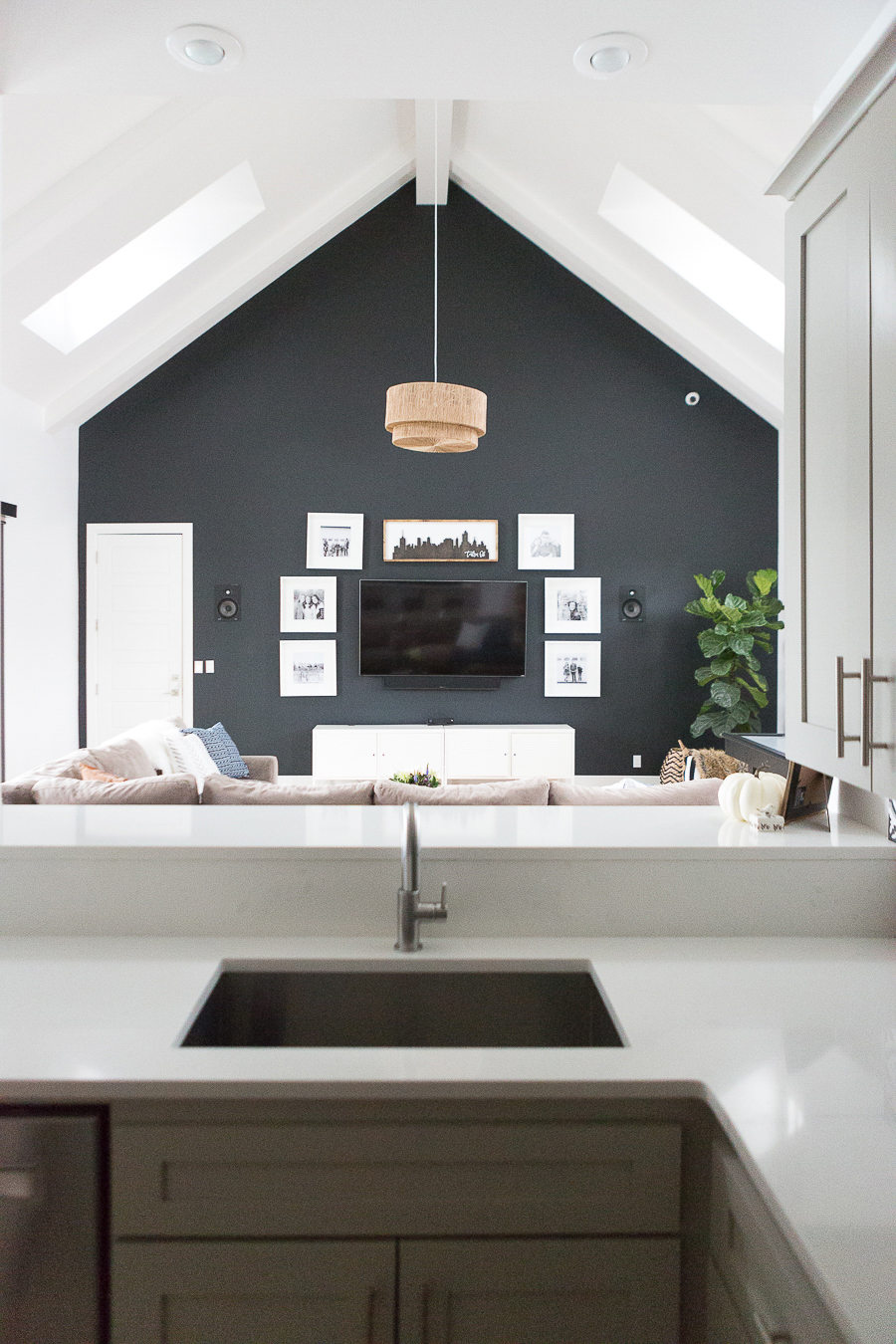 Shop Our Gameroom Look here.  Custom Tulsa sign is by Color Me Happy:

Finally, I wanted to show you that fiddle leaf fig trees work in any and all design styles from traditional, to modern farmhouse to even a more modern glam or eclectic design style like my own home. This is my living room below complete with chocolate velvet sofas and leopard pillows and bright, bold colors. My fiddle leaf fig tree anchors the design in the corner of the room and is one of my favorite design elements in my living area. If you'd like to shop my living room you can do that here: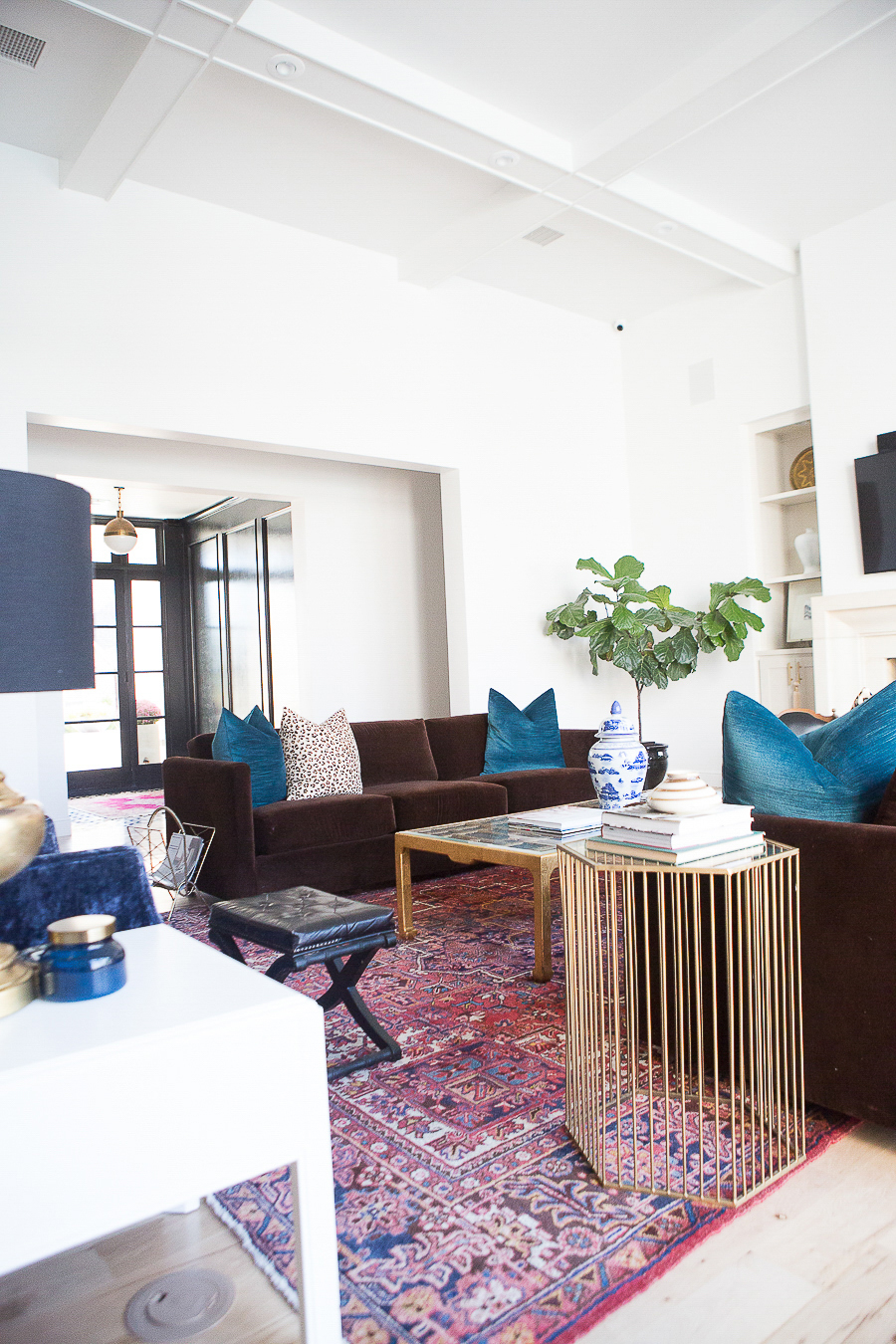 Thank you for stopping by and reading our post on 10 Beautiful Faux Fiddle Leaf Fig Trees for Home Decor and I hope you find a beautiful fiddle leaf fig tree or plant for your home!
If you want more from CC and Mike, you can subscribe to our blog to never miss a post and/or follow us on Instagram and/or Pinterest.