If you have followed Mike and I for a while, you will know that I love to decorate for Christmas. Last year I started early, but this year I have tried to focus on details before busting out the tree. I've been making small decor changes that are versatile and festive, like my most recent tabletop spread. As we get deeper into winter and the urge to snuggle up becomes greater, I wanted to show y'all how to cozy up your bedroom for the holidays!
Whether you live somewhere that doesn't see snow or if you are shoveling yourself out from under it, part of what makes the holidays great is surrounding yourself with warmth. What better way to do that than through decorating! Last year I made the living room my project. I used festive and soft items that kept the holiday spirit. It was like draping the room in comfort! After making my living room gorgeous I shifted to our bedroom. I brought in softer fabrics and switched up our pillow's cape to create the perfect cozy atmosphere. You'd be amazed at what bringing in cozy items can do for a room. Our Graffito pillows are a great option and look great with our best selling Olive Charcoal Layla Rug that you see pictured in our bedroom. Check out our shop for our selection of pillows and throws.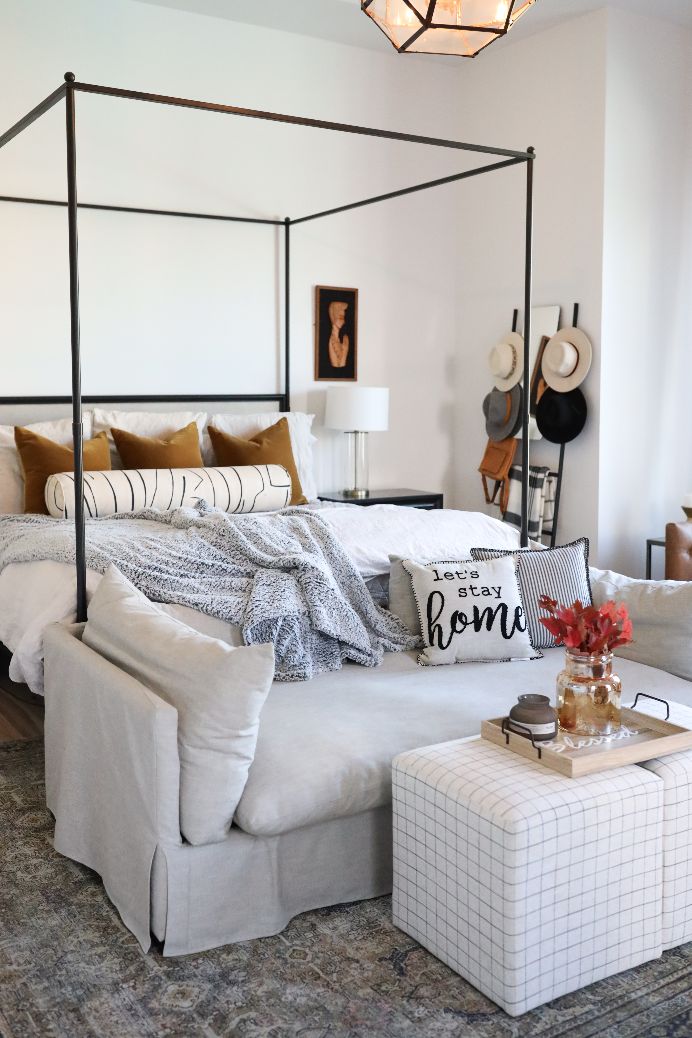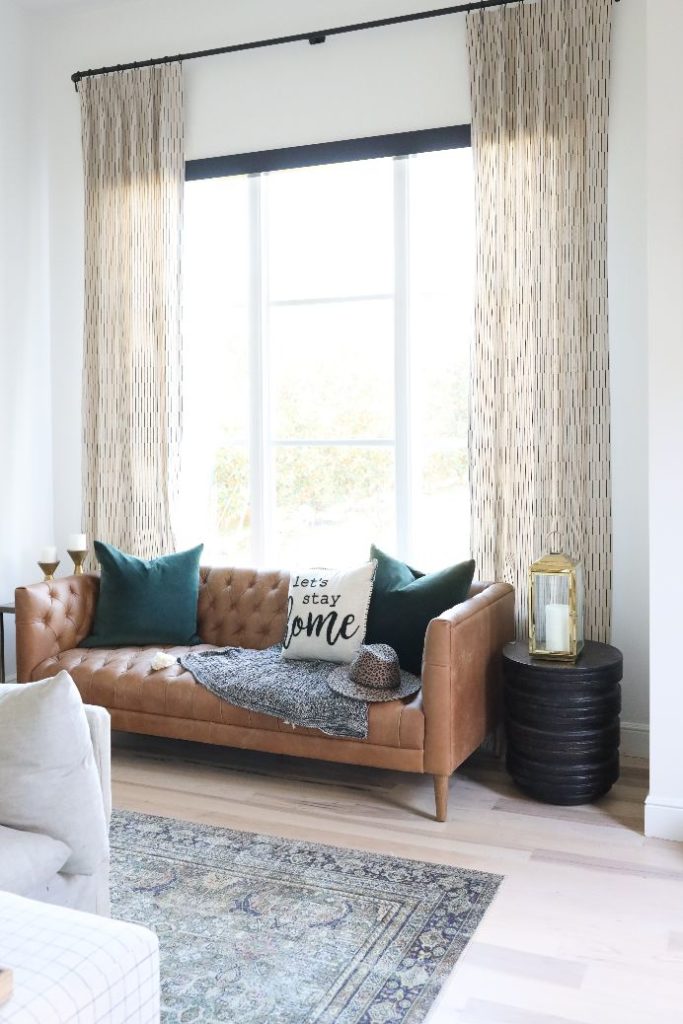 SHOP OUR MASTER BEDROOM

One of my favorite items for this season is this sherpa blanket from Walmart. It goes perfectly with their "Let's stay home" pillow! So CUTE! Together they make the room so inviting that you can't wait to bundle up in your pajamas and hibernate for a few months. Emy and I are also obsessed with our Secret Treasures loungewear set. We have it in this buffalo plaid and also in leopard and these sets make great, affordable gift ideas too!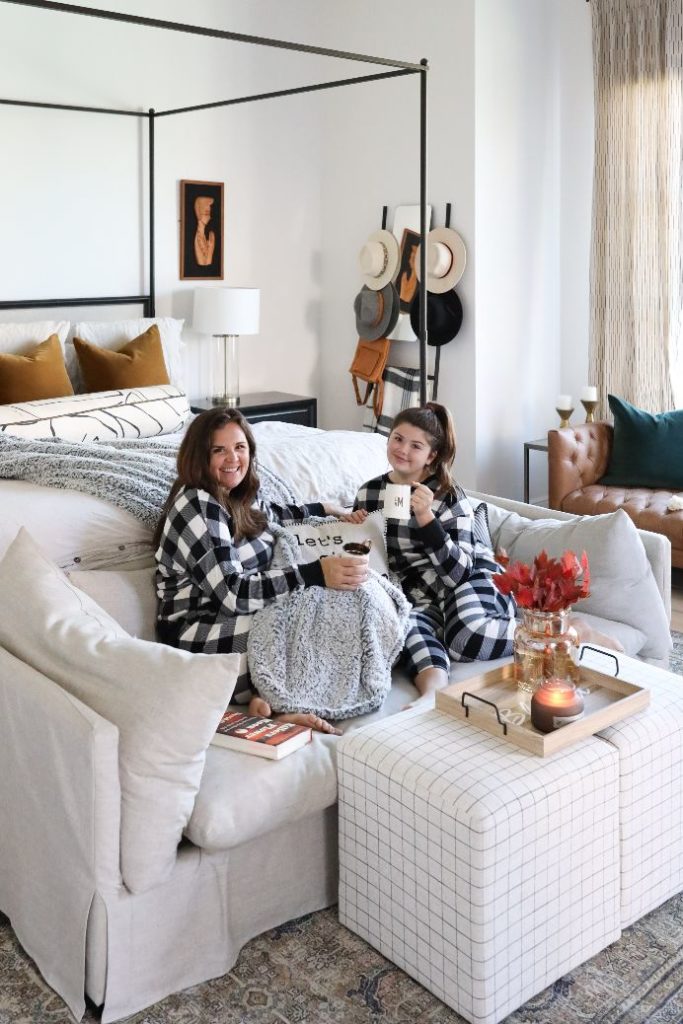 One of the bigger changes I made in our bedroom for this season is swapping out the furniture. Part of cozying up your bedroom is making it a place that you enjoy being instead of just the place you sleep! I love to bring in extra seating to the bedrooms. It's somewhere I can sit and read or just unwind after a long day. It's the perfect way to decompress! CC+Mike: The Shop has so many options for comfortable seating. Both the nimbus chaise and the Williams sofa are my go-to's. They add another inviting element that is perfect for the holidays.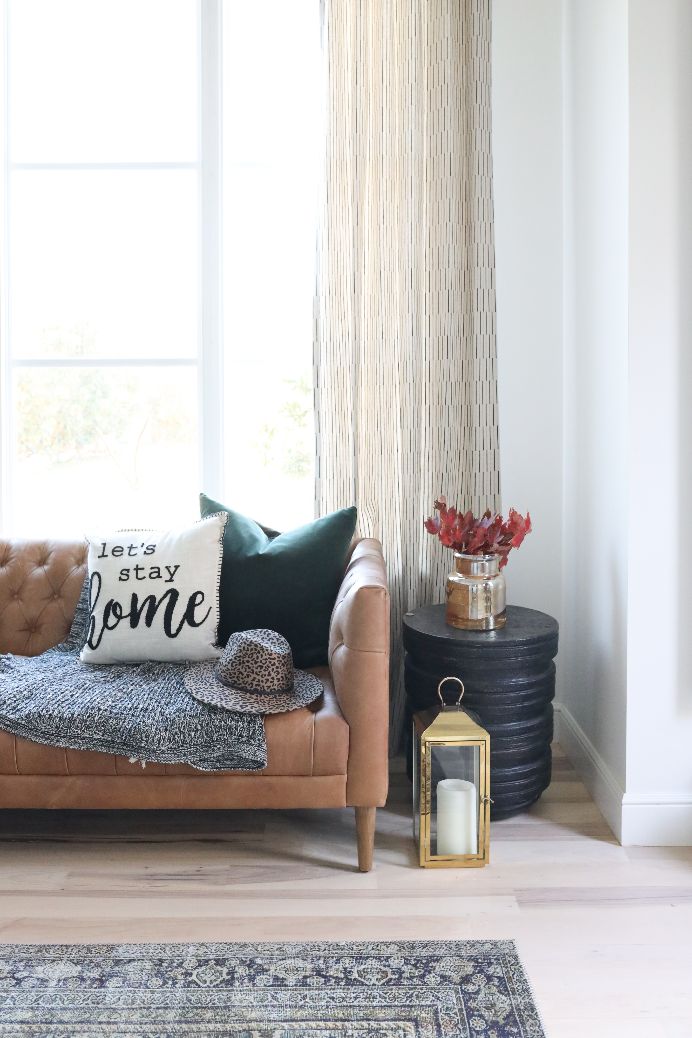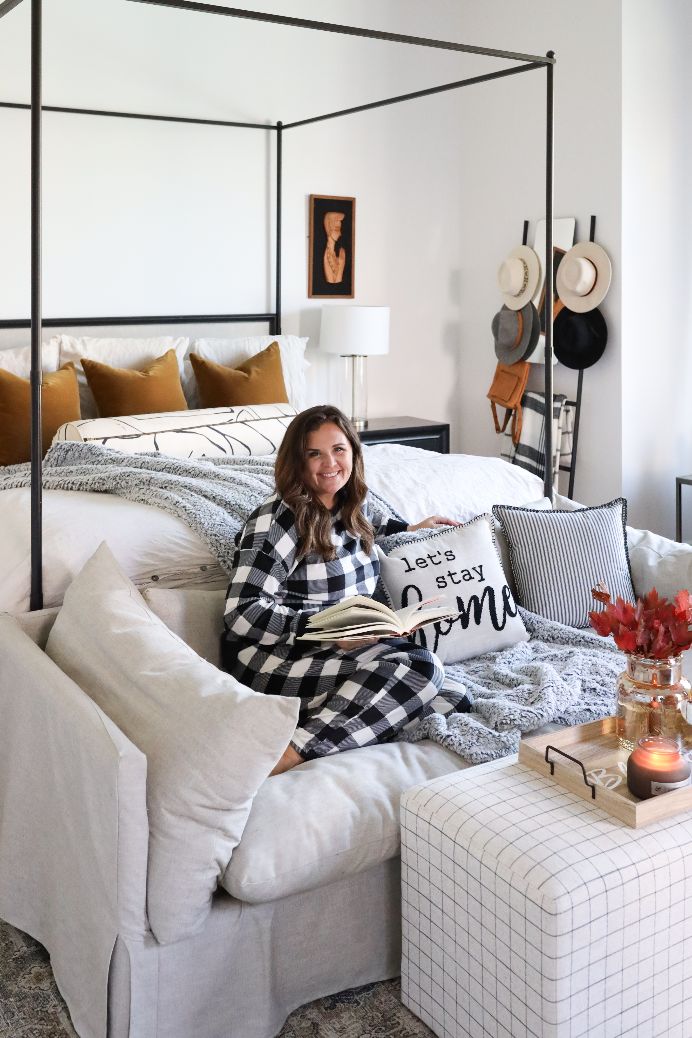 SHOP OUR FAVORITE COZY BEDROOM PRODUCTS

After I finish decorating, I also love to bring in my favorite holiday candles! I sometimes forget how much smell affects how we feel. Candles can help warm up the atmosphere of the room! Featuring your favorite scents will make you take a deep breath every time you come in and instantly make you feel more relaxed and at home. In the end, cozying up your bedroom is something that should be specific about what makes you feel good. I hope this inspires you this holiday season!