Hey guys! Well if you haven't heard, WE MOVED!!! Mike and I have felt God calling us to simplify our lives financially, physically, mentally, and emotionally for quite some time and we decided to listen! We put our house on the market and had two full-priced offers in less than 48 hours so we figure that's God telling us I TOLD YOU SO. If you didn't read our latest post, head on over there to get all the gory details on our move and all your questions answered. We are excited about our next chapter but gosh, we still have some rooms from our house to reveal – Emmy's room and our homework room! 
First up is our homework room. This space was a junky craft room that got a major overhaul during lockdown. It's absolutely amazing how good design can completely change a space from drab to fab, but more importantly, forgotten to functional and USED. This room became one of our most used spaces during COVID and even after our kids returned to school. Here's how we made it happen, and our tips to make a fun and functional homework room.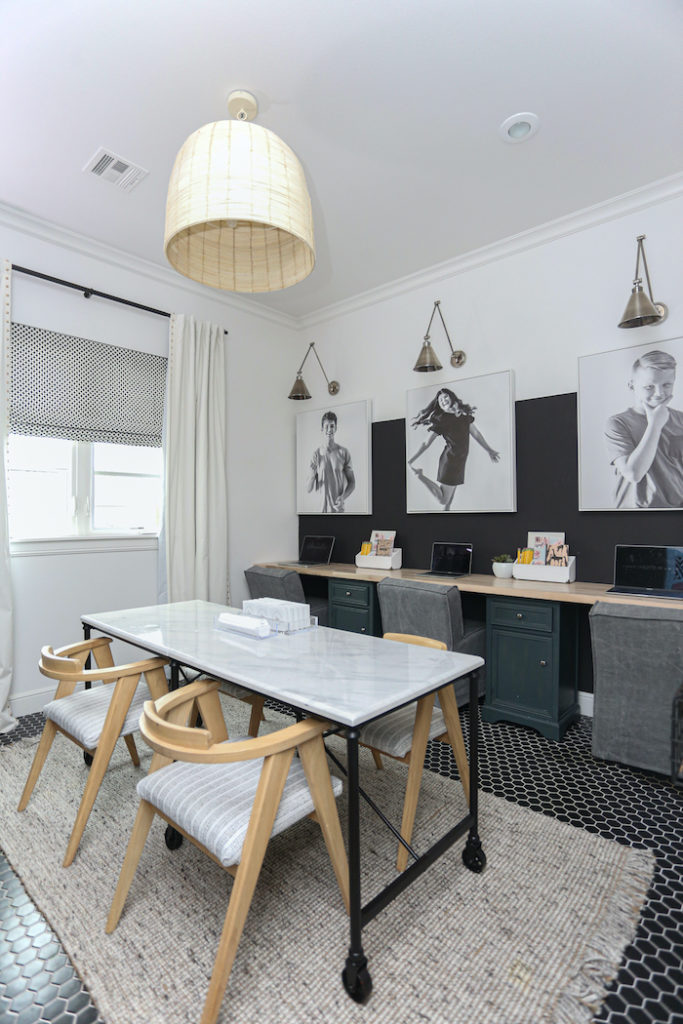 STEP BY STEP INSTRUCTIONS ON HOW WE DID IT
This room was begging for a refresh before we started working on it. We had previously used it as a craft room, but as the kids got older we stopped using it as often. That's when we decided to make it into a homework room instead. To really take the space up a notch, we decided to create our own built-in desks for the kids to use. They are an excellent way to save space while giving each of our kids their own space to work! Perfect for working on assignments or attending classes online.
First we started with choosing a cabinet/end table to anchor on the walls for the homework spaces. We chose one from CC and Mike the shop but here are some other options as well from Amazon if you'd like to duplicate this look. Click on the link to shop end tables that you can use for homework spaces.

Next up, we purchased the butcher block in a 12' overall length. We were able to pick it up locally from Lumber Liquidators and they also offered home delivery BUT, you can now buy butcher's block online from Home Depot for those of you who are wanting to recreate this look. Mike cut the butcher block that we bought to fit our space with a circular saw but with this new option from Home Depot you might be able to buy yours online ready to go to fit the space!

After setting the cabinets in place (make sure you have enough leg space for whatever rolling chair or homework chair you are going to use), Mike secured the cabinets to the studs in the wall with L BRACKETS. Here are some L BRACKET options I've sourced for you in both black and silver. Click on the photo to shop:

Next up, Mike set the countertop on top of the cabinets to ensure proper fit and installed 1.5" screws from the inside of the cabinet up through the cabinet top and into the bottom of the butcher block. Be sure to use the appropriate length of screw to ensure they wouldn't poke through the top of the butcher block.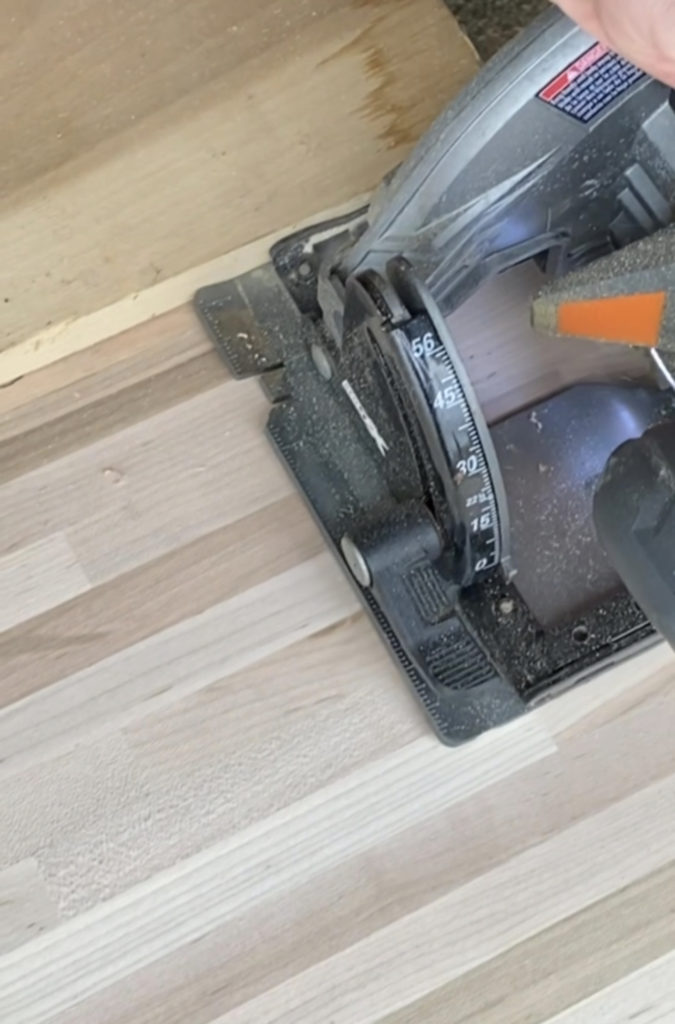 Once secure finish the butcher block with an oil or conditioner to finish to protect. Here is the product that we used: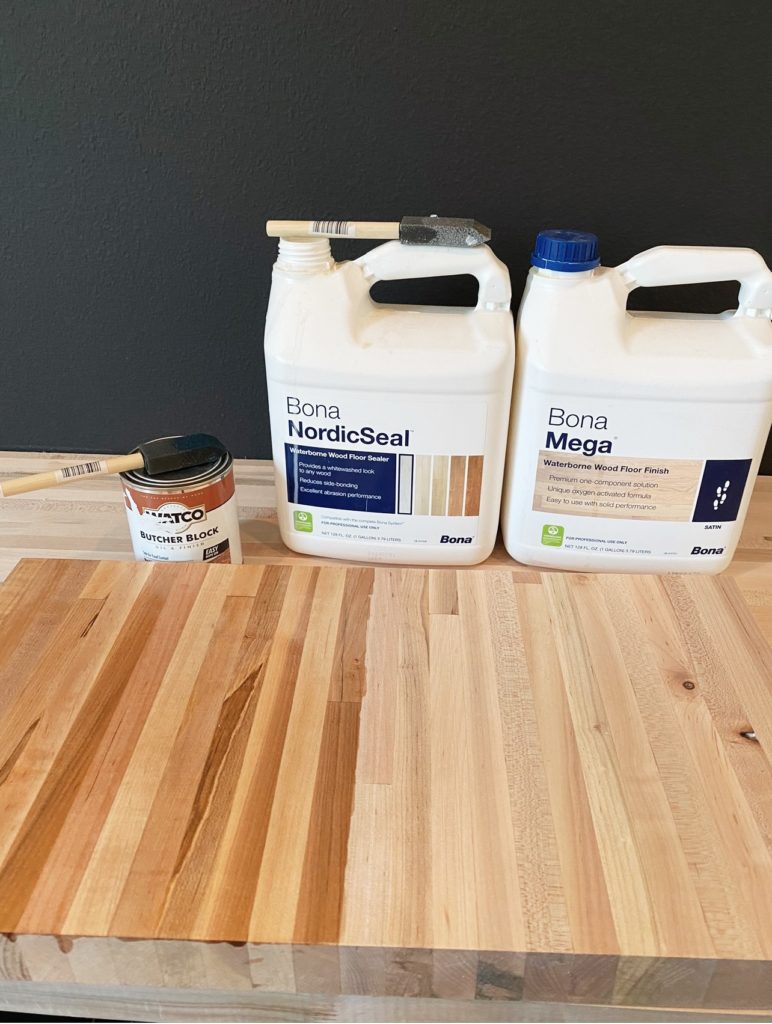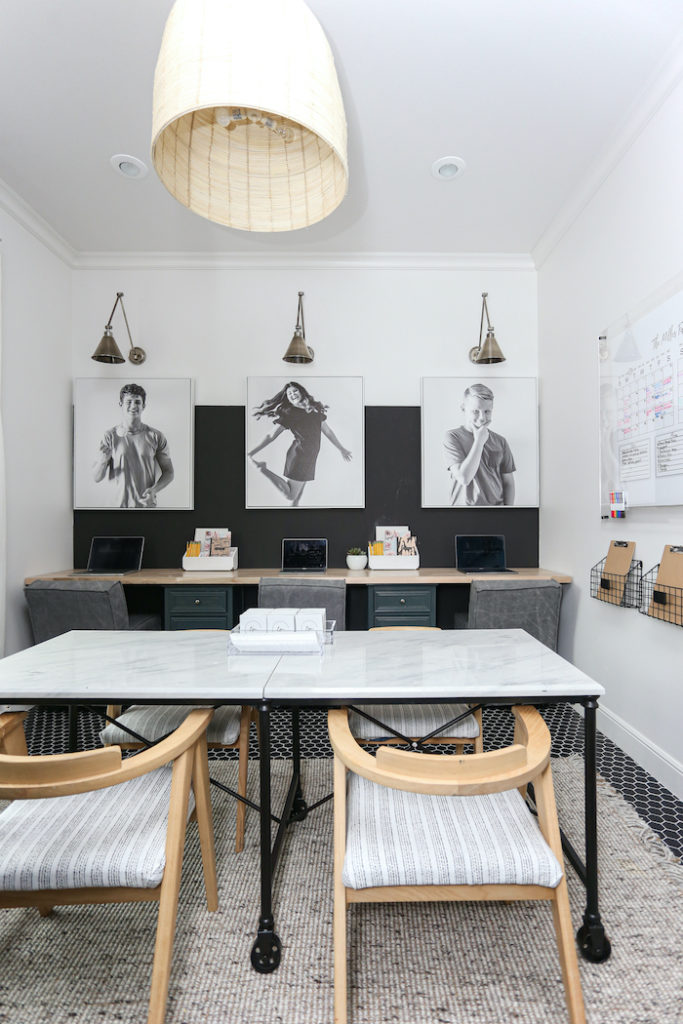 Homework Room Essentials: Rolling Table from Wayfair
After we had the new built-in in place, the rest of the homework room came together like a breeze. Each of our kids had their own desk space but I wanted to have another workspace option for them. Sometimes you need a little more room for school projects! We had this amazing rolling table from Wayfair that fits perfectly. I love that it has wheels too, but if you are looking for another stationary option this Crate & Barrel table is also gorgeous! All I needed to add were some chairs and I was done. These ash chairs from Amazon paired so well with the butcher block!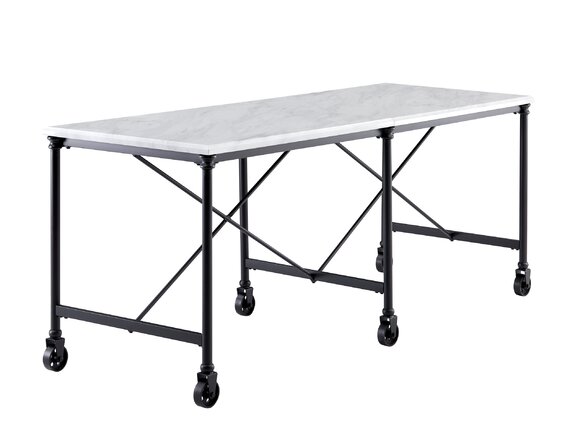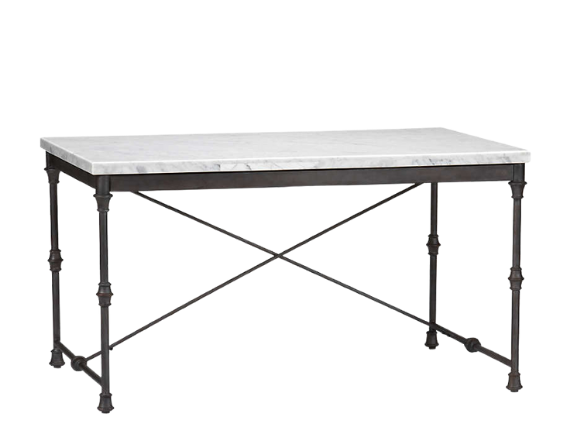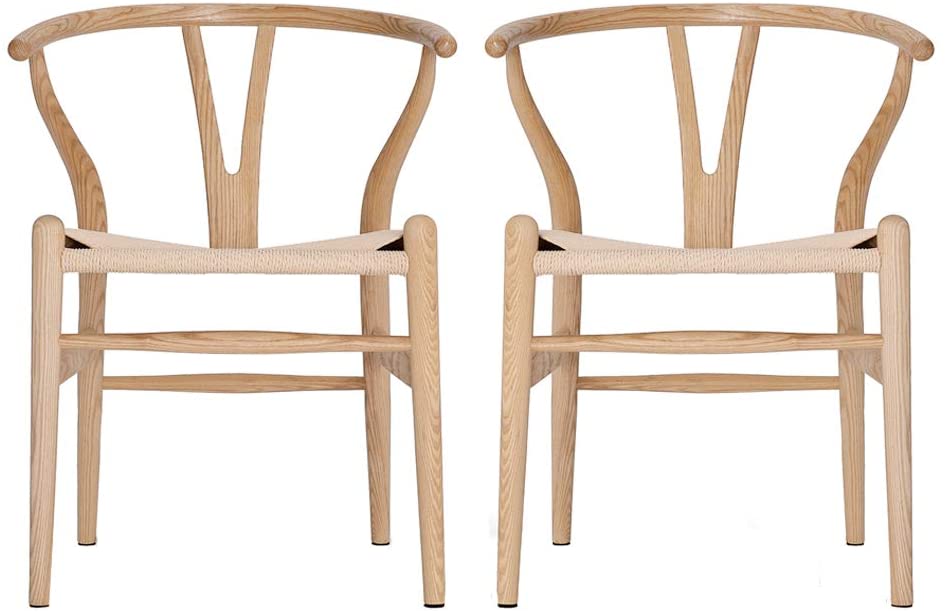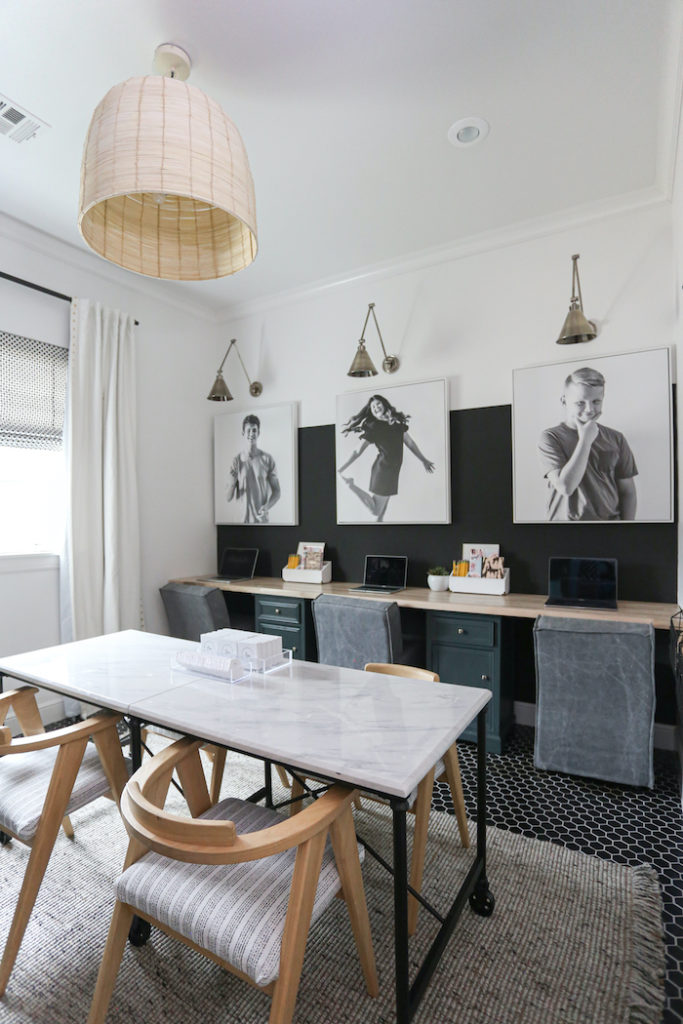 All Iin the Details: From Extra Storage to Floor Decor
When you start adding details, the room starts to come together. In our homework room, we wanted to increase the function without sacrificing any of the style. And we did just that! To add a little bit more storage we used the better homes and gardens cube organizer. We love how everything has a place. They are such a huge help keeping the room clean! I also found these amazing studded drapes at Pottery Barn to add a little bit of edge to the homework room's design.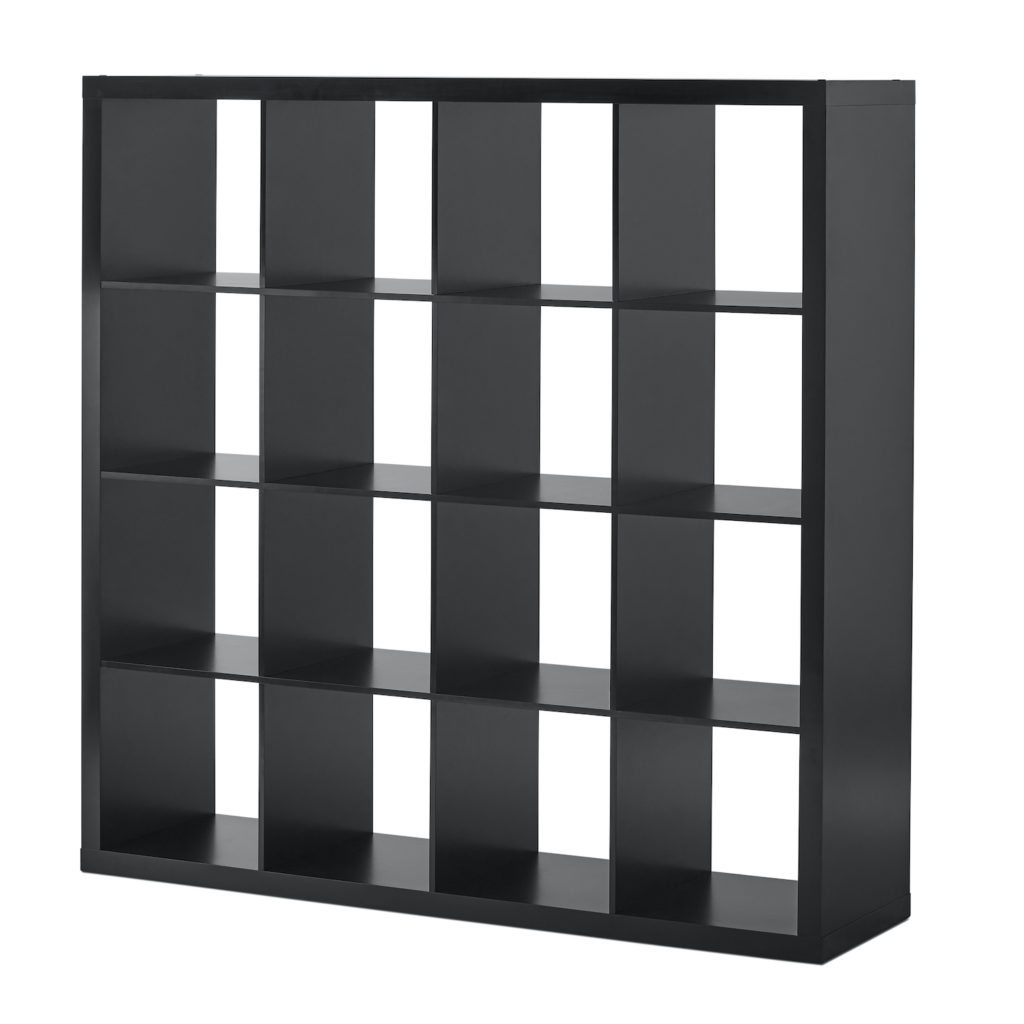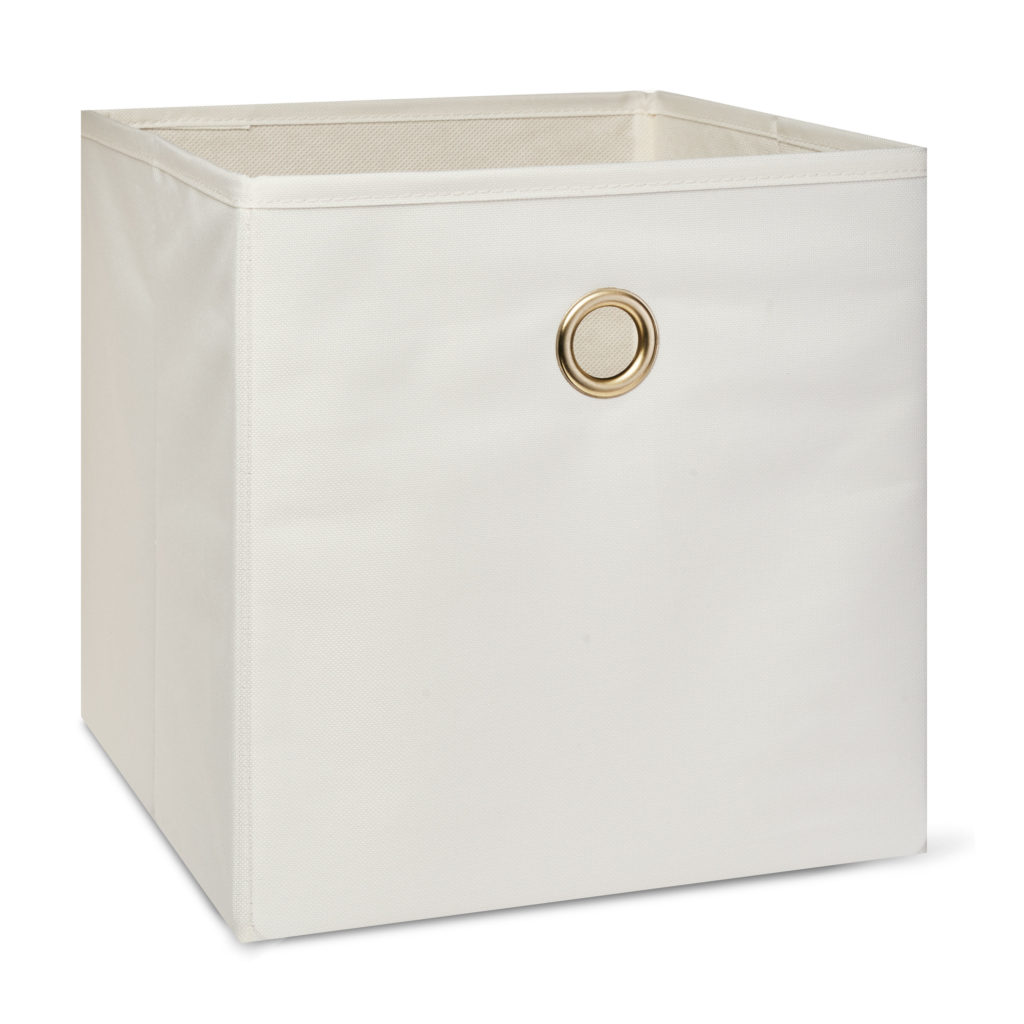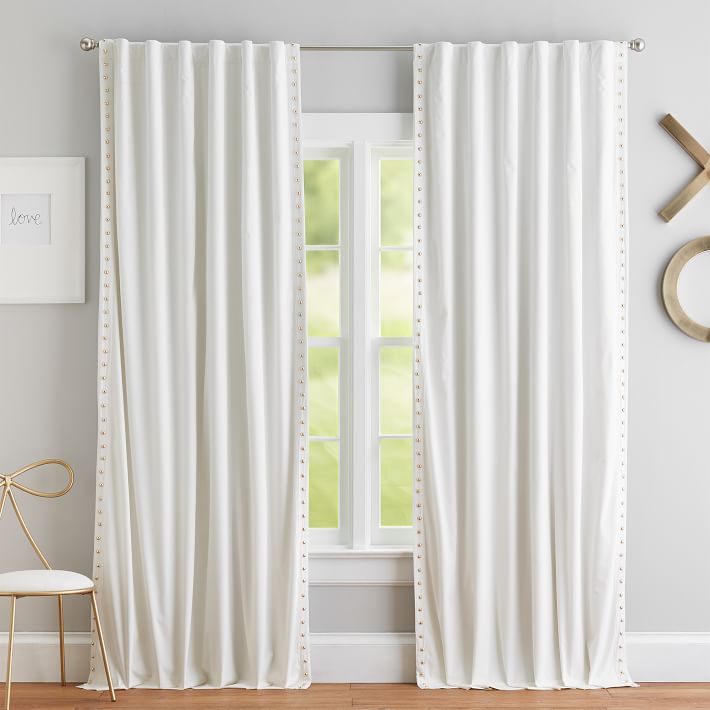 The floor was also such a fun aspect where I added some detail. These beautiful hexagon tiles from Home Depot are on trend and add a lot of visual interest. On top of that, I added a gorgeous rug. This rug is one of my ABSOLUTE favorites right now for a neutral rug. I love it! The grey and white stripe are subtle enough to provide visual interest without being too much. And the extra detailing on the edges just really gives it an added touch. I'm planning to order several of these for our new house!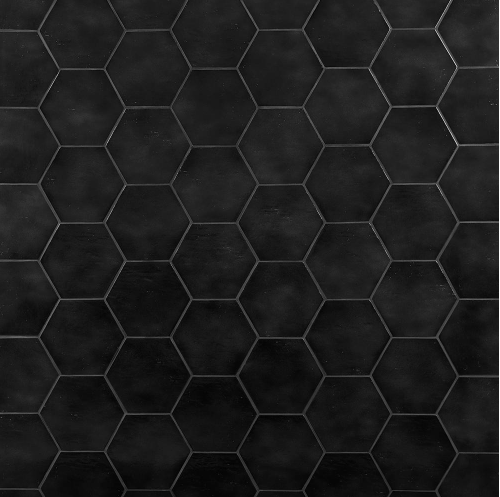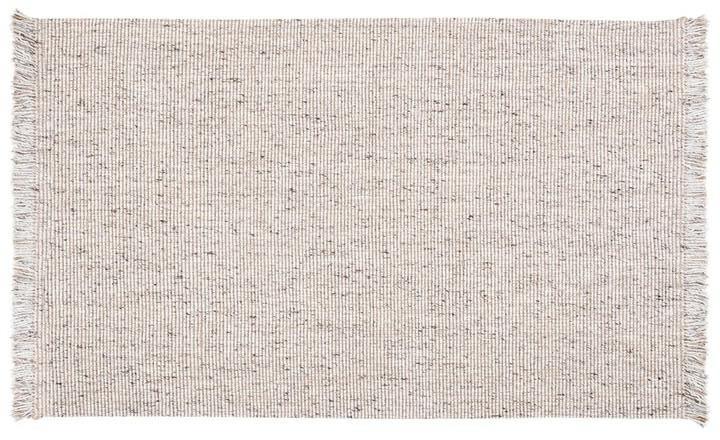 SCROLL and TAP to shop our homework room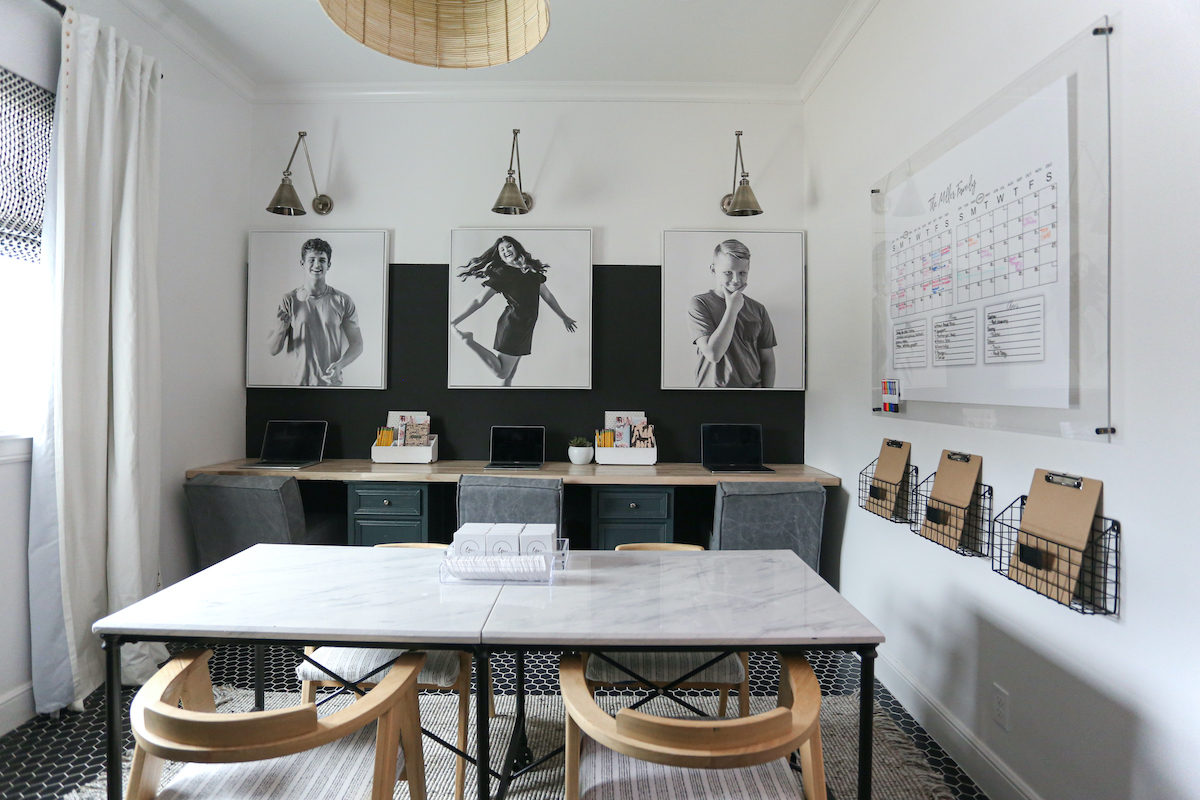 Hudson Valley Lighting
We absolutely love working with Hudson Valley Lighting as you know from past projects like our kitchen remodel. I was so happy with how we used the Aged Brass Allendale chandelier in our breakfast nook. Stunning! In this project, we used the Exeter sconces above our large framed art of our kids and they are just the perfect added touch. Hudson Valley Lighting has many amazing sconces and you can see our favorites in CC and Mike THE SHOP and also shop them here: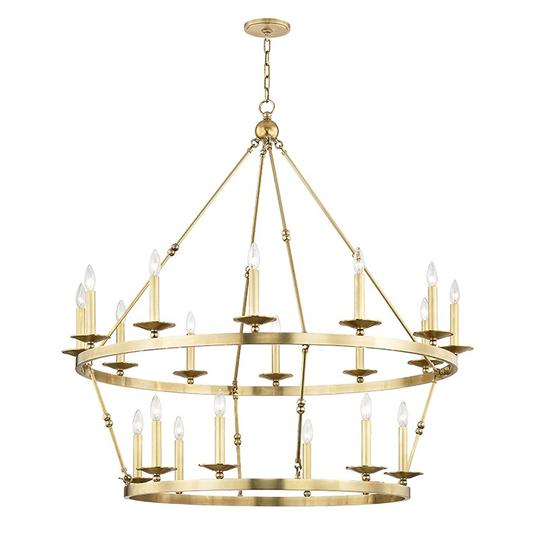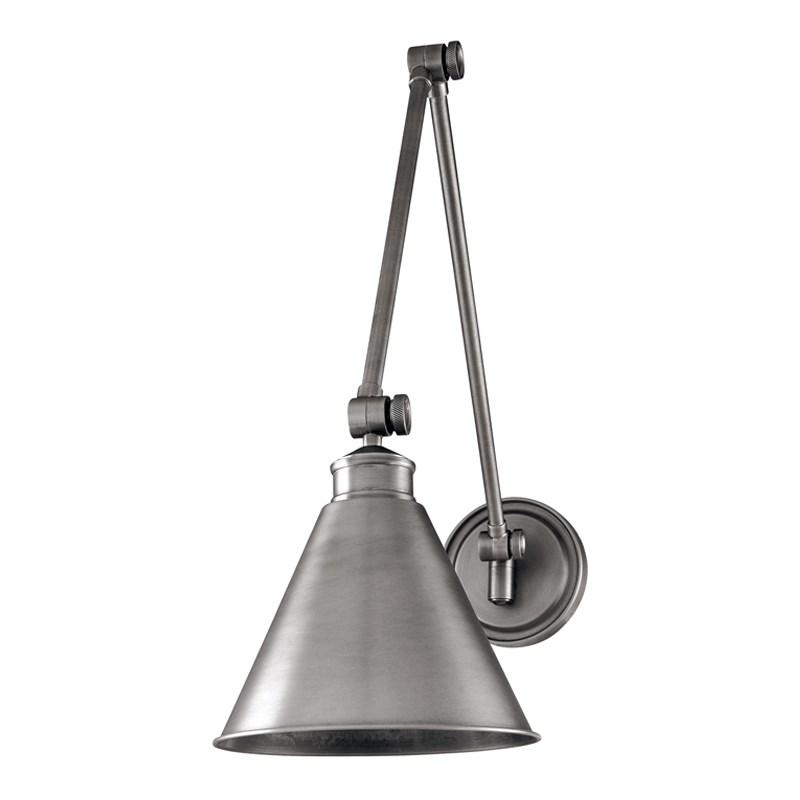 Below is a look at our breakfast nook all dressed up for fall featuring the Allendale chandelier from Hudson Valley Lighting. I don't know why I'm throwing it on this homework room post. Maybe because my current home is a construction zone and it's just nice to look back at how far we came in our other home and have the hope that I will get this new house fixed up one day too. Also, we are so excited to partner with Hudson Valley lighting in our Maplewood Remodel which SURPRISE, we just announced is going to be our new home! I can't wait to share all of the gorgeous Hudson Valley Lighting products we picked for our new home. Lighting really is the jewelry of a home I always say. Once those lights get it, it just takes any project to the next level!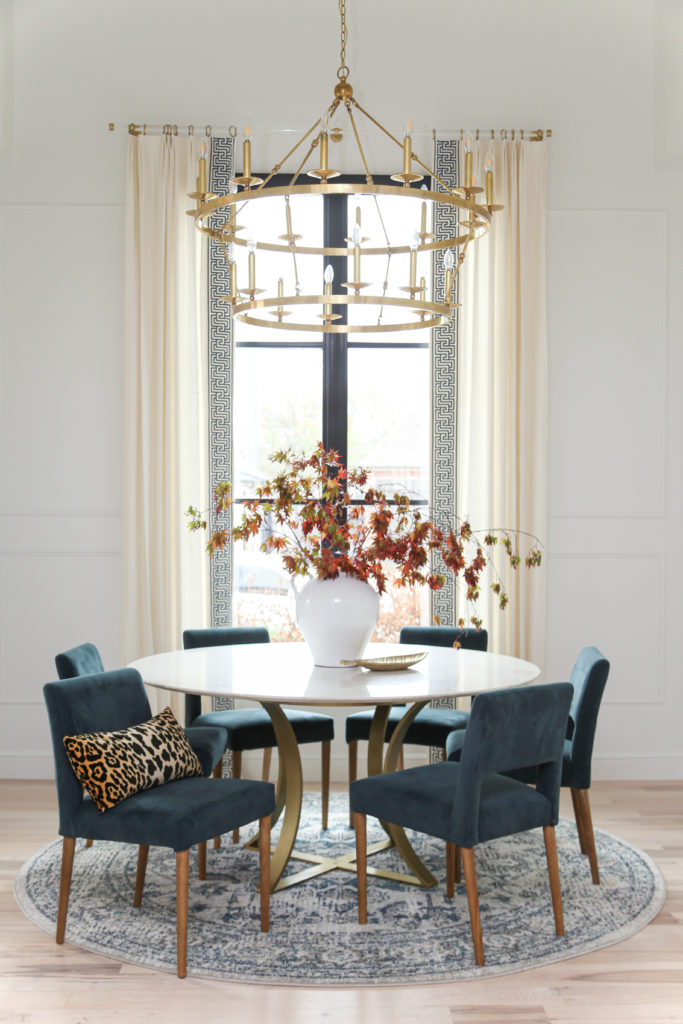 SHOP THE POST

DIY Homework Room Wall Art
Our large-scale children's art is something we get asked about a lot! Of course, I had to put up some photos of my kids. In case you didn't know, my creative journey started as a family, children's, and wedding photography back in 2010! I took these photos myself and blew them up to large canvases. People often ask who I use for that and I recommend Mpix for printing canvases and Bedford Cameras locally.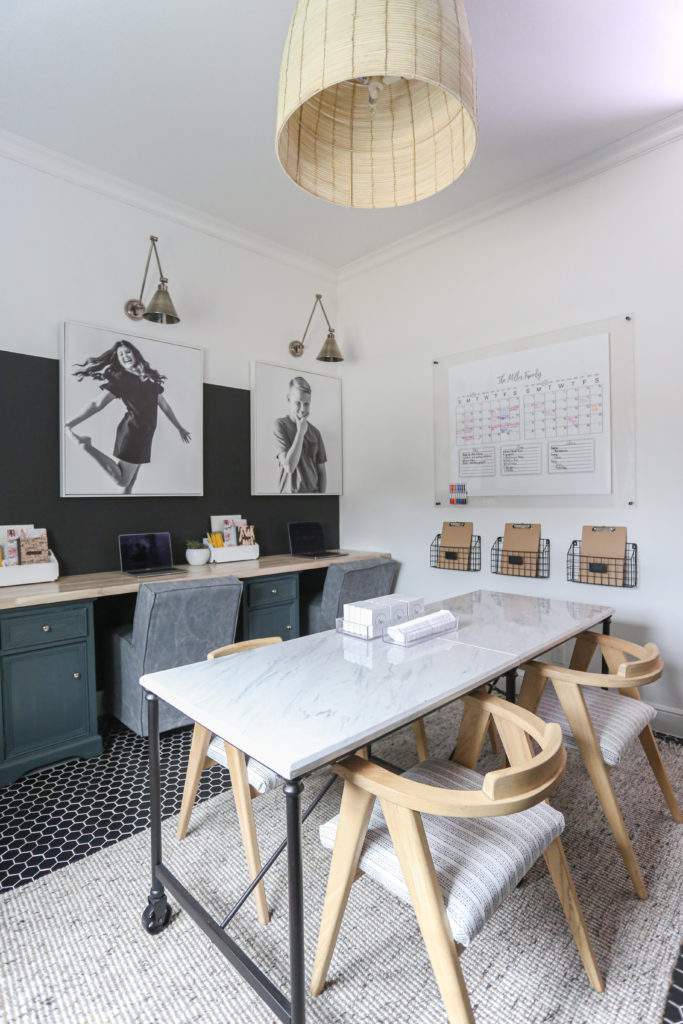 And finally, we made a calendar to help the kids keep track of all of their assignments and due dates. We made it ourselves by hanging large acrylic sheets I bought locally then using standoff gold hardware, but I've linked some similar acrylic calendars from Etsy if you'd like to buy something similar. Then, we added some great wire baskets you might recognize from our Walmart wall decor blog that are perfect for holding important papers and ongoing projects.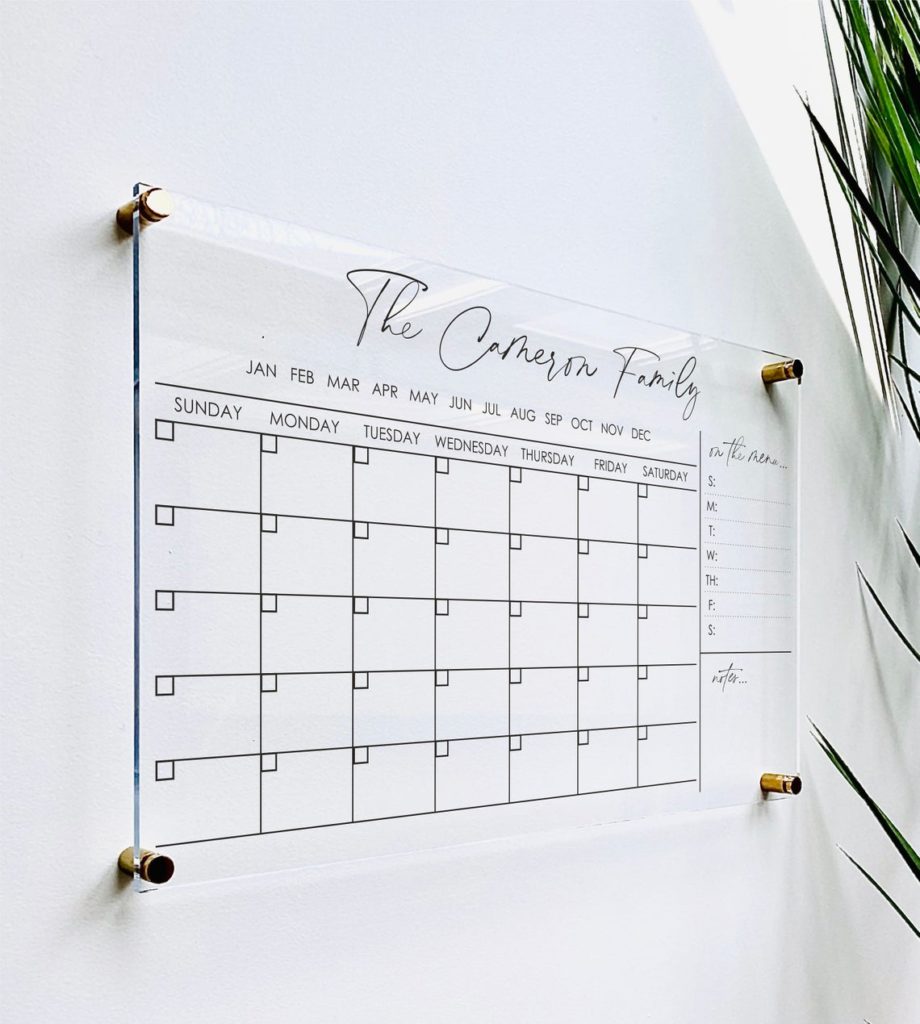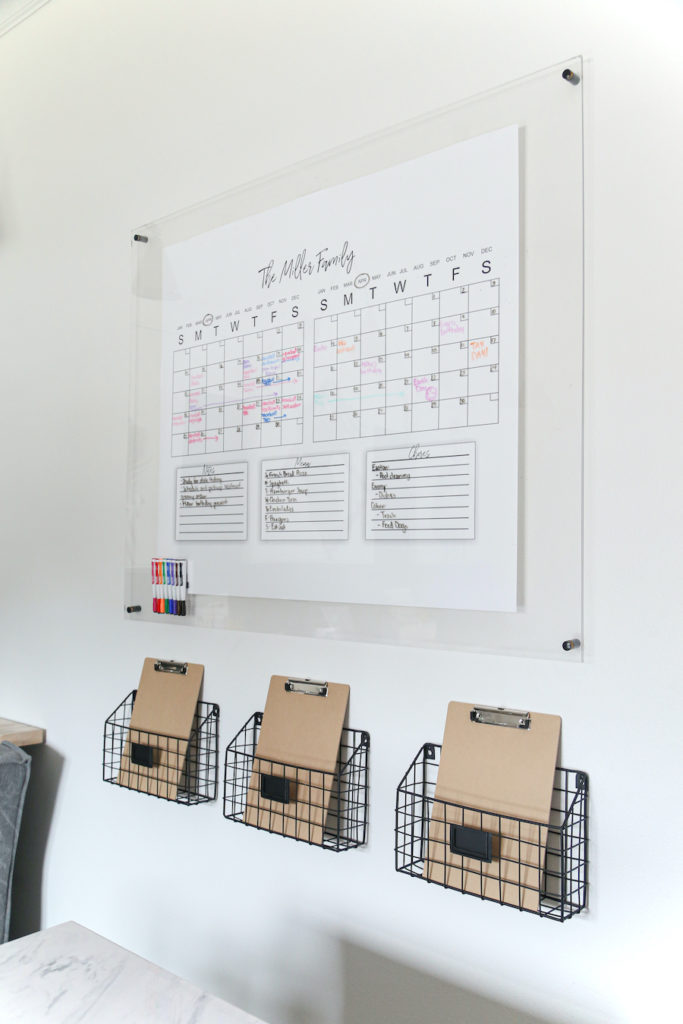 SCROLL AND TAP TO SHOP ACRYLIC CALENDAR

HOMEWORK SPACES FOR THE WIN
This space really was one of my favorite projects in our old home. I will always carry the memories of us doing this together as a family during COVID. I also think it's such a great project that shows how on a minimal budget and with just a few products (end tables, butcher block, and L brackets) you can transform even the smallest of spaces into a functional desk and homework space.
I would absolutely LOVE if you guys decide to try this project, if you will tag me (@ccandmikecreative on insta), DM me, email me pictures….it brings me so much joy to see when a project we do inspires you to do things in your own homes!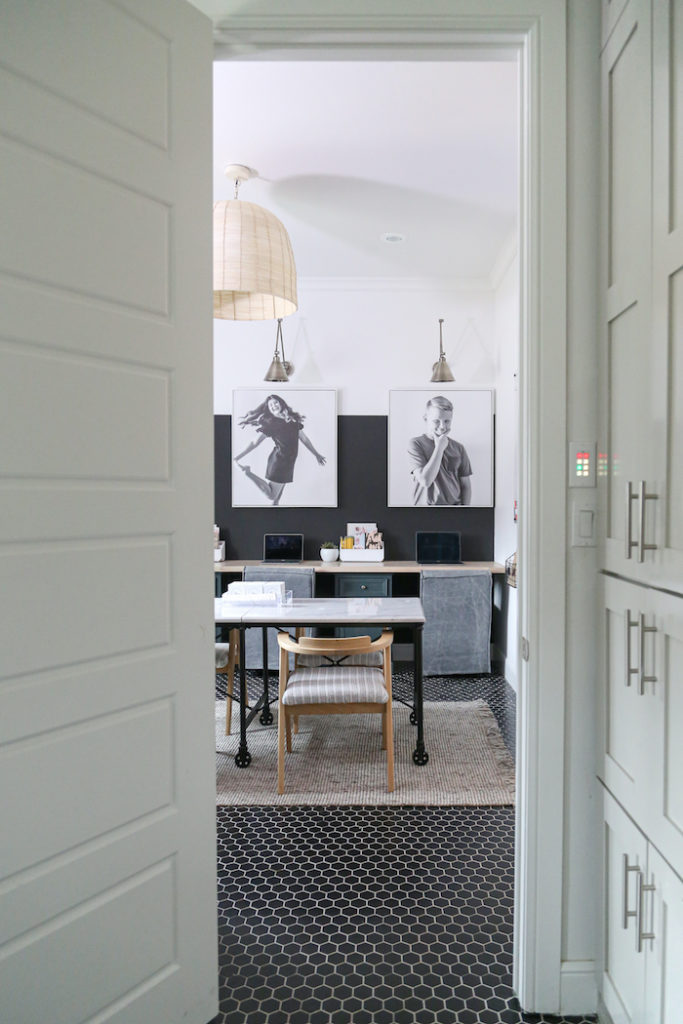 As usual, I had a blast customizing a previously unfunctional room and turning it into the perfect place for our kids. It worked out so well! We were so happy with how this homework room turned out, from the built-ins to the finishing touches. It was such a helpful space to have for all things school-related during this crazy time. I hope this provides you with the inspiration to transform your home and make it your own. Our CC+Mike crew is ready to start our latest adventure. Can't wait to share this journey with you all! Stay tuned for more reveals as we get settled into our new house.
SCROLL AND TAP TO SHOP OUR HOMEWORK ROOM