I am so excited to share this post with you today about How to Design a Beautiful Kitchen Banquette.  Almost 8 years ago we built a house and I had this crazy idea to scratch a formal dining room and do one large built-in kitchen banquette instead. Mike Miller thought I was crazy. Of course he did! The contractors and workers tried to talk me out of it but thank goodness, I held my ground. That large kitchen banquette ended up being one of the most loved areas of our entire house. Since then, I have loved seeing the trend of beautiful kitchen and dining banquettes continue to grow and now they are so much easier to incorporate into home design because places like Pottery Barn and William Sonoma are making ready to order custom banquette seating. Today ,I'm going to show you How to Design A Beautiful Kitchen Banquette and make it really easy on you by sourcing my favorite lighting, tables, and chairs so that you can just mix and match and create your own gorgeous space like I did below.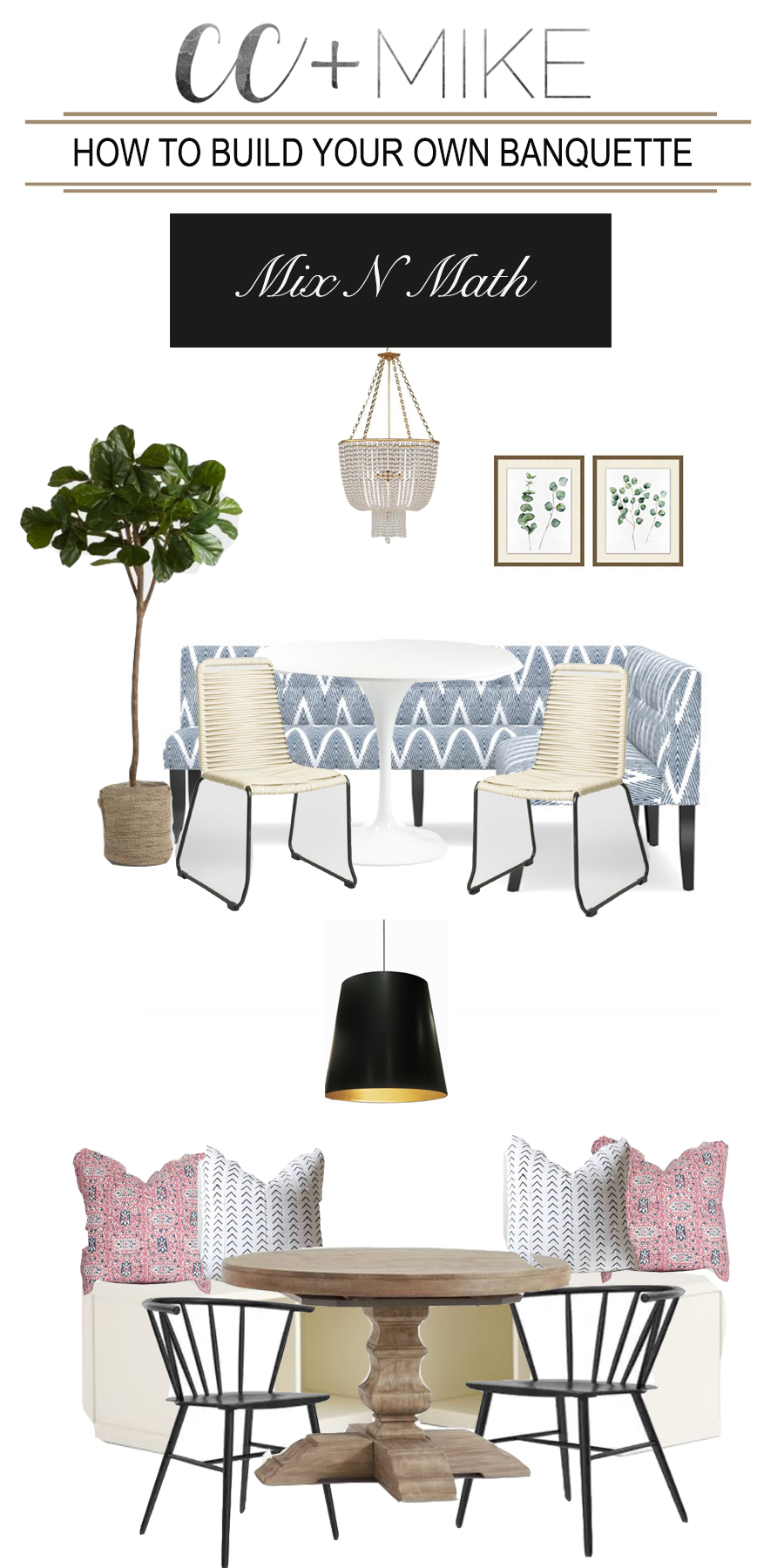 But before we go any further, I want to further illustrate why I am obsessed with the idea of banquettes by showing you what a difference a built-in banquette made in our recent modern white farmhouse remodel.  Holy cow this dining room in the middle of the living room was not working for me. It encroached on the living room space and just felt odd from a design perspective. So what to do? When I walked into the kitchen I immediately recommended that we lose the formal dining room all together and instead, build in a banquette that would seat around 8 people.  Again, Mike Miller thought I was crazy but this is why he loves me. I swear our remodels and building projects would just be so boring if I wasn't there to challenge him (just don't tell him I said that – HA!)
Here is said dining room in the middle of the living room with an offset light fixture. Hmmm….that's got to go, right?!? And just for a little eye candy for you, I will show you what this space looks like now below.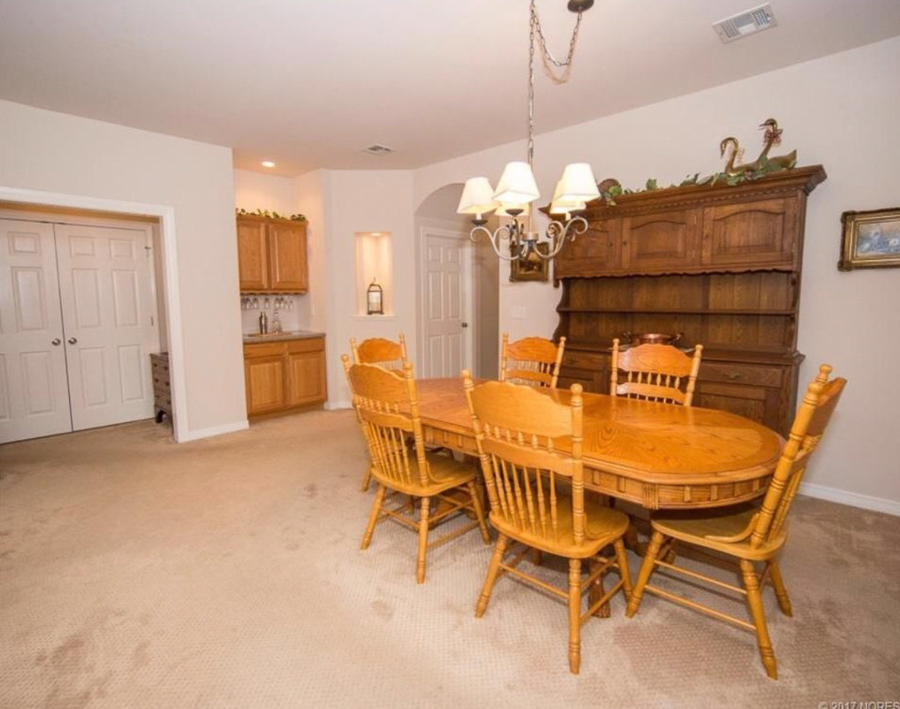 Now isn't that so much better! It is now a gorgeous, beautiful and functional bar space instead of a large offset dining room in the middle of the living room.  You can shop this bar and the gorgeous marble backsplash we used here.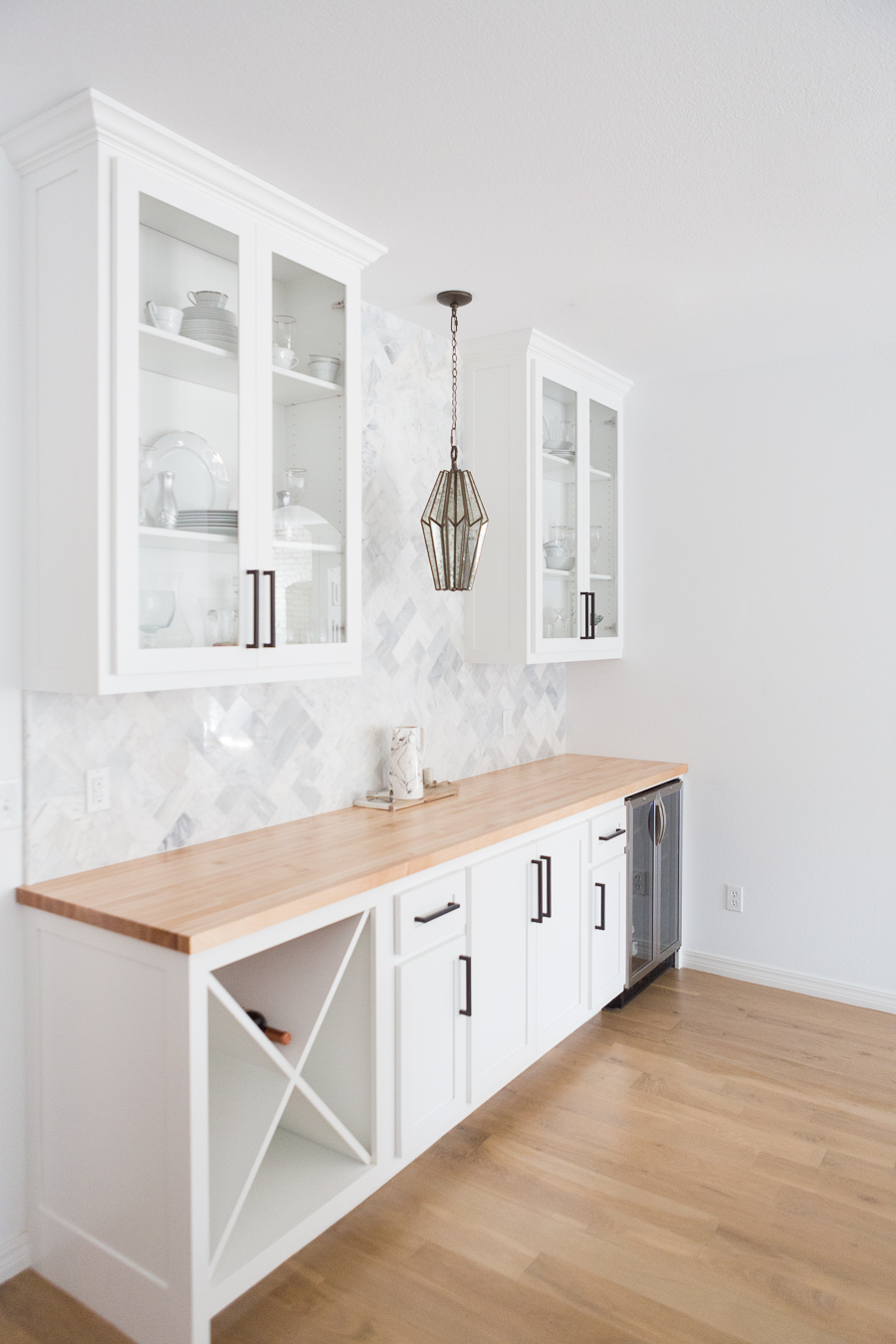 Now our problem with my idea —which Mike Miller, of course was quick to point out—was that there was a window smack dab in the middle of the room that I wanted to turn into a built-in banquette. Yep, that's a problem.  The solution: move said door and replace it with a gorgeous corner black aluminum clad window unit and move the door access to the outside to the living room.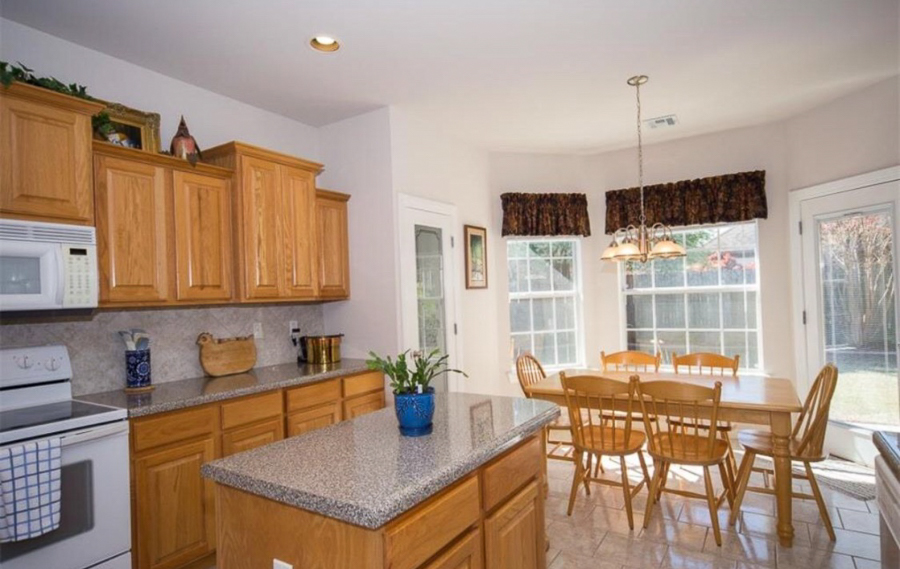 AND THE RESULT…I GIVE YOU A GORGEOUS KITCHEN BANQUETTE.
So now let's talk about how to design a gorgeous banquette so you can go about having one in your own home! By the end of this post, I will have shown how HOW TO DESIGN A BEAUTIFUL KITCHEN BANQUETTE by mixing and matching the lighting, chairs, and tables that I have picked for you just like I did below!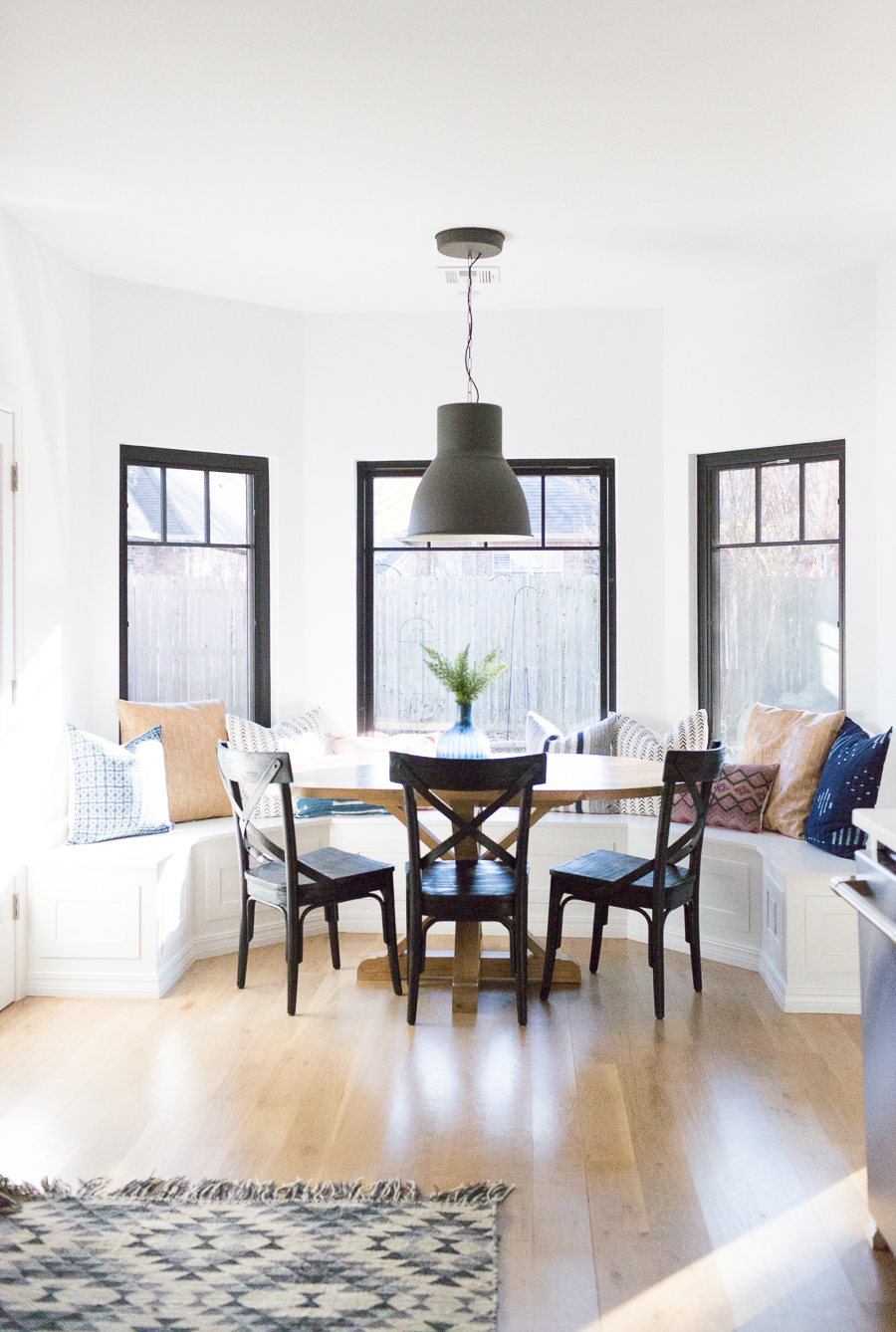 1. CHOOSE YOUR BANQUETTE SEATING
When I designed my banquette for my first house, I couldn't find a single place to buy ready-made banquette seating and we had to have it custom built.  Lucky for you, they are now available in gorgeous ready-made fabrics and woods from Pottery Barn and William Sonoma. Of course, hiring someone to custom make banquettes or build them yourself is also an option. I actually had our table custom made as well by Color Me Happy in Tulsa. That is always an amazing option to support local businesses.  Many people, however, don't know someone and just want the ease of ordering and buying online. For those of you who want that option, here are some custom, made to order banquette seating options below: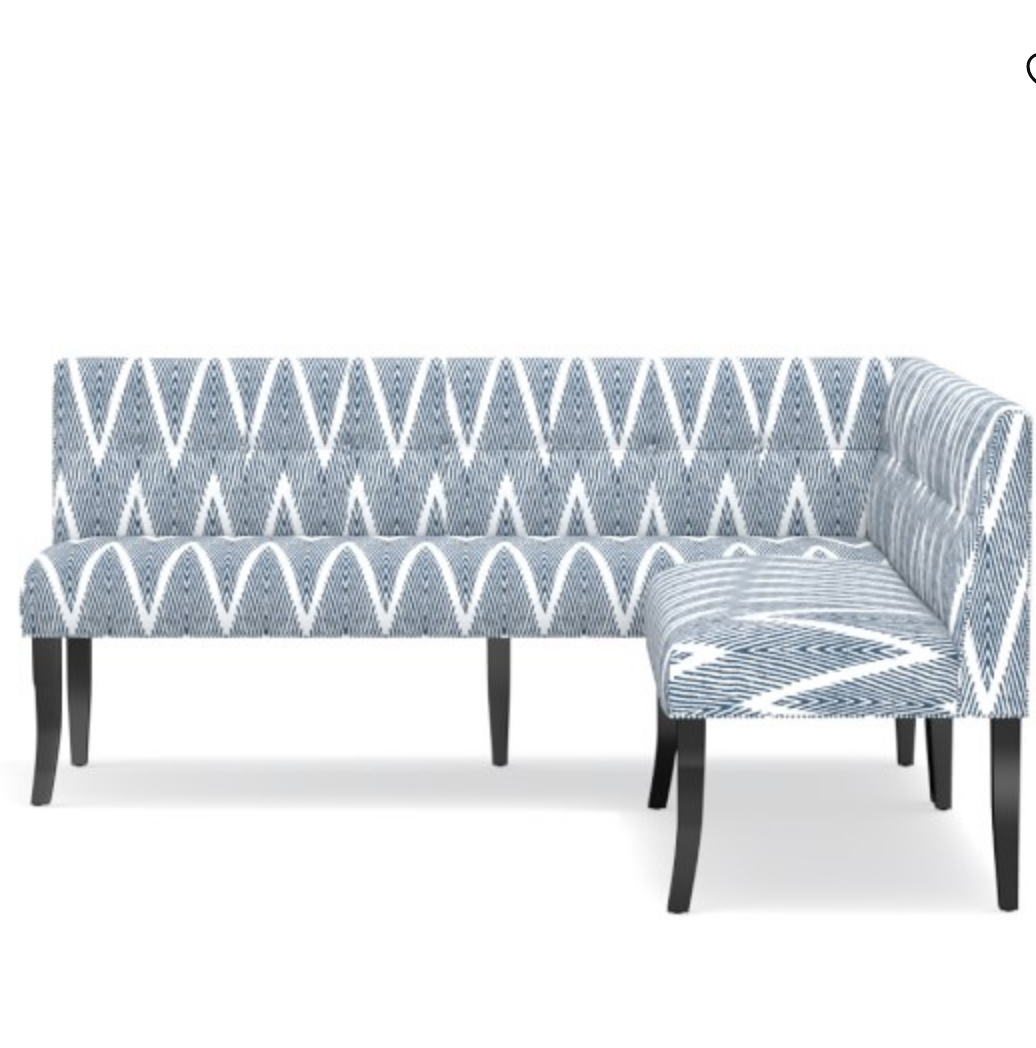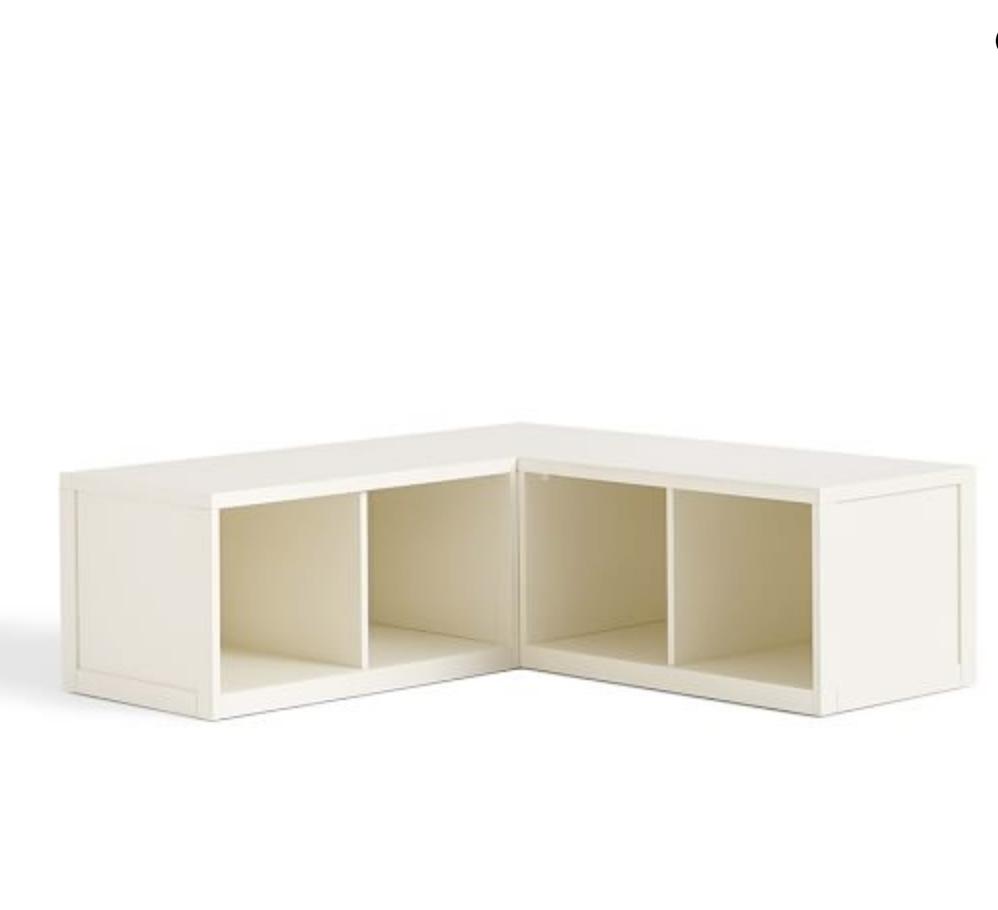 Here is an example of another gorgeous built-in banquette via Pottery Barn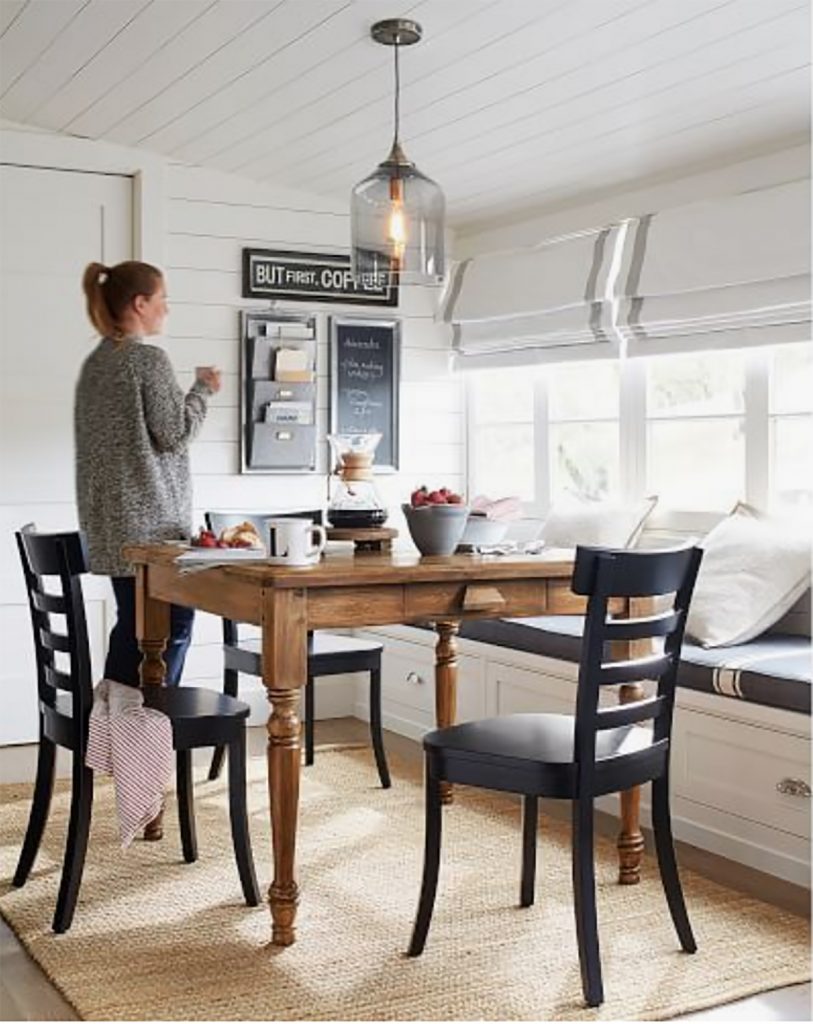 2. CHOOSE YOUR LIGHTING
I have heard it said that "Lighting is the jewelry of your home." I couldn't agree more. Just like the perfect statment necklace can make a simple black t-shirt and turn it into fabulous, choosing the perfect lighting fixture can turn a space into something absolutely fabulous.  Here are some of my favorite picks for breakfast nook lighting. Some of my favorite sources for lighting are Studio Mcgee, Pottery Barn, Cb2, and West Elm.  Here are some of my favorite light fixtures for banquettes.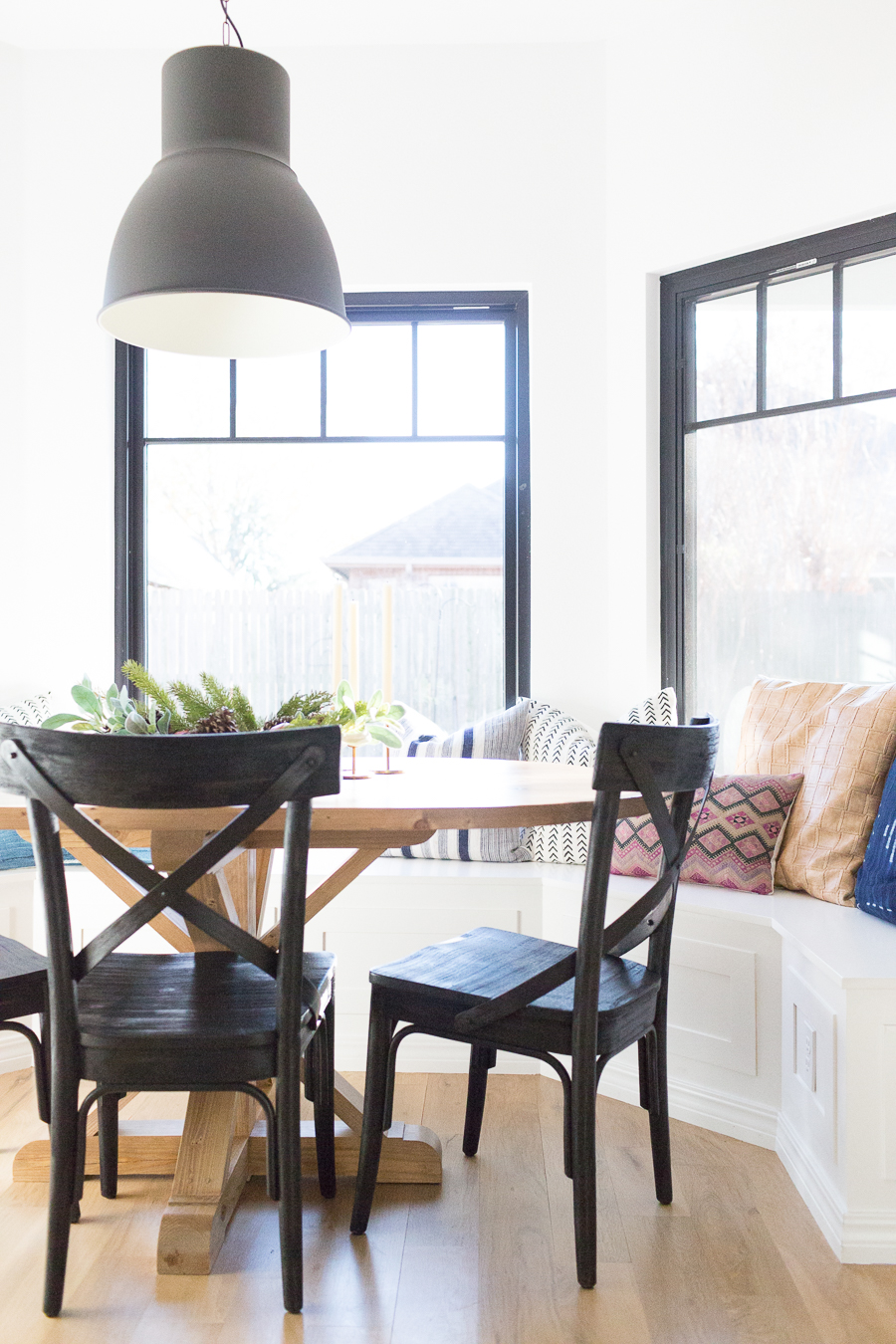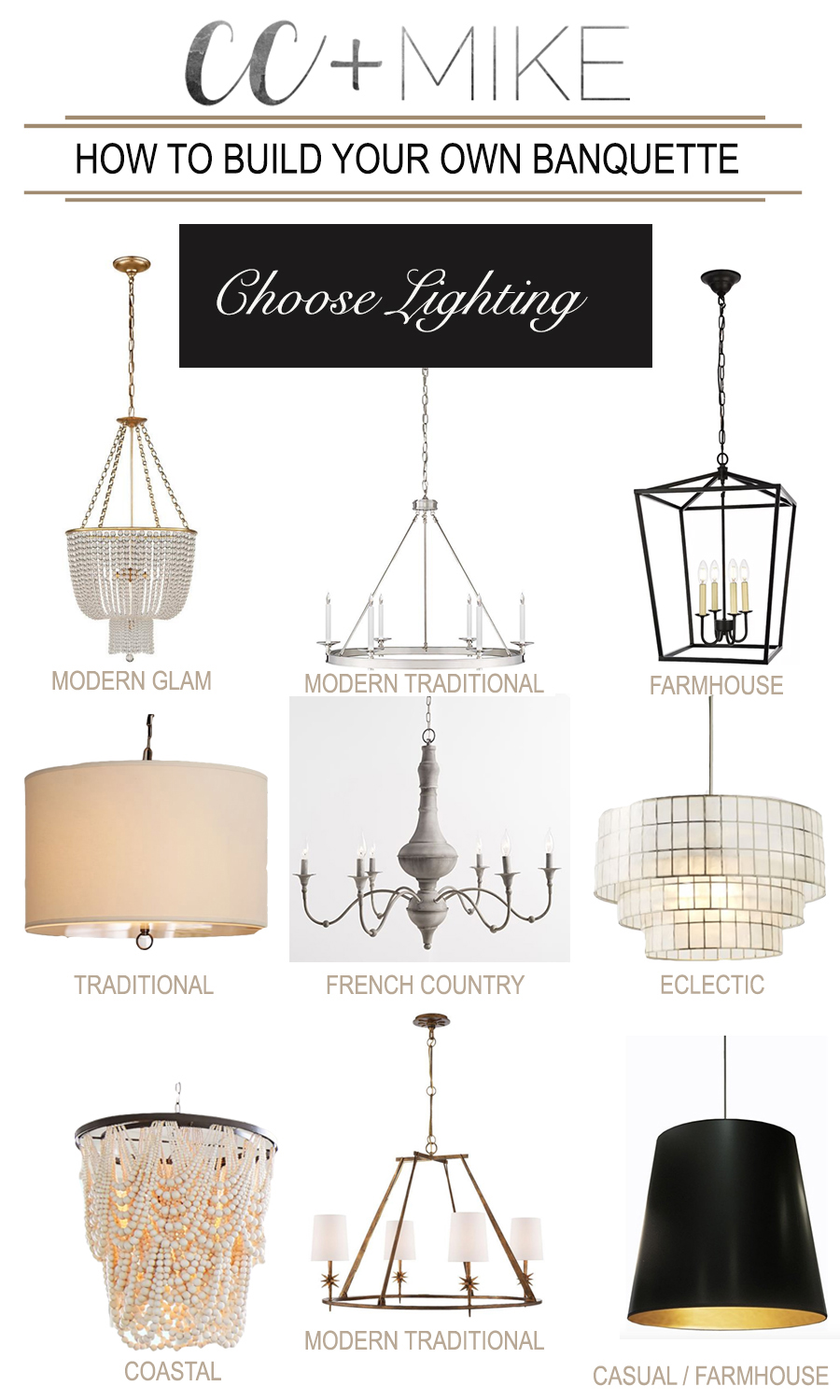 LIGHT SOURCES BELOW:
| MODERN GLAM | MODERN TRADITIONAL | FARMHOUSE | TRADITIONAL | FRENCH COUNTRY | ECLECTIC | COASTAL | MODERN TRADITIONAL | CASUAL/FARMHOUSE|

I absolutely love how my friend Erin Broege used this statement maker chandelier in her breakfast nook (see below). I also love Erin's use of  Serena and Lily's wallpaper paired with the Jacqueline Chandelier.  What a gorgeous way of showing how to design a beautiful kitchen banquette Erin!
Jacqueline Small Chandelier By Studio Mcgee
Jacqueline Small Chandelier By Studio Mcgee and if you love Erin's wallpaper it is Serena and Lily's feather wallpaper. (For more amazing wallpaper sources see my post on Beautiful Ideas for Using Wallpaper in Design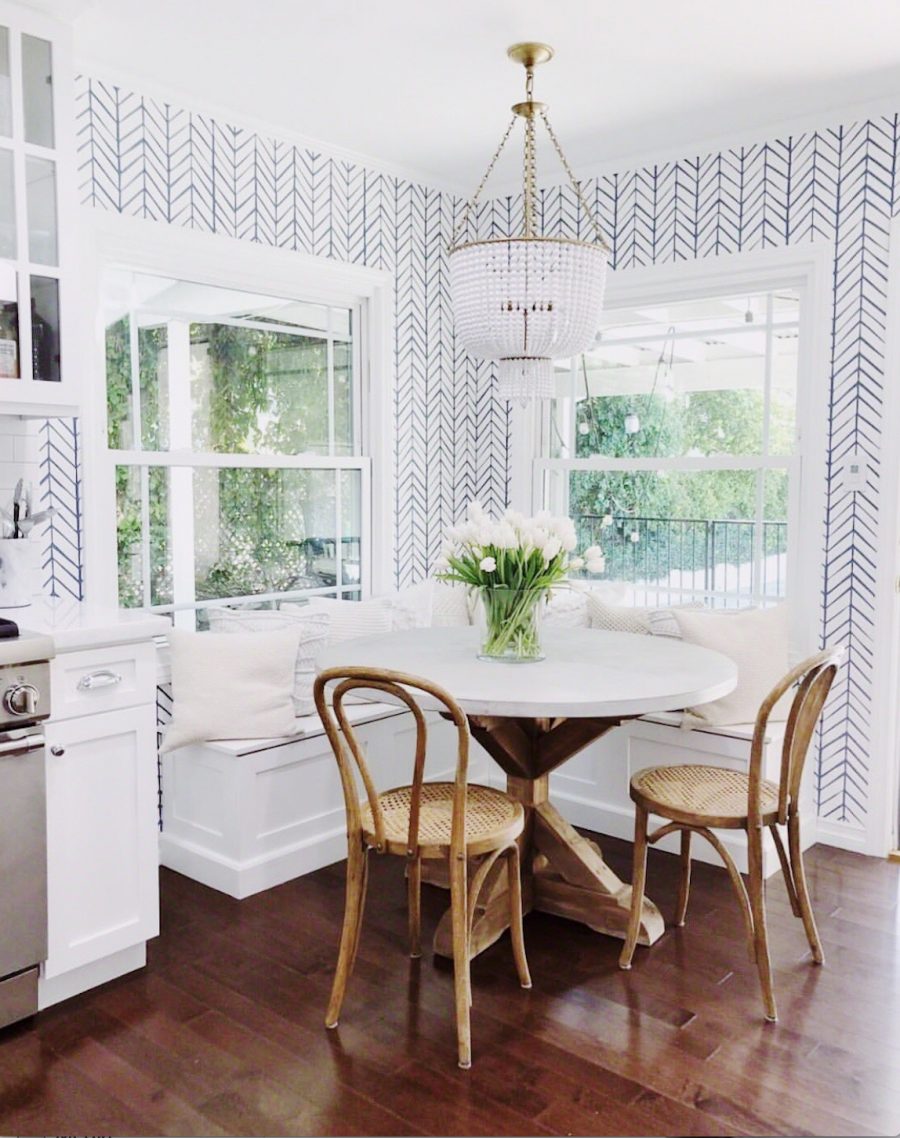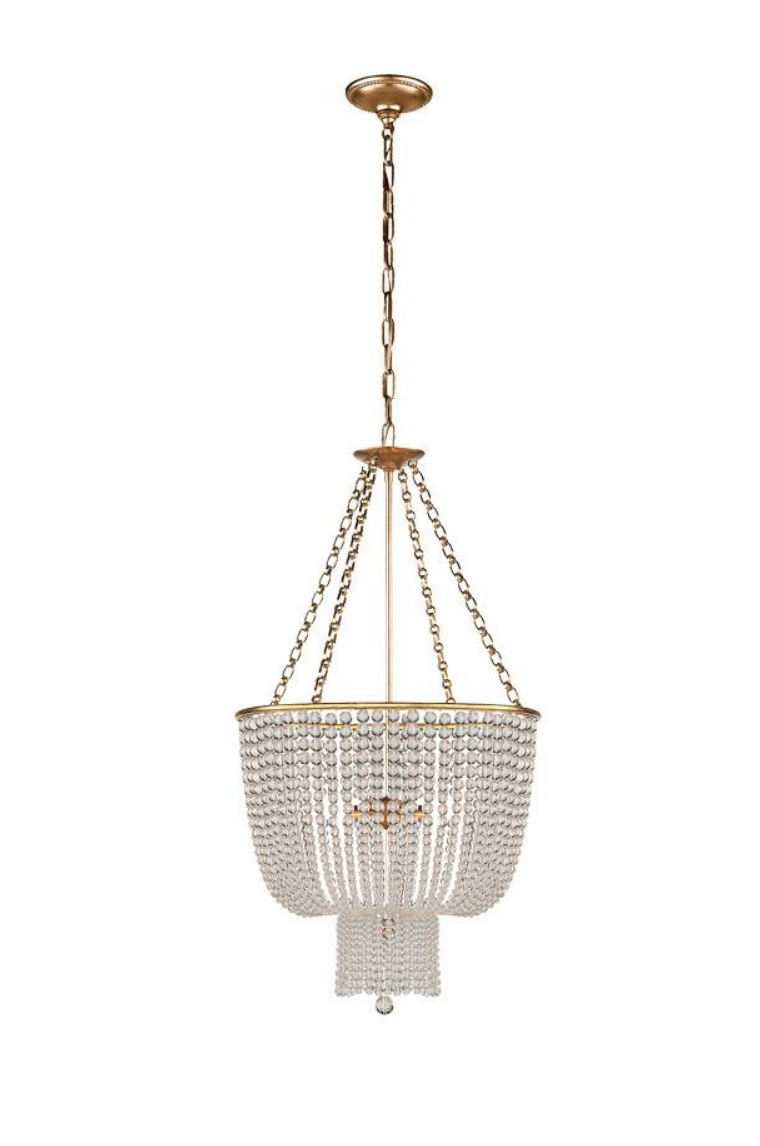 3. NEXT YOU HAVE TO CHOOSE YOUR DINING TABLE
Tulip tables, oval tables, and extendable tables are great for building your own banquette! Here are some of my favorite choices!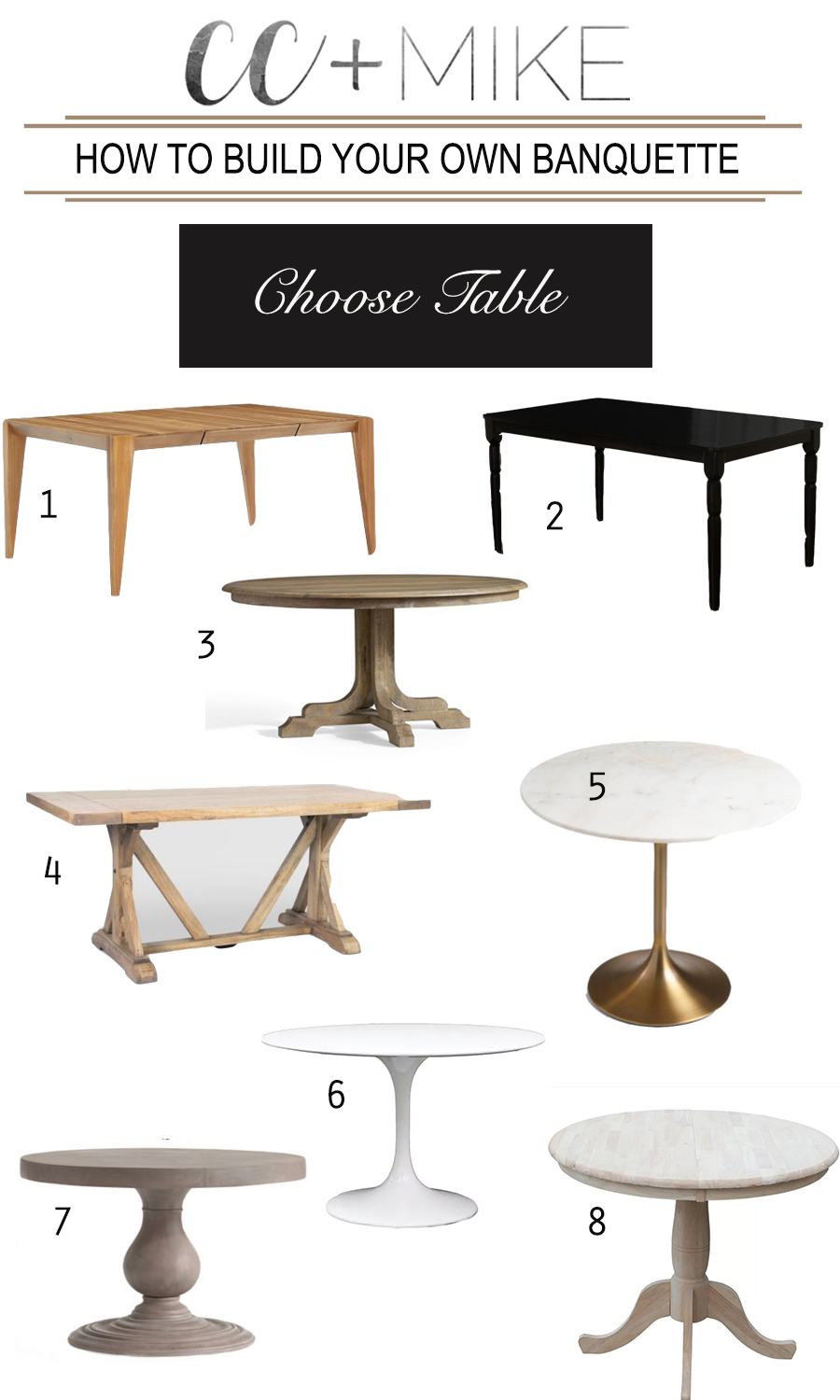 DINING ROOM CHAIR SOURCES BELOW:
| 1. | 2. | 3. | 4. | 5. | 6. | 7. | 8. |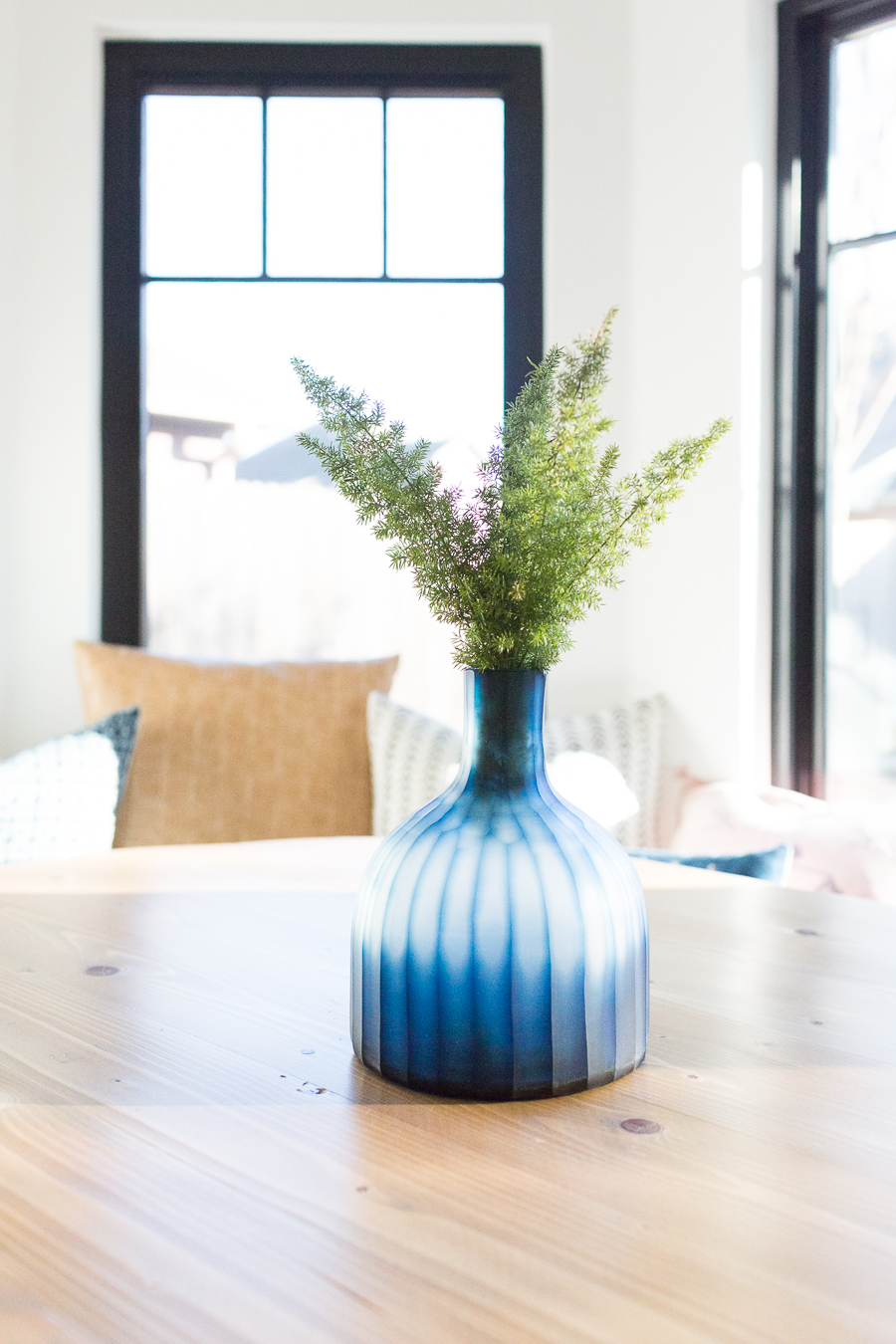 Don't forget about picking up some accessories and pillows!  Here are some of our favorites from the Modern White Farmhouse Remodel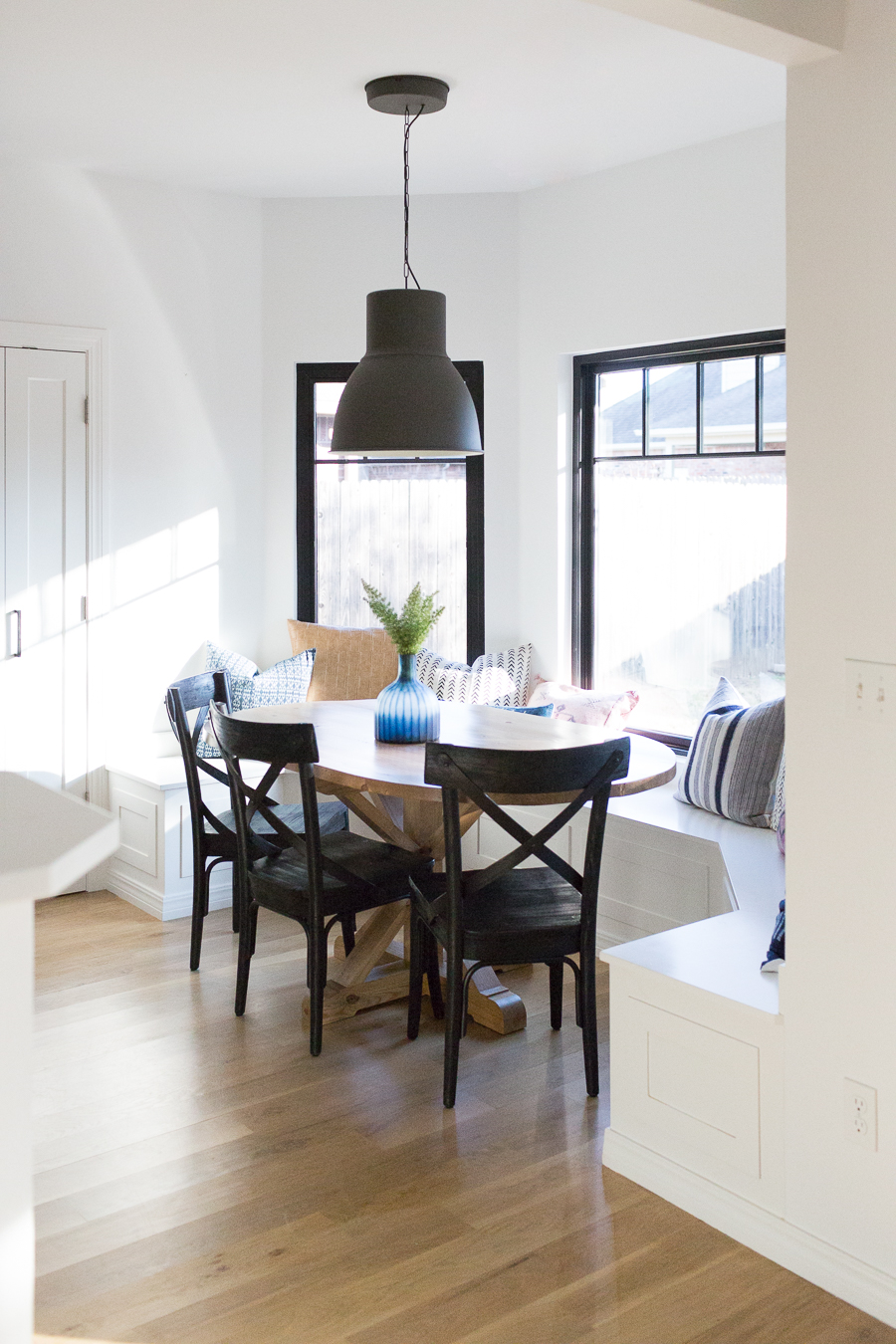 4. Finally, YOU HAVE TO CHOOSE YOUR DINING CHAIRS
I've picked out some of my absolute favorite dining chairs from wishbone, to farmhouse chairs, to traditional, to upholstered chairs to navy velvet chairs. No matter what your style is, you will find something on this list that can work for you and will help you with how to design a beautiful kitchen banquette.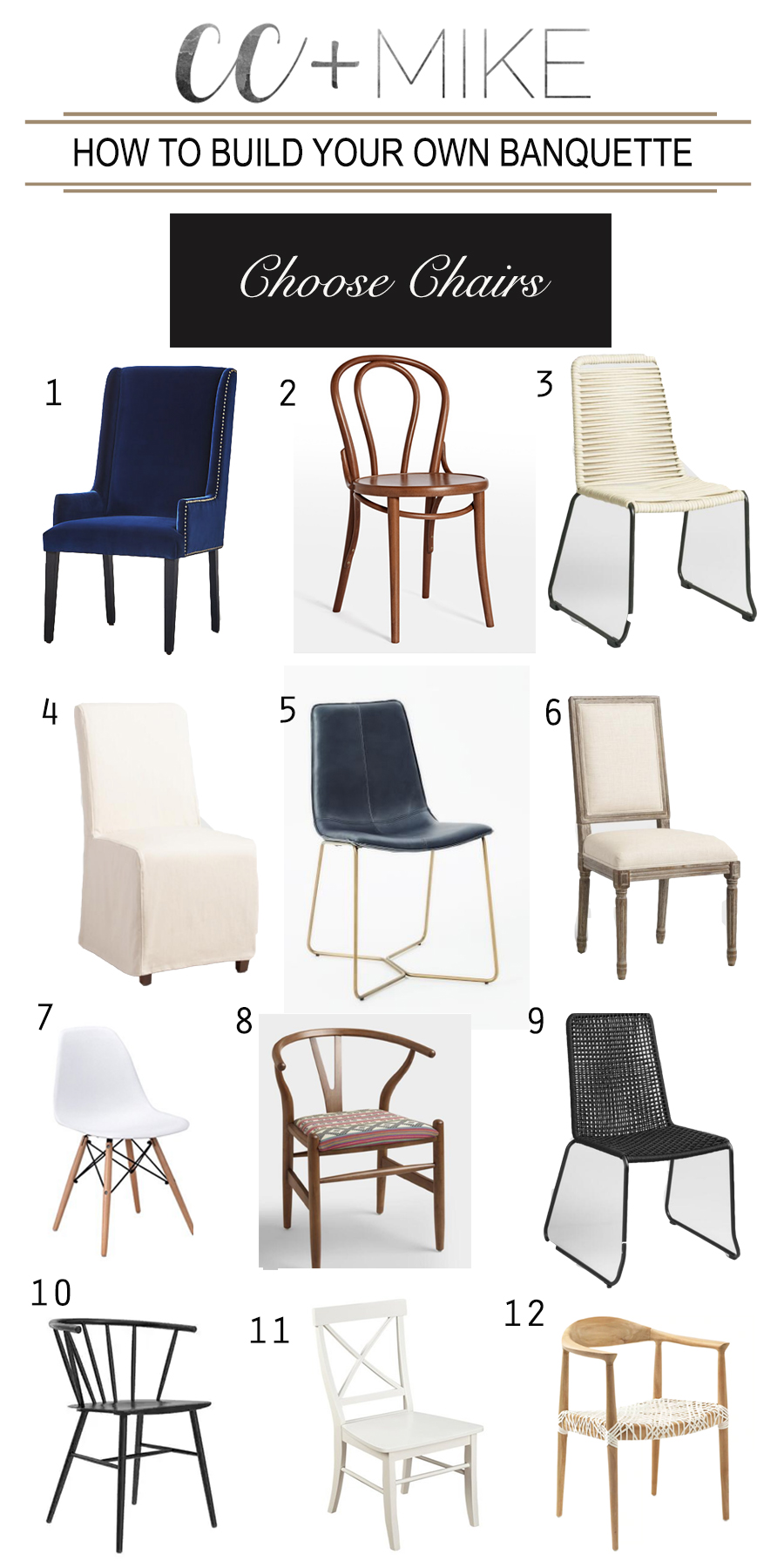 CHAIR SOURCES BELOW:
1. |  2. | 3. | 4. | 5. | 6. | 7. | 8. | 9. | 10. | 11. | 12.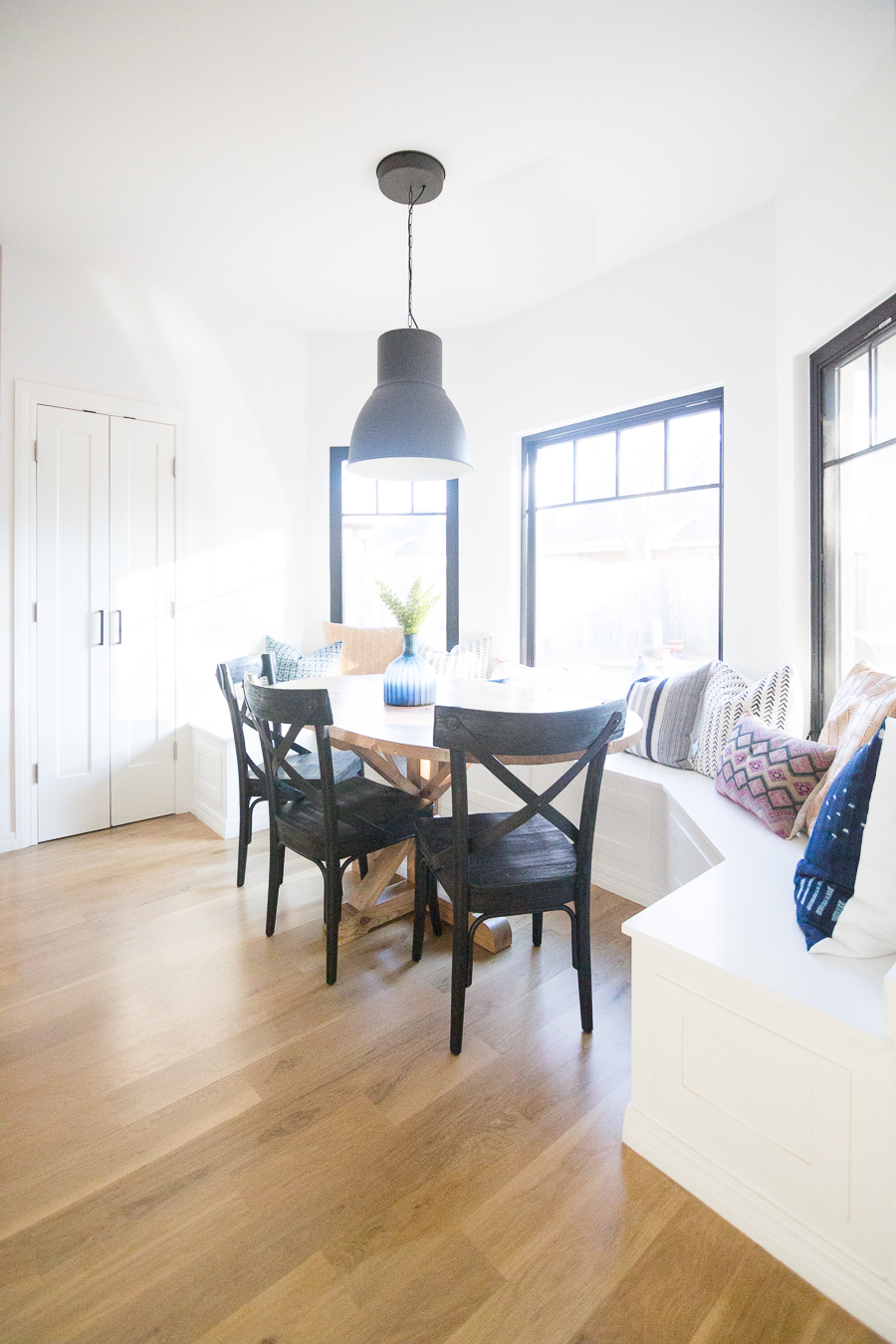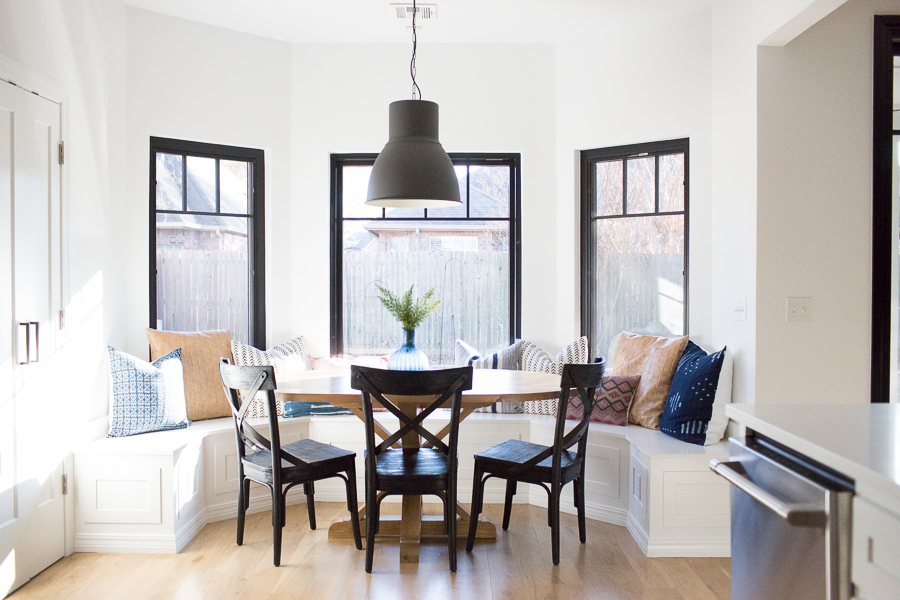 I hope this post helps you with How to Design a Beautiful Kitchen Banquette. You can also use these same selections for a dining room banquette as well.  By mixing and matching the above lighting, tables, chairs, and built-in banquette seating, you can design a gorgeous space for your home or your client's home! Just mix and match the from the lighting, chairs, tables and built-in seating that I gave you to design a gorgeous banquette. Also, for more info on the beautiful faux fiddle leaf tree pictured below and in our modern white farmhouse remodel, check out our post on our favorite faux fiddel leaf fig tree and plants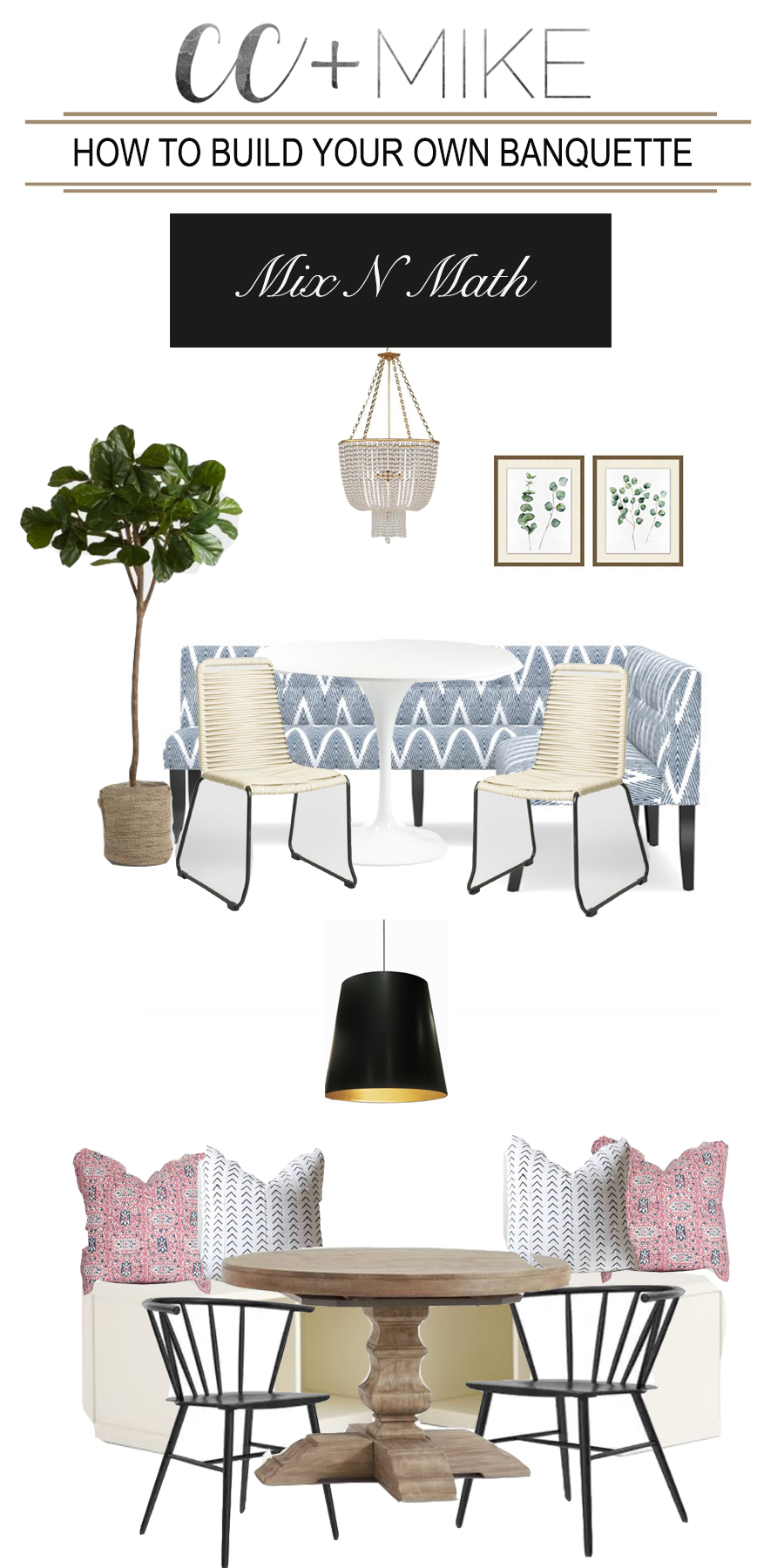 Tulip Table | Fiddle leaf Fig Tree | Jacqueline Chandelier | Pottery Barn Stem Prints | Woven Chairs | William Sonoma Made to Order Banquette
| Cottage Chairs | Black Pendant Light | Linden Pedestal Table | Mudcloth Pillows |