Happy February everyone! As a designer, it is always fun to share something I've created. That's why I get so excited about our upcoming room reveals. But I also LOVE to share my inspiration with you all! I always hope it sparks an idea to try something new. One of my favorite innovative ideas has been using open shelving in front of windows. That's right – in FRONT! In design, one of the unspoken rules is to never cover up windows, but open shelving is the perfect way to gain more storage while keeping things light. It might sound strange, but the result is gorgeous!
In this post, I want to show you the Pinspiration I found from other amazing designers who have tried this, and share how I made this my own. Here is how open shelving over windows can be both beautiful and functional.
Getting Inspiration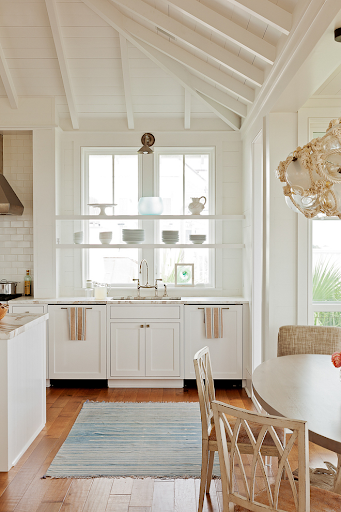 As I said, it is almost a crime to cover up a window in design. However, open shelving can be a huge game-changer! I have always loved using open shelving in our projects. It can be the perfect way to add extra storage while also making the room feel lighter. That's what makes it perfect for this design trend! Check out how Homebunch styled the recessed window above the kitchen sink in one of their projects!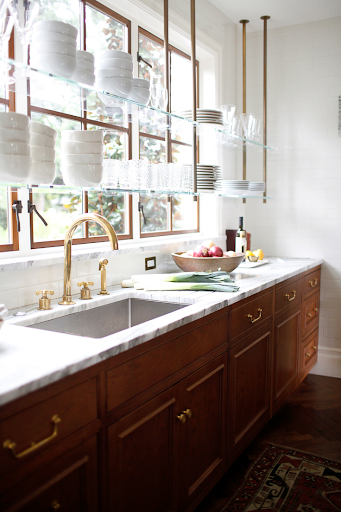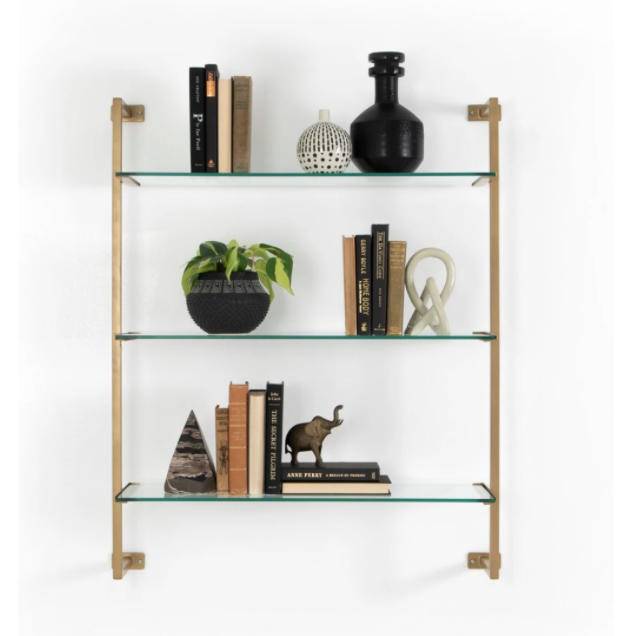 The secret to recreating this trend is to make sure you still let in as much light as possible. Spacing is key! Hungeling Design even used glass shelves, making the space shine. How cool! Styling open shelving across windows in this style makes an amazing focal point. The Collette wall shelf from CC+Mike: the Shop would be perfect for a smaller window!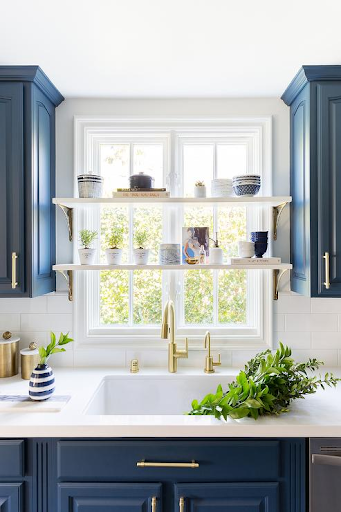 I also love the way that DecorPad used their shelving to store some of their beautiful dishes! You can customize the layout to feature whatever you want. When styling open shelving, I choose pieces that are beautiful but also feel like they belong there. Whether that's a clean set of white dishes, your favorite art pieces, or your kitchen garden!
Our Design
When I first walked into the kitchen of our Navy and Cedar Ranch remodel, I knew we were going to have to make some drastic changes. One of those changes was knocking out all the walls and incorporating what used to be a laundry room into the kitchen area. The problem was, there was a little window in that area that I needed to somehow make work with the kitchen design. So…I decided to add open shelving OVER the windows and make it into a bar. I LOVE how it turned out. Check out the before and afters.
BEFORE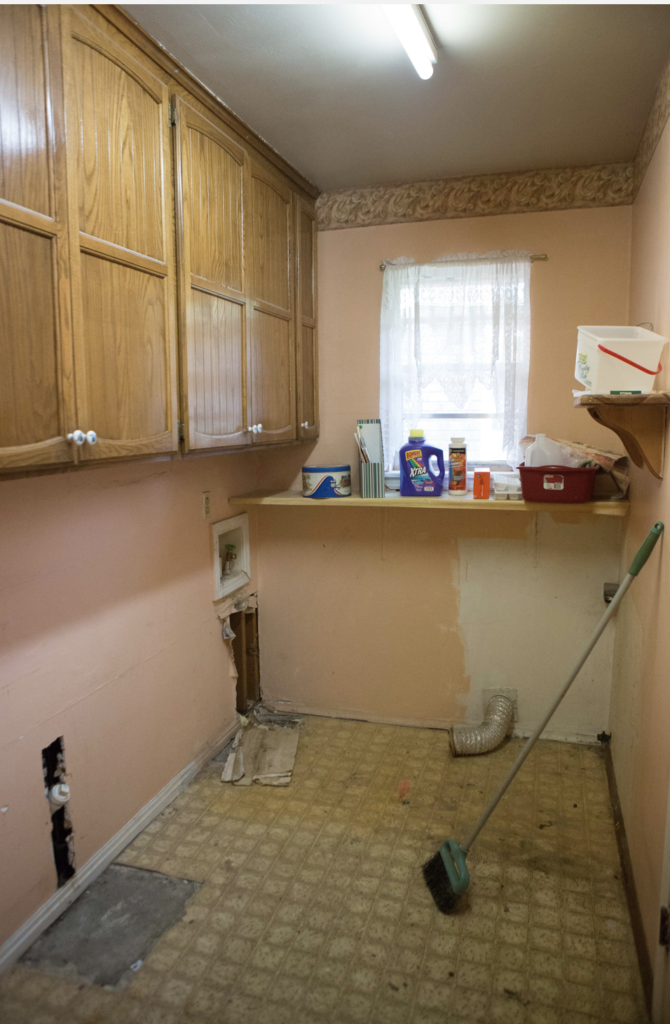 AFTER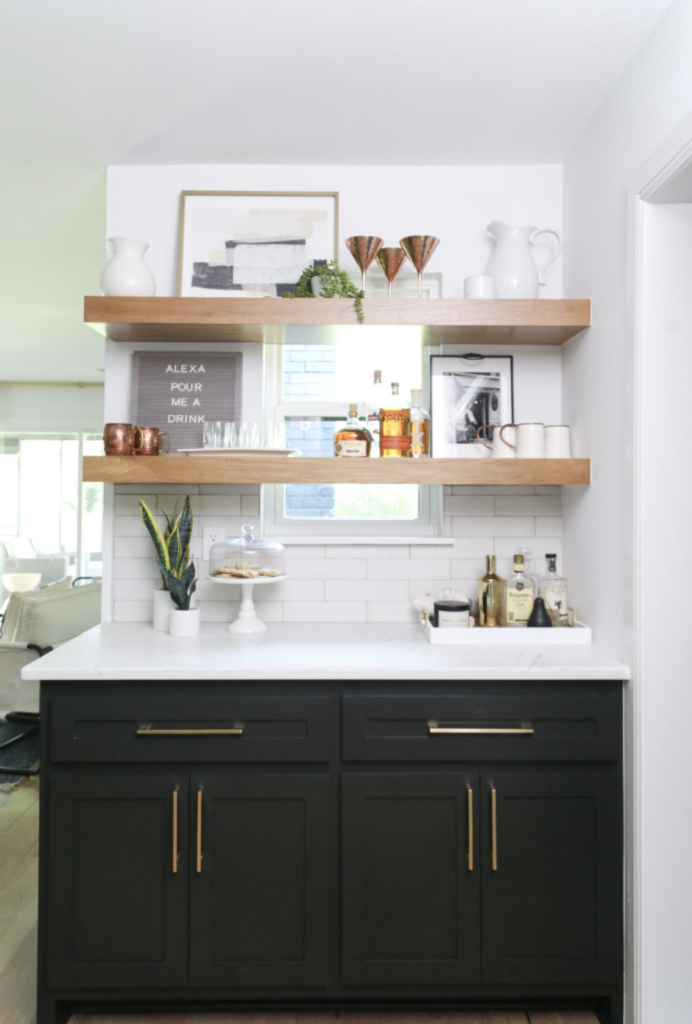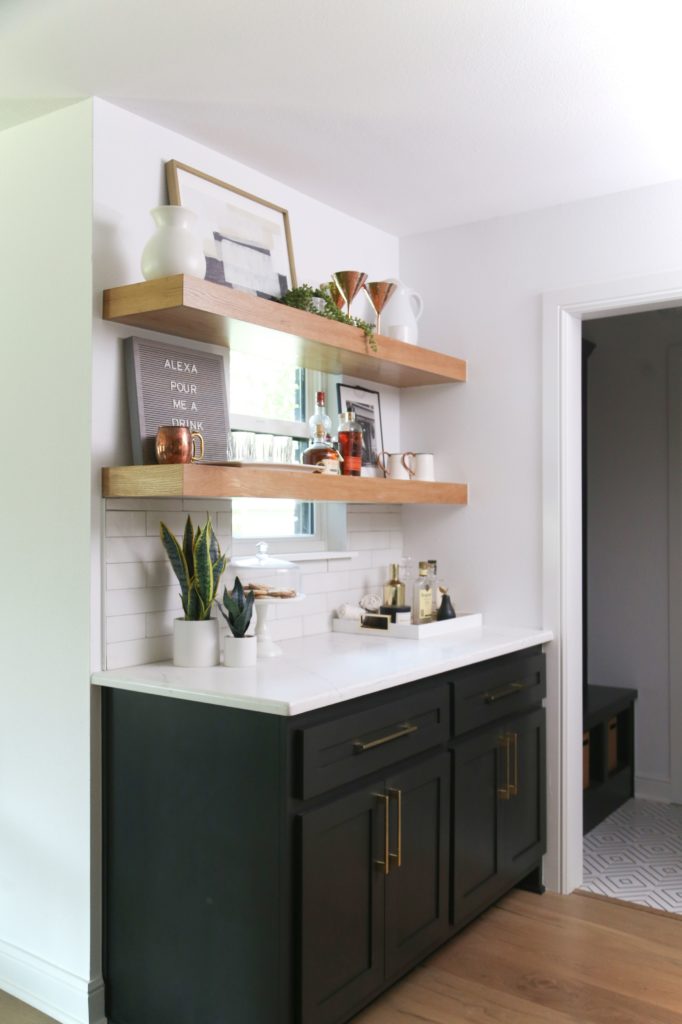 If you've been following CC+Mike, you'll recognize this Cedar Ranch remodel from our previous posts. It was such a fun project! Open shelving was a common theme in the design for the kitchen and I chose to take it to the next level. I was able to make this shelving trend a reality in this adorable dry bar!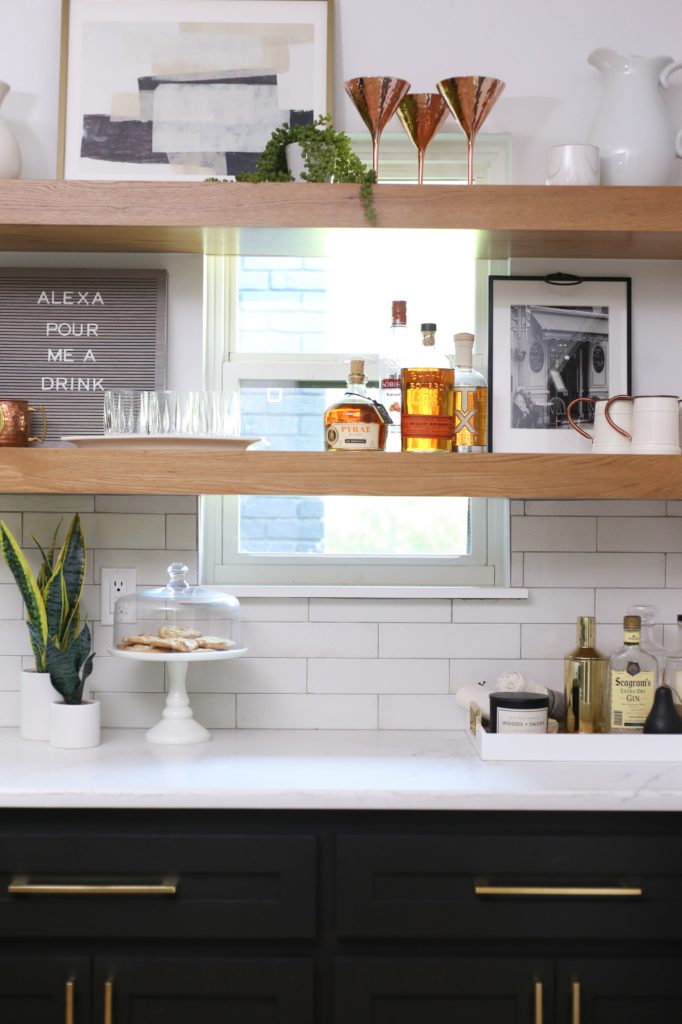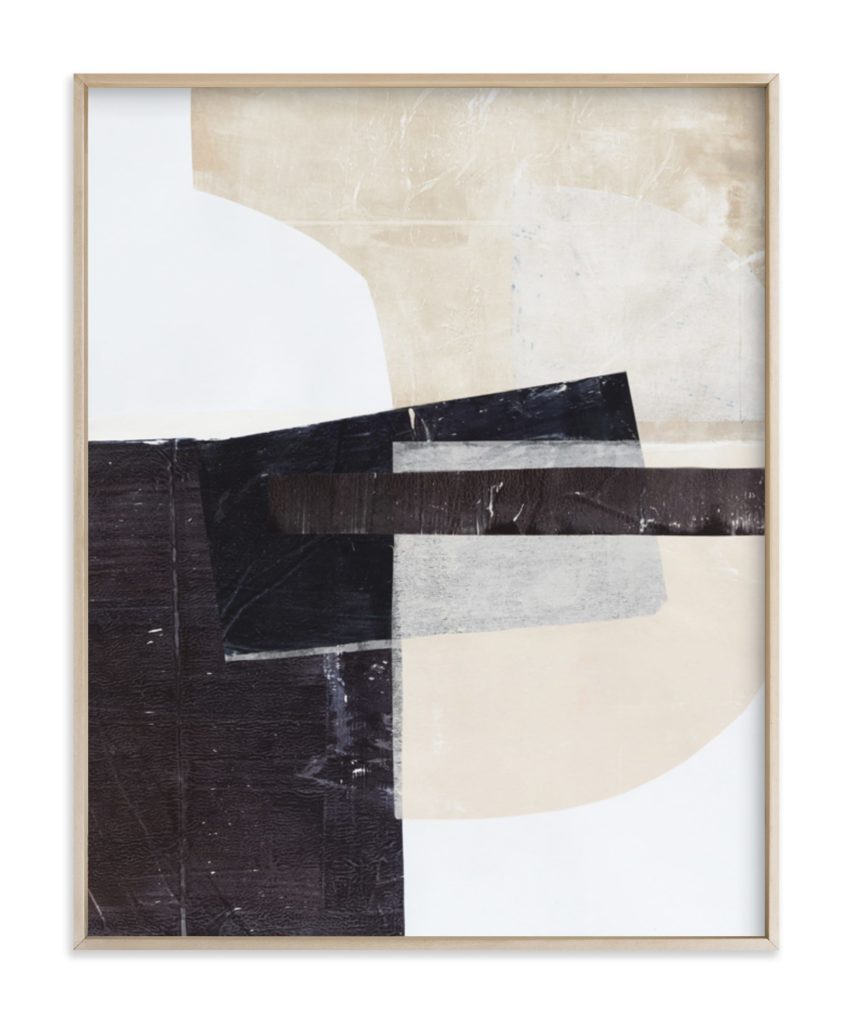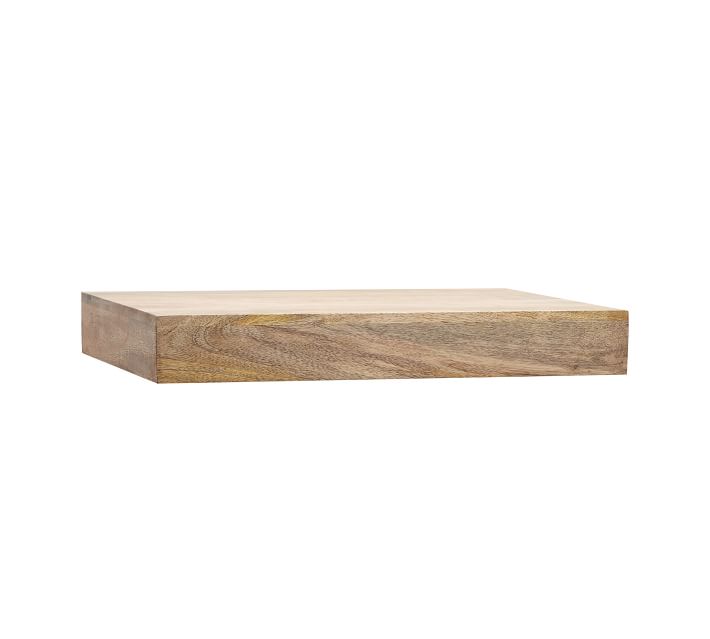 This was the perfect opportunity to give the kitchen area something extra without sacrificing storage! I used these gorgeous oak floating shelves from Pottery Barn. They are a great place to not only store barware, but also add in some personality! Styling open shelving to fit your home is a breeze. I added some smaller art pieces, like this Last Tuesday abstract print and this felt letter board from Target.
SHOP ART: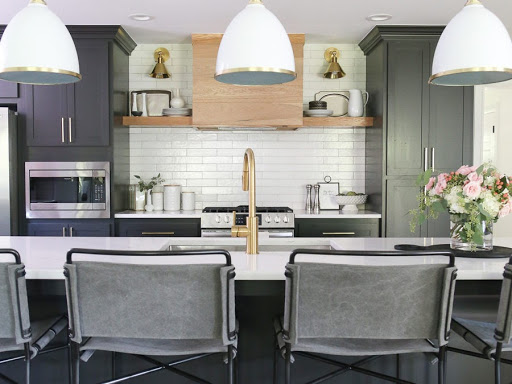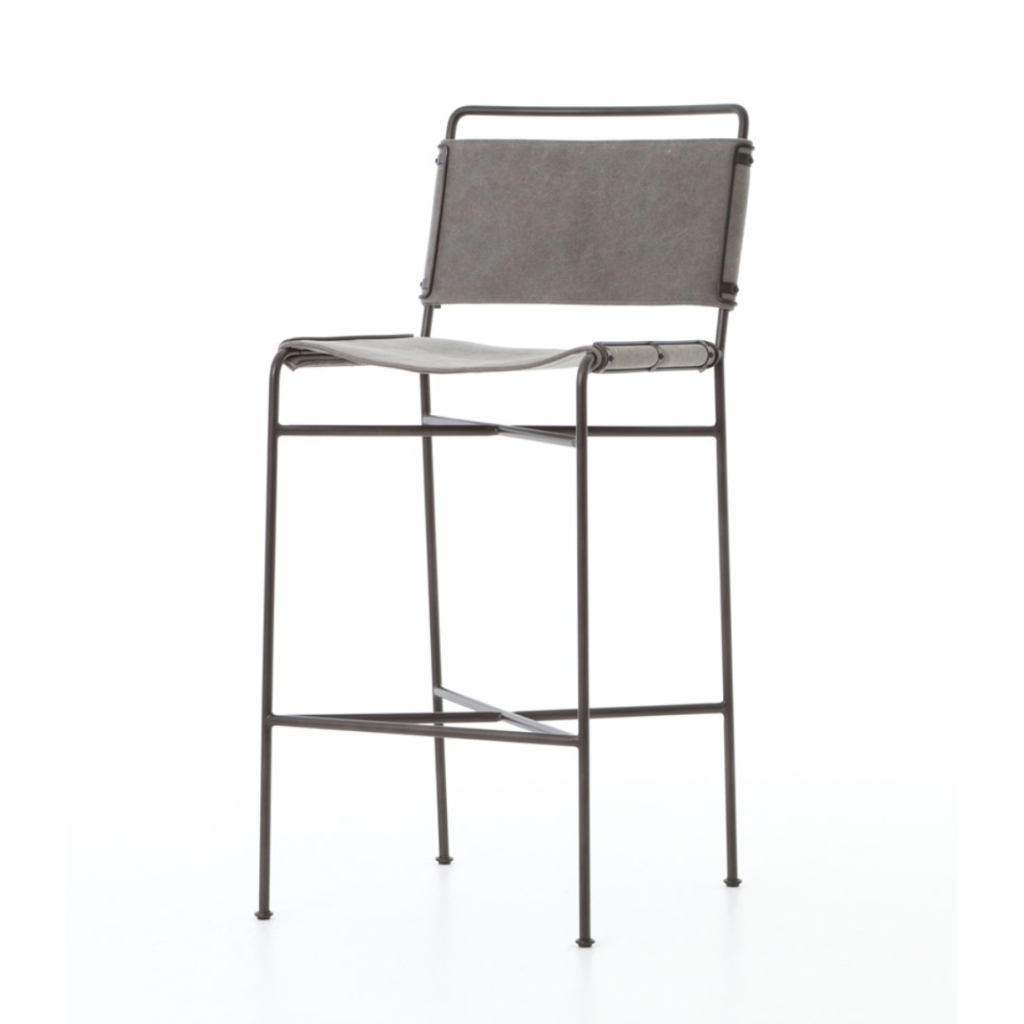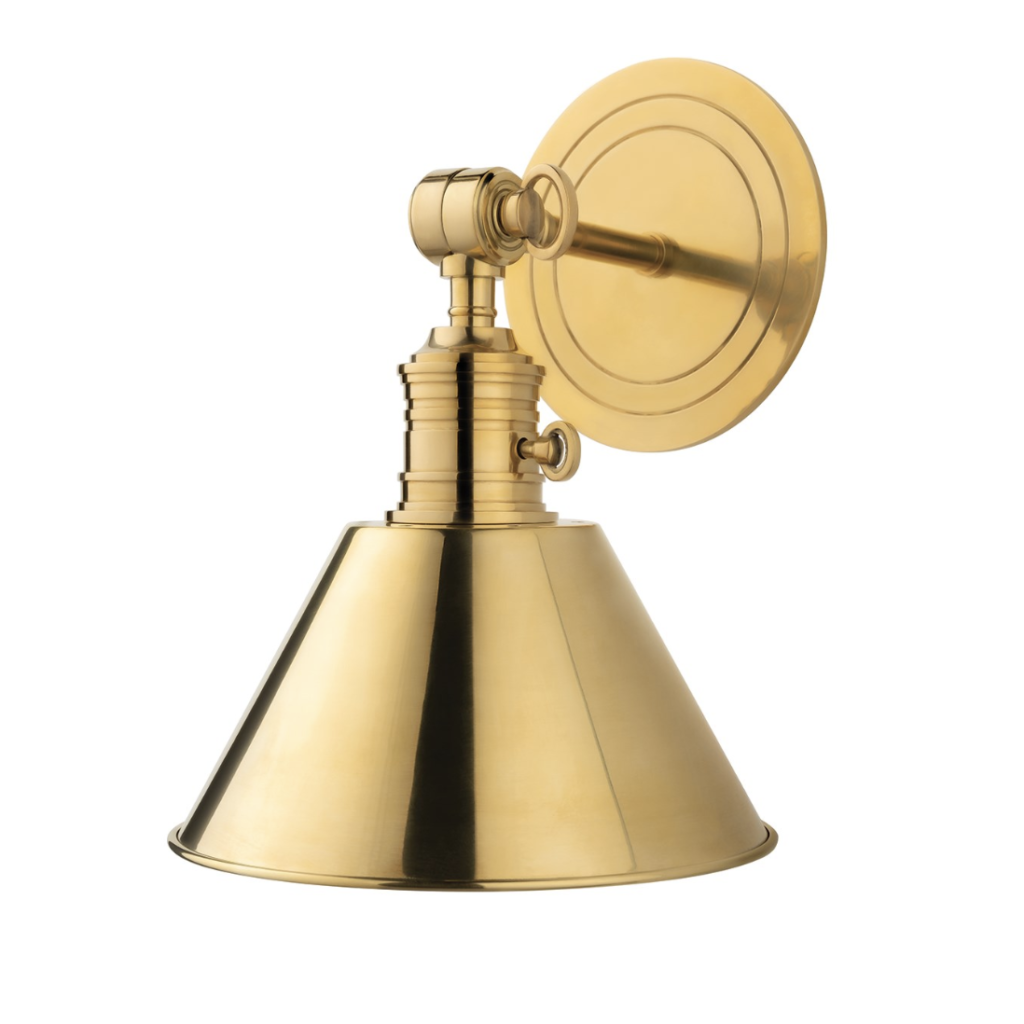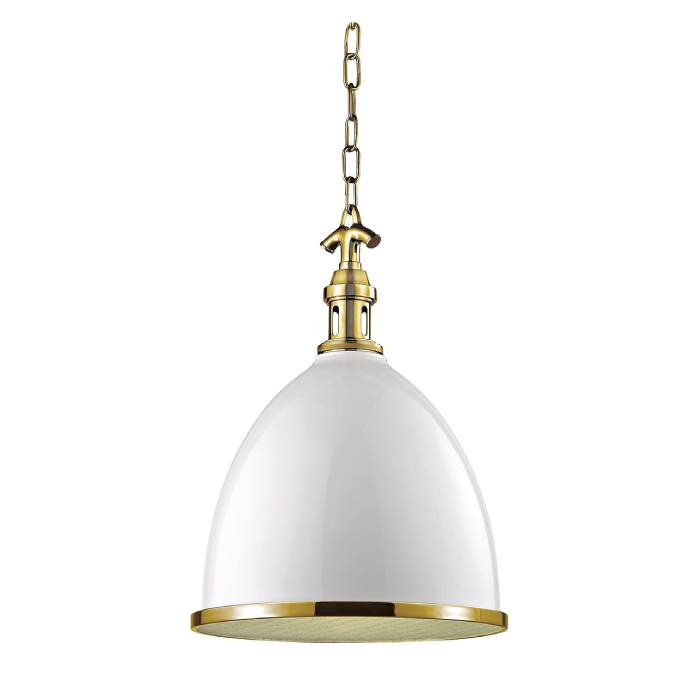 We complemented the beautiful natural light with the Viceroy pendants over the island. We wanted to keep the room as bright as possible. The use of these pendants and open shelving brought so much light into the kitchen, provided extra storage, and really opened up the space! Such a simple addition for a complete kitchen refresh! Check out our other kitchen items, like these amazing gray bar stools.
SHOP BAR TOOLS AND ACCESSORIES: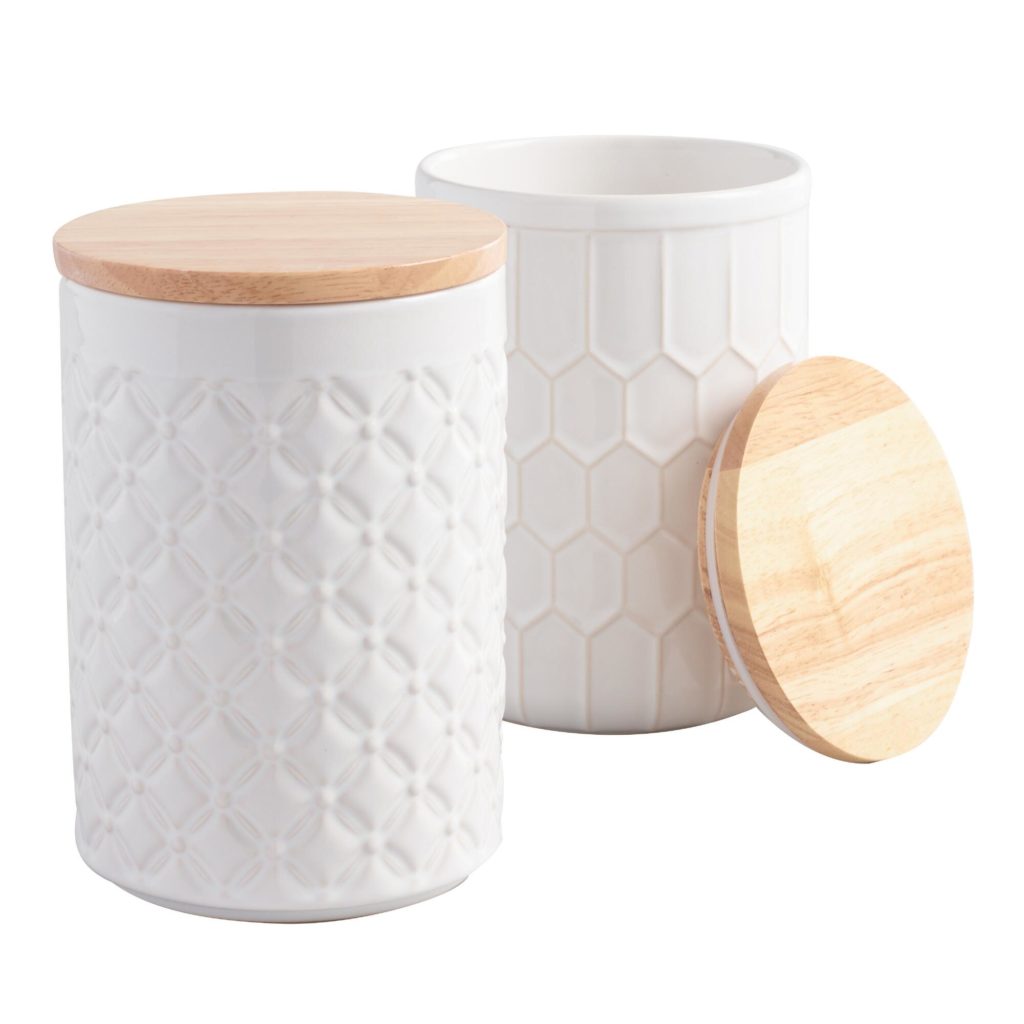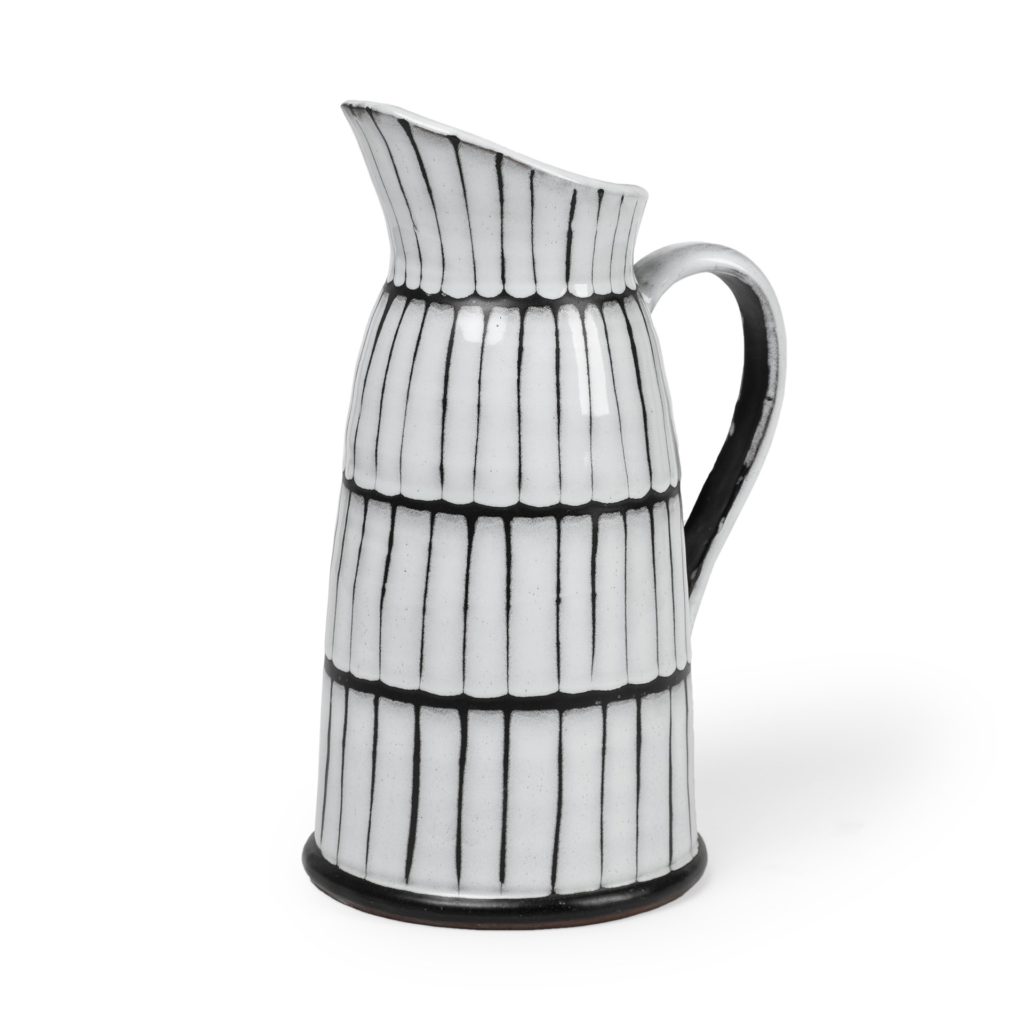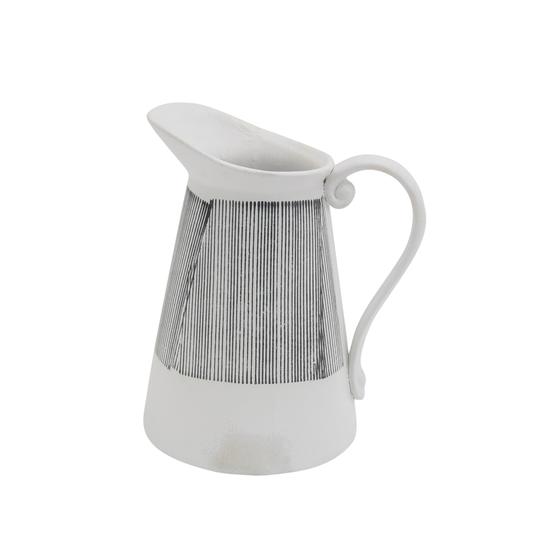 Just like over the bar, I staged the shelves in the kitchen with items that are beautiful AND functional. My favorites are these textured canisters, this gray vase, and these ceramic pitchers from CC+Mike: the Shop. The garden city sconces put the perfect spotlight on these beautiful pieces!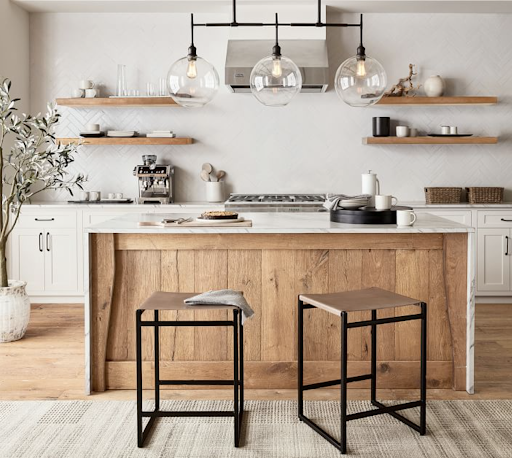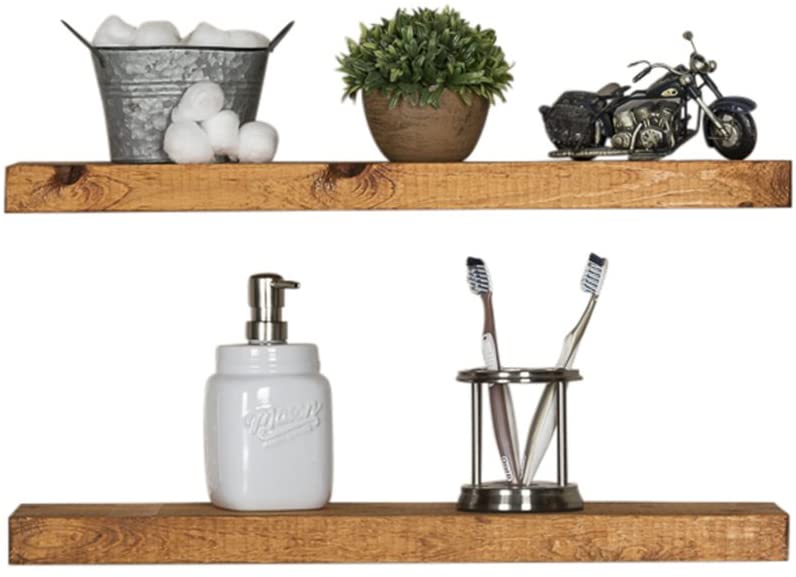 Open shelving is the perfect opportunity to display everyday items in a new way! It is such a simple way to update your room. The difference is amazing! Styling open shelving keeps the room light and bright without sacrificing storage. I loved the way this design trend turned out in our Cedar Ranch remodeling, and I can't wait to use this idea in more projects. It makes me so happy to share my design inspiration with you. I hope this inspires you to transform your home into something you love!